FWB Fest proved that the blockchain doesn't have to be boring

THE FACE reports from the California festival that's "at the intersection of culture and Web3", where trendy crypto types gathered to watch Oneohtrix Point Never, sip mushroom tea and figure out how they can liberate artists.
You might get carsick on the winding, scenic drive up the San Jacinto Mountains to the small, woodsy town of Idyllwild, California – even if you're riding in an electric car and haven't felt so much as a bump on the three-hour drive east from Los Angeles. The hi-tech convenience, paired with the maximalist sounds of new Hudson Mohawke on the stereo, made for an appropriate mode of transport to the inaugural FWB Fest. The three-dayer is described as an ​"immersive conference and festival experience at the intersection of culture and Web3". Turns out it was a lot more fun than that may sound.

So let's start with a quick primer for the uninitiated. FWB, also known as Friends With Benefits, is a DAO (a decentralised autonomous organisation) oriented around the $FWB token, which is a form of cryptocurrency running on the Ethereum blockchain. You've probably heard the term ​"decentralisation" thrown around in reference to crypto; the blockchain makes that possible. Because of the way it's built, it's more or less unhackable. A DAO is centred around a crypto token, and anyone who holds a particular token (like $FWB) gets a say in the decision-making of the group. Web3 refers to the idea of the next generation of Internet in which all of this takes place, with a focus on owning your digital assets.

On paper, Friends With Benefits is sexier than the DAOs founded by finance bros and venture capitalists. DAOs started as a model for commercial structures, but are now commonly taking the form of members-only co-ops or social clubs, like supper club Dinner DAO or Dtravel for vacation rentals. FWB is the first DAO of its kind to act as a social and cultural hub for creatives, both within and outside of crypto. Its co-founders come from music and art backgrounds, and two years in, they've already been profiled by The New York Times and Resident Advisor.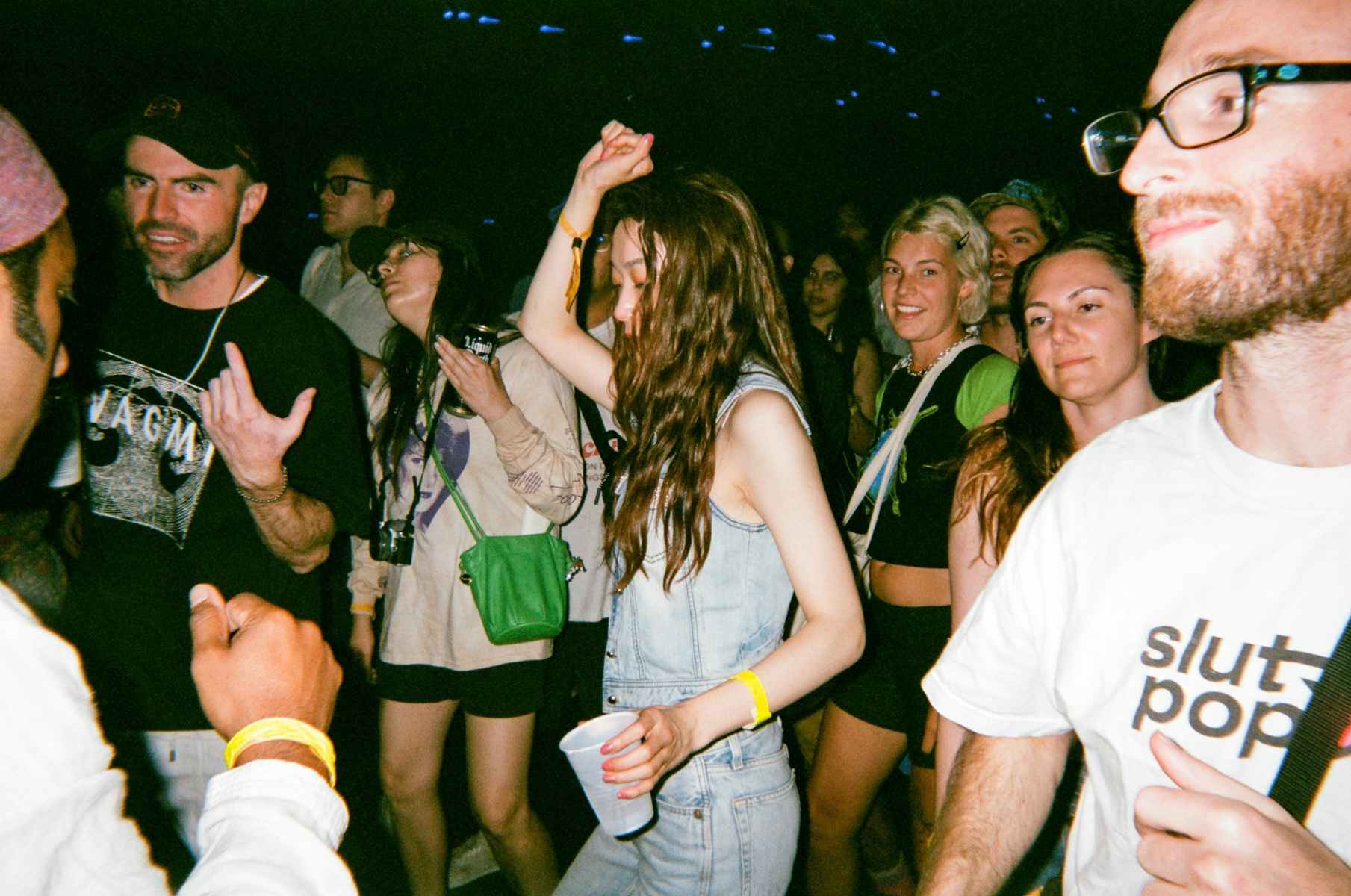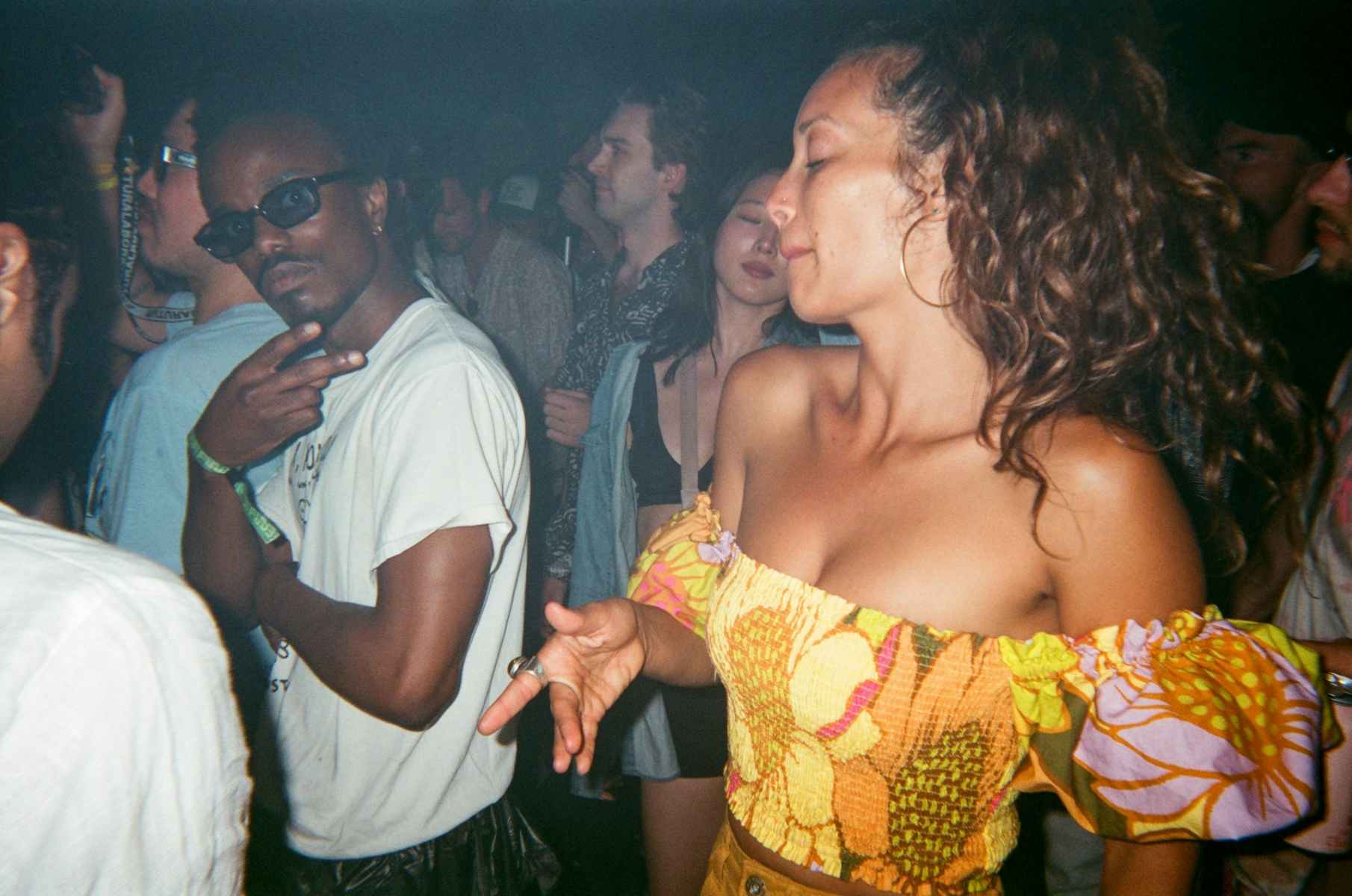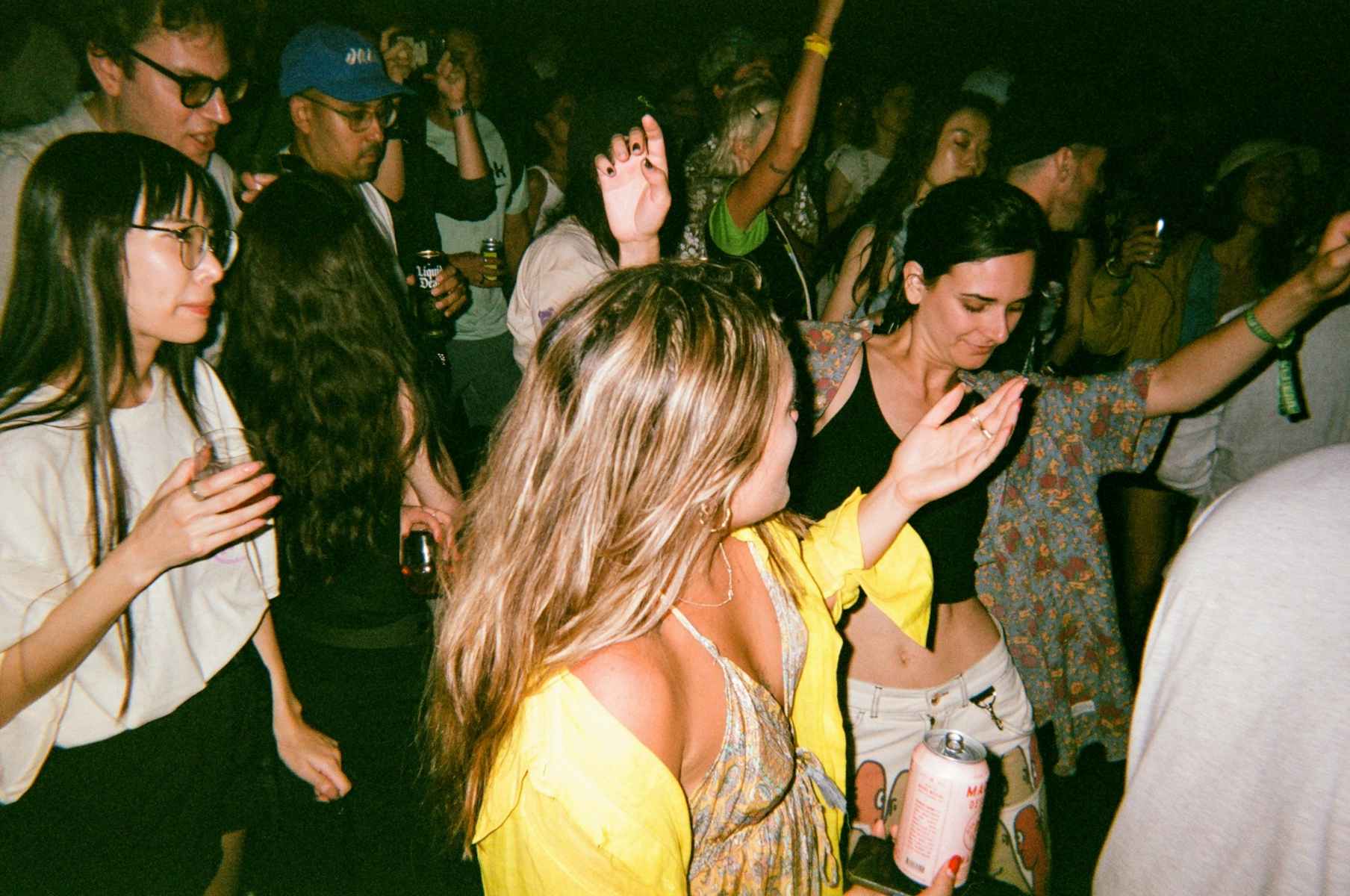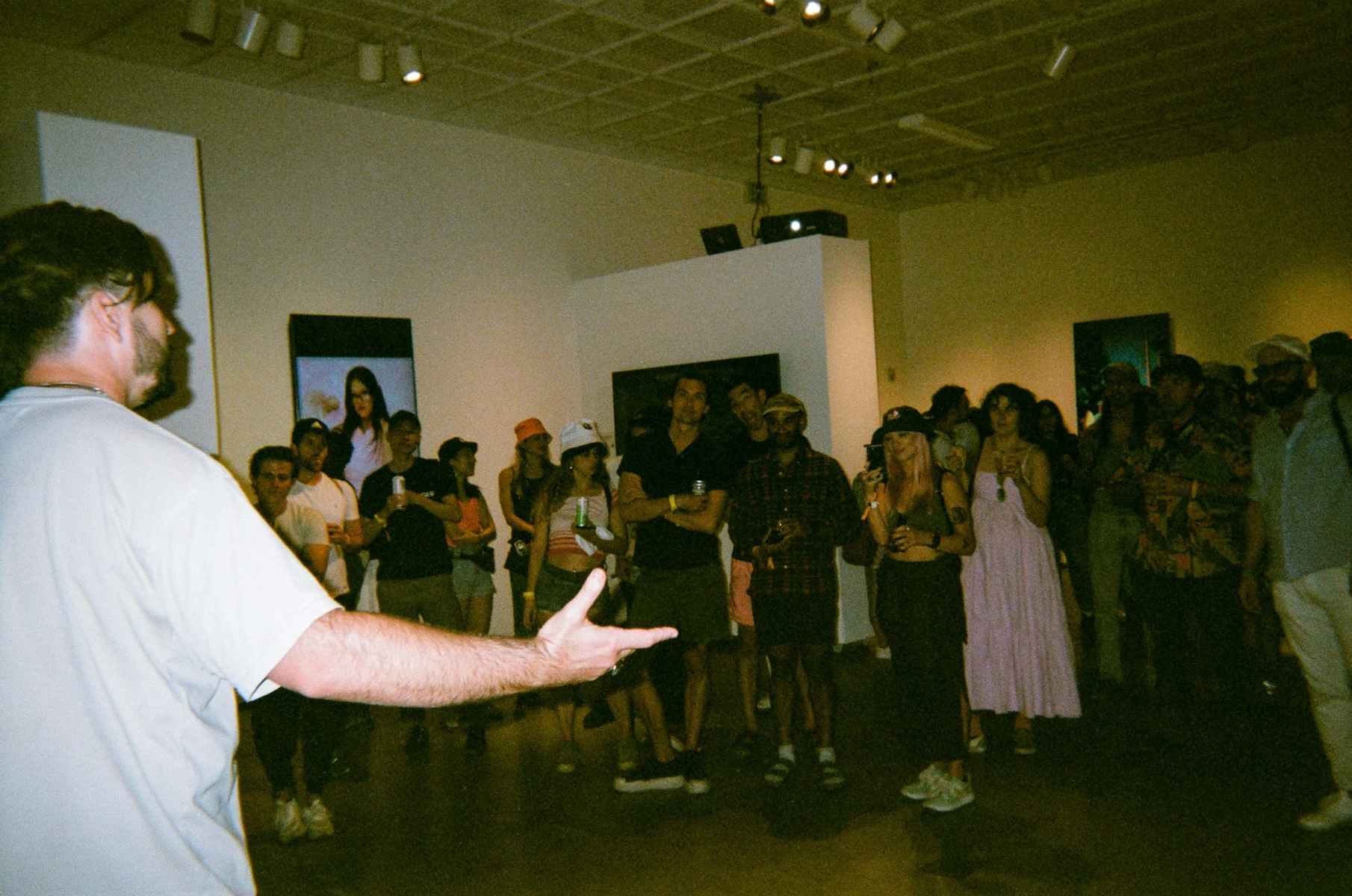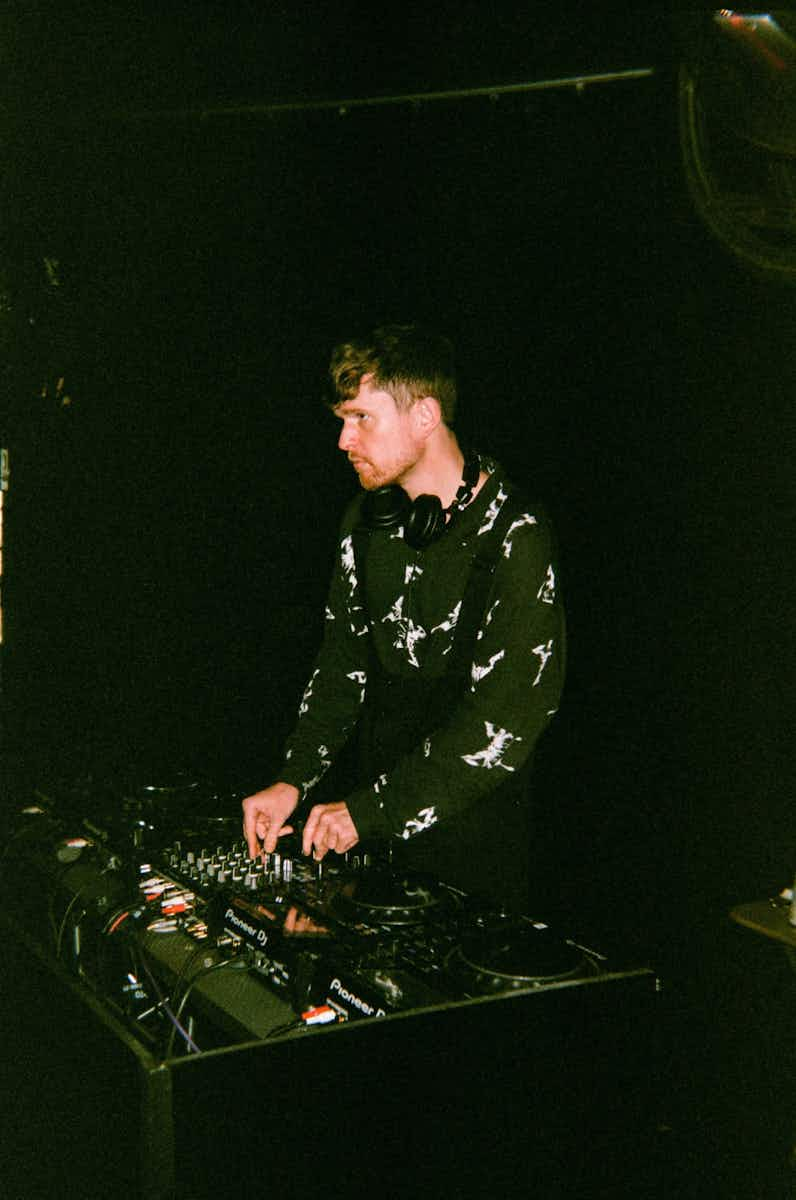 As I understood it, the festival was like the FWB Discord come to life. By and large, the crowd skewed between the ages of 25 and 35 (the microgeneration raised on Tumblr, Twitter and forums) and dressed in various uniforms of Issey Miyake, Online Ceramics and other stylish, design-adjacent fits. I counted A. G. Cook, Empress Of and Ryder Ripps among the attendees. And for what it's worth, Azealia Banks, Flying Lotus and James Blake are FWB members, too.

If you want to become a member, you've got to purchase the requisite amount of tokens (Local Members pay five $FWB, or about £46, while a Global Membership – which grants you voting rights and full access to the Discord server – will set you back 75 $FWB, or about £696). Full disclosure: FWB gave me a press pass and covered my flight and accommodation expenses in exchange for writing this article about the festival. For those without a connection, tickets for FWB Fest cost $0.5 ETH (the equivalent of £668 at the time of writing) during presale, and included all food and drink. During general sale, the tickets cost 1 ETH (£1,330).

Hosted on the campus of a private arts high school, FWB Fest felt like a tech retreat, an industry conference (someone tweeted it reminded them of ​"South by Southwest a decade ago"), and a left-field music festival (the lineup included Oneohtrix Point Never, Pussy Riot, L'Rain, JPEGMAFIA, Julianna Barwick and serpentwithfeet) all rolled into one. Speakers gave talks in a well-kept concert hall, while town halls and roundtables took place in the cosy library; during periods of downtime, we perused the student magazines scattered across the tables. The outdoor pool party on Saturday was cut short by the threat of lightning strikes nearby, but thankfully not before we were treated to Pouch Envy's sublime blend of City Girls and The Prodigy during Bahar Khadem's DJ set.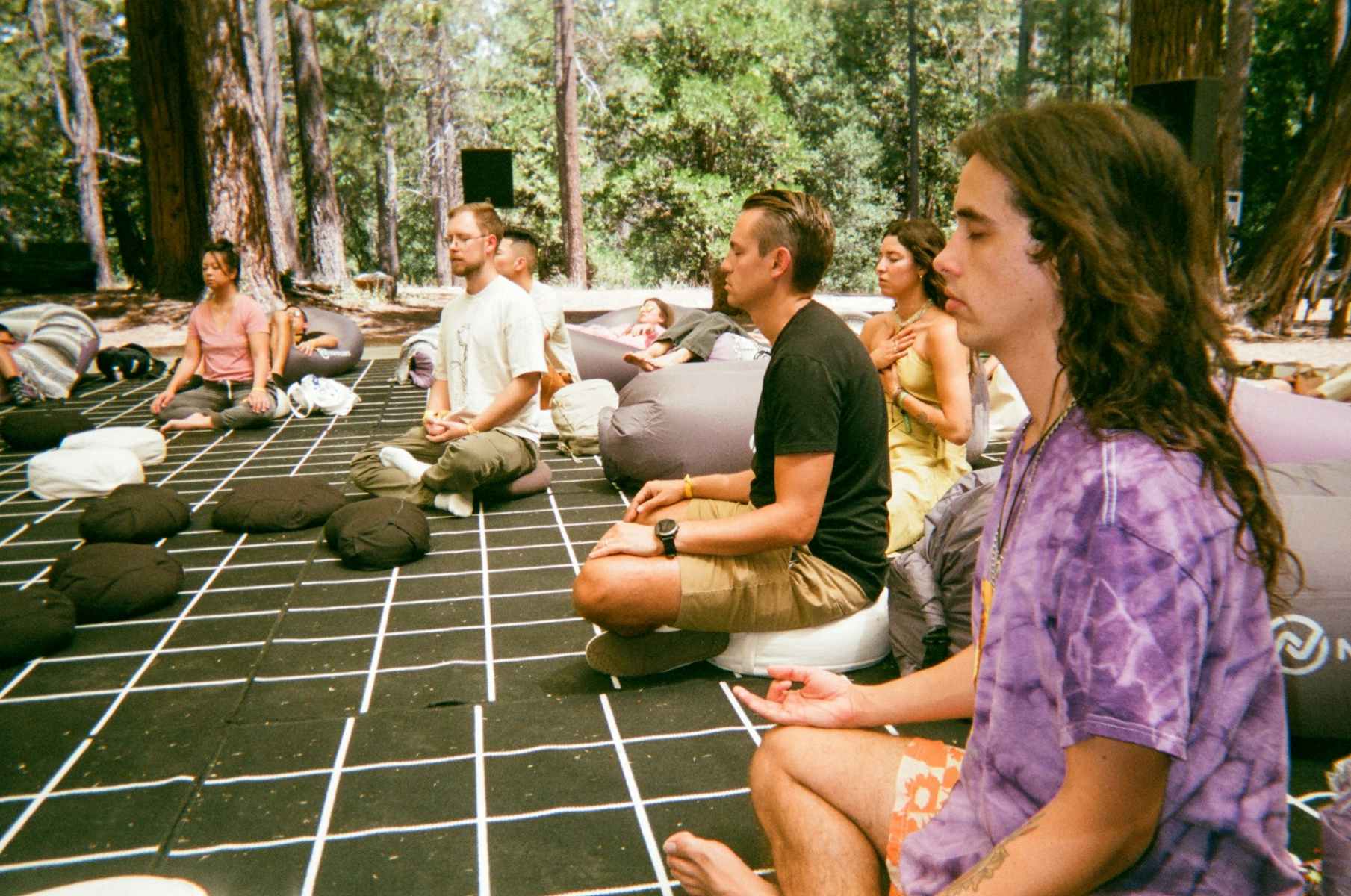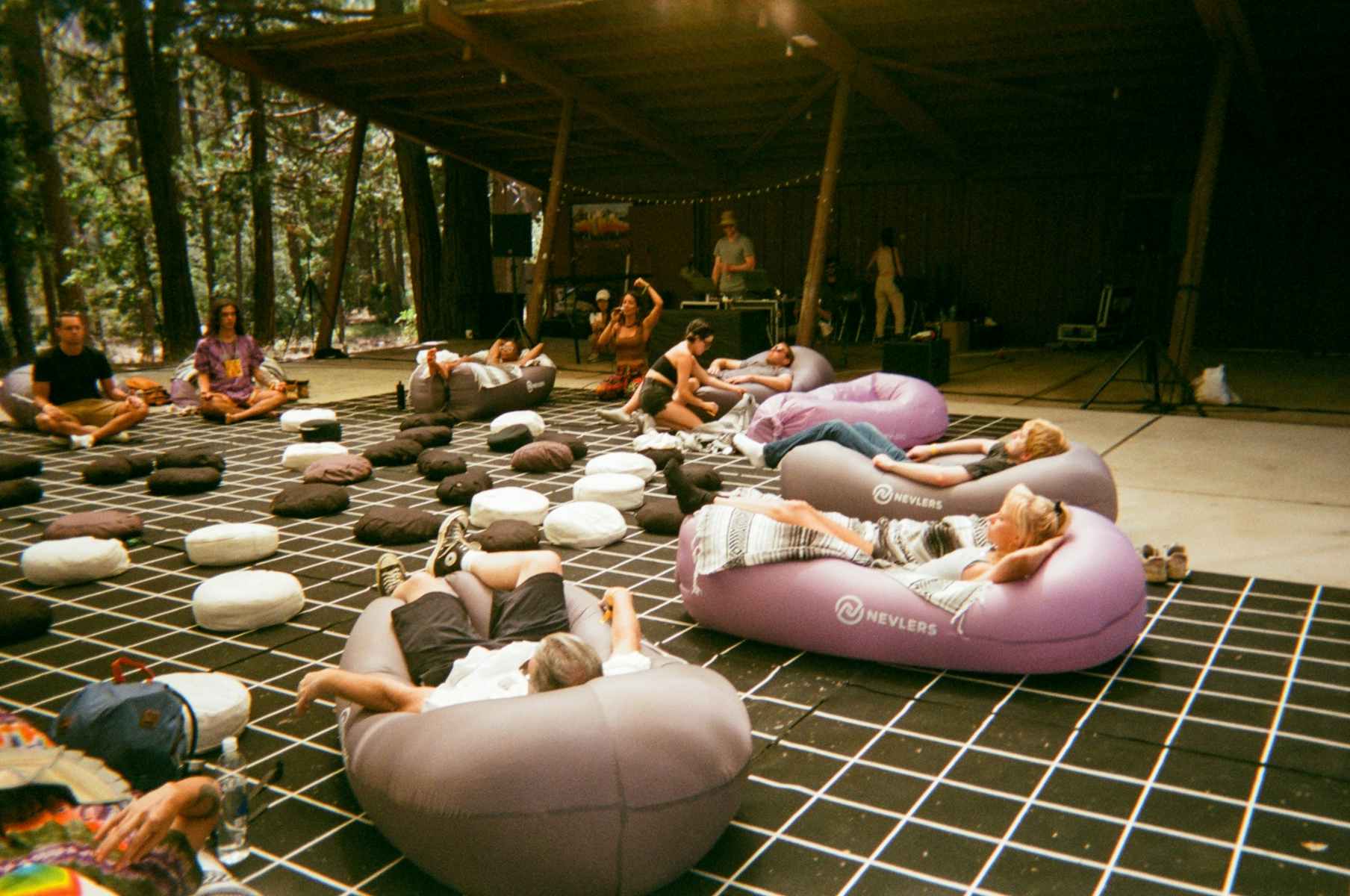 A short walk from the main drag, there was a secluded glen area called Envelop, where you could relax in a blow-up cushion while listening to an ambient set, meditating or sipping mushroom tea. But the true centrepiece of the campus was where the live performances were set up – a beautiful, grassy amphitheatre with enormous, floating canopies hanging overhead, which resembled pulsating jellyfish in the daytime and the underside of giant mushroom caps at night.

Throughout the festival, there was an almost cult-like excitement about the talks. The participants all espoused the benefits that Web3 could lead to in creative industries. It felt like an attractive premise. Who wouldn't be enticed by an equitable, creator-focused utopia, where musicians would have more than enough money to make a living from their art, and no longer need to pander to predatory record labels or streaming platforms?

"For better or for worse, it feels like our generation has the opportunity to build things within our cultural spaces I think previously had to be built at scale," said David Rudnick, a graphic designer and Web3 optimist with a presence in leftfield electronic music circles. ​"Things like Spotify would come in and shake up [things] without our permission and without any desire on our part to see things shaken up. It would disrupt and change the model of how music was disseminated and how an artist made money, whereas now you're seeing people propose ideas of what alternatives could be like."

I thought about the potential downsides – the environmental impact of cryptocurrency, the financial inaccessibility of the sector writ large, and the inherent exclusivity of any club with a multi-hundred dollar price tag. However, after Saturday afternoon's Dissent by Design keynote with Pussy Riot's Nadya Tolokonnikova and Hayden Adams, the founder of Uniswap (a decentralised marketplace for trading cryptocurrency on the Ethereum blockchain), I found myself becoming slightly less sceptical and slightly more pilled. If we table those valid concerns for a moment, is crypto's reputation one of poor PR? Can collective, democratised ownership be achieved through crypto in practice? Tolokonnikova's take on the subject, from the point of view of a conceptual artist and activist, was particularly compelling.

"What's exciting for a musician or any type of artist, is how we get to own our art pieces, and we don't necessarily have to [go through] a record label or a gallery if we want to get funding," she explained to me before her set. "[Also,] in traditional Web 2.0 social media platforms like Instagram or Twitter, you can be kicked out at any given point and their rules are not transparent… [because] it's advertisement-driven and they don't want anything unpleasant to appear. I'm excited about Web3 because I can own this piece of digital land, or this piece of social network, and know nobody will ever take it away from me."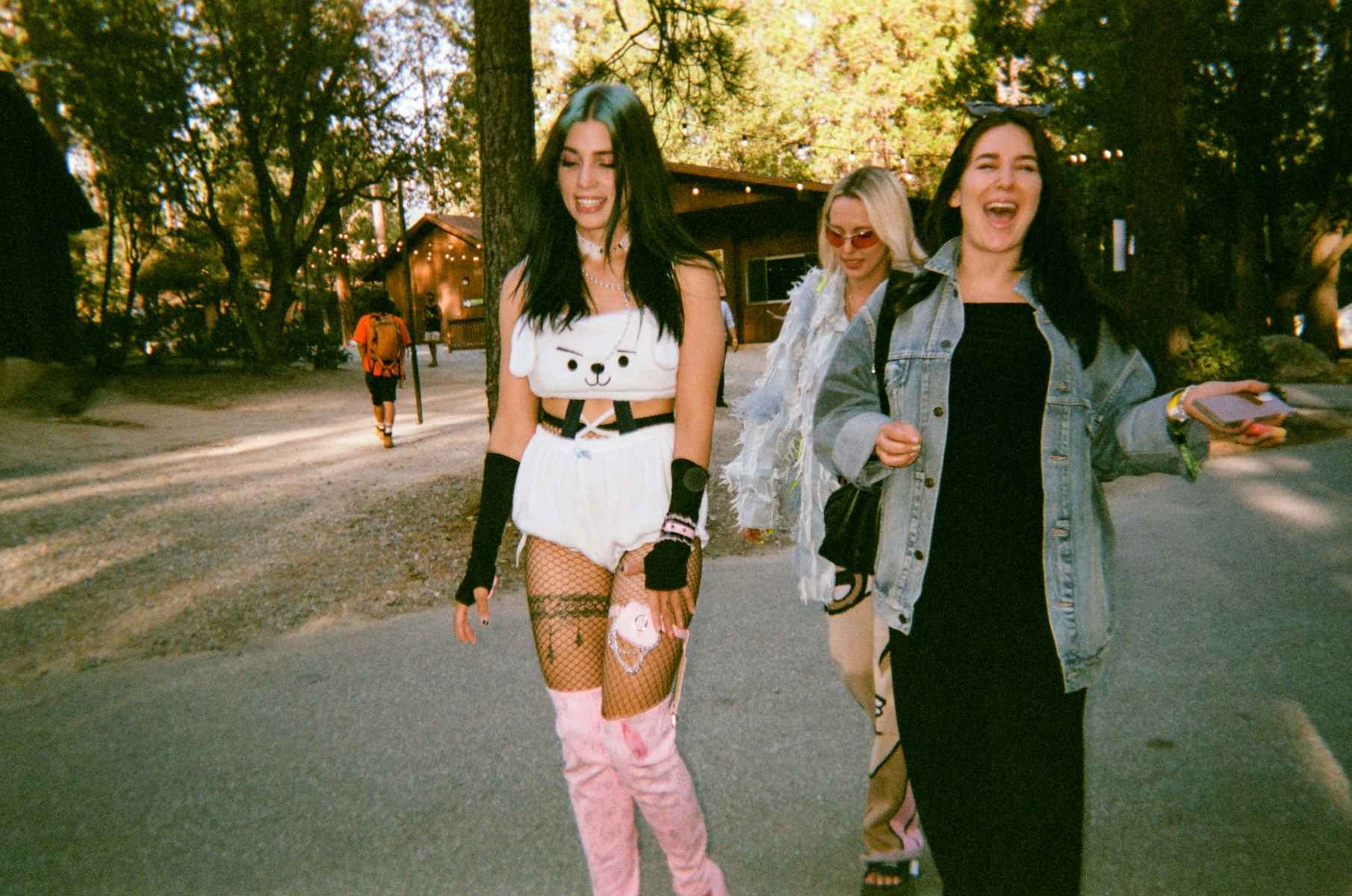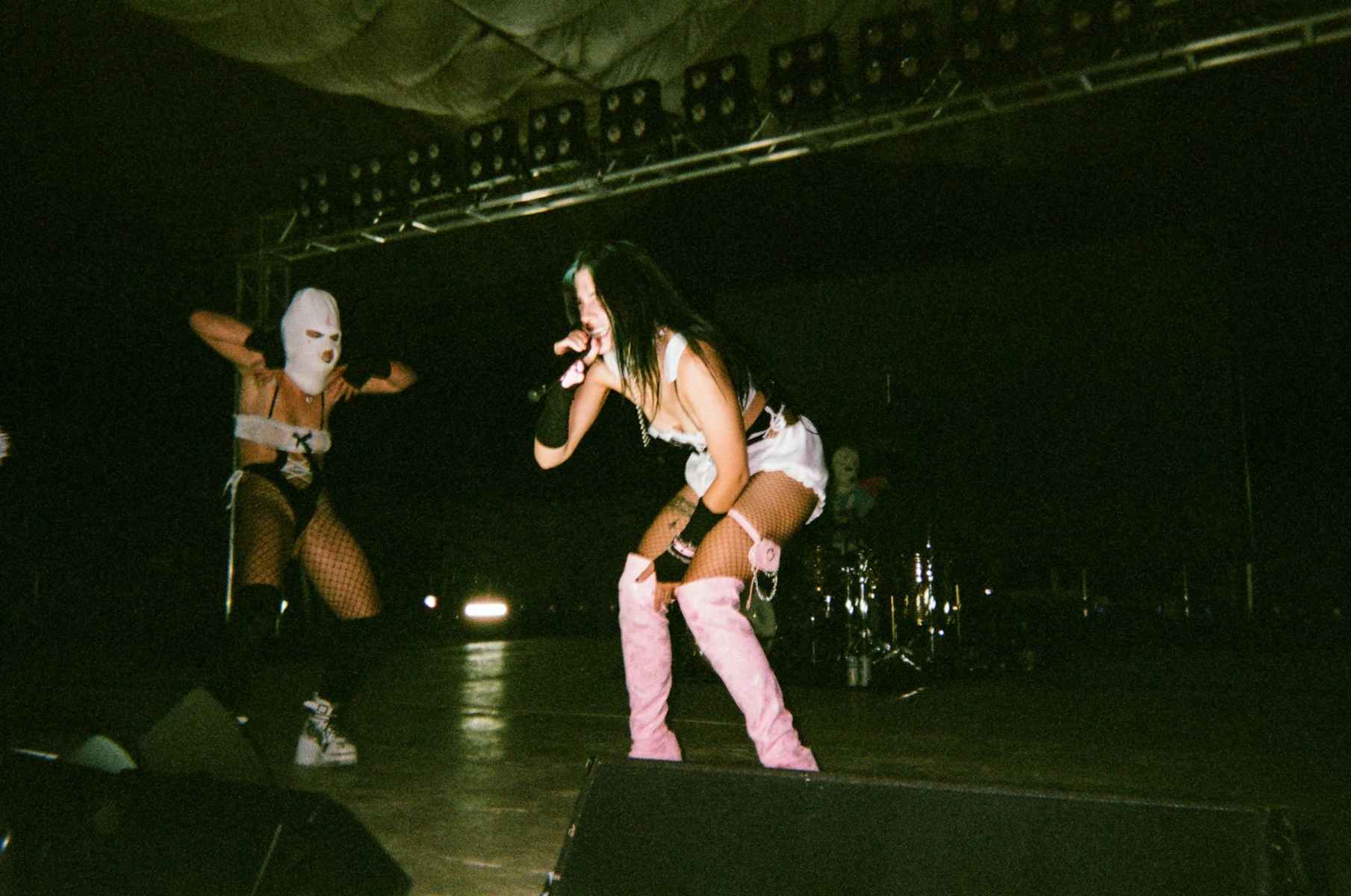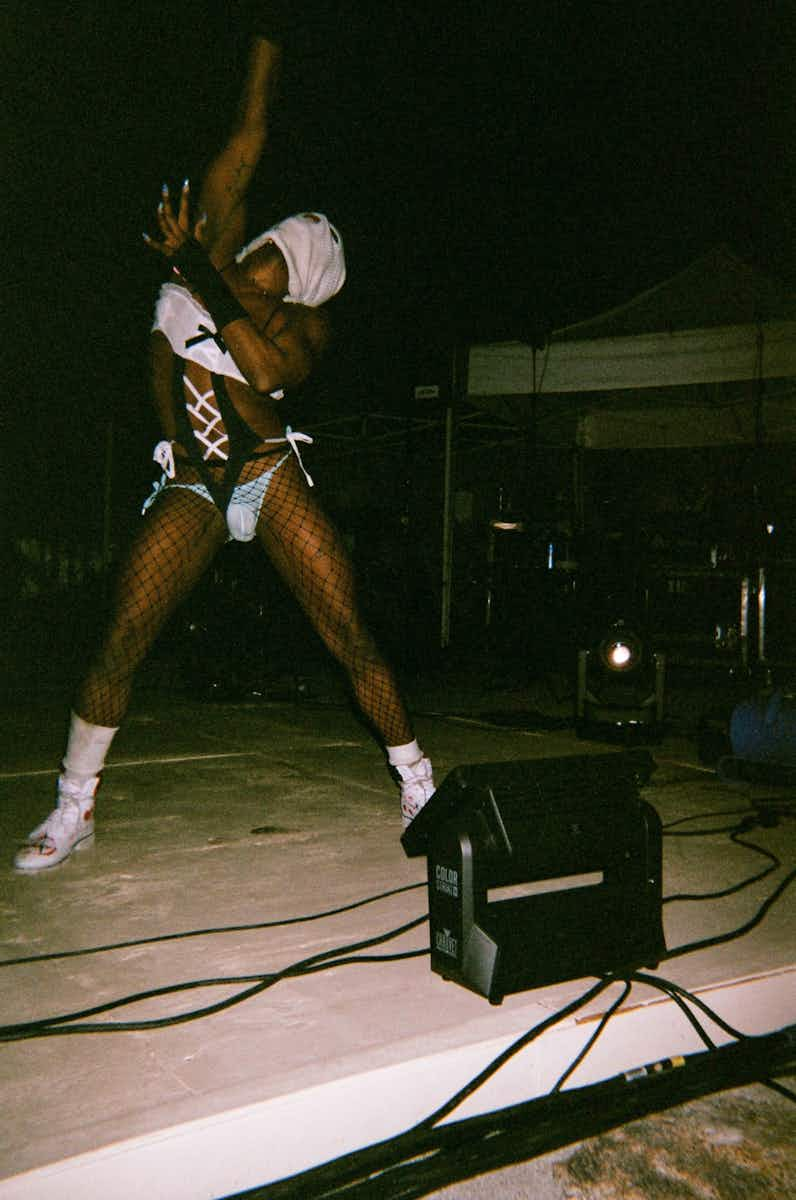 It seemed like the musicians were treating FWB fest like a special gig. Oneohtrix Point Never played his first live set in three years, standing behind a scrim which displayed dizzying, holographic visuals by Nate Boyce. Sudan Archives performed solo, taking a break from playing violin mid-song to walk into the crowd and, to everyone's delight, hoist someone's dog into the air. Before his dubstep-heavy DJ set in the dance studio, James Blake sat at a grand piano for a relaxed performance, chatting with the audience in between classics like Life Round Here and covers of Never Dreamed You'd Leave in Summer by Stevie Wonder and Frank Ocean's Godspeed. Before he walked offstage, he pledged to perform ​"any time [this festival] will have me."

On Sunday morning, I hitched a ride back to Los Angeles in a gasoline-fuelled Fiat. As we rolled down the windows and re-entered the real world, I was surprised to feel the buzzy excitement from the weekend remain. The FWB community feels like a socially (if not necessarily financially) welcoming entry point into crypto for young-ish people. But for me, the high point of the weekend was going back to an acquaintance's cabin after the night's festivities, where a handful of us settled into big armchairs, ate reheated pizza from the dining hall, and watched a few episodes of Sailor Moon before passing out. At the end of the day, the benefits seem incidental, and the fun part of FWB is making friends.

More like this