100% Nayana IZ: the London singer-rapper who's finding her power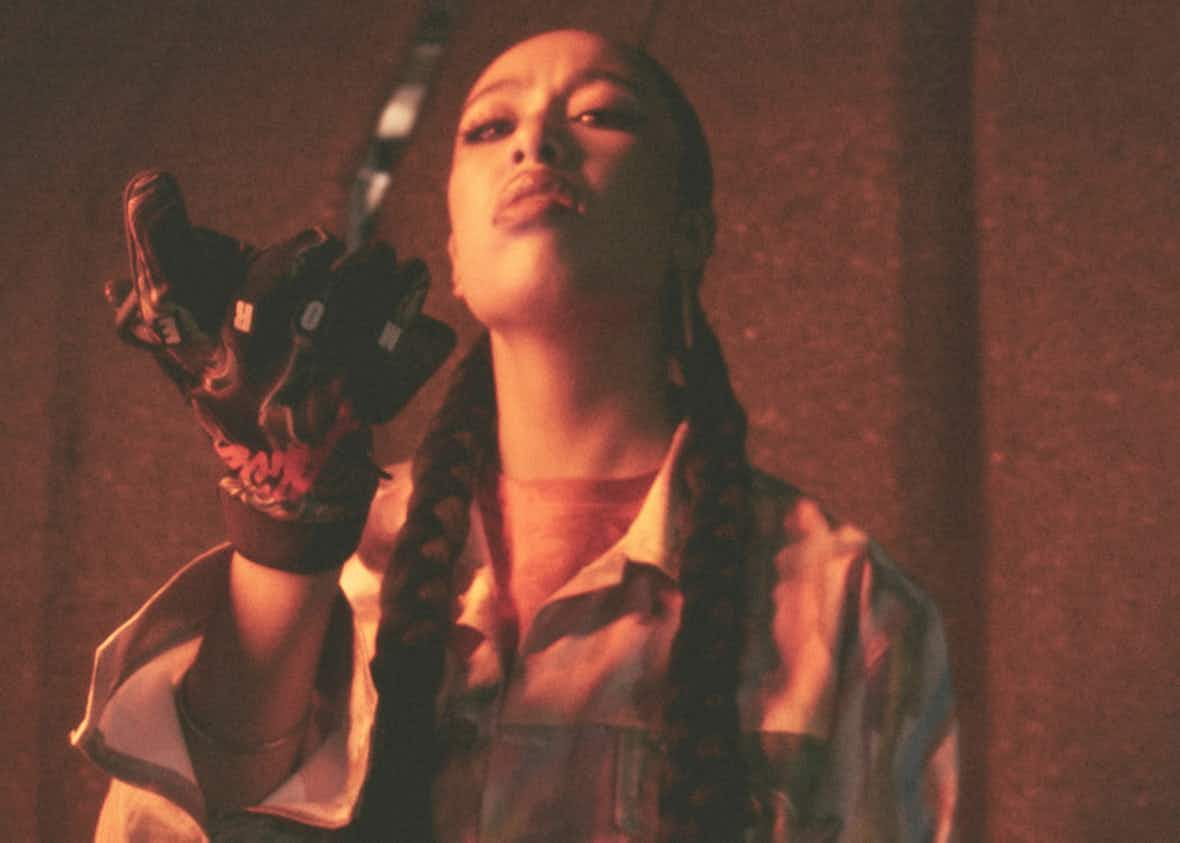 The Nine8 Collective member wears her heart on her sleeve on her new track, Breaking Point.
Nayana Sharma is the first to admit she's vulnerable. ​"When I'm writing it's just all my emotions at a really extreme level," she says.
Born in North London to Indian parents, the 20-year-old spent her youth grappling with her British Asian heritage while growing up in a predominantly white and creatively stifling school environment. Immersing herself in the imaginative worlds of hip-hop acts like MF DOOM and A Tribe Called Quest, she began to find her voice, and music became her outlet.
It wasn't until meeting fellow NiNE8 Collective groupmate Lava La Rue at a Grenfell Tower fundraiser in 2017 that things really clicked. ​"It just felt like I'd found my people after having no one," she says. Together the arts-motivated misfits developed an affinity for DIY song-craft, often channelling a woozy, soulful hip-hop sound on their group releases.
New track Breaking Point marks an evolution as Nayana tackles themes of identity, race, spirituality, while reconciling with her former self. ​"If I fall, if I fly, would you stay by my side, like you said/​Guess I've got to roll the dice, risk my head, not my heart", she sings, fighting back the tears. ​"Going forward, I'm thinking consciously about how I can make a powerful impact as an artist," she says. ​"This is the new phase."
Watch the video for Breaking Point, and get your 100% fill below.

10%: Where were you born, where were you raised and where are you now based?
I was born and raised in North London and I'm now based in London. Everyone thinks I was born in India. I don't know why.

20%: When did you find your confidence as an artist?
I remember the first couple of times I got bullied at school. I just felt like a loner in the real world and I didn't have any friends. So I'd go to the park, I just had this imaginary world in my head. From that, I was determined that I was going to make it and get to a place where I could make music, where I was just happy.

30%: What kind of emotions and experiences influence your work?
[The subjects in my lyrics are] often quite depressing. But recently I've been making a lot more empowering music. It's hard work just thinking about your problems all the time and dwelling on them. Before I would literally cry to my own music, but on this next project I've shown my powerful side and my loving side.

40%: If you're cooking food to impress someone, what will you make?
If they eat meat, I would cook my lamb chops. If they're veggie I would cook halloumi curry. If they're vegan I'll cook classic daal. I'm actually writing a cookbook right now.

50%: What's a piece of advice that changed your life?
My dad would always say: ​"Don't be overconfident, don't be cocky and be humble."

60%: If you could travel back in time to see an iconic music act perform, who would it be, and in what era?
It would be MF DOOM at his first DOOM show in the ​'90s. One of my biggest regrets is not reaching out to him while he was alive because some people around me were in contact with him. But I was so nervous. That gave me a kick up the ass and told me to stop being a pussy. If someone is there, just talk to them, because you never know.

70%: What's a bad habit you wish you could kick?
I did inherit an anger problem from my grandma and my dad, which not a lot of people have seen because I'm quite good at containing it. I think anger is a horrible thing. It kills your nerves, makes you die younger, ruins your heart and your relationships.

80%: What's the strangest DM you've received?
I always get weird Indian men messaging me because my name is Indian. I've also had a lot of racist messages. There's too many fucking racists everywhere.

90%: Who would you most like to see on the cover of The Face?
Raveena Aurora. Or all my NiNE8 homies.

100%: Tell us about your new single, Breaking Point.
The day I wrote the track, my boyfriend and I had a fight. So it was partly about him, partly about my relationship with a family member. It was also about my relationship with London and people at school. I put so much feeling into it, I was crying when I was writing it.


More like this