Christoph Rumpf on win­ning the prize most young design­ers would kill for
Try­ing to get hold of Christoph Rumpf, the 25-year-old design­er recent­ly award­ed the Hyères Festival's most pres­ti­gious prize, isn't easy. He's en route to the air­port and nurs­ing an ill­ness when our call con­nects, but he's charis­mat­ic nonethe­less. ​"Sor­ry," he repeats as the sounds of every­day life threat­en to over­whelm his voice com­plete­ly. ​"There's an announce­ment in French that I don't understand!"
Christoph laughs often, answer­ing ques­tions com­pre­hen­sive­ly even as the line begins to crack­le. Today's cir­cum­stances may be chaot­ic, but he's ulti­mate­ly unfazed by his sched­ule. After all, he's been fight­ing for a place in the fash­ion indus­try for a while.

Born in Graz, a pic­turesque city nes­tled in the south of Aus­tria, and lat­er relo­cat­ing to Vien­na for uni­ver­si­ty, Christoph's interned for the likes of Craig Green ("I'm not real­ly sure I learned any­thing, it was more just some­thing I did — you know?") and worked hard to over­come what he per­ceived to be his own lack of skill in fash­ion. Years lat­er, he now holds a prize that most young design­ers would kill for. ​"Well, I basi­cal­ly killed my social life for four whole months to make this col­lec­tion," he chuck­les. ​"So I'm just glad it all worked out so well!!"
This might be an under­state­ment. Based on the sto­ry of a fer­al child who lat­er dis­cov­ers he's a long-lost prince, Christoph's col­lec­tion repur­pos­es flea mar­ket finds – includ­ing antique Per­sian rugs and dis­card­ed fring­ing from bel­ly-danc­ing cos­tumes – into arrest­ing looks fit for roy­al­ty. He's already been pro­filed by Vogue and praised by indus­try insid­ers, but he tells us his plan is to avoid mass-pro­duc­tion and slow­ly build a brand which is both sus­tain­able and true to his own aes­thet­ic. Love­ly stuff.
We spoke to the dis­tinc­tive design­er about the fan­ta­sy of fash­ion, his obses­sion with flea mar­kets and the ongo­ing neces­si­ty of reduc­ing the industry's envi­ron­men­tal footprint.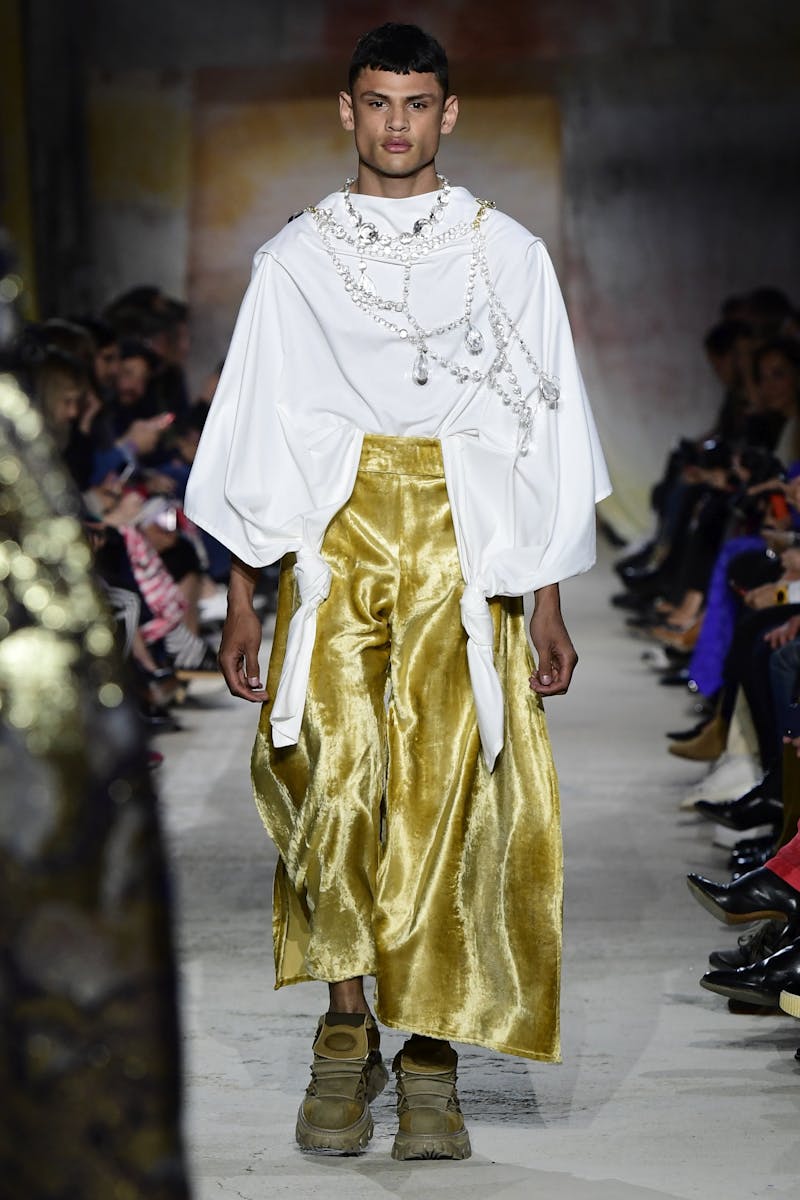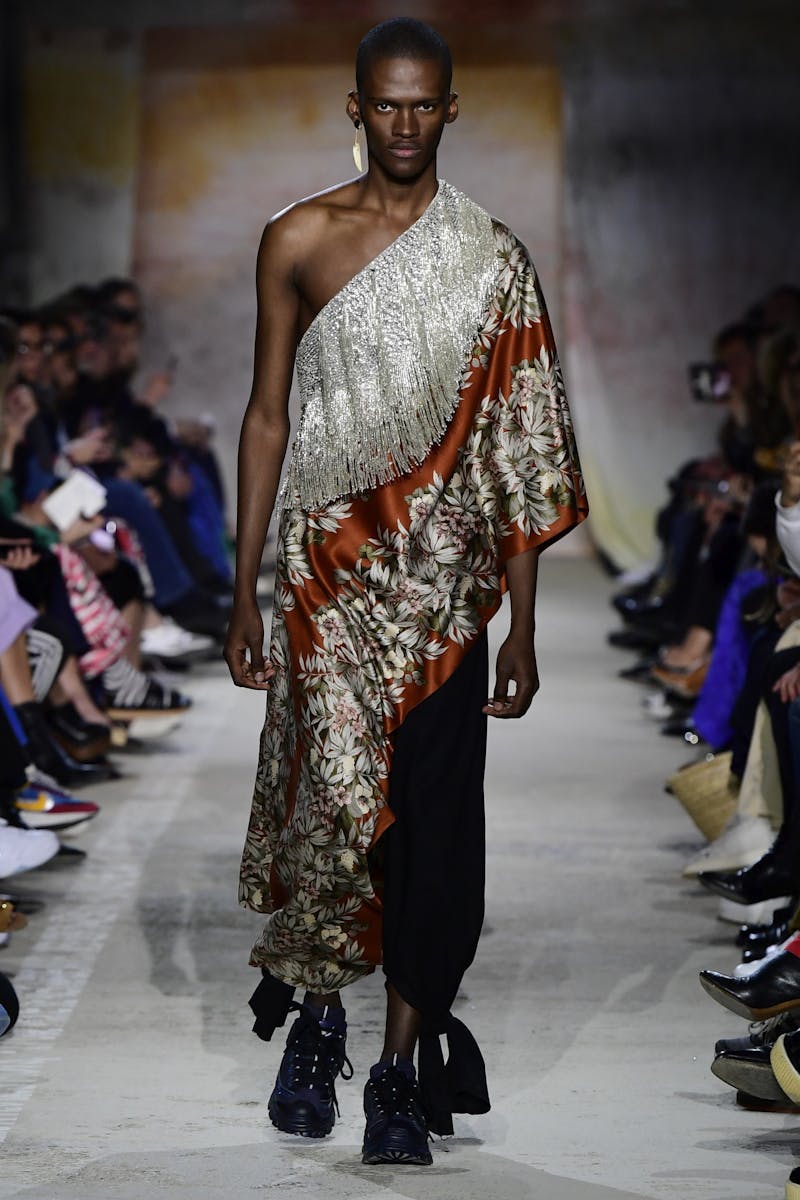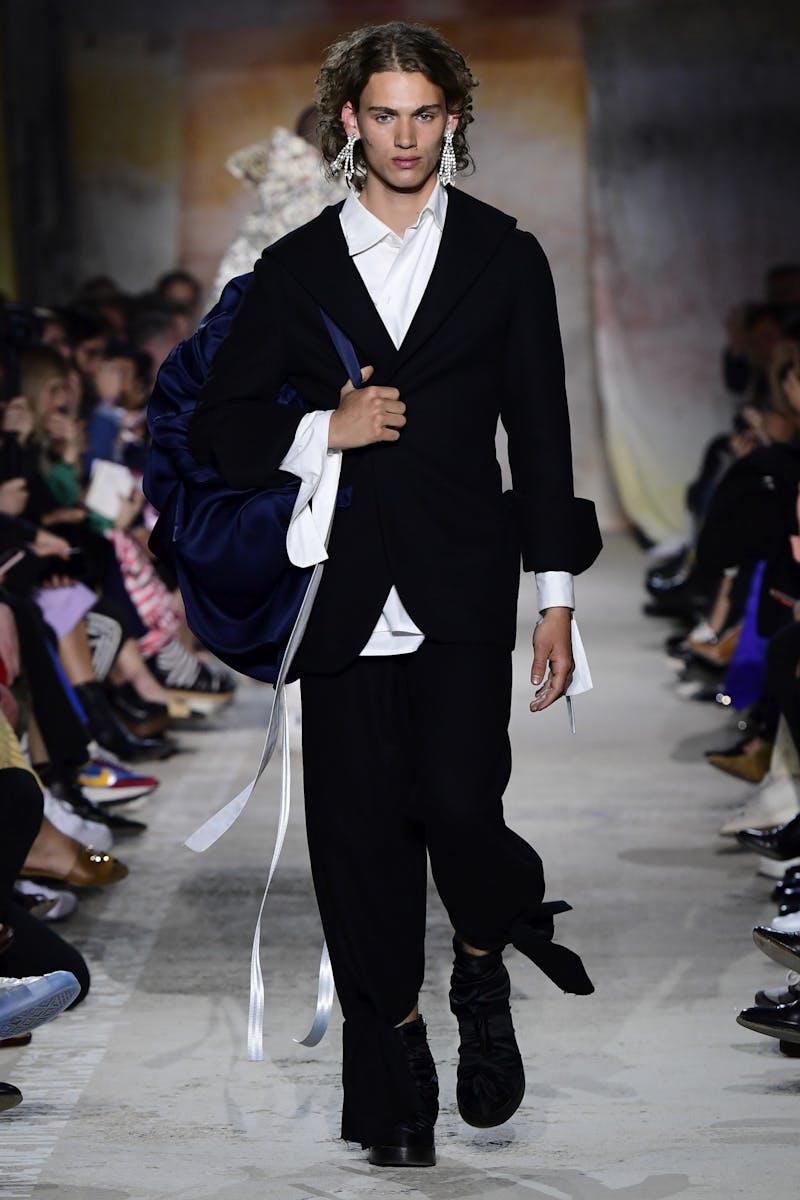 Con­grat­u­la­tions on your win! How did it feel to get that lev­el of recognition?
It's real­ly great! I had no pri­vate life what­so­ev­er when I was mak­ing this col­lec­tion – like, I lit­er­al­ly did noth­ing else – so I'm huge­ly appre­cia­tive of the coverage.
Have you always want­ed to work in fashion?
I always liked it, but I was nev­er very good at any­thing fash­ion-relat­ed. I couldn't use a sewing machine and I wasn't very good at draw­ing, so I stud­ied archi­tec­ture when I came to Vien­na. I hat­ed it! I real­ly want­ed to go to the Uni­ver­si­ty of Applied Arts because I knew they had a fash­ion course, so I stopped my [archi­tec­ture] stud­ies and just start­ed draw­ing for like, two months straight. It all worked out, and now it's get­ting bet­ter and bett­ter!

Were there any design­ers that influ­enced you, grow­ing up?
John Gal­liano, def­i­nite­ly. I was always obsessed with that whole fan­ta­sy world he man­aged to cre­ate, espe­cial­ly at Dior.
On that note, can you tell us about the fairy­tale you cre­at­ed for your collection?
It's the sto­ry of a lit­tle boy grow­ing up in the woods, because he got lost there. He has to face every chal­lenge and con­front every sit­u­a­tion on his own, with­out par­ents or any­one around him. But then he grows up and even­tu­al­ly comes back to his peo­ple, who tell him that he's a long-lost prince. So the first part of his life is about sur­vival in nature, but then he finds out he has this role of a prince which brings a com­plete­ly dif­fer­ent kind of strug­gle, which in a way is even hard­er for him.
In your eyes, how does the col­lec­tion help to com­mu­ni­cate this story?
Each of the looks show how he faces dif­fer­ent chal­lenges, and how he shines through. The begin­ning looks are about vol­ume and pro­tec­tion, but then we start to see these more clas­si­cal gar­ments, the kind of clothes that are restric­tive to him in some way.
The last look is this grey foam suit, which shows his whole per­son­al­i­ty. On the one hand it's this clas­sic trench­coat pat­tern, but it's made in this real­ly loud fab­ric. It looks easy to wear, strong and pro­tec­tive, but real­ly every­thing about this trench­coat is kind of fake – you can't use the but­tons or any­thing, so [it's restric­tive] in the sense that there's just one belt which clos­es the coat.
Are these sto­ries and char­ac­ters your start­ing point when designing?
I've always loved movies and sto­ries, so I tend to make sense of a col­lec­tion by build­ing that nar­ra­tive. The colec­tion always comes first, then the sto­ry is about mak­ing sense of it. They're just for me real­ly, so it feels weird to be actu­al­ly telling the sto­ries now!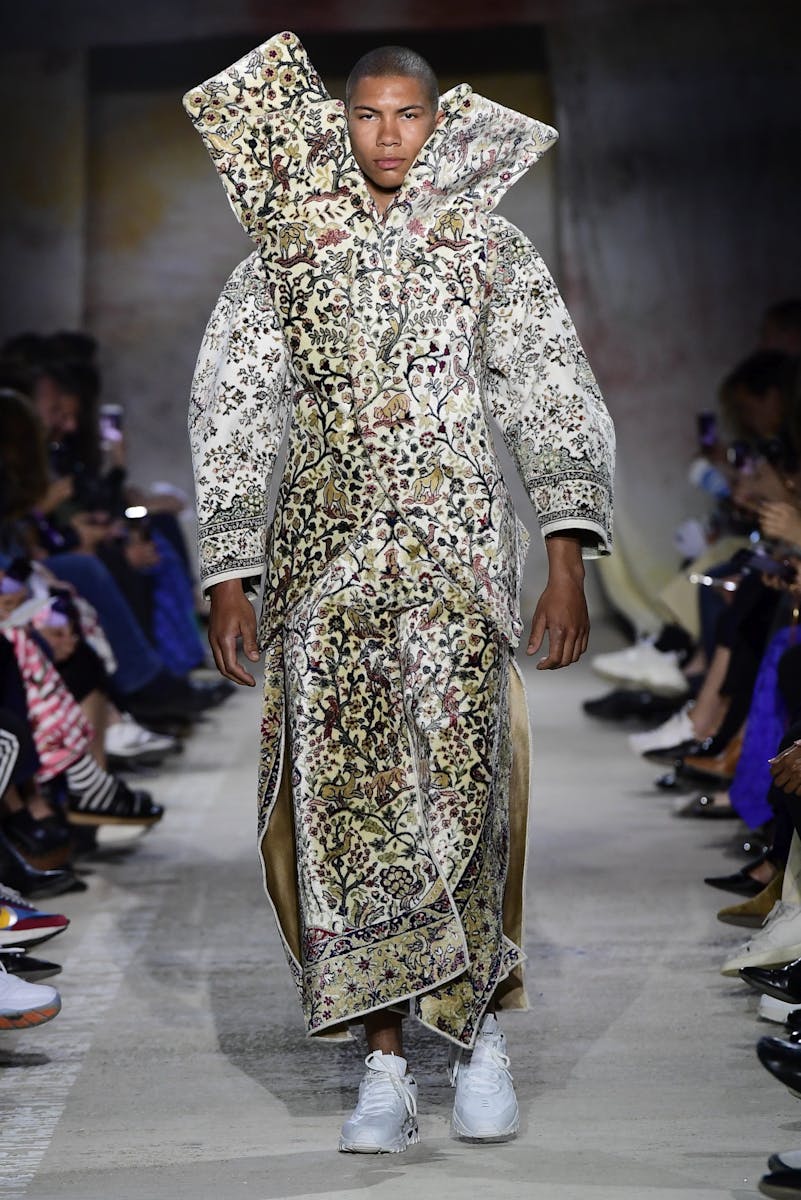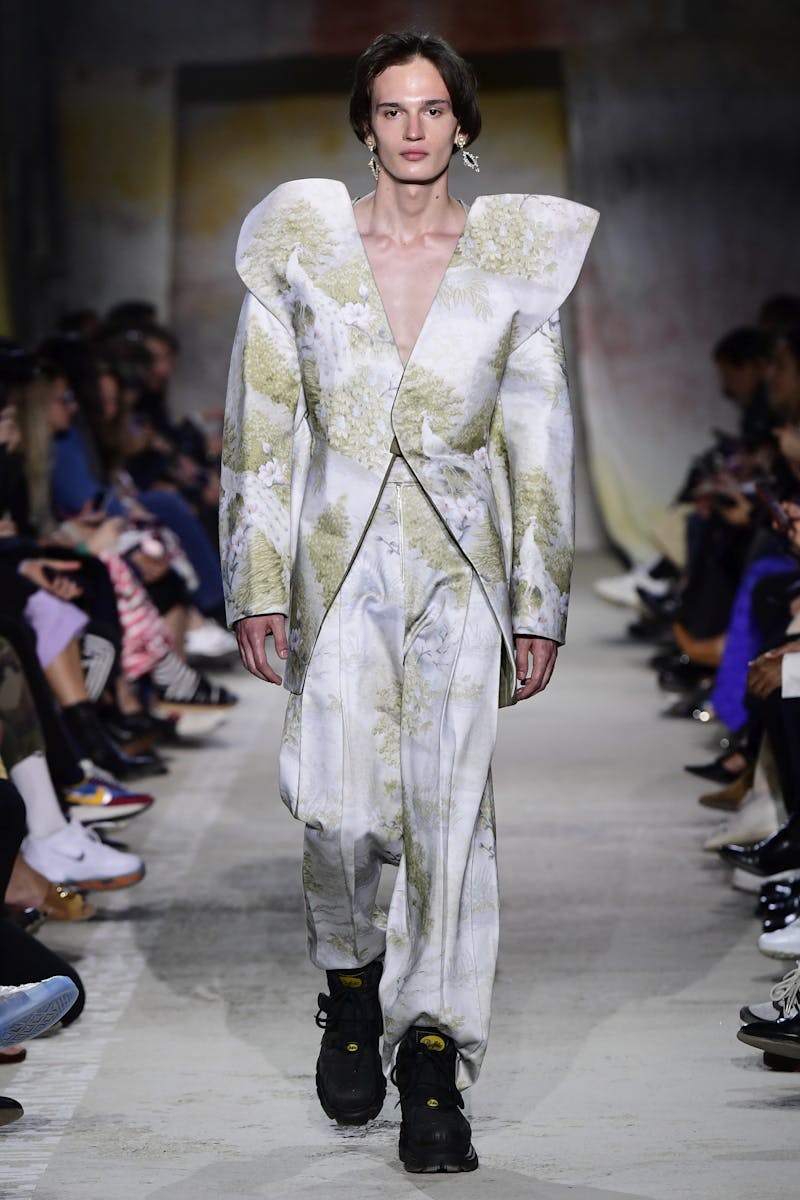 Talk me through the fab­rics for the col­lec­tion. How did you decide which to use?
I'm obsessed with flea mar­kets. I go all the time and my entire clos­et is basi­cal­ly full of what­ev­er I've found there, so I want­ed to bring that into my col­lec­tion. I also want­ed to use beau­ti­ful things which can be reused but which are usu­al­ly just thrown away, so part of the fab­ric choice rep­re­sents my approach to sus­tain­abil­i­ty; it's about reduc­ing over­pro­duc­tion. Almost every tex­tile in the col­lec­tion is either from mar­kets or it's dead­stock. The only excep­tion is the grey suit I men­tioned, which was actu­al­ly made from car seat foam!
What do you think about con­ver­sa­tions around sus­tain­abil­i­ty in the fash­ion indus­try right now?
I real­ly want­ed to cre­ate sus­tain­ably-made clothes which don't resem­ble any ​'sus­tain­able' fash­ion that's already out there. I've been asked about how I could mass pro­duce the clothes, but I don't want to. I don't want to become a huge, huge brand. I don't want to pro­duce 10,000 t-shirts per year. I do want to become a suc­cess­ful brand, but I think you can do that and also work with sec­ond-hand materials.
One of the real chal­lenges fac­ing design­ers is know­ing where your fab­ric comes from, so if you use dead­stock or source fab­rics local­ly, you know those facts. You can use those tex­tiles to repro­duce what you find at the flea mar­ket. This is how I make sure I'm work­ing sus­tain­ably now, but I def­i­nite­ly want to exper­i­ment with oth­er ways in the future because we need to keep the industry's envi­ron­men­tal foot­print low.
In your expe­ri­ence, are fash­ion schools mak­ing efforts to edu­cate stu­dents about sustainability?
Not real­ly. I know that some uni­ver­si­ties like Cen­tral Saint Mar­tins make it a pri­or­i­ty, but oth­er­wise I think it's the stu­dents that are talk­ing about it and start­ing those con­ver­sa­tions – it's already com­ing from them.
Last­ly, we​'ve seen so much talk around the evo­lu­tion of menswear over the last decade or so. What made you decide to choose it over womenswear?
A big part of the deci­sion hon­est­ly just came down to the fact that I could fit the clothes on myself; I could see how they felt and what they were like to wear. But I also think that what's hap­pen­ing in the [menswear] indus­try right now is just more inter­est­ing. It's excit­ing – I just real­ly don't think those old cre­ative restric­tions are there any more.

As a result of win­ning the prize, Christoph Rumpf will be show­ing his col­lec­tion at Mer­cedes-Benz Fash­ion Week in Berlin. Images cour­tesy of cat​walkpic​tures​.com

---