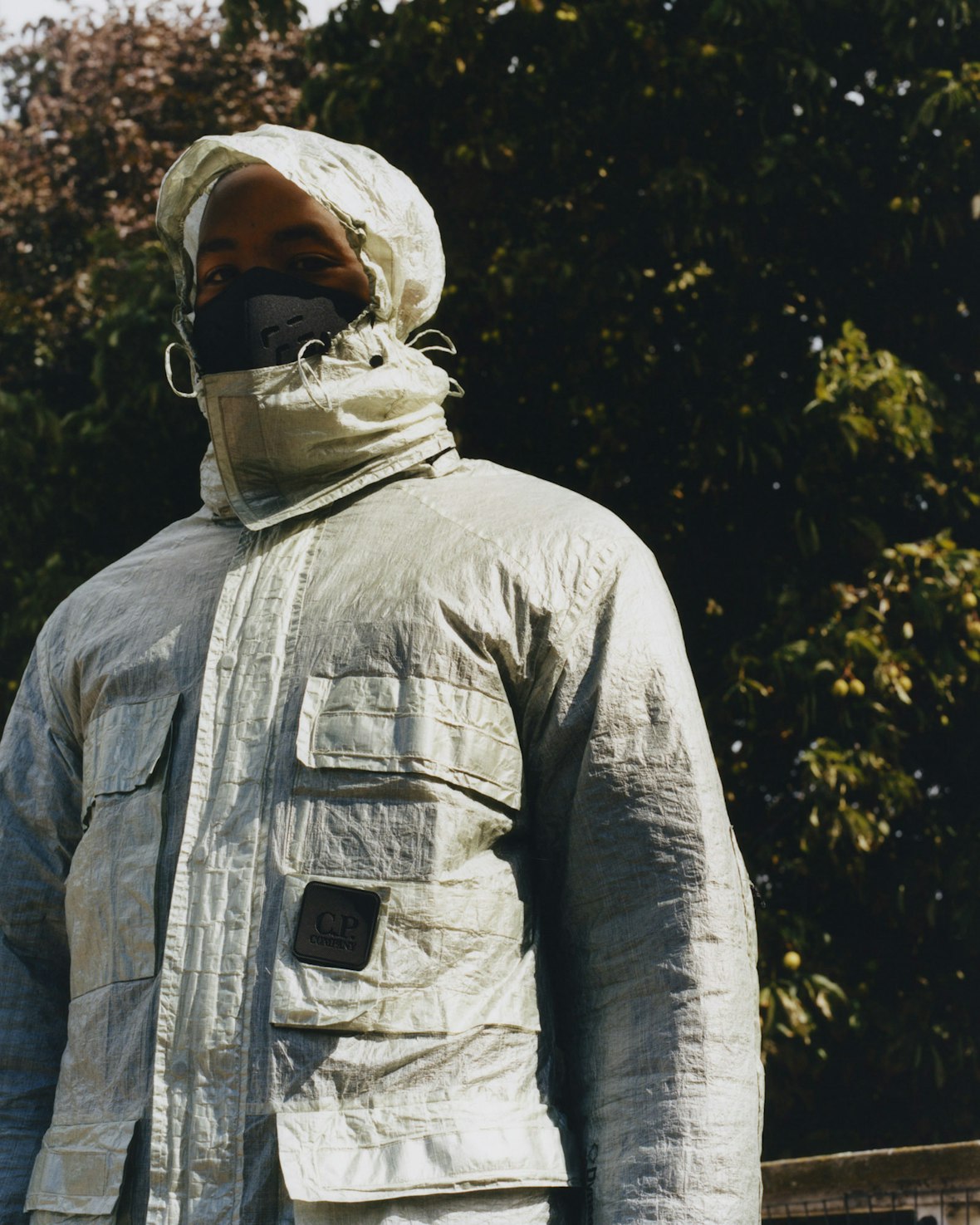 The shifting landscape of C.P. Company's Metropolis Jacket
"Anticipatory and vaguely apocalyptic" is how philosopher and political theorist Franco ​"Bifo" Berardi describes the work of Massimo Osti, the Italian fashion designer who founded Stone Island and C.P. Company in the 1970s and 80s, in the book Ideas From Massimo Osti. His creations, he writes, were intended for ​"a transient people… who were in the phase of departure towards another place and another time".
The iconoclastic innovator Massimo Osti injected each of his brands with a sense of restless curiosity and experimentation. He would fashion jackets that could be reconfigured as tents; eschewed traditional fashion shows in favour of magazines or experimental films; and created a slew of revolutionary fabrics and dyeing techniques alongside the likes of Giuliano Balboni, a pharmaceutical chemistry graduate.
His camouflages would change colour according to the temperature mimicking the way they work in nature, while other garments would shimmer and reflect light akin to transparent toffee wrappers. Osti's brands – which also included Left Hand and Boneville – seemed to act only as a way of disseminating his most fully-formed ideas, but never quite told the full story of his design practise. His life works could perhaps be best characterised as being in a perpetual state of R&D.
By the time Moreno Ferrari designed the Metropolis jacket and the rest of the Urban Protection range in 1998, English designer Paul Harvey was designing Stone Island. It was several years later that Harvey started working on C.P. Company, but never with Ferrari. But the impetus and spirit of the Urban Protection range, which aimed to create a series of garment-based solutions for urban living, was undeniably a continuation of their predecessor's work.

The key feature of the Metropolis Jacket – reissued this month by C.P. Company in a robust Dyneema® fabric – was that of an integrated, air-filtering mask, which feels at once morbidly coincidental and decidedly prescient as we collectively fumble our way through this pandemic. That Osti, during the same time period, was lending his talents to a documentary that foretold of looming ecological disaster, while also creating sleek electric car designs, perhaps suggests a shared pessimistic outlook on the future.

But C.P. Company's Urban Protection range, of which the Metropolis was arguably the crowning jewel, was also part of a wider shift within menswear, to that of a more futuristic aesthetic, intended to inure its wearer from the realities of life in a burgeoning major city.
Around the same time, cult London brand Vexed Generation would also release garments in response to urban surveillance, air pollution, and The Criminal Justice Bill, including a protest-ready fishtail Parka with padding designed to protect its wearer from flailing police batons. Prada, meanwhile, launched its first sportswear line in the same year as the Metropolis, building on its success in releasing industrial nylon products with an entire sub-label dedicated to this future-facing look.
Other subsequent garments included within the Urban Protection range were arguably even more ambitious. The Move Jacket featured an in-built harness and a foldaway scooter, the REM Parka offered an integrated SONY ICD-30 voice note recorder, and the Munch Jacket carried an internal personal safety device, which emitted a shrill, high-pitch noise if the wearer were to pull on a discrete cord.
But for all genuine innovation and madcap experimentation that C.P. Company's Urban Protection garments represent, it was the altogether more quotidian inclusion of greenery and foliage in this week's Metropolis launch video that really stood out.

It is a jacket you would typically associate with an almost dystopian vision of the modern city: one of cold, grey concrete, towering glass-clad structures, and presumably air quality so poor that it requires some form of mask. But here, leaves and vines wrapped and twisted themselves around buildings, almost offering a sense of protection to these concrete structures. The imagery was overlaid with the words of London poet James Massiah, who riffs on themes of gentrification and looming ecological collapse.
In this sense, the Metropolis Jacket, despite being over two decades old, feels very much of the moment – a time when Instagram accounts such as organiclab.zip abound, where technical, man-made products and fabrics are interspersed with imagery of nature. This strain of fashion-conscious environmentalism uneasily coexists alongside products intended to allow you to master your surroundings, but which also often harm it.
It was a tension also outlined by C.P. Company's president Lorenzo Osti in February, as he described the jump-off point for the brand's AW20 collection titled Next Landscape. ​"Were struck by some images in a recent documentary showing the abandoned and now overgrown city of Chernobyl," he said, explaining that the collection is ​"comprised of a series of structural elements that together represent the entire spectrum of what this hypothetical next landscape looks like today. Despite the disaster that we human beings have caused, nature, 40 years after, has grown amazingly and looks alive and recovered." Chernobyl is, of course, visually recovered but still largely uninhabitable.
The sentiment is echoed in the short two minute film: ​"With rising costs and rising smoke/​Let's see to it that we don't choke/​Or suffocate ourselves too soon, in darkness under city moon." It feels like an acknowledgment of collective failure but also an exoneration from individual blame, revealing the tension at the heart of both the film and the Metropolis Jacket – a feat of fascinating technical design which, in an ideal world, would have no practical use.
Such tensions or inherent contradictions will perhaps never be reconcilable, but as Berardi states in Ideas, this is also part of C.P. Company's DNA. Osti ​"produced objects to underline a function, and at the same time negate it, dissolve it, mock it," he writes, describing an inherent irony imbued in Osti's hyper-functional, anticipatory clothes. It is an irony not as we might understand it today, taking the form of insouciant detachment, but rather that of almost admirable naivety. Deliberately enacted, as Berardi puts it, in order to ​"not feel the weight of reality. To feel free from its heaviness."