Fun and frocks at Fashion East AW21
Last season, Maximilian Davis' Fashion East debut set a meticulous tone for his namesake brand – considered references paying homage to his Trinidadian roots as much as his nightlife know-how through razor-sharp tailoring, freeing mini-skirts and laser-cut lines outlining the figure. A bold exploration of Black elegance. And it continues this season, with the designer exploring the sartorial codes of 1960s and early ​'70s couture found through family photographs – a reimagined response to his grandmother's Sunday Best wardrobe of round shoulders, columned skirting and batwing cuts, worn to attend church. ​"It's the one moment when you really know the Black community would dress up and show off their outfits – in the same way that me and my friends will put on our looks to go to the club," Davis says in the press notes. In a nod to nostalgic Caribbean interiors, Davis subverts velvet devoré fabrics and cracked leathers, while streamlining cut-out lycra bodysuits to act as a second skin. The tailoring immaculately sits on the body, with the shoulders of a blazer almost perpendicular, punctured by the psychedelia of a hot pink shirt and tie combo, sitting as comfortably in the rows of a church as it would on the dancefloor. ​"I wanted to take what exists, but make it my own," he says. ​"I'm reclaiming these iconic moments and references for the Black community."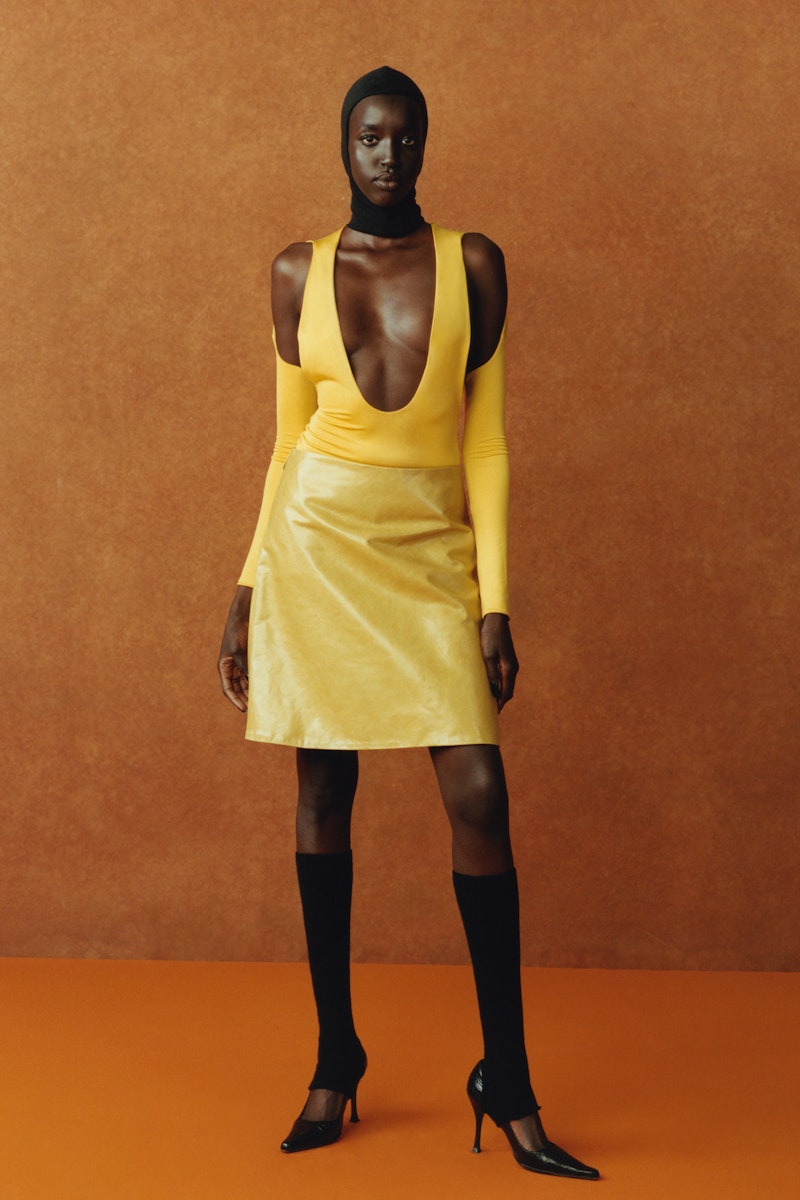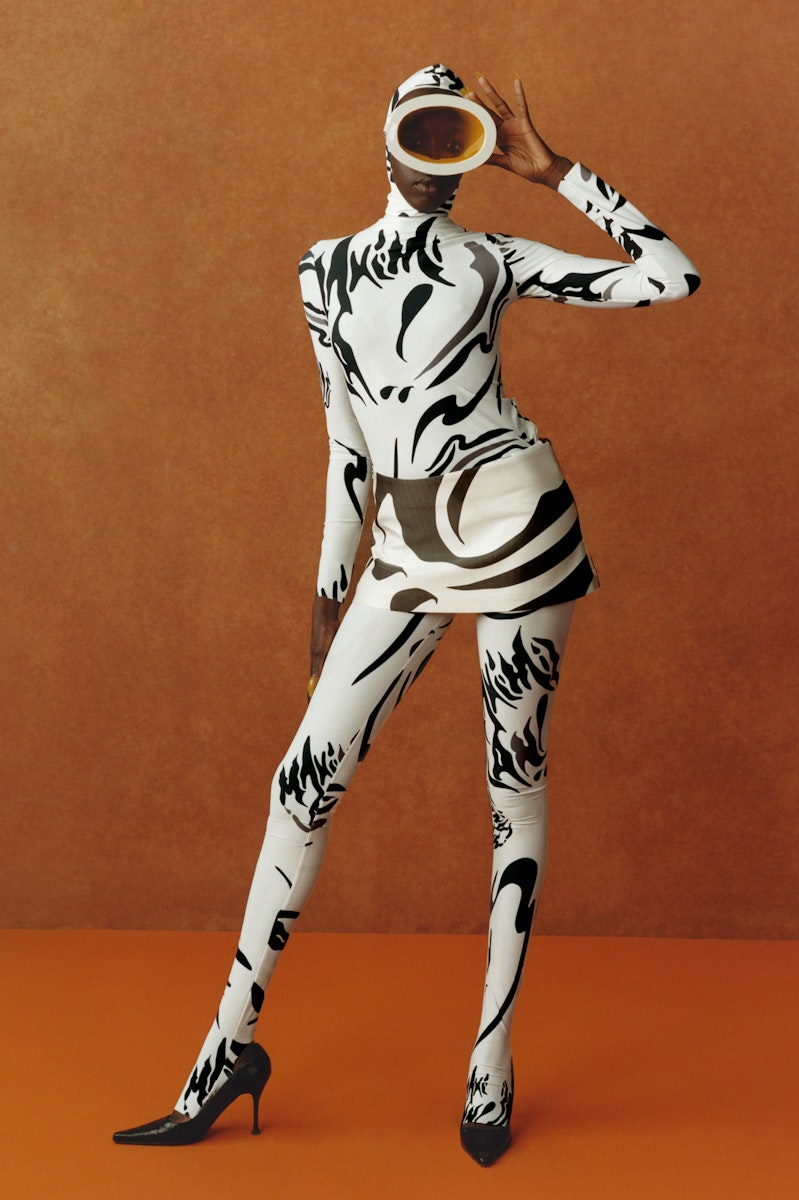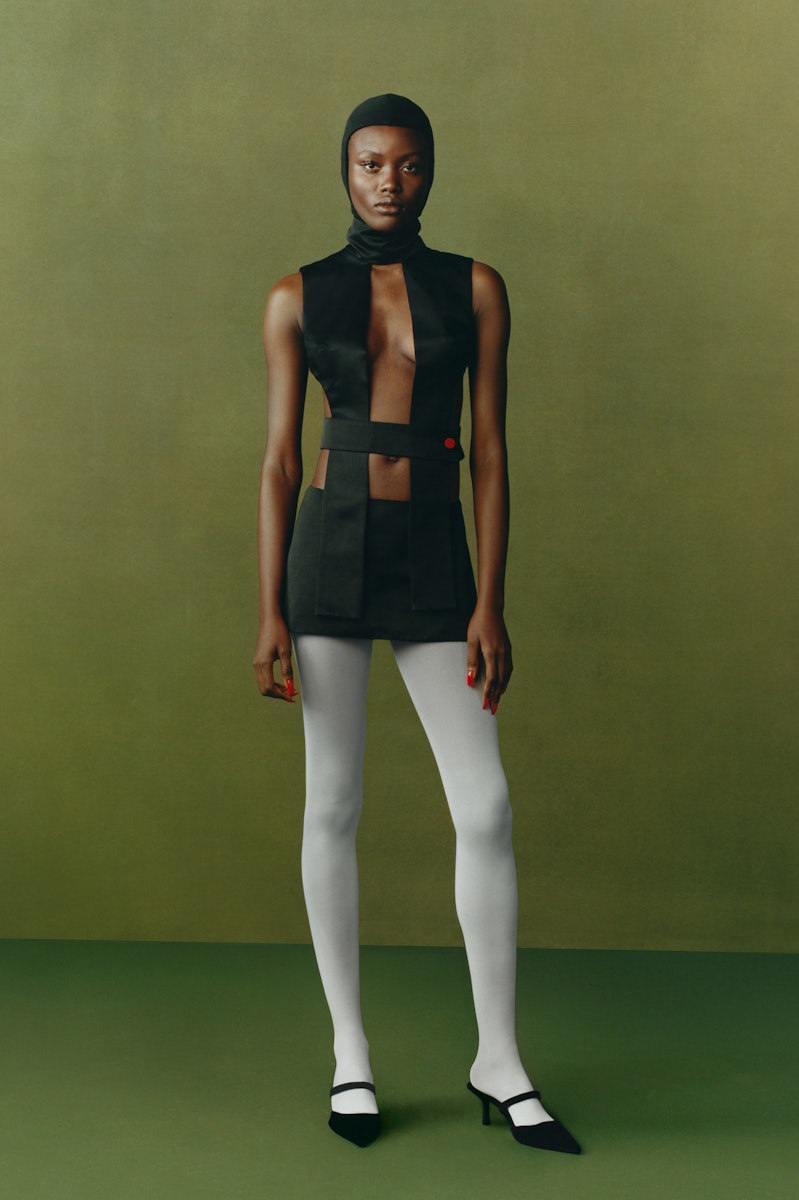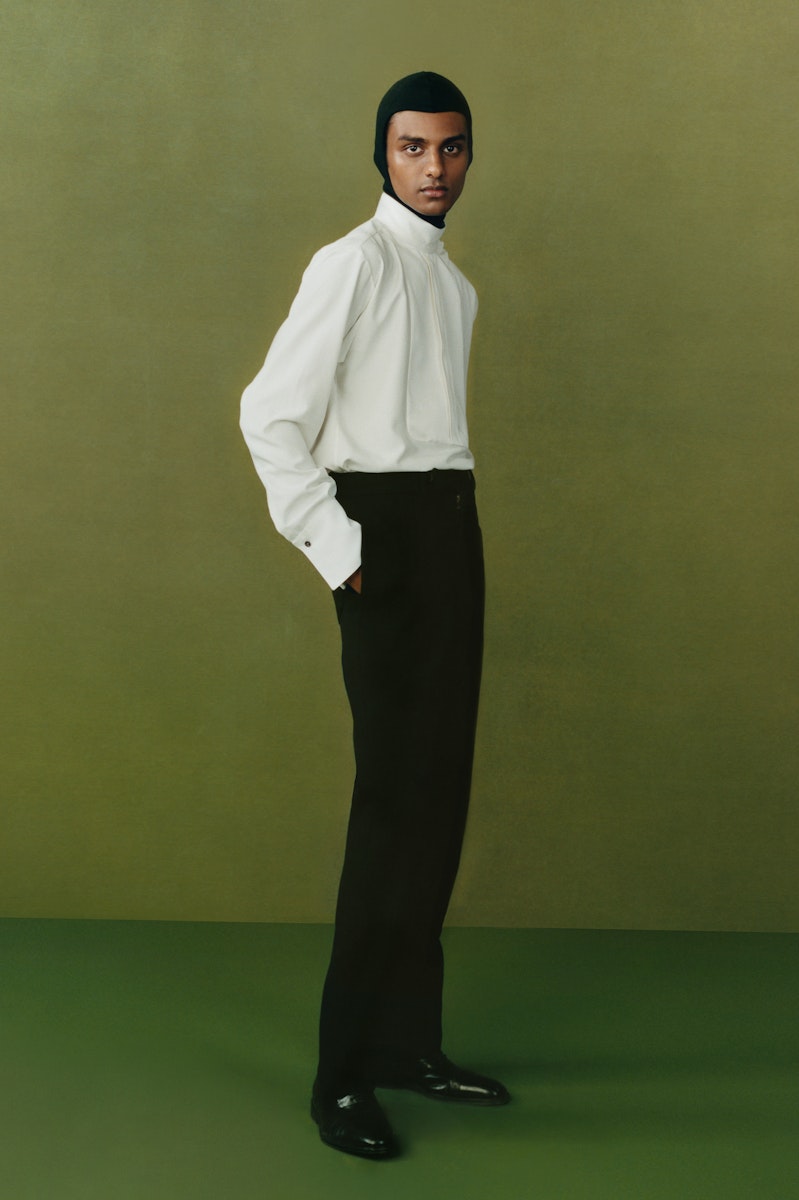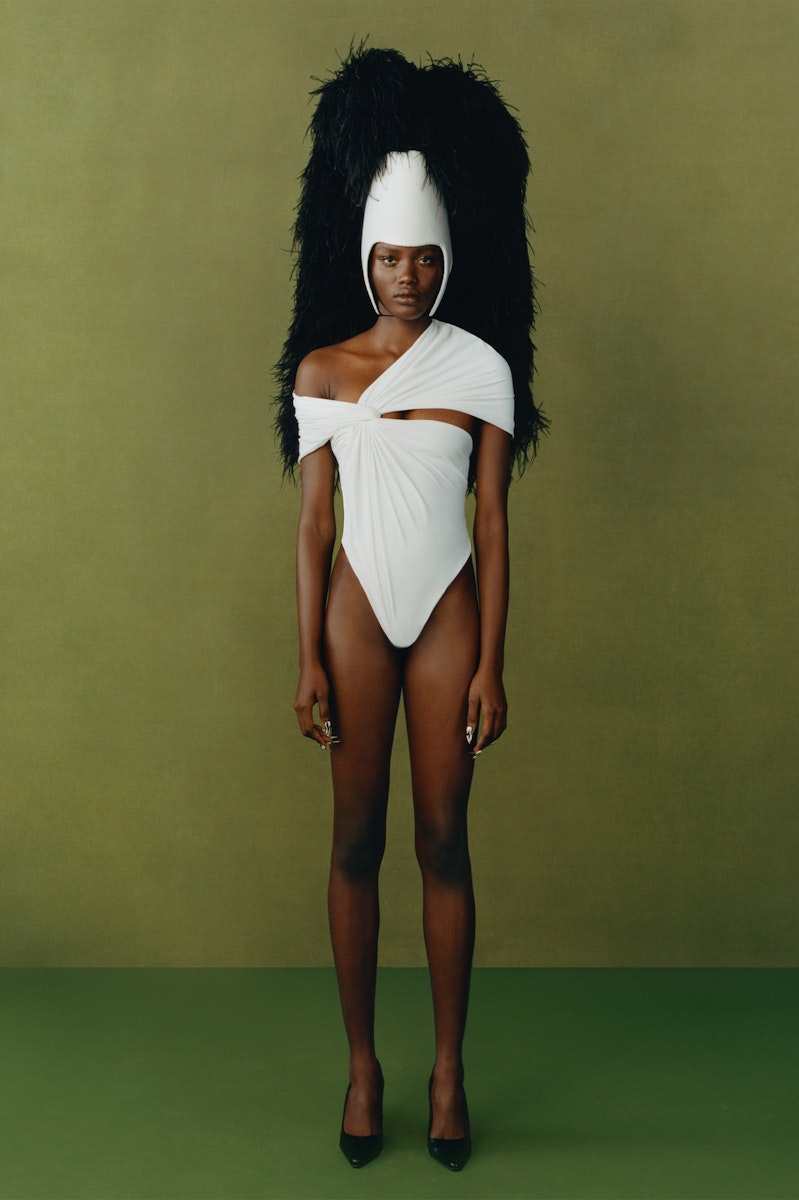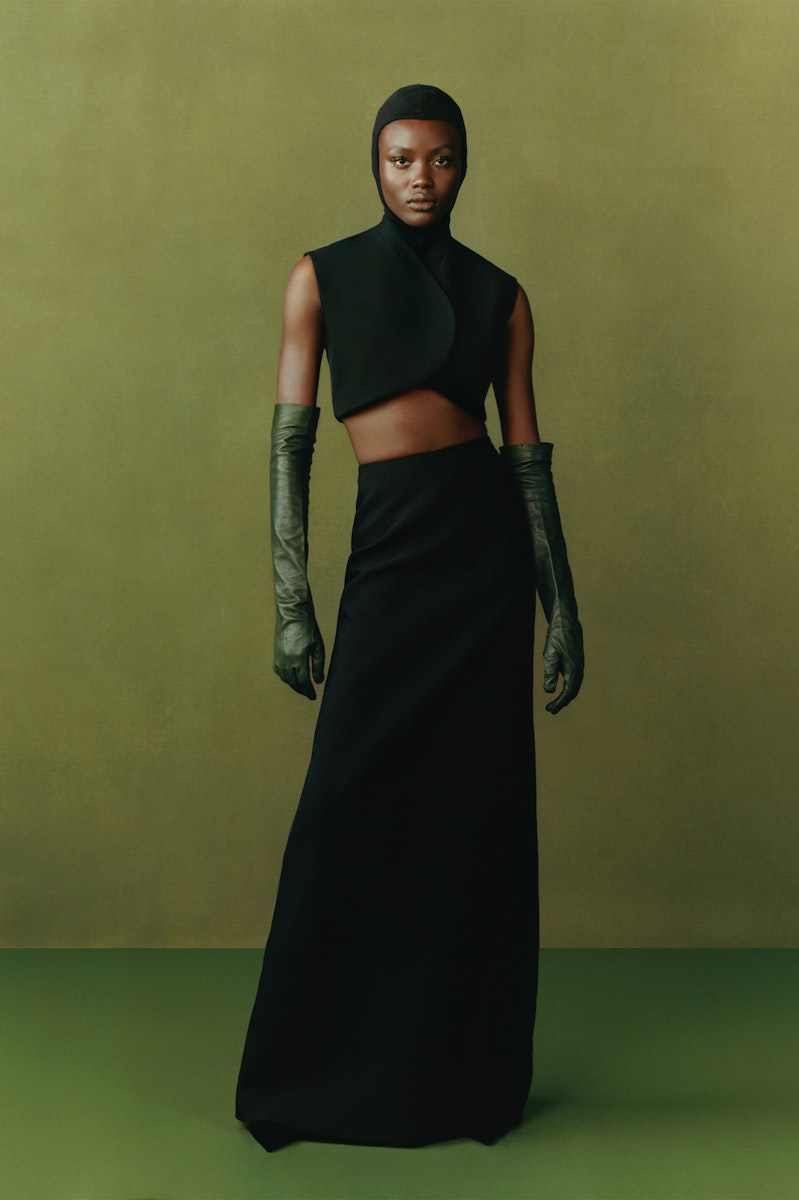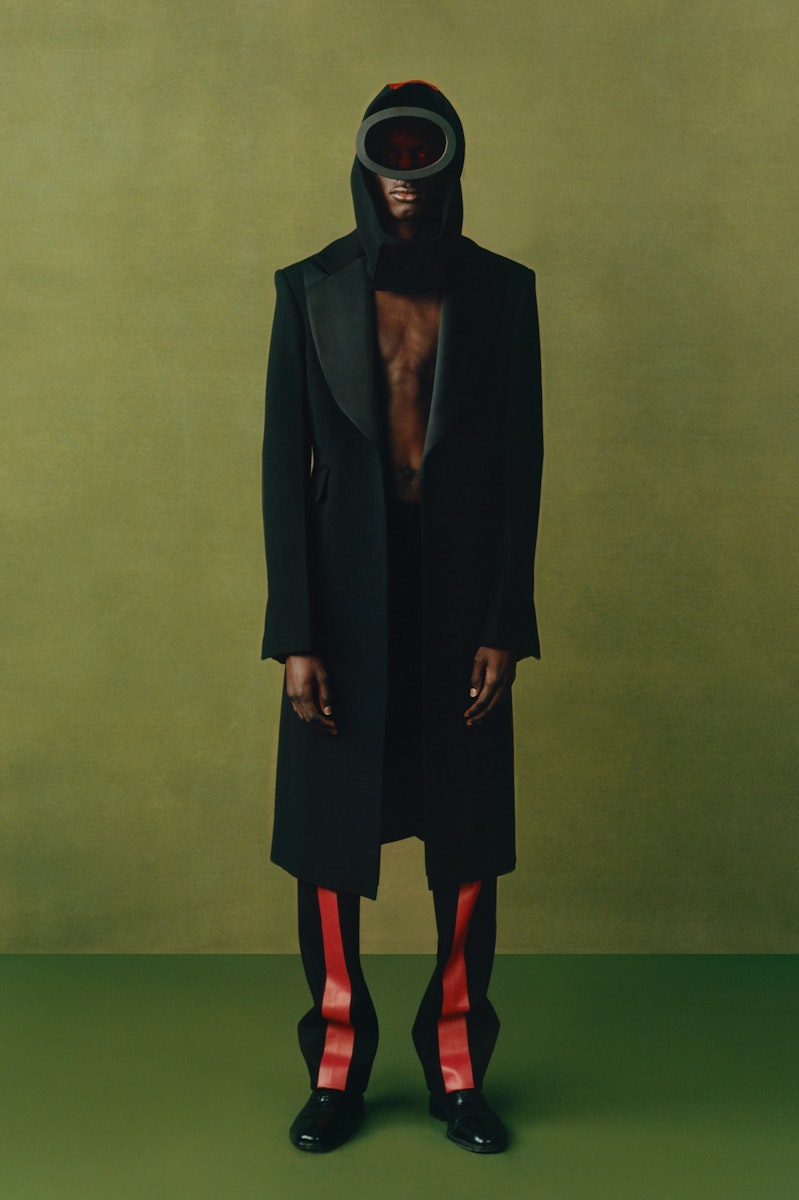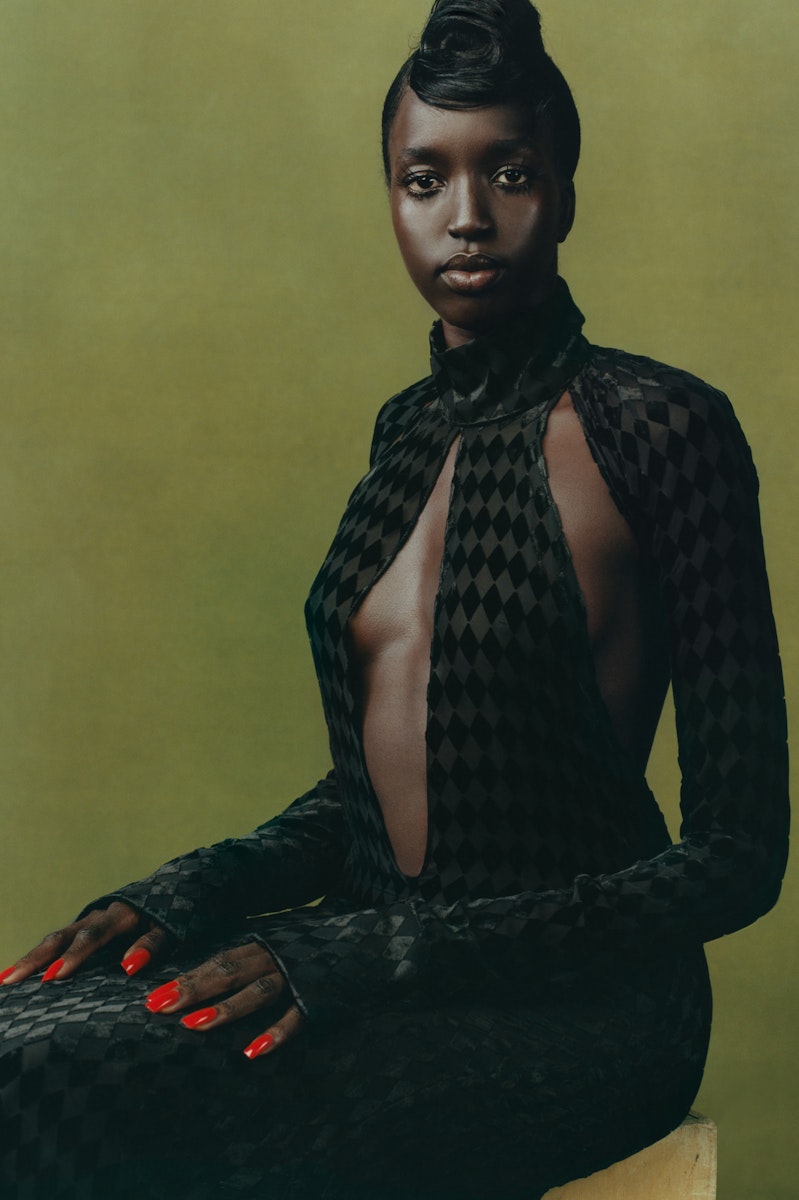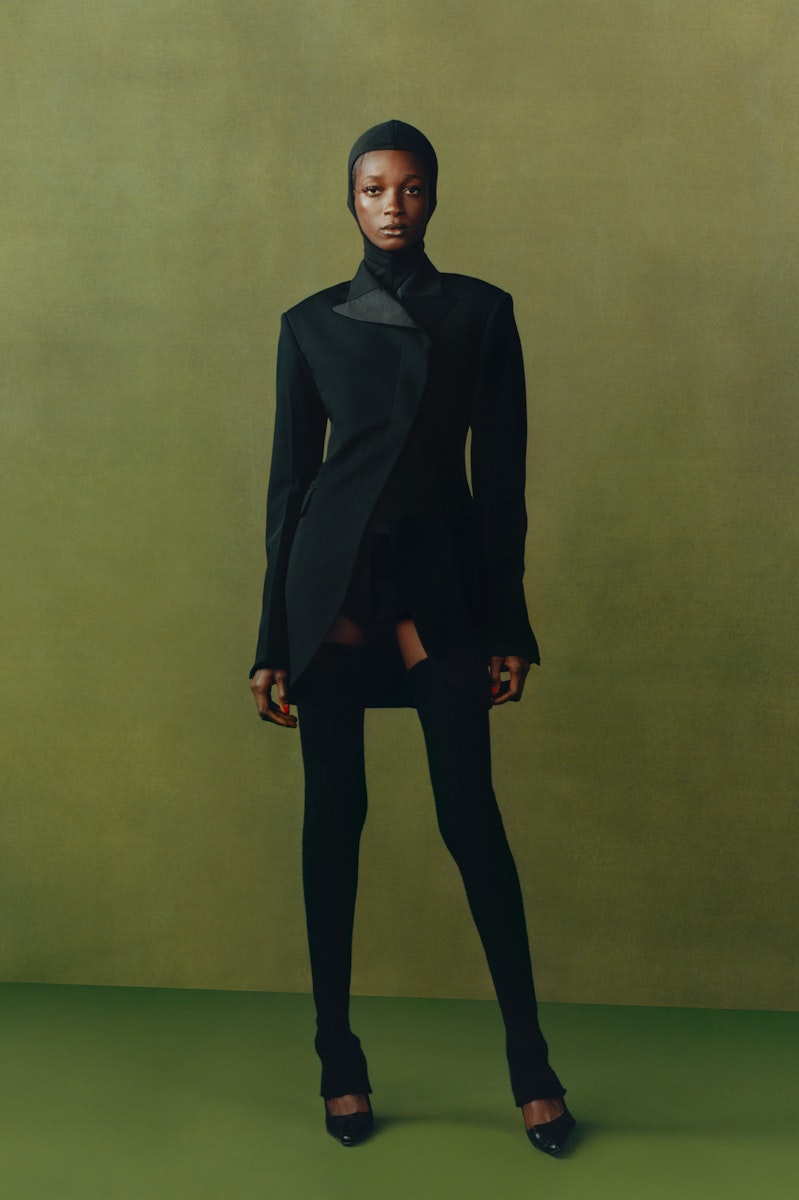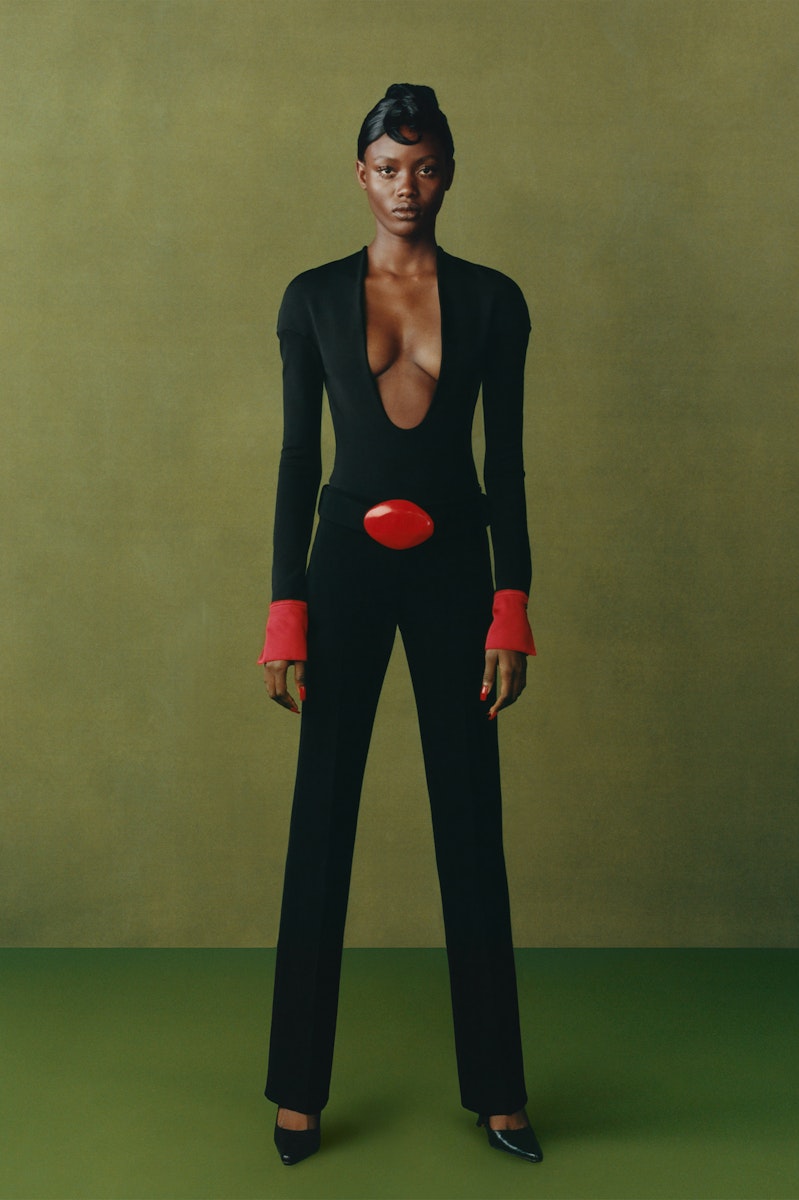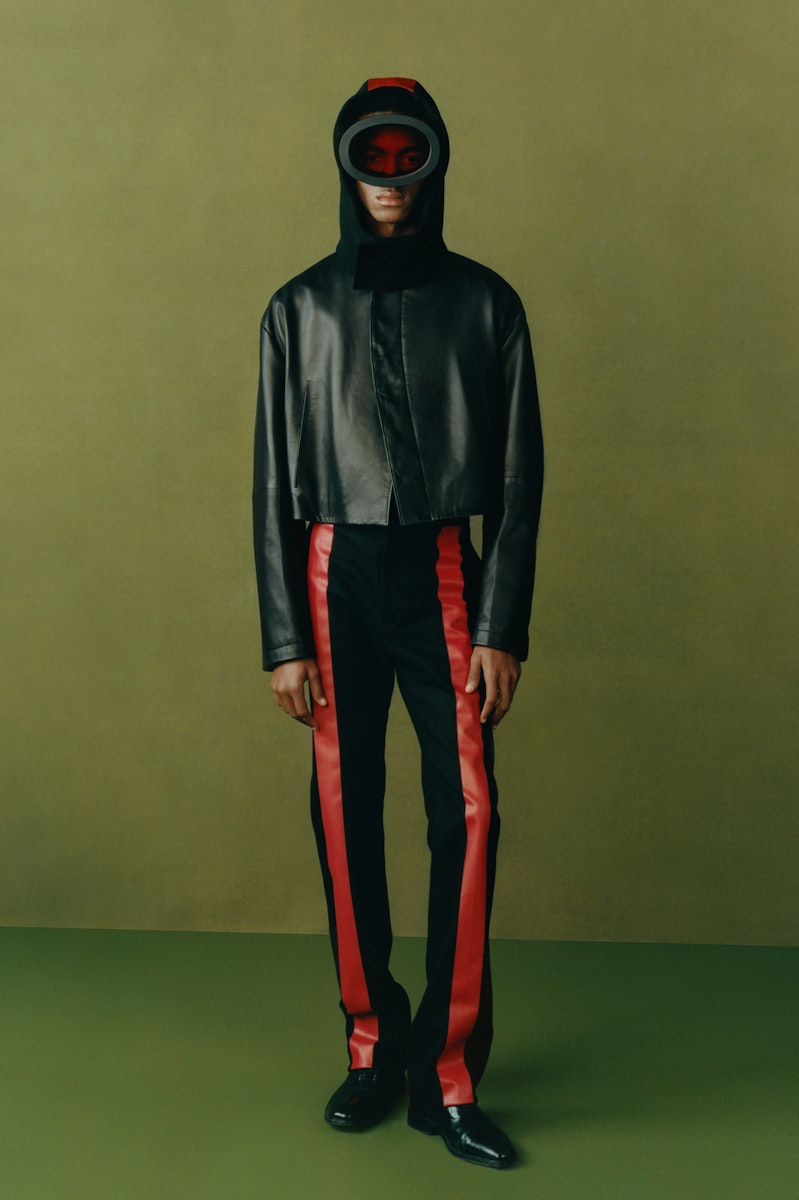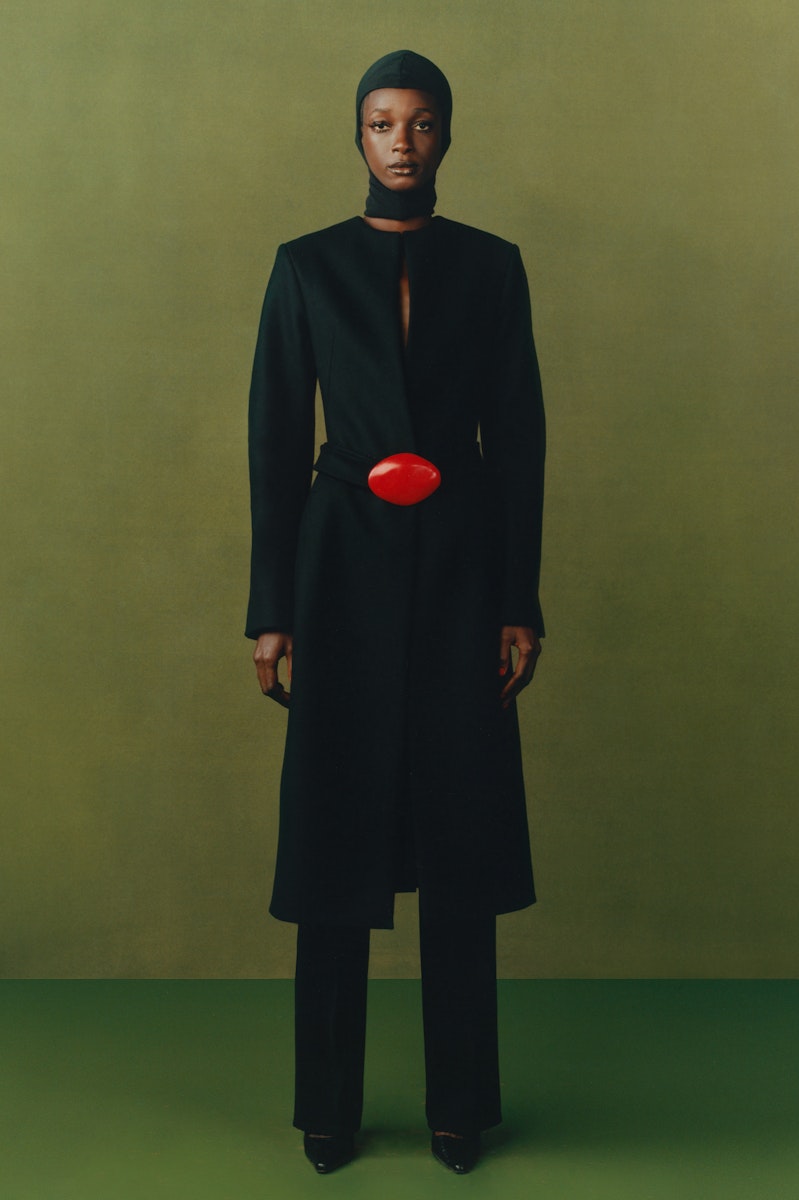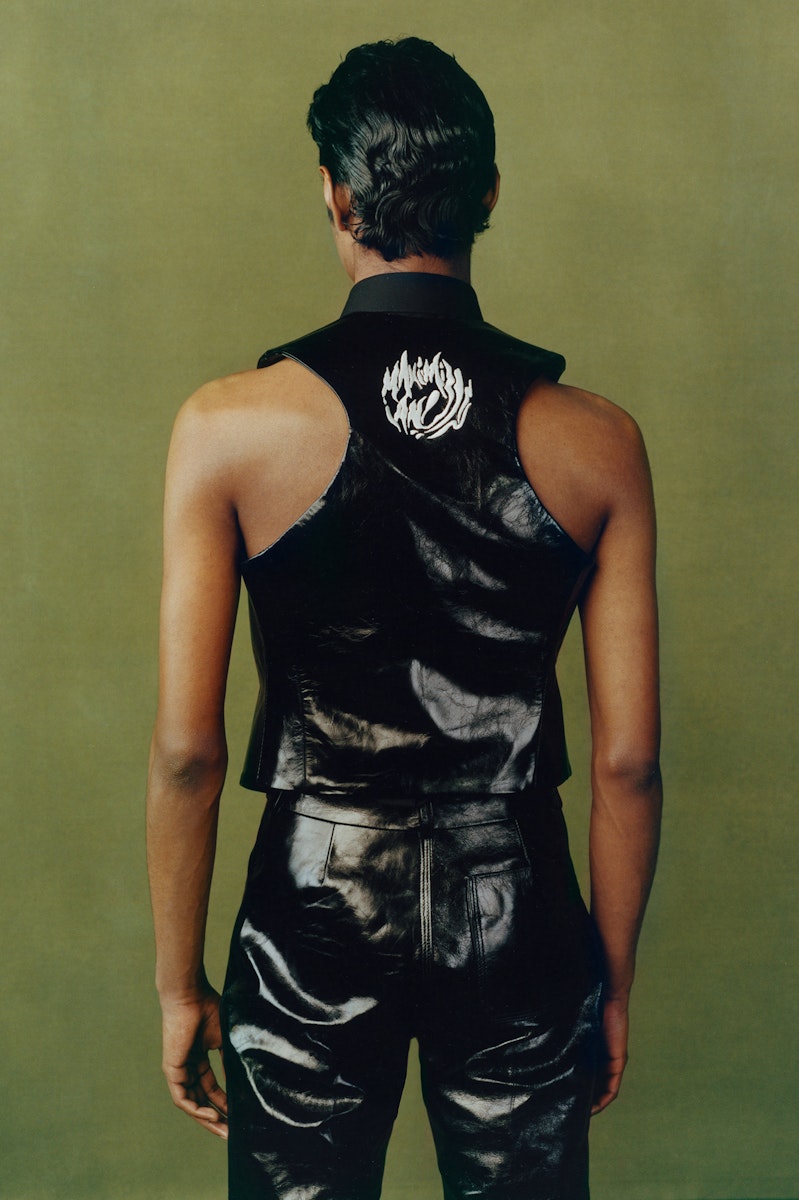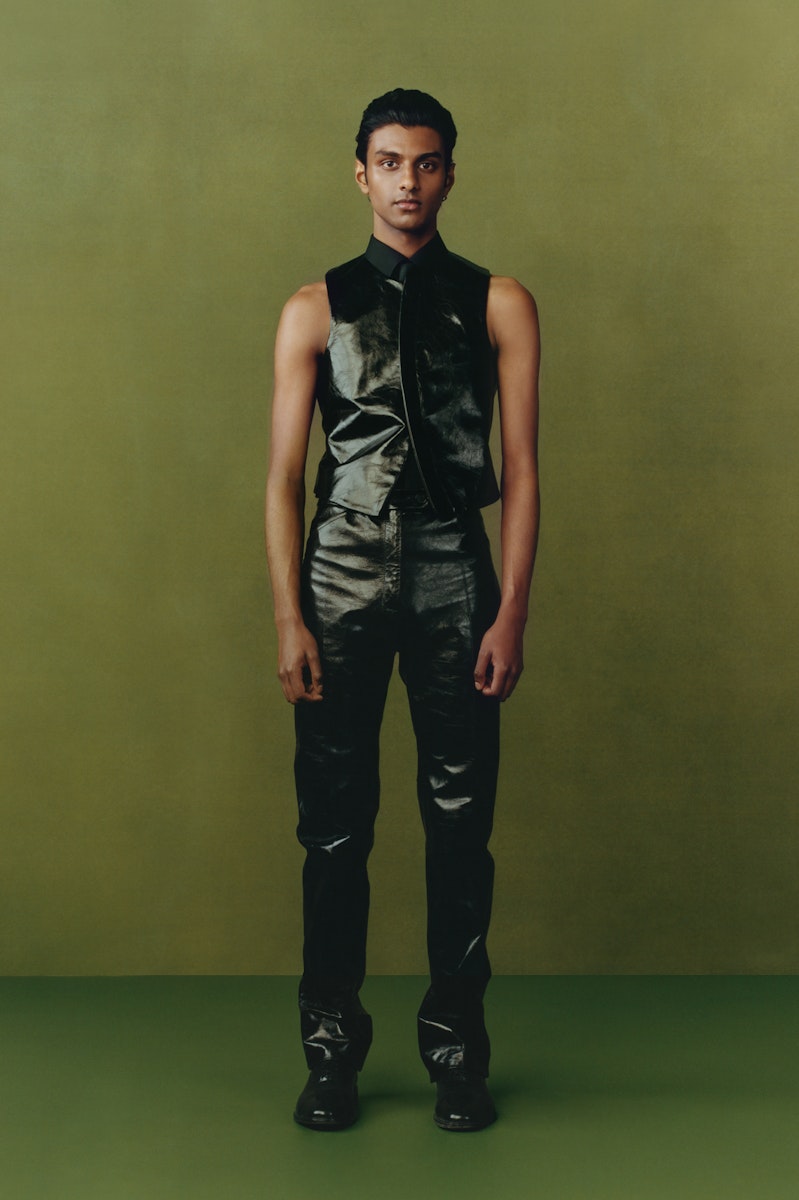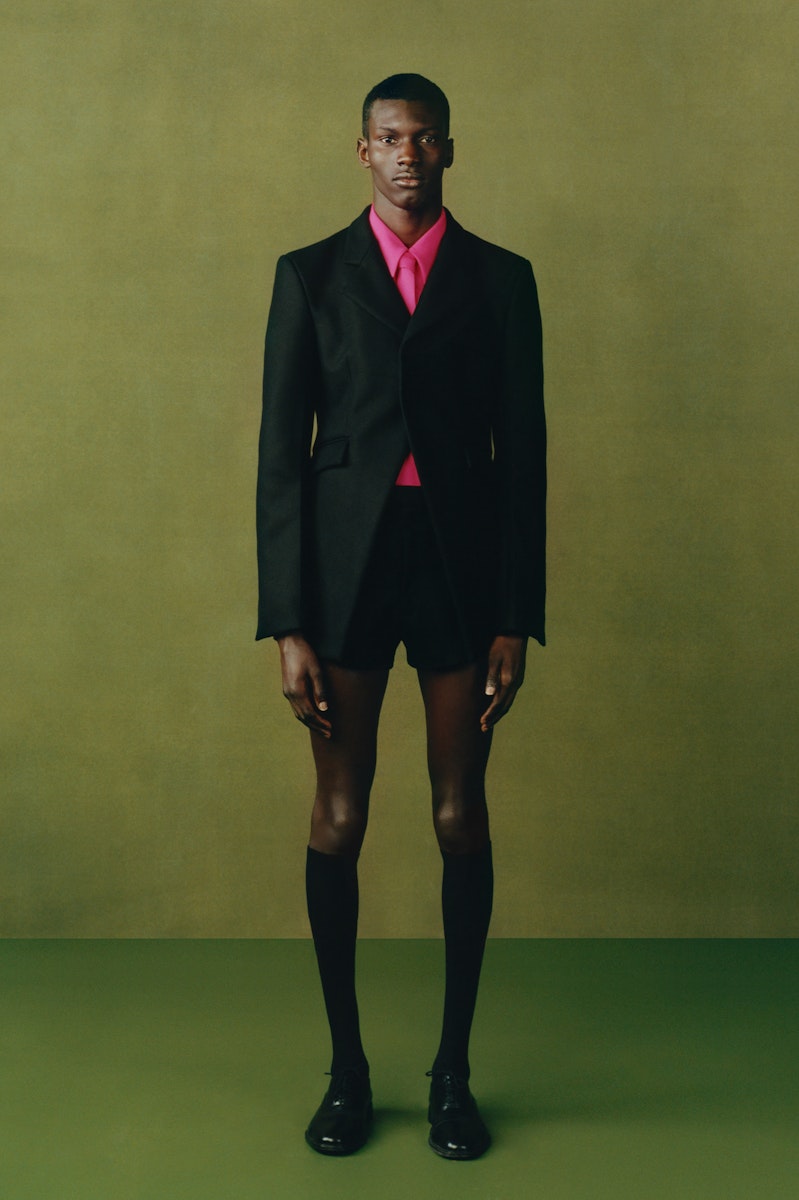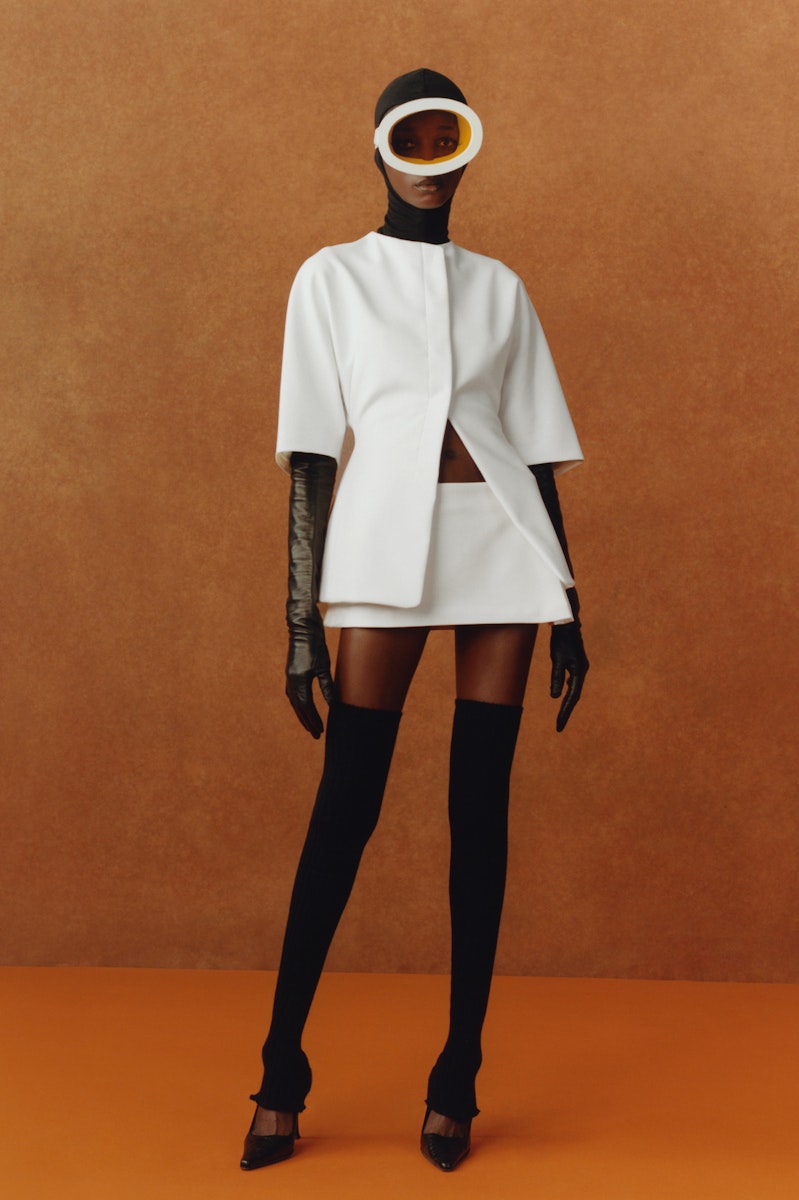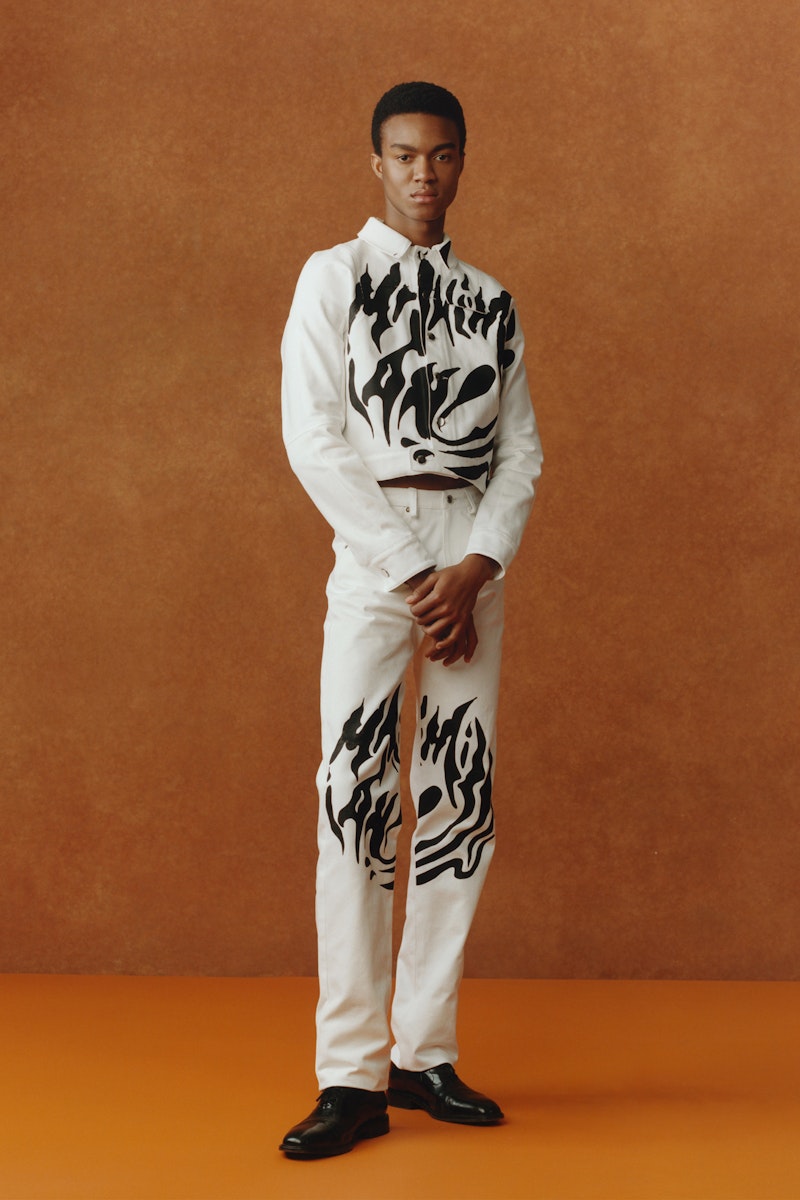 One of two Fashion East newcomers this season, Hannah – better known as HRH – presents a line of accessories nodding to her early beginnings as a competitive gymnast. Specifically, it's sports tribal bonding that Hannah was influenced by, looking closely at the relationships formed when off the pitch: ​"the moments when teams aren't on ice, or on the court, but are all boarding the plane together or waiting along the sidelines for results," the designer explains in her press notes. And so Hannah elevates small details she remembers from her time competing in Hong Kong, while imagining each adornment as lucky charms. Like the scrunchies her teammates would wear, accompanied with a thermal flask hanging off a side-bag, and padded nylon scarves emulating the super-soft neck cushions used on long journeys. All materials, from shearling, vegetable leather and wadding made from recycled plastic bottles, are sourced as sustainably as possible, but never compromise on the designer's knack for spotting unique texture combinations. Her attention to detail is shown in the crisp lookbook images shot by Adrian González-Cohen, which Hannah hopes will evoke the same feelings a spectator gets when watching ​"Simone Biles win Gold".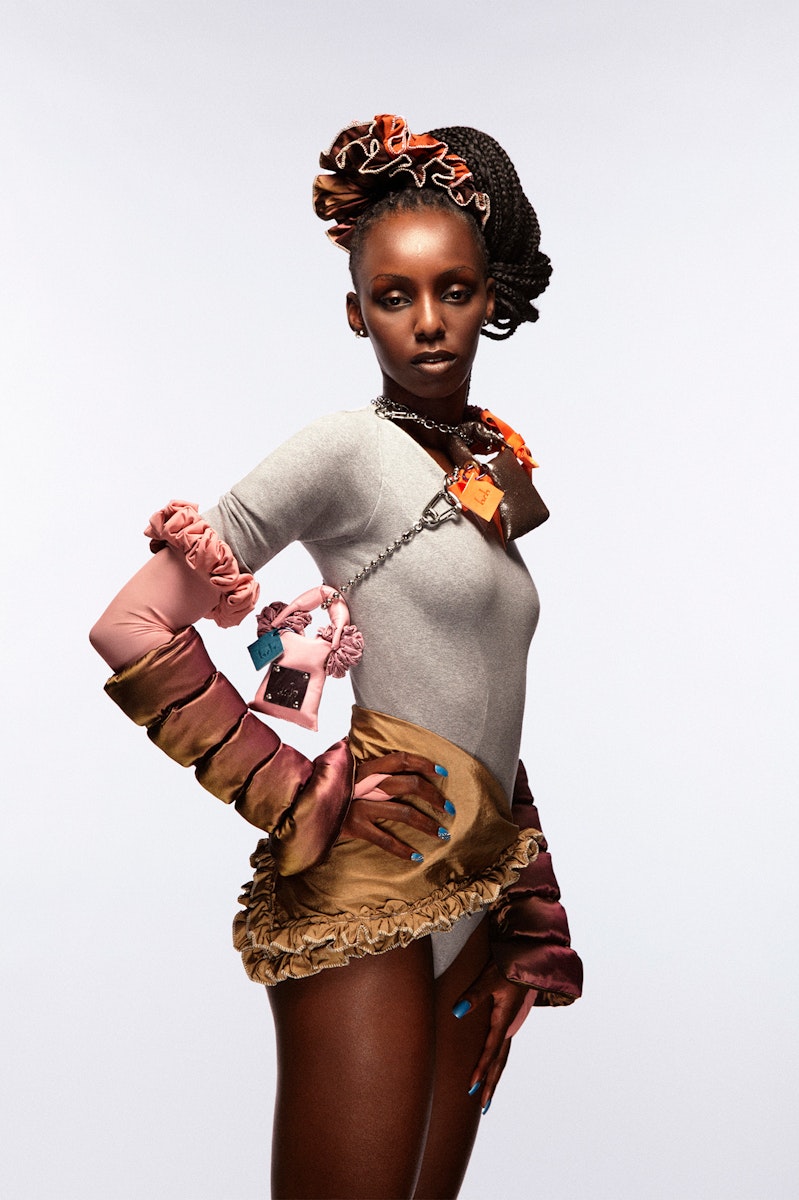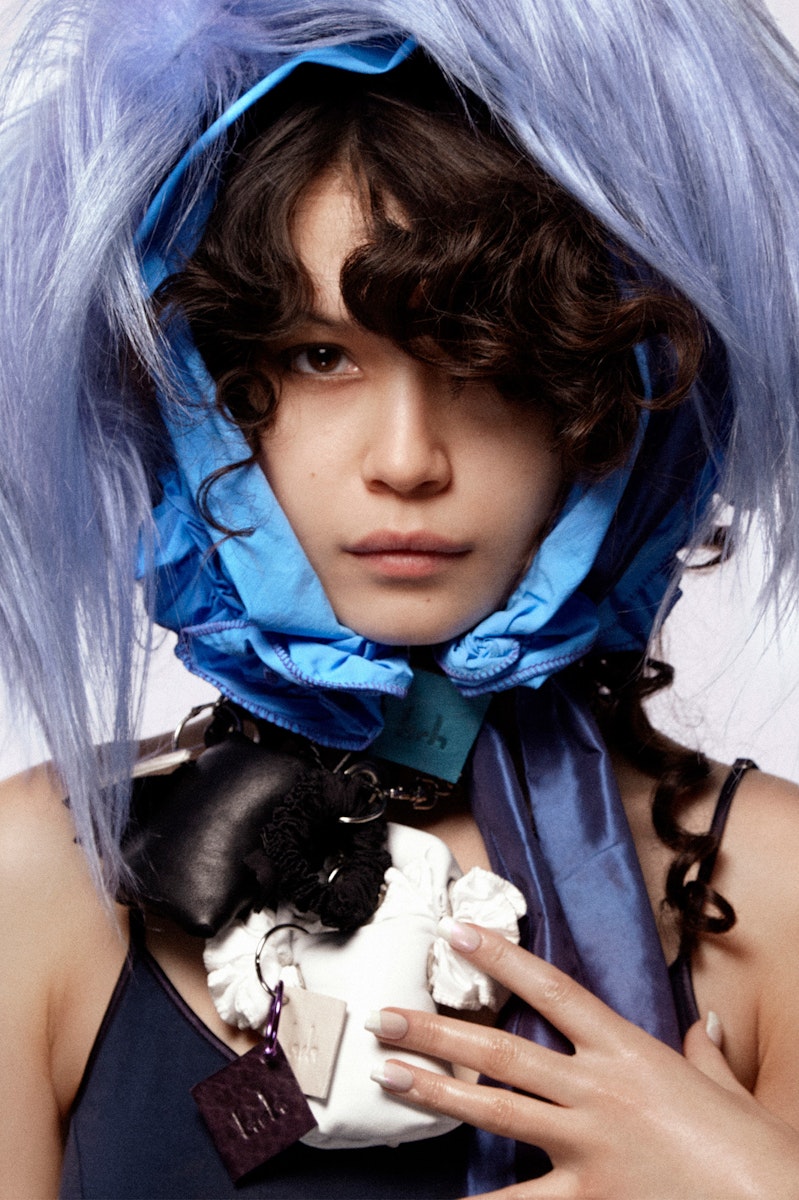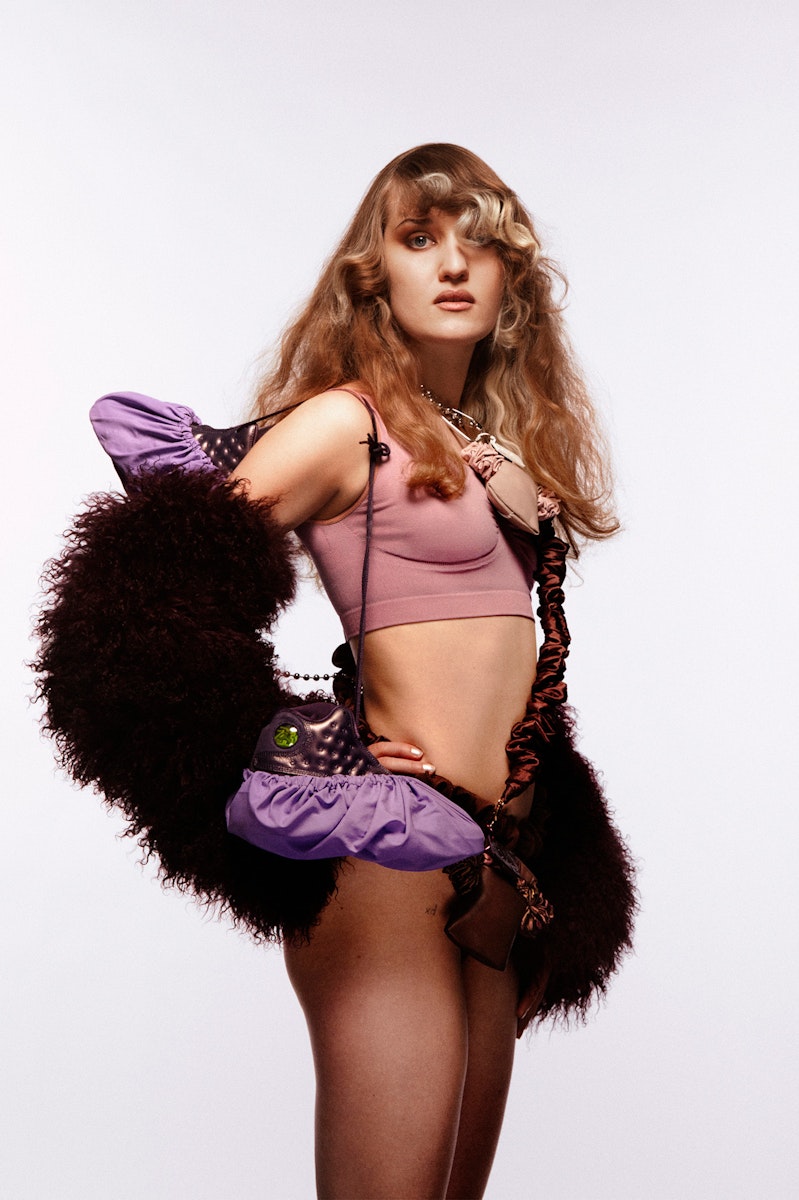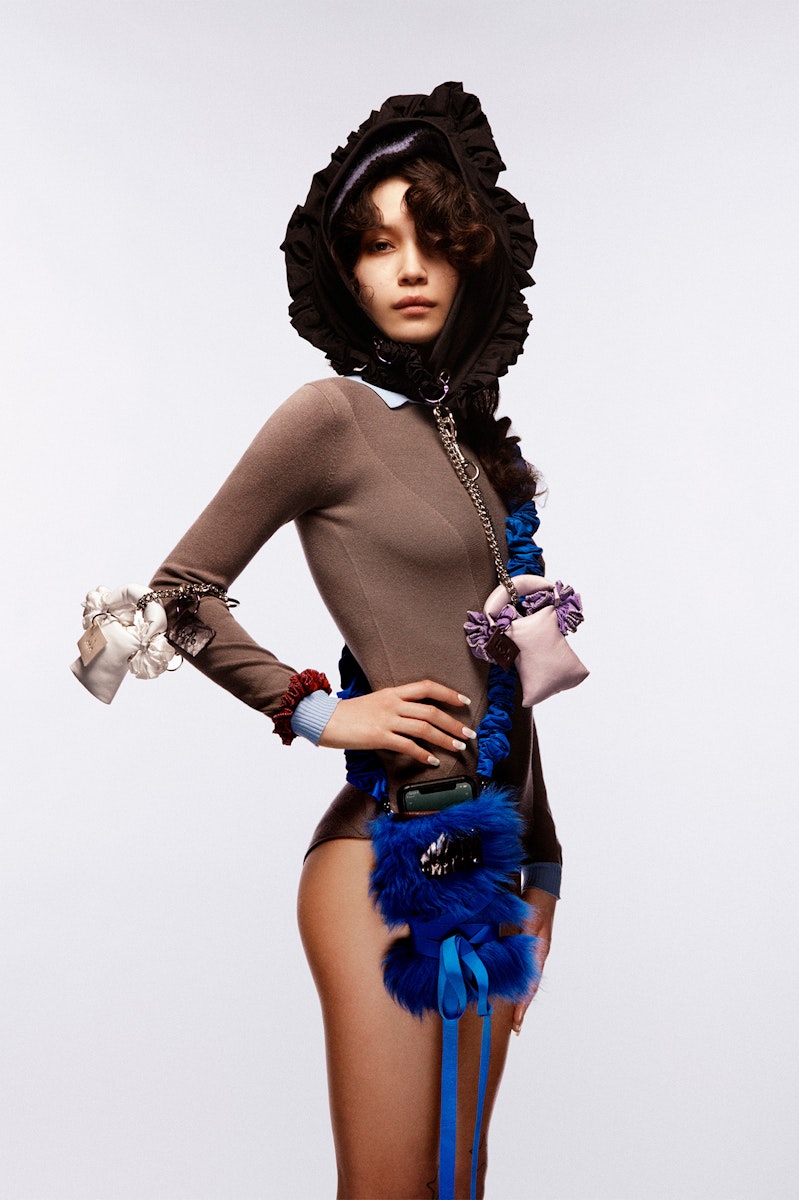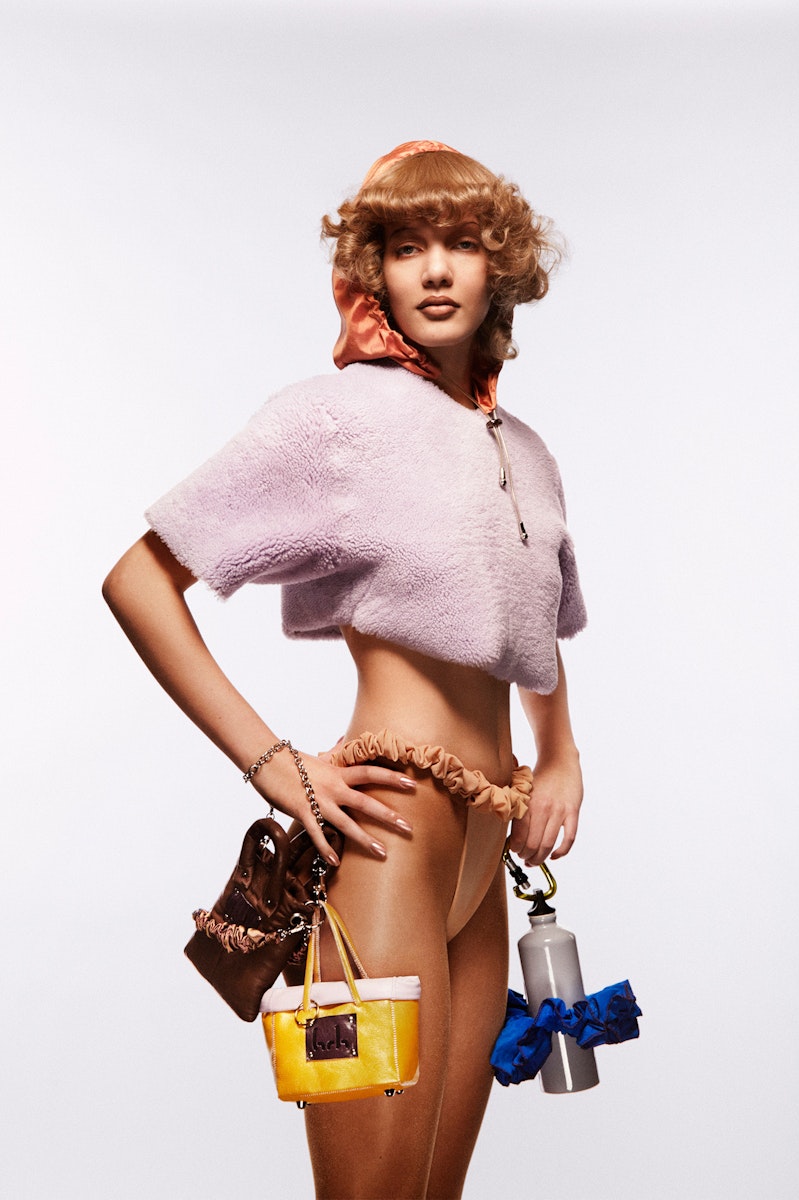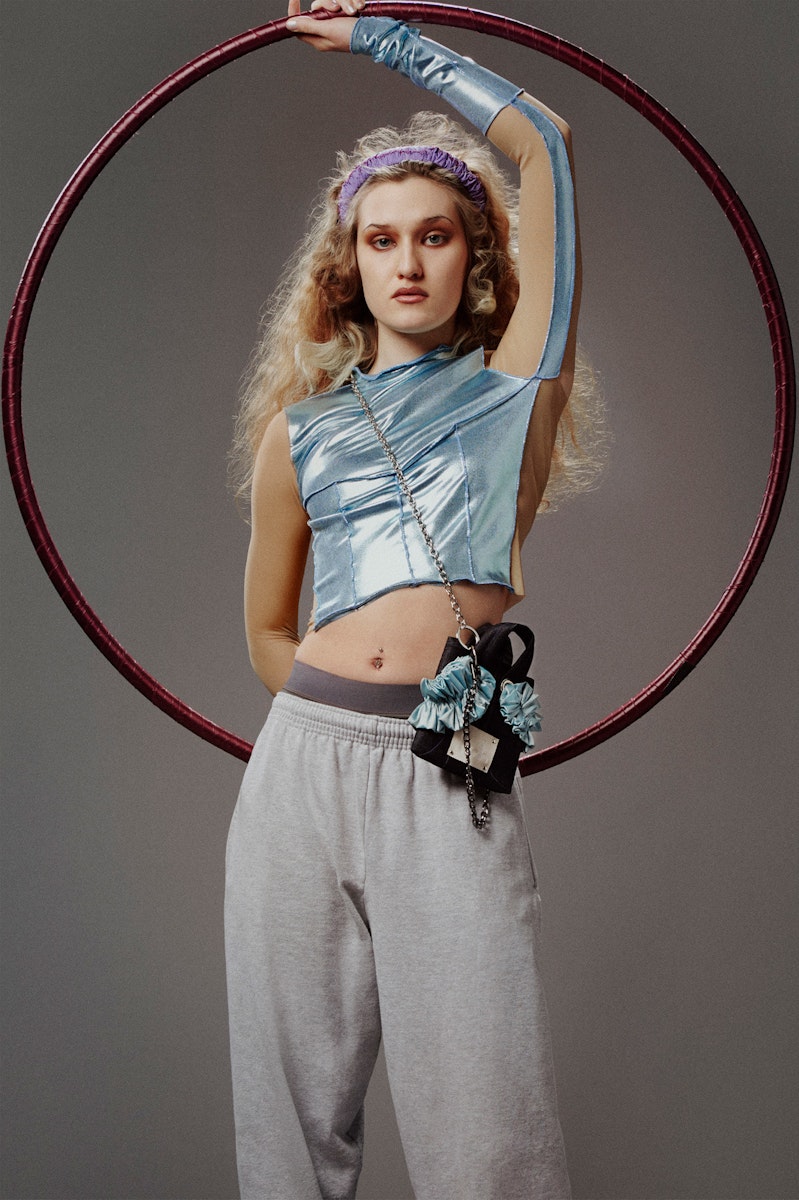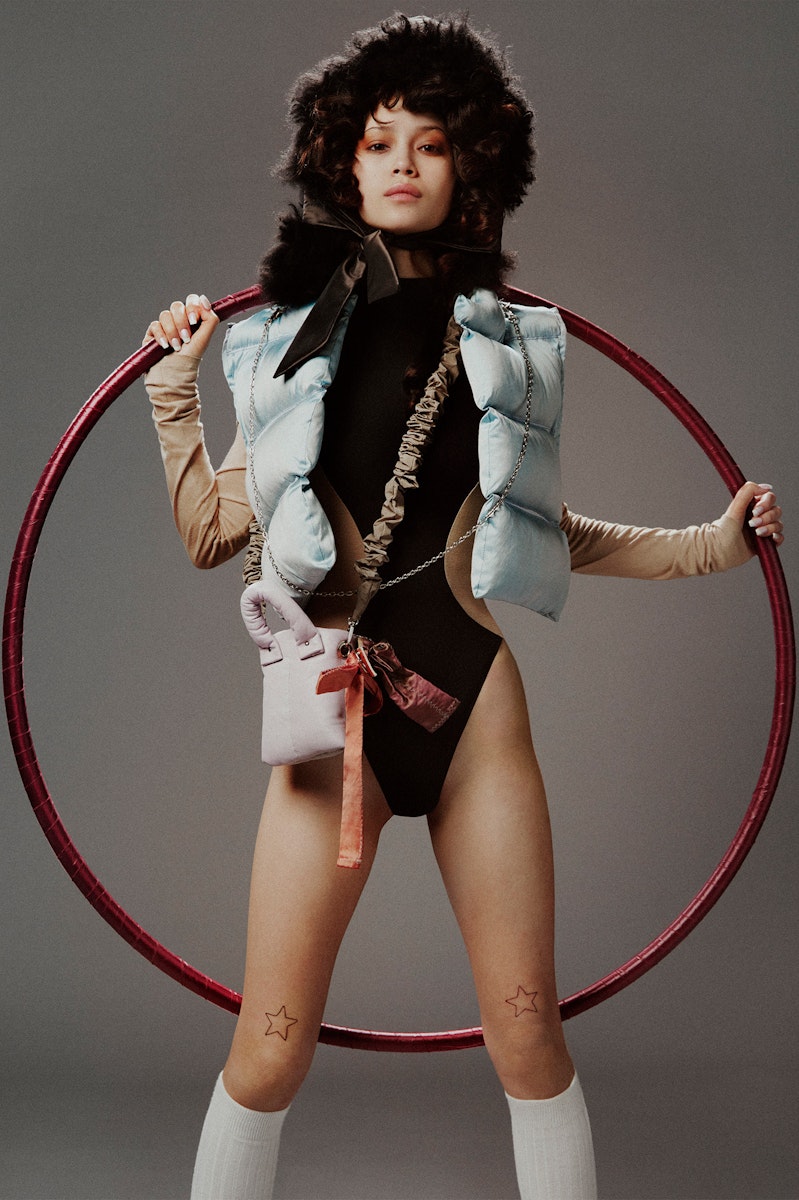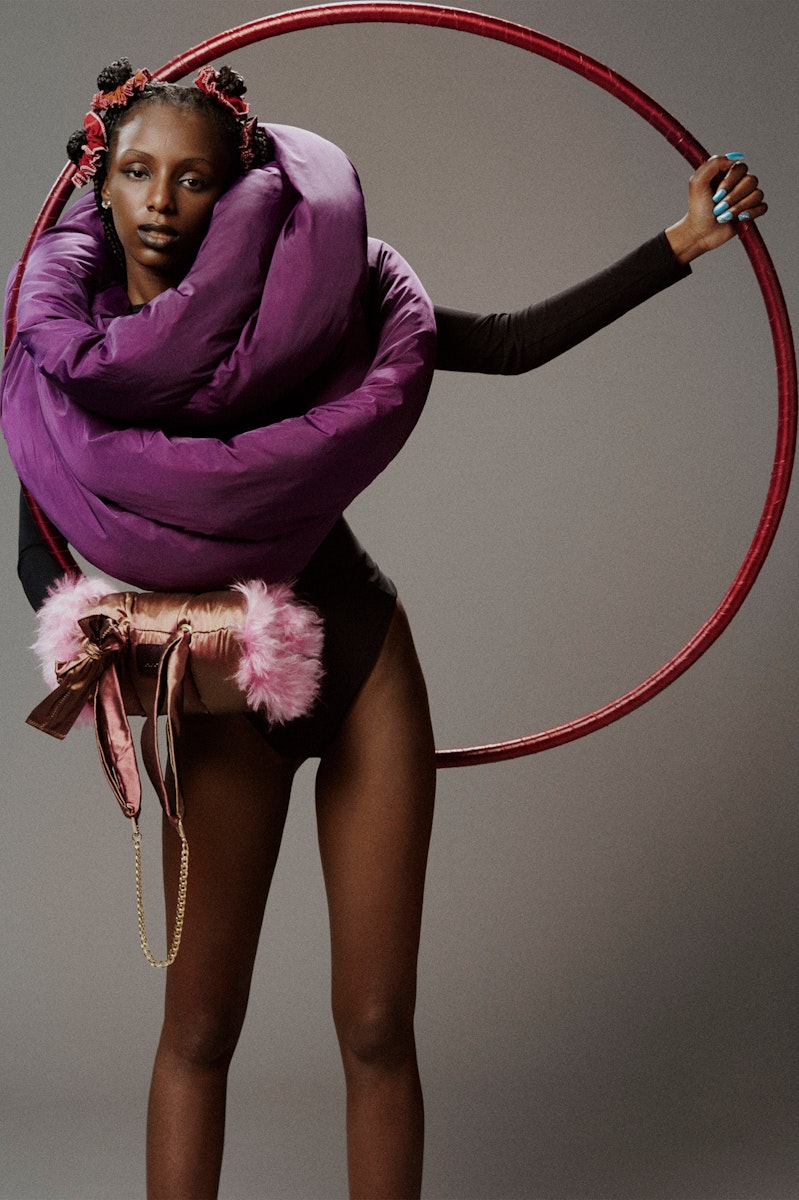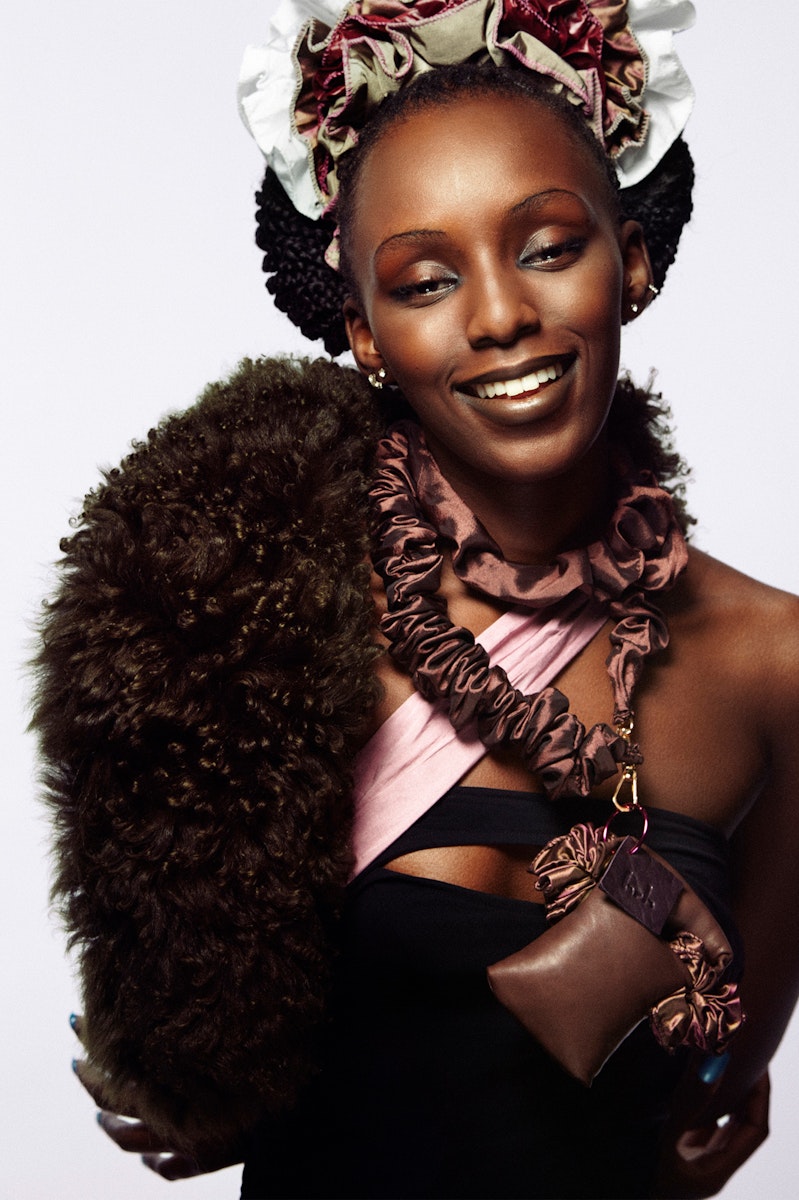 Goom Heo of GOOM's third and final collection with Fashion East peers into the darkness – even more so – taking her often sinister, voyeuristic approach to the sea. While last season, the designer was peering through the blinds of her home, she's now caught amongst a thick fog before heavy tides. In designs pointing to protection from the unpredictable elements, dome-hooded silhouettes are draped with slinky layers of fabric. And in references to Spirited Away​'s Kaonashi, or ​"No Face", hoods are heightened even further by concealing the shoulder, neck and head, leaving only the face peering out of the darkness of the fabric's shadows. Heo presents her first accessory – a crossbody bag, designed with staggered origami pleats and paired with a shimmering silk-wool blend jacket offering much-needed protection. With Heo's attachment to the conceptual, taking fantasy and merging it with reality, the Korean-born designer's AW21 collection reinforces the past year's events – or shall we say lack thereof. You never know what might be lurking around the corner, at any given time. Or, in Heo's case, what lurks beneath its waves.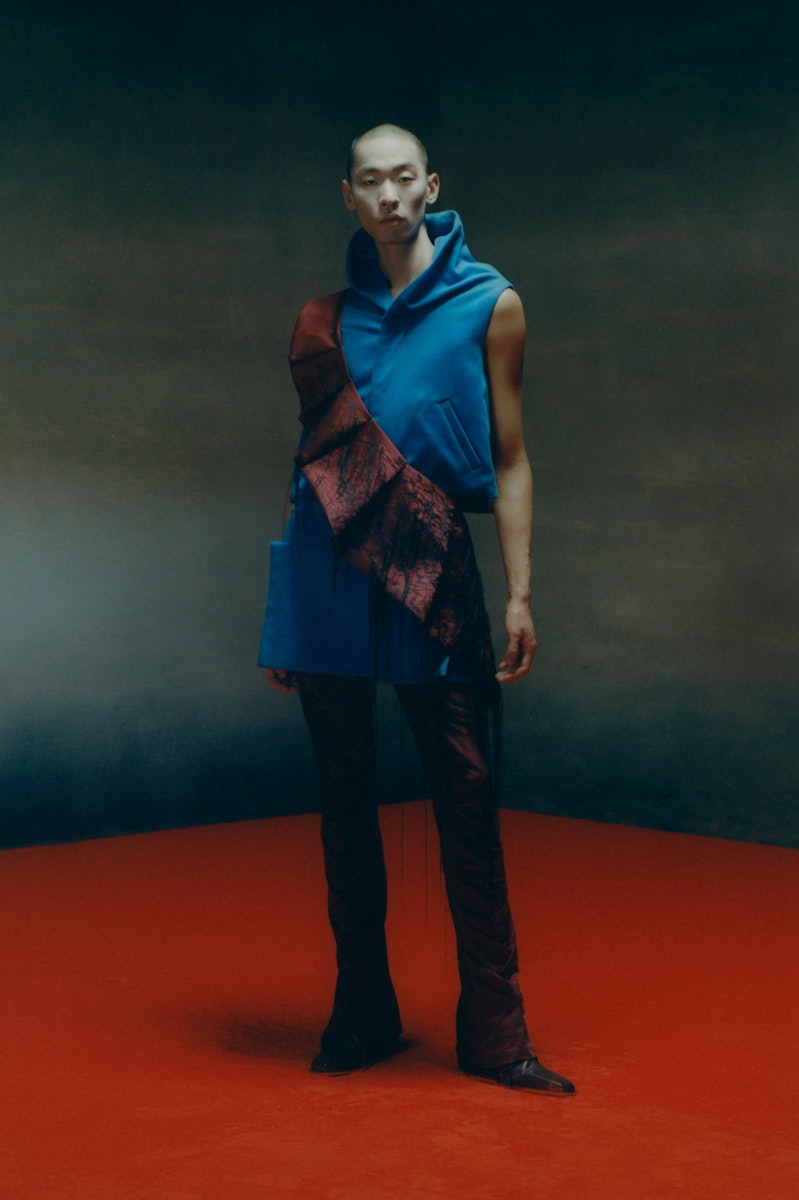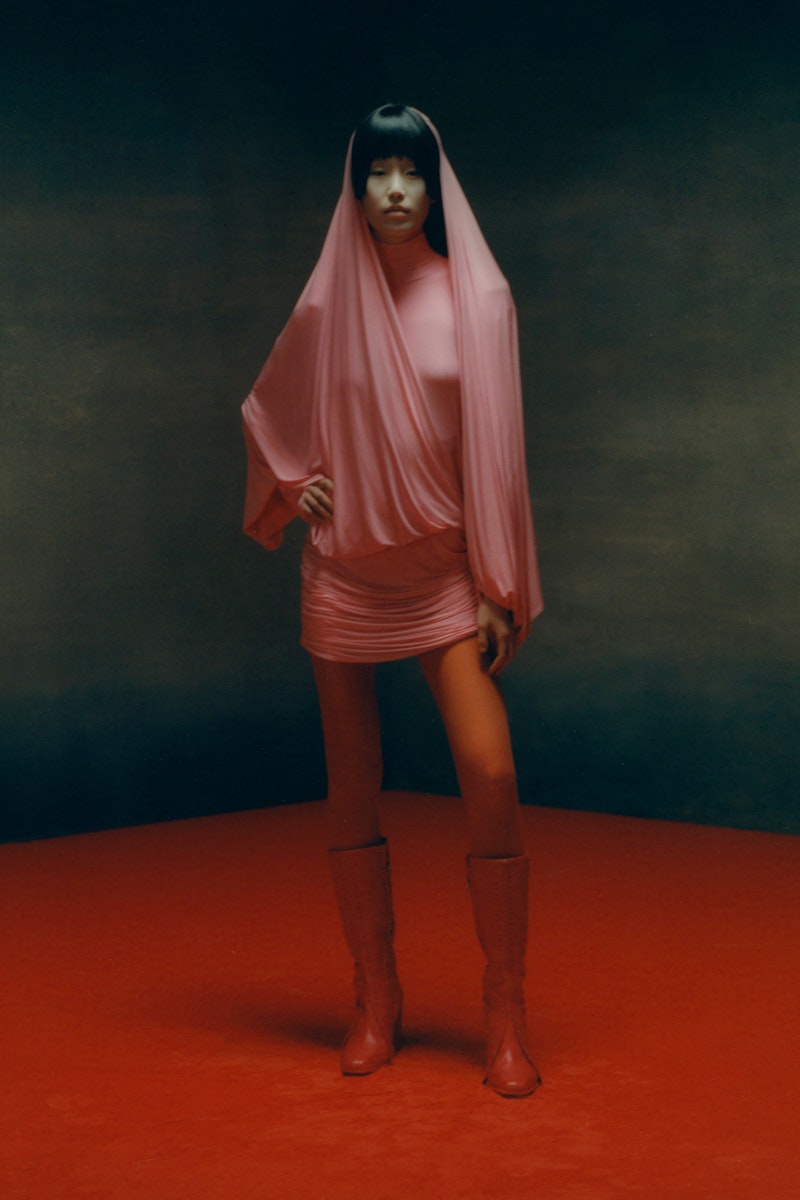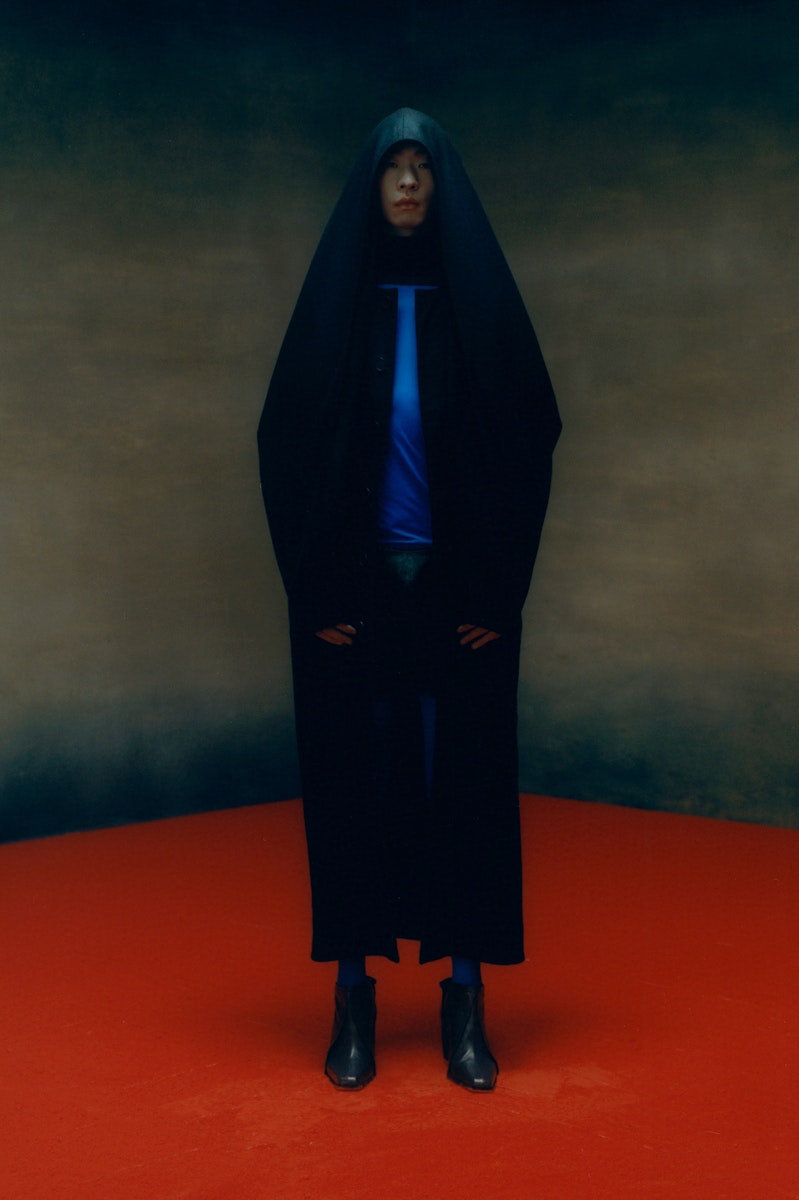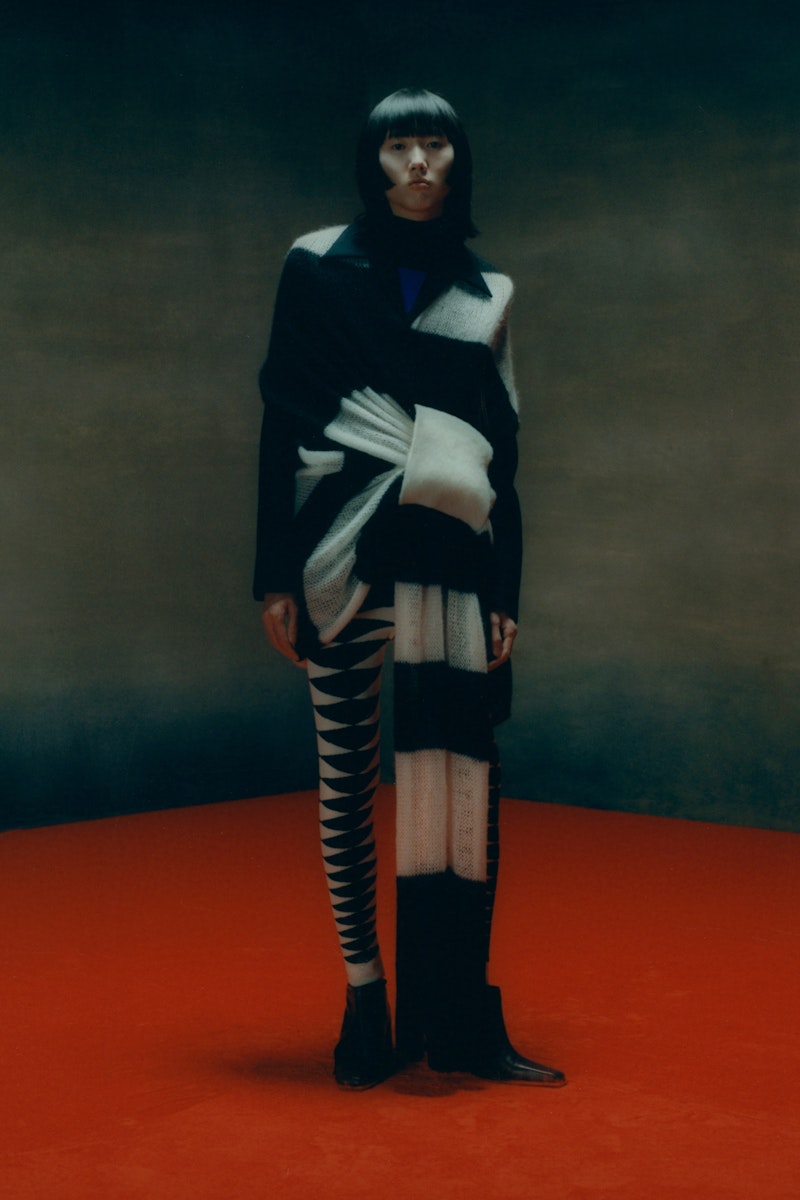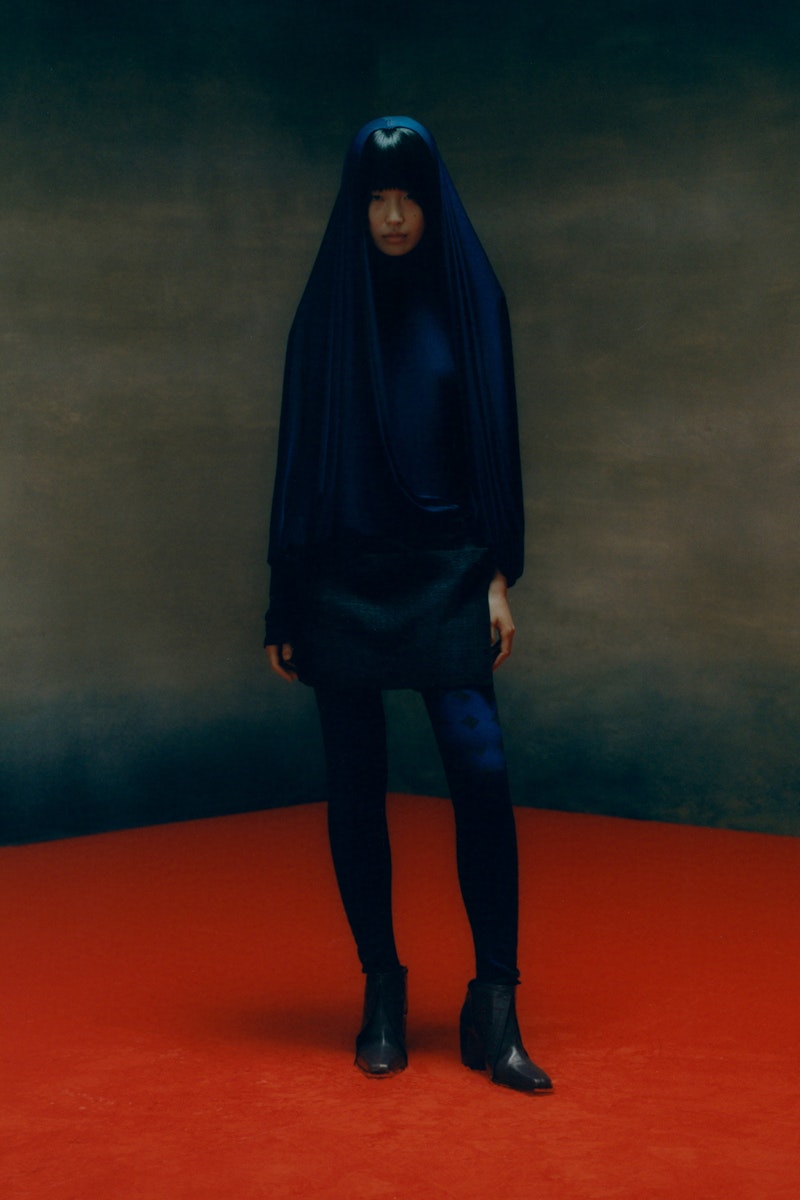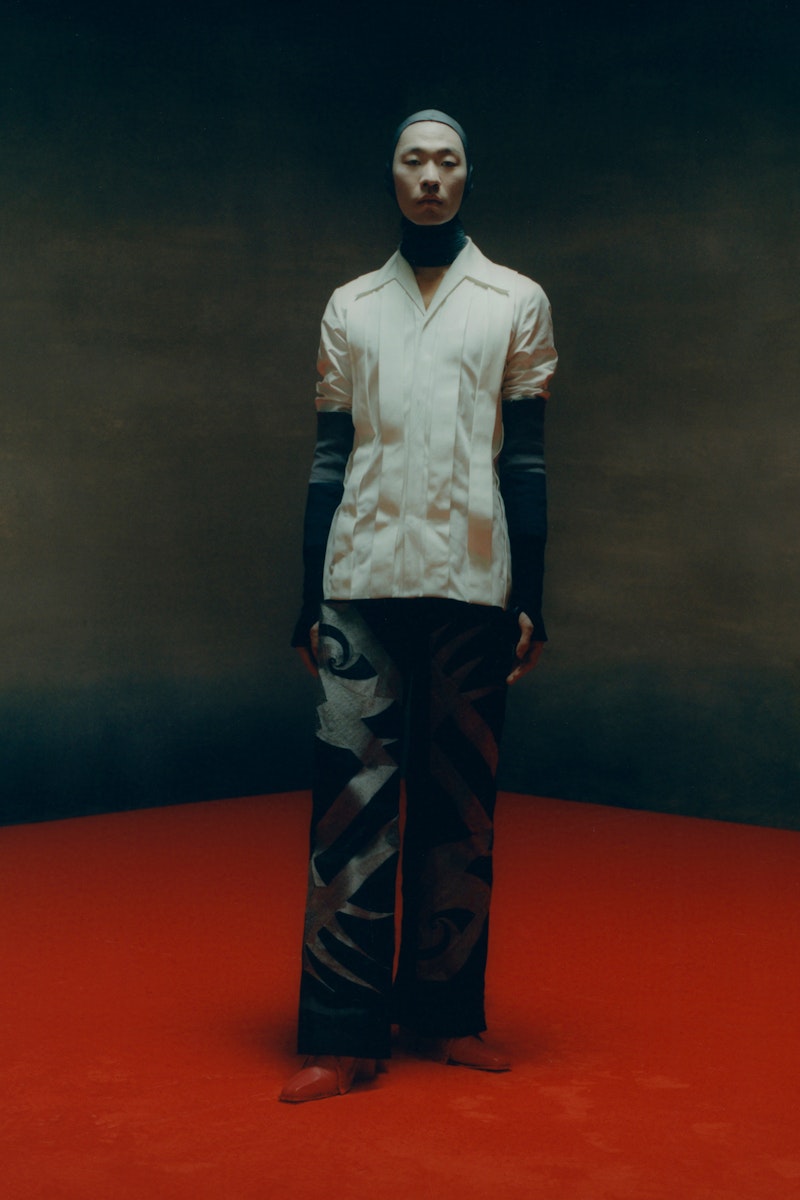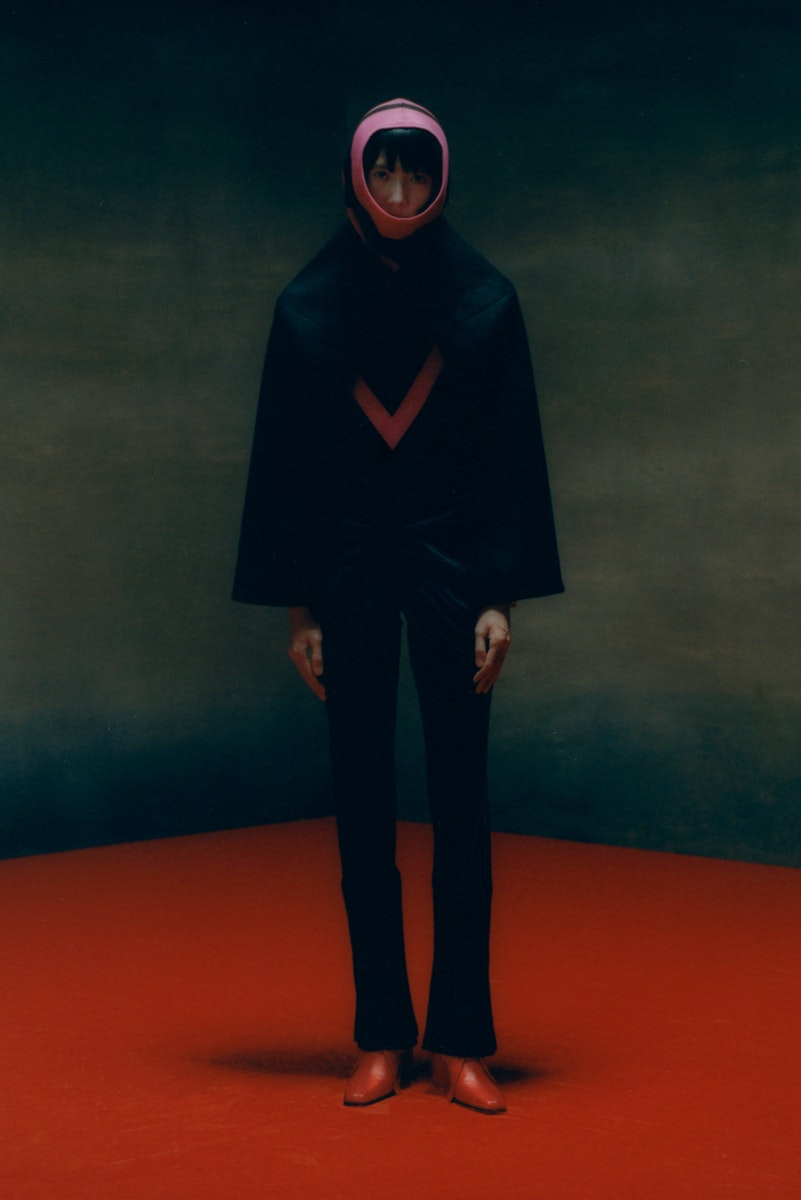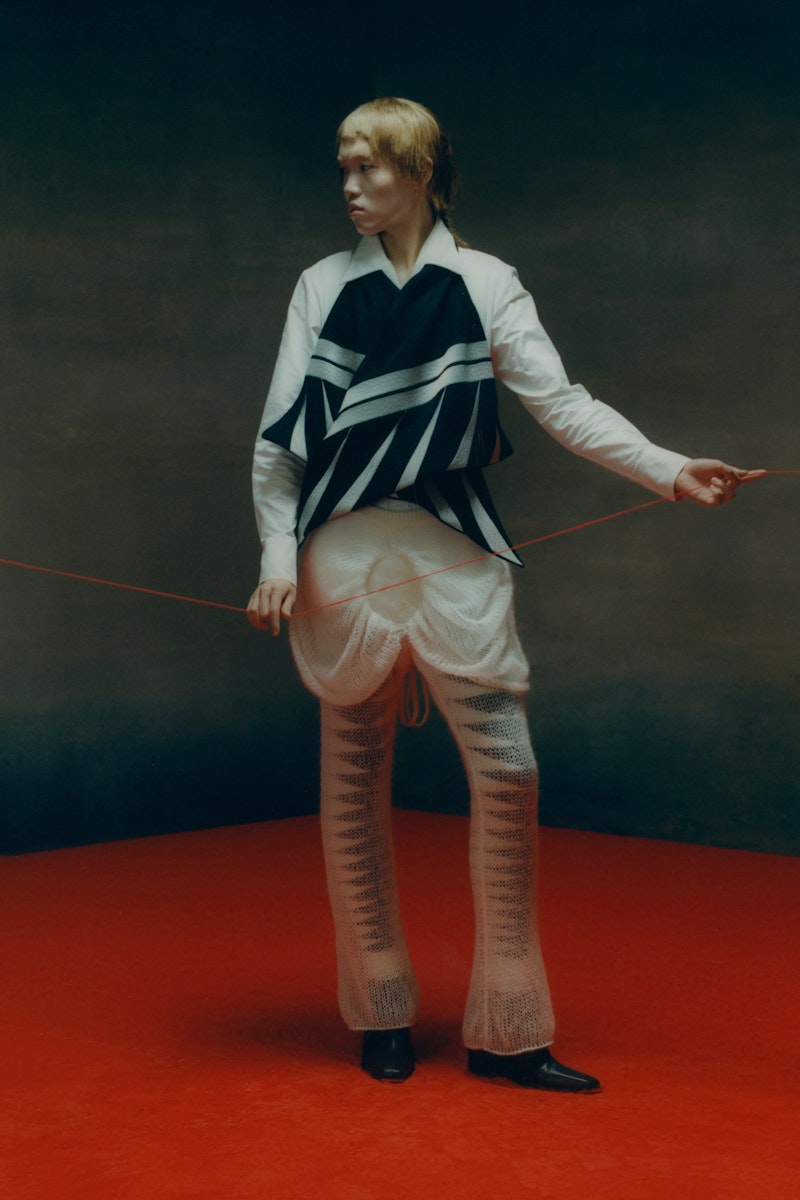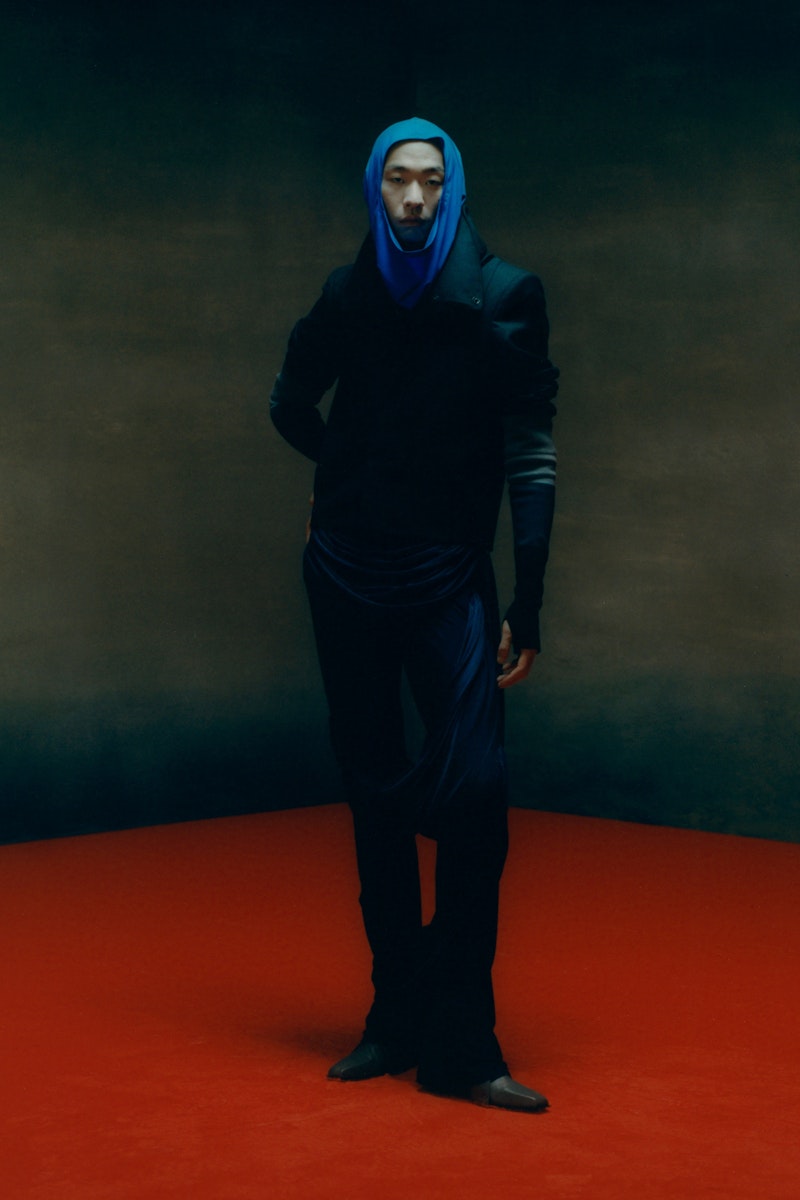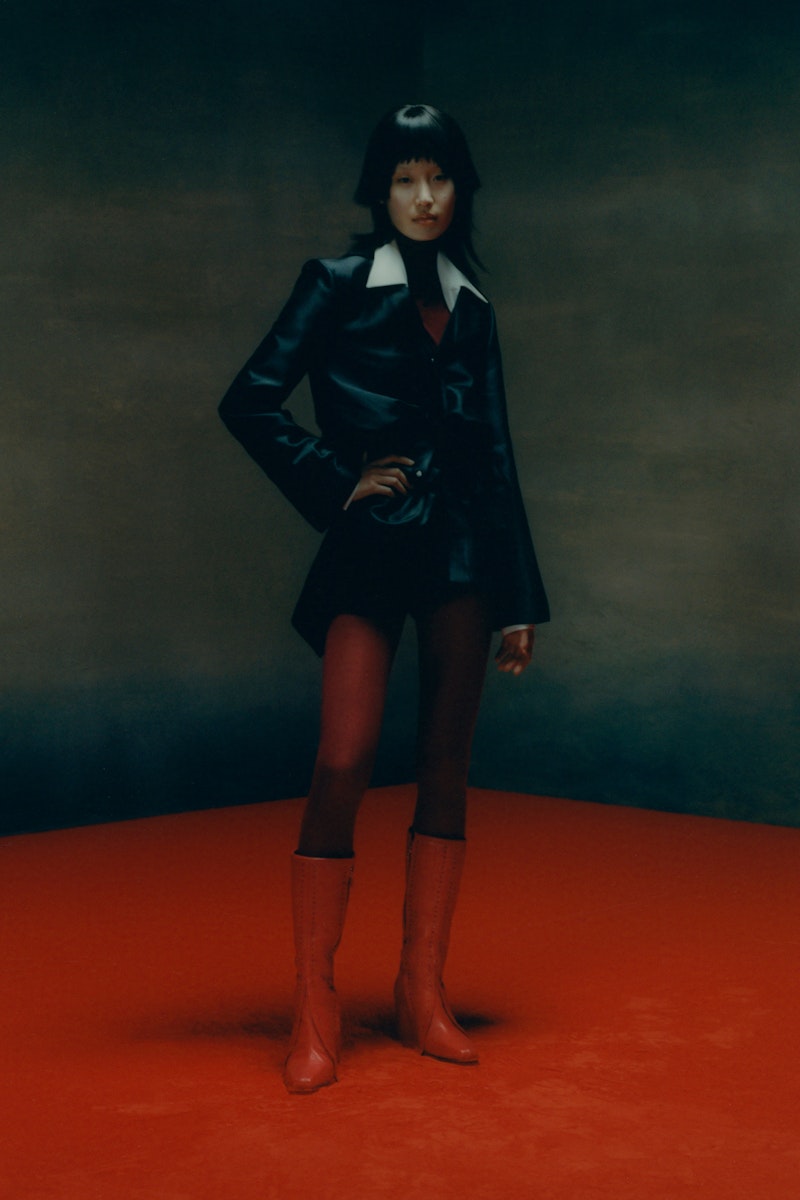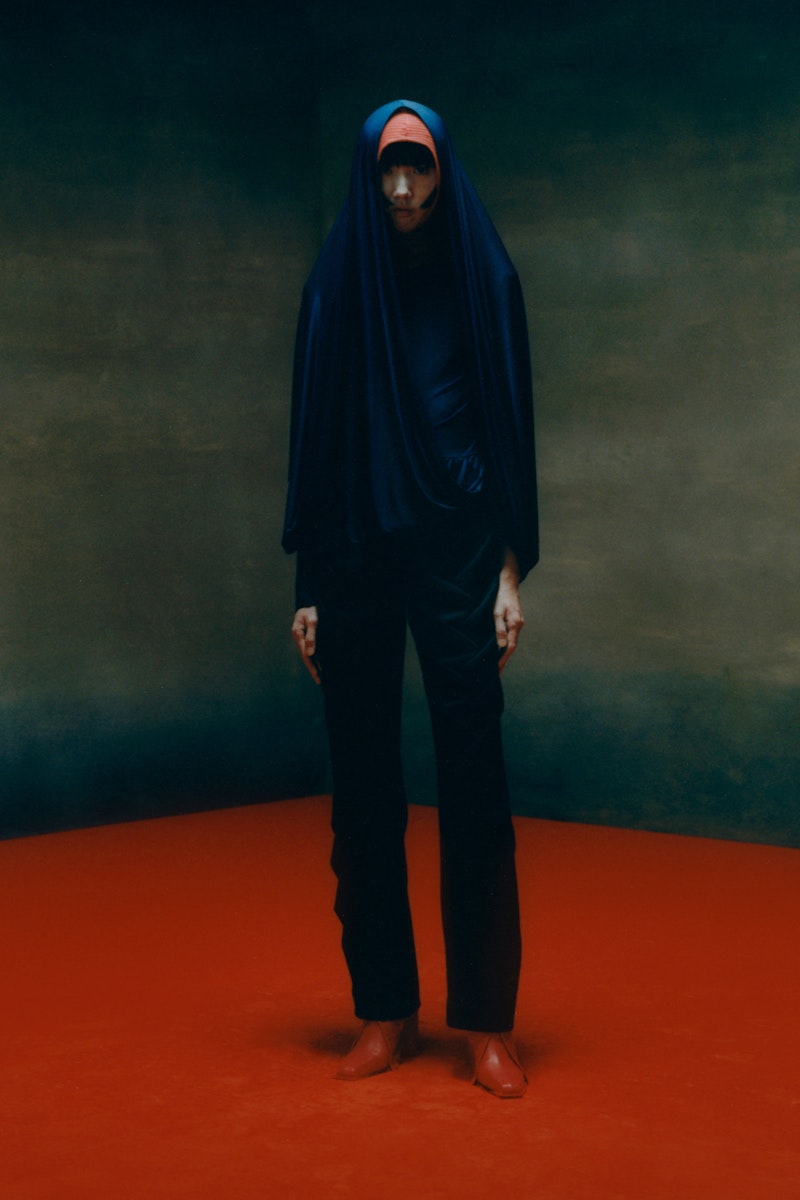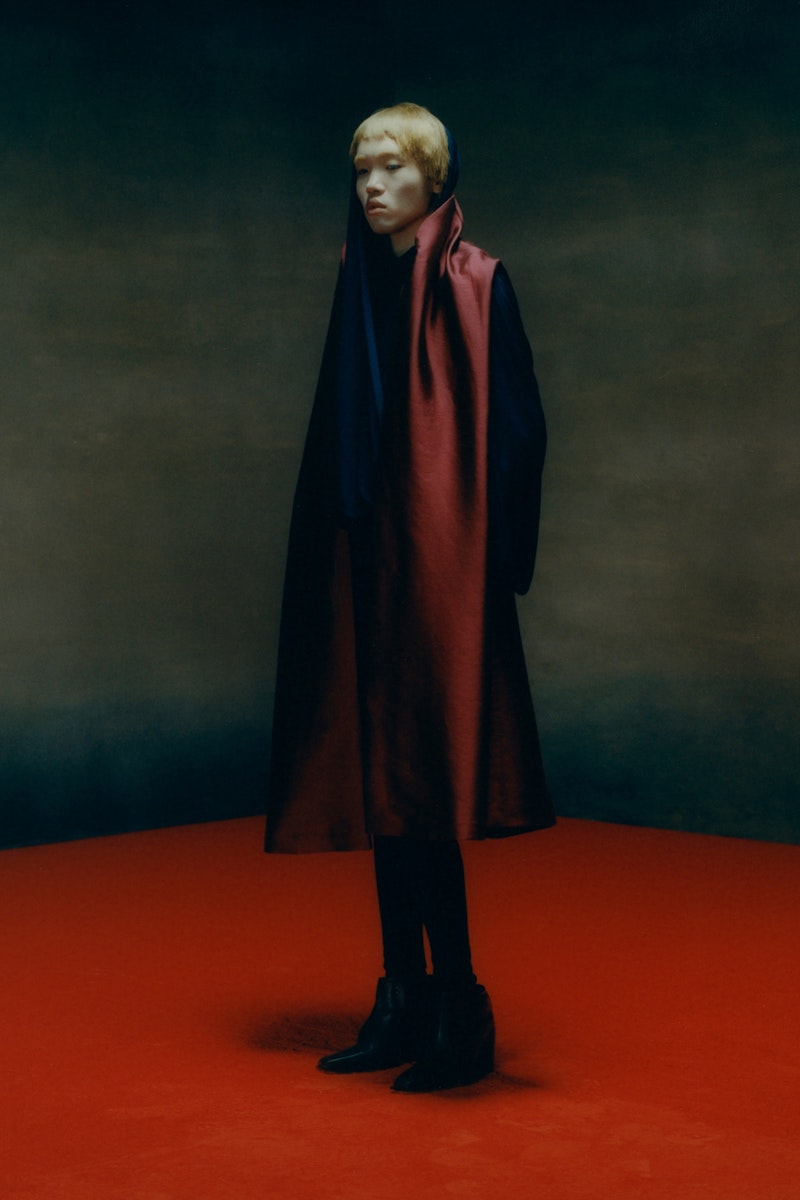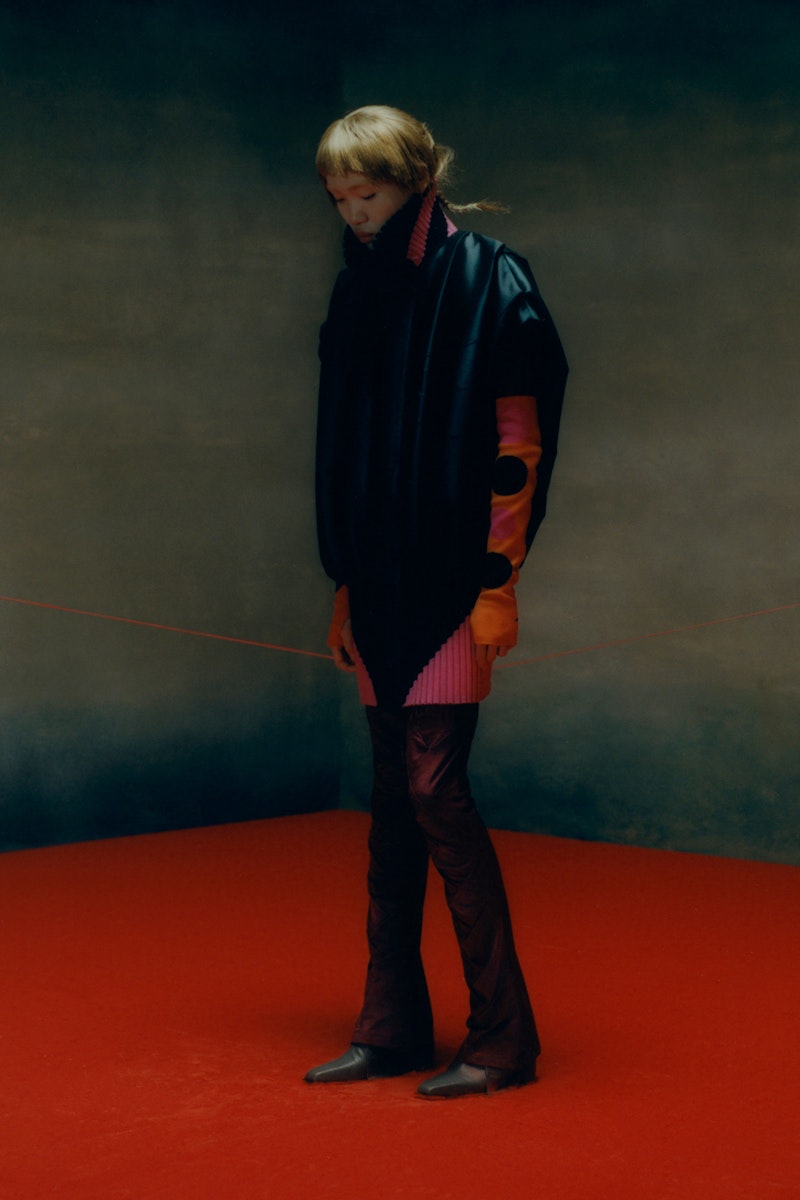 It was the geometric, pyrotechnic lines of Swedish artist and mystic Hilma af Klint that influenced Nensi Dojaka this season, taking with her the bold colours and intricate language of abstraction she saw placed on vast scale canvases at The Serpentine some time ago. Seemingly, it's not a far cry from Dojaka's complex spider web style of design that she has developed since first showing with Fashion East this time last year, building a repertoire of delicate tulle, layered upon one another to form graceful figures. For the first time, Dojaka embraces colour, with a cut-out bra top in fuchsia, turning blue when mutated according to the light. Visible seams and sheer and matte outlines create slender, linear straps, playing to Klint's perplexing compositions while accentuating the body through a meditation of hard and soft.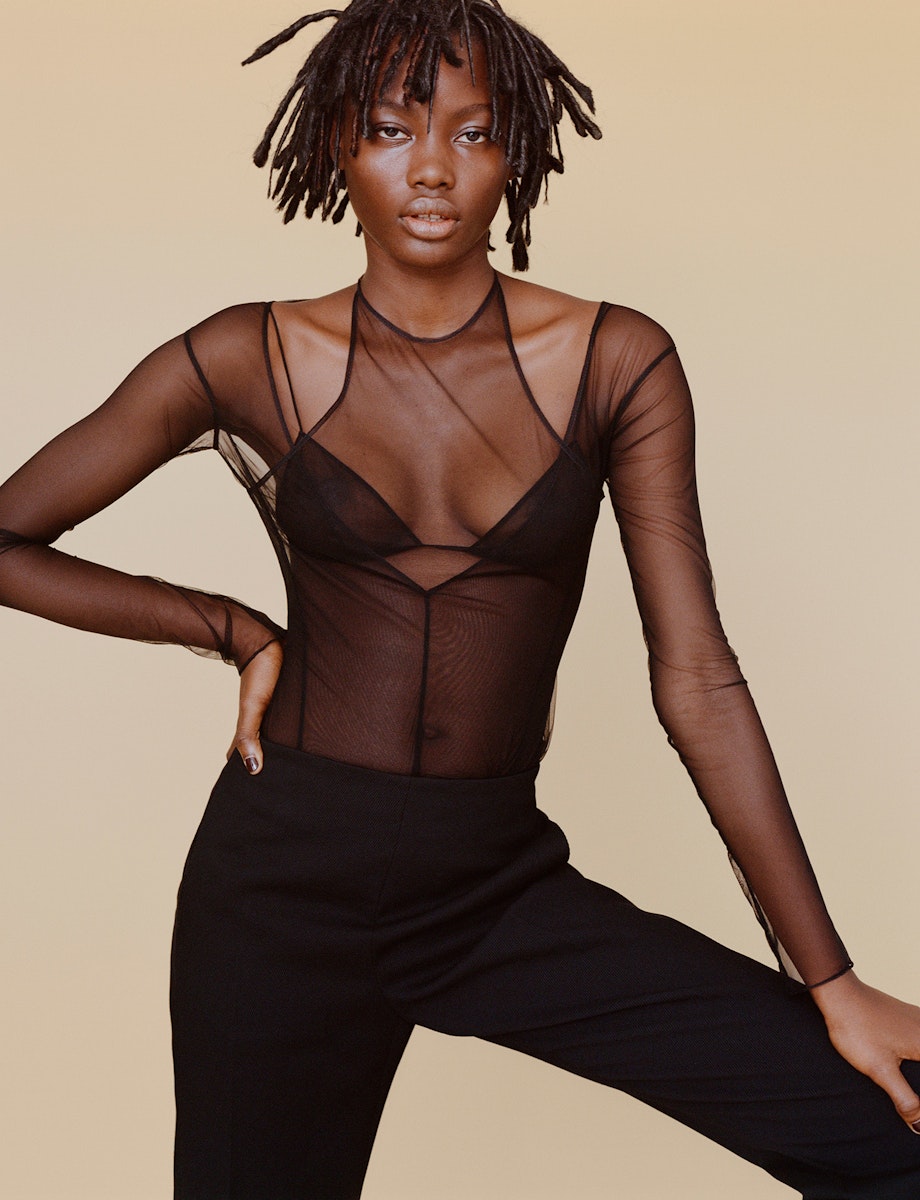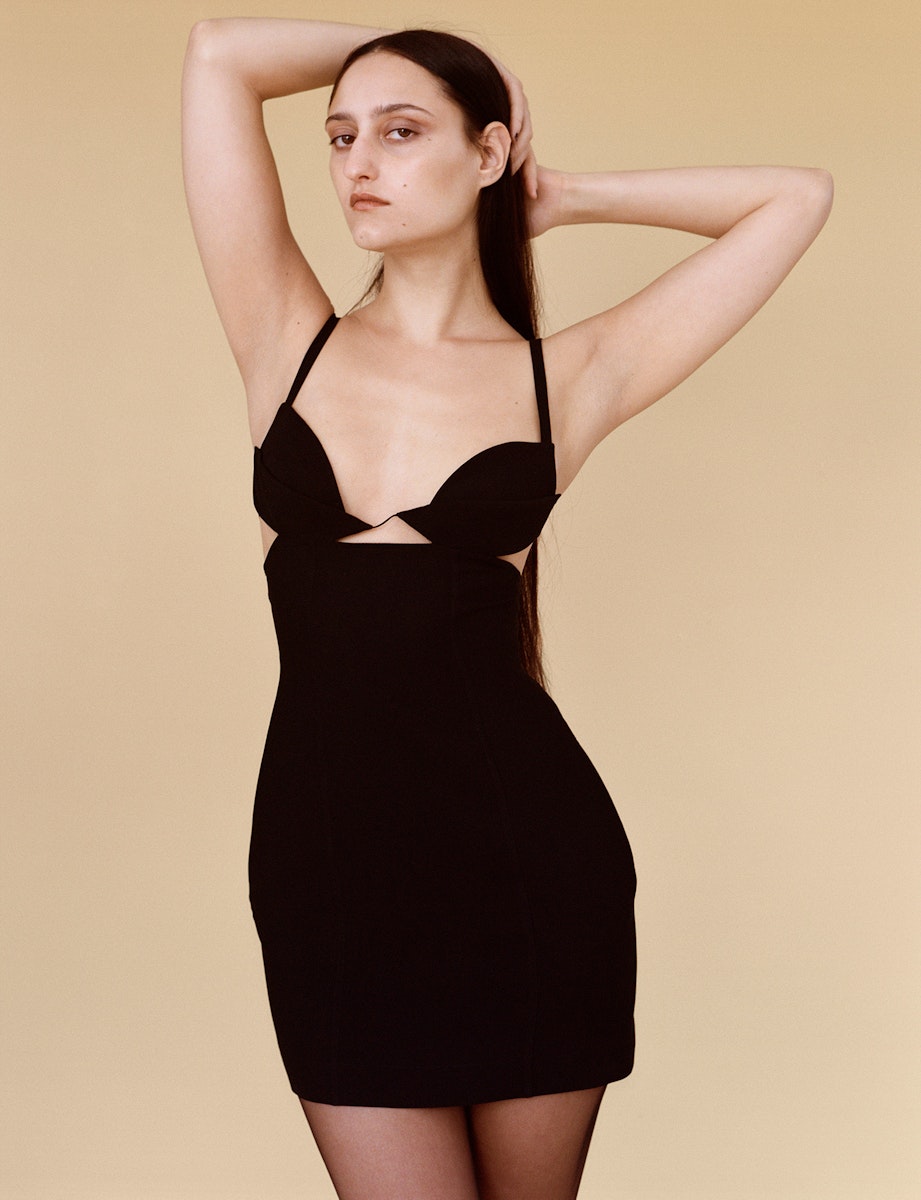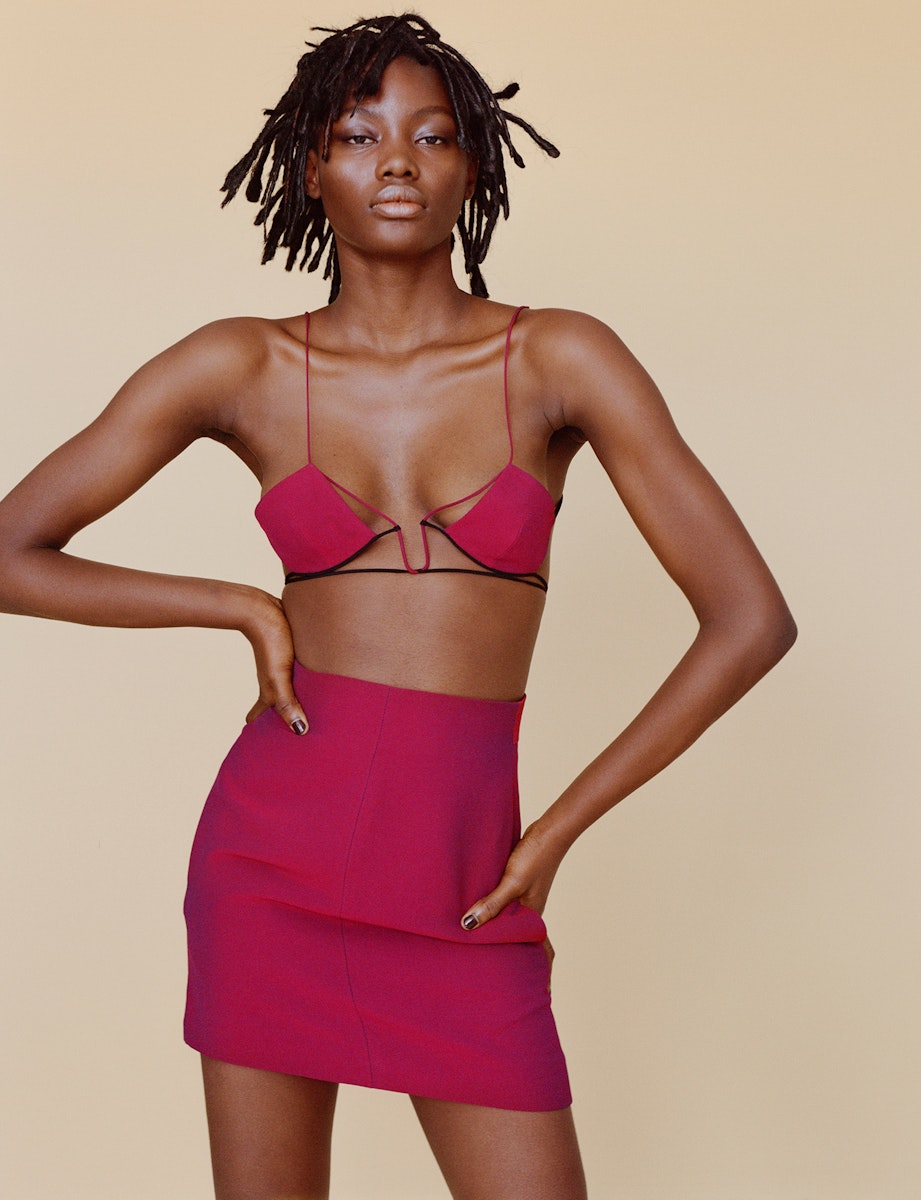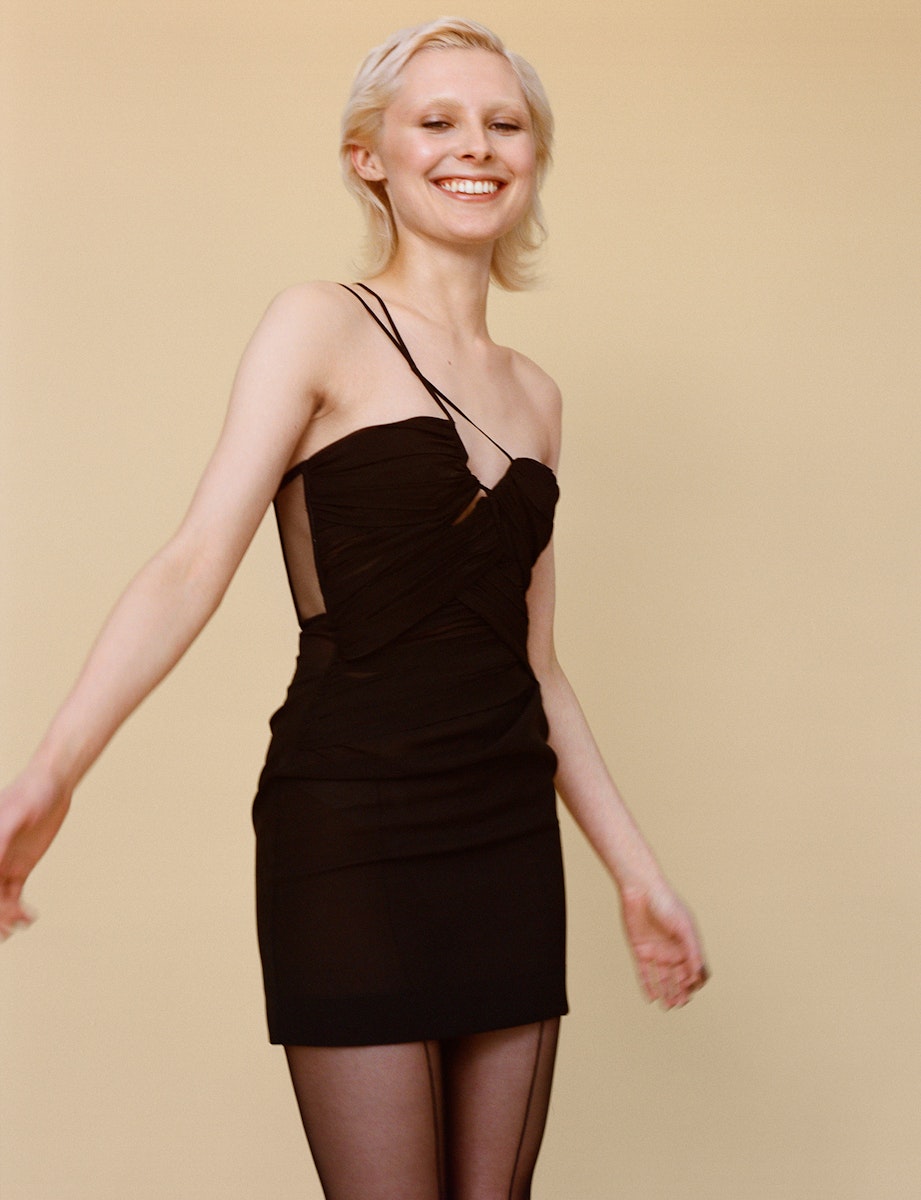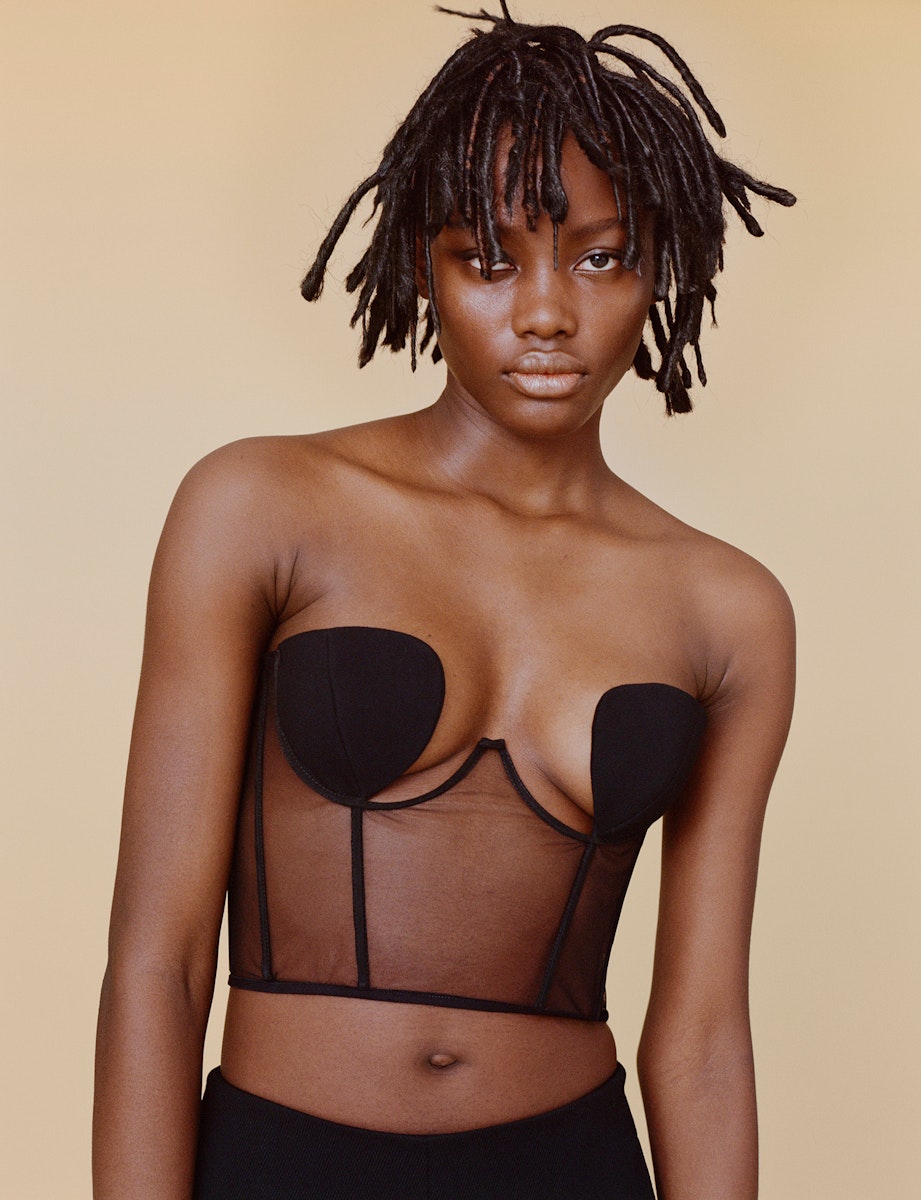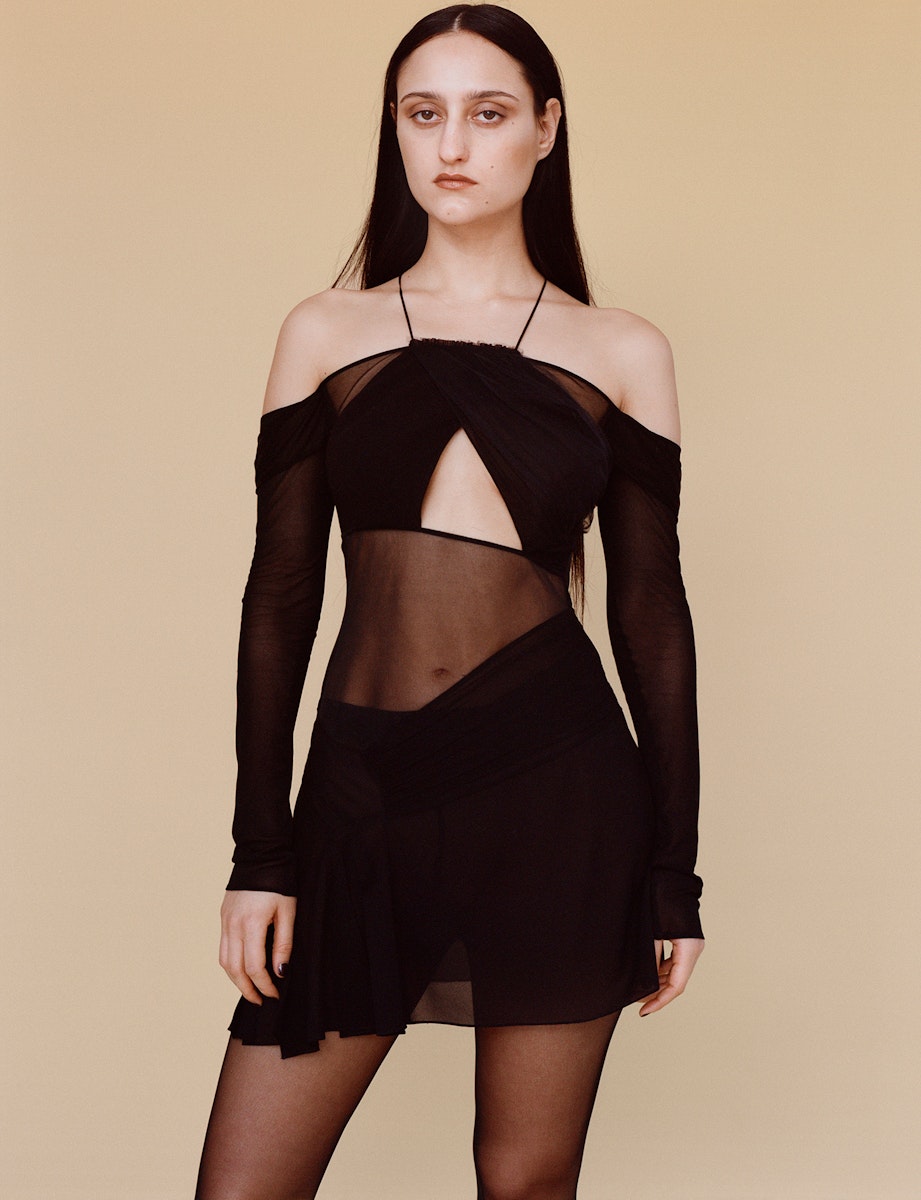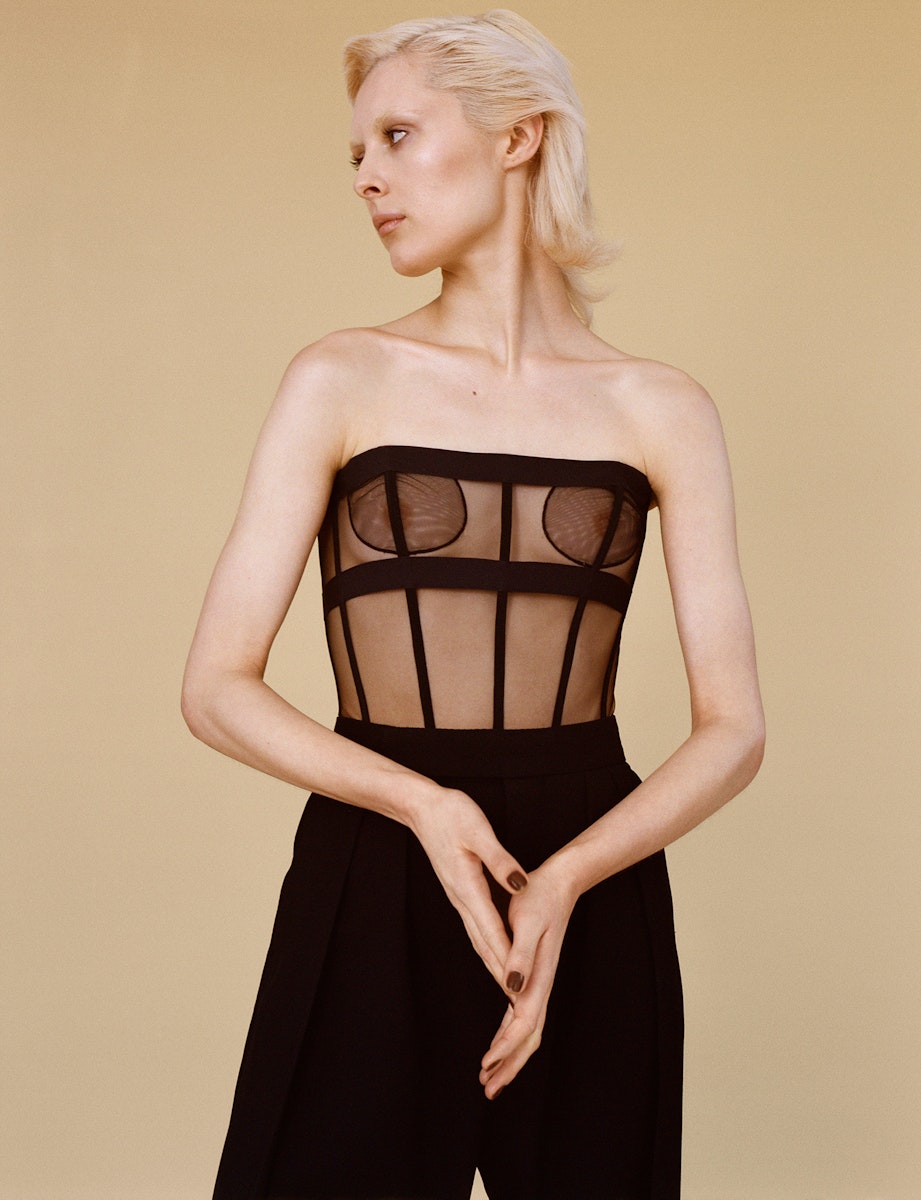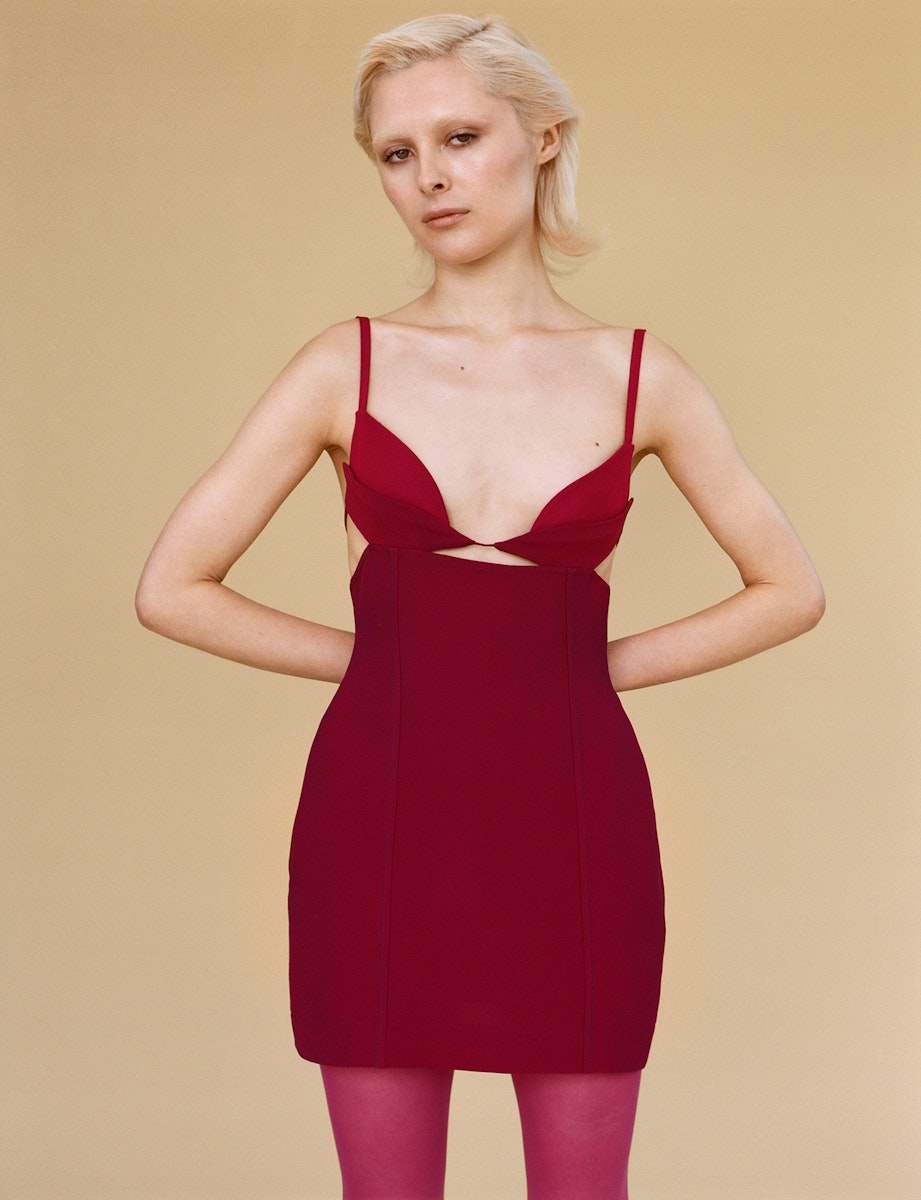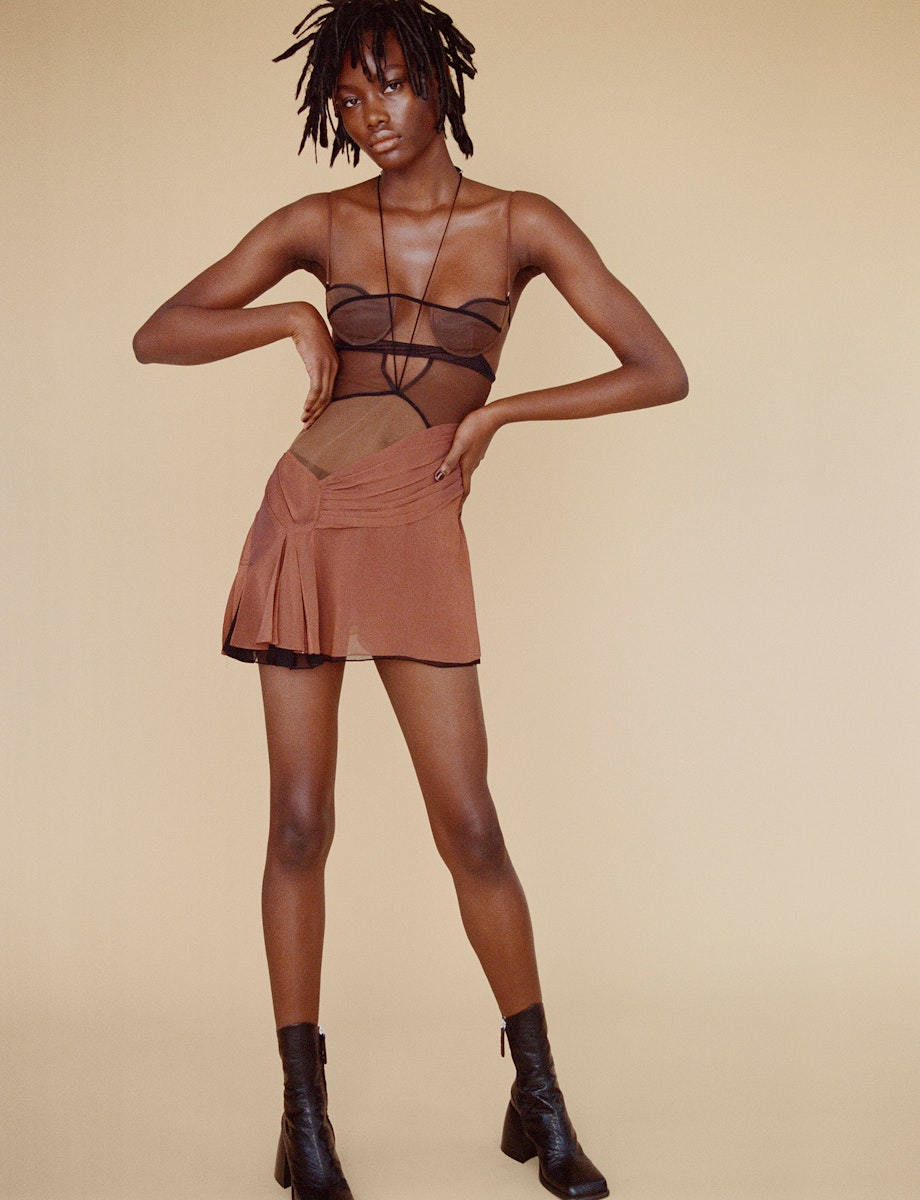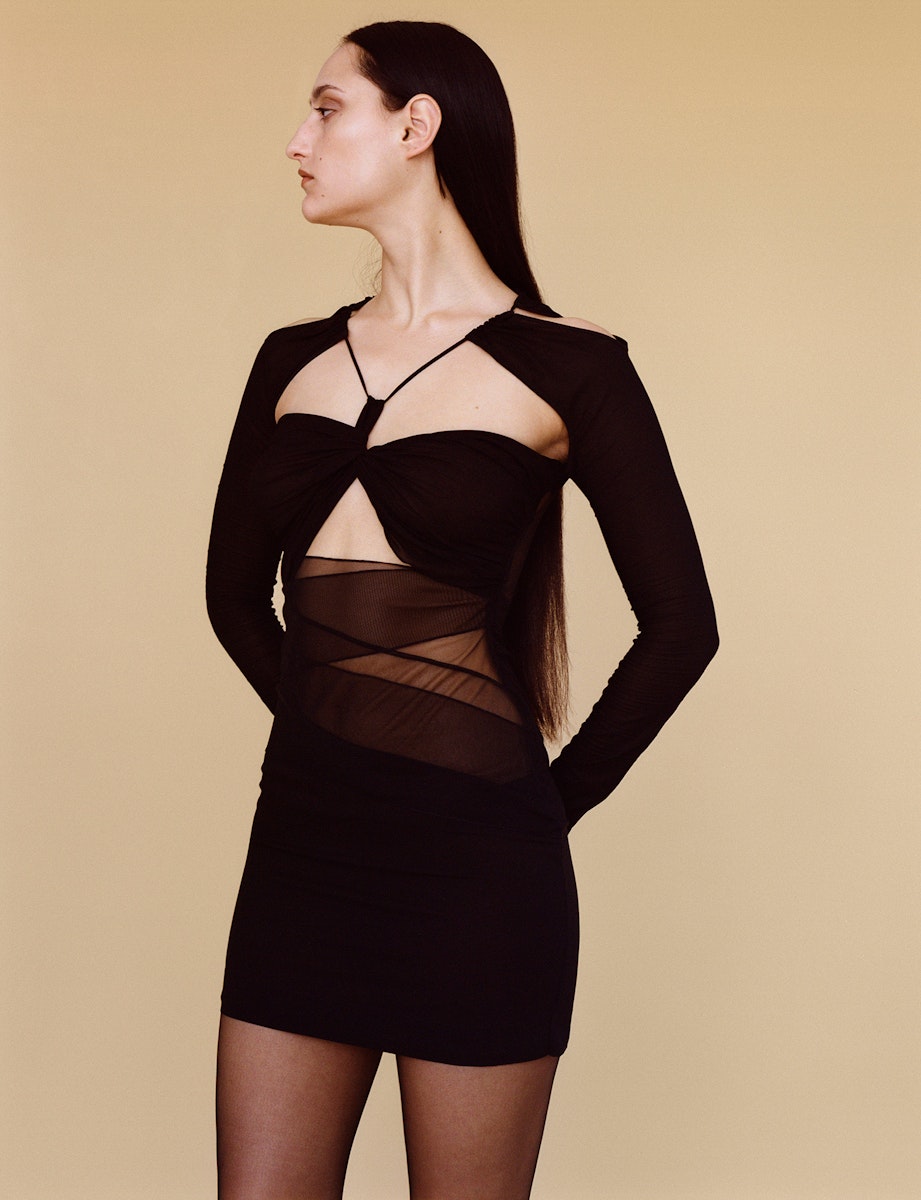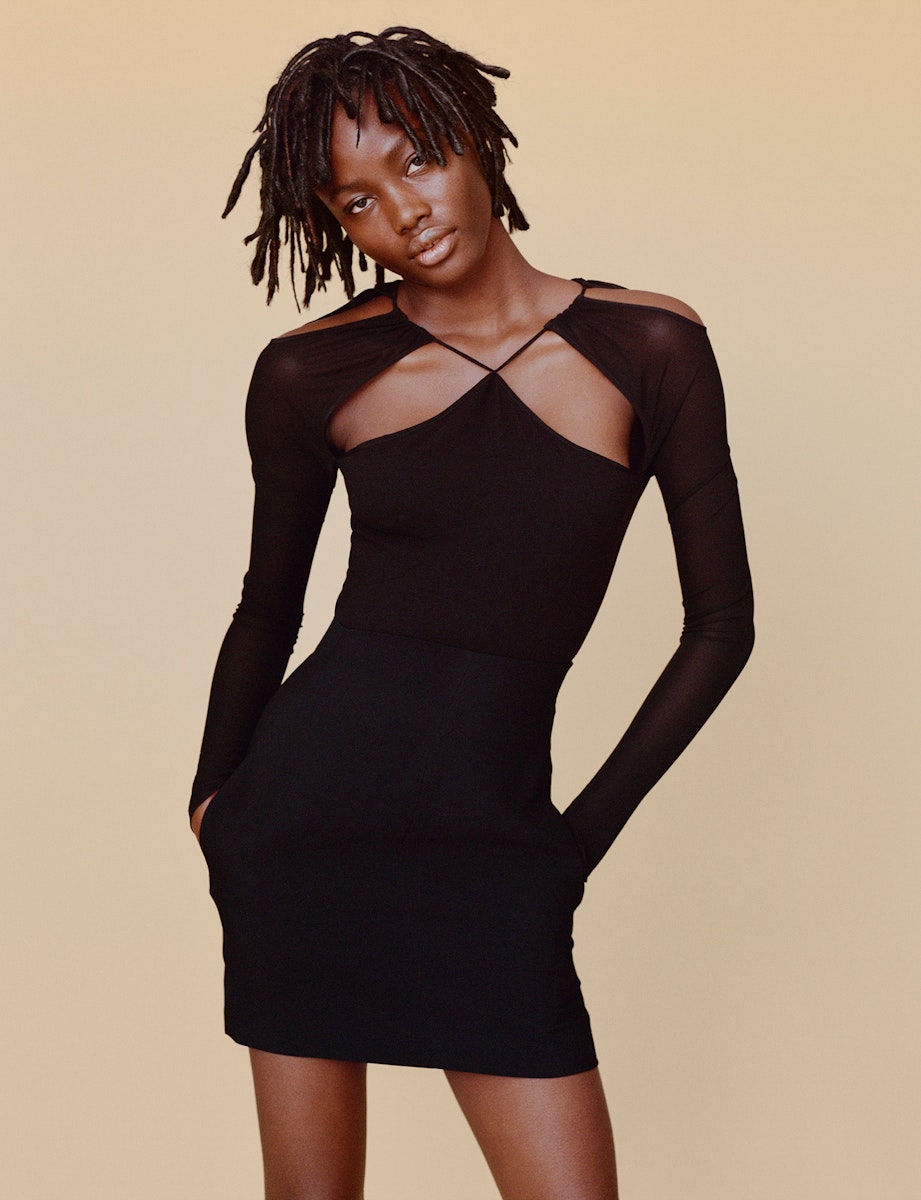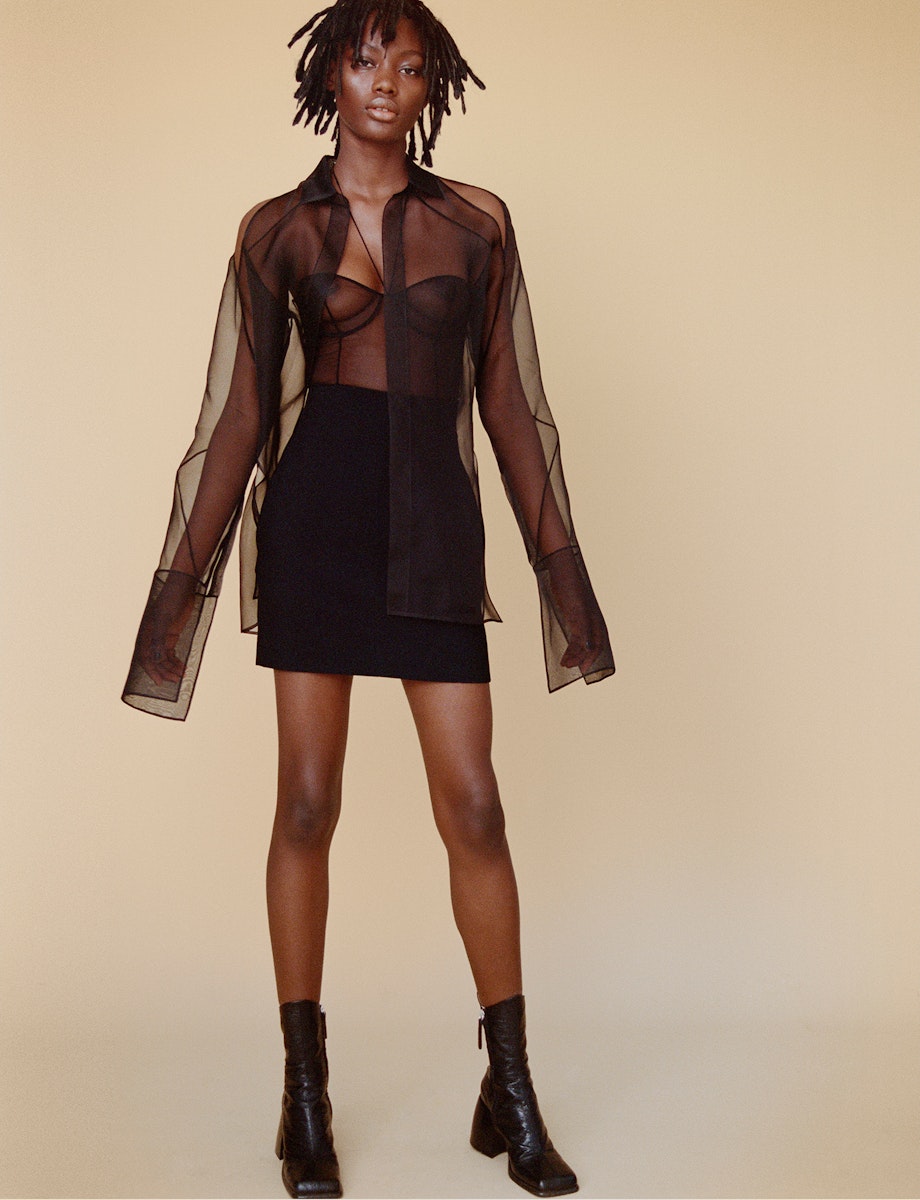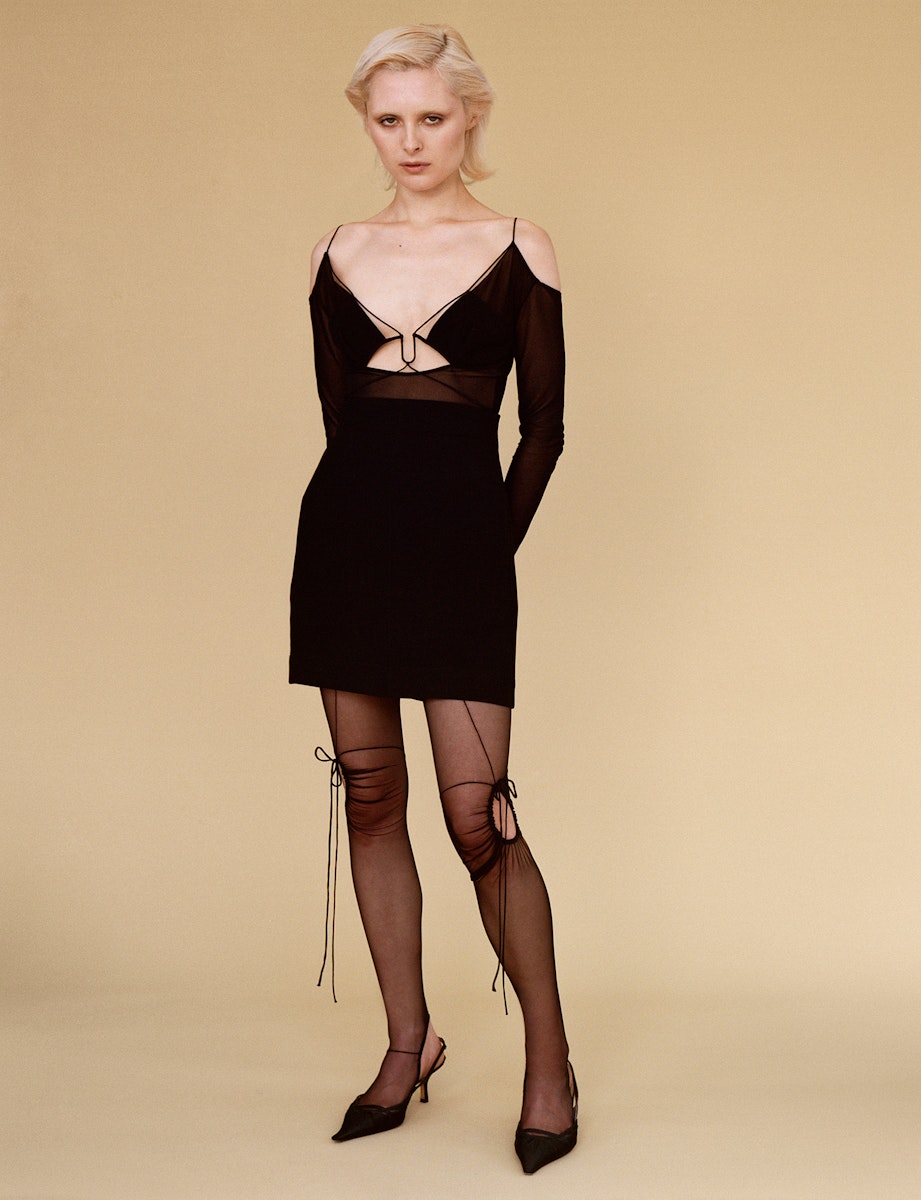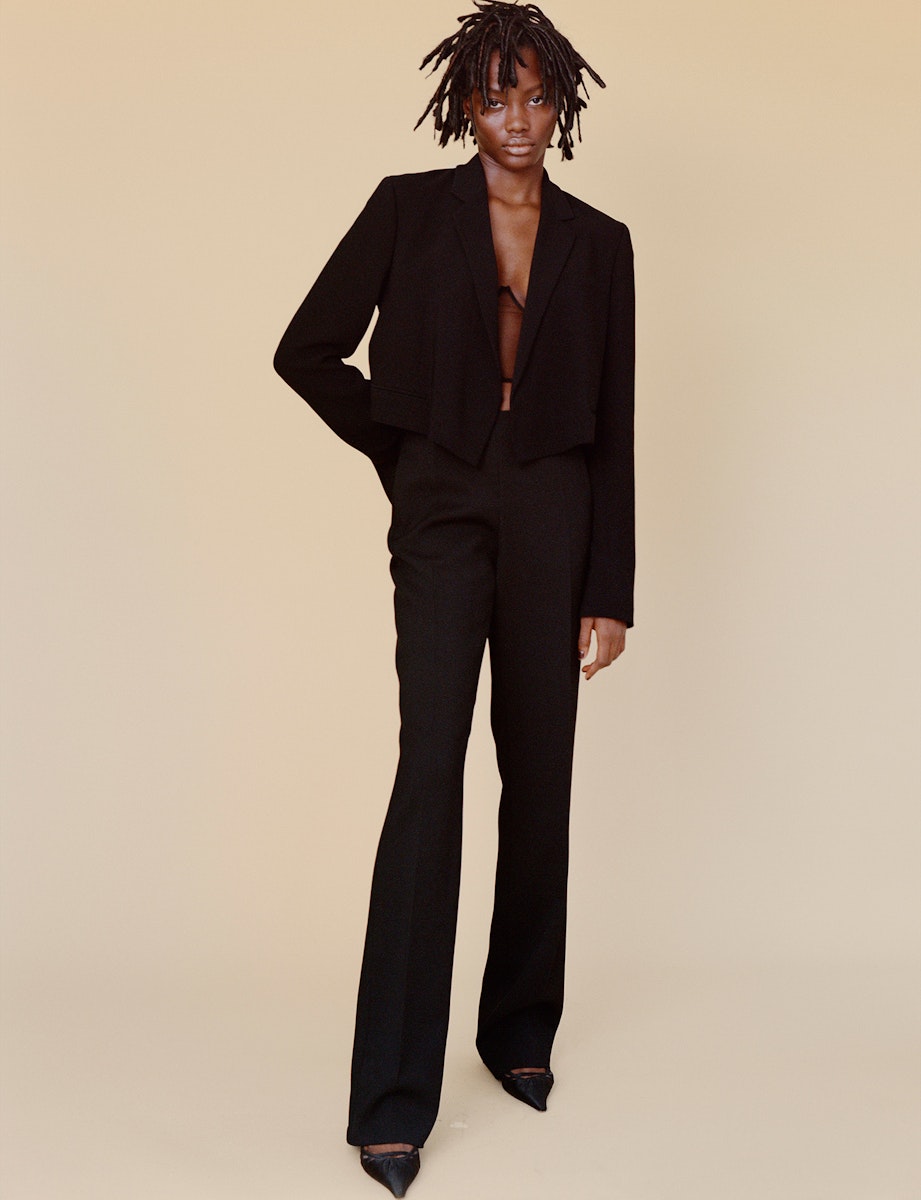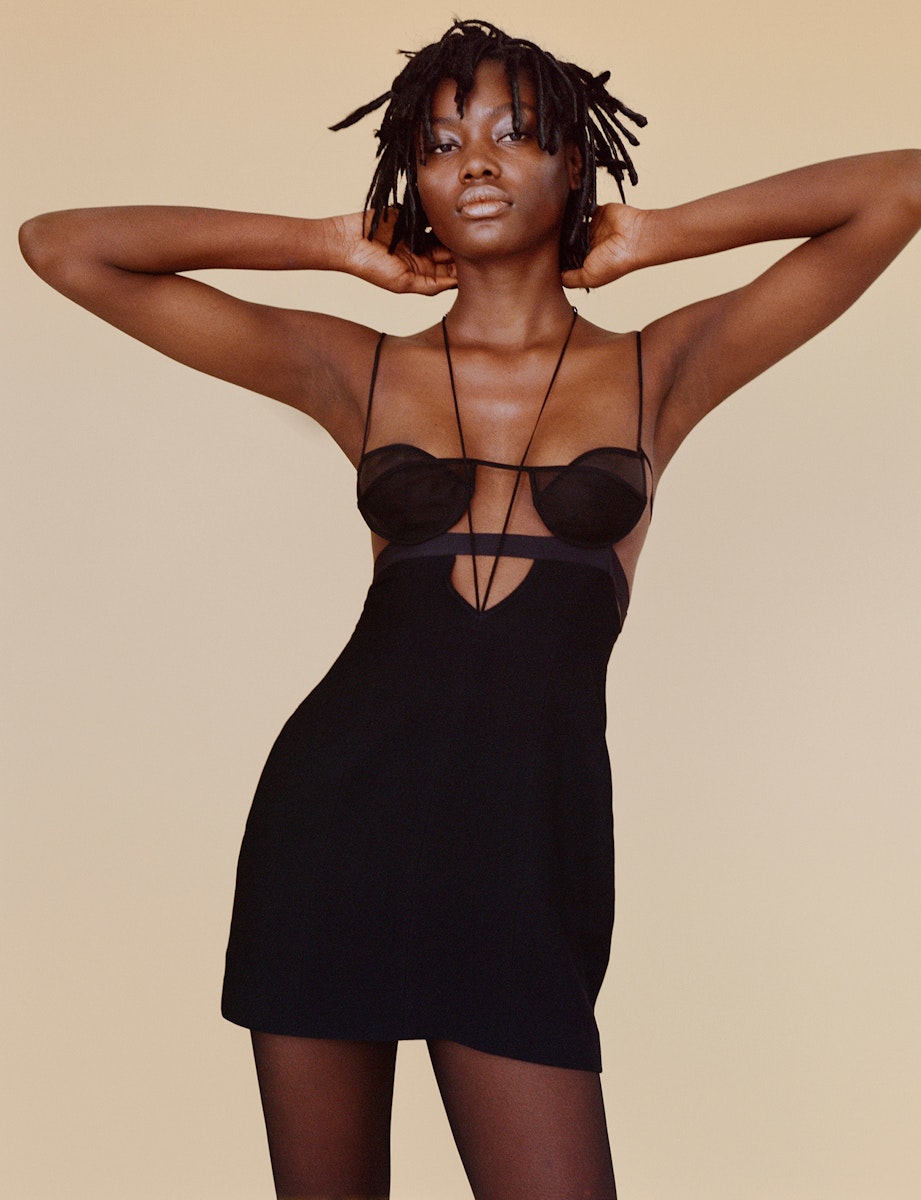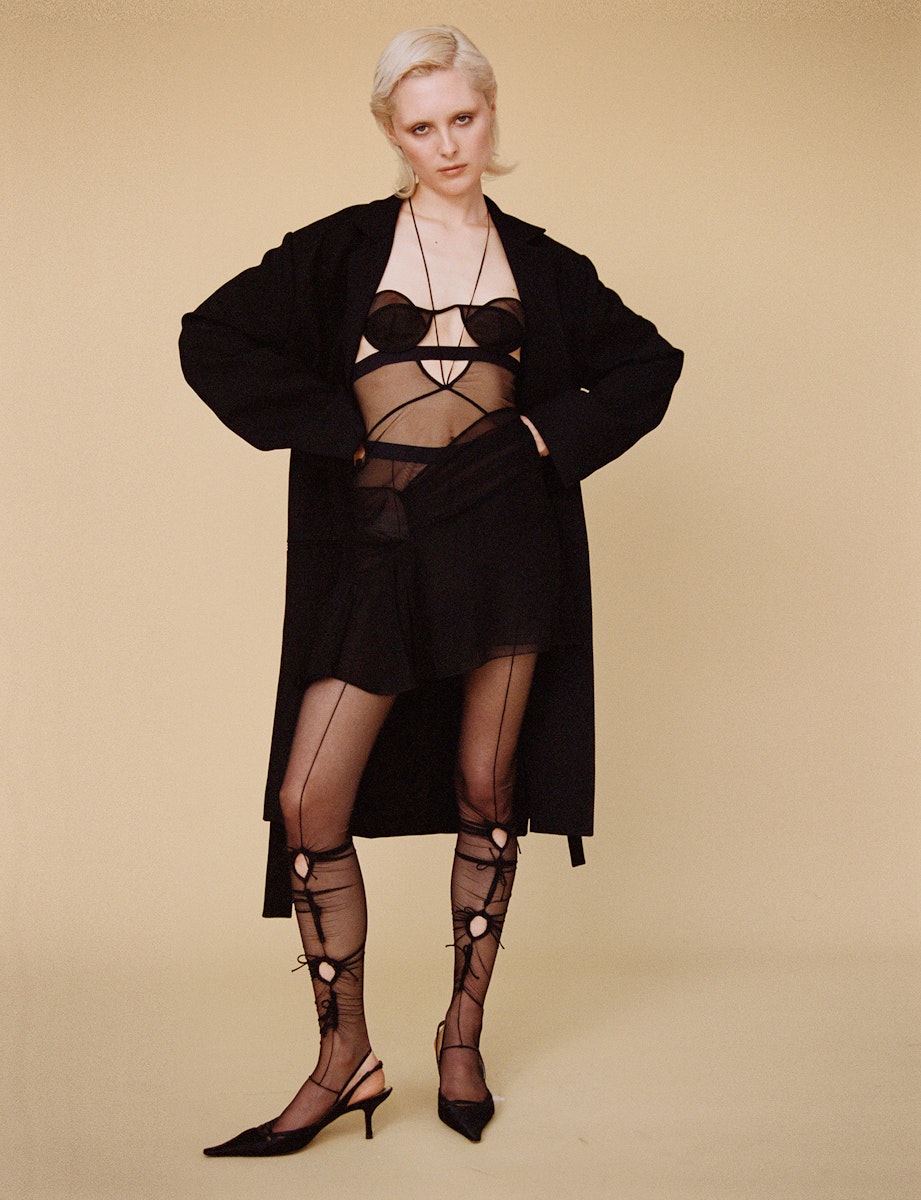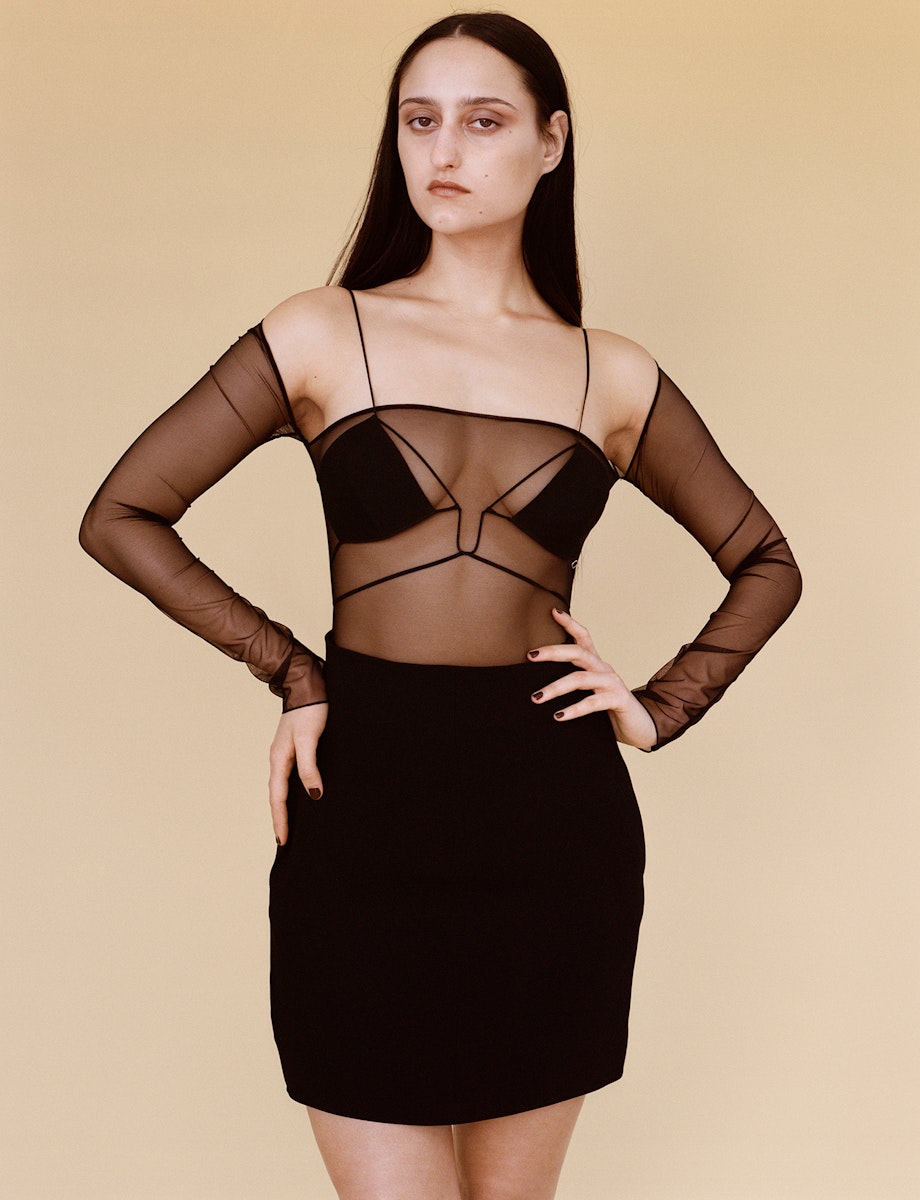 Following Jawara Alleyne's Central Saint Martins MA collection, Self-made man, last year, the Jamaican-Caymanian designer made his Fashion East debut using Caribbean mythology to tell the story of ​"The Renegade" – a new story for a new man. Having moved to London in 2012, Alleyne places emphasis on the power of storytelling and dreams, allowing for a vision wherever we might end up. And his AW21 collection is an otherworldly example of reimagining the codes of masculinity, re-contextualising classic menswear pieces like jeans, jackets and suits by chopping up traditional measurements and indulging in slouched waists, exposed midriffs and layered draping using psychedelic prints depicting the headiness of the jungle. With a rebellious streak running throughout, Alleyne's man is content with creating his own world, written in a language perhaps not everyone understands – but is that anyone else's business?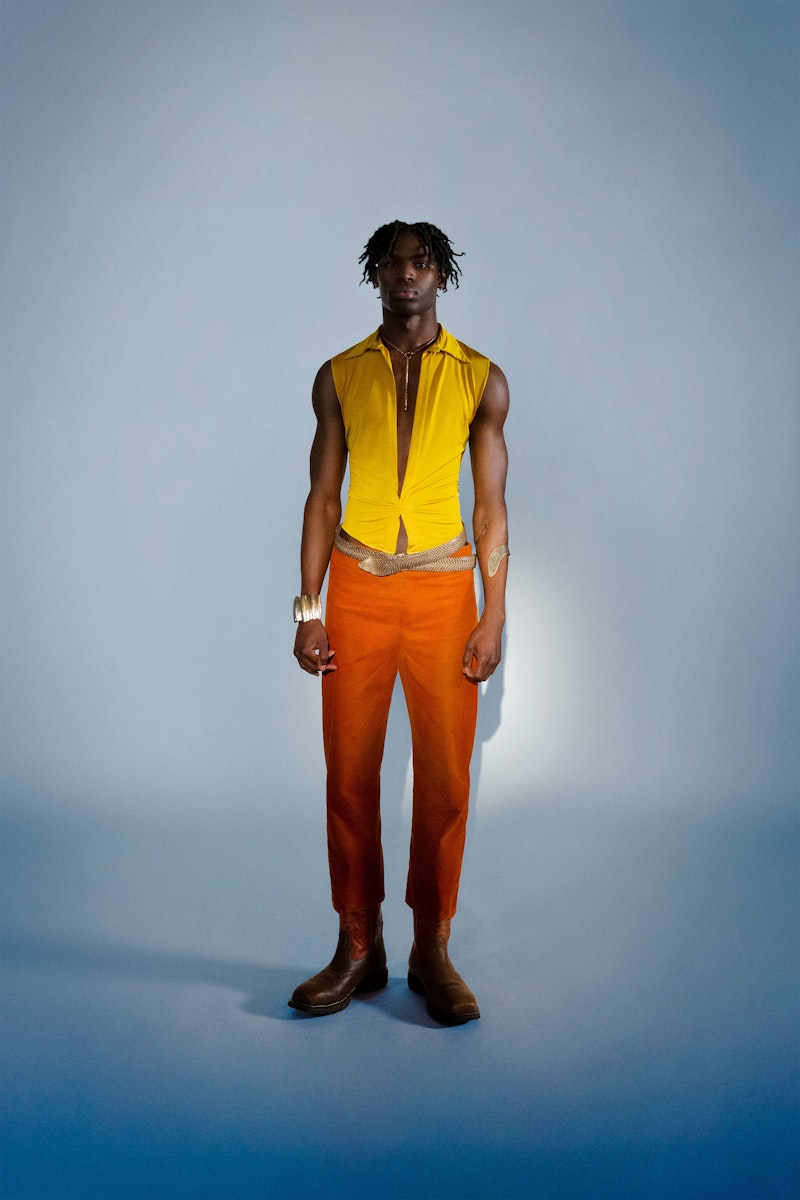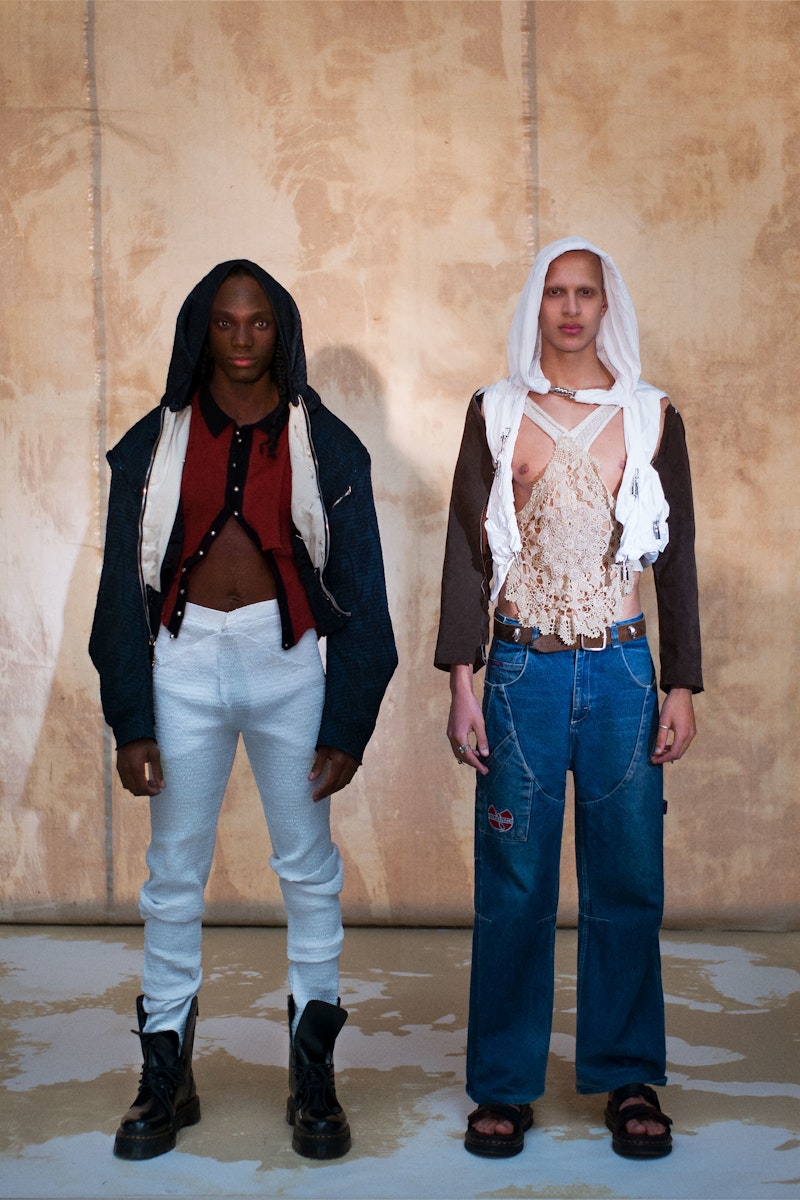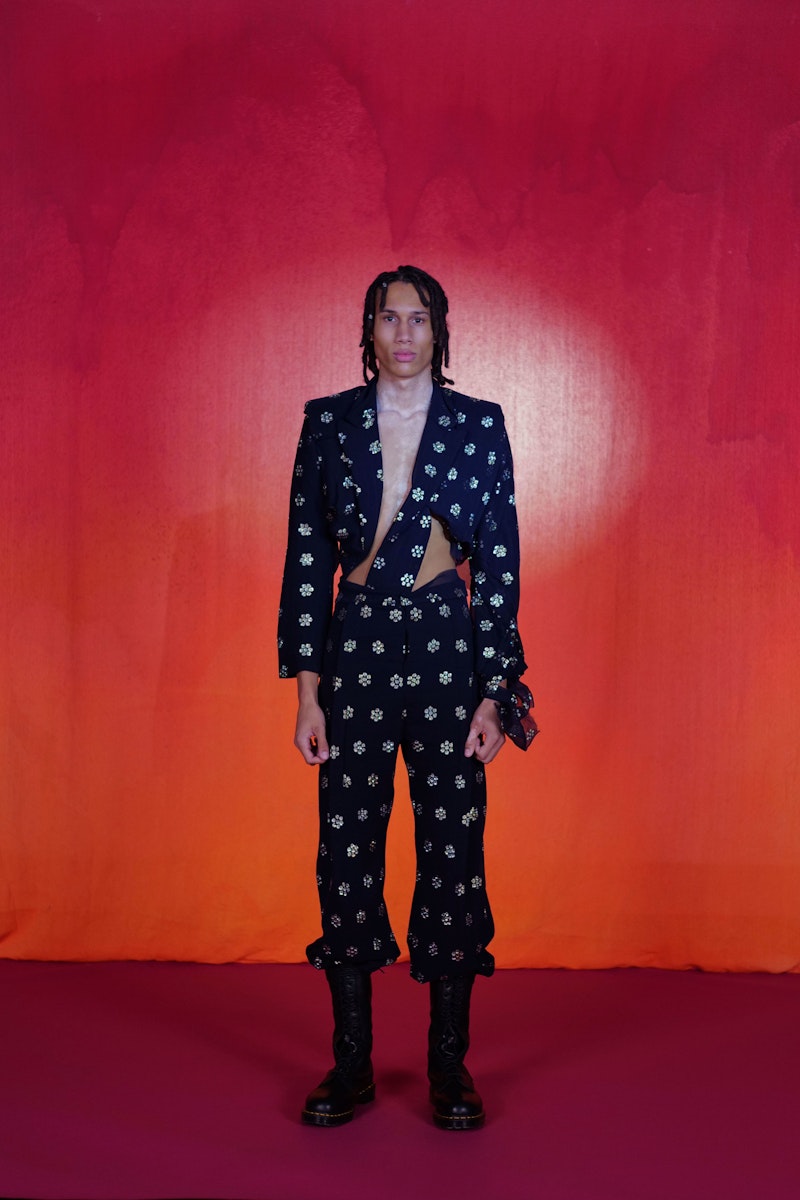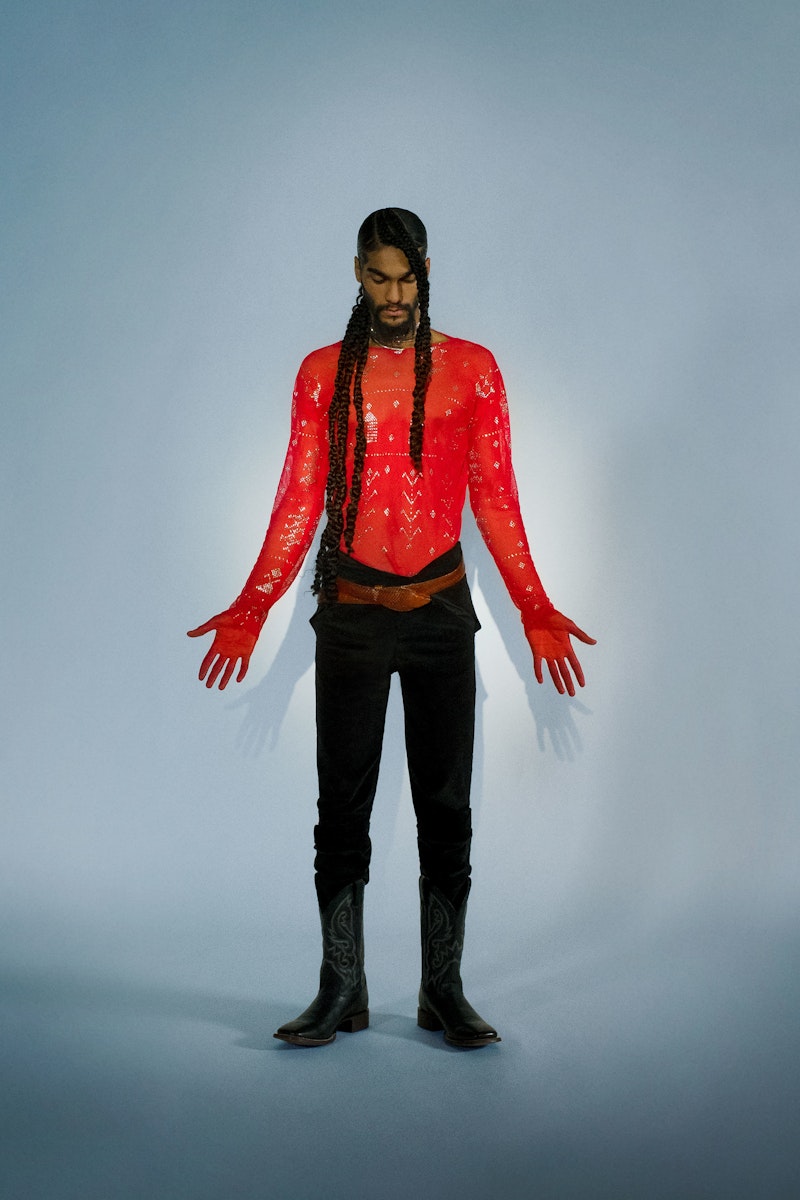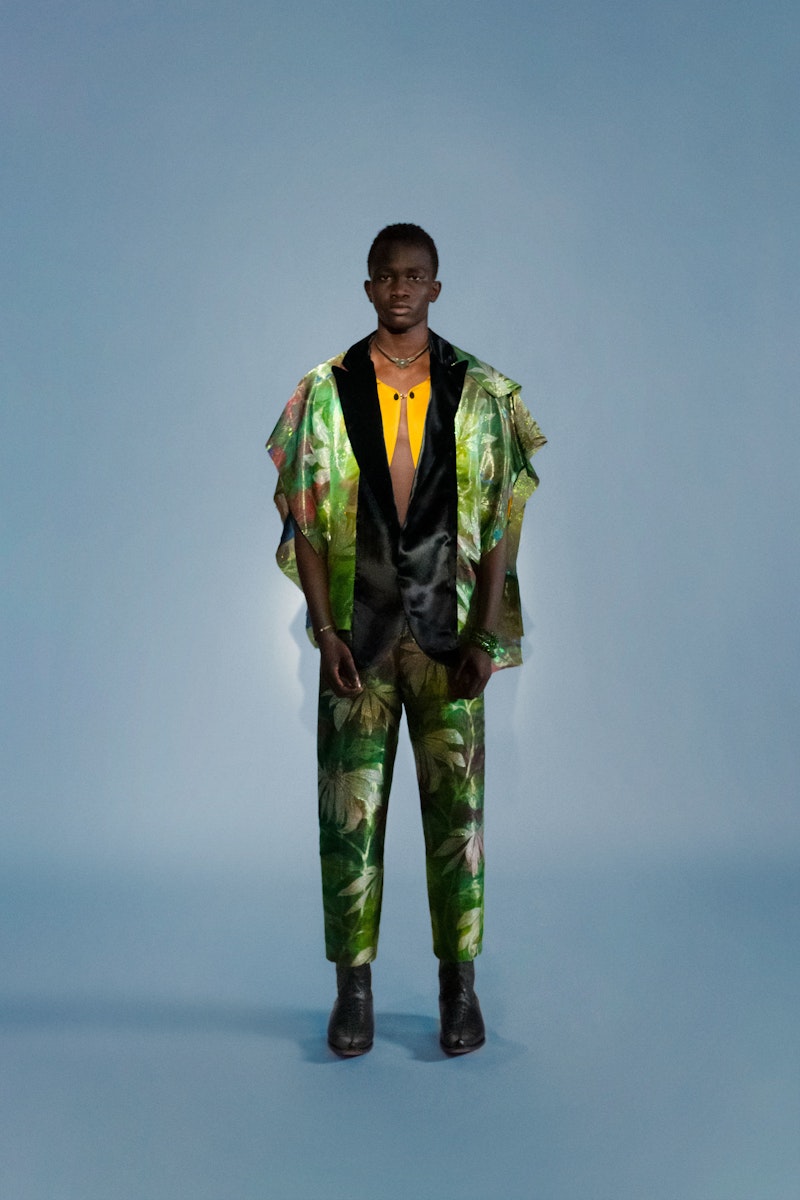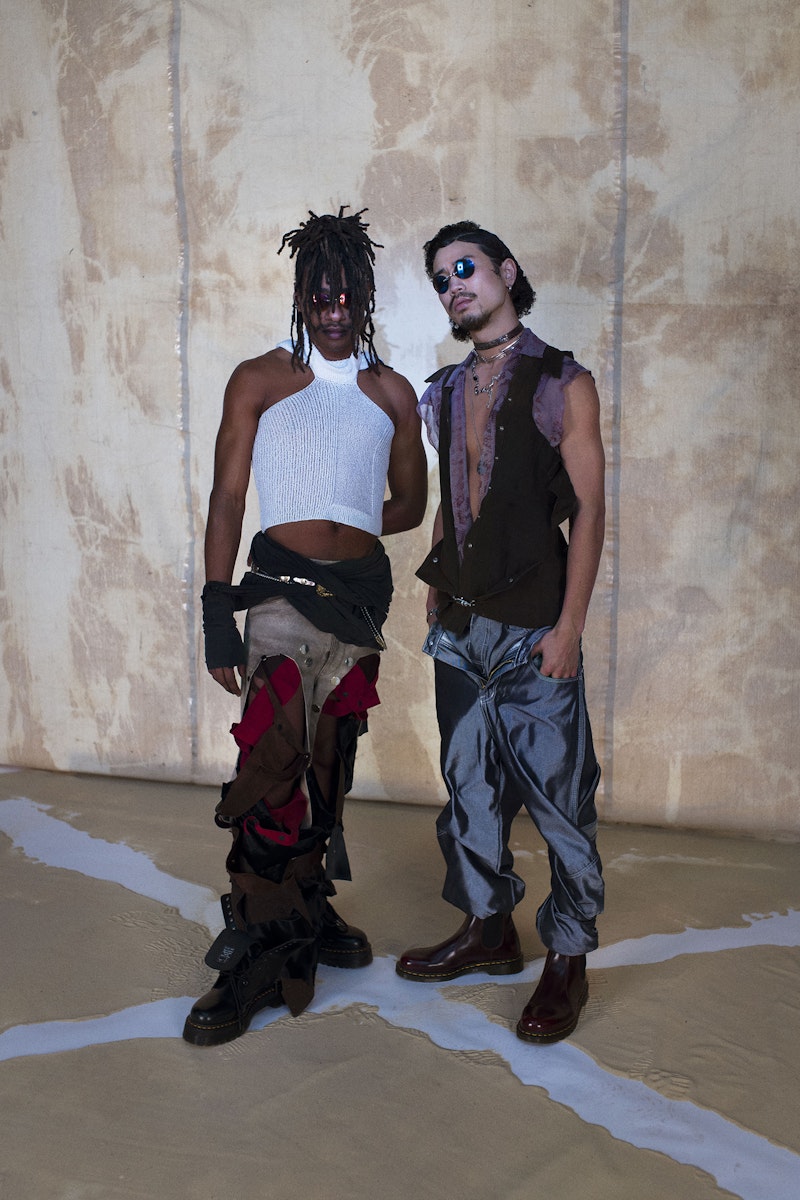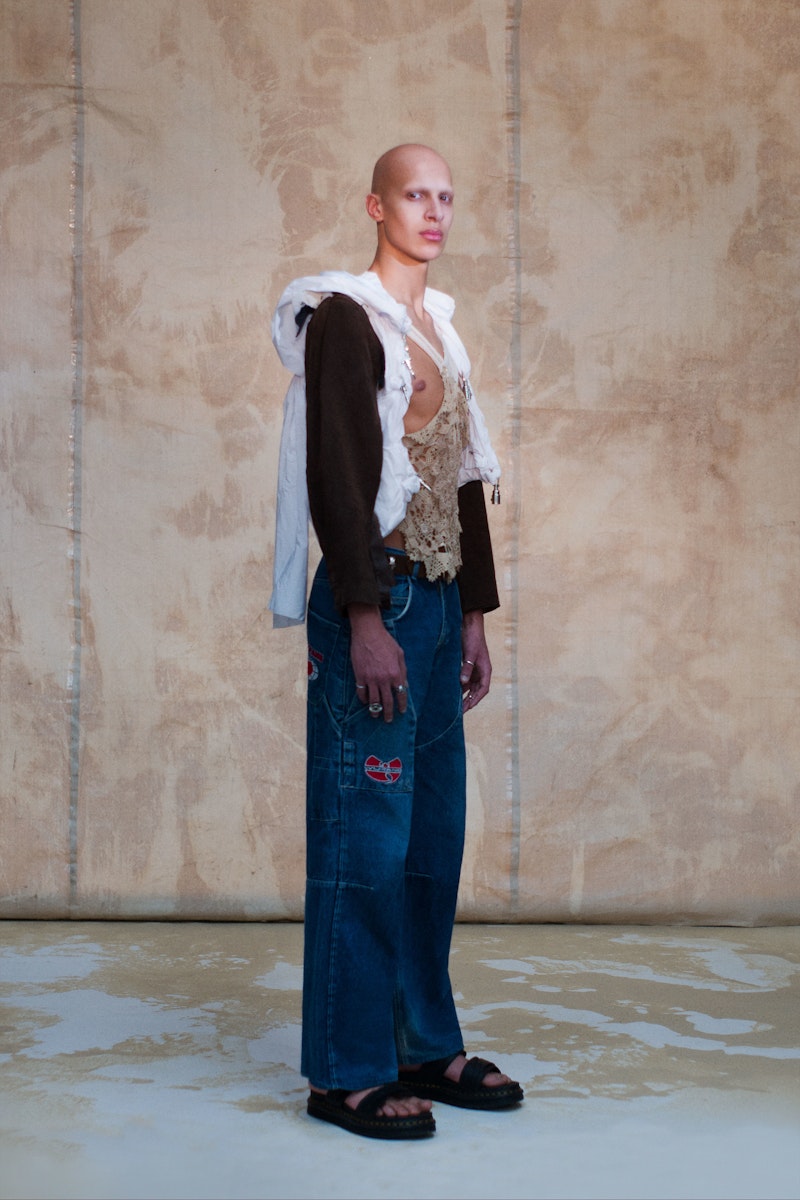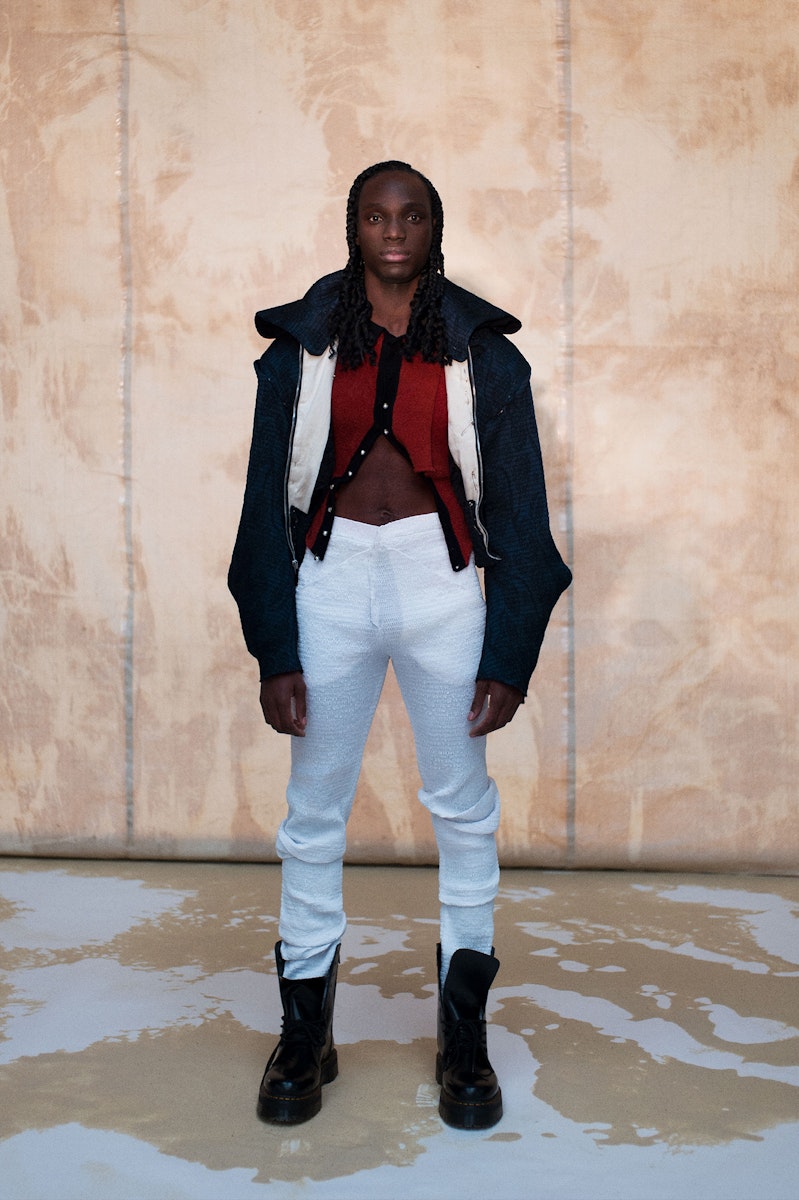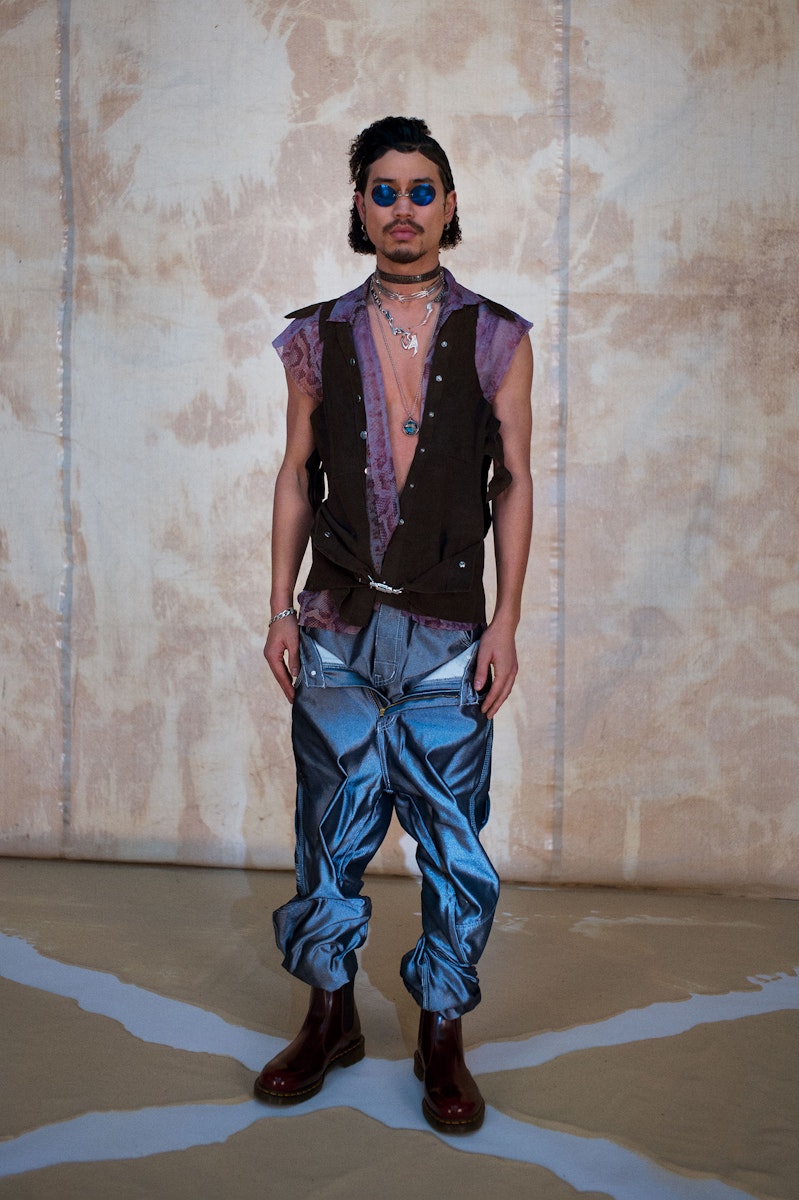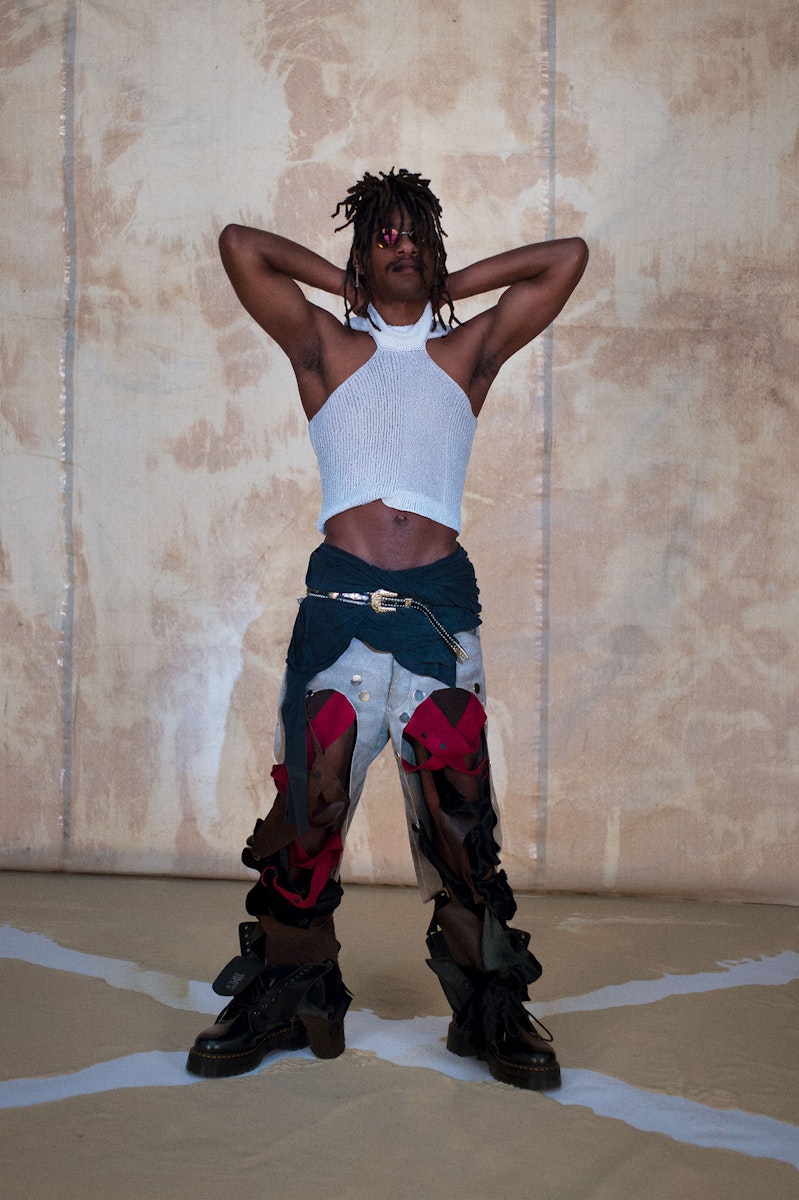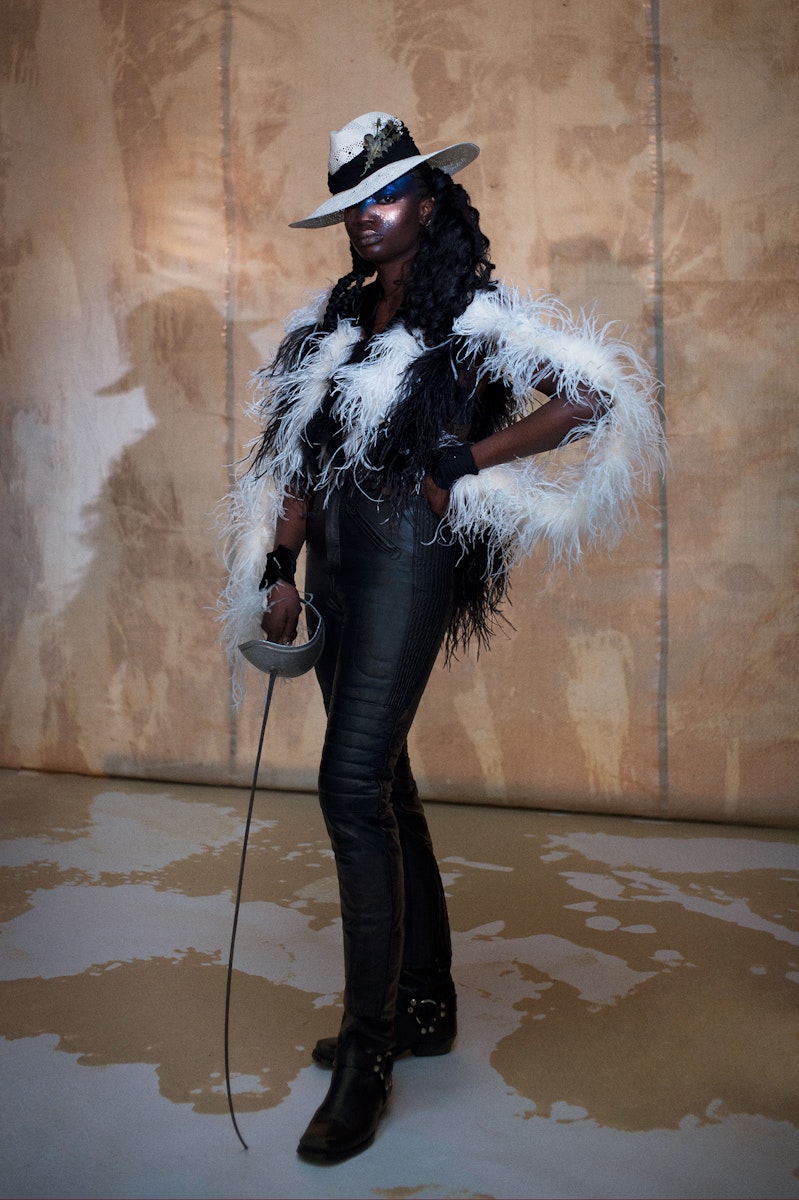 ---