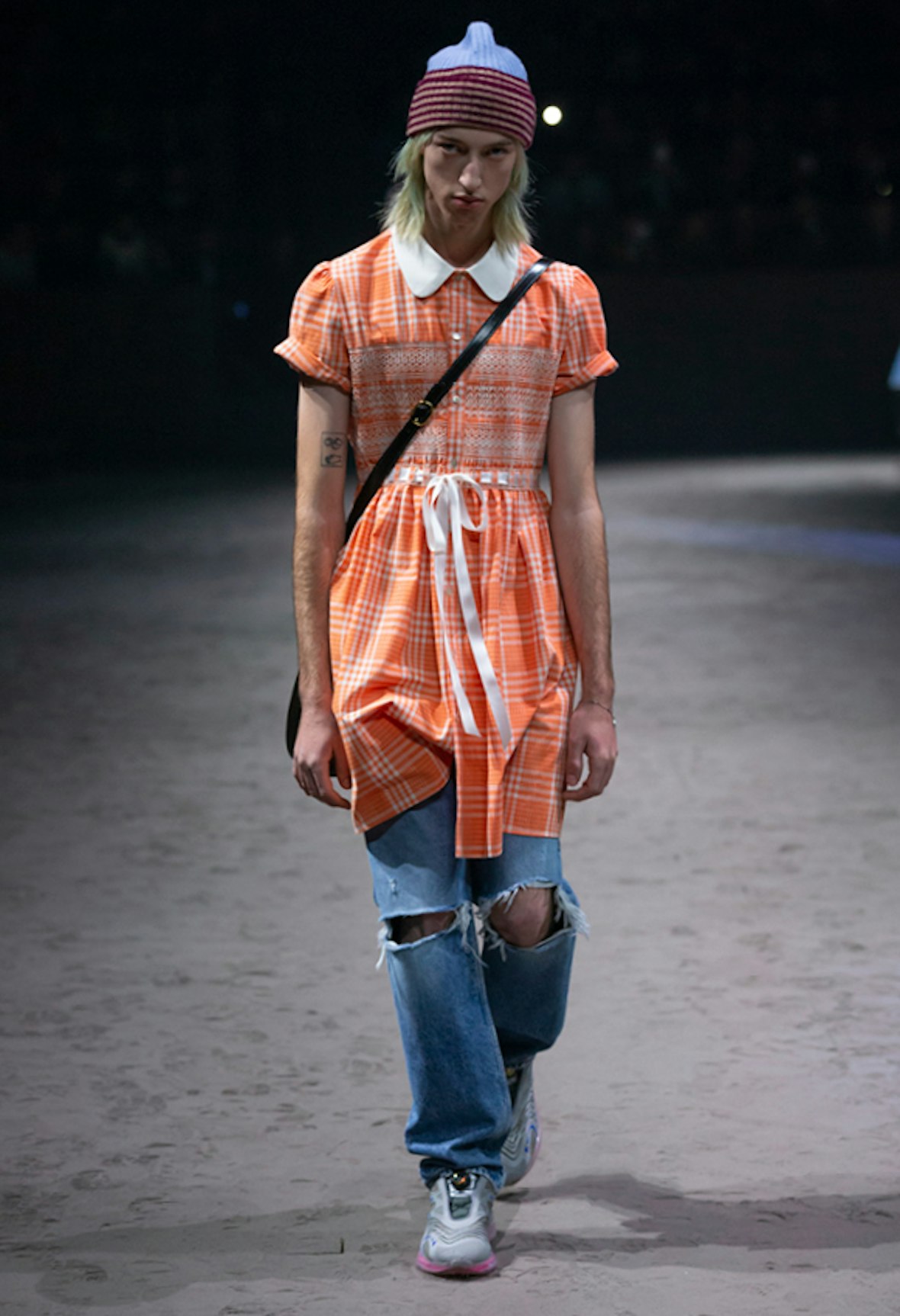 Prep school picnic and peak Kurt Cobain grunge at Gucci
The pendulum swung between prep school picnic and peak Kurt Cobain grunge at Gucci in the most dramatic of the Milan shows, with its huge swinging ball, dock style seating and rolling dry ice.

The ​"Gucci" on the show notes came on lined school paper in that needlessly-flourishy teen handwriting and fittingly, they were being distributed around schools throughout Milan, spreading the message that ​"toxic masculinity produces oppressors and victims at the same time". Outside the show, teenagers crowded and sang songs as if queuing up for an old One Direction concert (they were probably hoping to catch a glimpse of Gucci-devotee Harry Styles). The show encouraged men to embrace femininity, vulnerability, tenderness, kindness and for ​"a baby man, able to do bold and playful somersaults, who wonders in amazement when the world becomes new".
What about the clothes?
They fucked with gender, they played on childish nostalgia and they embraced the alt-icons who inspired Creative Director Alessandro Michele growing up (Nirvana, David Bowie and Marilyn Manson, whose cover of the Eurythmics Sweet Dreams was part of the soundtrack). There were baby-doll dresses, neat school short suits and Cobain-esque big shaggy coats.

The show took us back to childhood, then through adolescence, to times of play, uncertainty, hope, anger, fun, violence and experimentation. There were prim school socks, good-girl Mary Janes and grass-stained gingham coats. Jumpers with holes conjured up moth-eaten knitwear beloved of the old boarding school cool set, and the trunk cases felt like they were being carried to the steam train that would take them away from their parents to a new life in the dorms.
Coats, tank tops and slacks captured that first enthusiasm for vintage. Silver and iridescent beetle green flares brought glamour. Sweet florals and soft suede rubbed up against black patent leather and rebellious green hair. Tops with the words ​"Think/​Thank" and ​"Impatient/​Impotent" as well as cutesy ​"Mon Petit Chou" cabbage and little yellow chick knits will sell like hot cakes.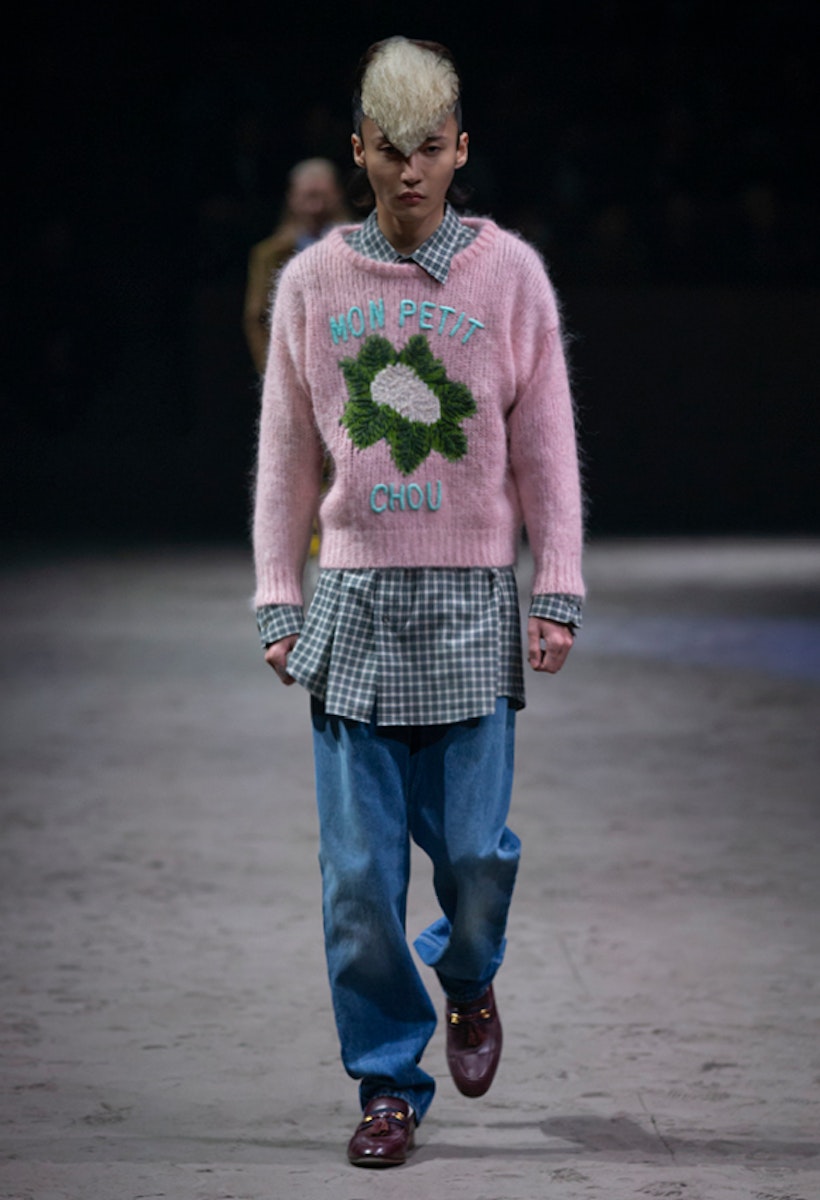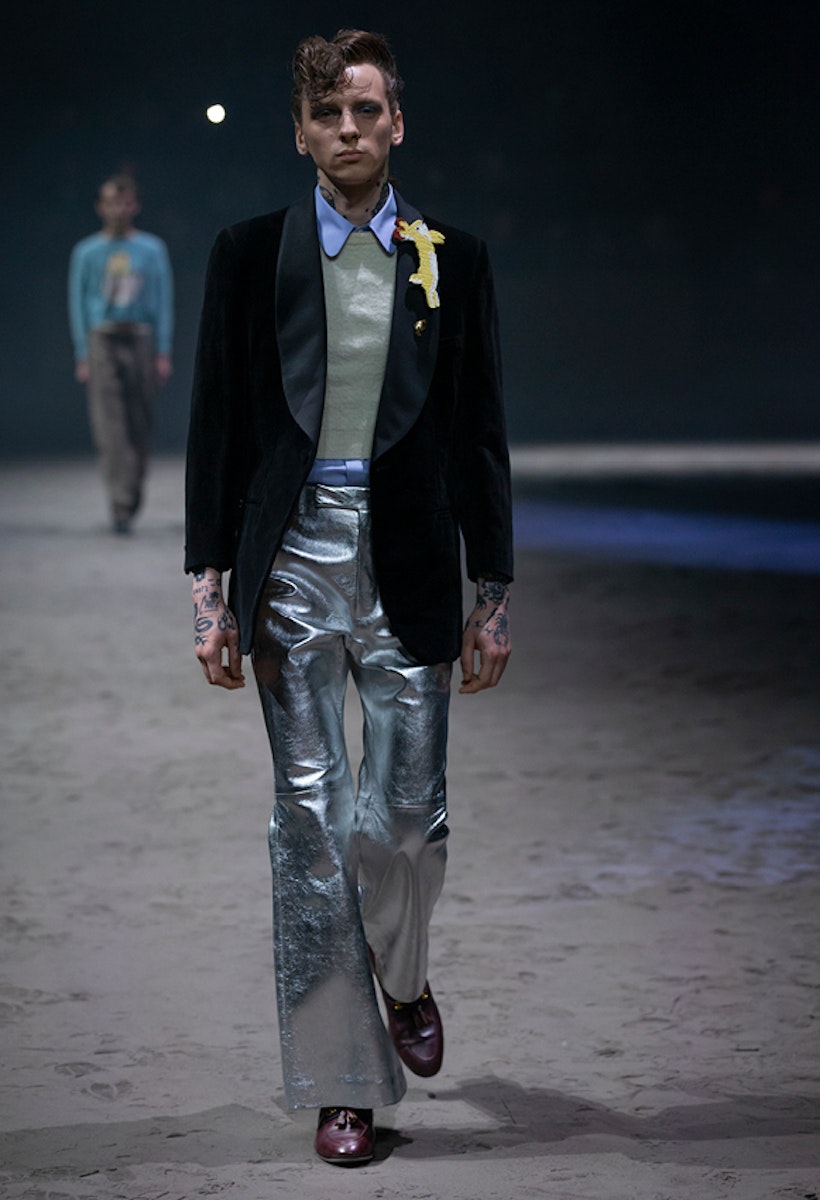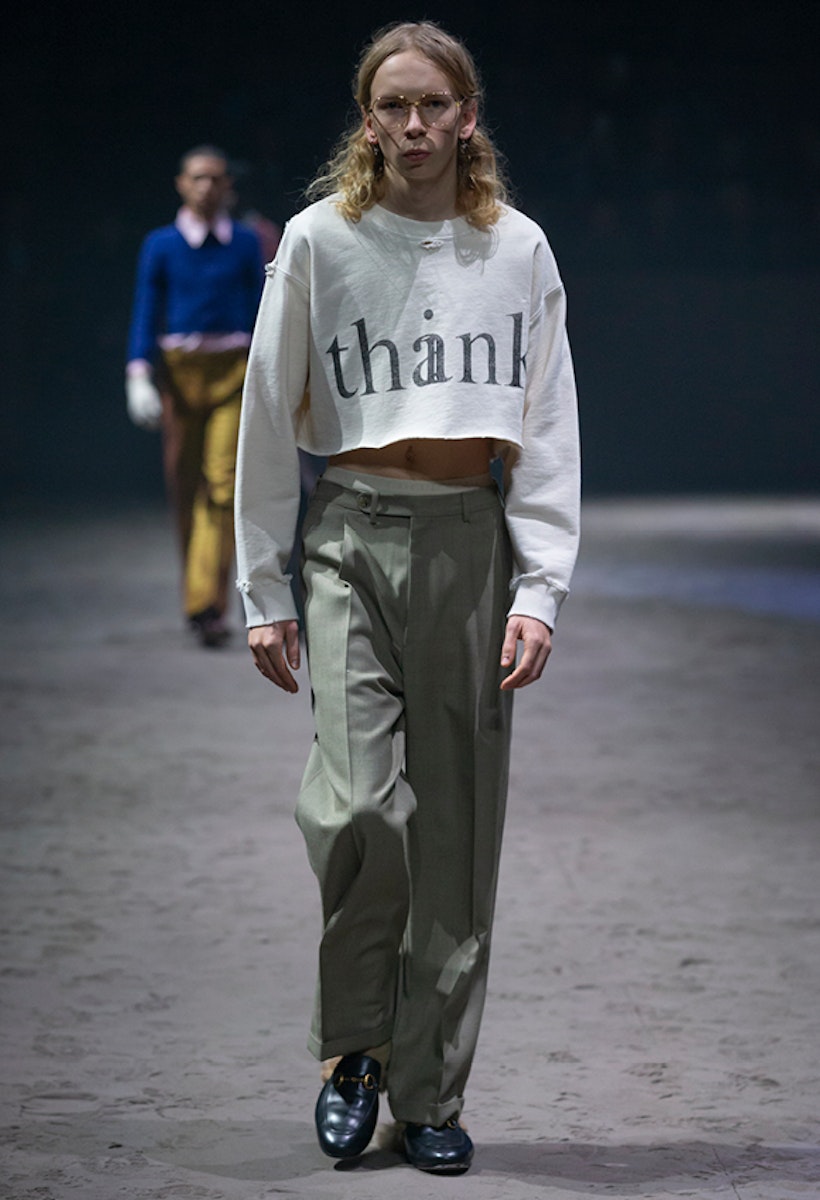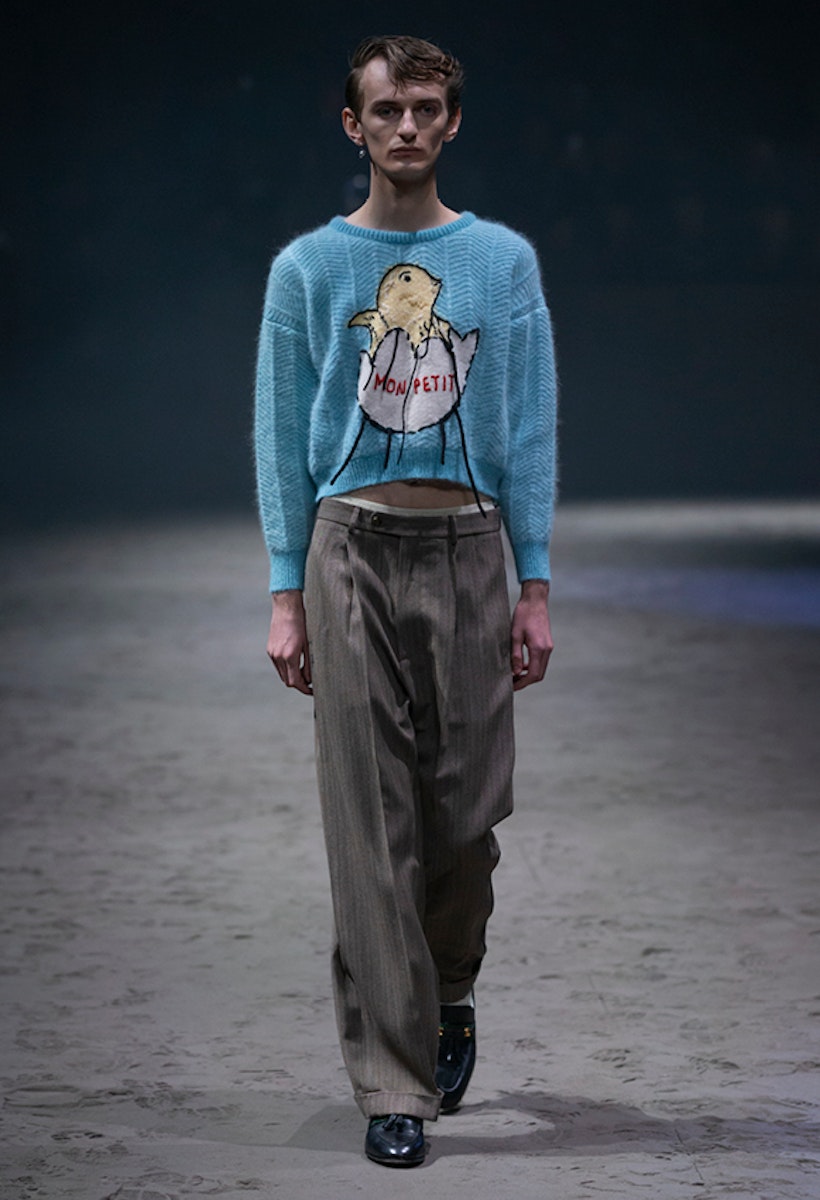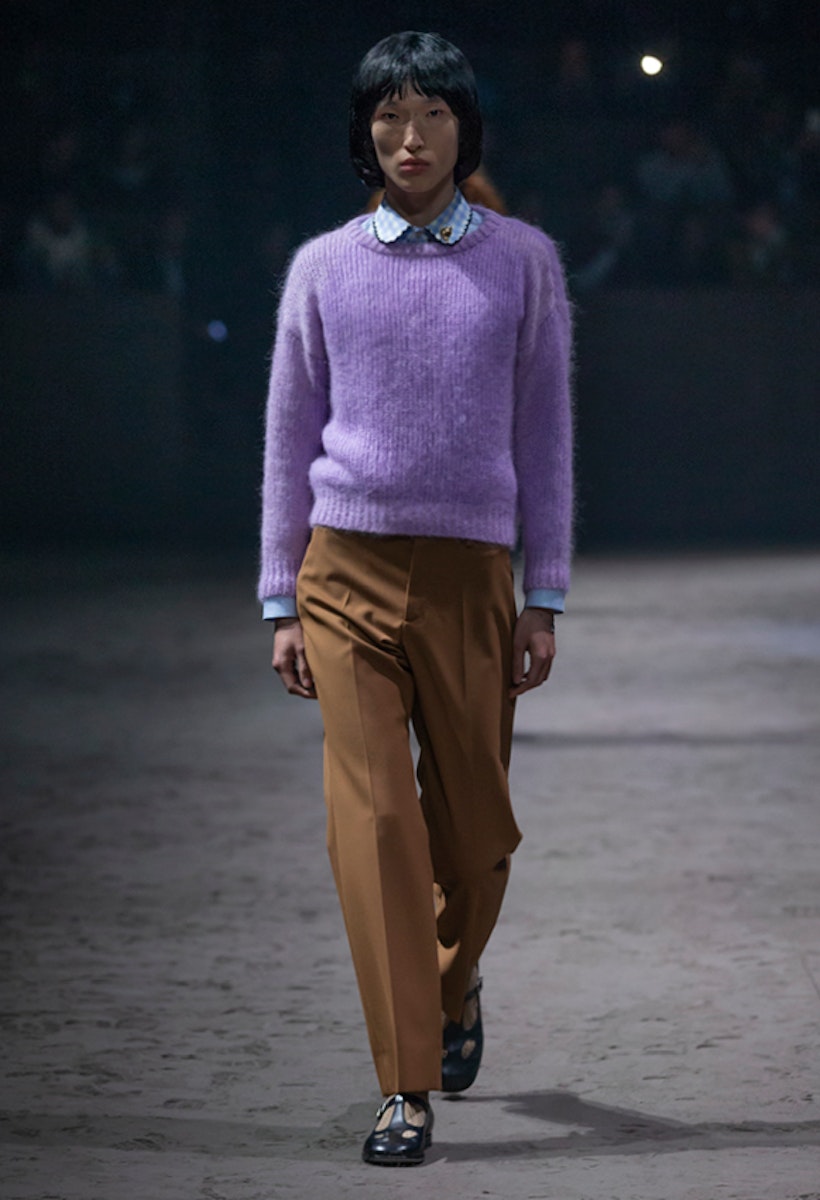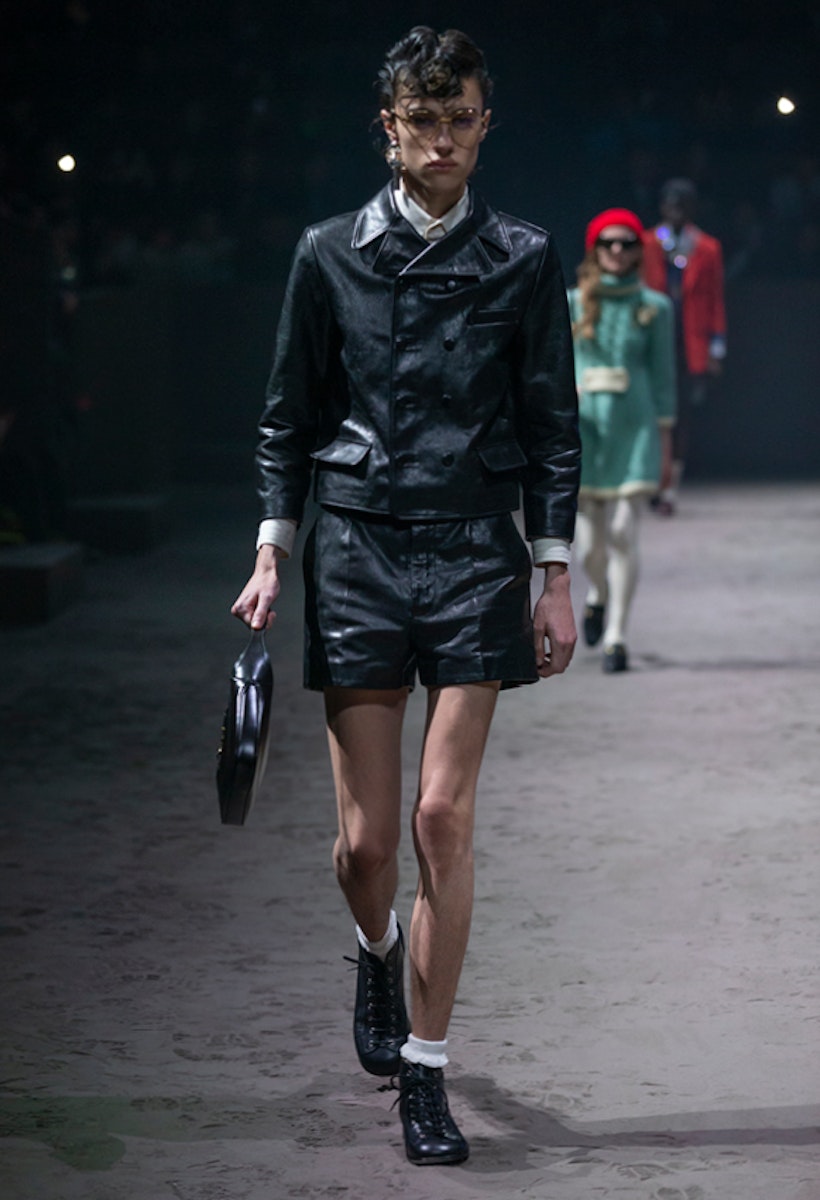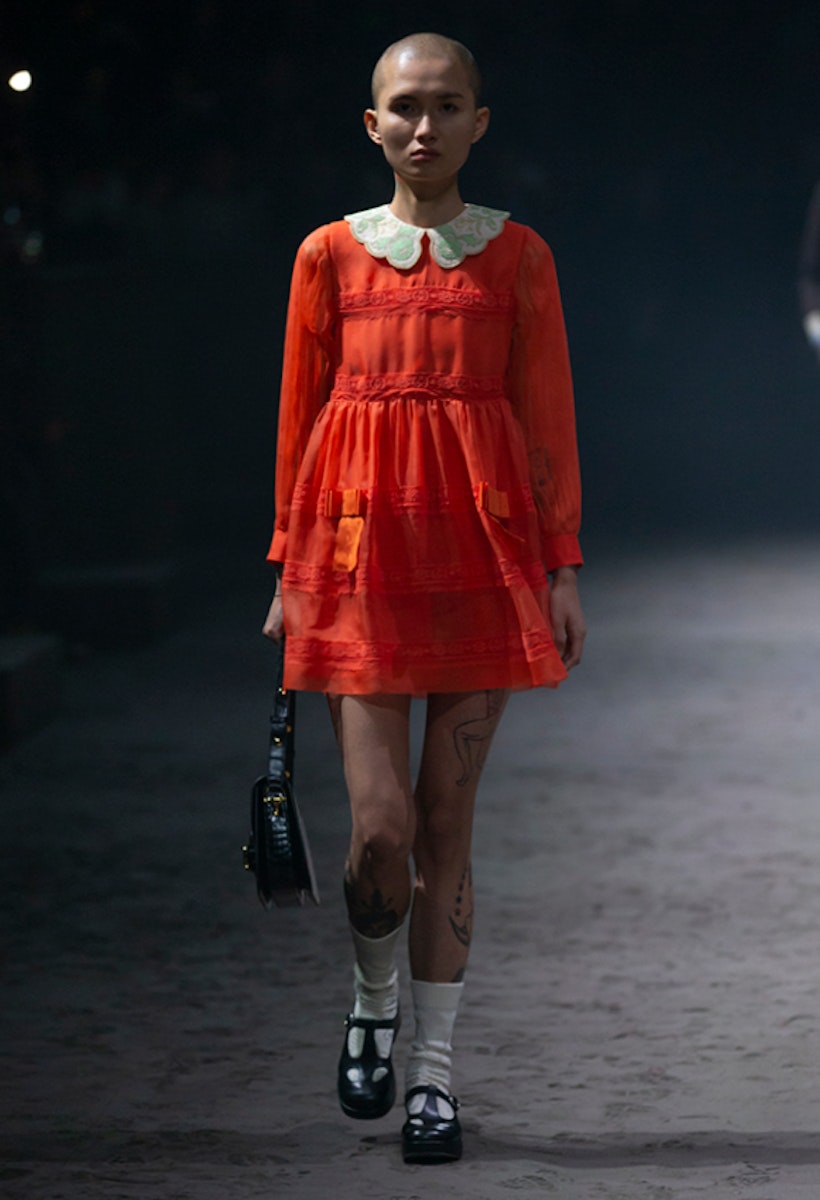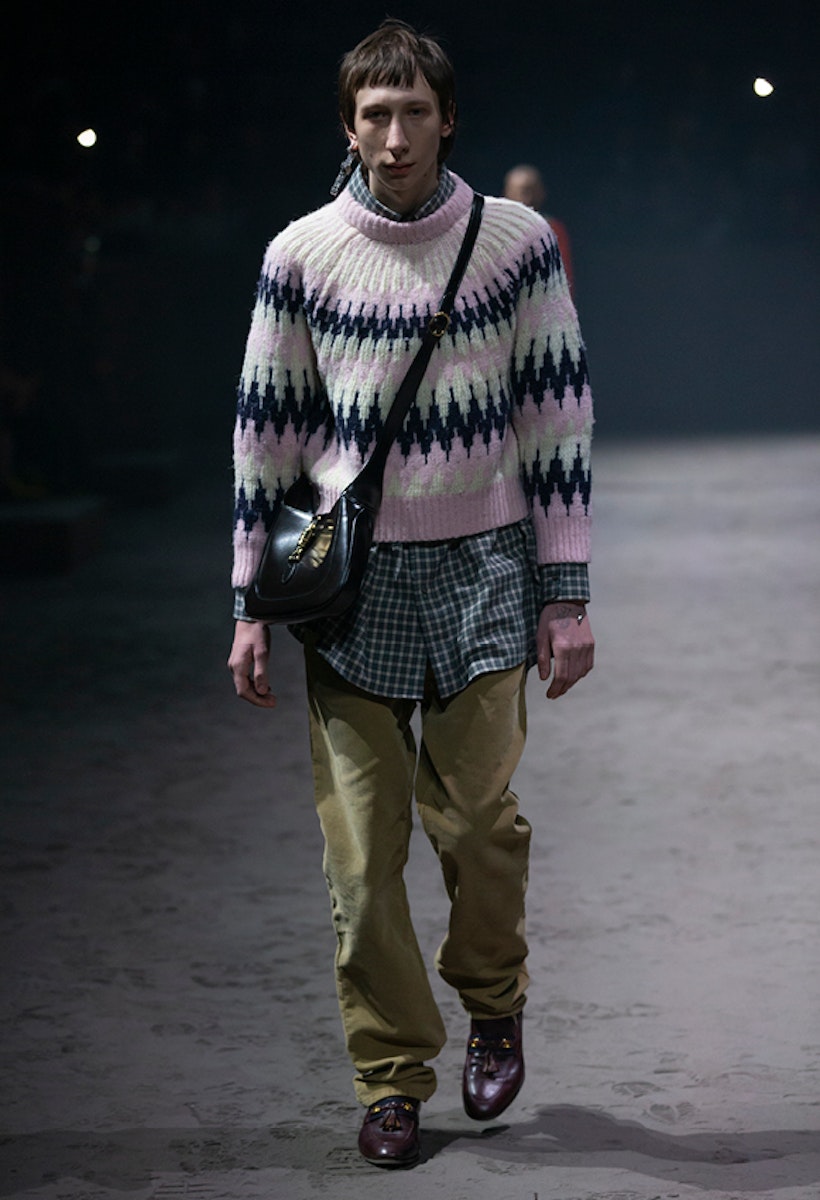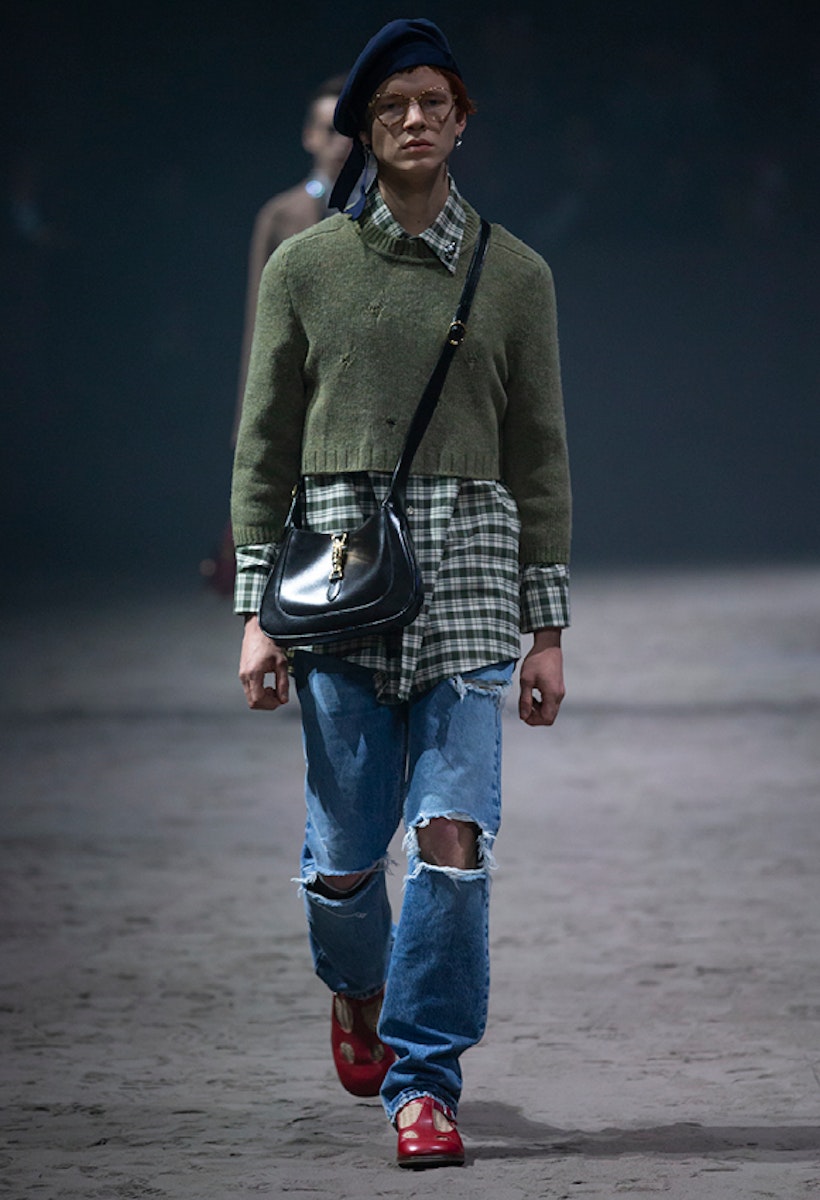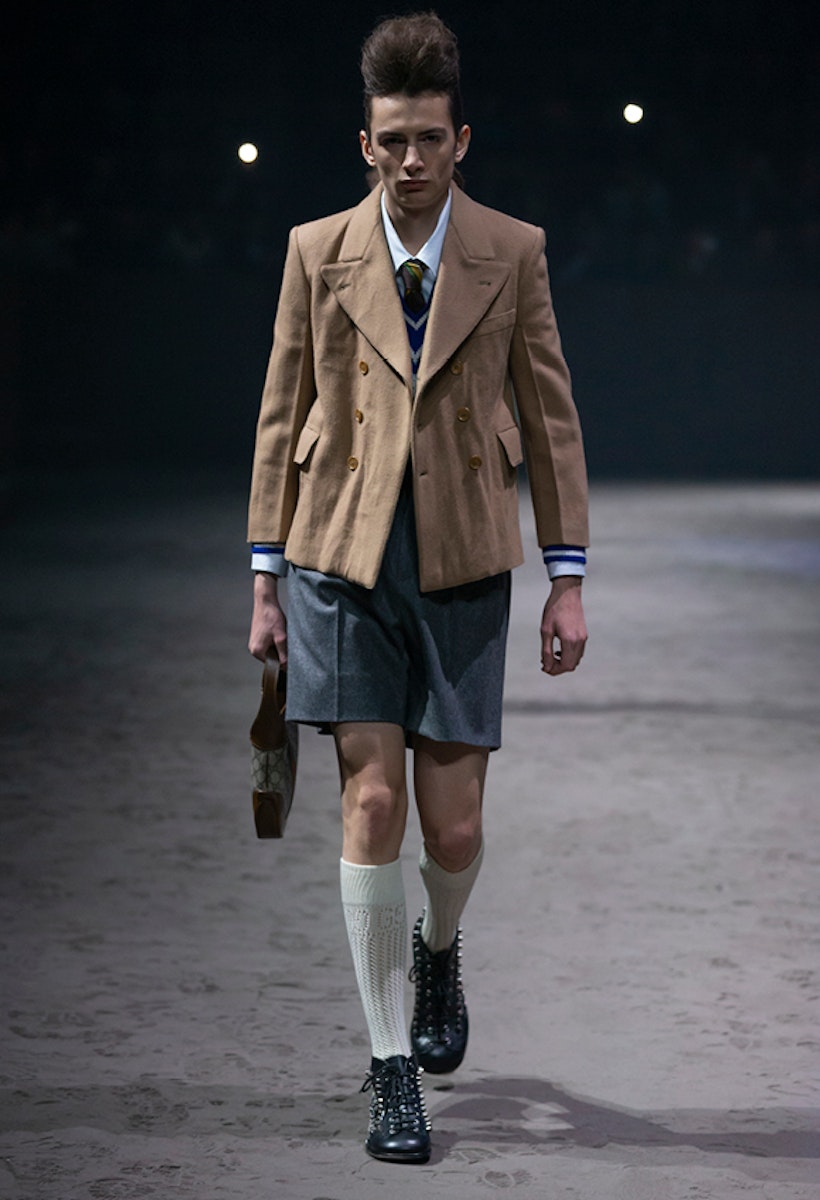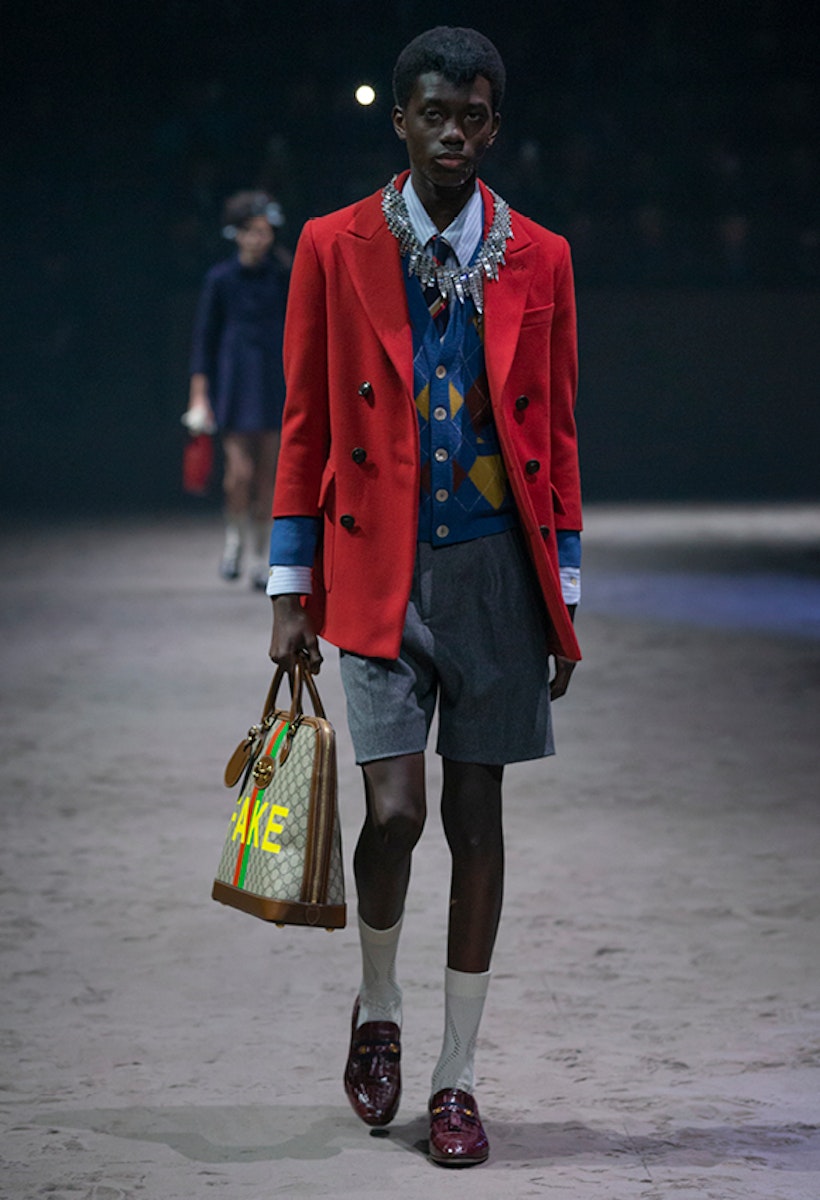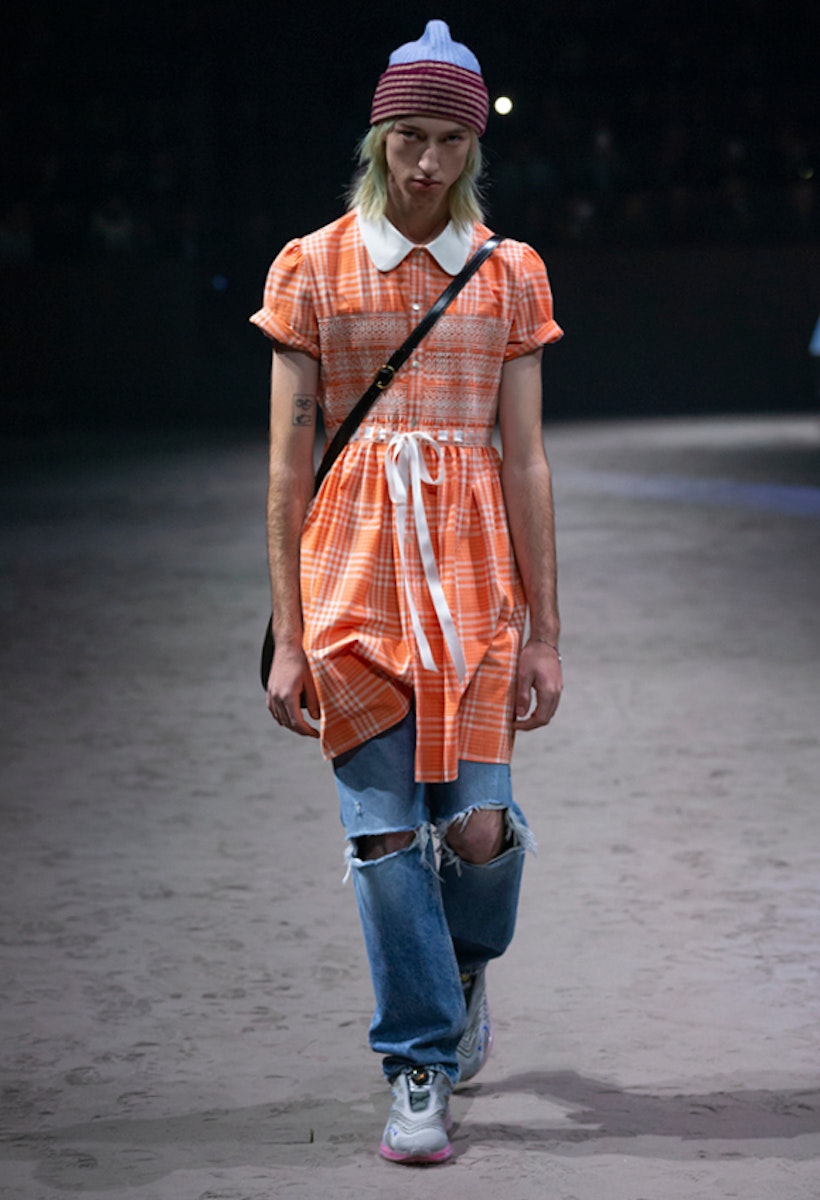 Of note:
This being the first show of Michele's fifth year at the helm, and a return to the menswear calendar after a few years of co-ed shows, there was the suggestion that there would be a switch-up in Michele's mission, but in fact, girls still walked, ​"womenswear" appeared and the whole thing was a continuation of the winning freaky formula that's made Gucci a runaway success under his reign.
---