Marc Jacobs' look-but-don't‑touch approach is cool – and Covid-safe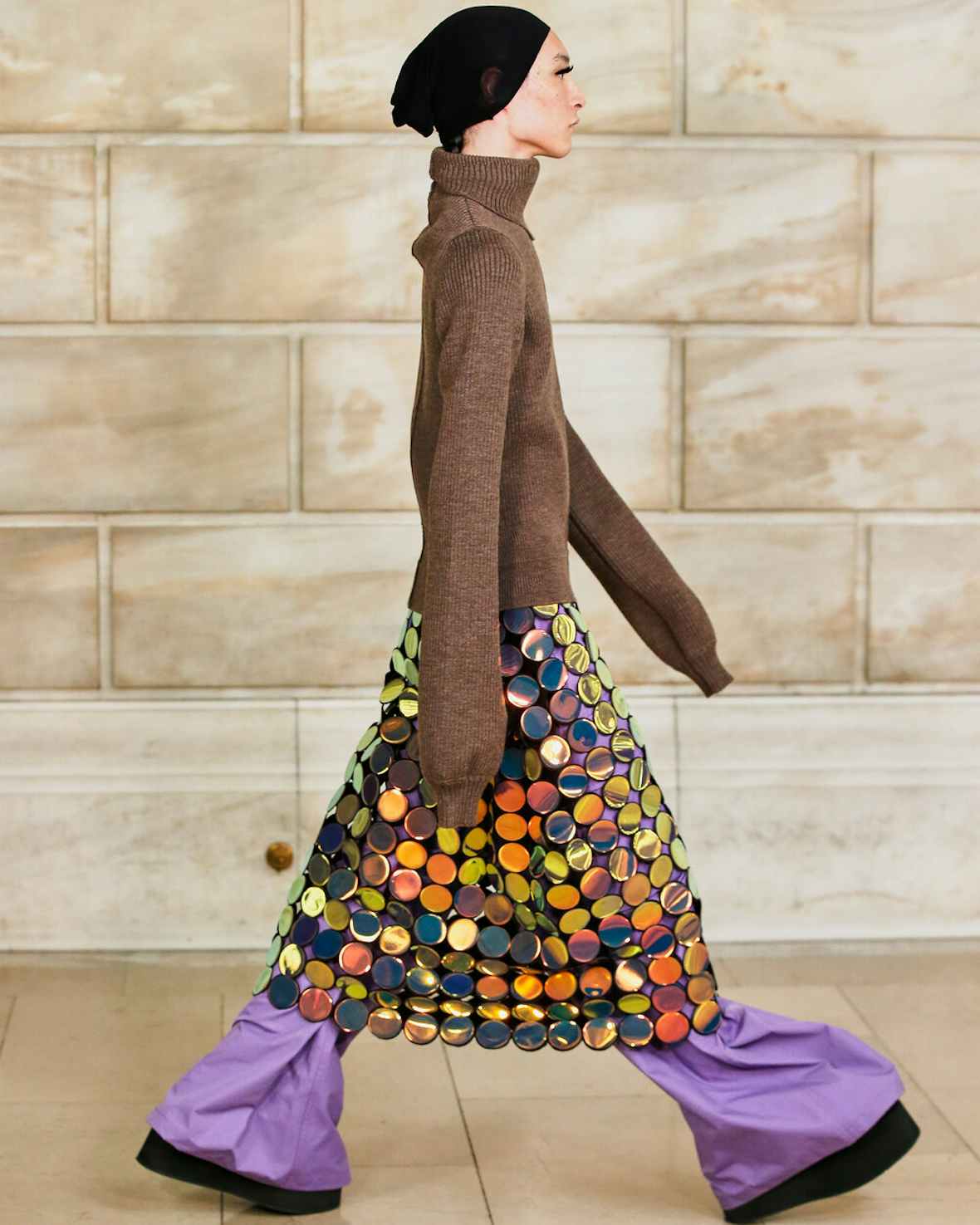 In a triumphant return to the runway, NYC's big favourite offered wonder, hope and curiosity in an explosive AW21 collection.
Marc Jacobs returned, triumphantly, to the runway last night.
It's been well over a year since last February's spellbinding AW20 presentation, where dancers loomed around tables, Miley Cyrus appeared as a punkified Jacobite and nostalgia was in the air: three-button A‑line coats, shift dresses, ​'70s headscarves and a Neapolitan colour code. But it was worth the wait.
Like many a designer this year, Jacobs is now looking forward. Presenting at New York Public Library yesterday to a live audience (attendees had to provide a negative Covid result), the New York designer channelled the fear, anxiety, loneliness and detriment of the past year into a searingly inventive collection of volume, draped shapes and nonsensical bodily form… that slowly became very sensical.
Jacobs' decision to go off-grid for over a year was intuitive, a move that allowed him and the multi-million-pound company he heads to slow down. While spectators made the shift to digital shows last year, Jacobs took the time to reflect and re-evaluate after three decades working as a designer, without the pressures of lightning-fast turnarounds and up to five collections a year. As he notes in the press release: ​"Creating a collection requires enormous effort over many months from our small group of extraordinarily talented and dedicated individuals."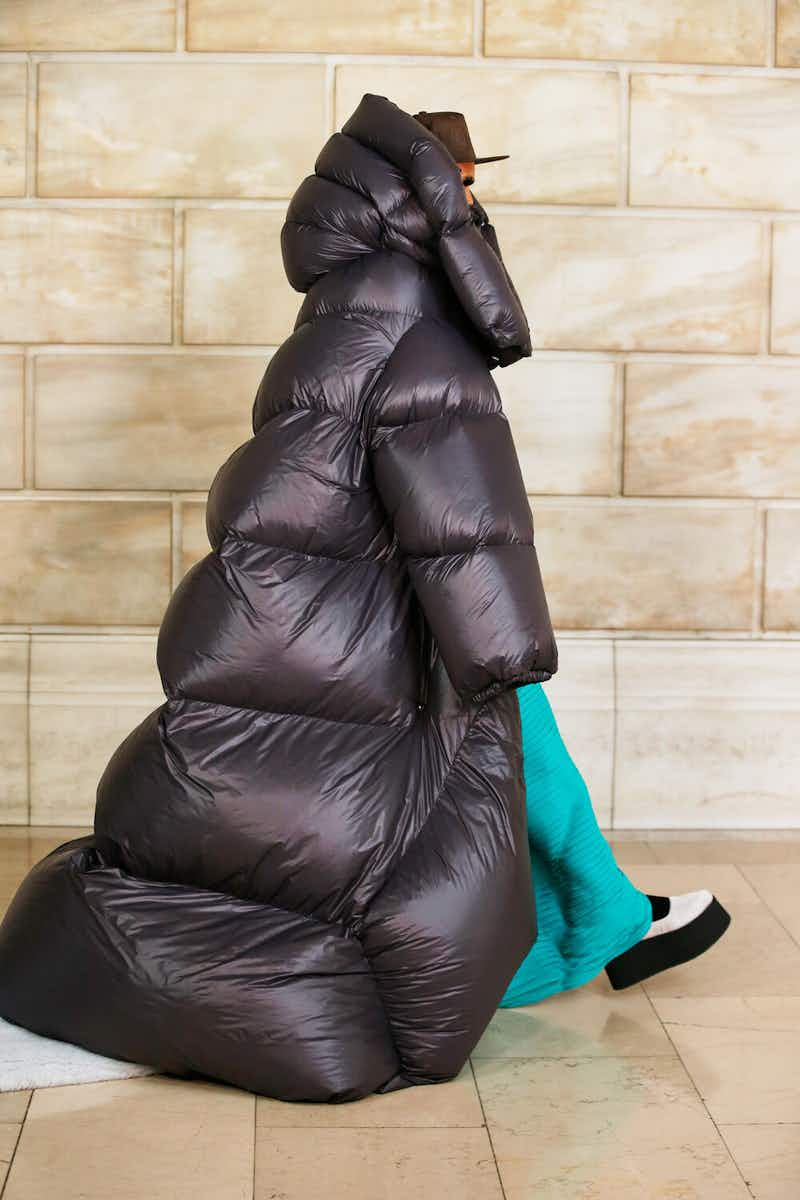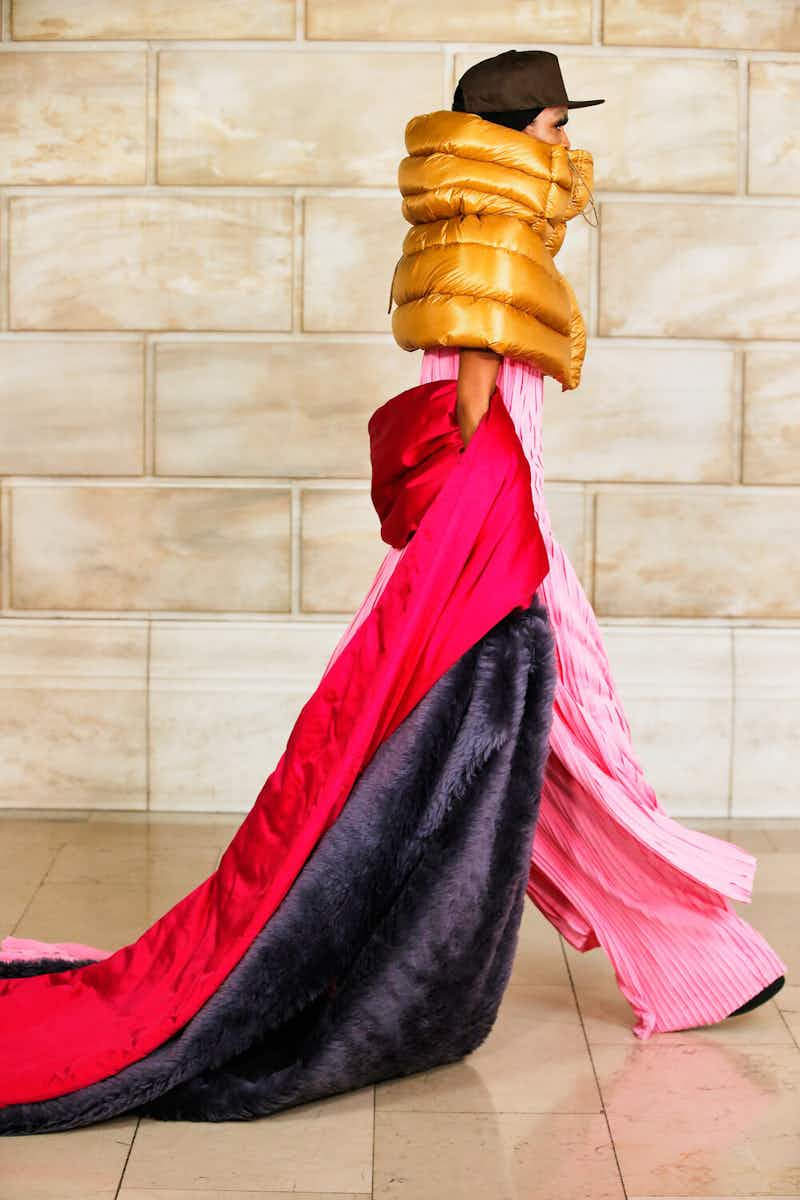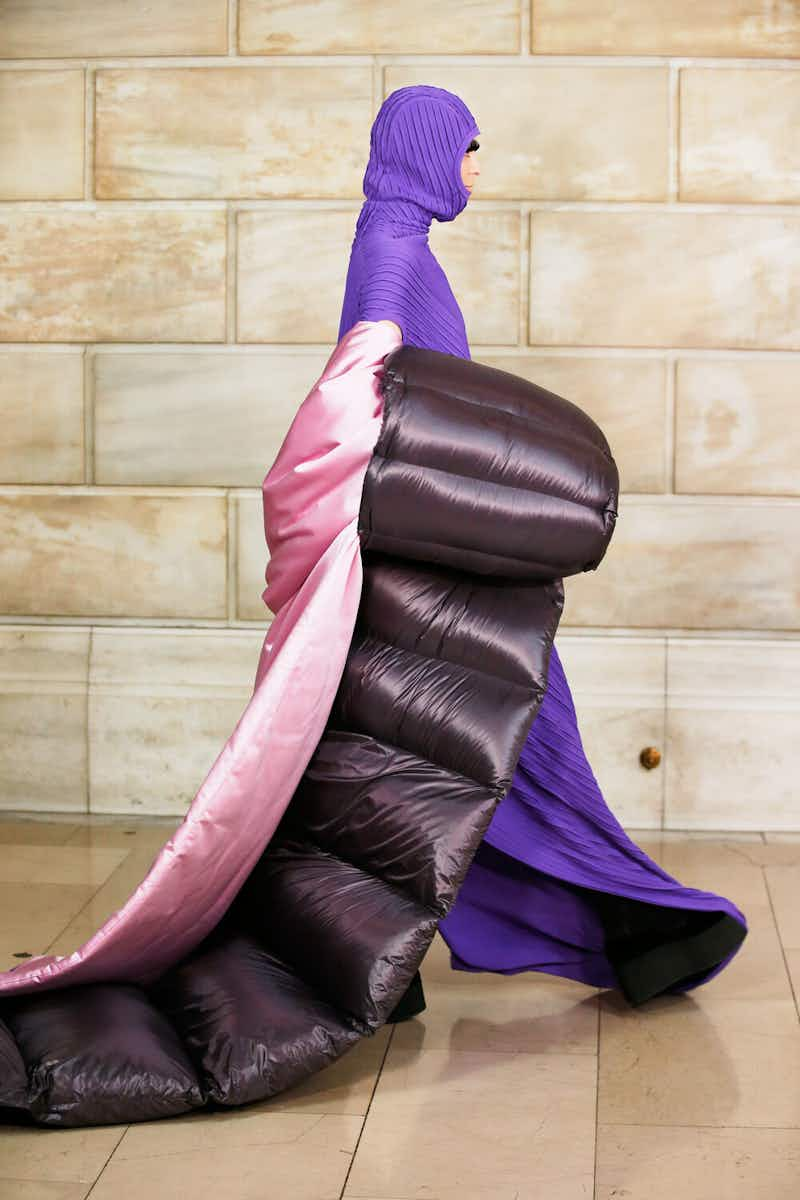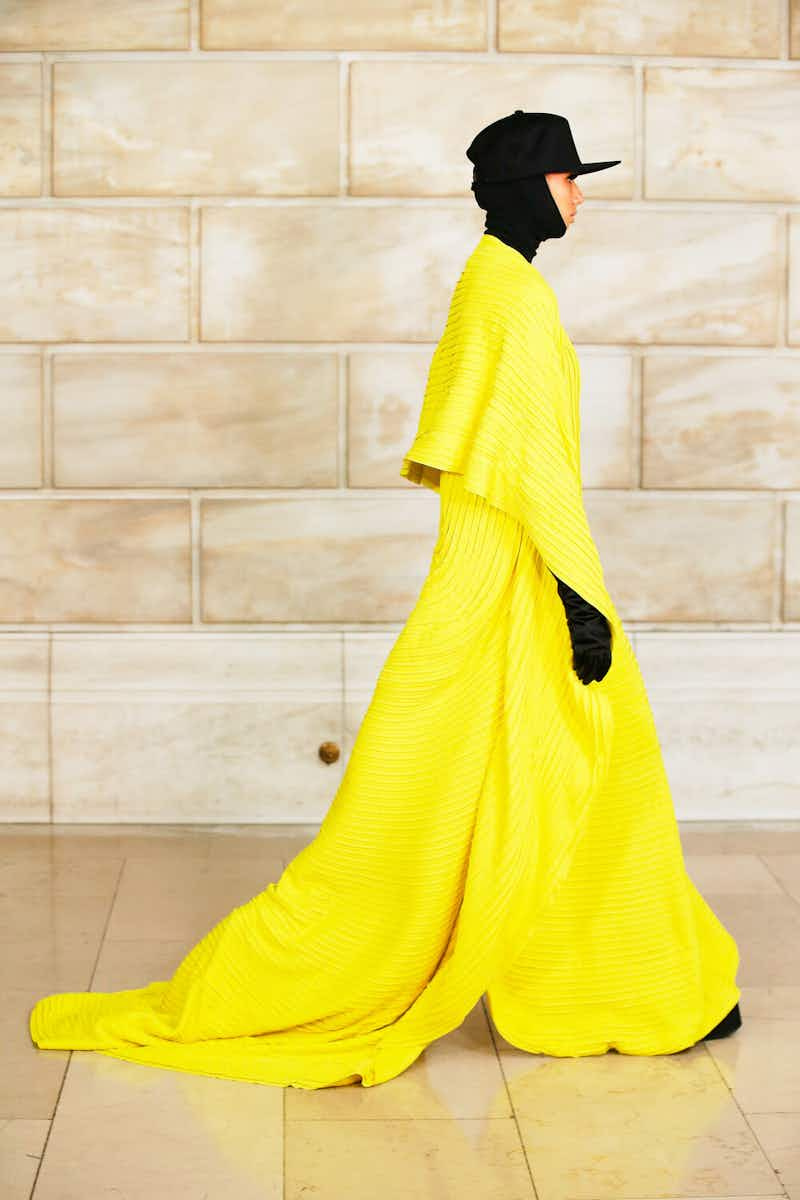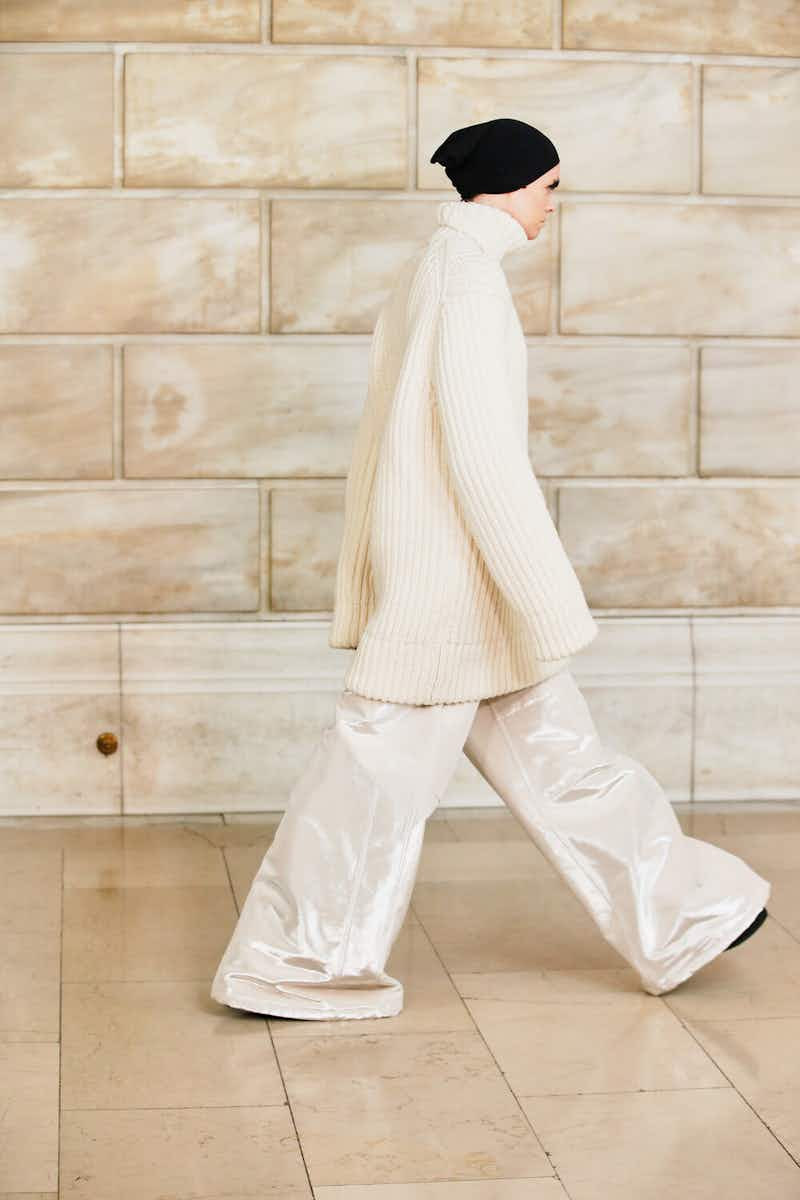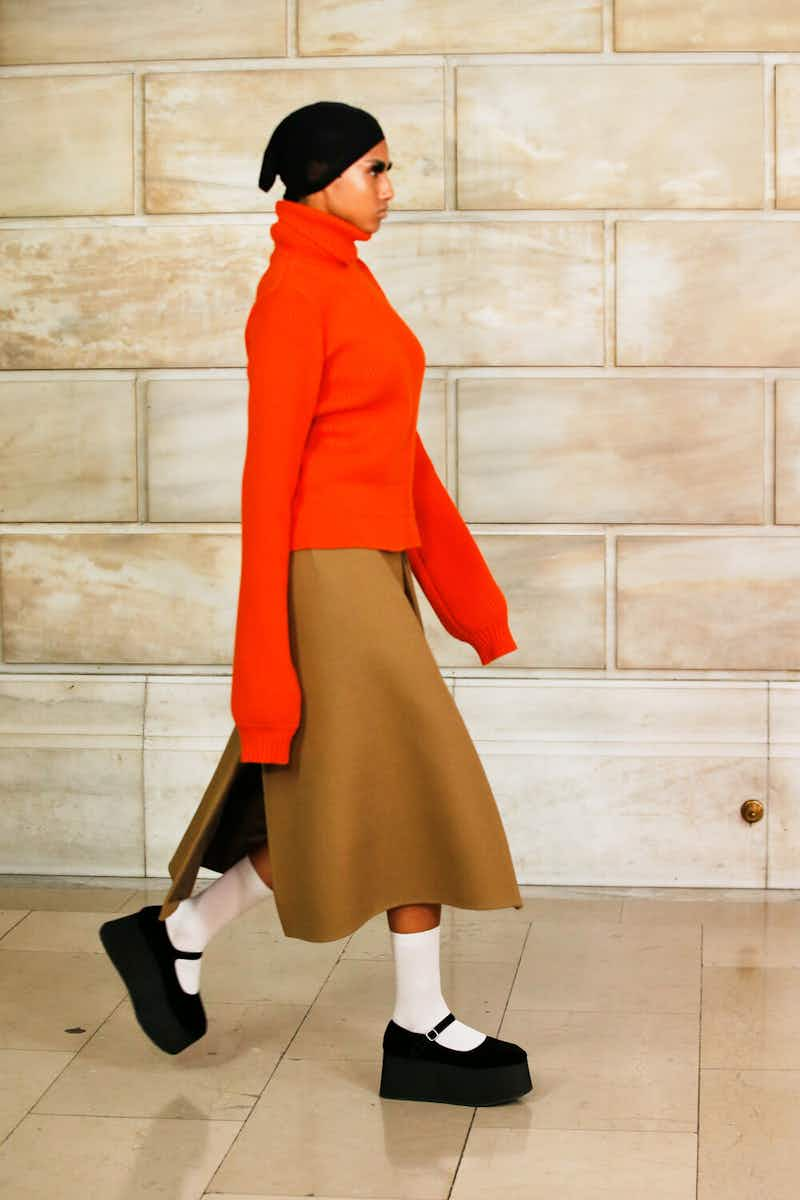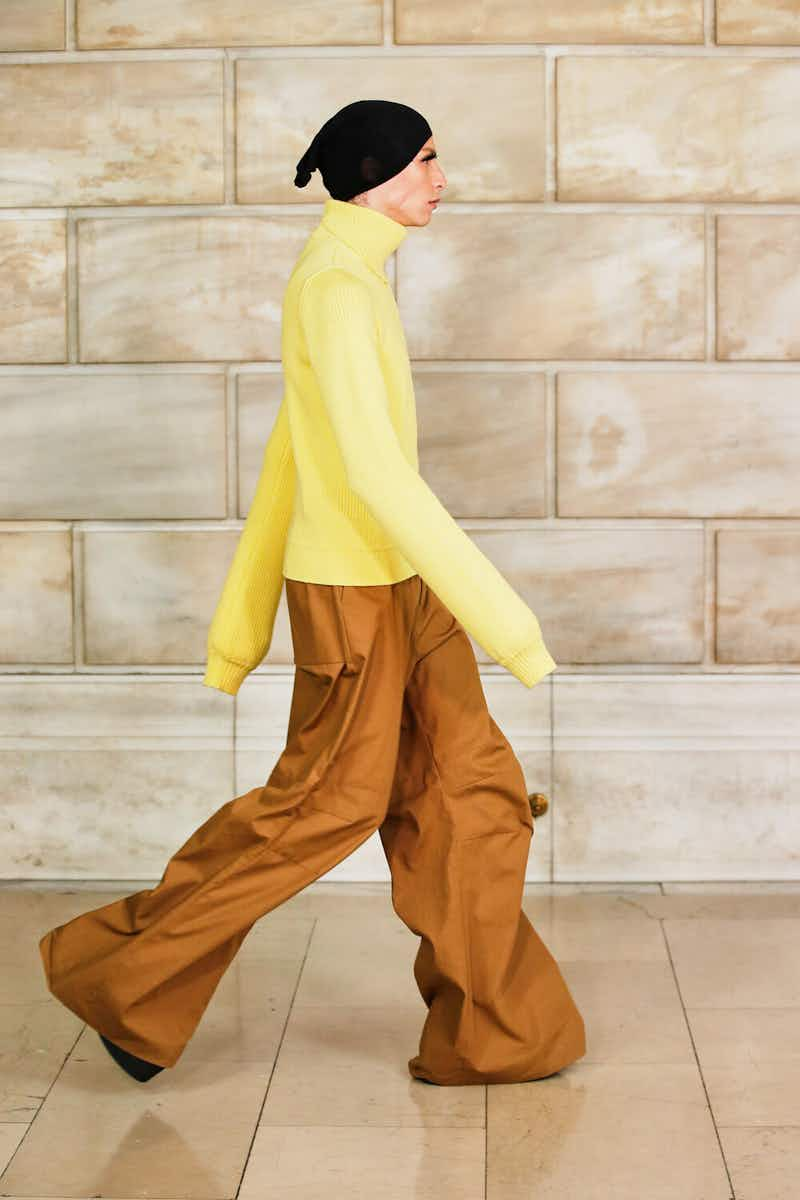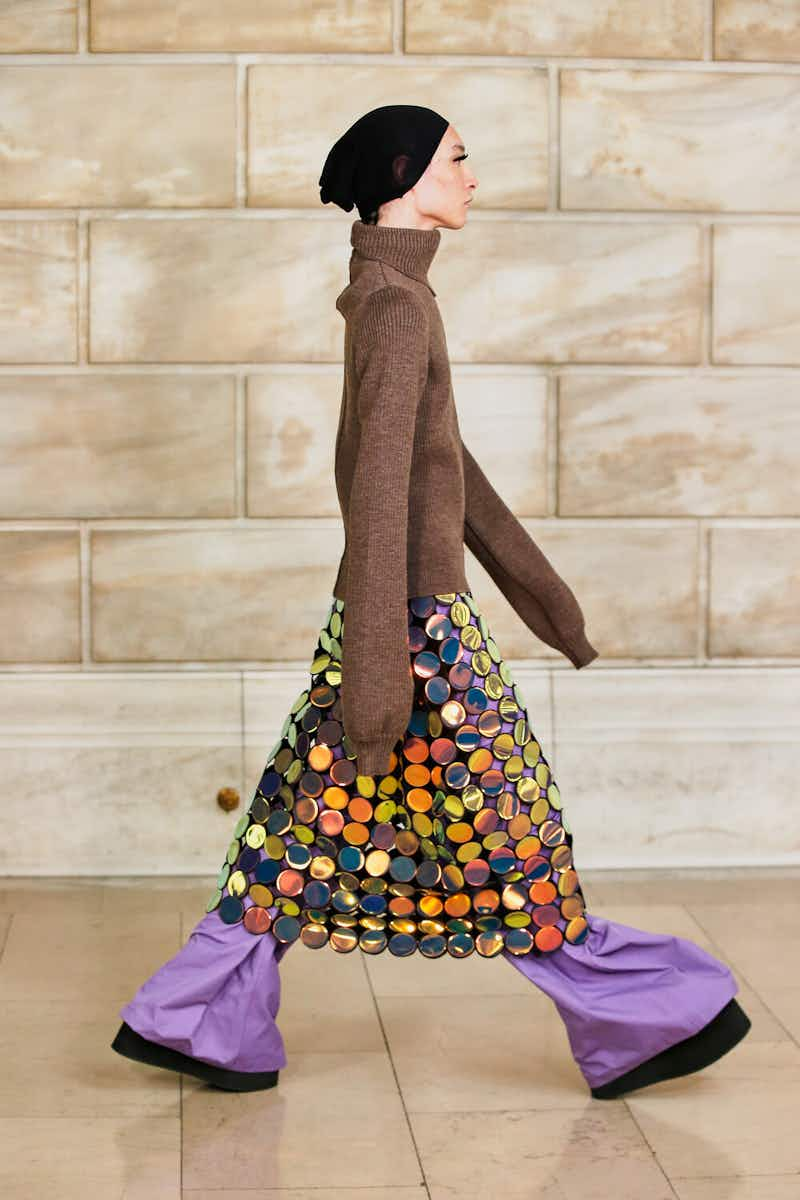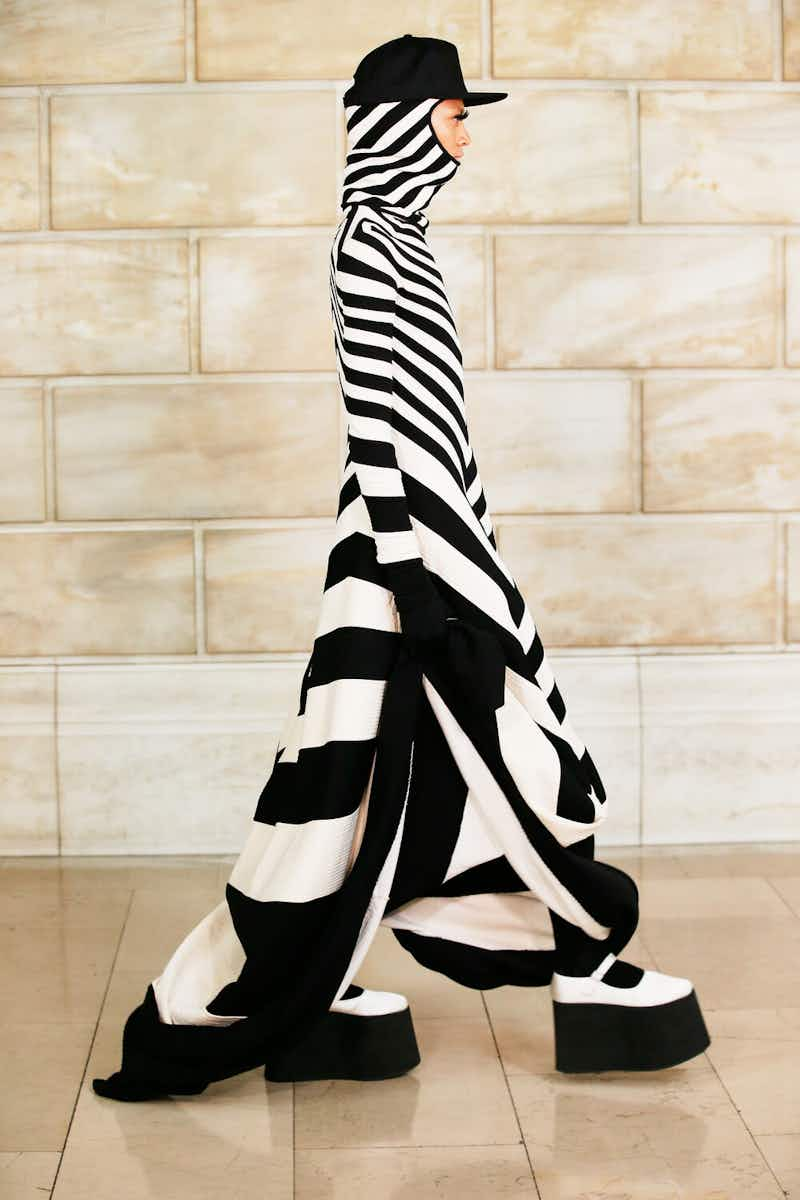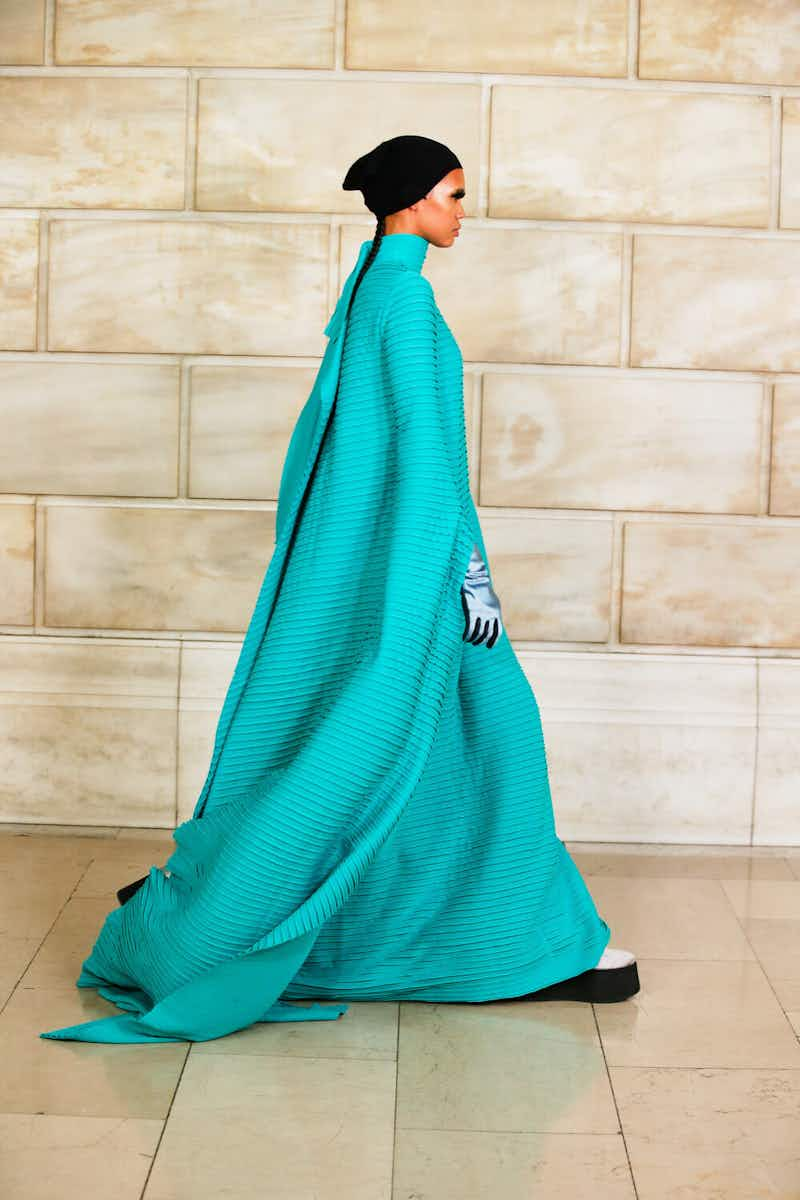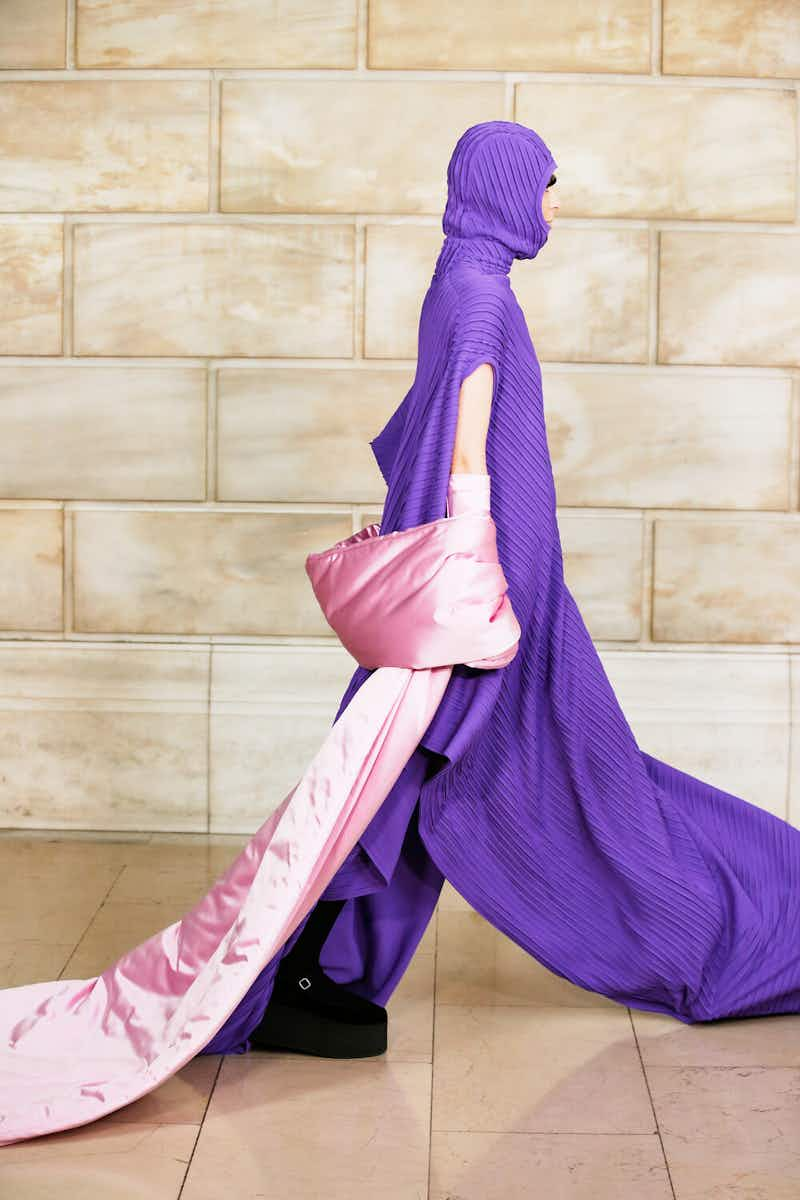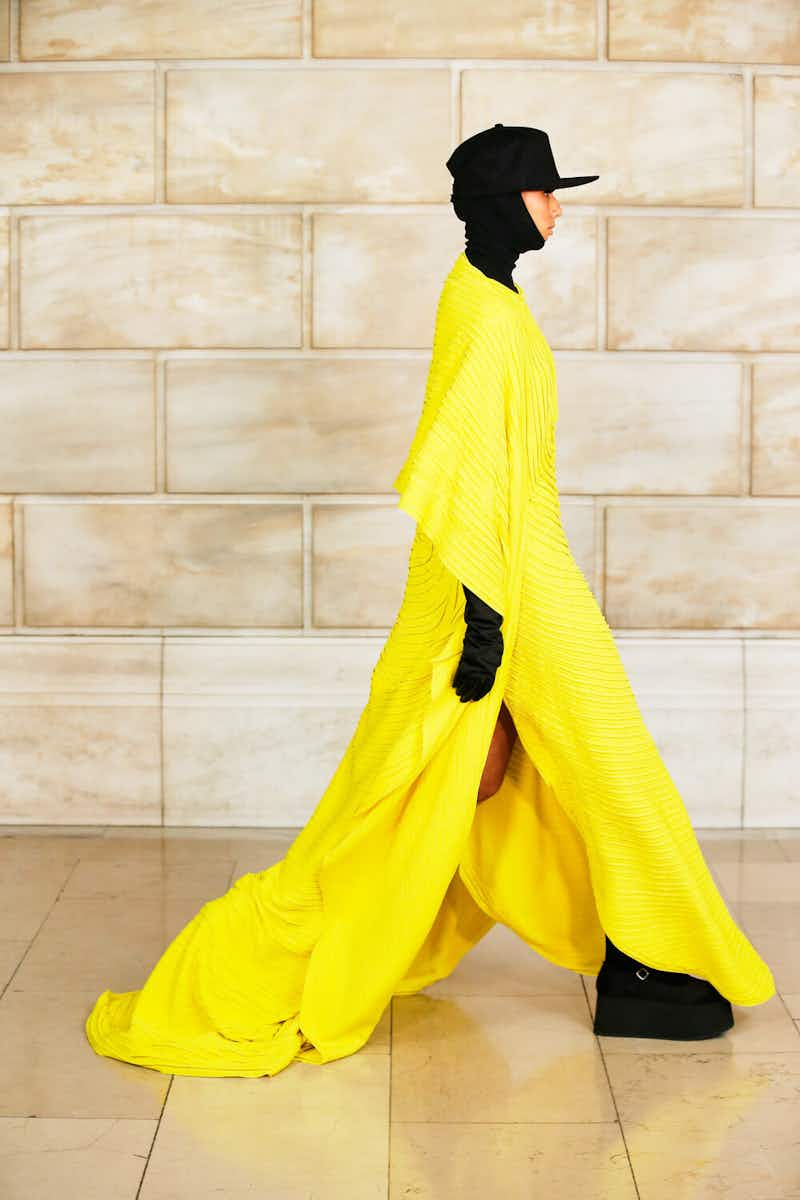 Over the past 12 months, Jacobs wasn't exactly asleep, though. He launched Heaven, an affordable spin-off line catering to the Gen‑Z audience, one that sees him hark back to his grunge days heading – and getting fired from – Perry Ellis, but with a softer touch. Day-Glo stripes go with brown, teddy bears are accessories, Chloë Sevigny is the poster-girl and hair is streaked. It's a teen dream affair found in the bedrooms of West Coast girls in the late-'90s.
But back to the future. This season, Jacobs presented a collection that was all about happiness, turning an affirmative back on the difficulties of a pandemic-ridden year. Interestingly, though, the pandemic themes throughout were hard to ignore. Shielding came through in padded, full-body gowns, ominously striped black-and-white like a warning. In earlier looks, mouths were concealed by super-high roll-necks, the head topped with a beanie and sunglasses covering the small frame of skin left on show.
If Jacobs' aim was to offer, as per the show notes, ​"inspiration, curiosity, wonder and possibility" this season, then the bold choice of colour – vivid, sour, explosive – was a ticket to a dream-like state. The floor-length shapes, checkerboard patterns and embroidered skirts were heightened by palma violet purples, acid orange (shown on an over-over-oversized hoodie), fluorescent yellow and hot pink

But like all the cool kids – and the global Class of Covid – Jacobs' message is clear: look, but certainly don't touch.


More like this