Everything going down at Paris Fashion Week AW21
Catch up with Marine Serre, Acne Studios, Rick Owens, Loewe, Andreas Kronthaler for Vivienne Westwood, Isabel Marant, Hermès, Givenchy, Versace, Dior, Chanel, Miu Miu, Louis Vuitton...
An adventure into the mind-bending possibilities of a space-age future
From his breakout collections at Balenciaga to his now eight-year tenure at Louis Vuitton, the ace up Nicolas Ghesquière's sleeve has always been his ability to take us back to the future – seamlessly time-hopping across the centuries, before blending various sartorial elements together in new and unexpected ways. And this season, it seems Ghesquière was looking even further ahead (and indeed, even further back) than usual: from the ruins of ancient Greece, to the recent landing of NASA's Perseverance Rover on Mars, and the possibilities of life in space.
It makes sense that for a designer as restless as Ghesquière – and perhaps more importantly for a house like Vuitton that is so closely associated with the spirit of travel – that a year stuck in Paris would leave him itching for the most fantastical forms of jet-setting imaginable. And where better to find yourself transported to far-flung locales (while remaining within the safety of your own city) than in the halls of the Louvre, which houses hundreds of thousands of objects and artworks from every corner of the globe?
While the Louvre has always been Ghesquière's show location of choice at Vuitton, this time, instead of constructing one of his typically elaborate sets on a courtyard stage or somewhere deep in the bowels of the building, he chose to put the museum's collections front and centre. As models walked through airy, sun-dappled halls packed with sculptures from classical antiquity, Ghesquière's mish-mash of references neatly echoed the show's surroundings: Hellenic busts were printed onto minidresses, centurion-style skirts swished around thighs and stompy gladiator sandals were worn over socks, with a sweet addition of tiny satin bows below the knee. LH
Click here to continue reading
A collaboration with the legendary Italian homewares house of Fornasetti saw their signature Renaissance-inspired, illustrative prints crop up on blazers and shirting, as well as superimposed onto the classic Vuitton monogram across a number of immediately desirable leather bags. Still, this being Ghesquière, there were plenty of nods to the future too, whether through iridescent ski goggles, knitwear with spacesuit-style circular pockets, or dresses featuring prints inspired by Roman mosaics realised in cosmic crystals.
It's also worth noting that all of this was presented to a throbbing mash-up of Daft Punk's Harder Better Faster Stronger and Around the World, crafted by the pair just before their recent split, and dovetailing neatly with the riotous clashes of Ghesquière's designs this season.
Introducing the show on Louis Vuitton's Instagram Live, the designer offered a short message thanking his team and collaborators on the collection. ​"Wherever you may be in the world, I hope that you will enjoy the show from home," Ghesquière added. ​"I hope to see you soon." Still, despite clearly missing the joy of travel this past year, it seems he found no shortage of inspiration through his meditations on the passing of time, folding the wonders of the ancient world into the mind-bending possibilities of a space-age future.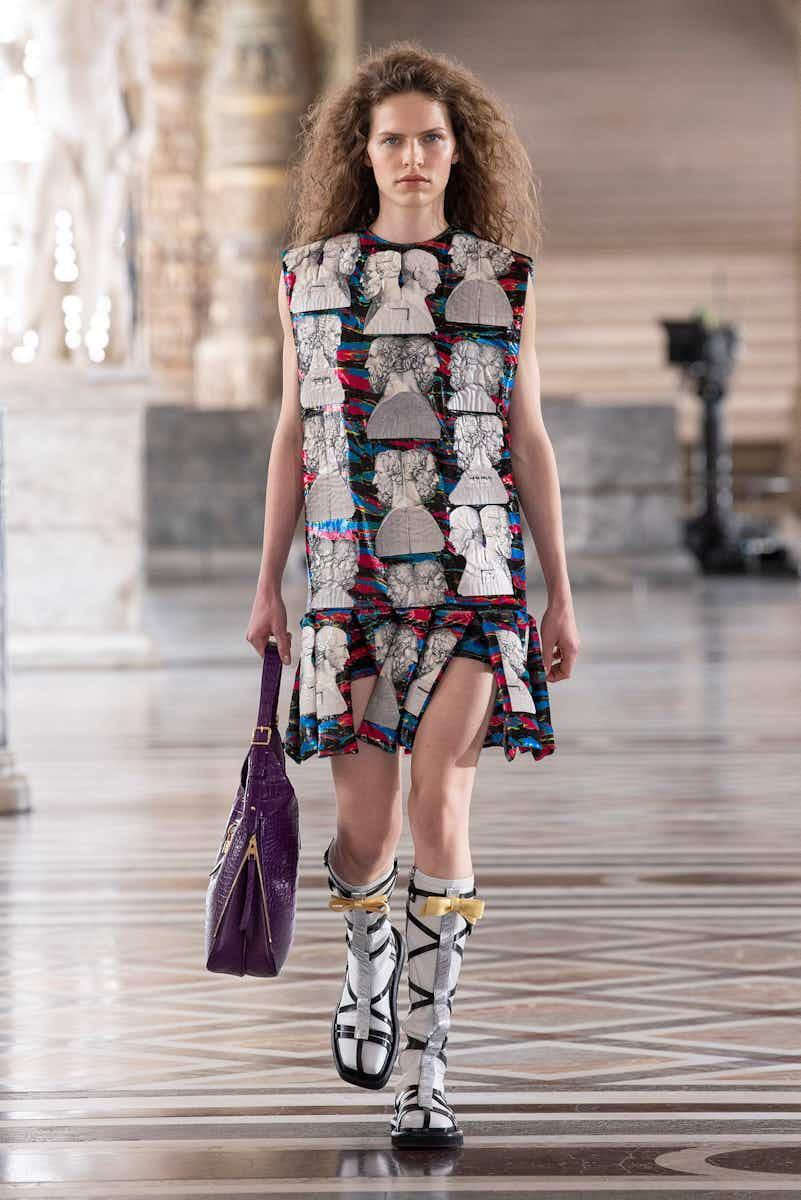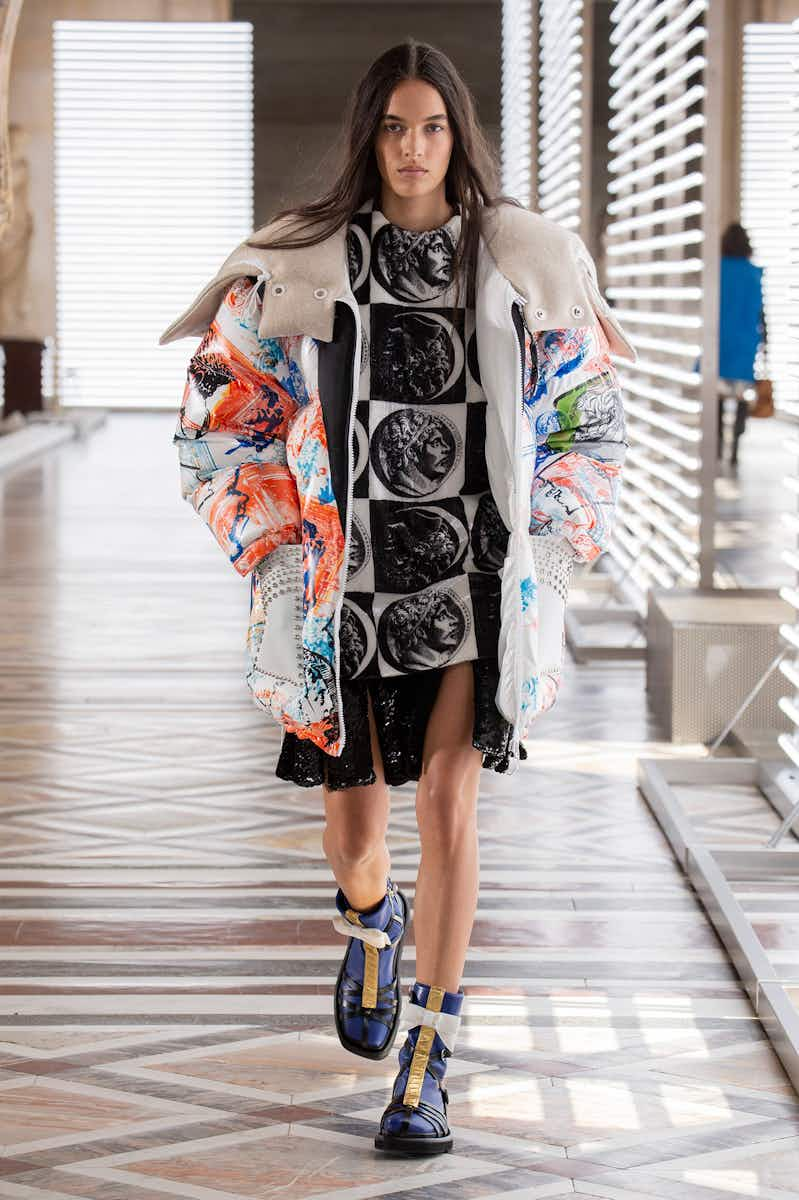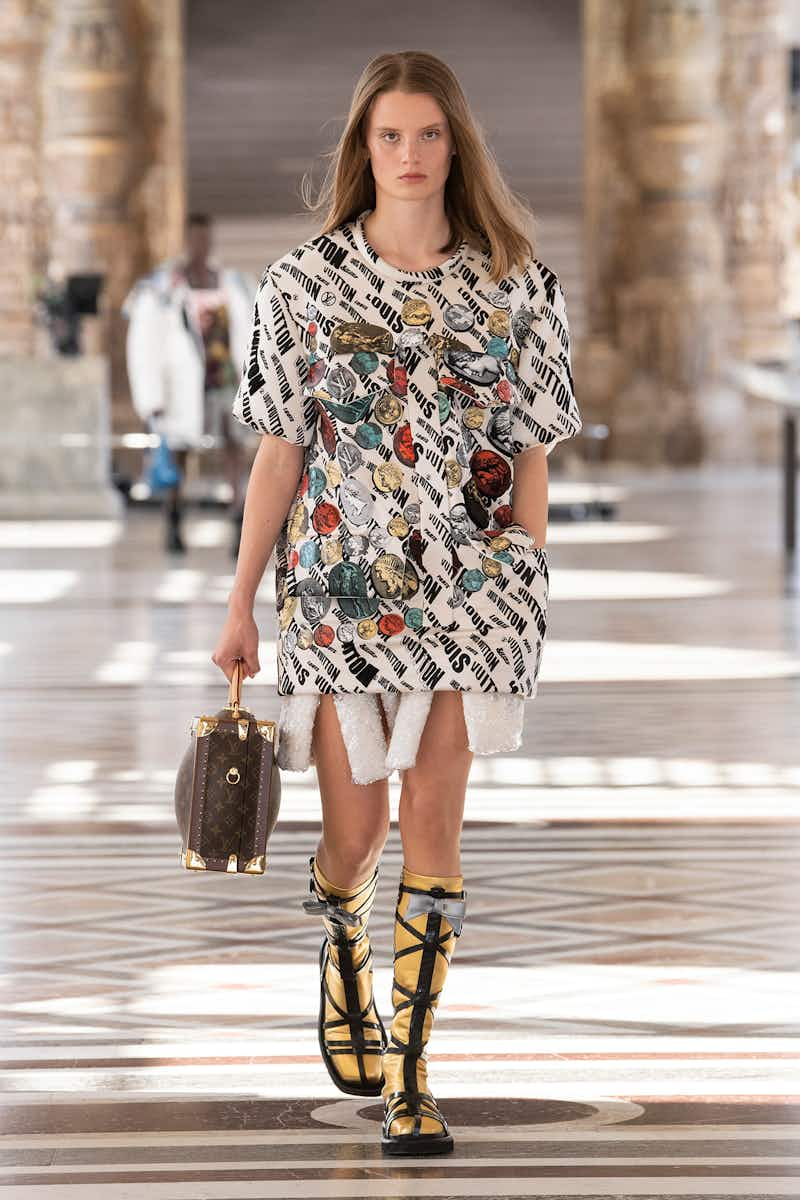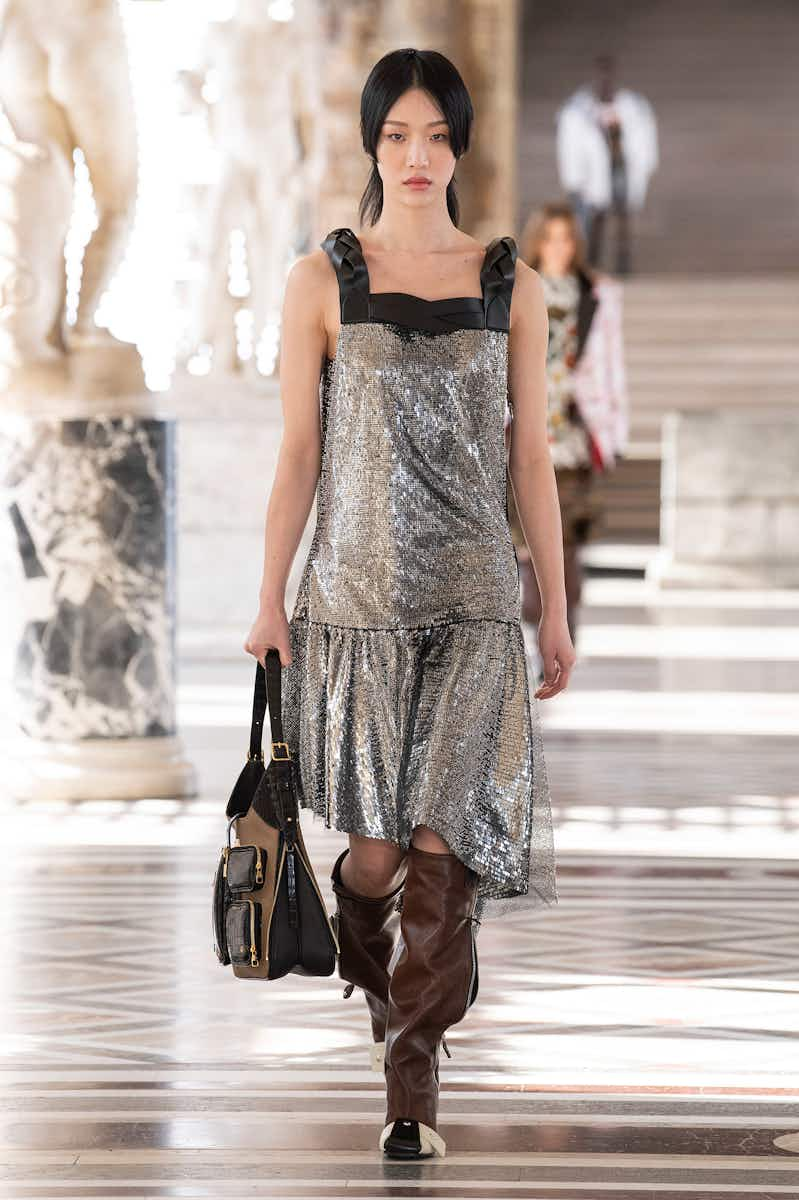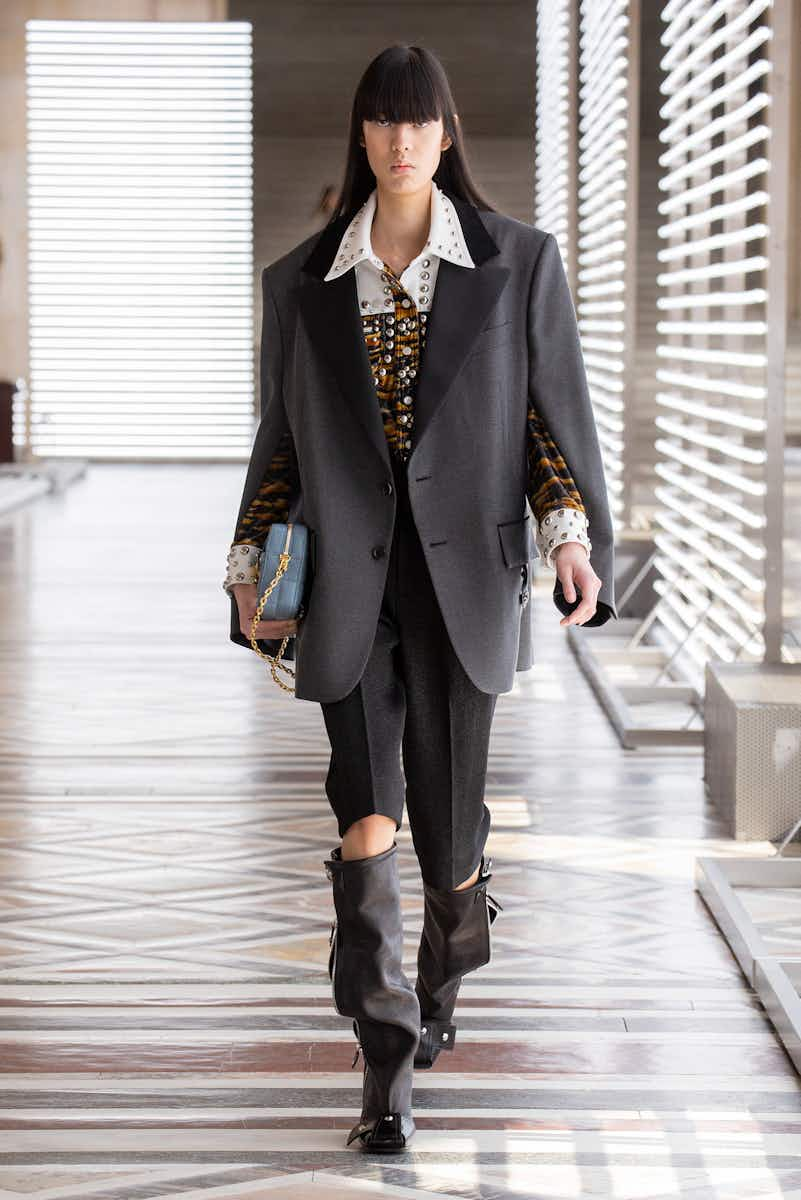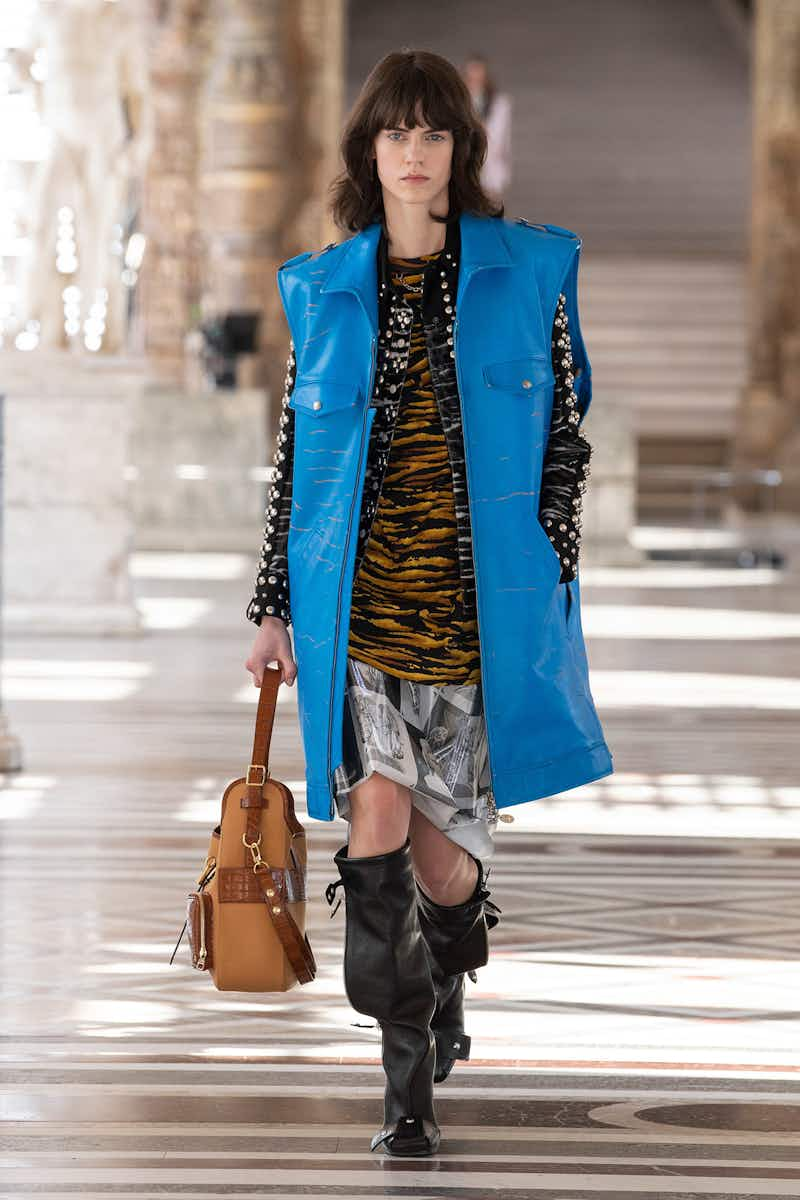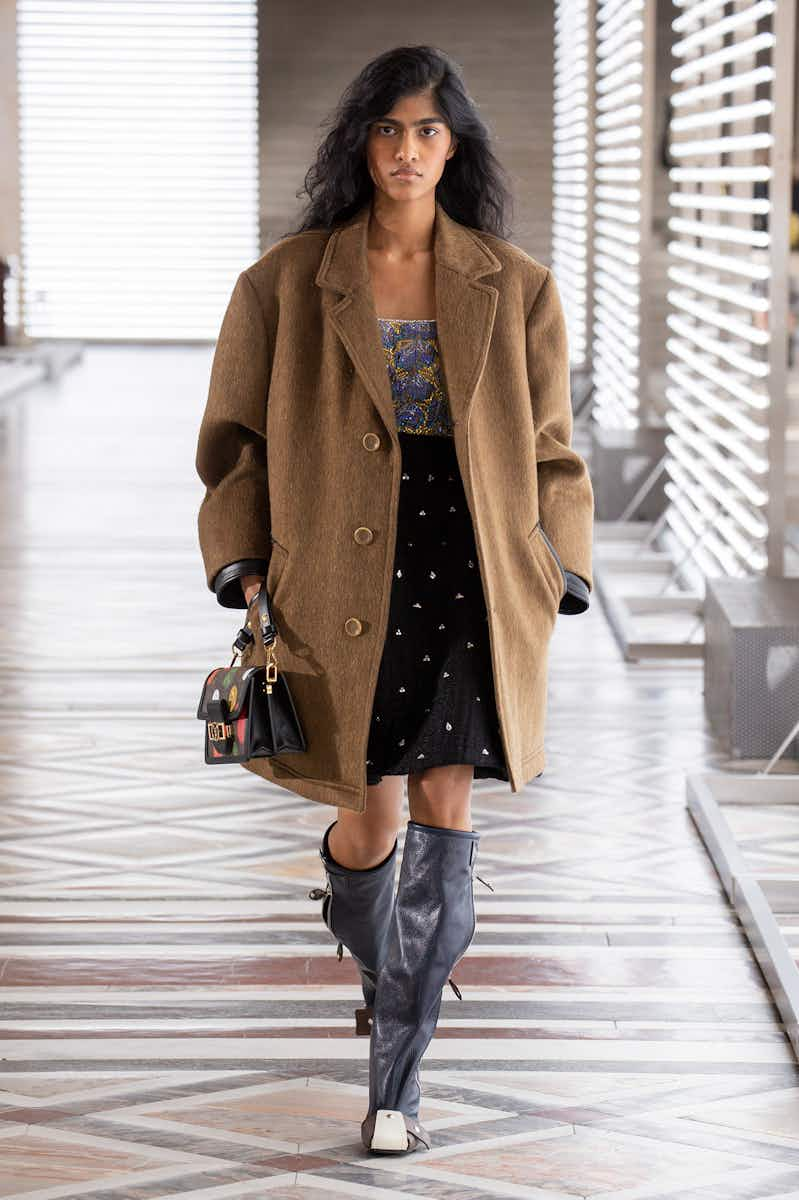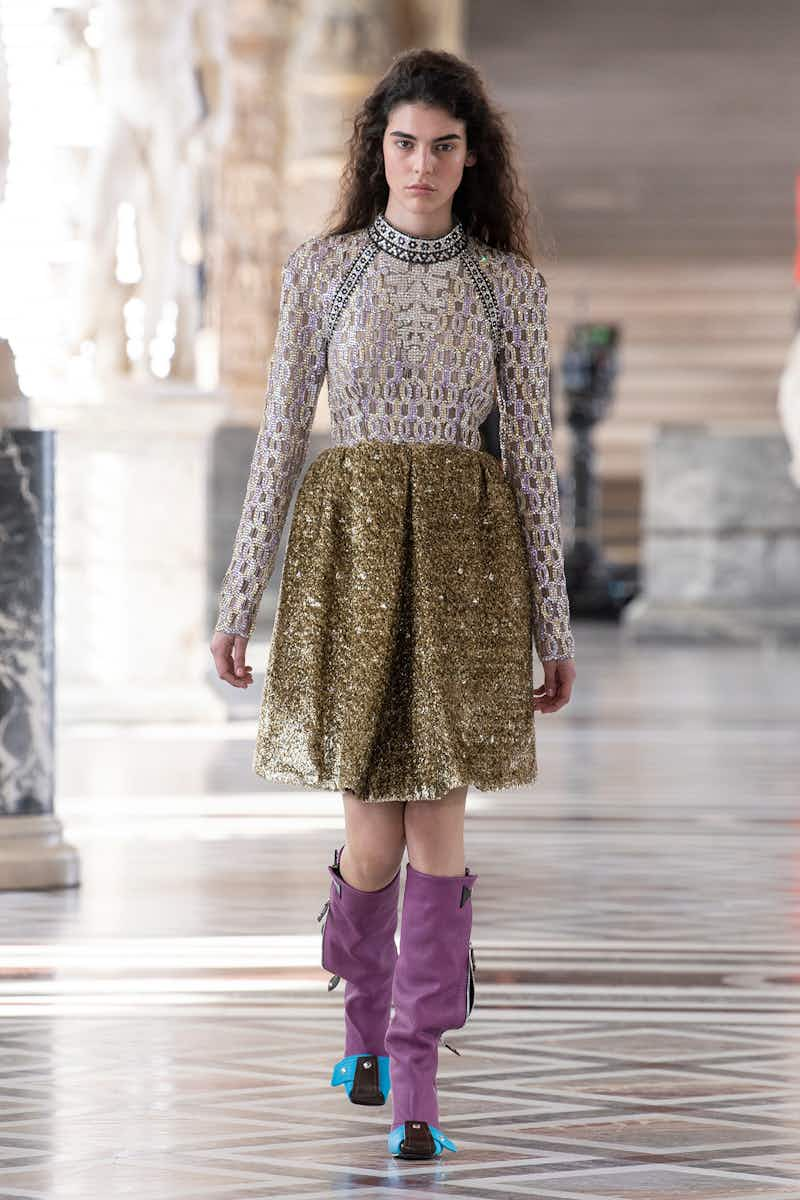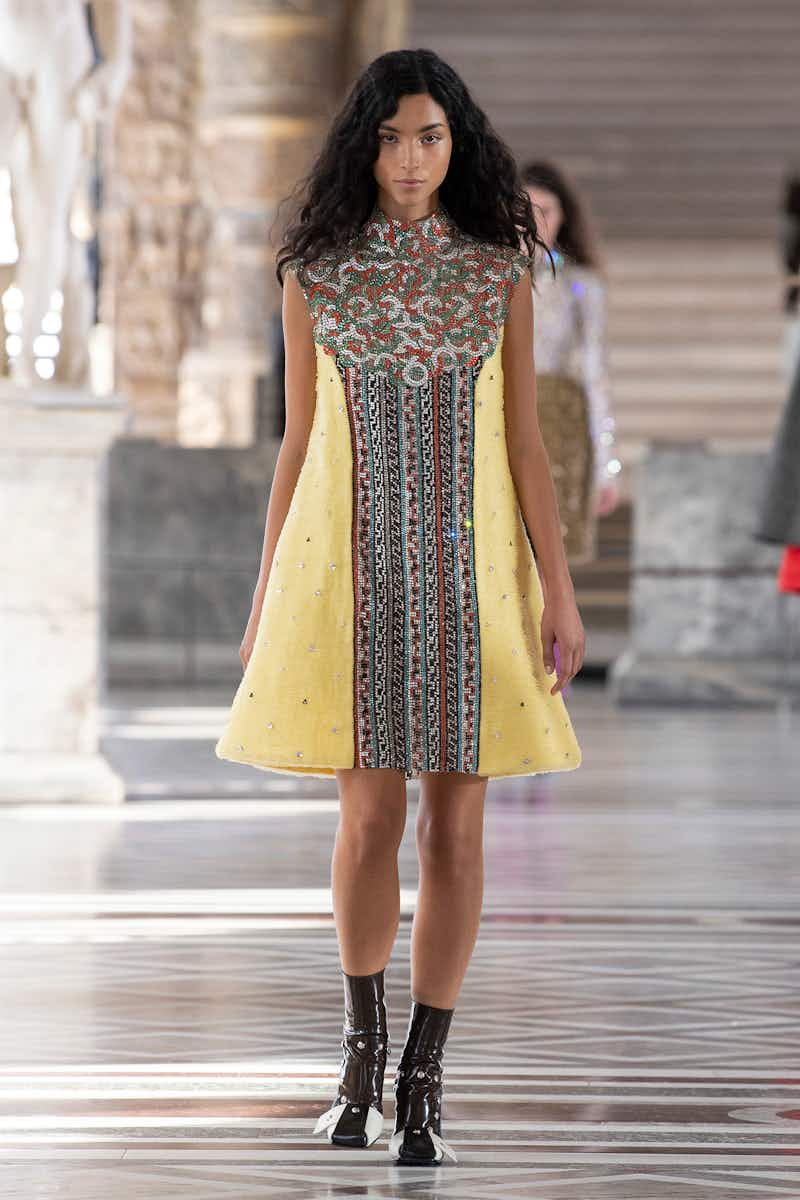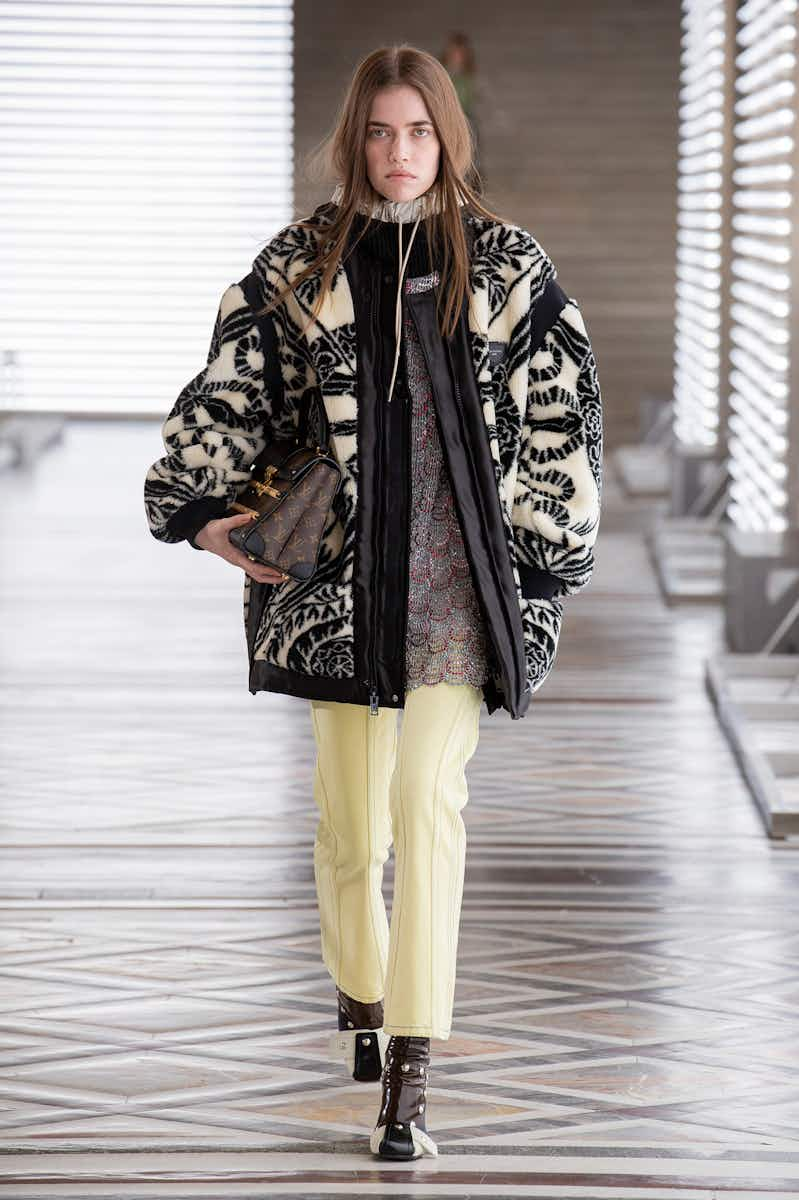 Where practicality and sensuality are old companions
Just a few weeks ago, Miu Miu debuted their 21st instalment of Women's Tales. Directed by trans Fillipino filmmaker Isabel Sandoval, Shangri-La is a romantic exploration of sexuality and power told through an intimate lens. It also made Sandoval the first trans woman of colour to direct a film for the Italian house's series since its 2012 inception.
A welcome move, the film also followed Miu Miu's AW21 collection, presented yesterday. In Brave Hearts, Miuccia Prada challenges the exclusivity of womanhood through practical pieces told through a whimsically romantic narrative – one where power and sexuality are not mutually exclusive, but rather old companions.
"It talks about the imagination of women, different places, different ideas," she notes of a collection presented on the snowy hills of Cortina d'Ampezzo, in the heart of Dolomites, northeast Italy.​"Trying to execute your dreams is courageous – that takes bravery and strength."
Perhaps it was the frosty climate, or the subverted styling cues courtesy of Lotta Volkova, but this season, Miu Miu's resilience was a tangible force. As models took bounding strides up the hilly landscapes, thigh-high yeti boots imprinting the pristine snow and pale brown, padded jumpsuits safeguarding the body from icy winds, Brave Hearts took Mrs Prada's ever-unravelling fantasies to its highest peaks. TJS
Click here to continue reading

Cast in a dreamlike state, Miu Miu's women embark on a journey with an unknown goal, making the film all the more abstract. With Mrs Prada's challenge this season came the perception of bravery, and it's told through protection from extremities, set in a pretence of practicality and dramatic pragmatism. Sportswear codes are interspersed throughout, like faux fur-lined ski jackets and deep utilitarian pockets lining the side of wide-legged felt trousers. Knitted ski helmets frame the face, and chunky knit scarves – in poppy pink, yellow and green – hang across the chest and neck, or tucked between a grey jersey bralet.
But throughout, Miu Miu's mission was to counterbalance attitude with environment. Protection becomes seduction, romance becomes exaggeration, and fragility, bravery. Coinciding with voluminous teddy-bear faux fur gloves, scoop-neck jersey tops and maxed-out, mashed-up knitwear came delicate silk satin dresses – a ghostly antidote to the practicality of Signora Prada's design DNA:​"Practicality means strength, but that strength can be combined with dreams. The two do not have to be mutually exclusive," she reiterates.
And so goes Miu Miu's vision of womanhood this season, combining a warrior-like sensibility – spiky metal studs, leather gloves and vigilant layering – with pieces that present a playful romance. All the while, the collection reiterates the 71-year-old's inward approach to liberation through Miu Miu's progressive design ethos. It's refreshingly outward-facing, blurring the line between what denotes femininity in a politically polarising age.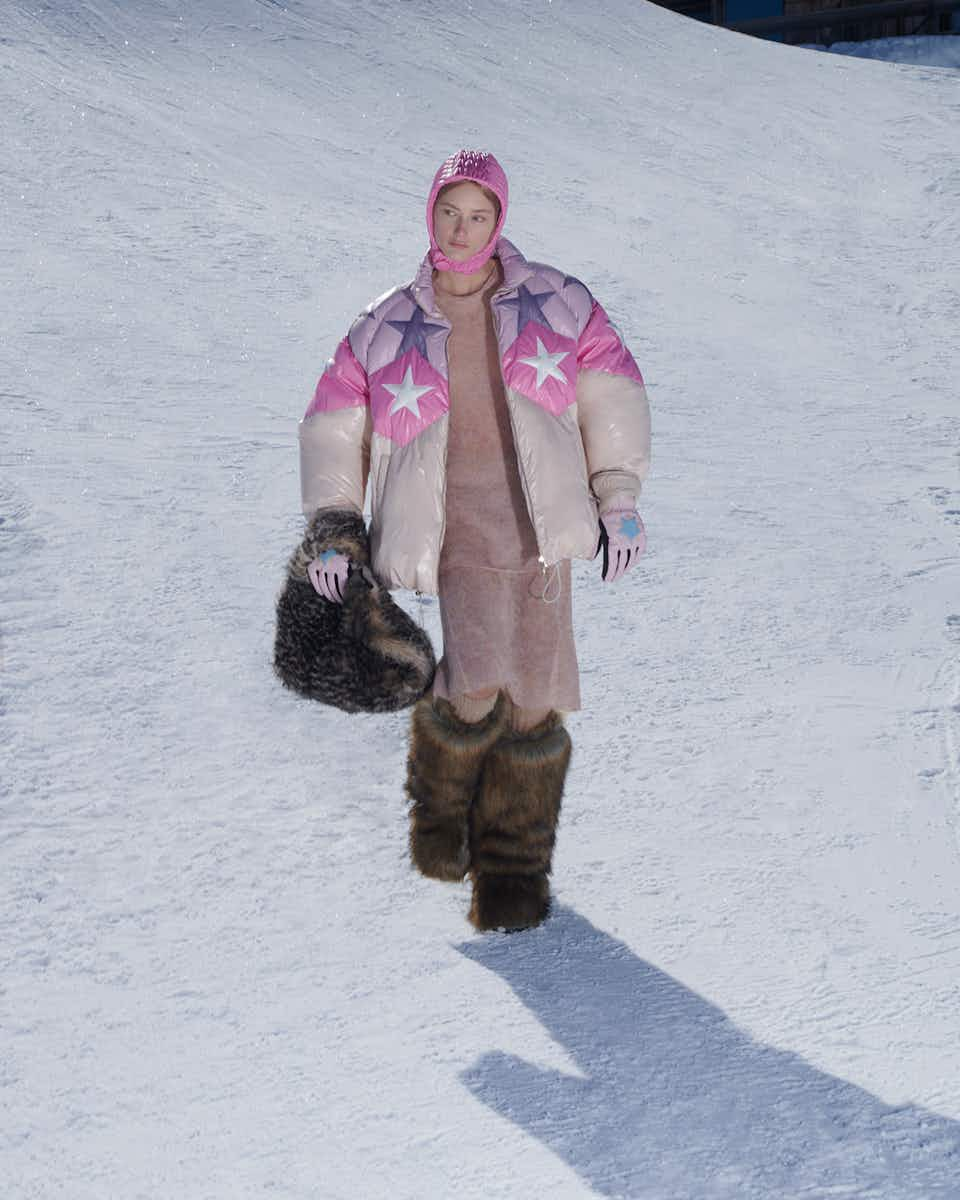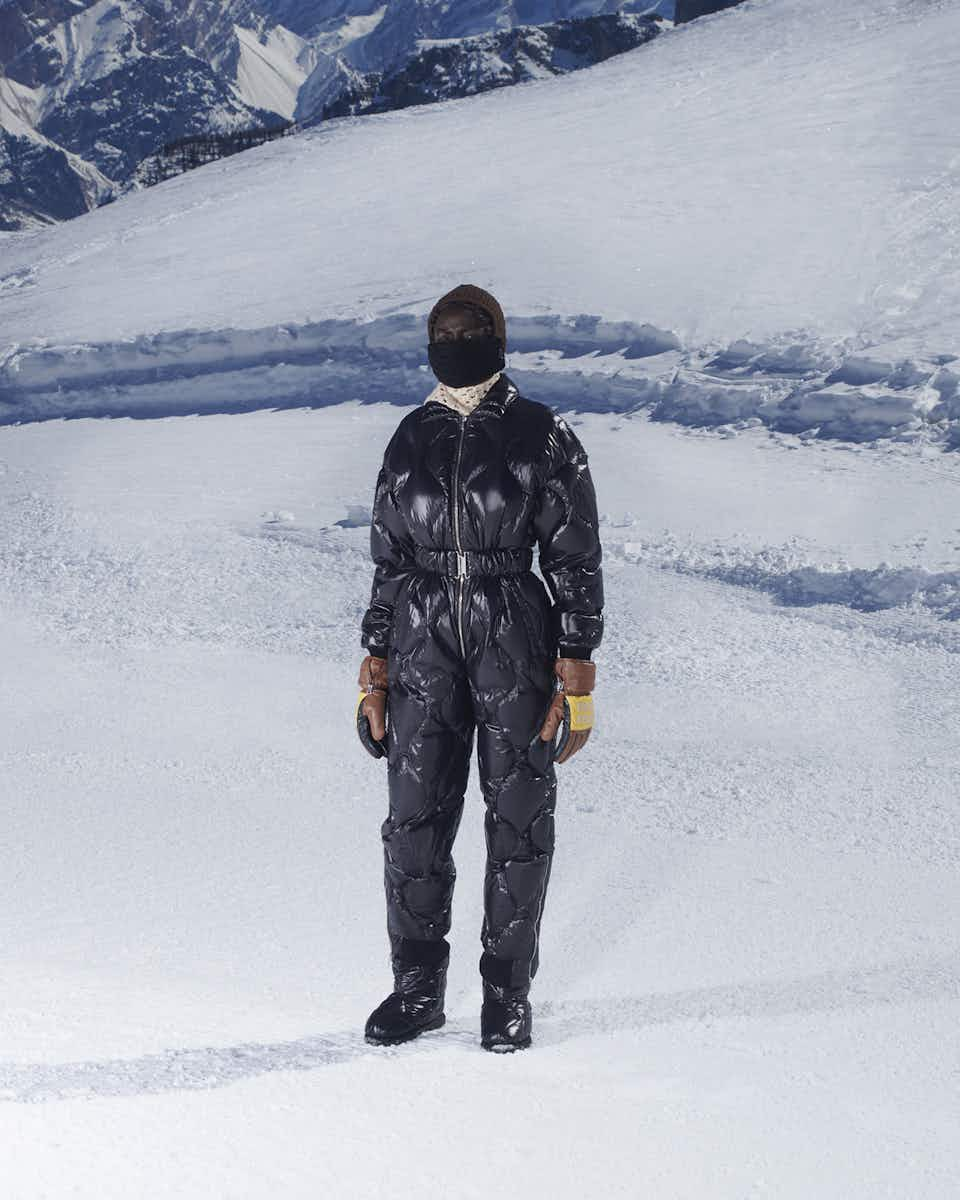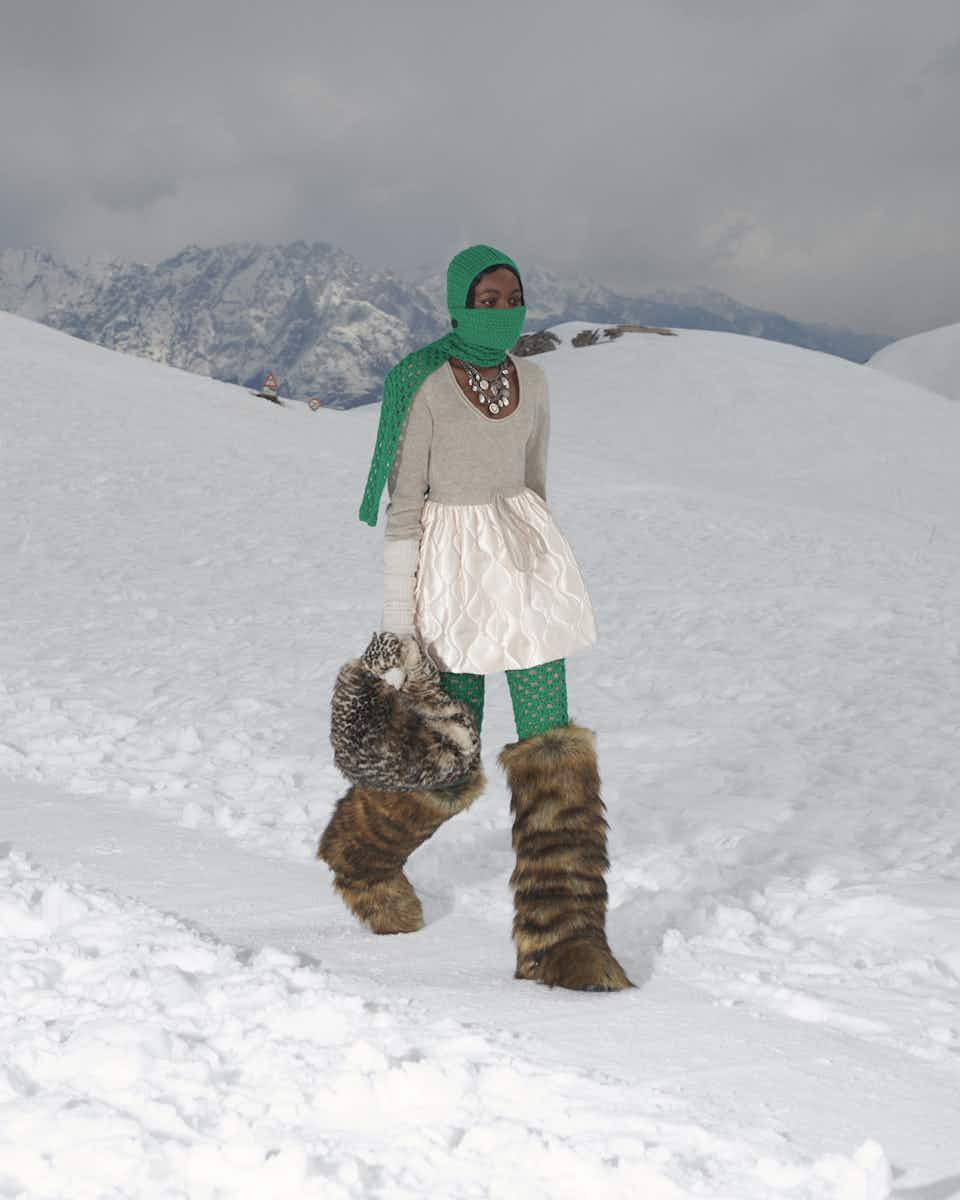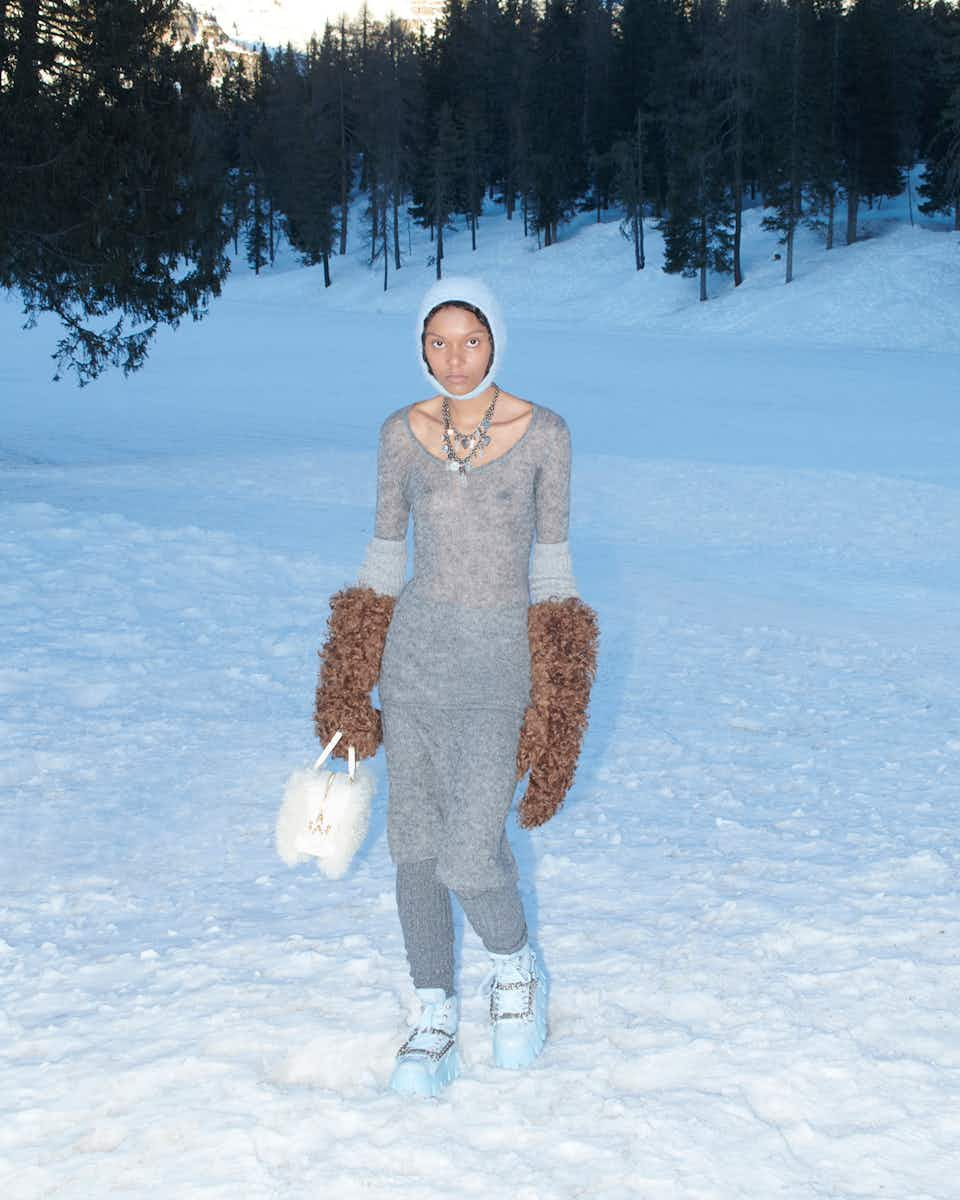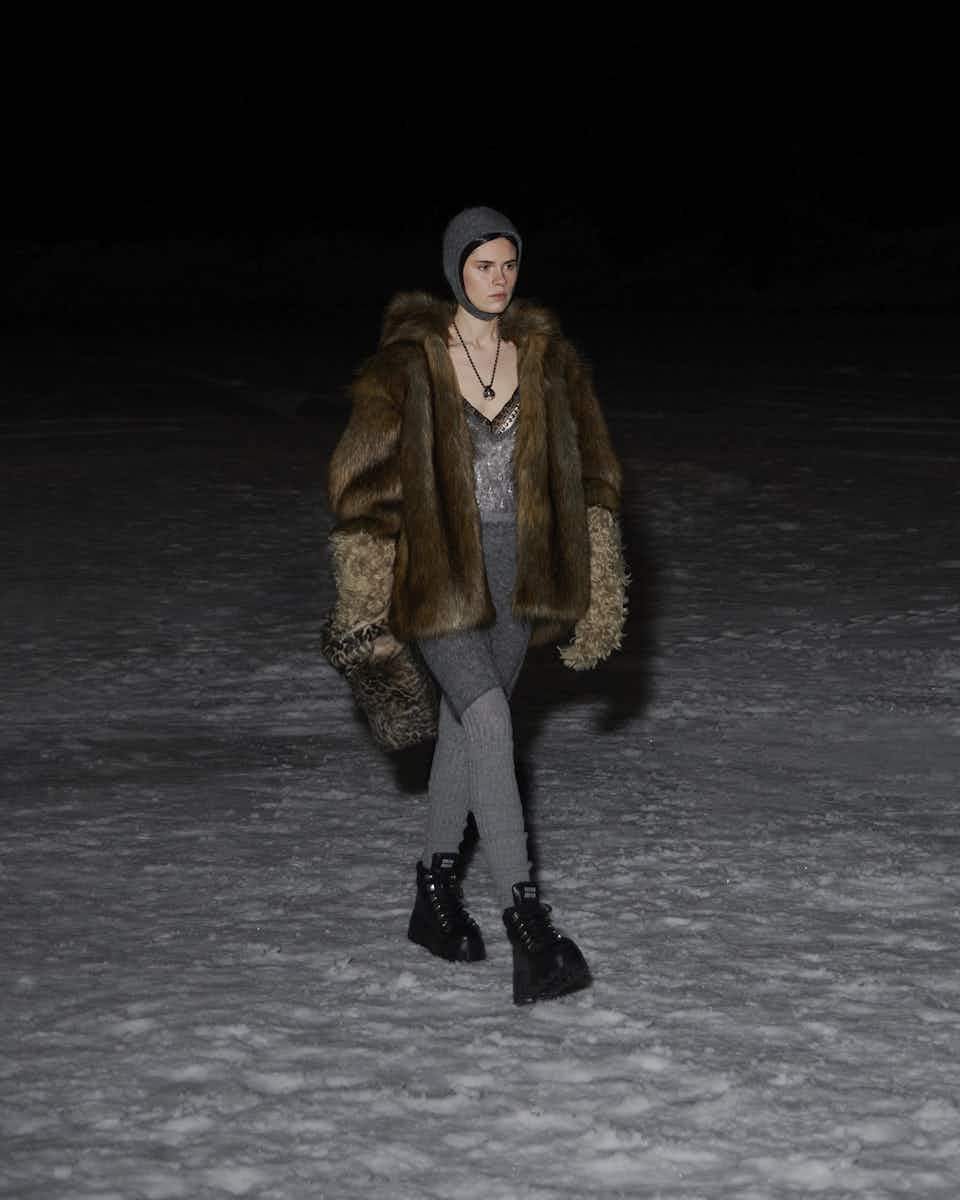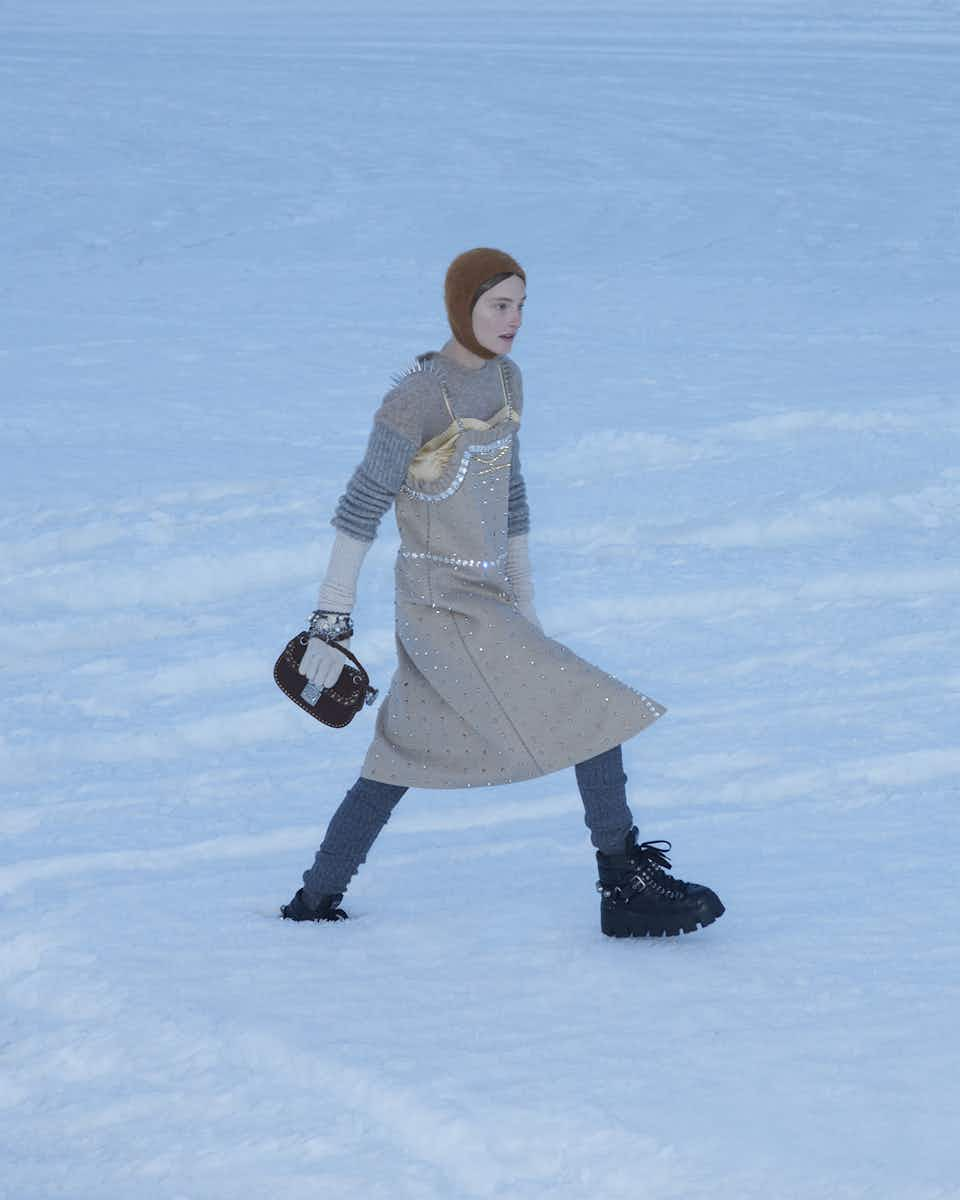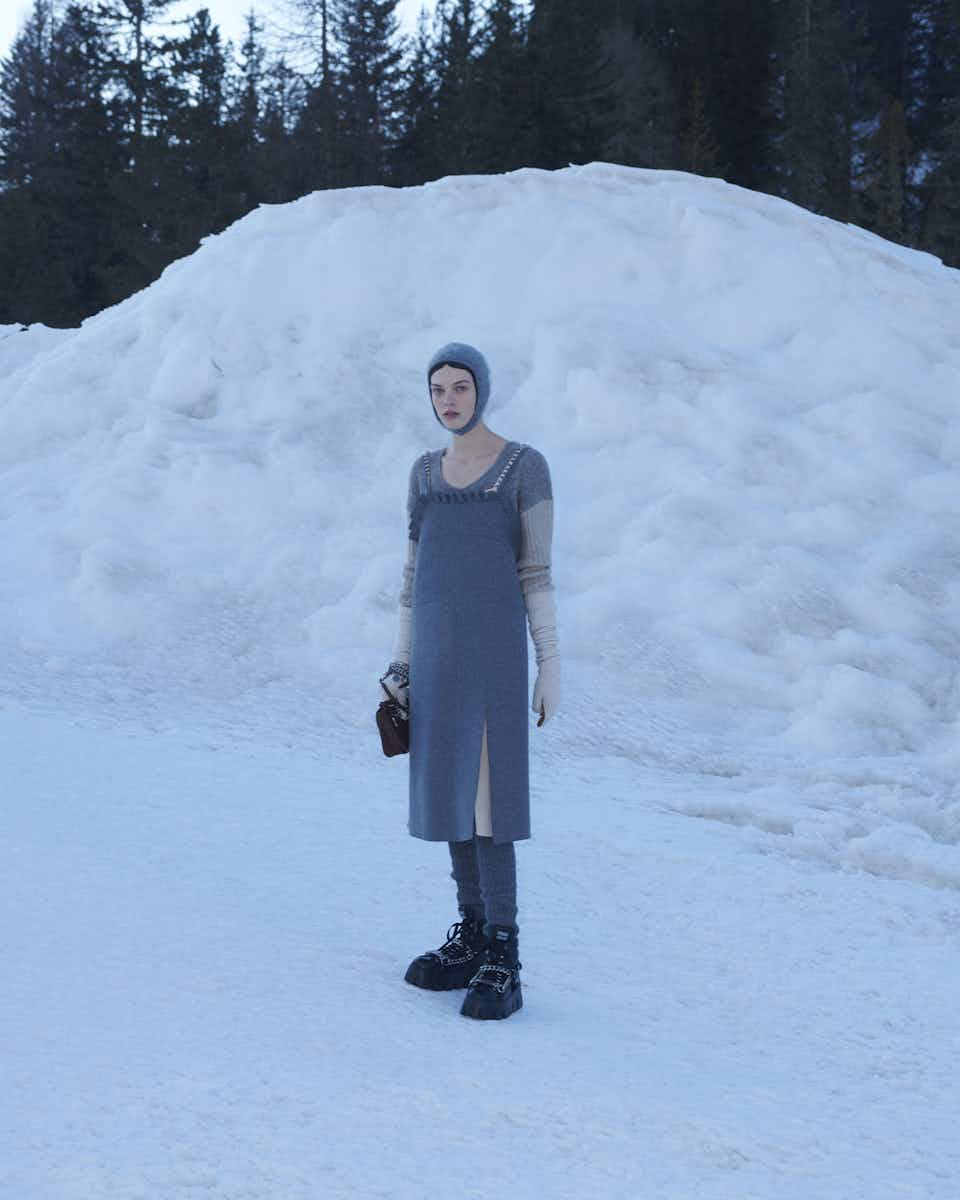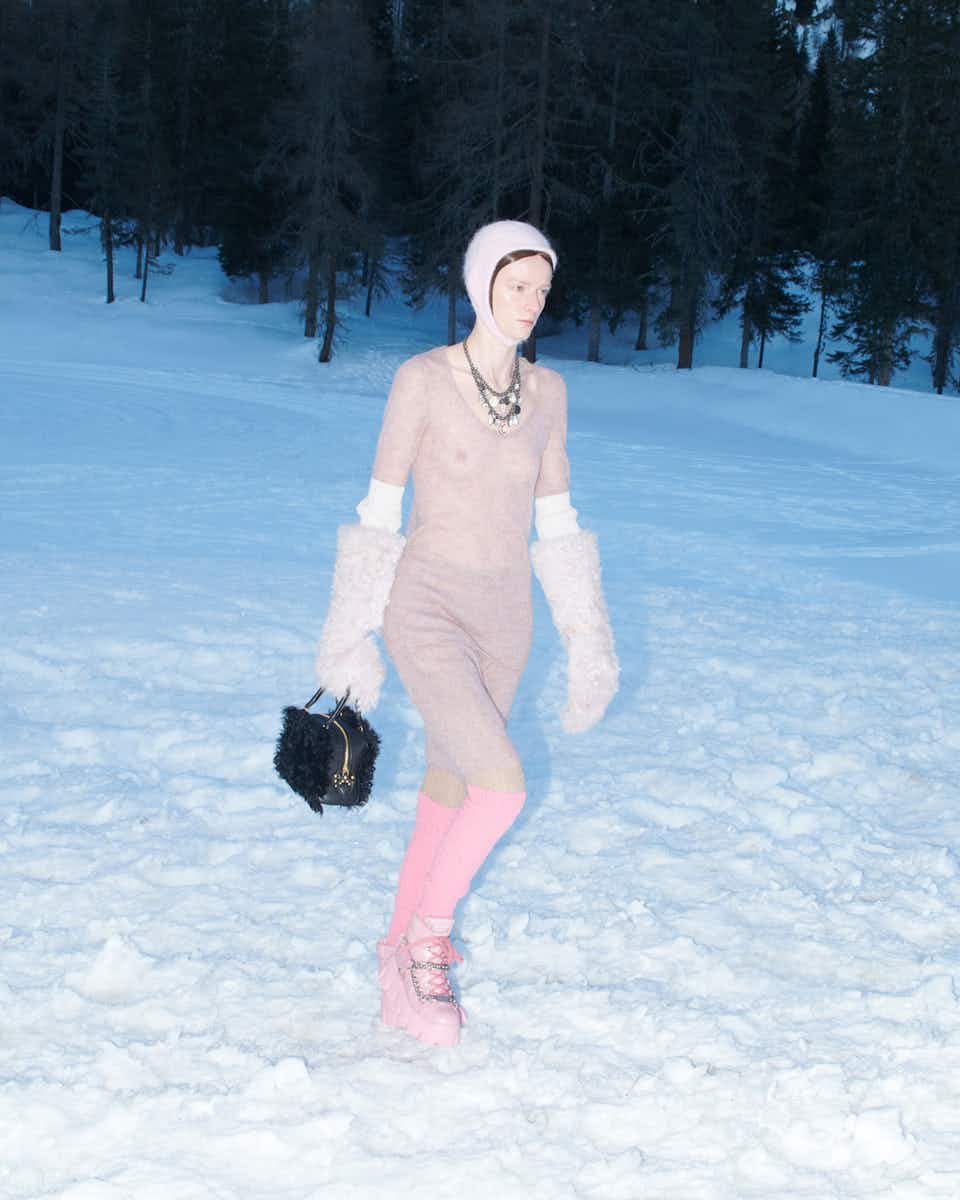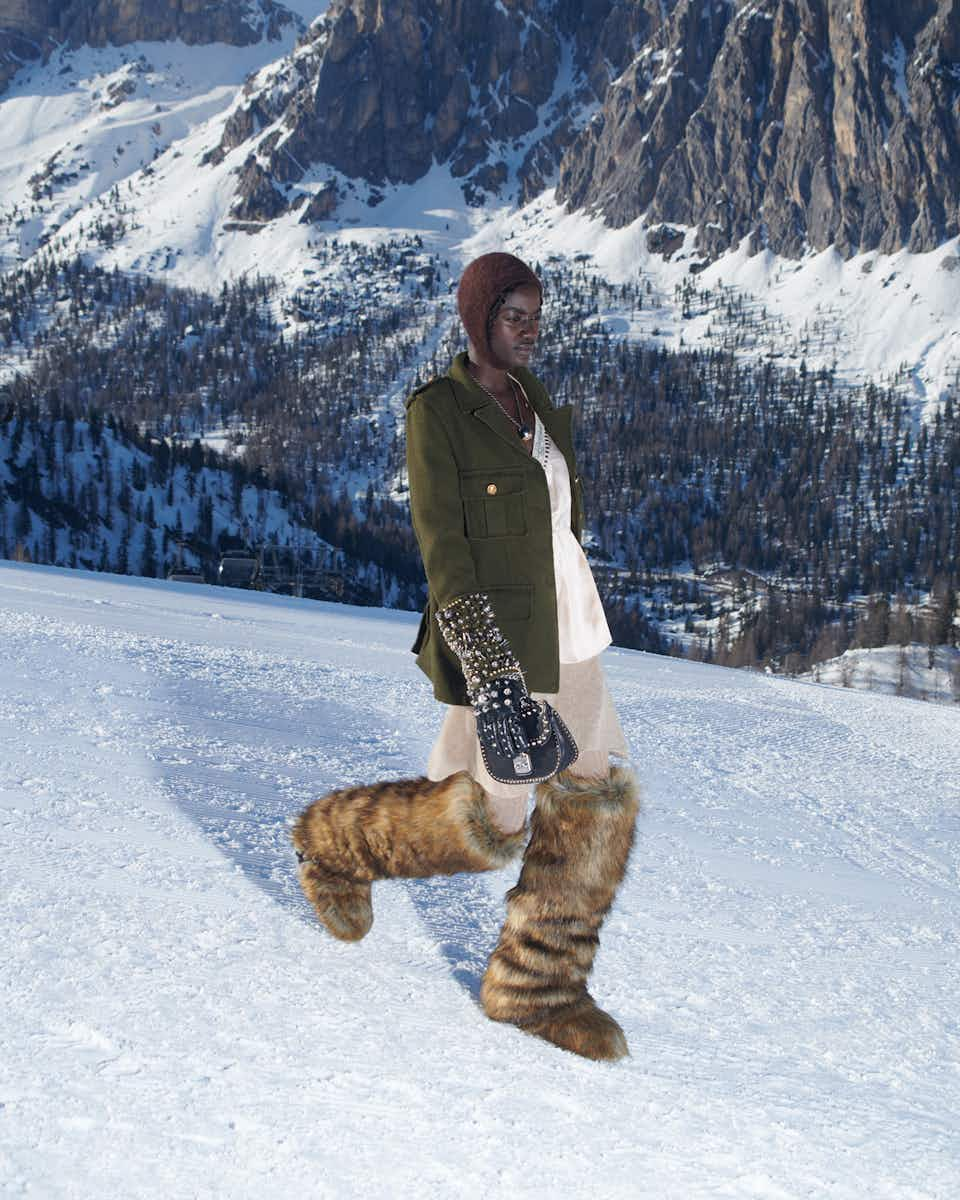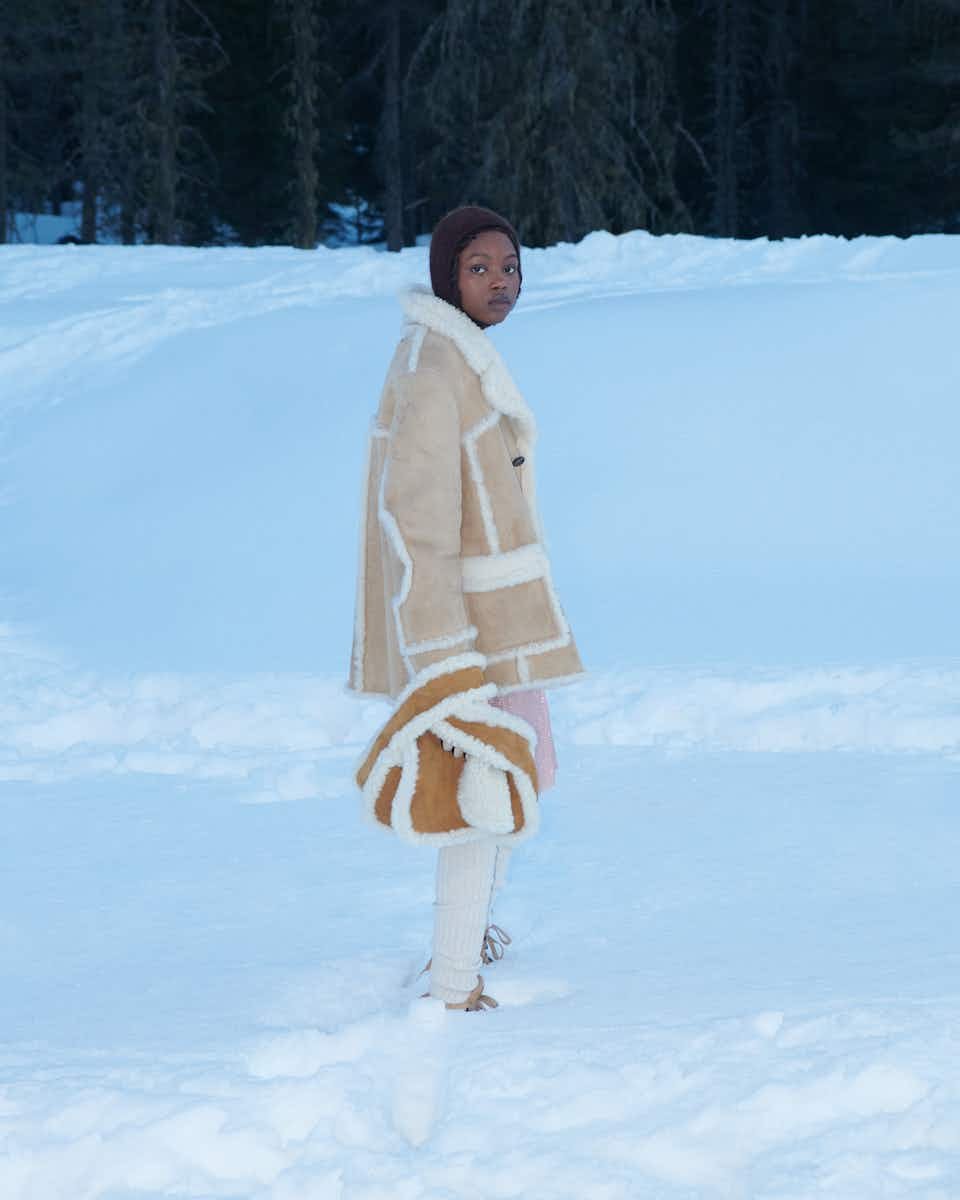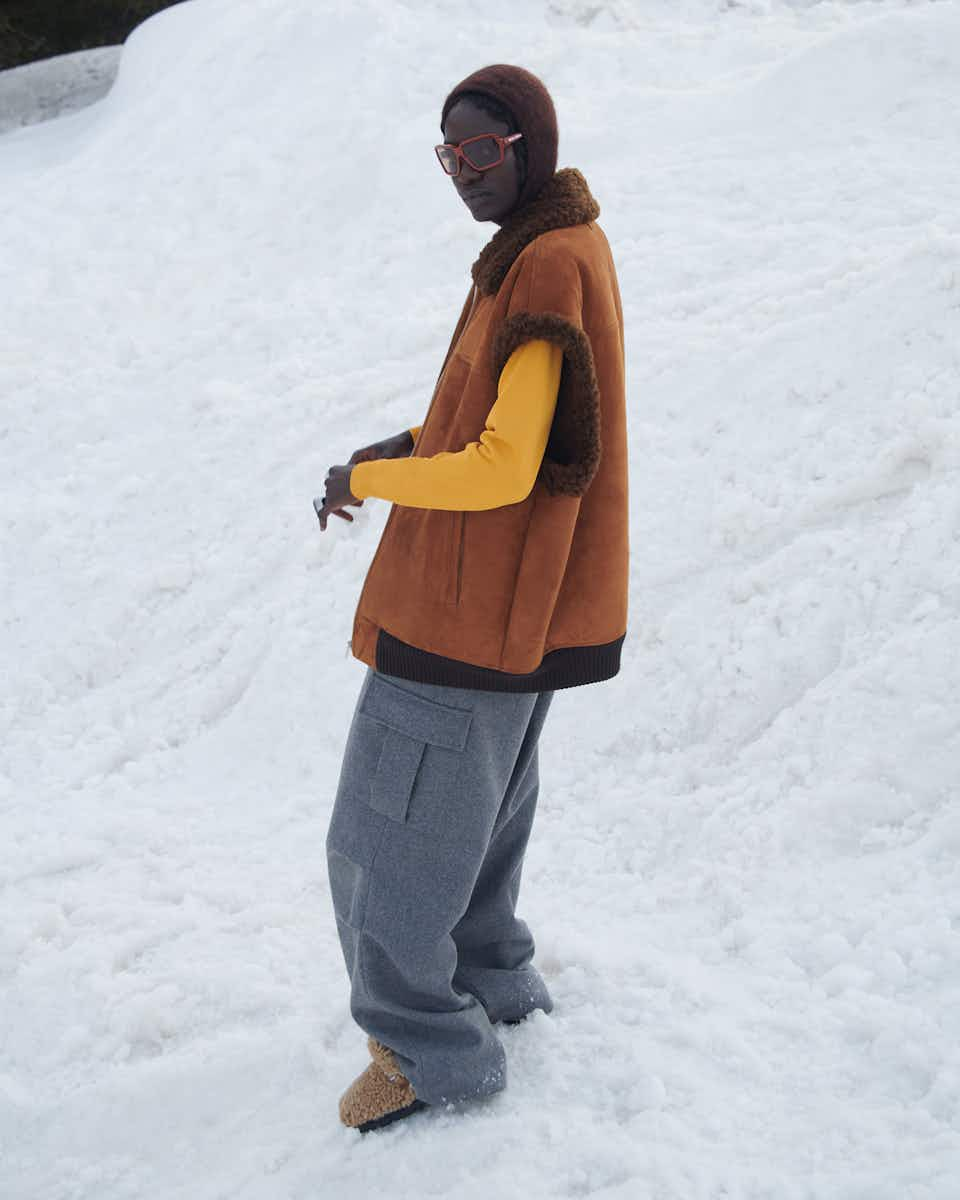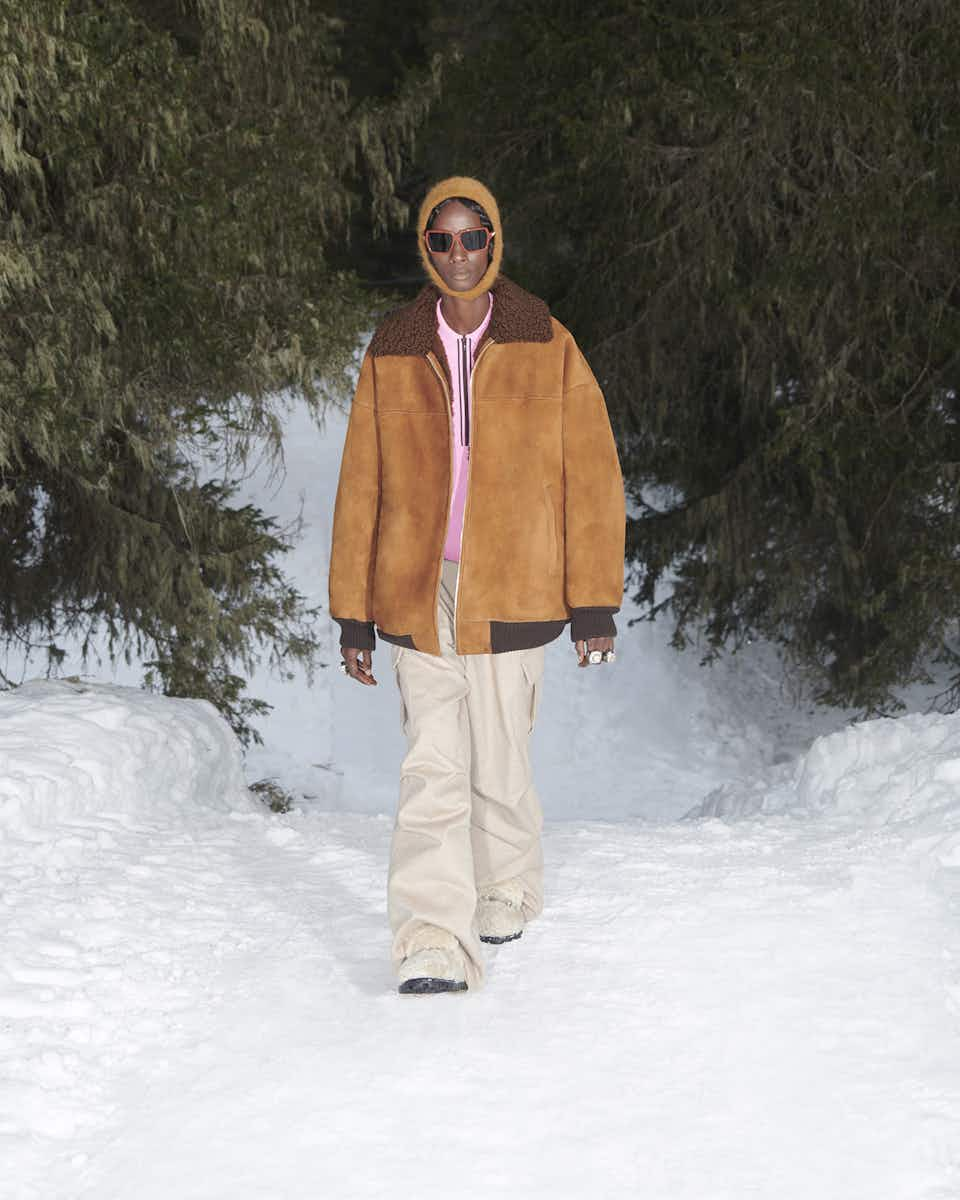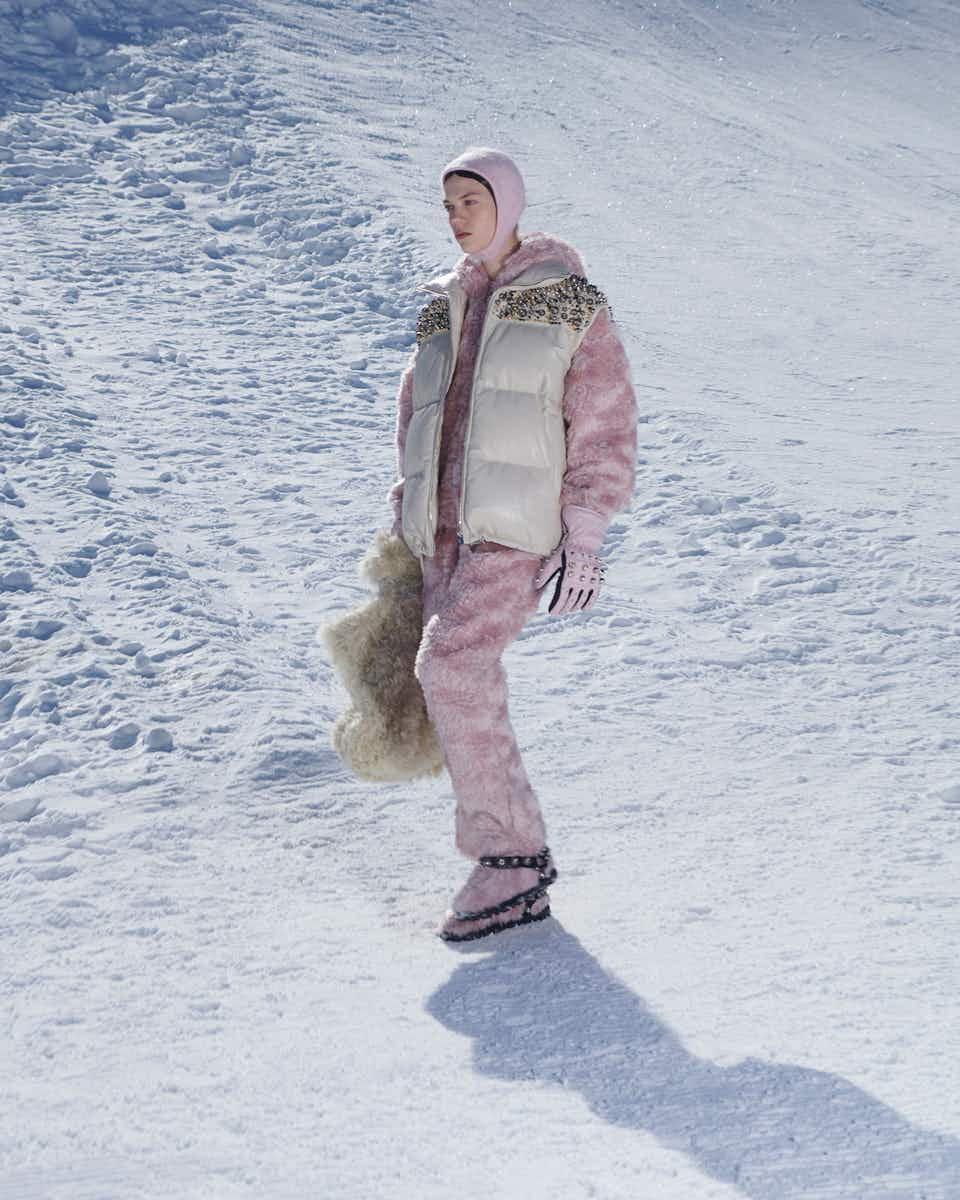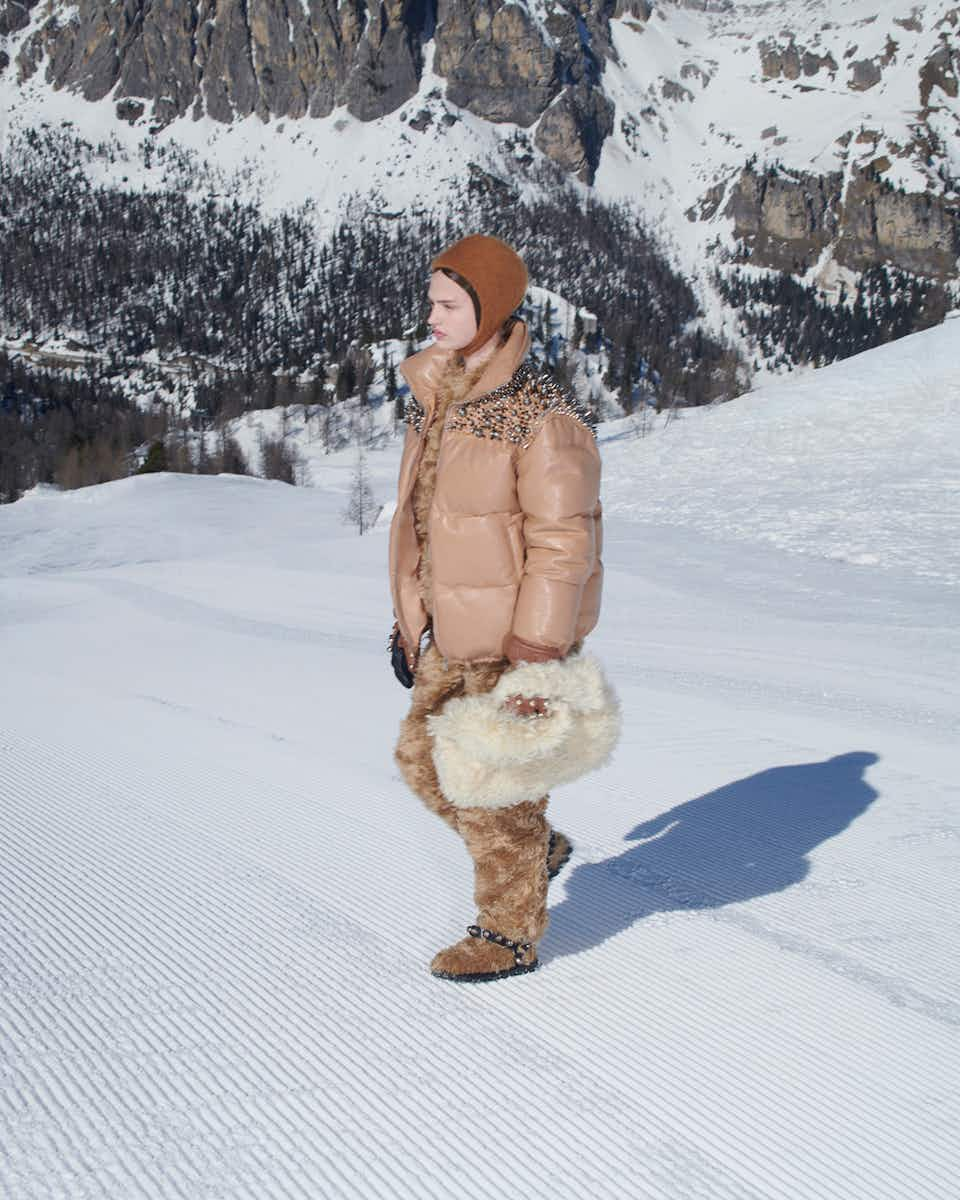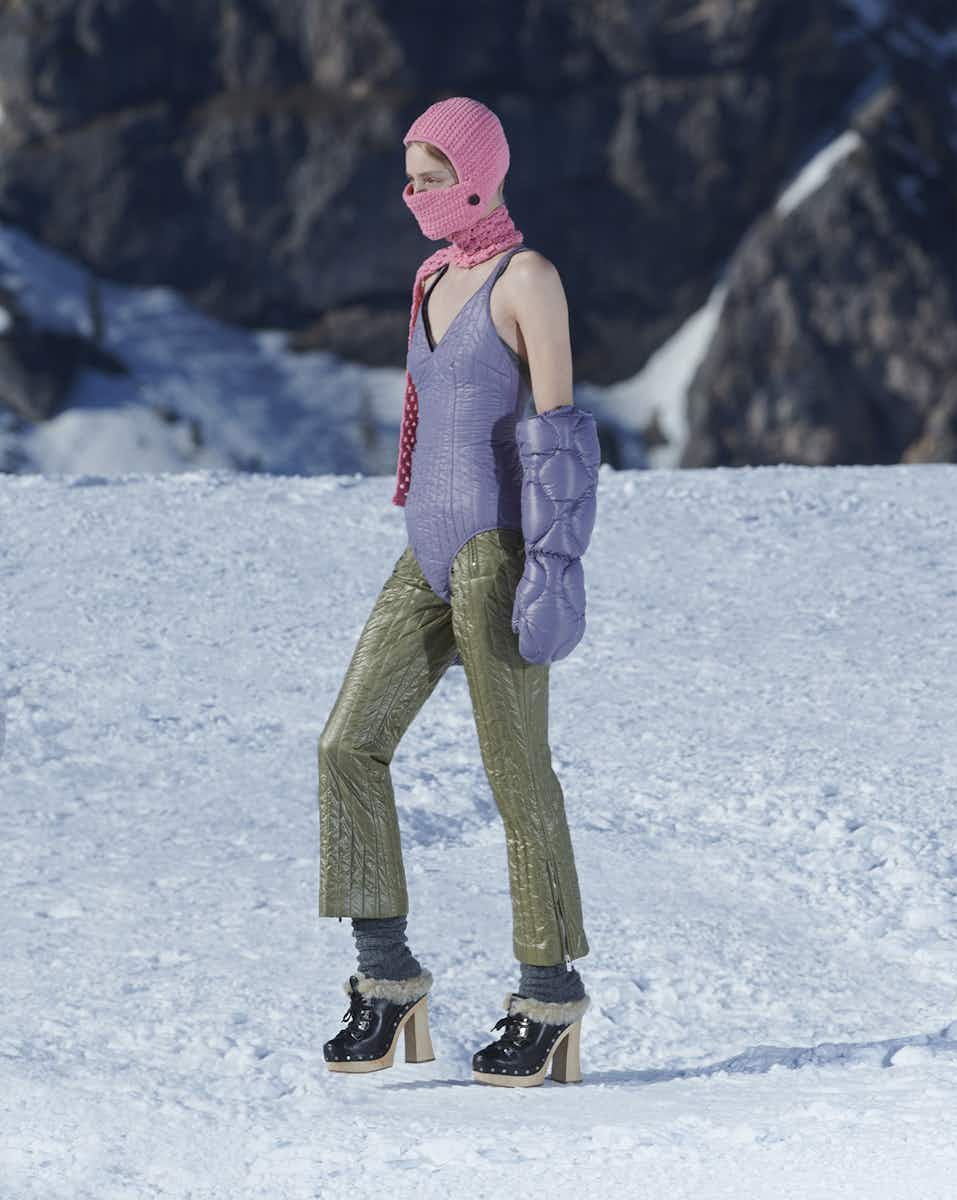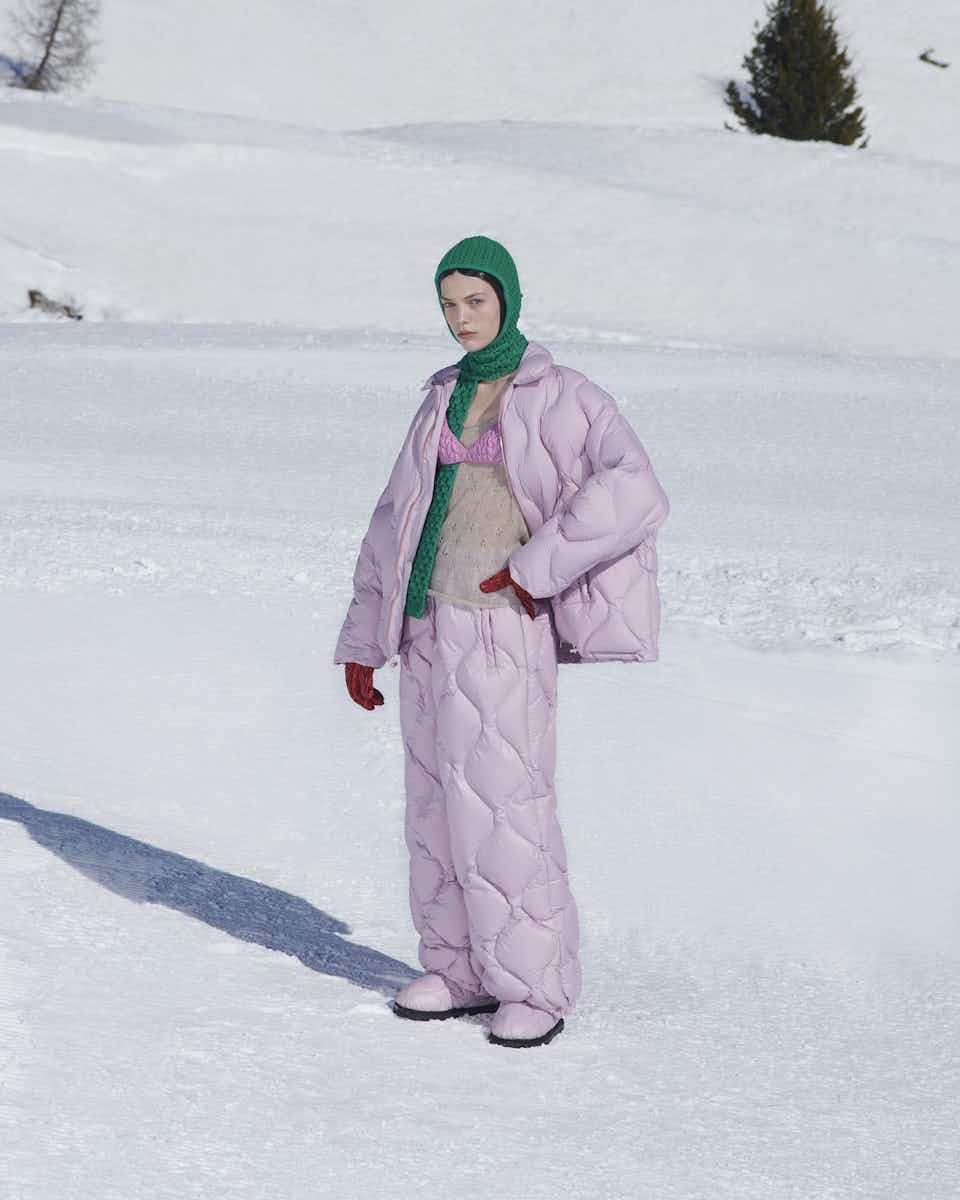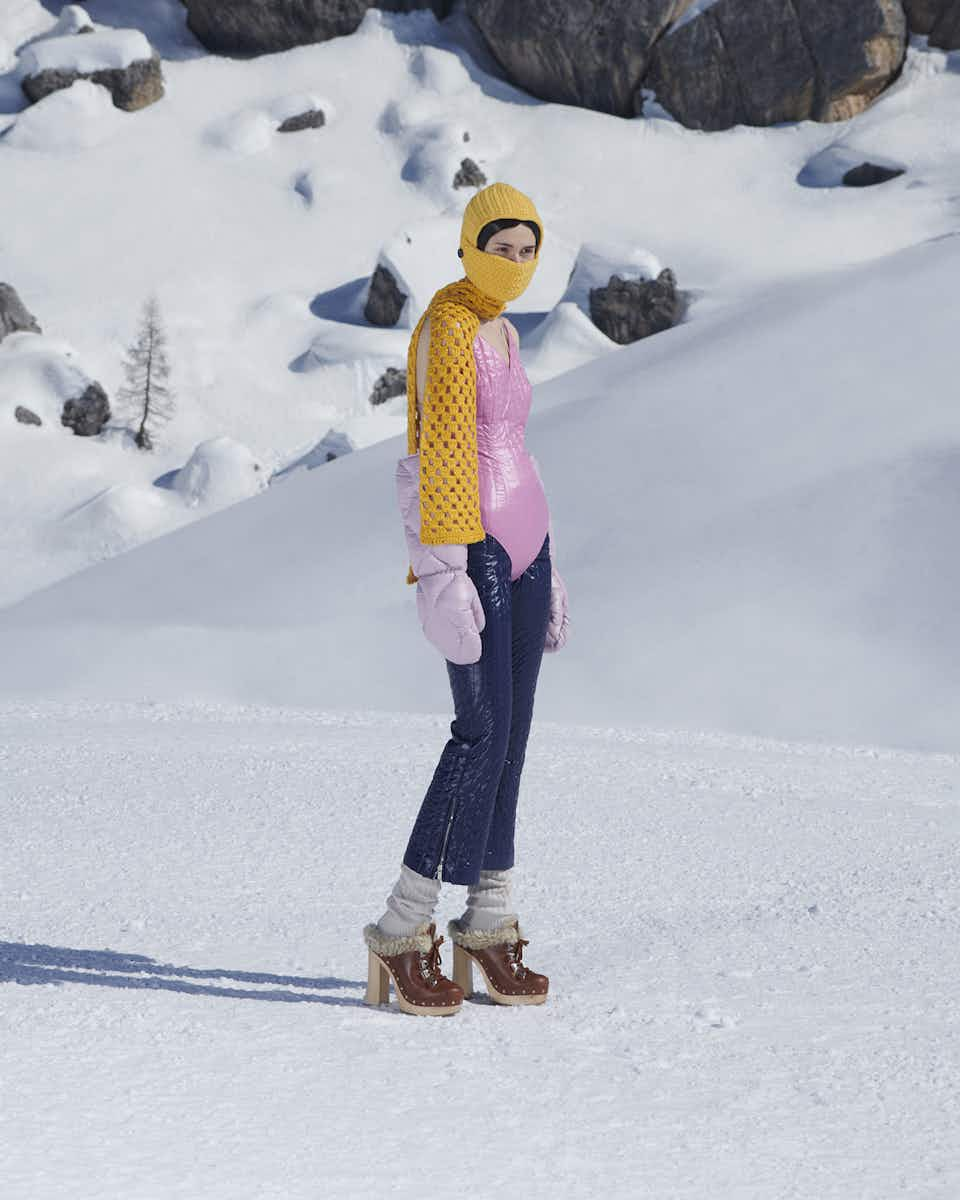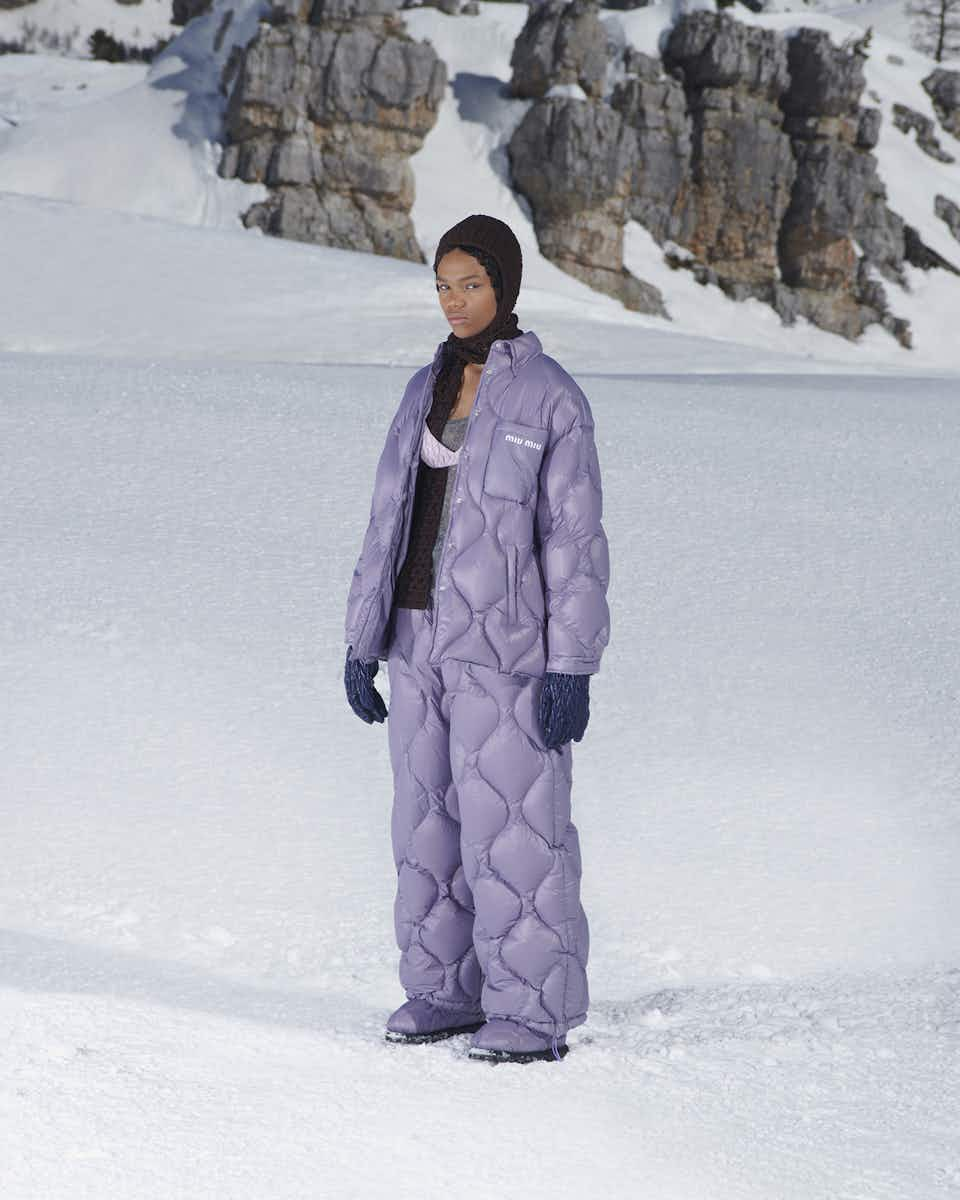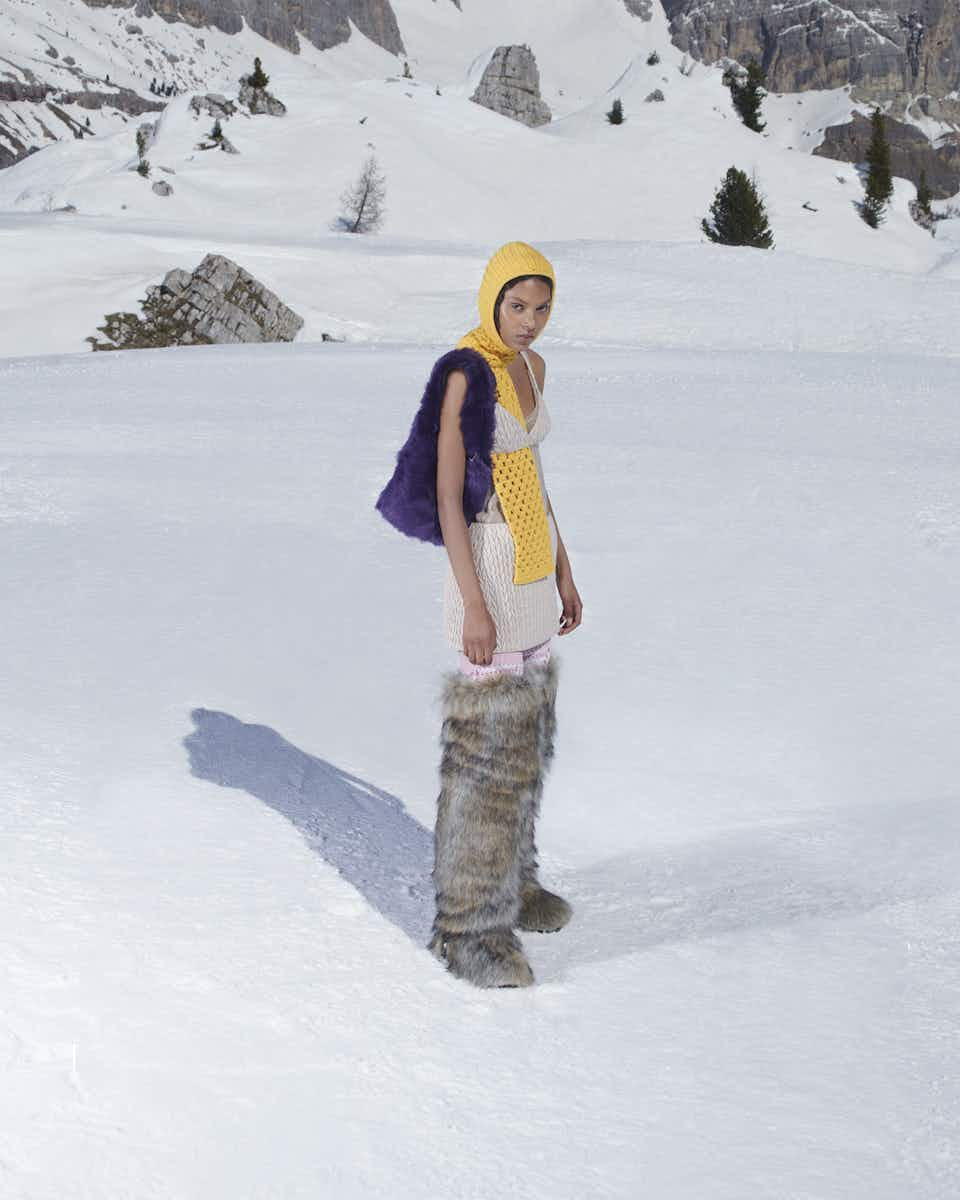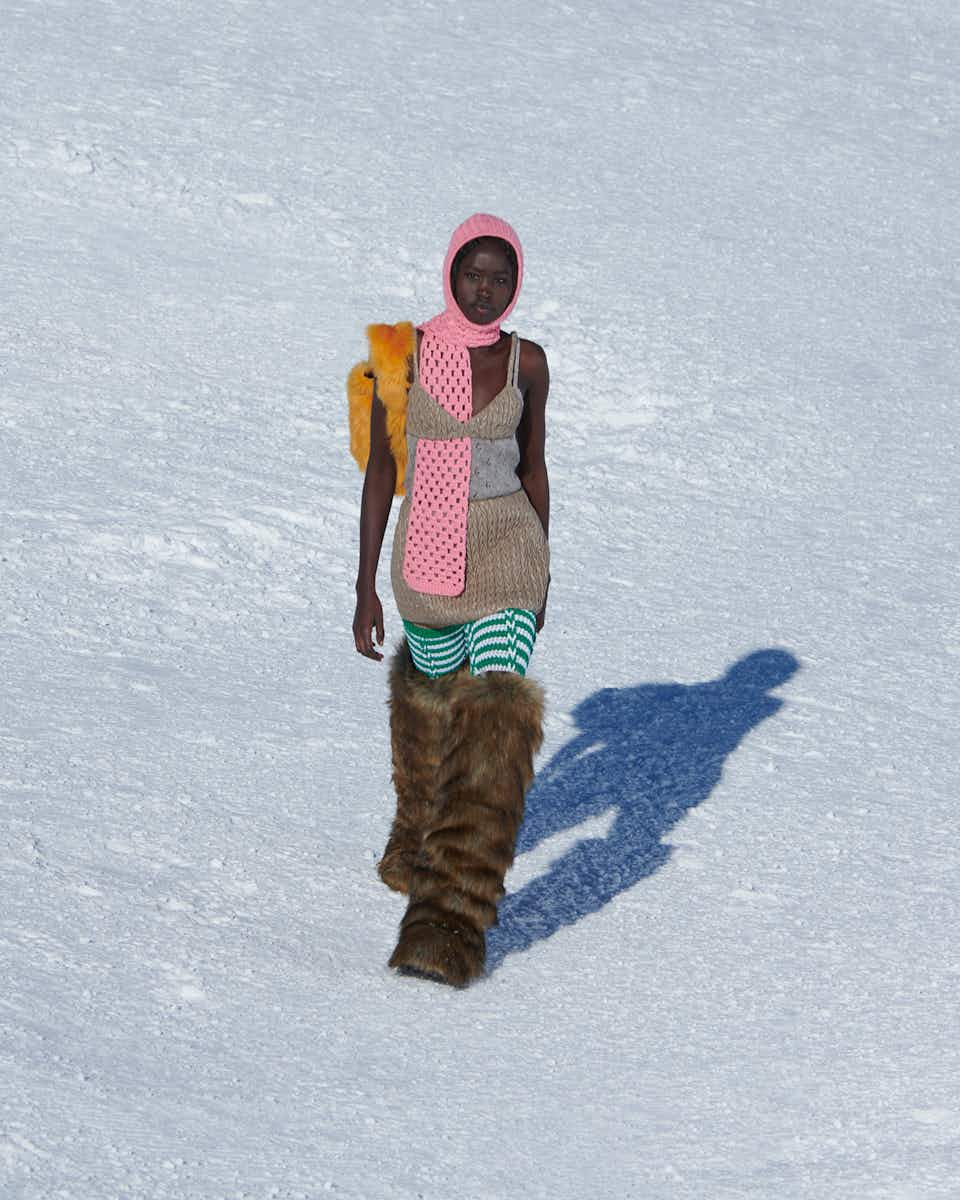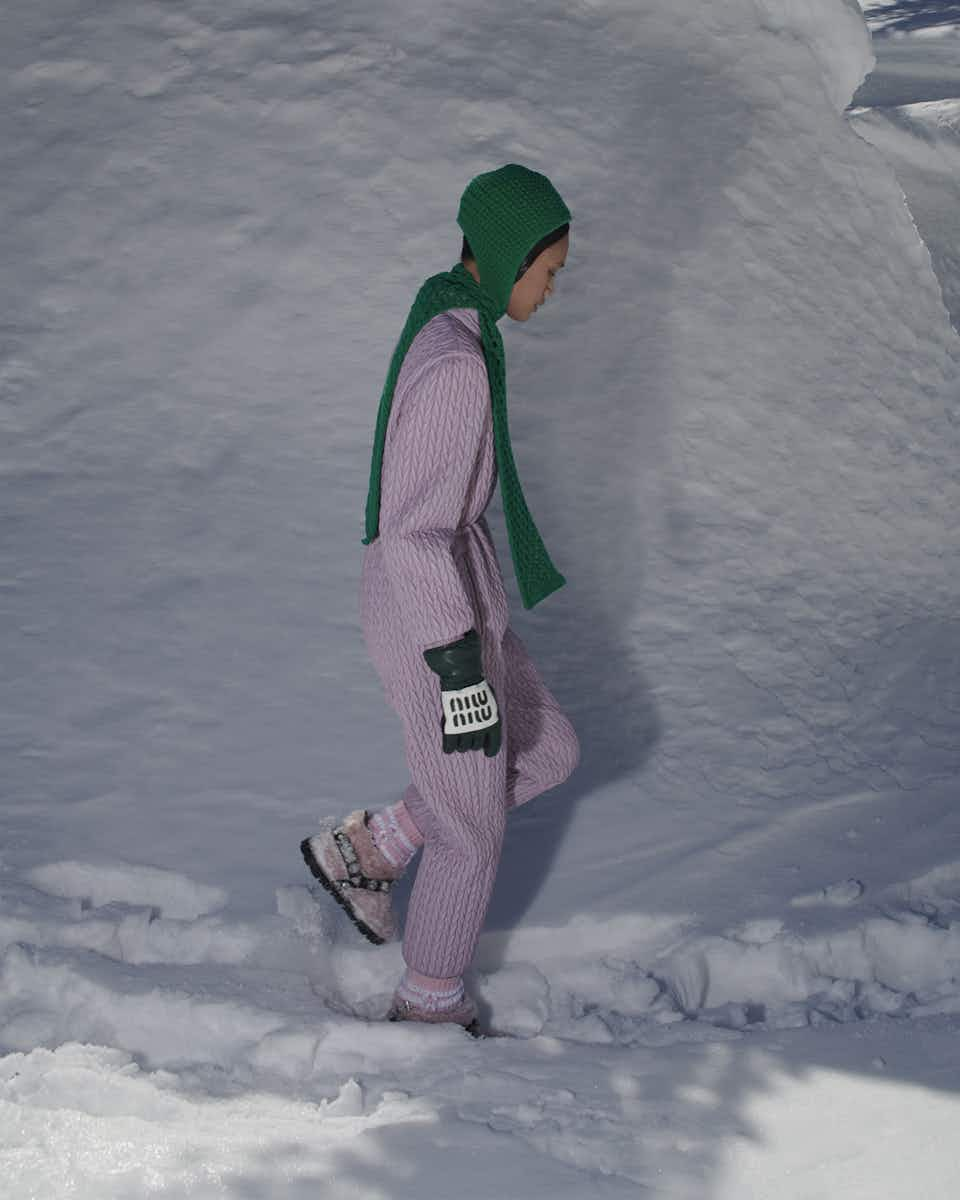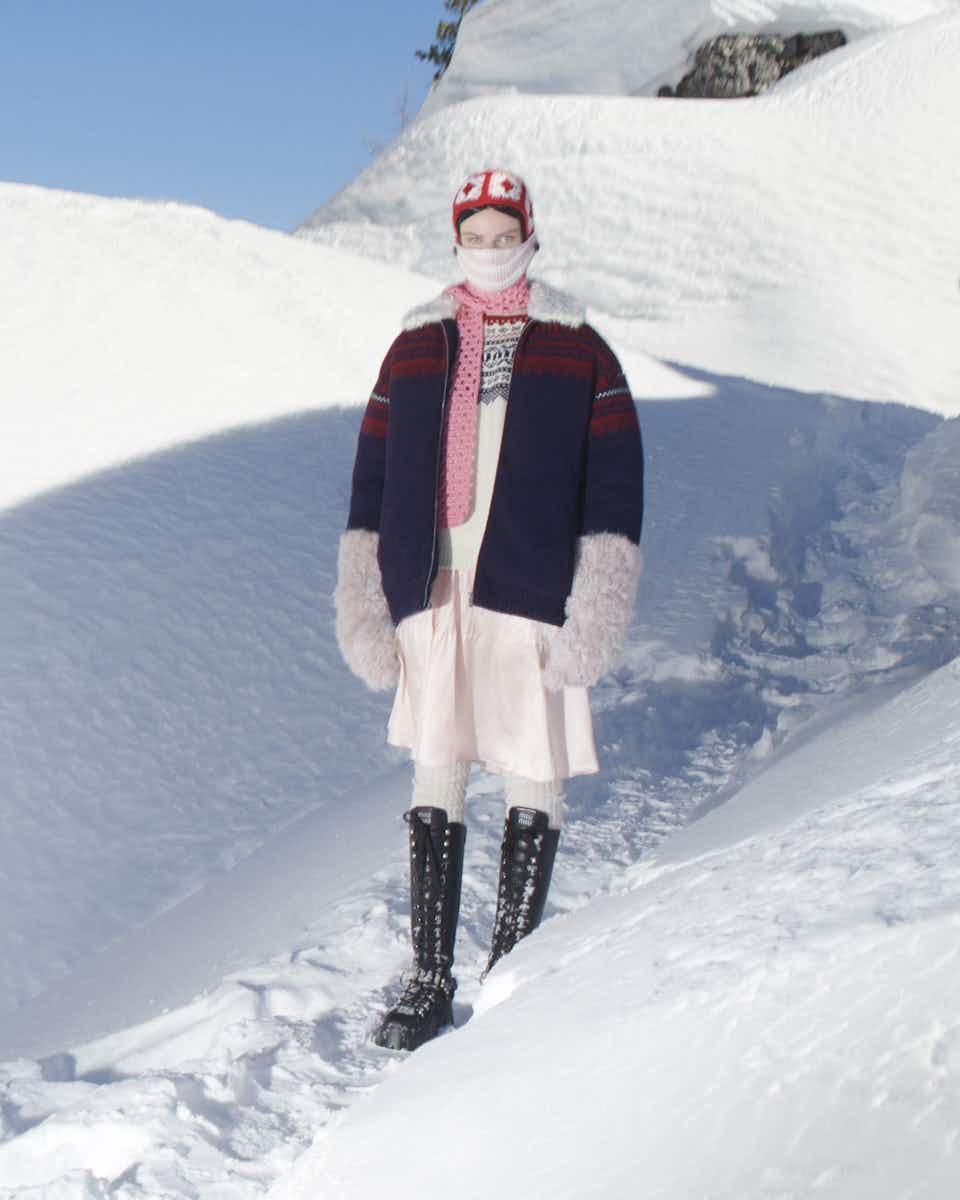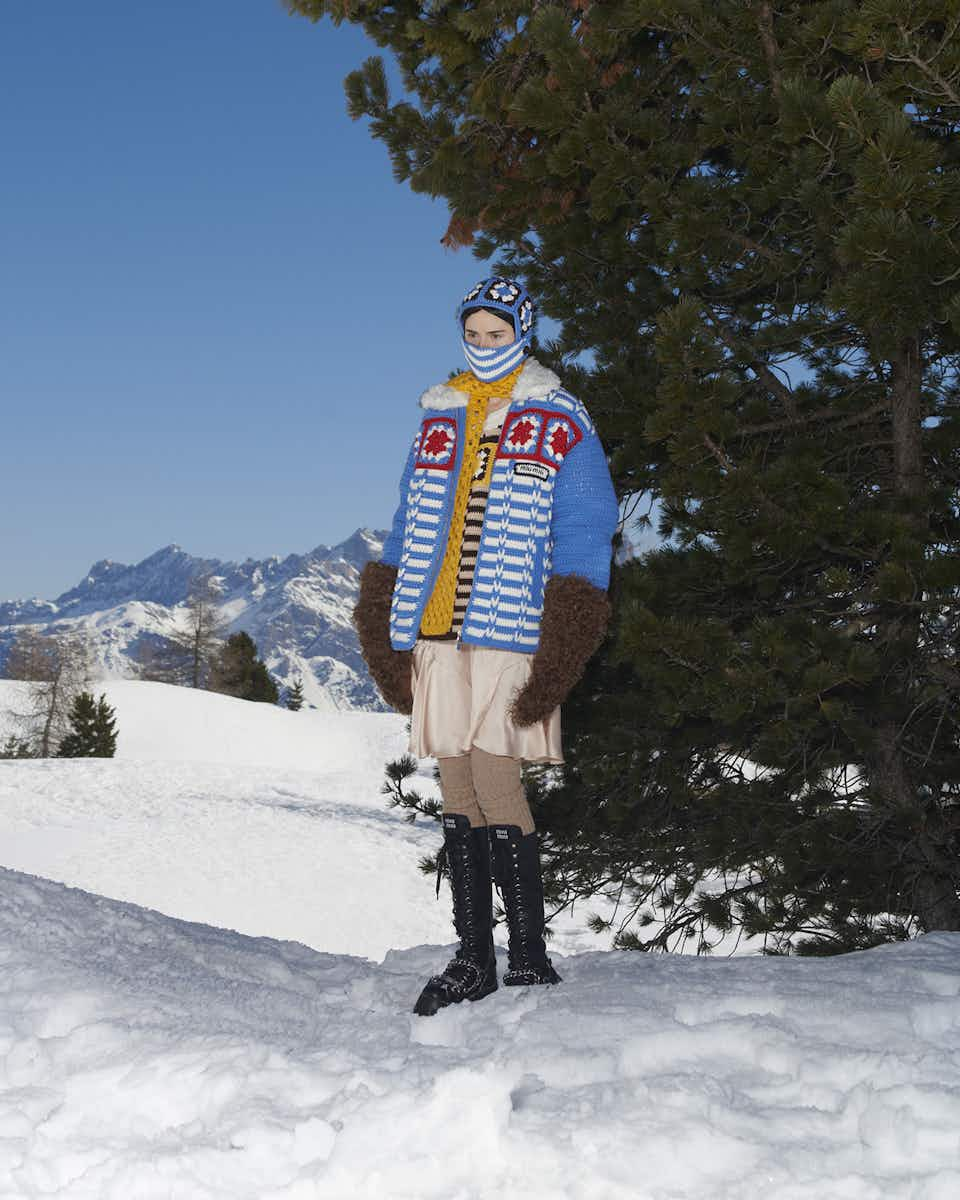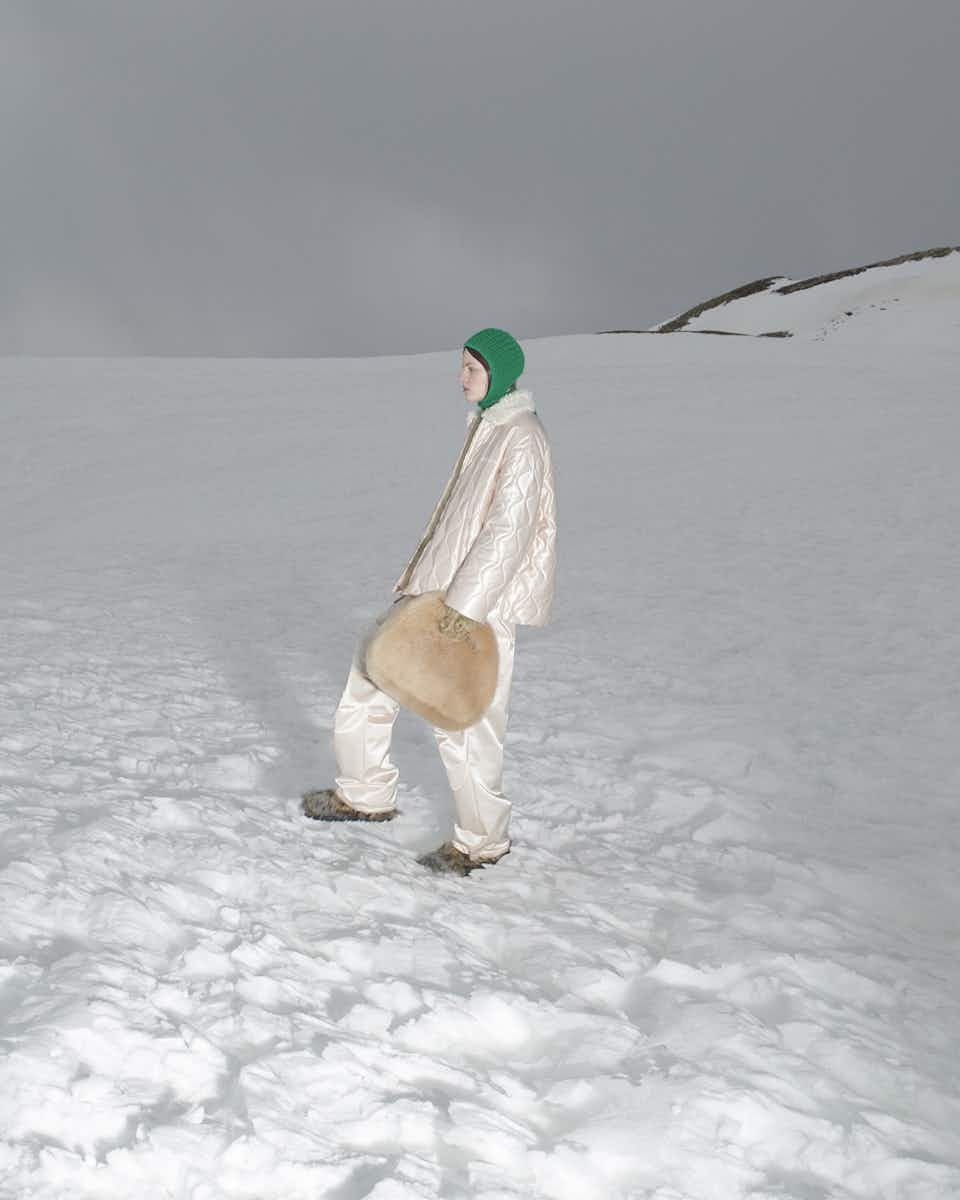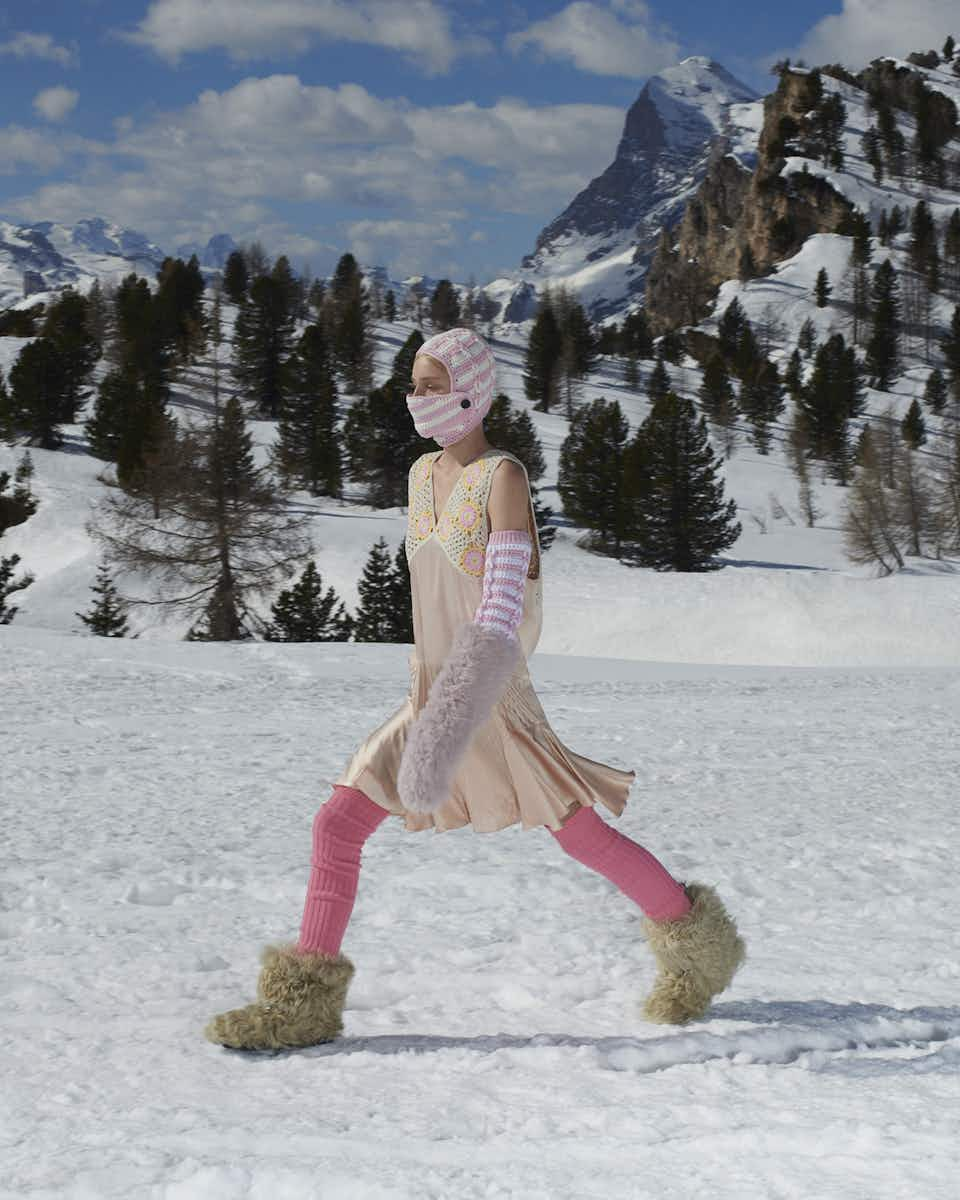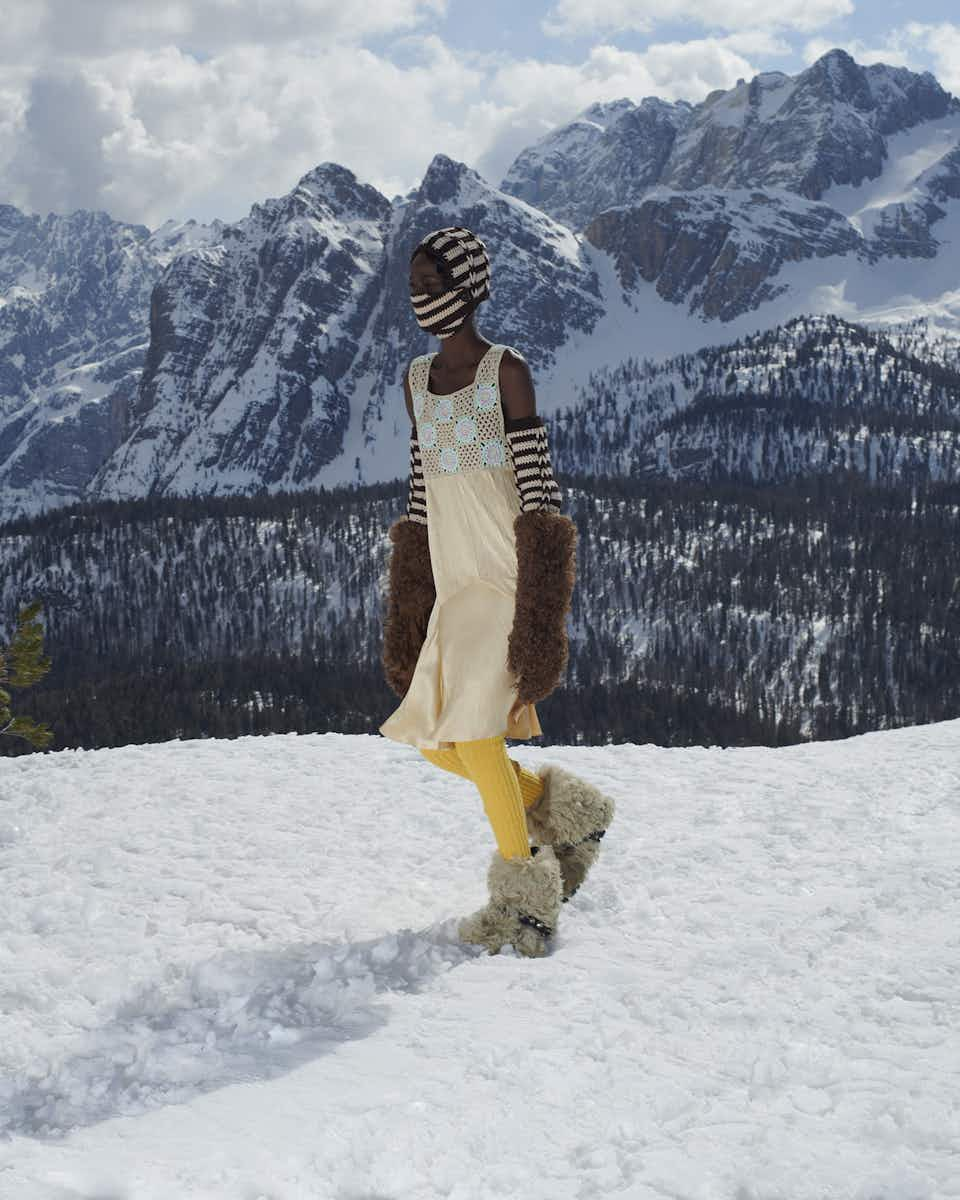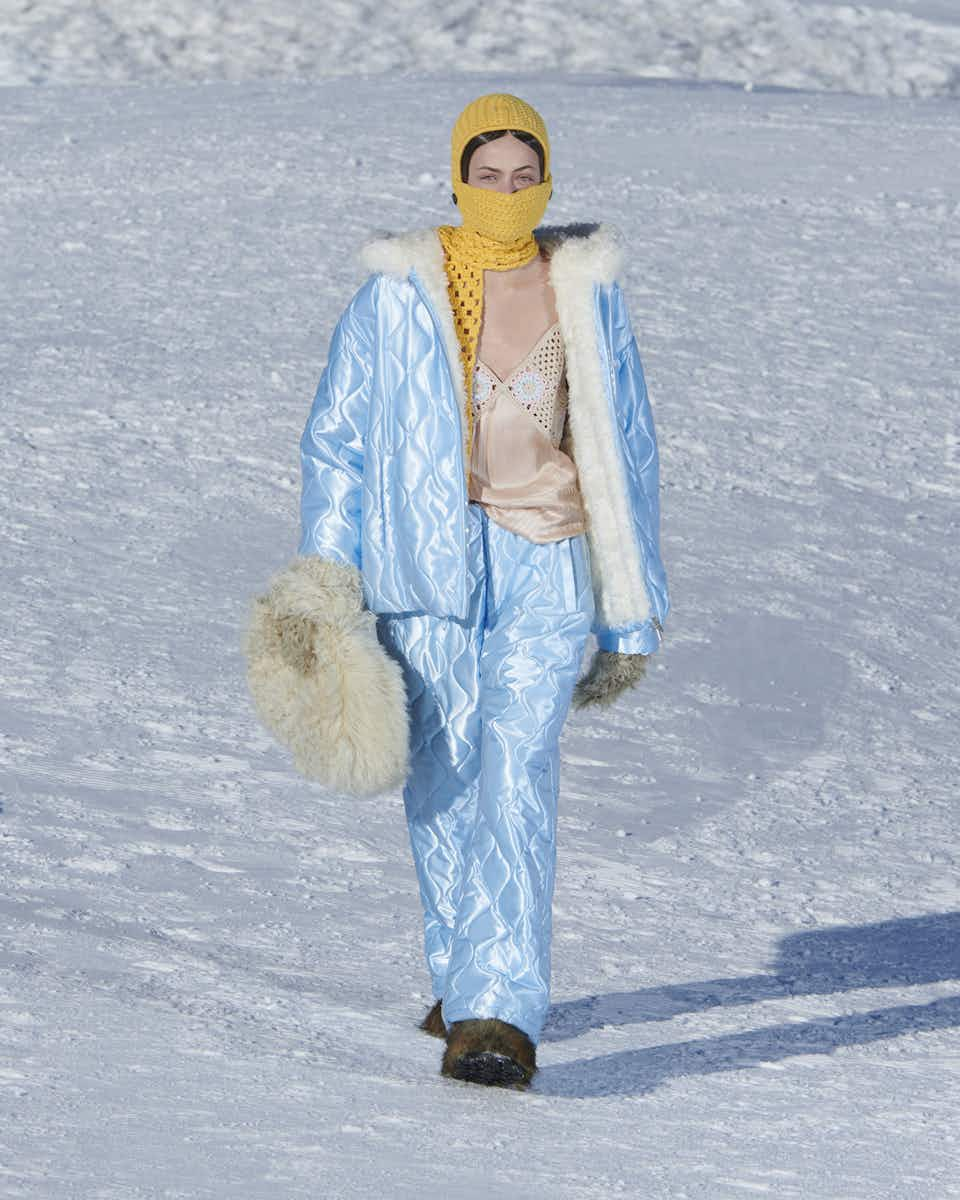 A dazzling slope and mirrors affair
"I love contrasts, so for [this season's] more voluminous winter pieces, I wanted a small space," said Chanel's creative director Virginie Viard on her choice of venue for the unveiling of the AW21 collection. The presentation came in the form of an evocative film, shot by Inez & Vinoodh and set in Castel, a legendary private members club and 1960s celebrity hotspot on Paris's Rue Princesse.
The film finds the models changing and applying their make-up together in an intimate dressing room setting, before strutting through the mansion's various salons and stairwells to showcase their ensembles. ​"I thought of the shows that Karl would tell me about, back in the day… when the models would dress themselves and do their own make-up," Viard expands in the presentation's press notes.
Viard's aforementioned penchant for contrasts is evident throughout the eye-catching collection. Minuscule hot pants are paired with long, elegantly cut coats, the models' bare legs giving way to boots covered in an expanse of black, curly faux fur. Chevrons and stripes clash with Fair Isle jumpers. Stiff tweed is juxtaposed with feather-light chiffon (most notably, perhaps, in the teaming of sheer tops with woollen bandeaus).
The collection was, specifically, a collision of two influences for Viard: the ambiance of ski holidays, all bright and picturesque, and a take on smoky Parisian chic, from the 1970s to now. The former is presented in a plethora of fluffy boots and bags, and a selection of ​'80s-style quilted salopettes, embroidered with the house's interlocking C motif. The latter in a number of tasselled mini dresses à la Jane Birkin, youthful takes on Chanel's signature skirt suits, and an abundance of (faux) fur coats and gilets. DW

Click here to continue reading
But it was all about the sparkle. While the colour palette, like last season, centres around more muted tones (in this case black, white, russet and navy) punctuated by occasional bursts of colour, the array of sheer light refraction is dazzling. Sequins abound: zig-zagging across skirts, forming the shimmering front panel of a kilt, adding twinkle to tweed, and scattered across jeans. A trench coat is rendered in striking gold leather, while accessories include sautoir necklaces, bright white pearls, chain belts and bag straps – all trademark Chanel – as well as crystal-embellished beanies and even a diamanté garter.
Key features from last season's cross-continental Parisian Hollywood extravaganza also make a reappearance – including the Chanel-coined numbers five and 22, writ large across tees, and the Hollywood-sign-style Chanel lettering enlivening skirts and tops. But for AW21, Viard has cranked the glitz up a gear (or five): the result is a playfully extravagant collection for women waiting to shine as soon as nightlife restrictions lift.
A spellbinding ode to fairytales
Maria Grazia Chiuri's ability to use her shows as a springboard to tell a broader story – as well as her well-noted leanings towards the fantastical, from tarot readers to Greek mythology to an interest in the supernatural – have left her in good stead to navigate the challenges of the past 12 months, producing a series of richly-imagined films to accompany each of her collections that have offered plenty in the way of escapism and whimsy.
And for her AW21 collection, this was no different. Titled Disturbing Beauty, the accompanying film began with a troupe of dancers silhouetted through fog, moving through the forests and gardens of Versailles – as guided by Chiuri's regular collaborator, the Israeli choreographer Sharon Eyal – before entering the palace's famous hall of mirrors. Here, lit as if in moonlight with panels by artist Silvia Giambrone covering the mirrors and sprouting thorns, it proved to be a suitably moody setting for one of Chiuri's most delightfully sinister collections yet.
Instead of translating the spirit of fairytales to clothing in more literal terms, Chiuri seemed to look to the darker side of the tradition, with the few princess dresses on the runway coming in lustrous jewel tones rather than frou-frou pastels. (After all, the origins of everyone's favourite Disney movies were a little more sinister than they might initially seem; the stories of the Brothers Grimm and Charles Perrault were often both shockingly violent and genuinely terrifying.) Using Angela Carter's retelling of Little Red Riding Hood as her source material – split across two stories as part of her 1979 short story collection The Bloody Chamber – Chiuri's gothic vision lost none of Carter's eye for the eerie.
But this being Chiuri, various references were synthesised to form clothes that were surprisingly wearable. The house's famous Bar jacket was cut from thick wools and tweeds, some iterations complete with hoods or styled with silk head wraps for those looking to live out the full Red Riding Hood fantasy. Classically romantic motifs of roses and hearts abounded; the former in corsages and abstracted prints, and the latter in intricate, laser-cut leather dresses. A particularly opulent closing look, meanwhile, featured a gorgeous heart-shaped tulle bodice in blood red, worn by a model with a striking black bob and kohl-rimmed eyes.
Disturbing it might have been, but beautiful it certainly was. It seems that for Chiuri, exploring her dark side this season was more fun than she had anticipated.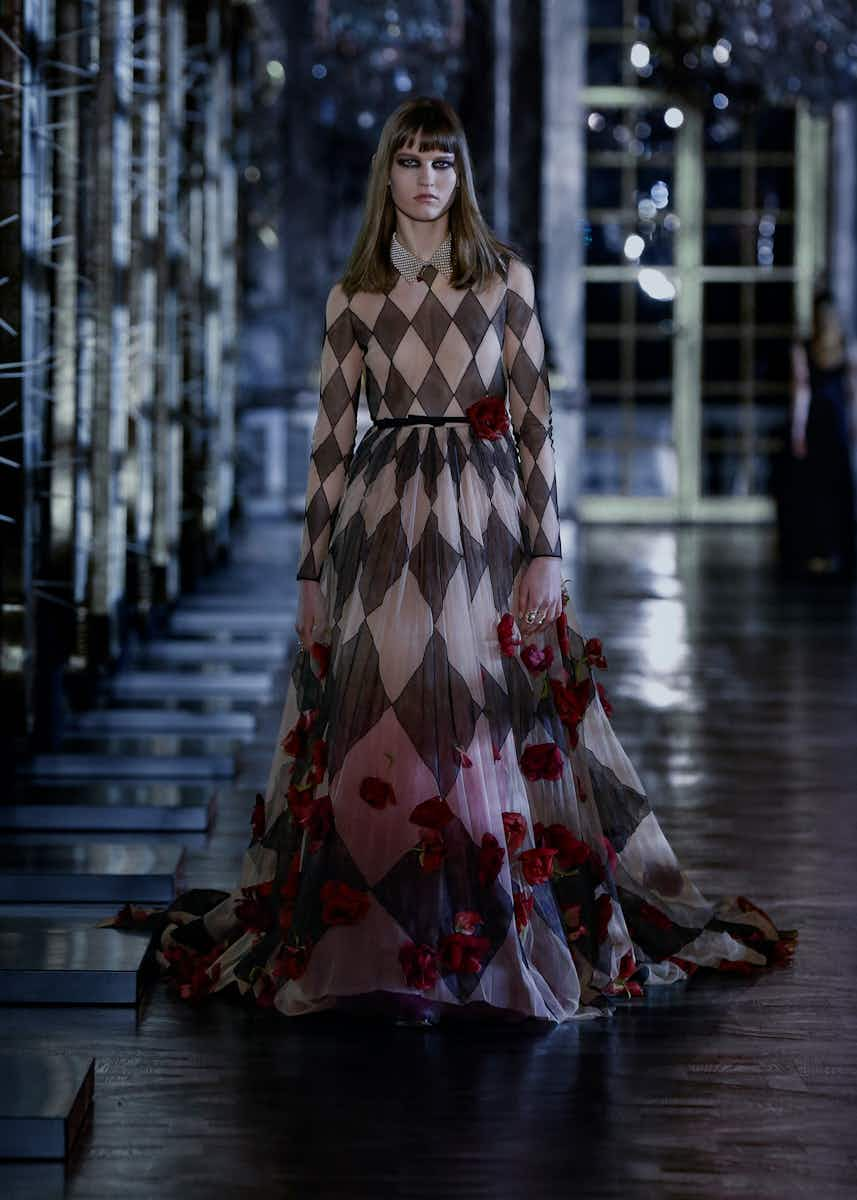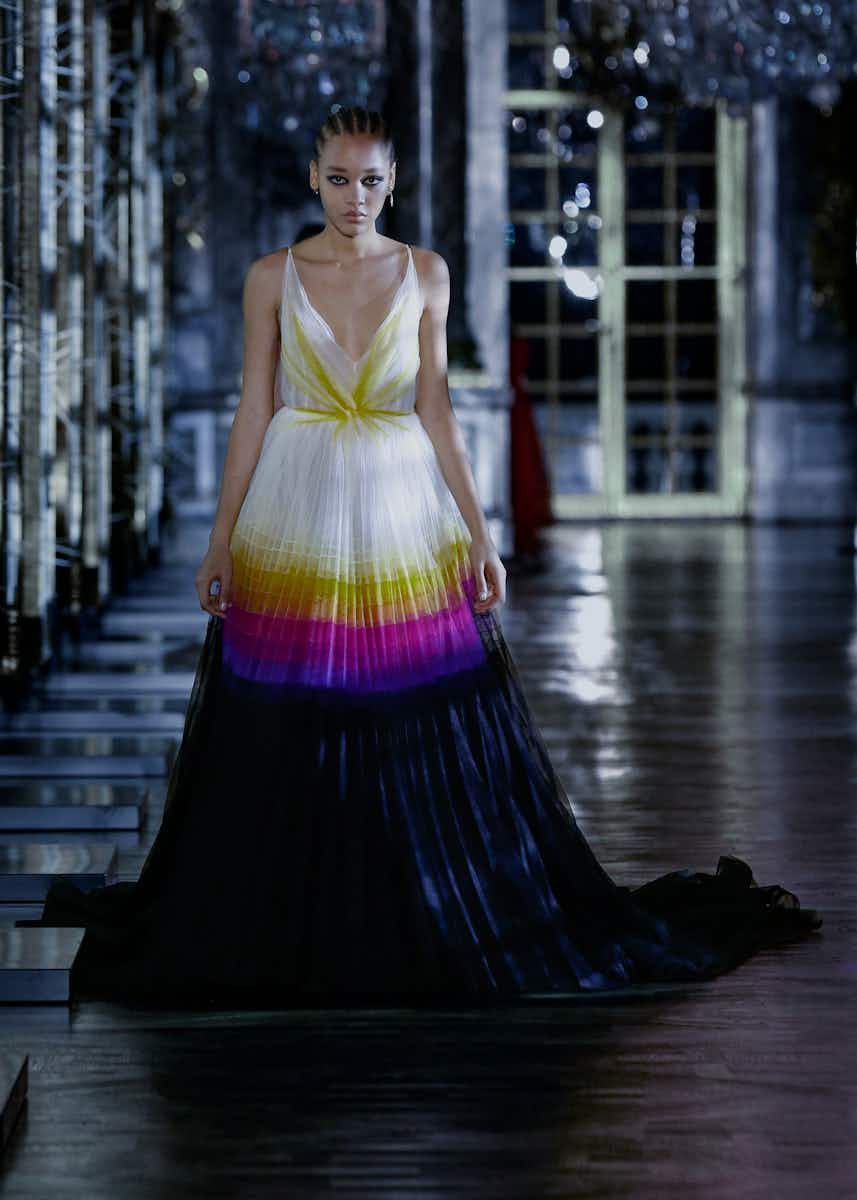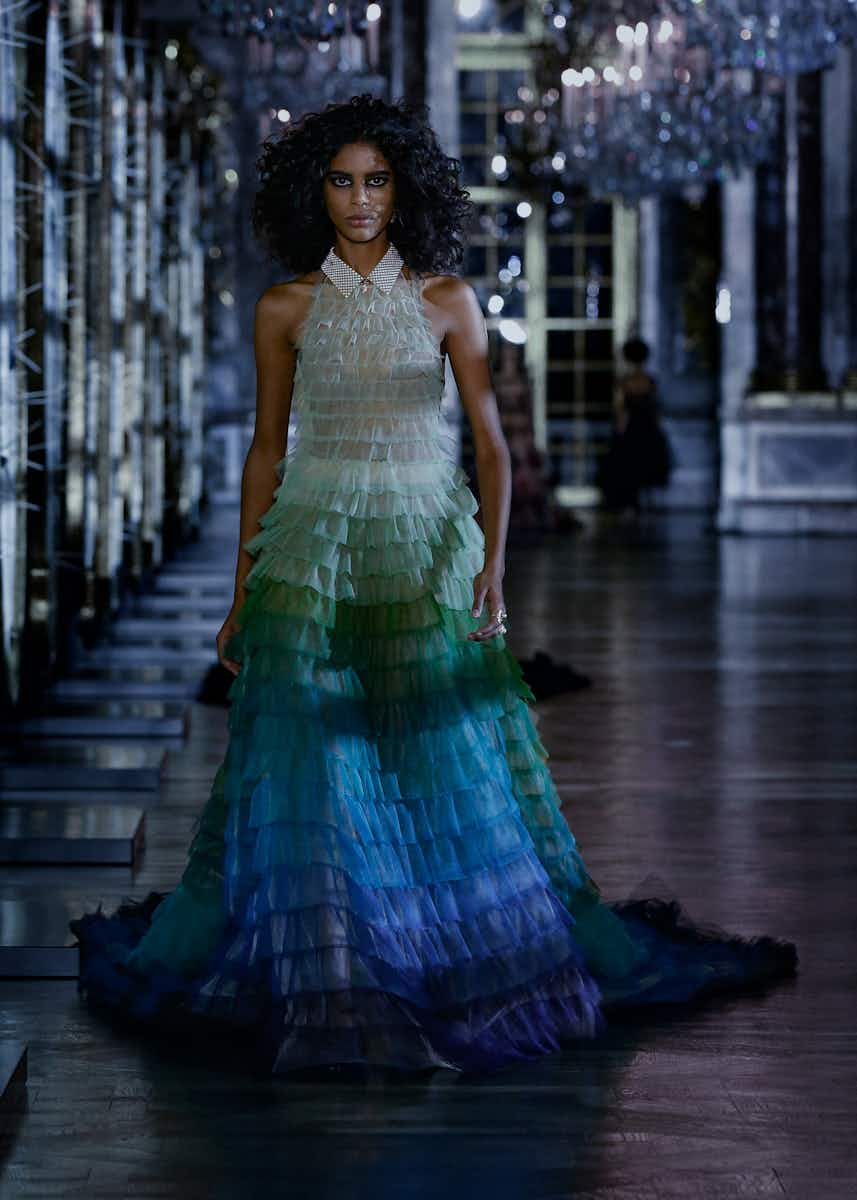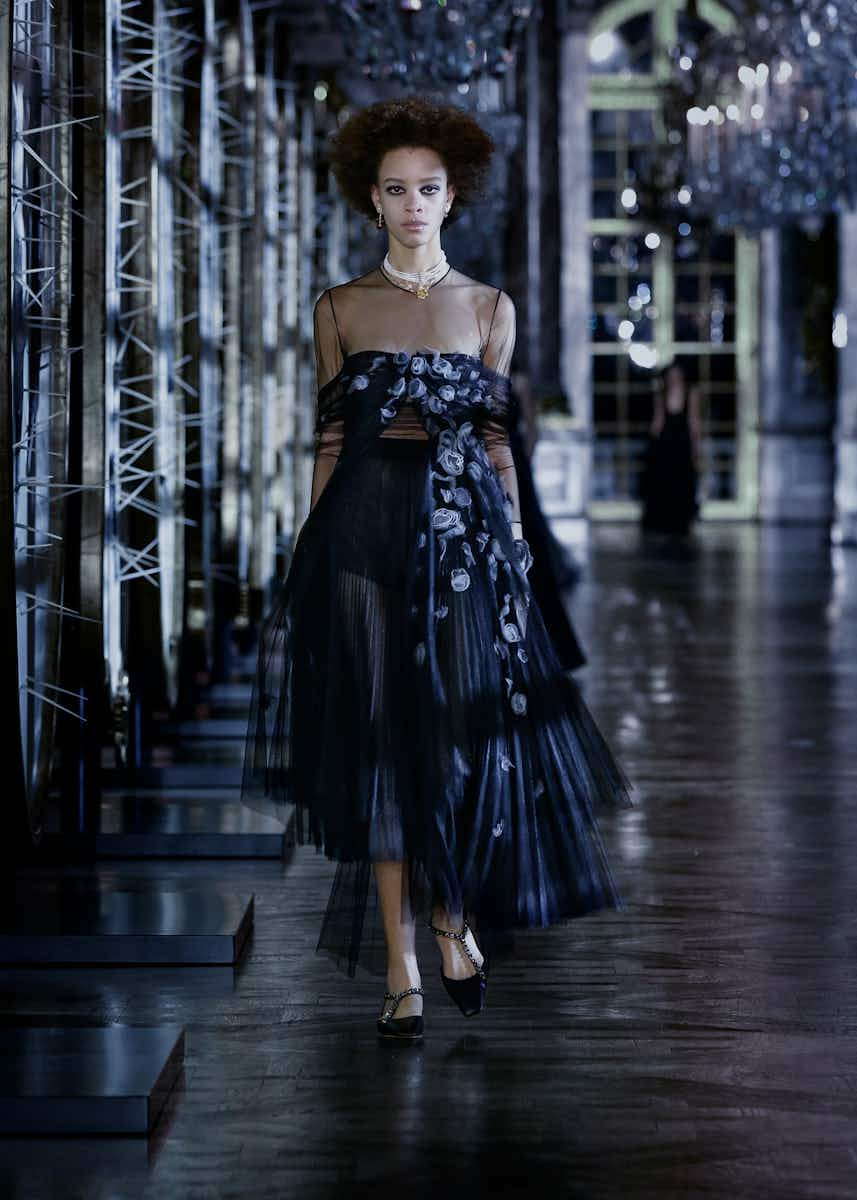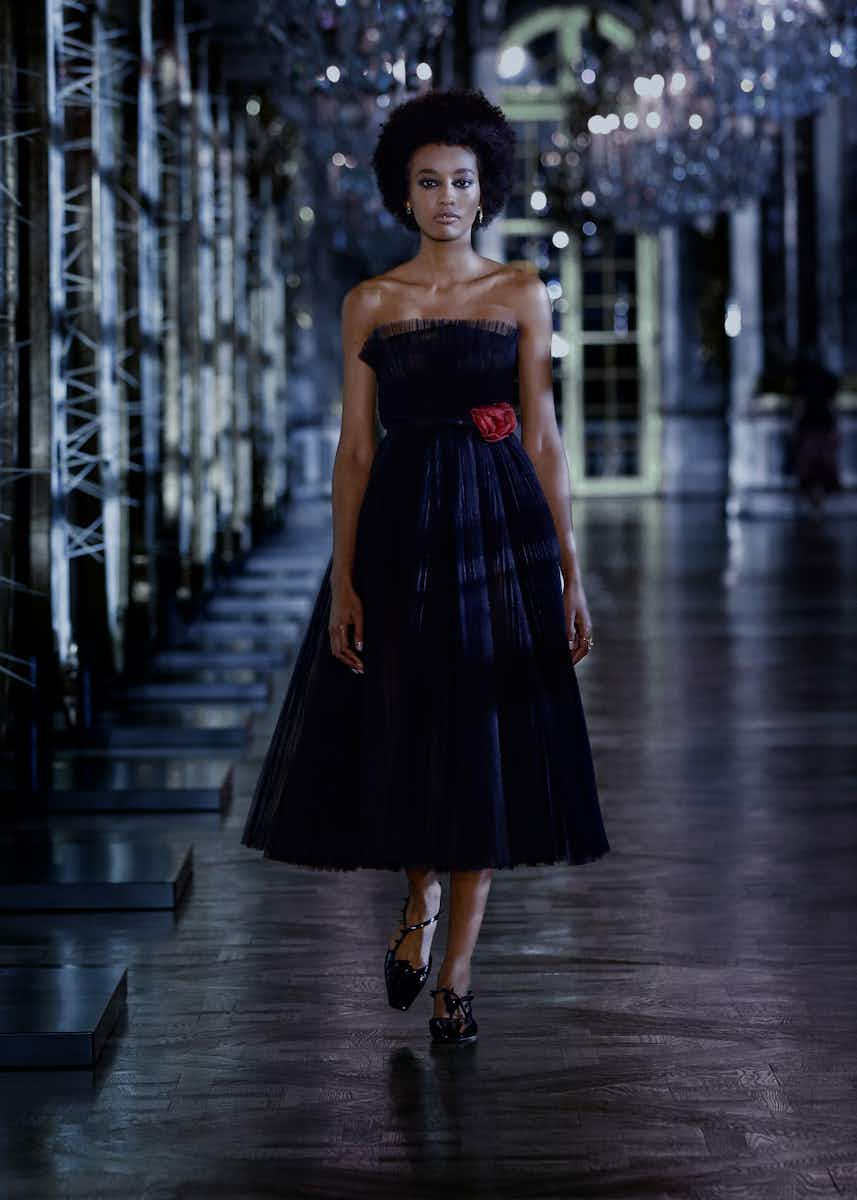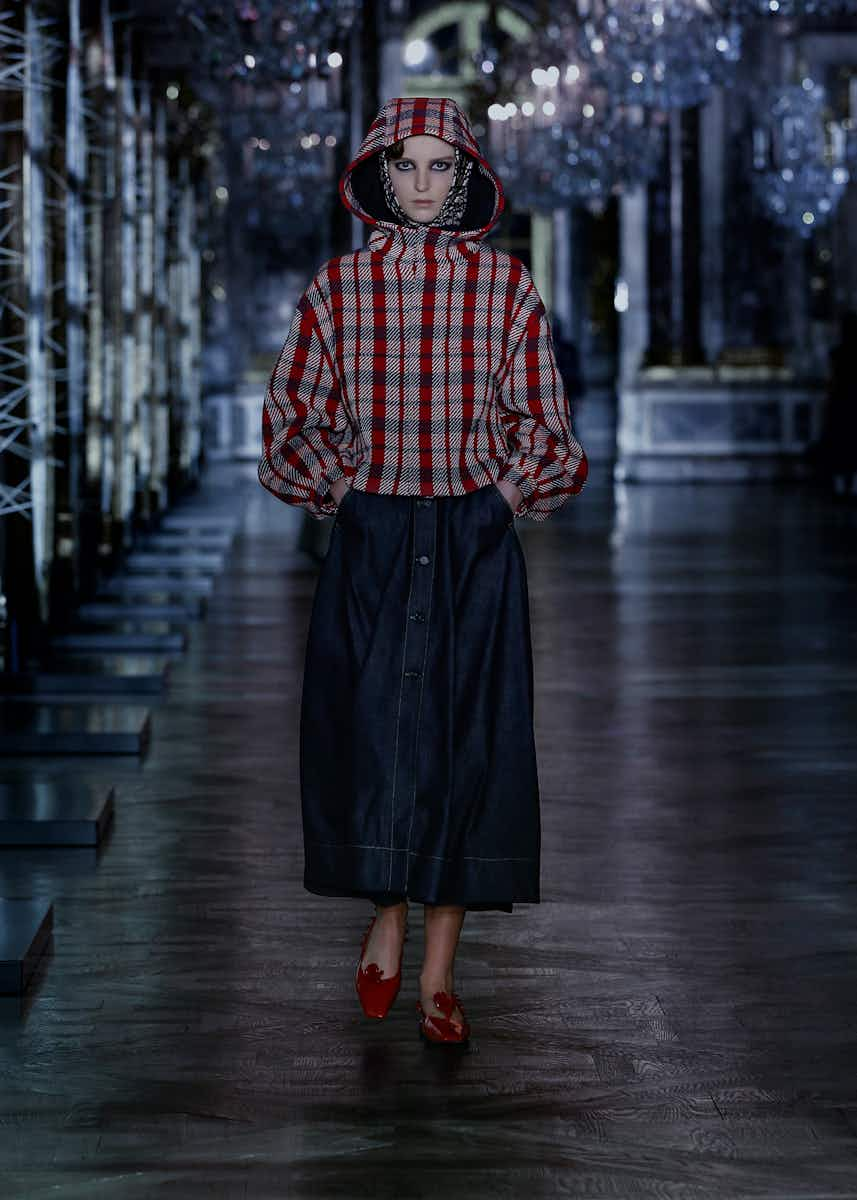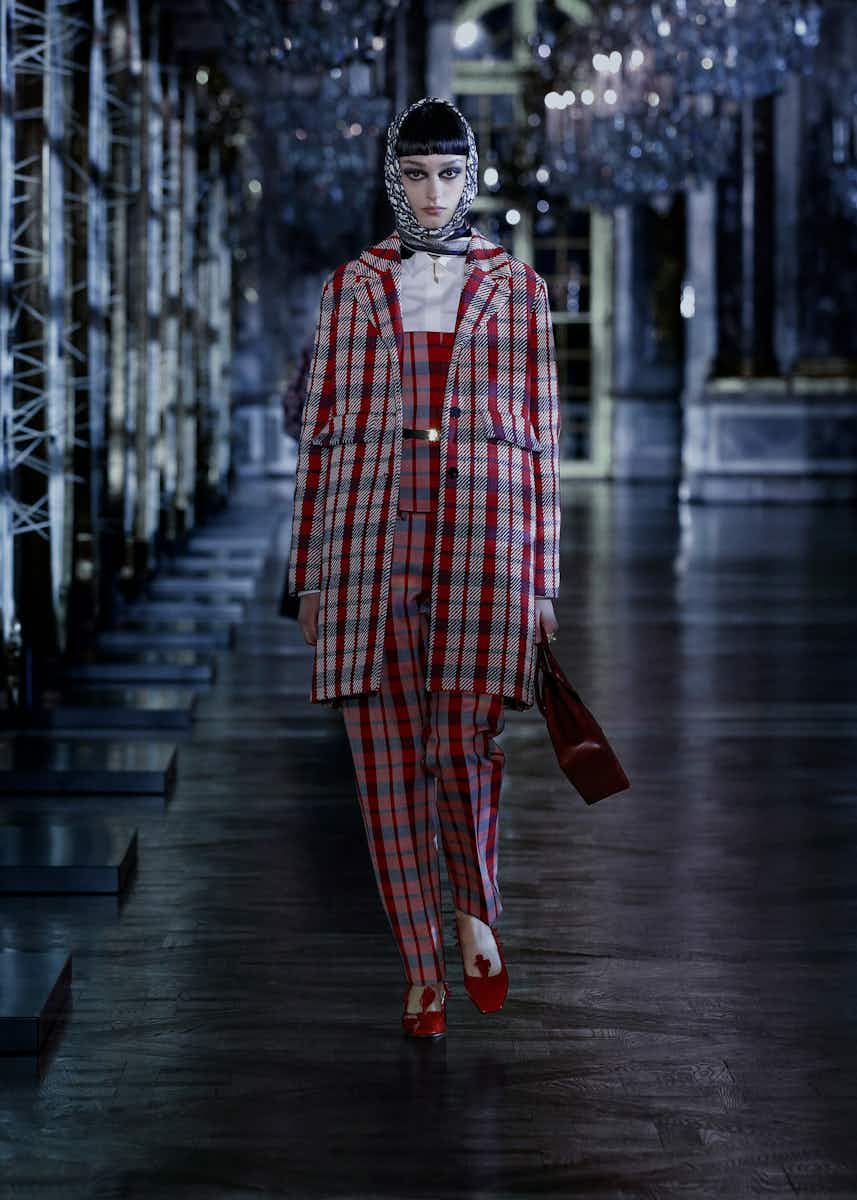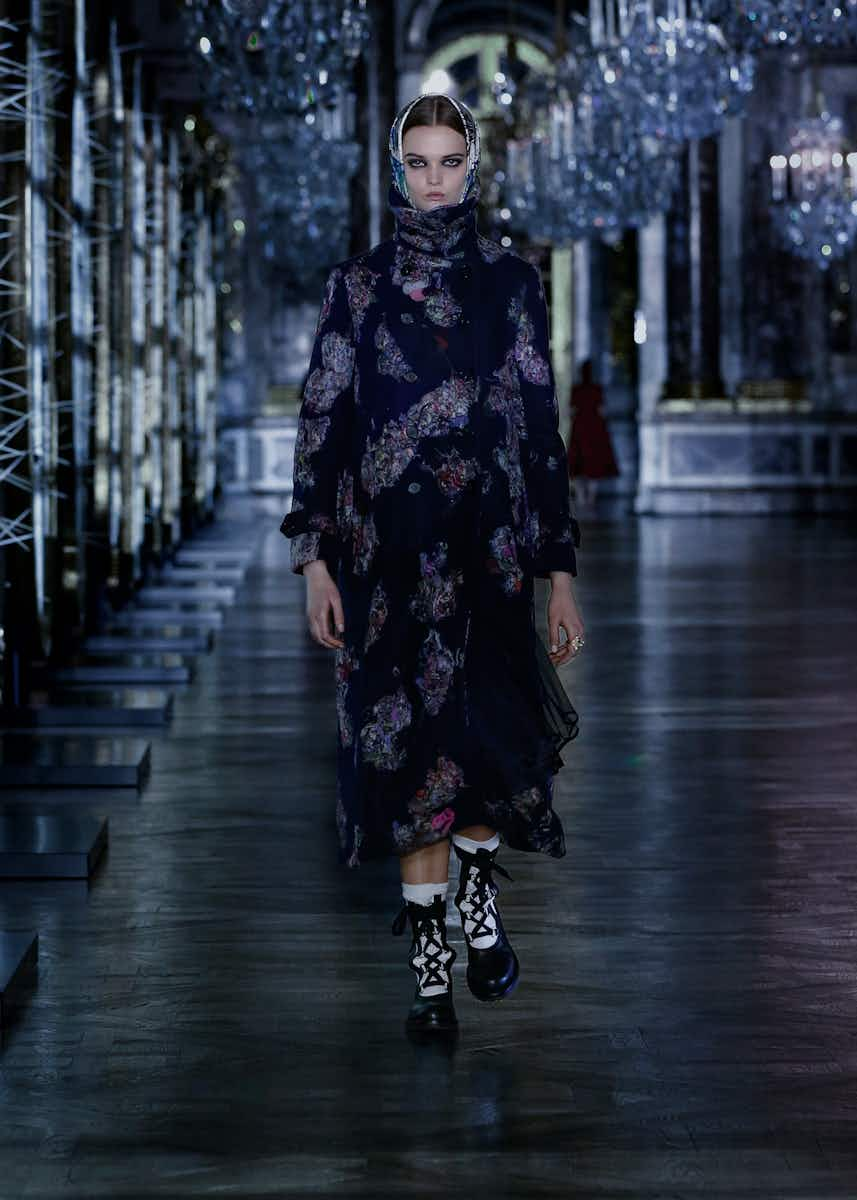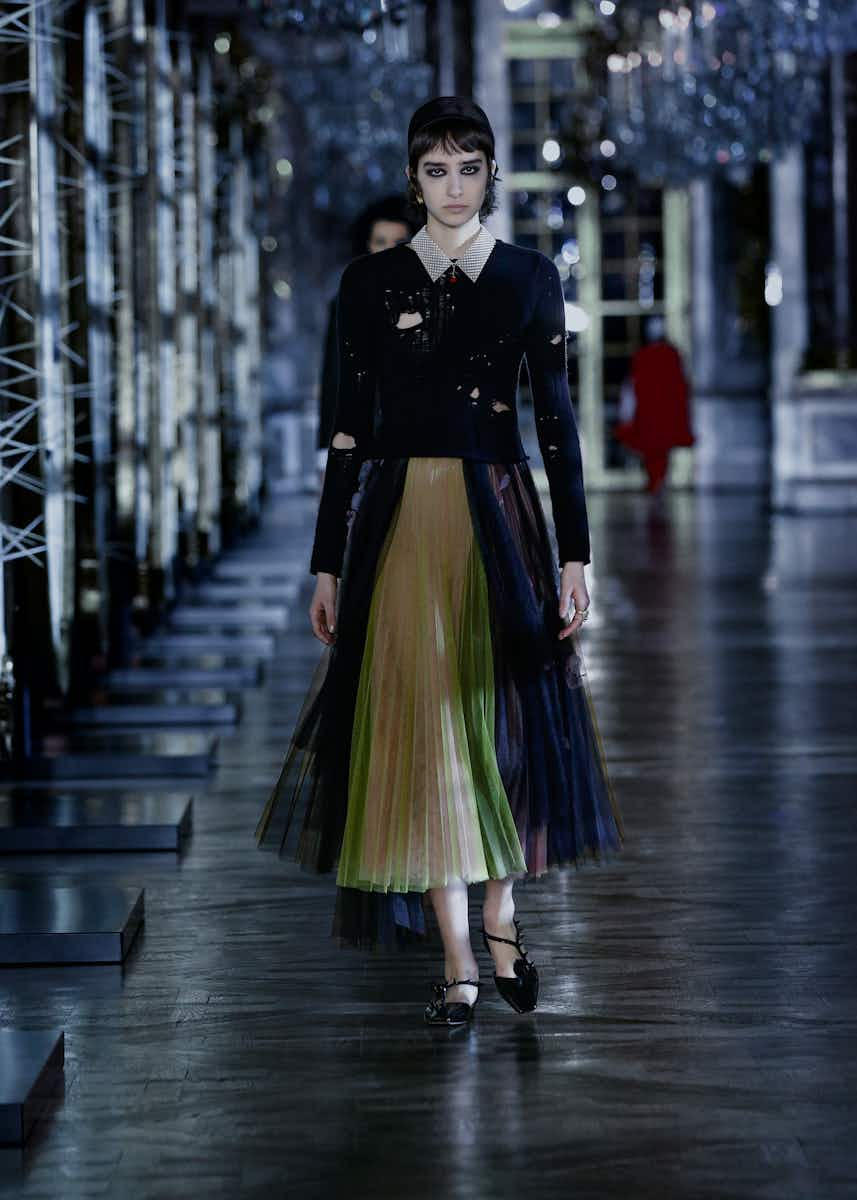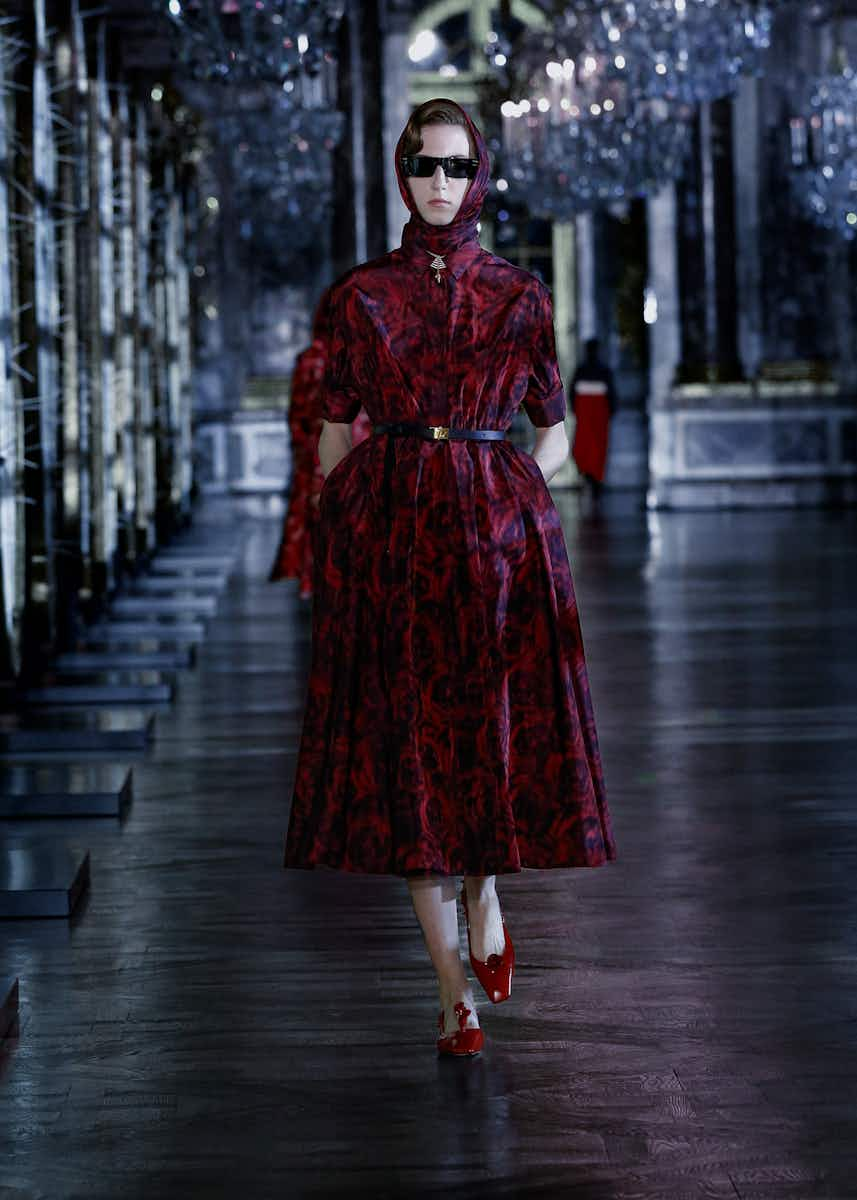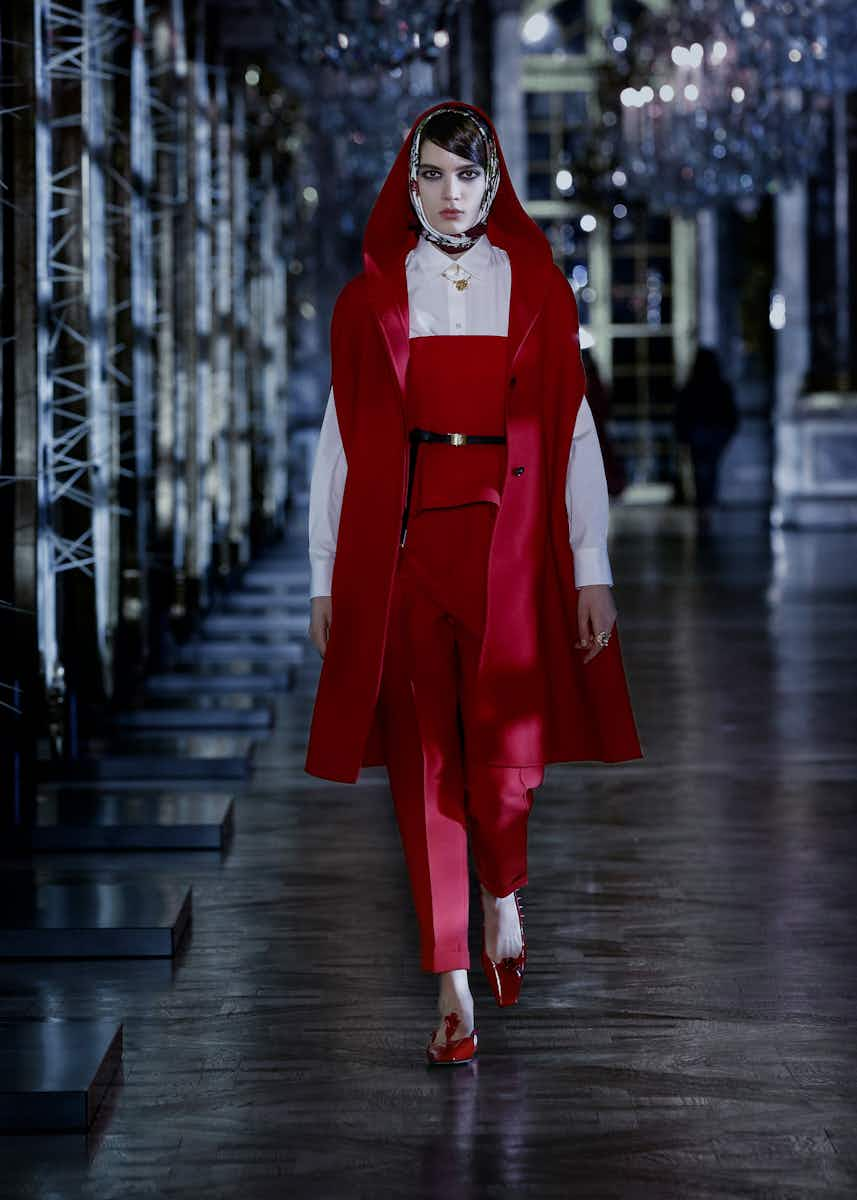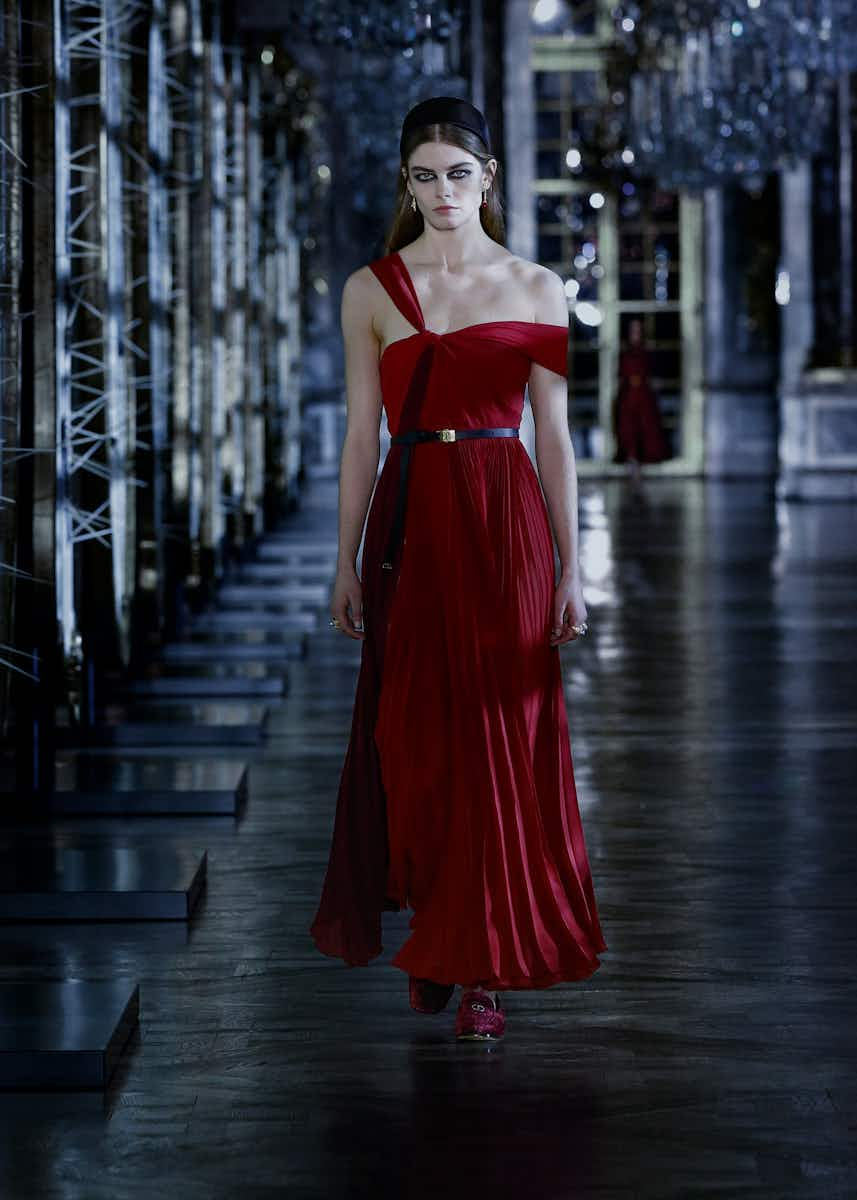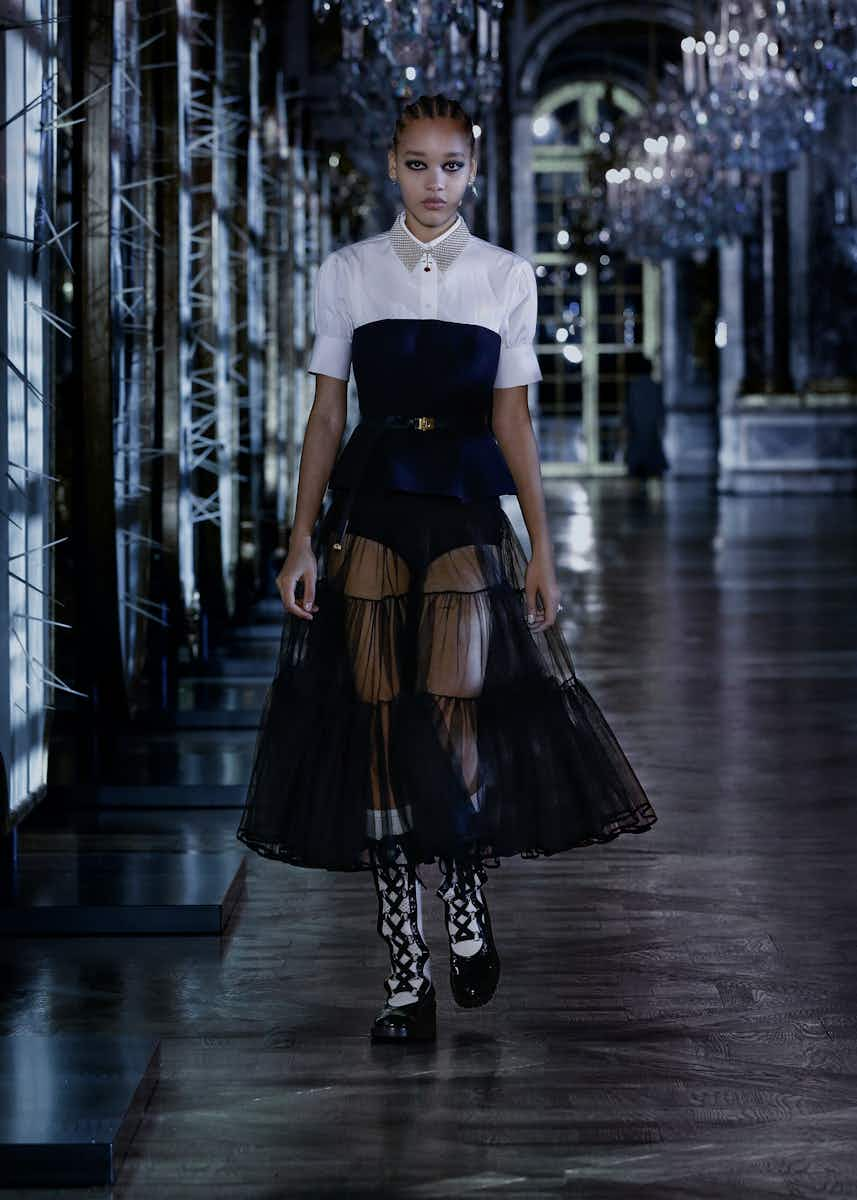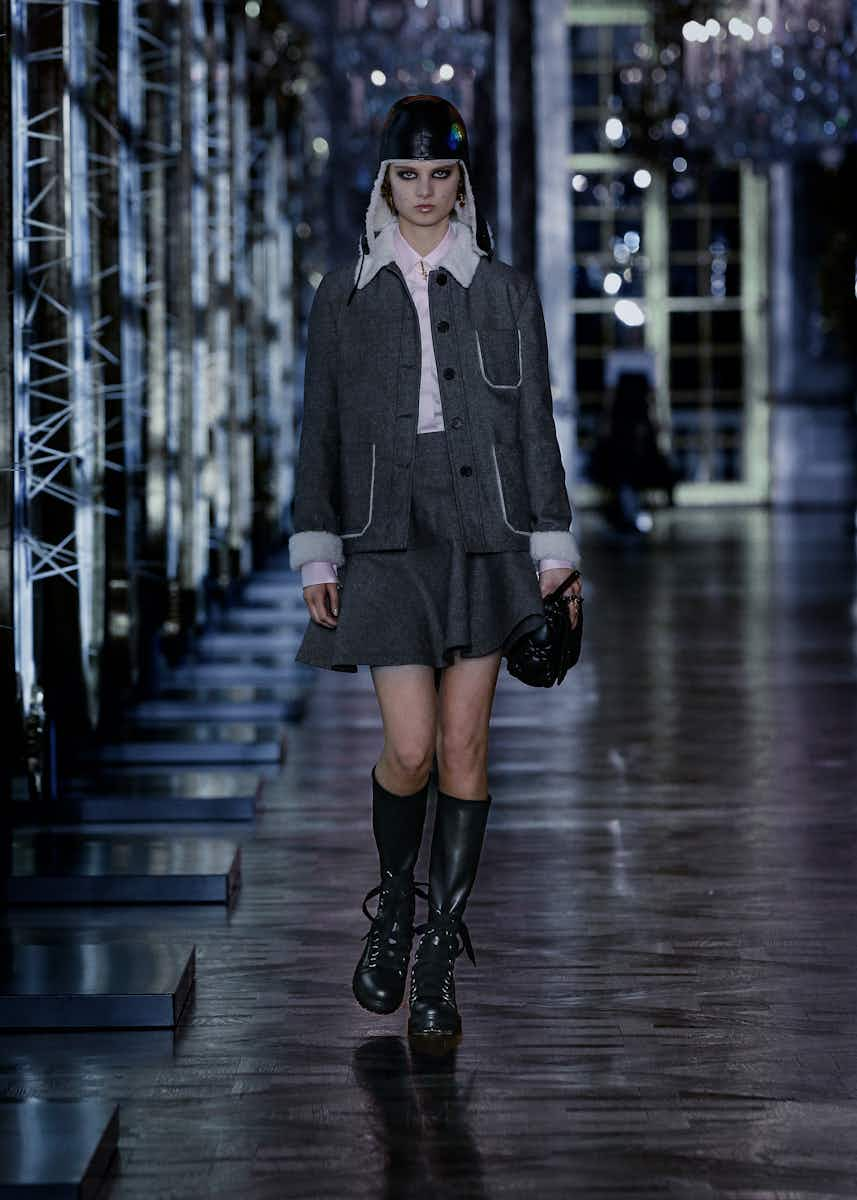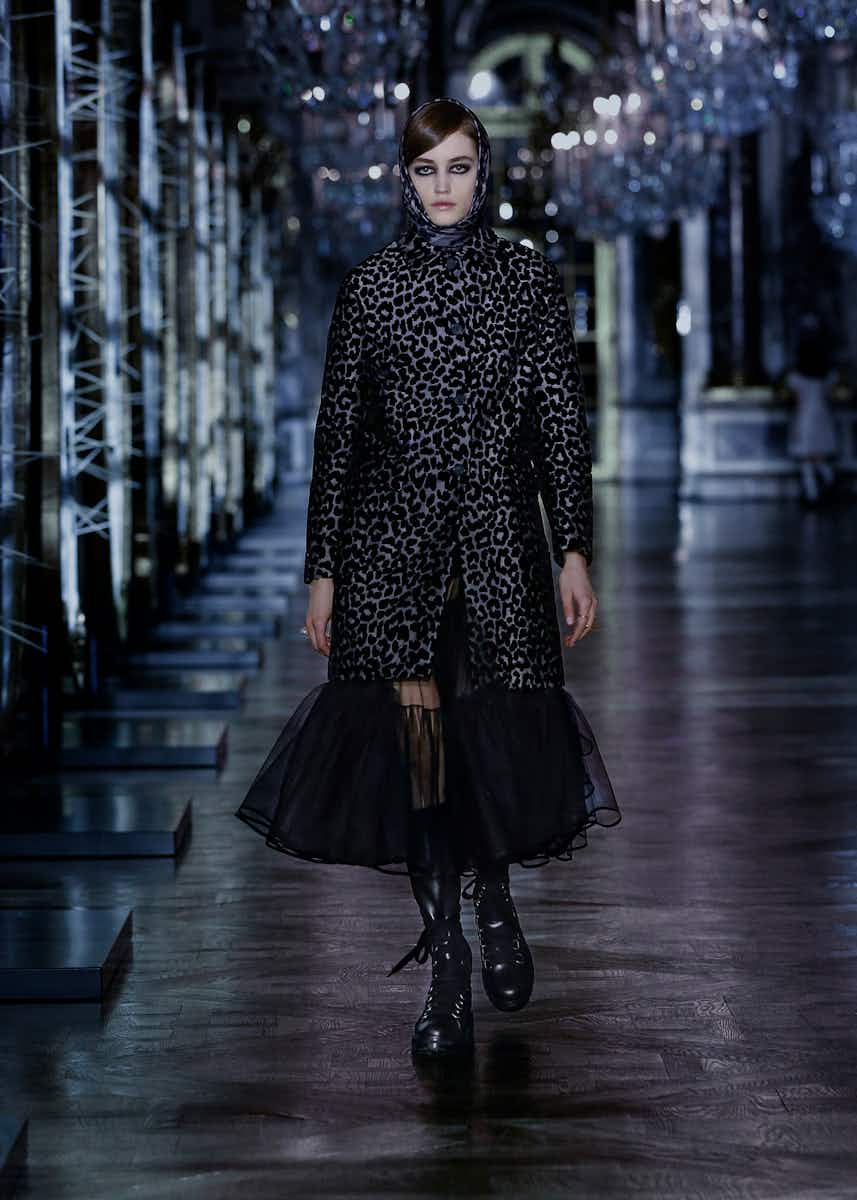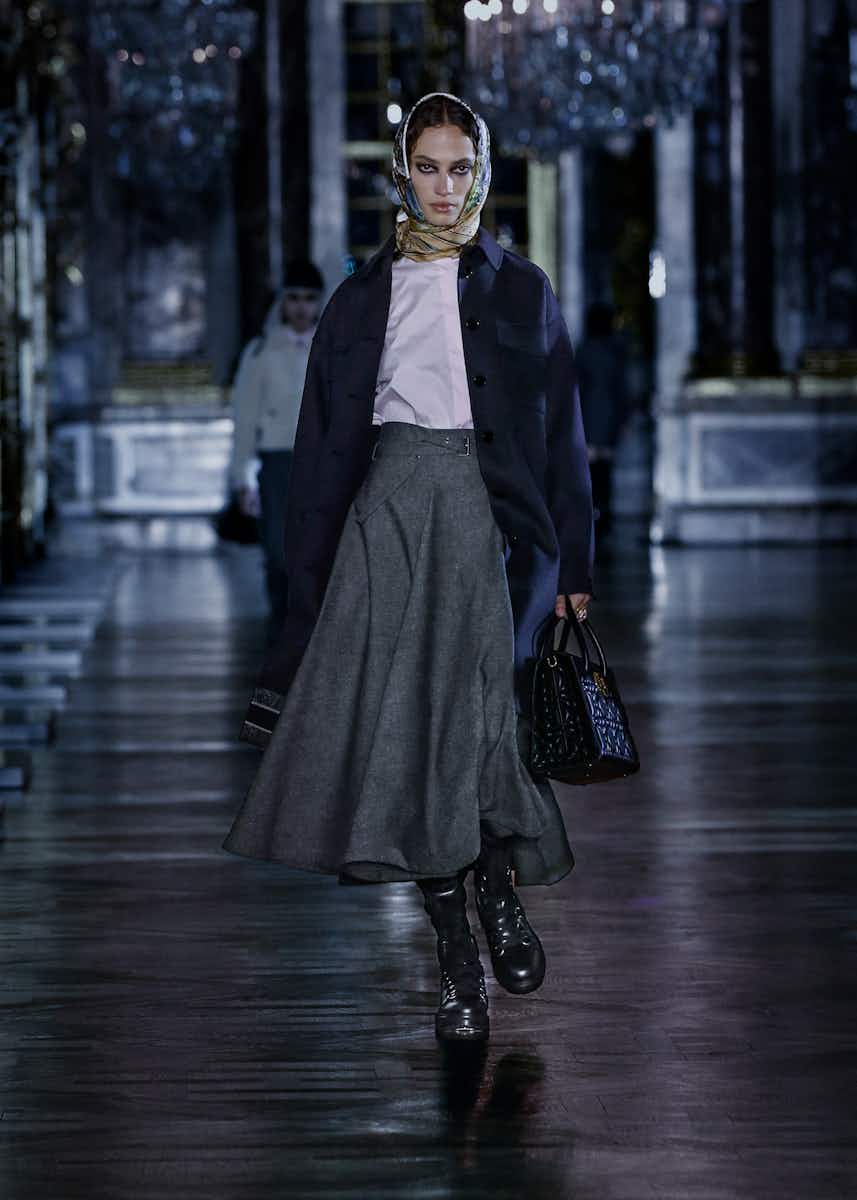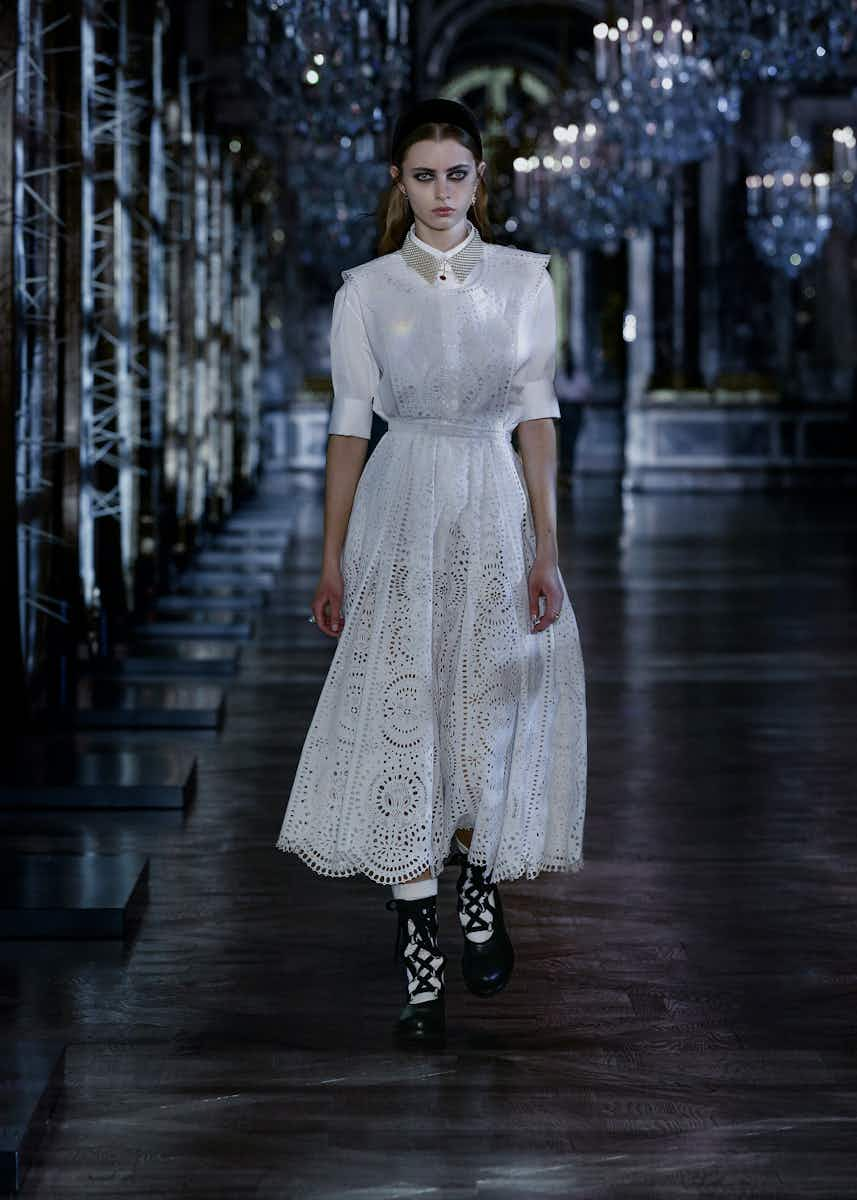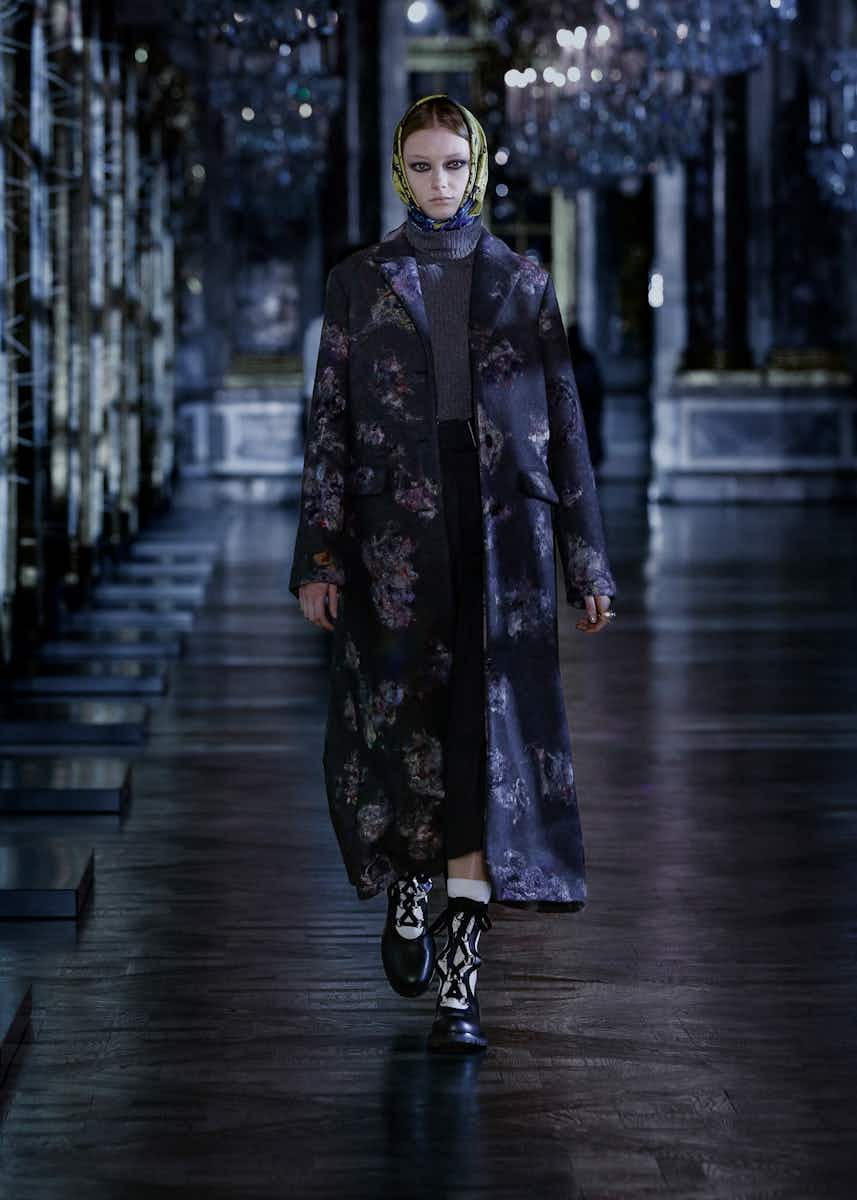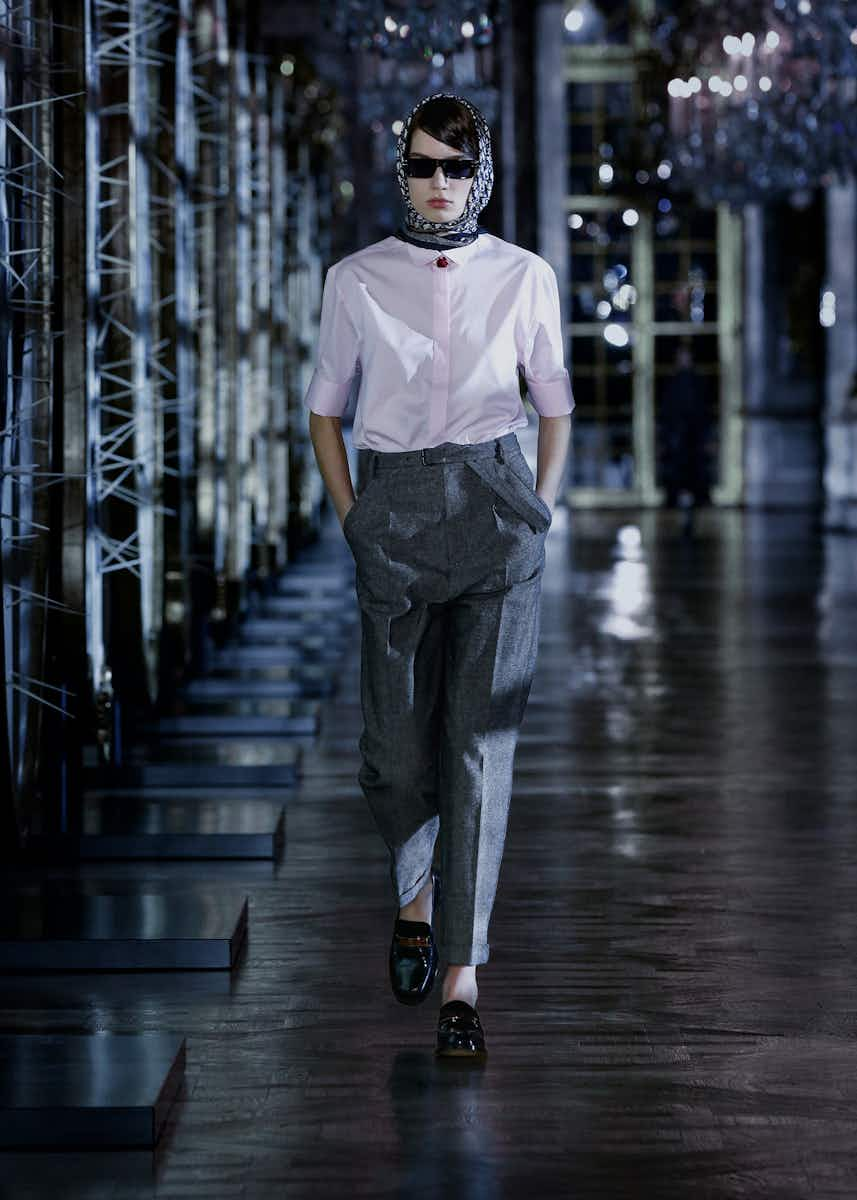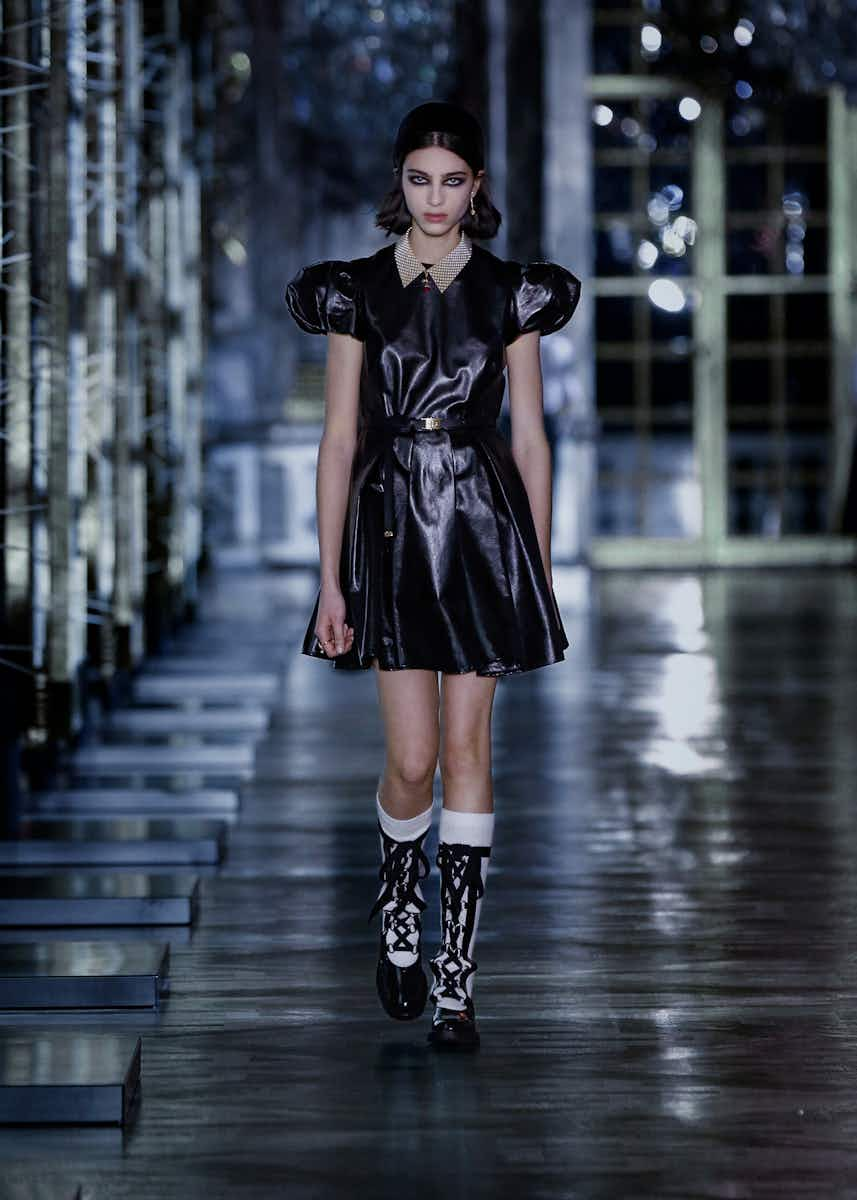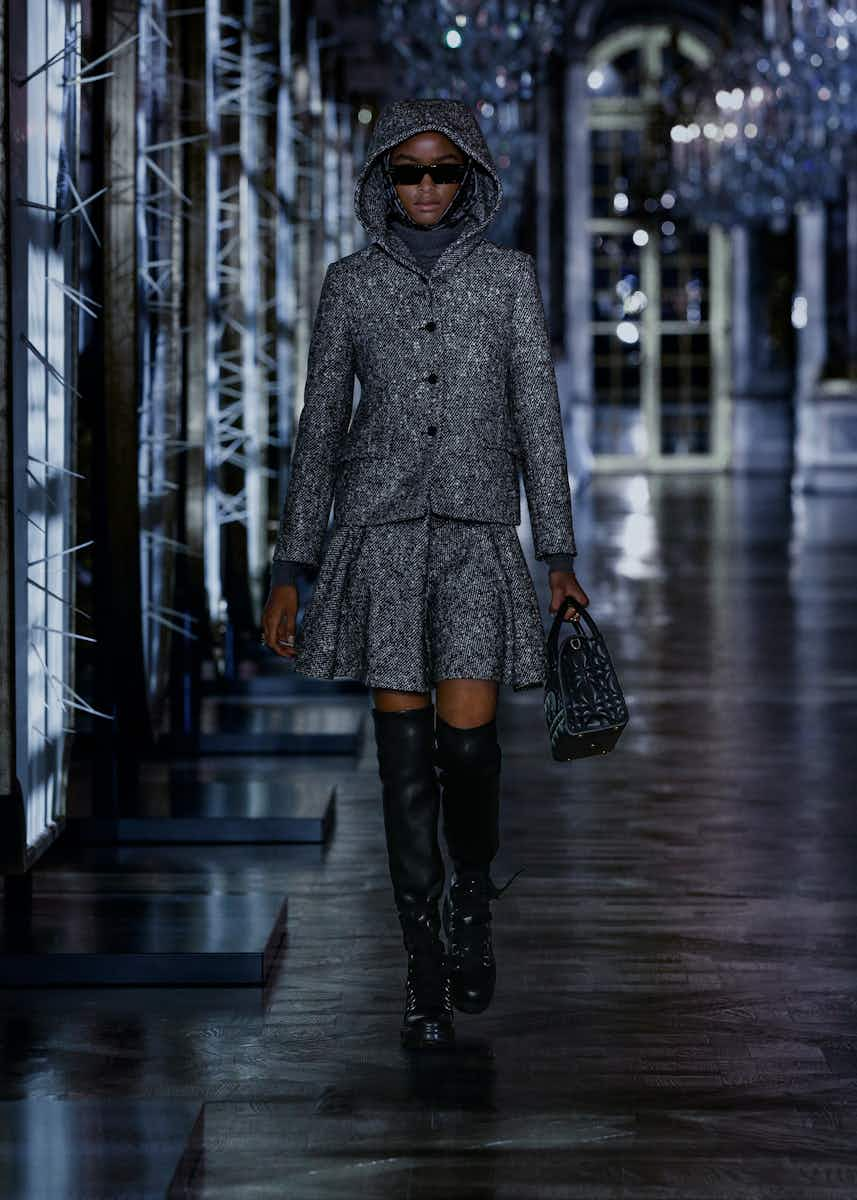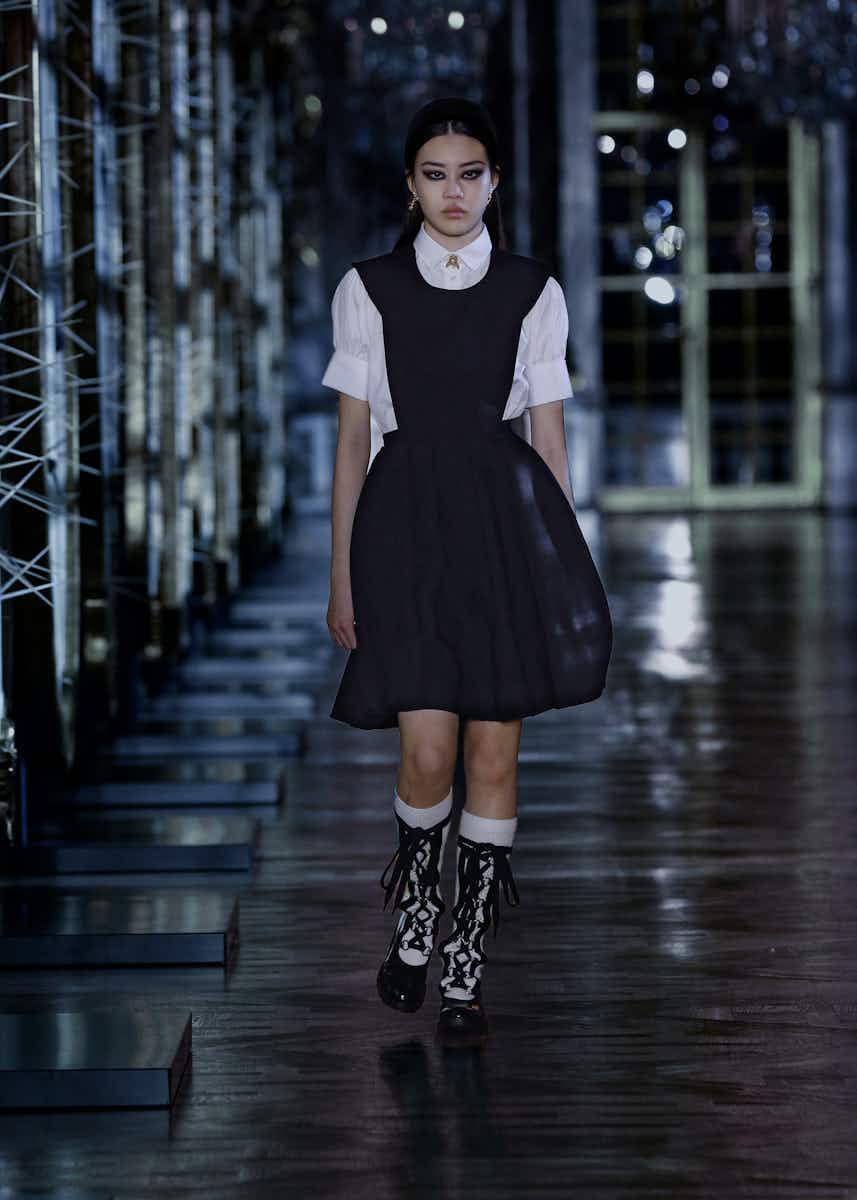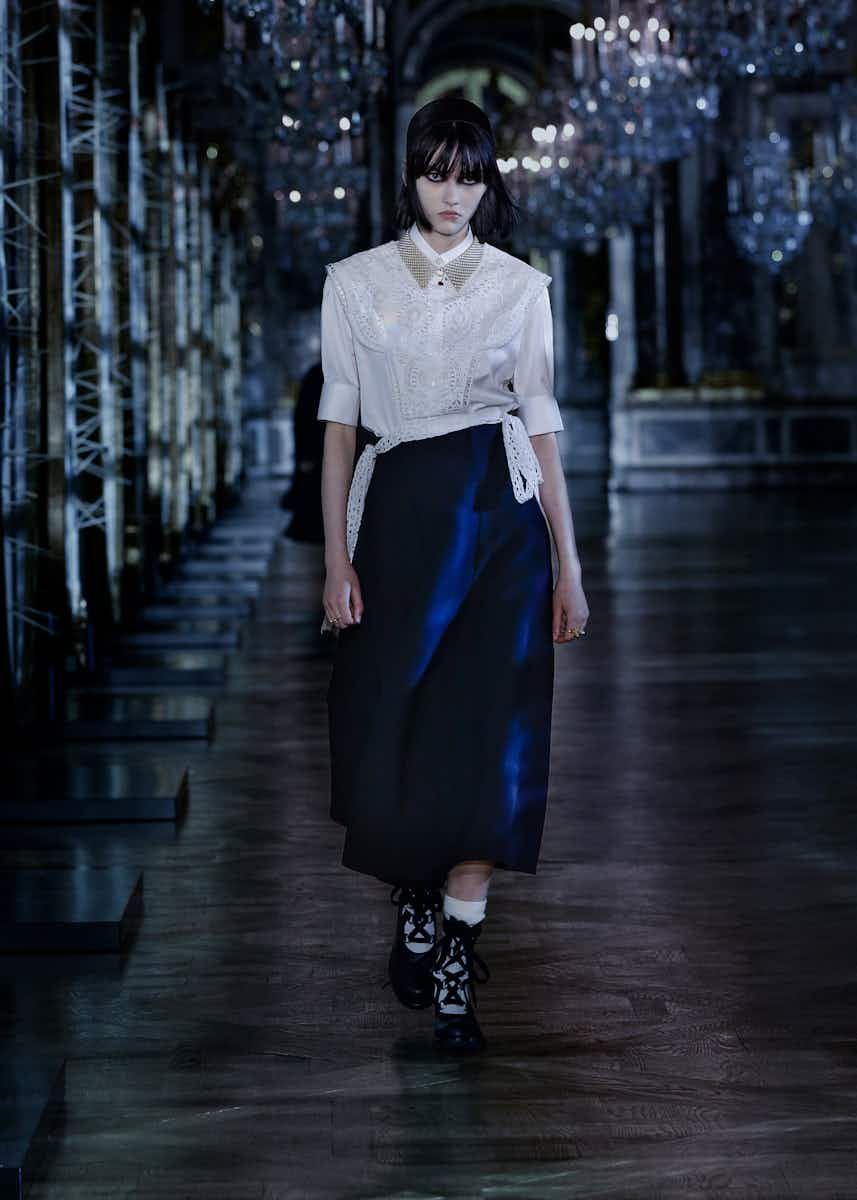 A meditative guide to the work/​play balance

Donatella Versace wholeheartedly accepted the postmodern approach to presenting collections this season. In the Italian house's AW21 show notes, she writes of her realisation that this digital age is the future, ​"the new way of communicating". Though it was during the filming of the show where Versace was really in tune with how the models ​"feel" in the clothes worn on the runway, and that despite fashion's tiring obsession with immediacy, ​"taking this time is crucial to form a genuine collection". And so Versace's Step Inside La Greca is the creative director's interpretation of the present and future, with a take on modern sexuality and dark desires.
The co-ed collection sought to re-establish five key elements of the house's DNA: contemporary codes, small silhouettes, intimate lines, a rebel spirit, and modular bags. The archival Greca print, all angular and geometric, is reinvented this season. Becoming a dynamic, immersive 3D maze it appeared on looks throughout the collection: namely, a vinyl trench coat cinched in at the waist, a sharply angular blazer and skirt co-ord, jacket lapels, and a super slinky shift dress worn by Bella Hadid. Following last season's hyper-modern, glistening take on an underwater world – a nostalgic trip exploring Versace's sensual approach to sexuality in the ​'90s, this season appears to be power-play rooted in a vision for life post-pandemic and back to work. Balancing out the poppy colour palettes of canary yellow and fuchsia, silhouettes are reduced in volume, snipping shoulders to become rounded, cinching waists and skirts revert to an A‑line shape. Trousers are also neatly cropped, allowing the ever-present La Greca print to take centre stage.
But there's still fun to be had. Versace has subverted the house's Medusa head into a graffitied smiley, cornered by the La Greca borders and appearing on head scarfs, as well as key outerwear pieces. "[The smiley is] considered a symbol of celebration, freedom and dancefloor communities," the press release notes. And so too do the various nods to the sartorial codes of ​'70s disco – freeing flares, bare legs and technicolour in abundance, this collection takes its roots in Versace's past to offer a sharp take on our soon-to-be future: the work/​play balance. TJS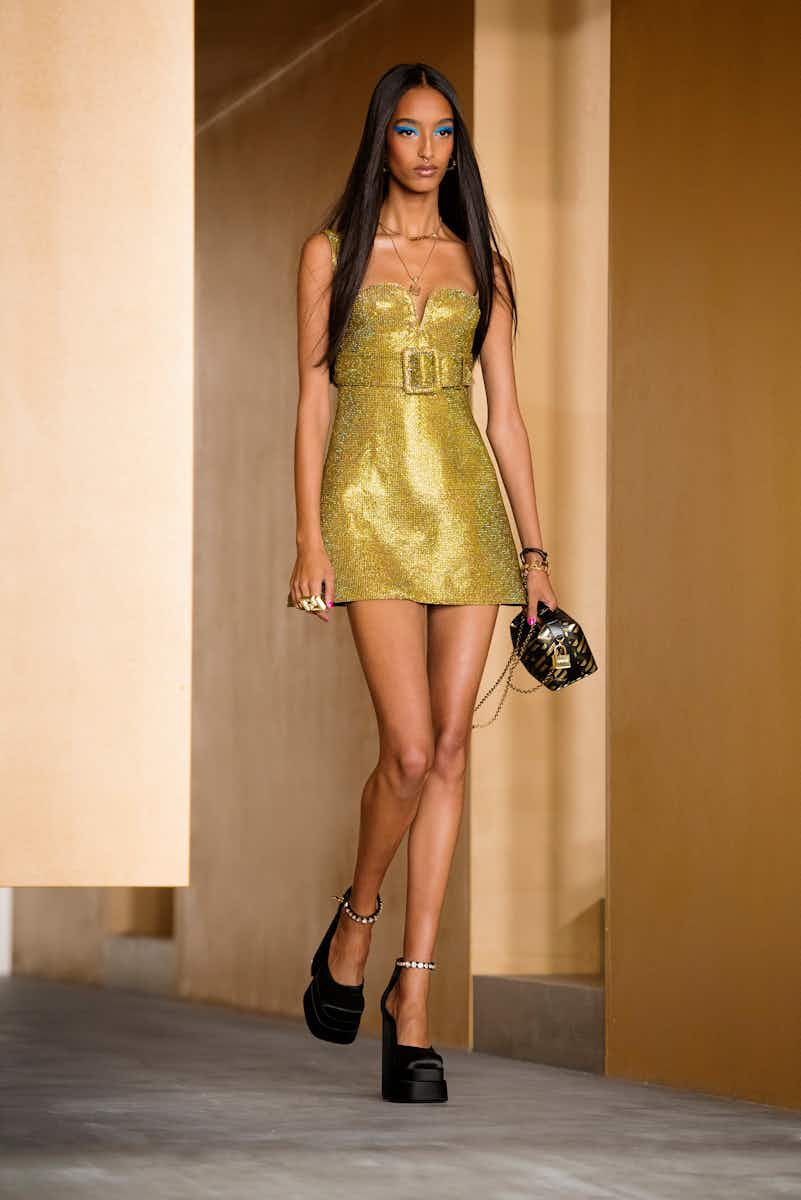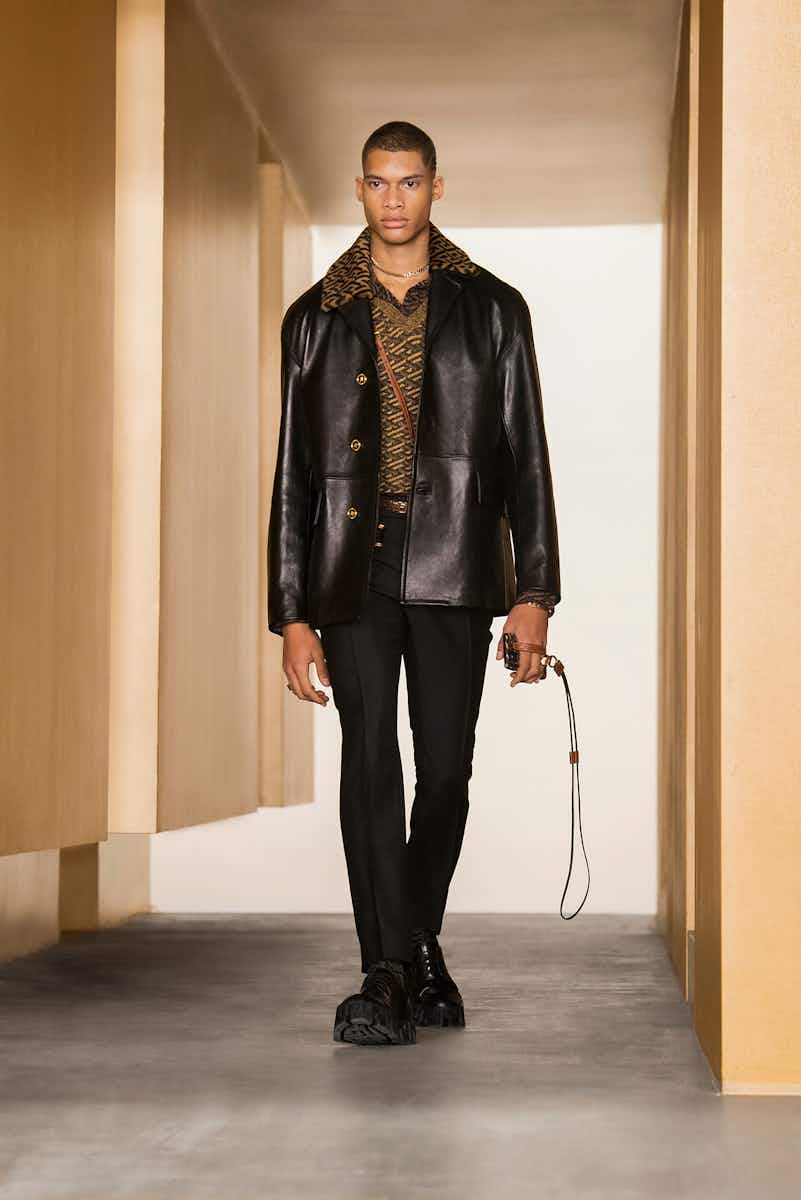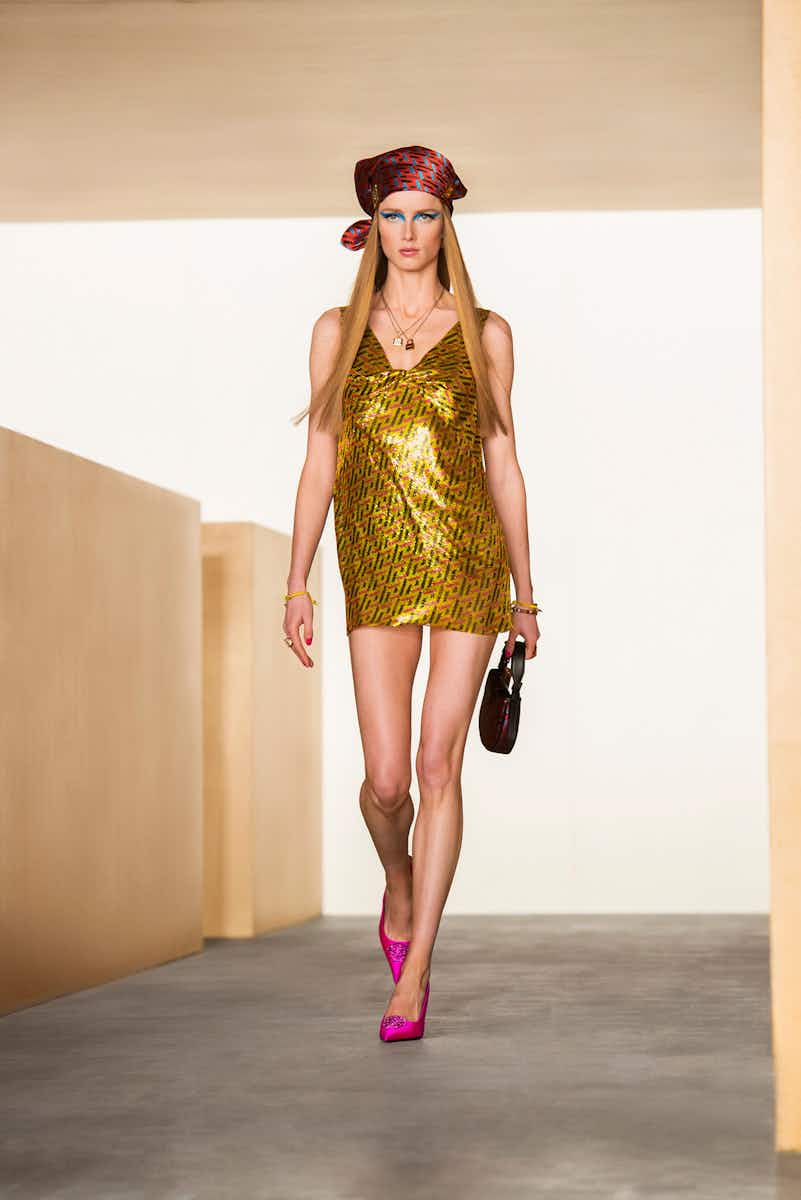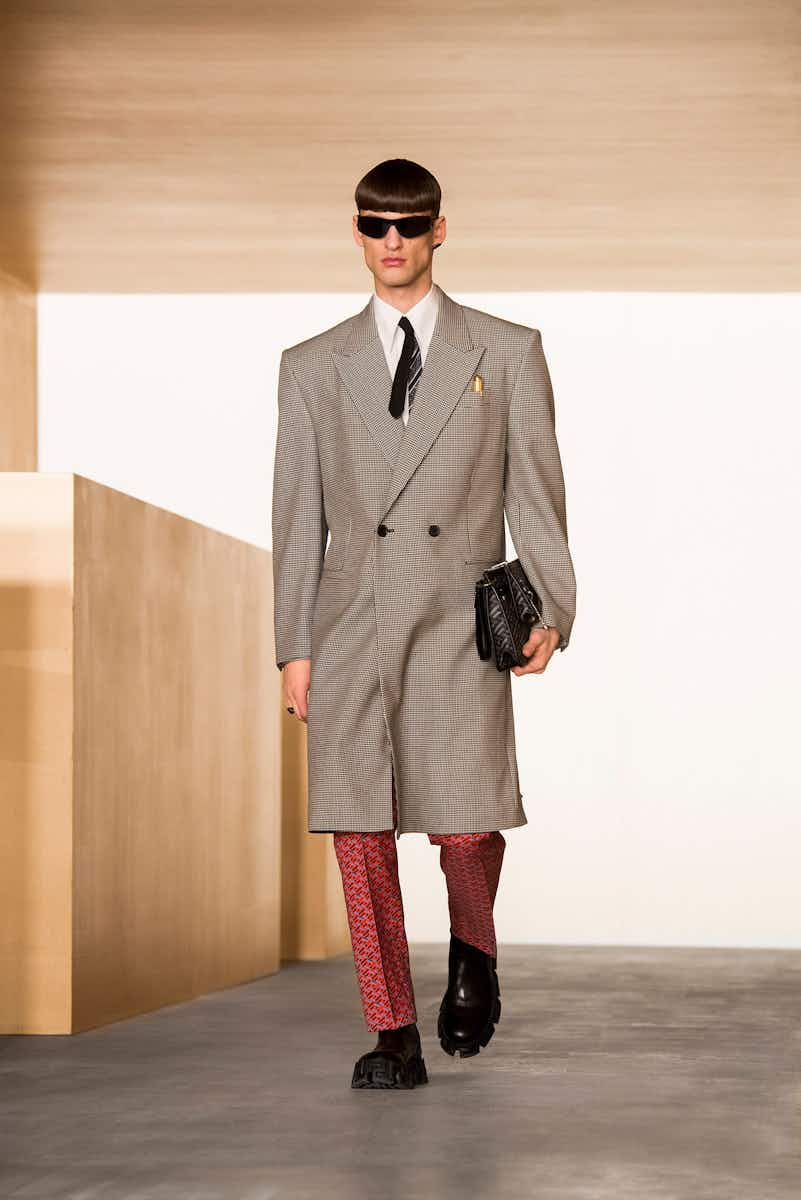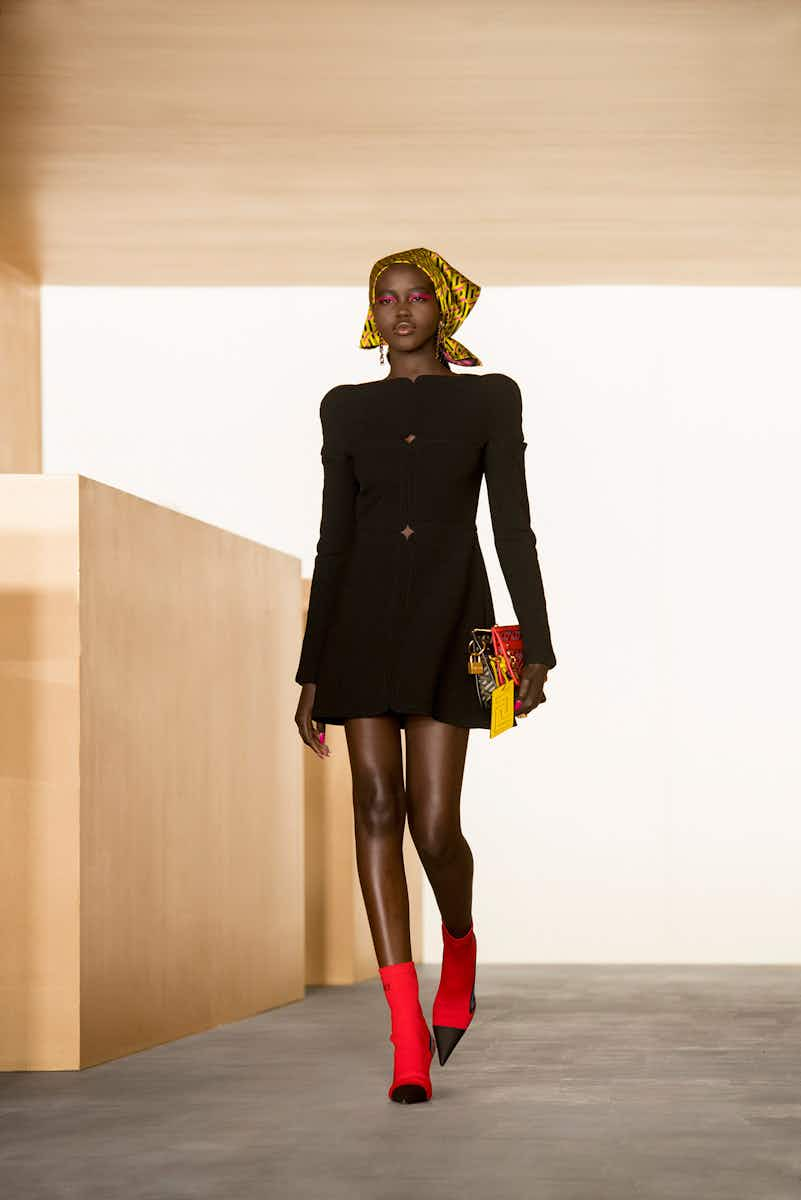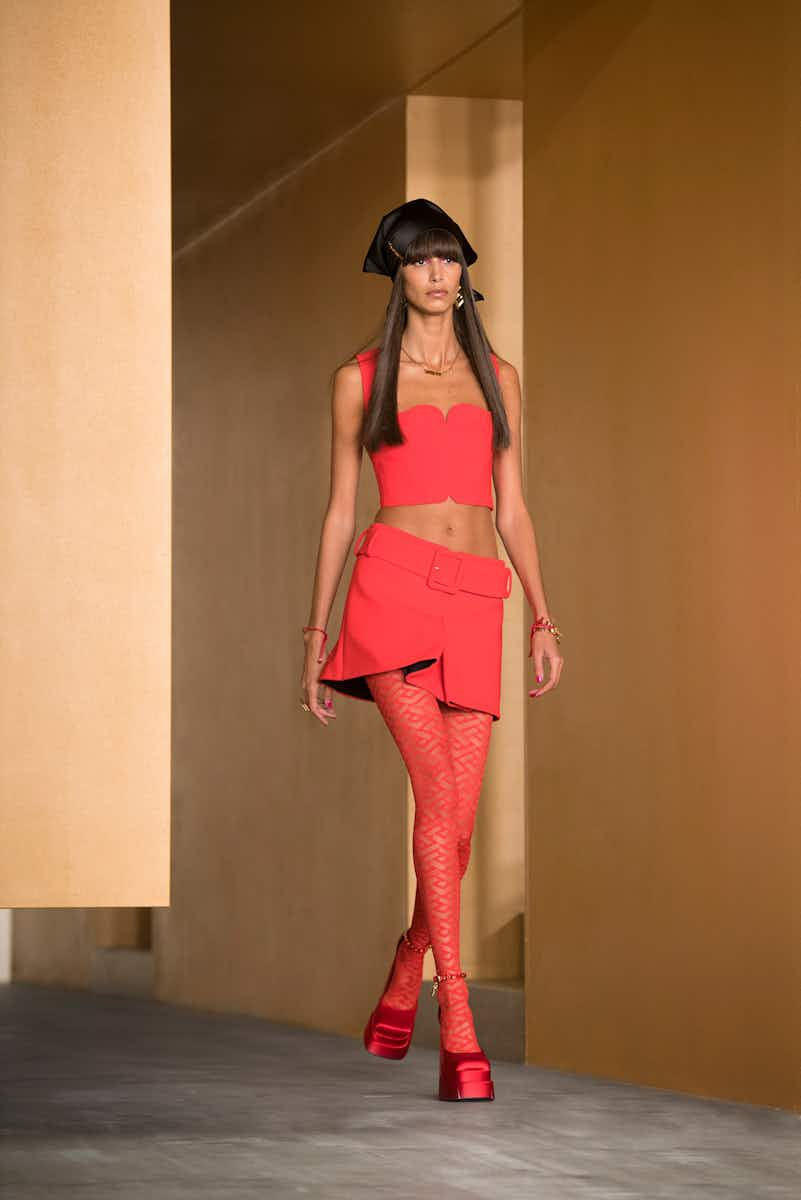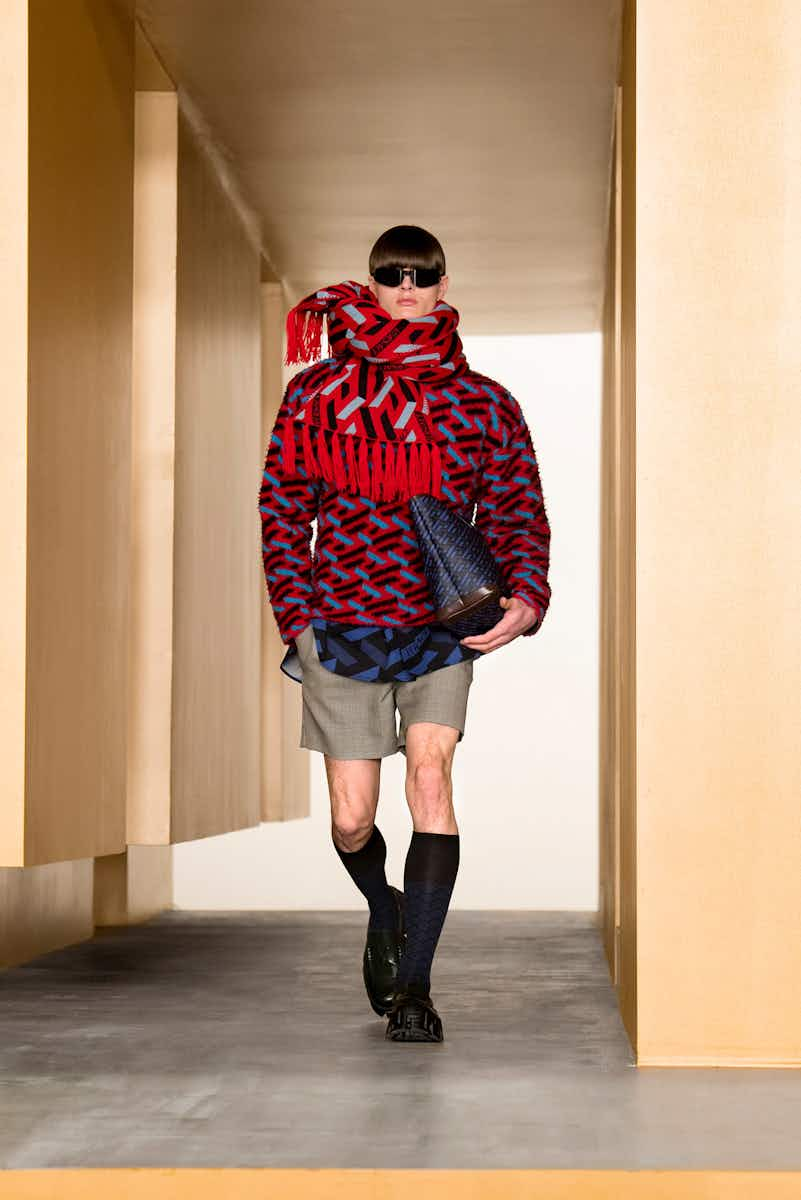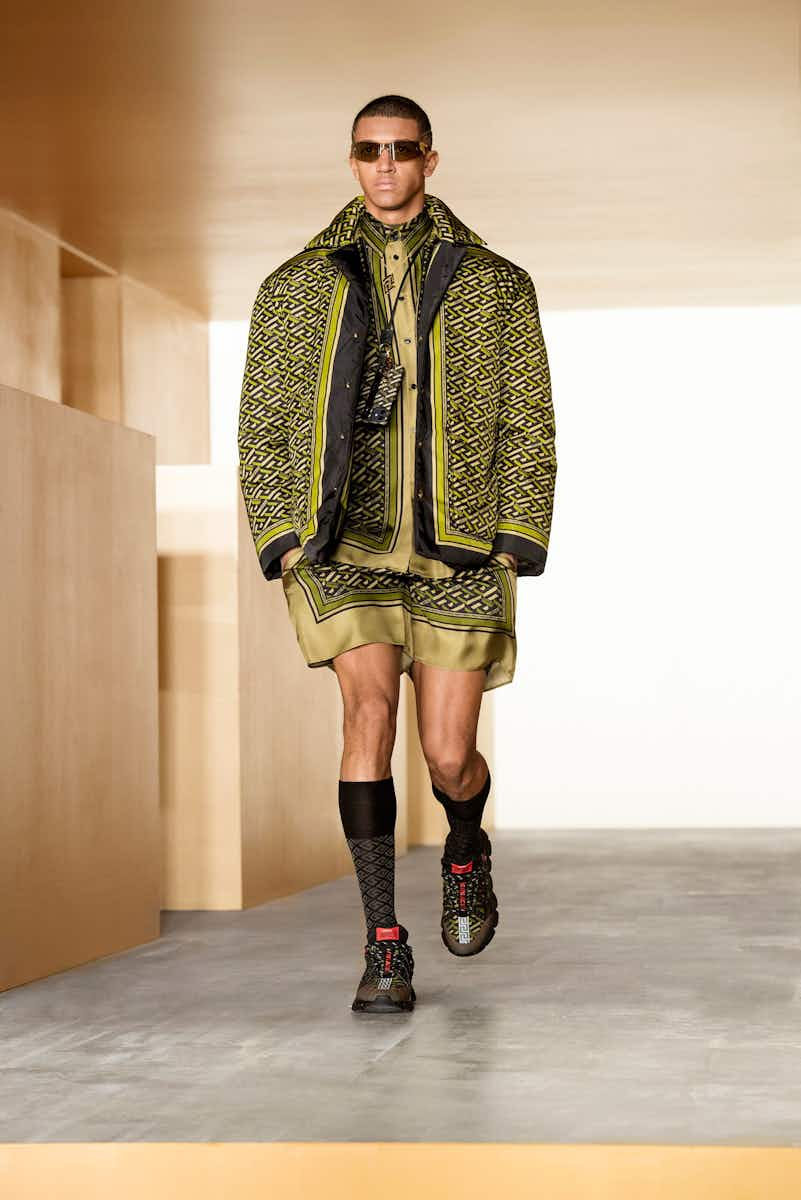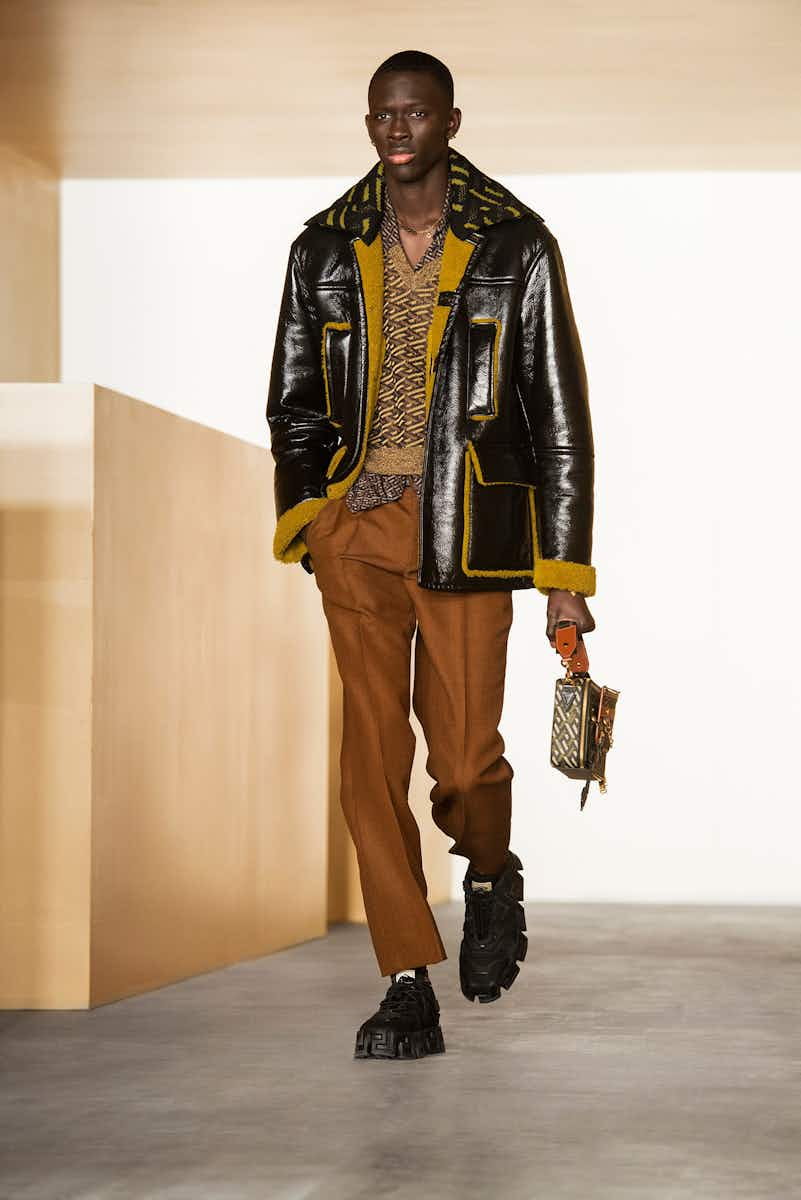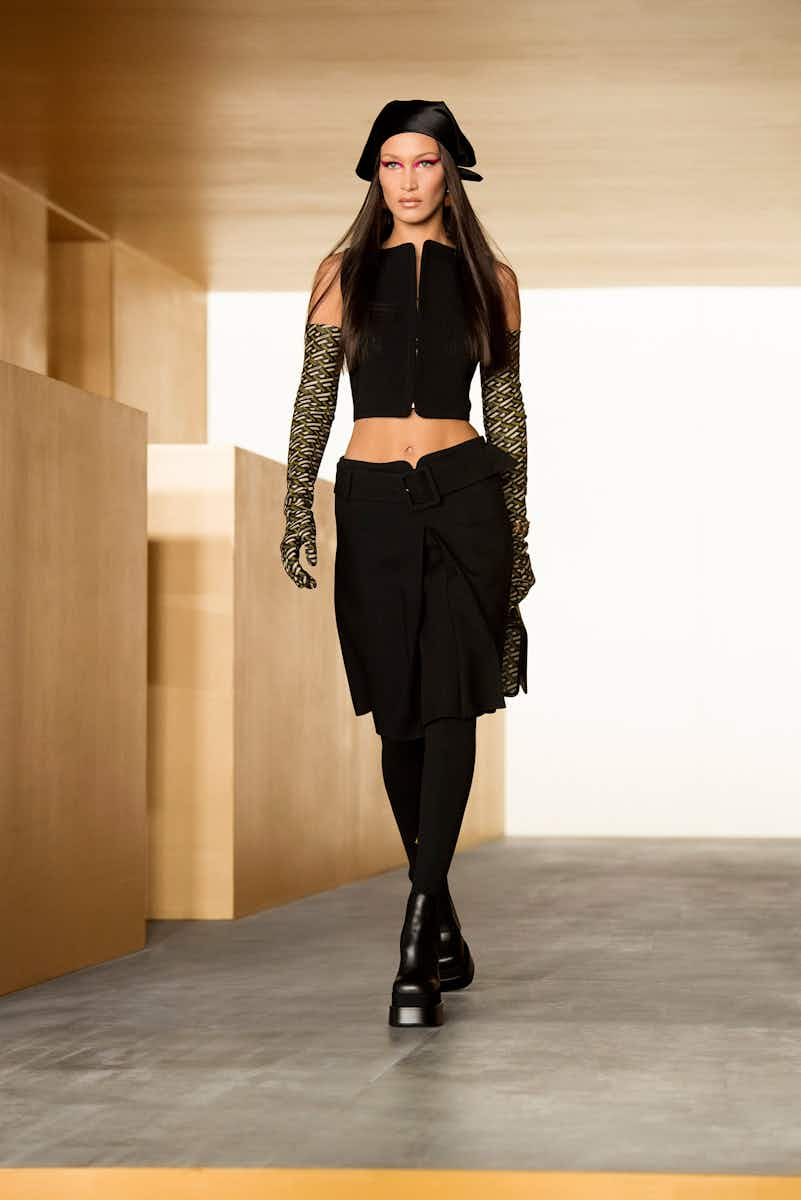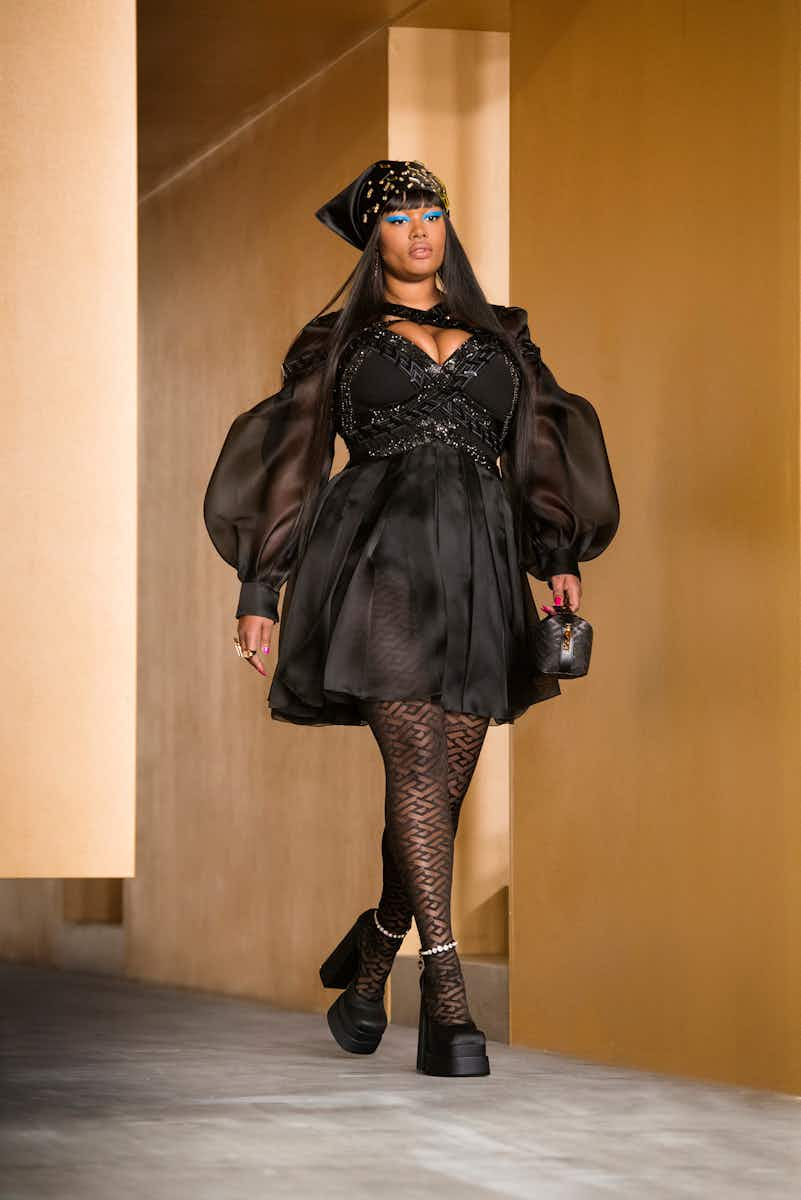 A sensual take on dystopian utilitarianism
Yesterday marked the unveiling of Matthew Williams' sophomore offering as creative director for Givenchy, and the presentation of his very first show. It was held at the Paris La Défense Arena, a suitably industrial setting for the utility-centric designer and his singular brand of hardware chic, set to a pounding soundtrack by minimal techno maestro Robert Hood.
Williams' inaugural collection, launched via a lookbook last October and laden with chains, padlocks and horns, promised a taste of things to come. His follow-up has undoubtedly galvanised – and super-sized – his vision.
Models stomped the wet, spotlit floor of the dark Paris stadium in armadillo platforms (an homage to Alexander McQueen, first debuted for SS21) and marshmallow-soled sneakers. An abundance of outer-layering, knitted headwear (including horned balaclavas and fluffy caps), and oversized fur mittens lent an air of dystopian adventure to proceedings. It was an effect amplified by Williams' luxurious take on a traveller's backpack, consisting of three detachable parts, and water bottles hanging from chains.
Chains, unsurprisingly, appeared throughout, in the form of chunky chokers, garment embellishment and bag straps. And padlocks, too, were sealed as a signature of Williams' Givenchy, worn as pendants or serving as fastenings on menswear jackets. Accessories, which the designer has described as his collections' starting point, were esoteric and sculptural in equal measure, from cross-body sling bags to geometric earrings and multi-faceted clutches. DW
Click here to continue reading

"[This collection is] about finding personal meaning in difficult circumstances," Williams revealed of his vision. ​"We wanted to bring a sense of lived reality alongside precision, elegance and extravagance." This underpinning duality was evident throughout the show as looks alternated between cocooned comfort – all silhouette-enhancing puffer jackets, gilets, and shaggy fur coats – and striking sensuality, enhanced by Williams' love of texture. Fetish-inspired bras framed models' nipples; knitted bodycon dresses and sheer column gowns clung to the figure; diagonally-slashed satin skirts simultaneously revealed and concealed.
That said, Williams didn't miss the opportunity to showcase his more traditional tailoring skills (a storied trademark of the Givenchy atelier). The collection features an array of immaculately cut suits for men and women, given a subtle edge courtesy of cut-out panels and sharp, angular shoulders. Williams also offered his take on evening gowns: shimmering, tantalisingly tactile numbers that cling to the body before exploding into wave-like ruffles at the hem.
Many have commented upon Williams' fanatical appeal among the new generation of fashion aficionados, a point hammered home by his widespread celebrity following and their vocal shows of support on Instagram in the buildup to both collection unveilings. And there's no denying his Gen Z appeal. Williams is steering Givenchy in a distinctly à la mode direction, but his finely honed, insouciantly cool aesthetic makes him just the man for the job.
An intimate celebration of womanhood

Nadège Vanhee-Cybulski's Hermès AW21 collection was one of quiet luxury and outward refinement. The show was presented in a punchy triptych of live streams, put together across three separate continents. The first took place in New York, with a dance performance choreographed by Madeline Hollander, then came the defilé itself in Paris and, finally, Shanghai, closing the affair with a dazzling choreographed piece directed by Gu Jiani.
Each performance was carried out against a backdrop of warm, glowing Hermès orange, laying bare a sense of Amazonian female strength, confidence and resilience. ​"The collection is an expression of the desire to explore the sensuality of new mythologies," Vanhee-Cybulski said in the show notes, intent on building a sense of liberation for the Hermès woman this season.
Pushing the boundaries of traditional tailoring, a suit is cut parka-style alongside cycling pants and padded anoraks. Athletic sensibilities were offset by creamy cashmere blankets and coats, while ponchos with integrated scarves evoked a sense of grandeur without restricting freedom of movement.
Leather was present in many forms, too: quilted jackets embellished with studs, padded, fur-lined coats, a black fringed poncho with a cinched waist and, of course, the Birkin bag, all conjured up the adrenaline of pre-pandemic fashion shows – and then some. JW

An imaginative, versatile merging of folklore and techno

Was Isabel Marant's AW21 collection a vision of the past or a projection into the future? This is a question the designer posed in the show notes this season, and one that she set out to answer through clothes. Navigating this abstract notion via relaxed silhouettes, flamboyant colours and psychedelic paisley prints, the collection symbolised a convergence of genres and eras.
There were folk references to 1960s music legends Jimi Hendrix and Janis Joplin, with bright floral bodysuits and billowing sleeves strutting down the runway, accessorised with loose-fitting suede waistcoats, or a patterned skirt worn with a shearling bolero, embellished leather belt and Texan boots – which was ever-present throughout the looks.
These were interwoven with nods to the Gabber scene originating in Rotterdam, shaking up the ​'90s with its heavy electric techno rhythms. Off-white guipure tops and dresses were soon offset by dark, raw wool materials and elegant tailoring; other pieces had sporty, utilitarian undertones and boasted vibrant yokes around the neckline, appearing in a smooth transition.

Shot in a brutalist, open-air building on the outskirts of Paris and accompanied by musician Gabber Eleganza's folky tones and booming techno 808 beats, this collection was more than a nod to pre-pandemic parties – it looked back in order to look ahead, using nostalgia to imagine an optimistic future. JW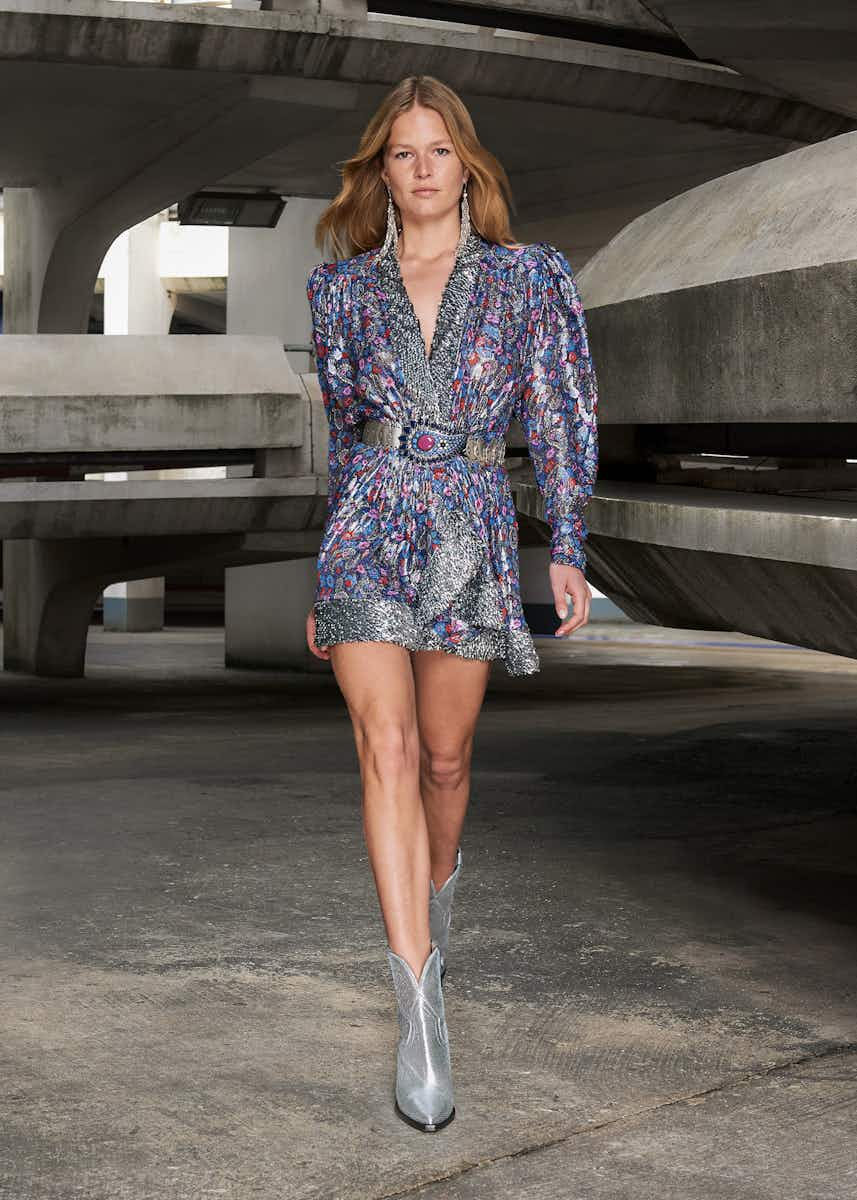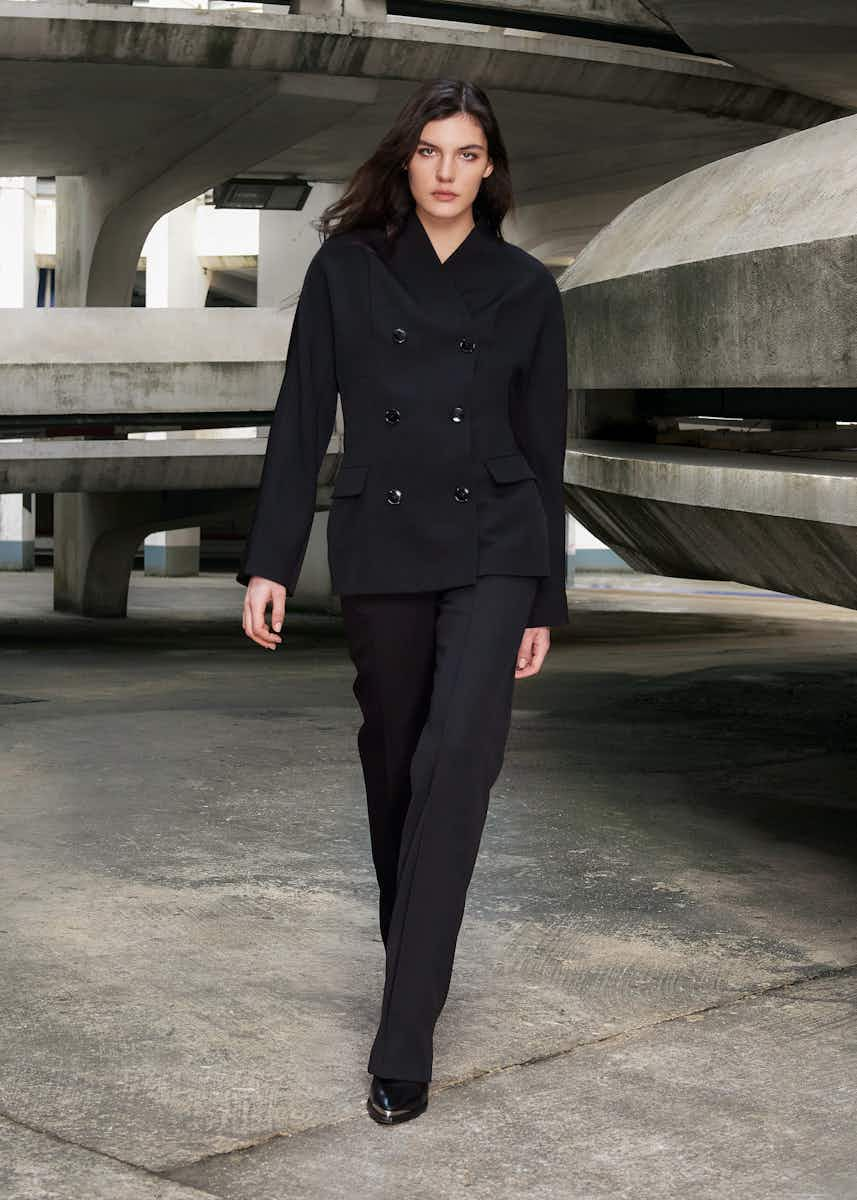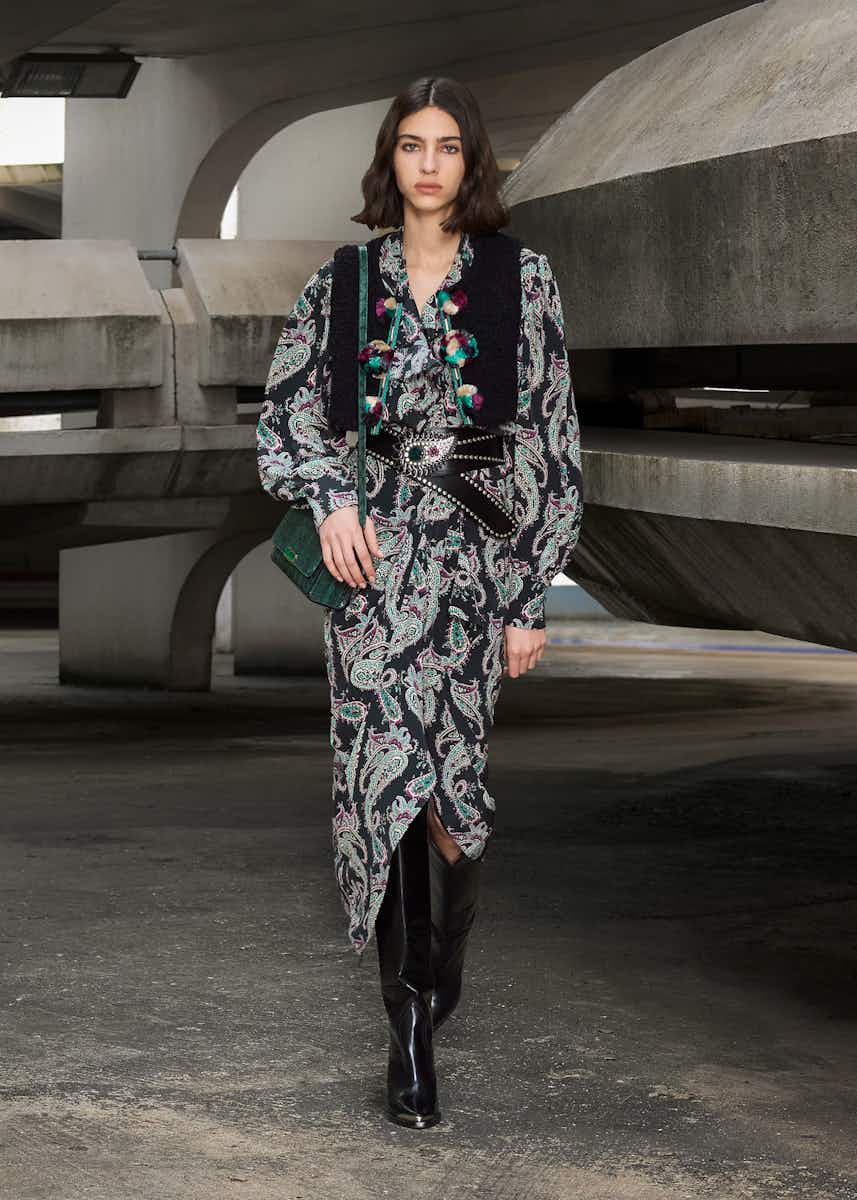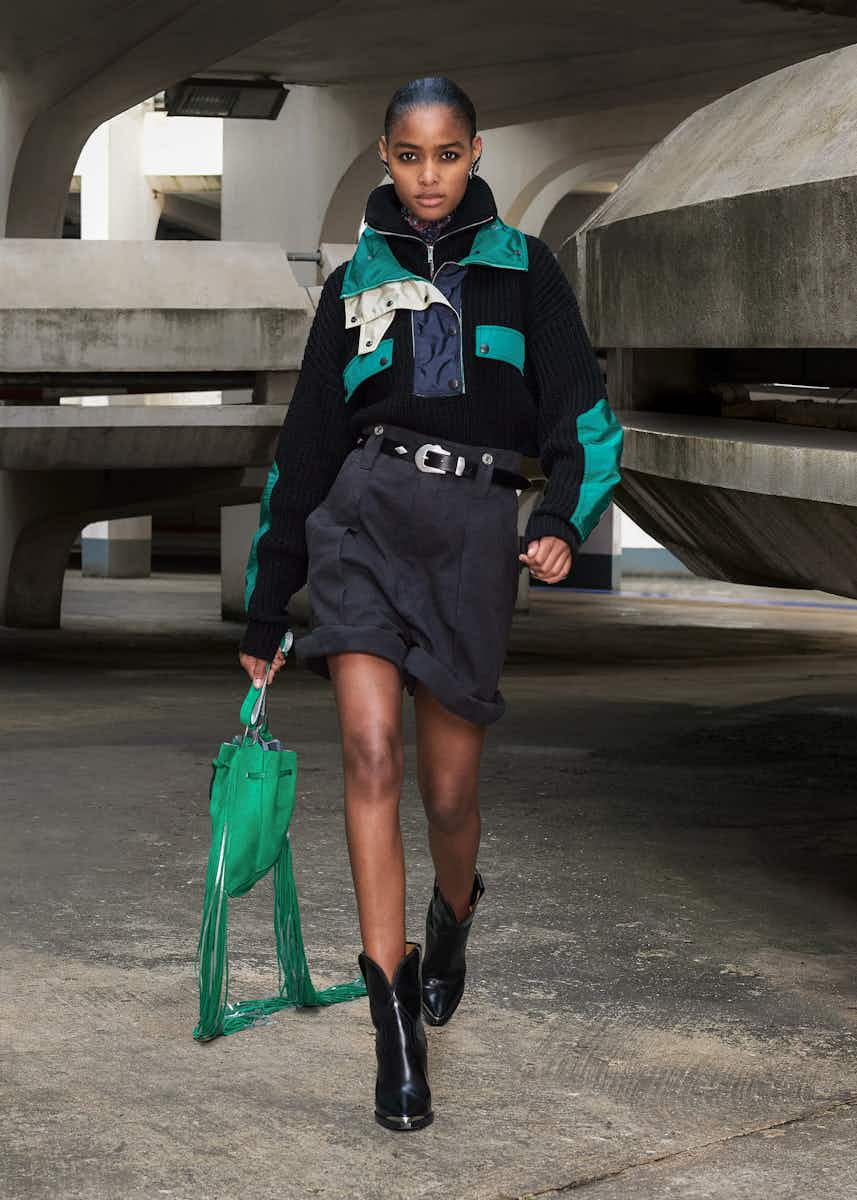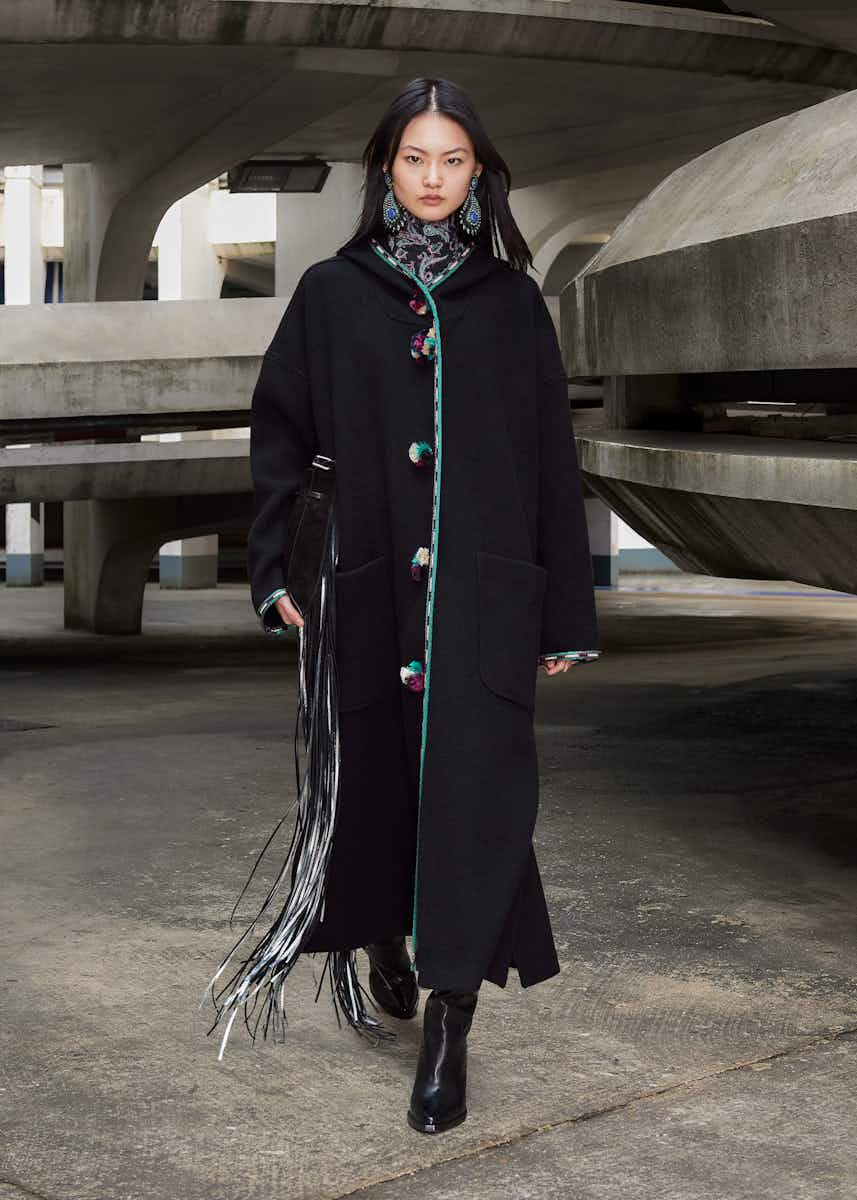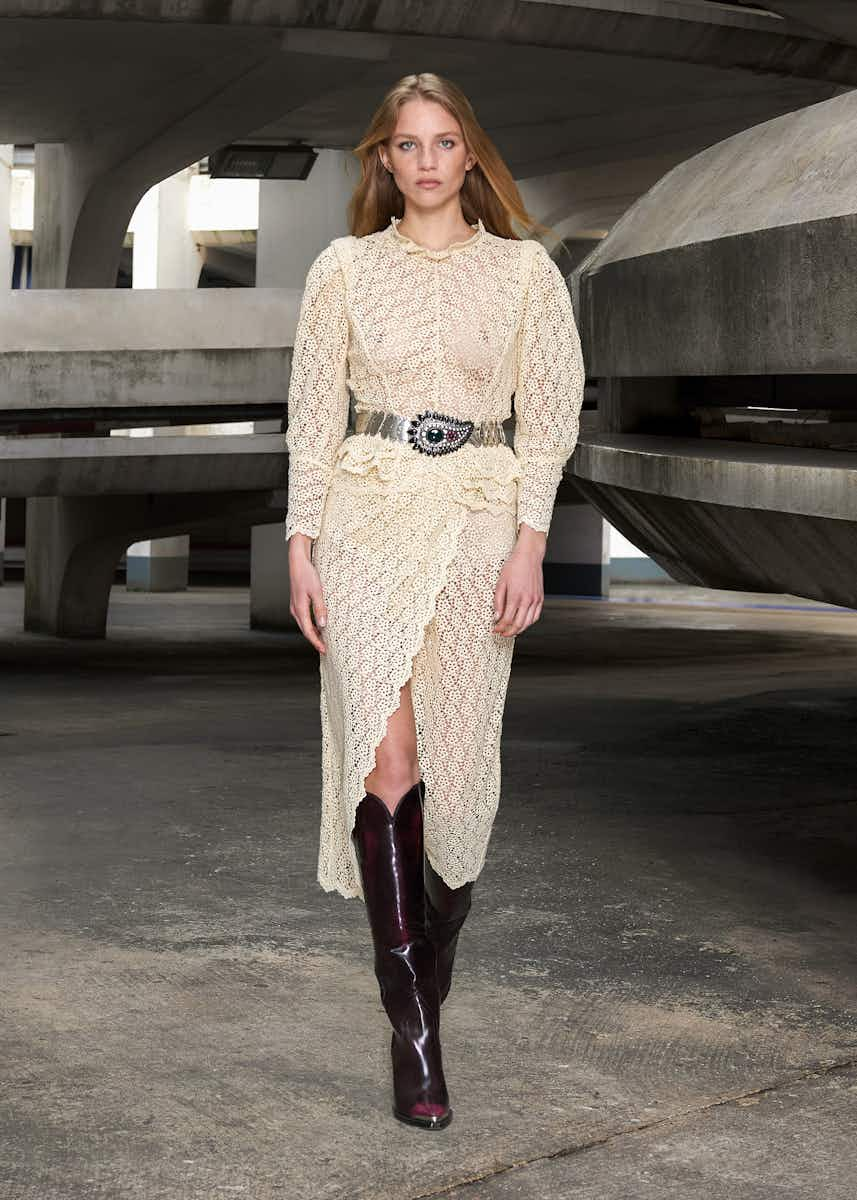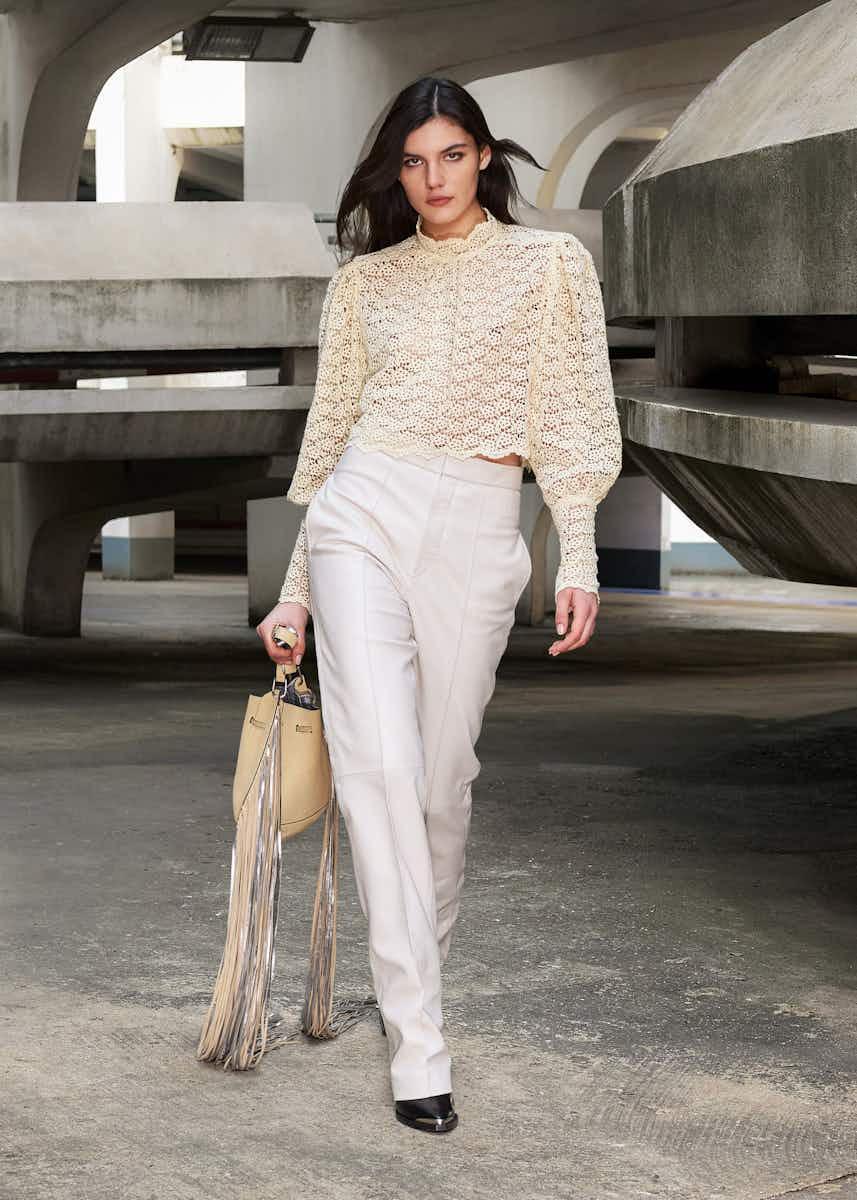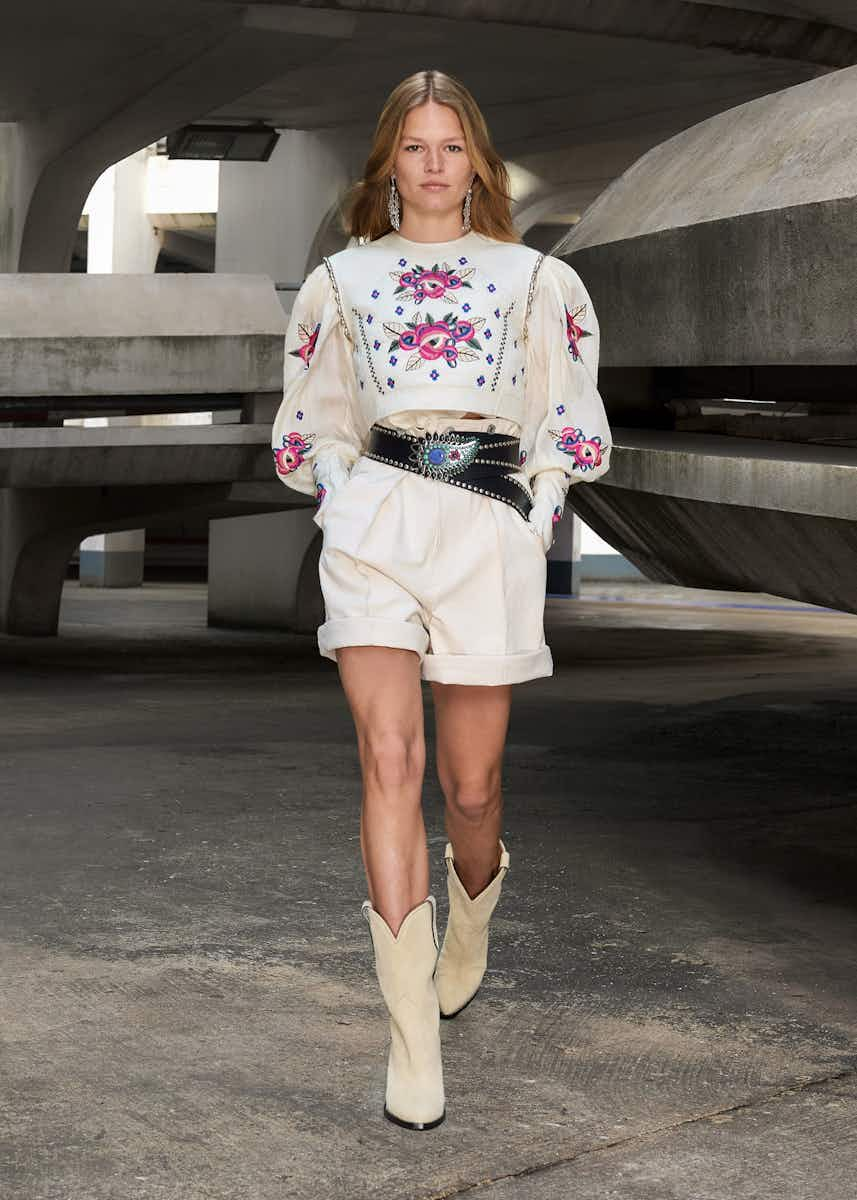 ANDREAS KRONTHALER VIVIENNE WESTWOOD
Frothy frivolity off-set by the classic codes of the English gent
My Fair Lady becomes Mayfair Lady in Andreas Kronthaler for Vivienne Westwood's sensually subversive AW21 collection. Taking cues from Frederick Loewe's 1964 musical, Kronthaler and Westwood took the profoundly human, cockney character of Eliza Doolittle as a musing for strength, resilience and determination. Lyrics from songs like Wouldn't It Be Loverly (​"All I want is a room somewhere/​Far away from the cold night air/​With one enormous chair/​Oh, wouldn't it be loverly?") becomes a frothy land of make-believe through pastel shades, cutesy argyle knits, fairy tutus and satin sandal clompers. Taking cues from the musical's storyline which revolves around the East End character taking speech lessons from professor Henry Higgins to ​"pass as a lady", the collection references the sartorial codes of the English gent – a common thread in the brand's archive. A swooping, charcoal grey trench coat, classic shirting – blown up in proportion, and blazers are merged with the frivolity of bright pink hair, holes in tights and monster platforms.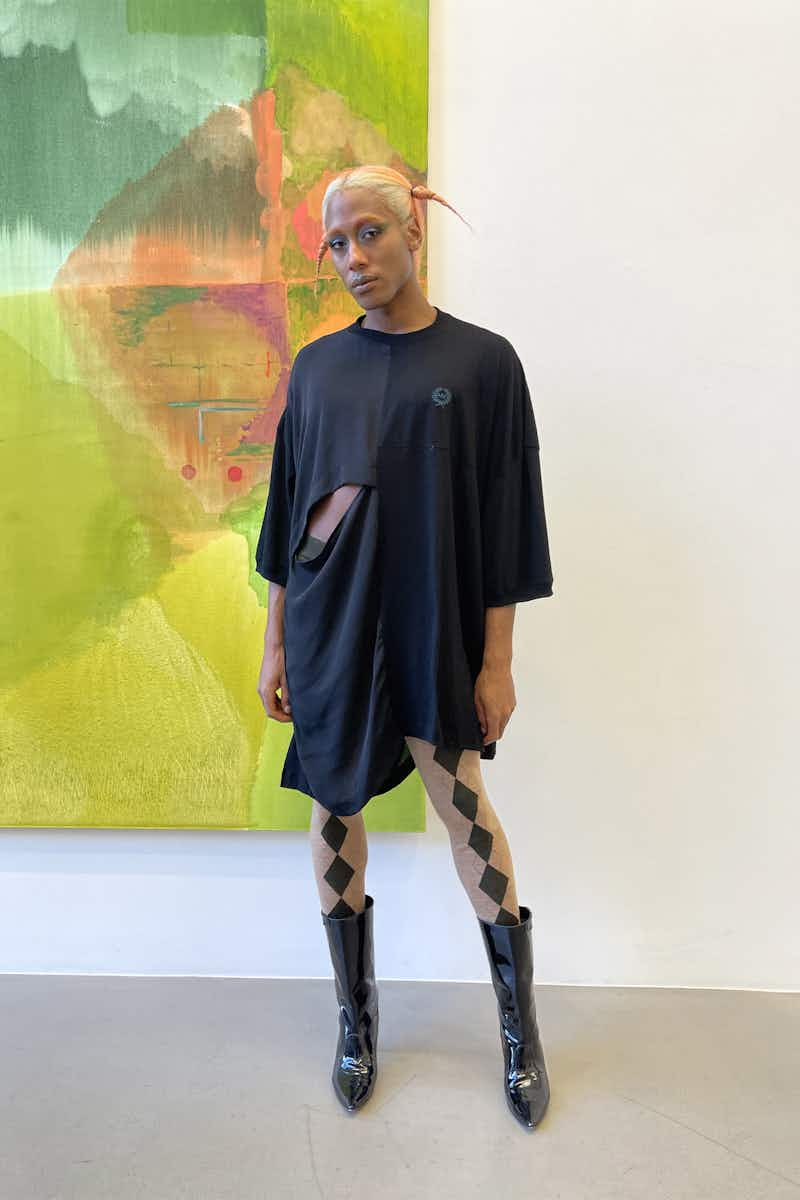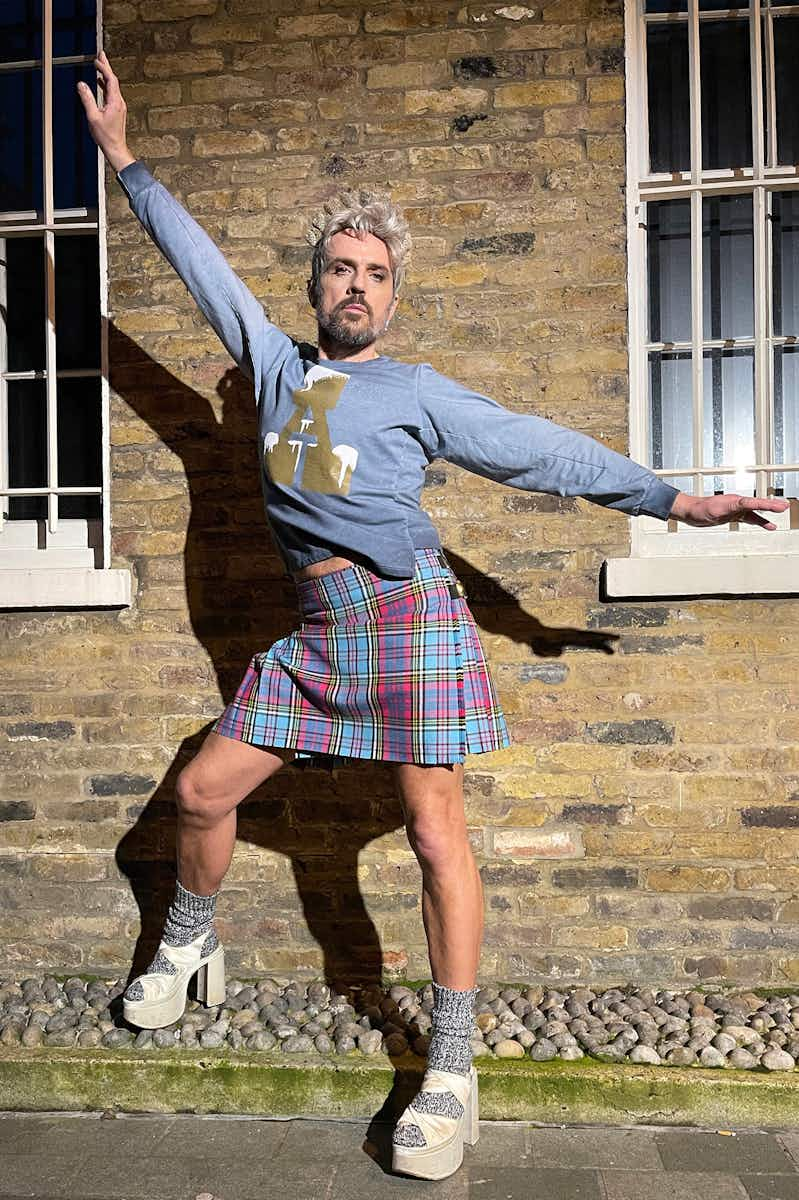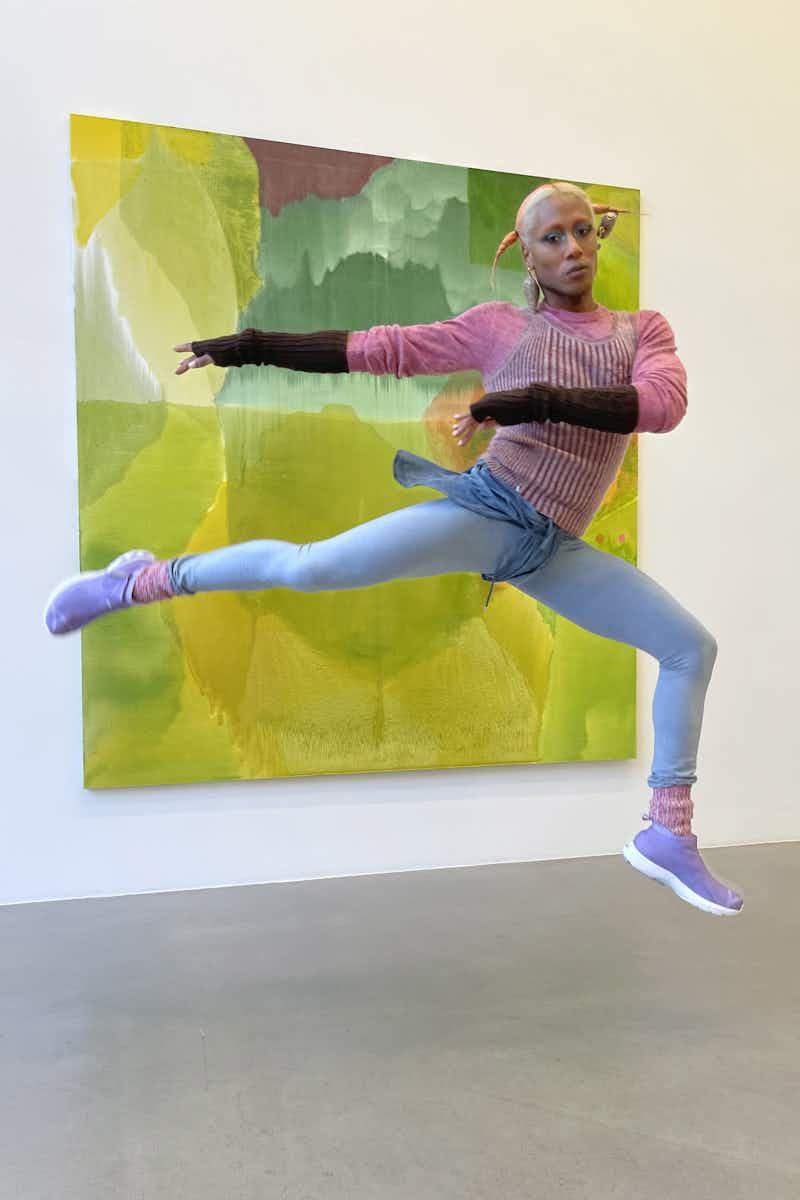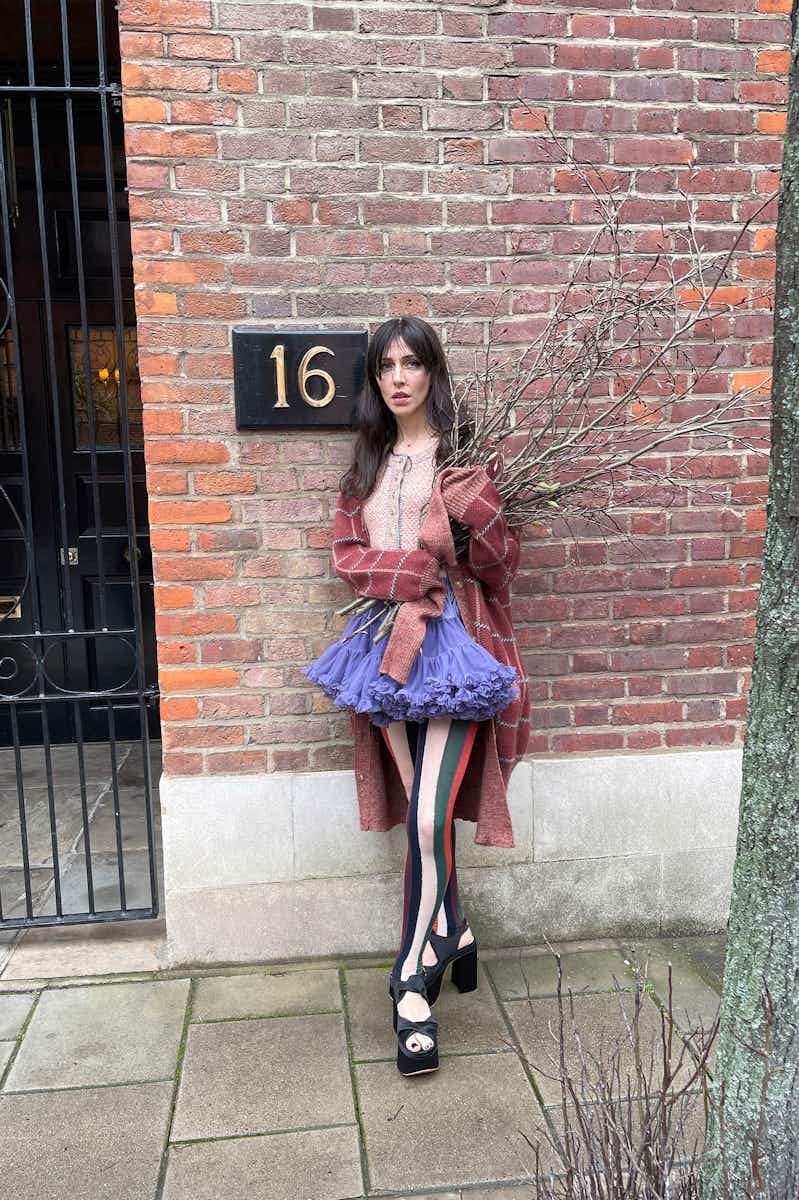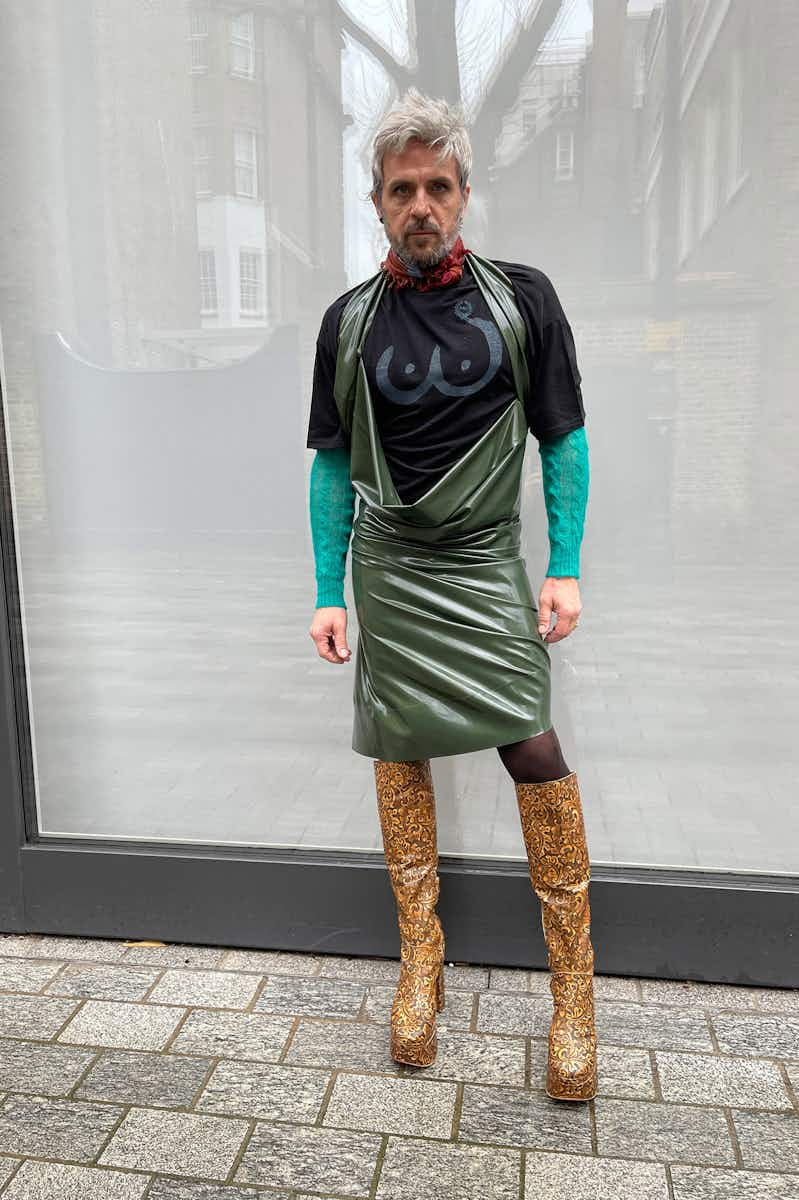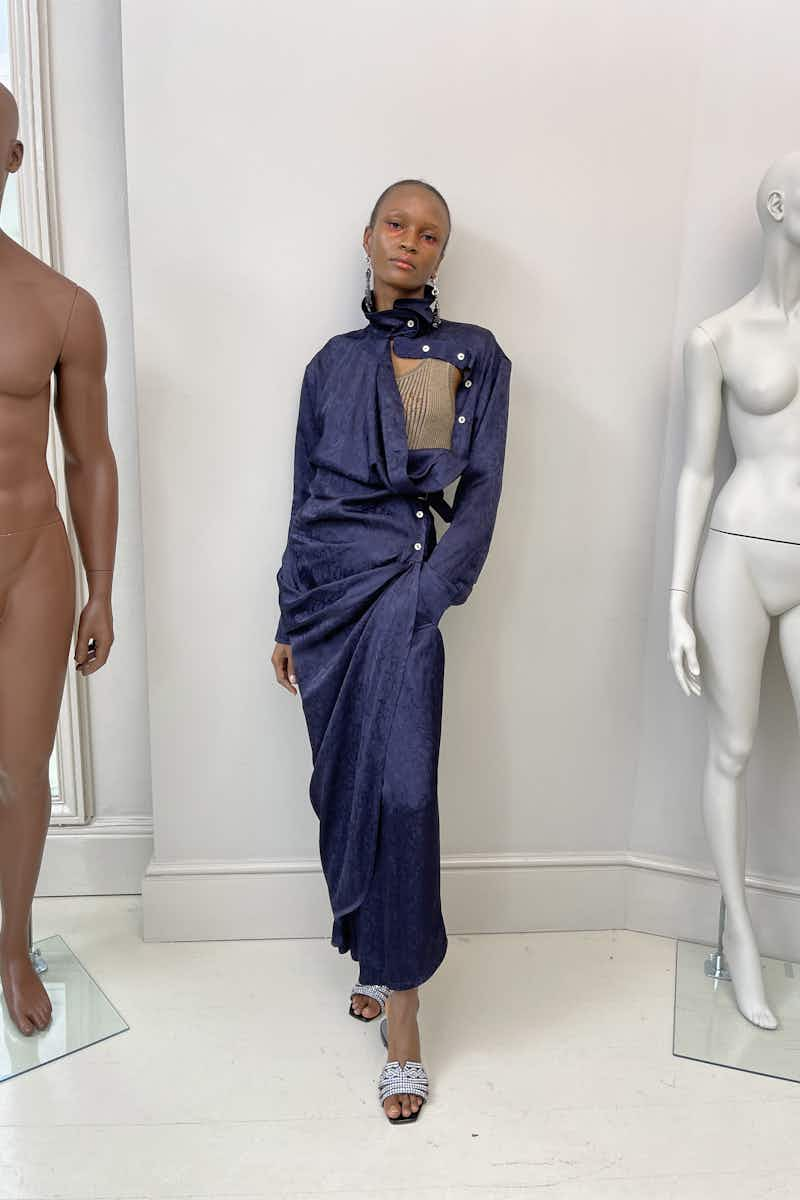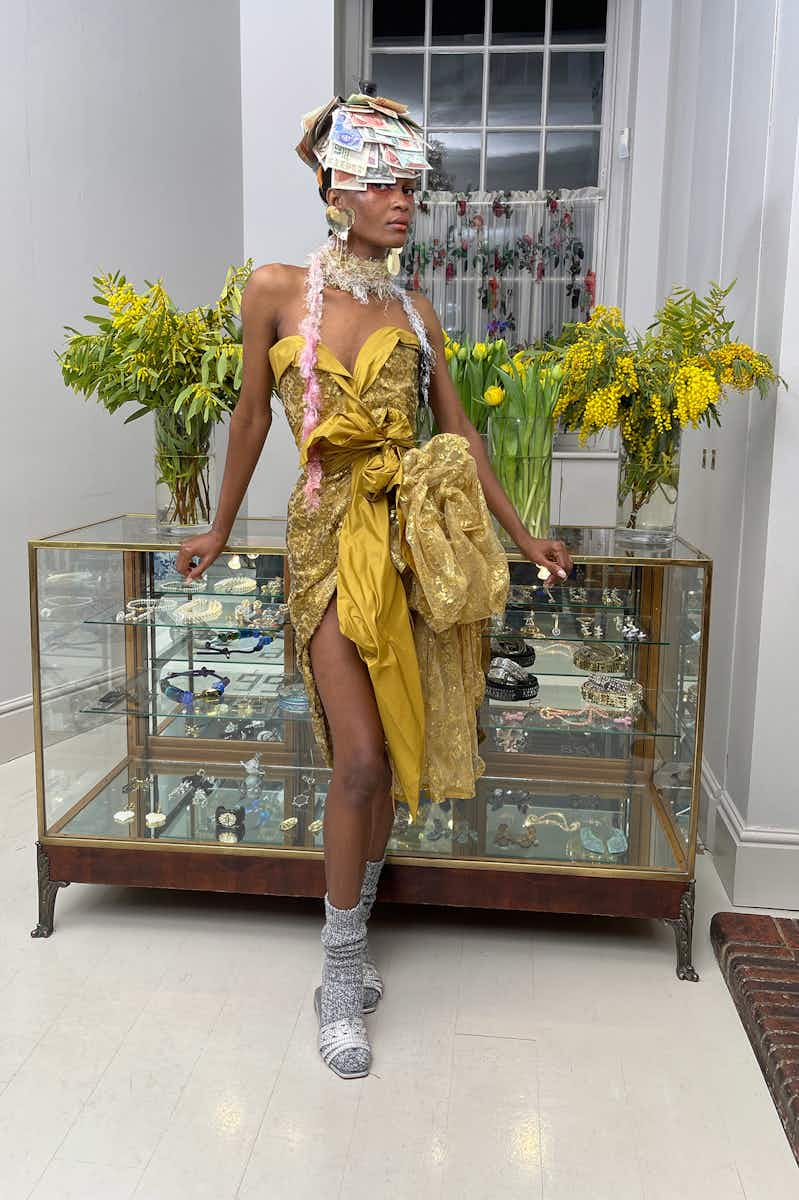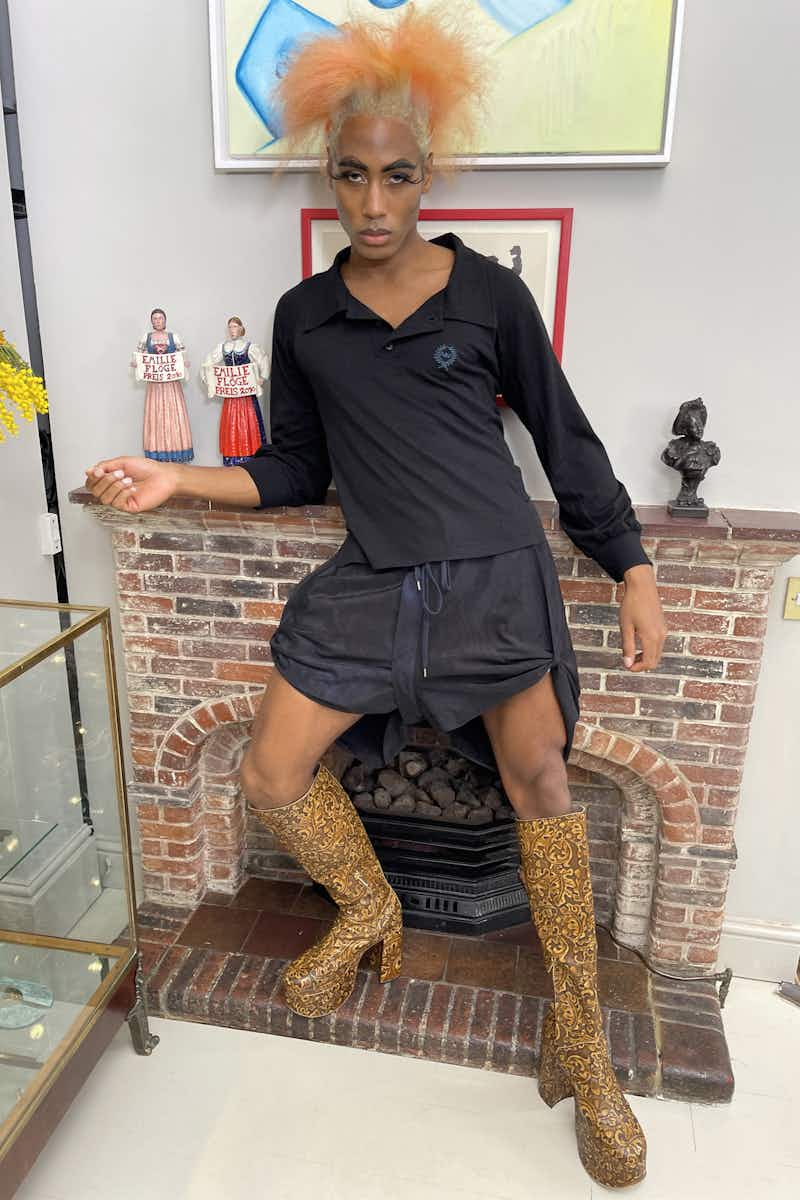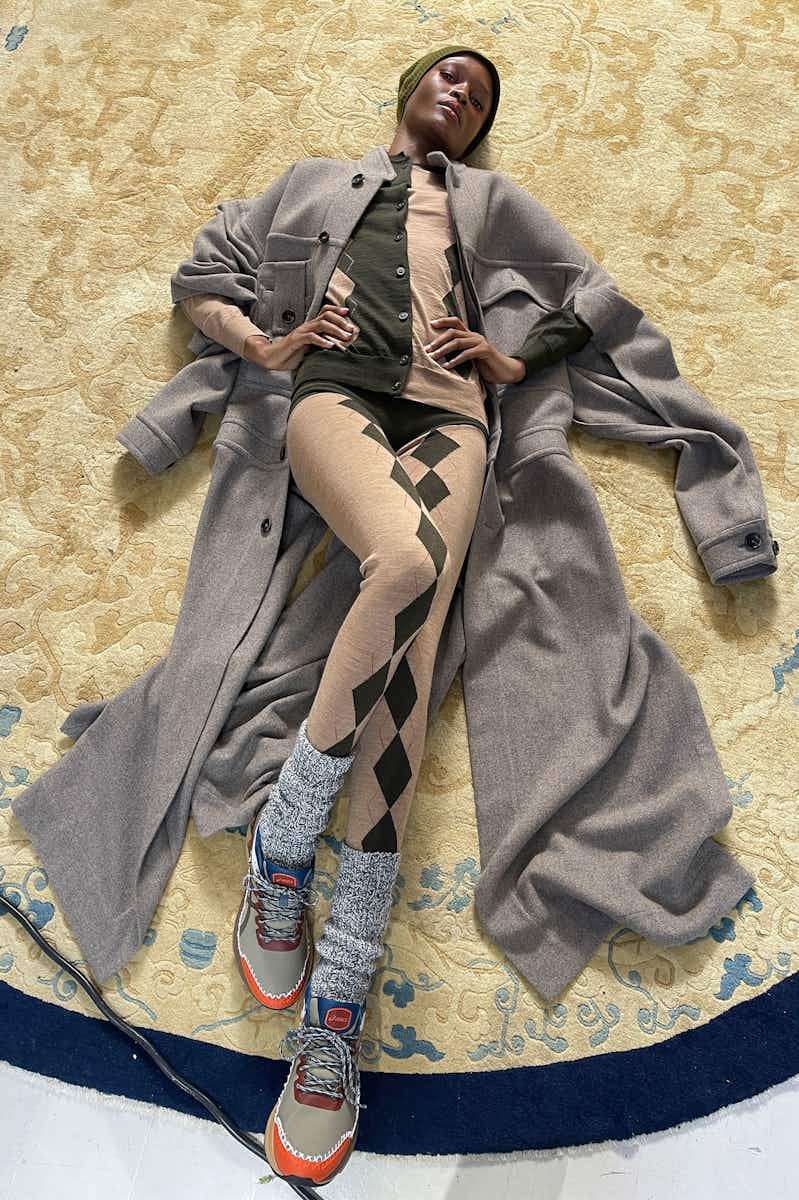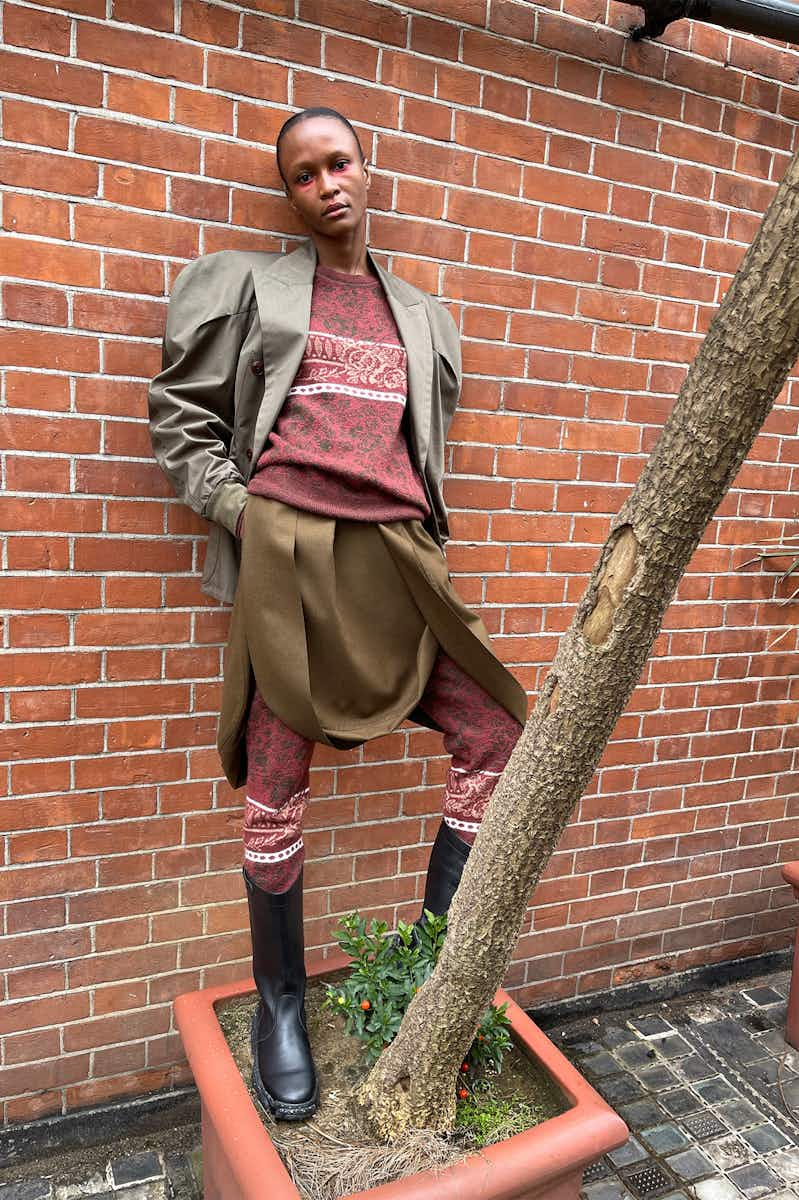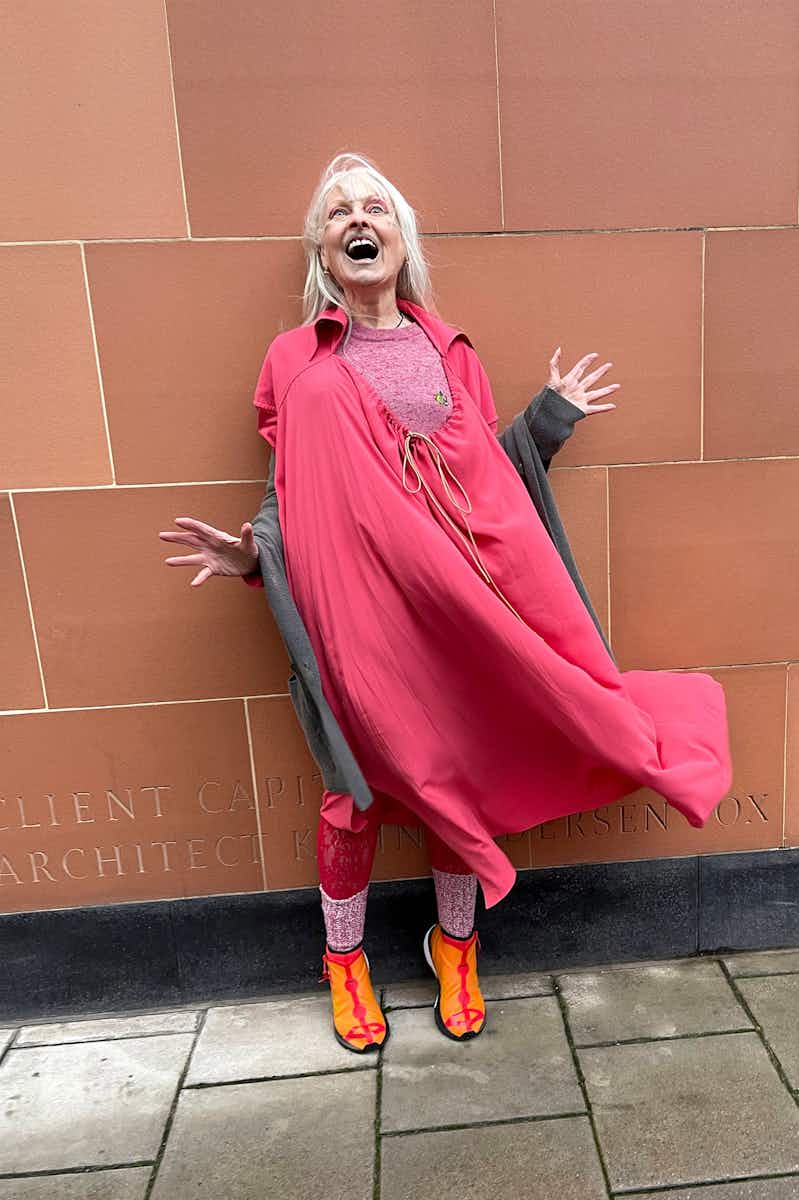 Few designers have embraced the challenges of delivering their collections outside of the runway show format with the same spirit of invention as Jonathan Anderson – from the ​"shows in a box" he created for Loewe's SS21 collections across menswear and womenswear, featuring posters, sheet music and even rolls of wallpaper, to the ​"exhibition" he created in collaboration with artists Dame Magdalene Odundo and Shawanda Corbett for his AW21 JW Anderson collection at the end of February.
So it came as little surprise to see his latest offering for Loewe begin appearing on social media feeds earlier this week in a typically unexpected format: this time, a newspaper printed with the headline ​"The Loewe show has been cancelled". Suffice to say, the show did indeed go on – even as the paper was sent out not just to editors, but also distributed as a supplement to some of the world's biggest papers, including The New York Times and Le Monde, in a delightfully novel form of guerilla marketing.
While Anderson's esoteric interests in fine art and traditional craftsmanship techniques are often filtered through his collections in more literal terms, this time, he partially drew inspiration from a series of conversations with a more unlikely source: the best-selling romance novelist Danielle Steel. What might at first seem an odd pairing makes more sense given Steel's impeccable fashion credentials – she's a regular at the couture shows every year, and the introduction was in fact made through her daughter Vanessa Traina, stylist for the likes of Altuzarra and Khaite – as well as the fact that Steel's latest novel, an excerpt from which was included with the show notes, centres around the making of the September issue at fictional magazine Mode.
There was a touch of Steel's retro eye for glamour in the various backdrops to the collection, featuring the grandiose surroundings of the legendary Le Train Bleu restaurant at Paris's Gare du Lyon and a private member's club off the Champs-Élysées, as well as in the playfulness of model Freja Beha Erichsen's various bouffant hairdos, as crafted by Anderson's regular collaborator, hairstylist Guido Palau. But what emerged most strongly was a palpable sense of optimism in the dramatic, colour-clashing prints and bold textural mish-mashes, featuring bolero jackets dripping with glittery fringing, pink pom-pom tassels attached to skirts and tops cut from iridescent, crisscrossed plasticky tags, whose seductive shimmer you wanted to reach out through the screen and rustle.
Anderson's ever-reliable eye for a white-hot accessory was also present, particularly in the bags and belts featuring leather laser-cut to form the curlicued Ls of the Loewe logo – sure to be a street style hit once IRL shows tentatively return later in the year. But it was the joyous, party-ready dresses that felt most memorable of all. As the show notes indicated in their closing sentence: ​"Hedonism is switched on." LH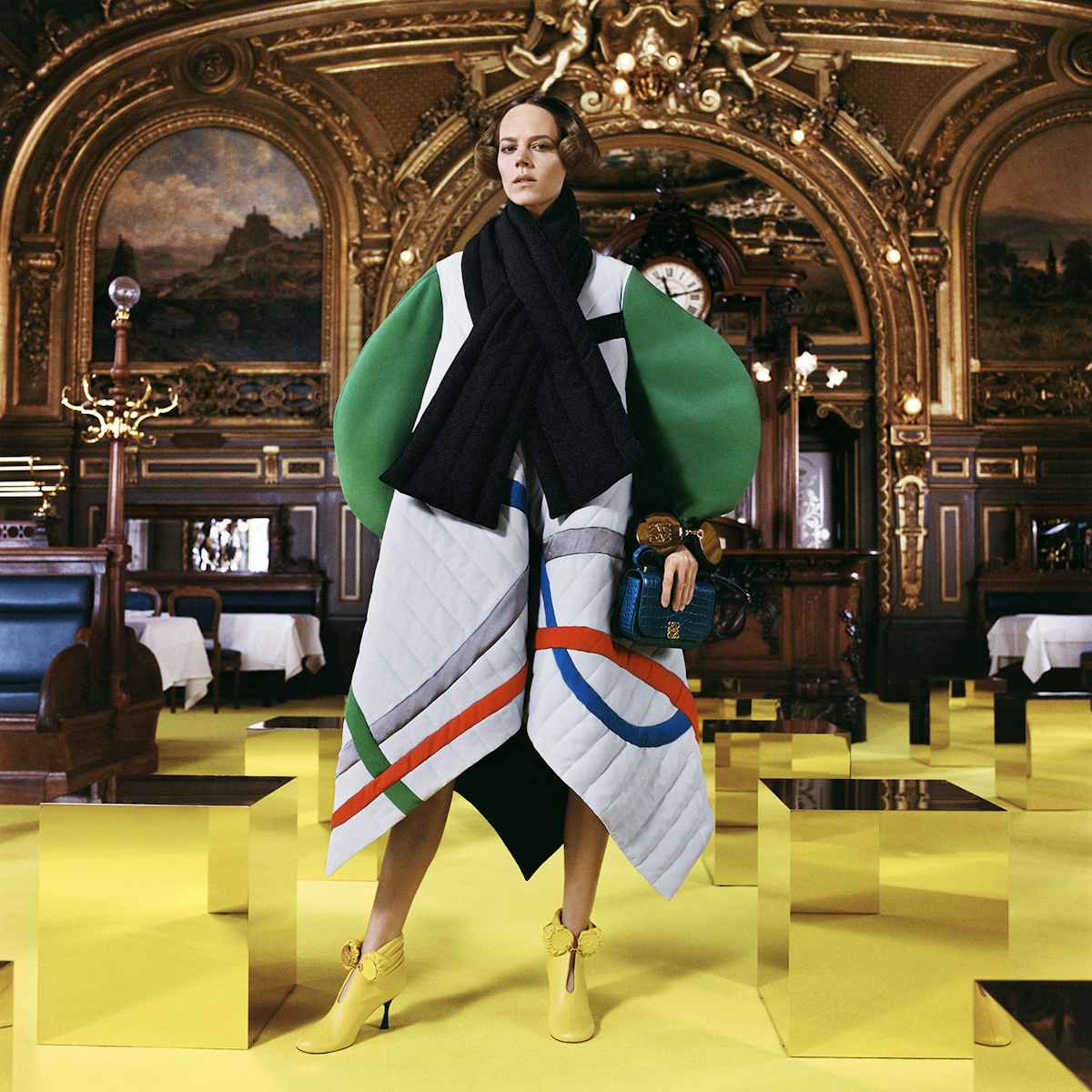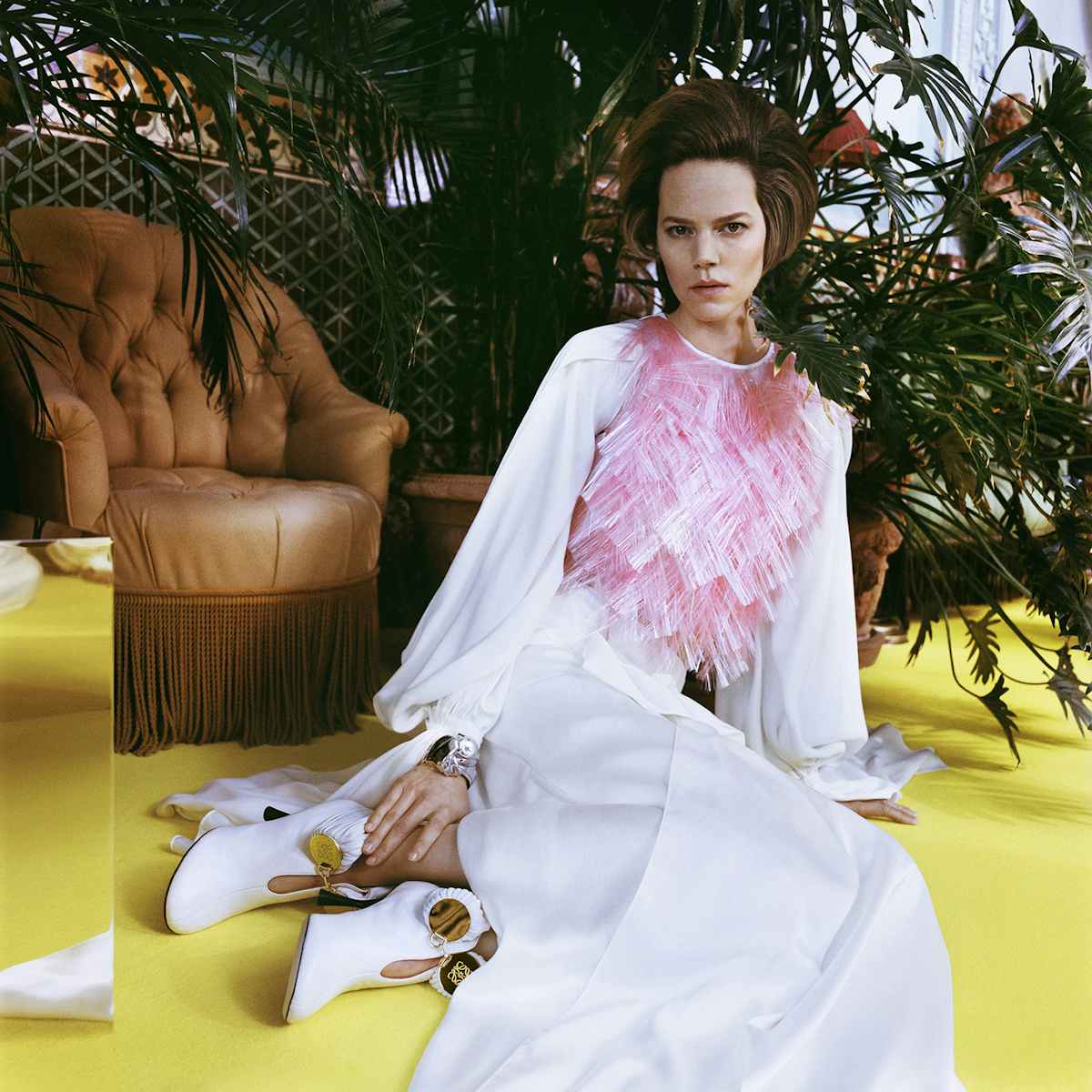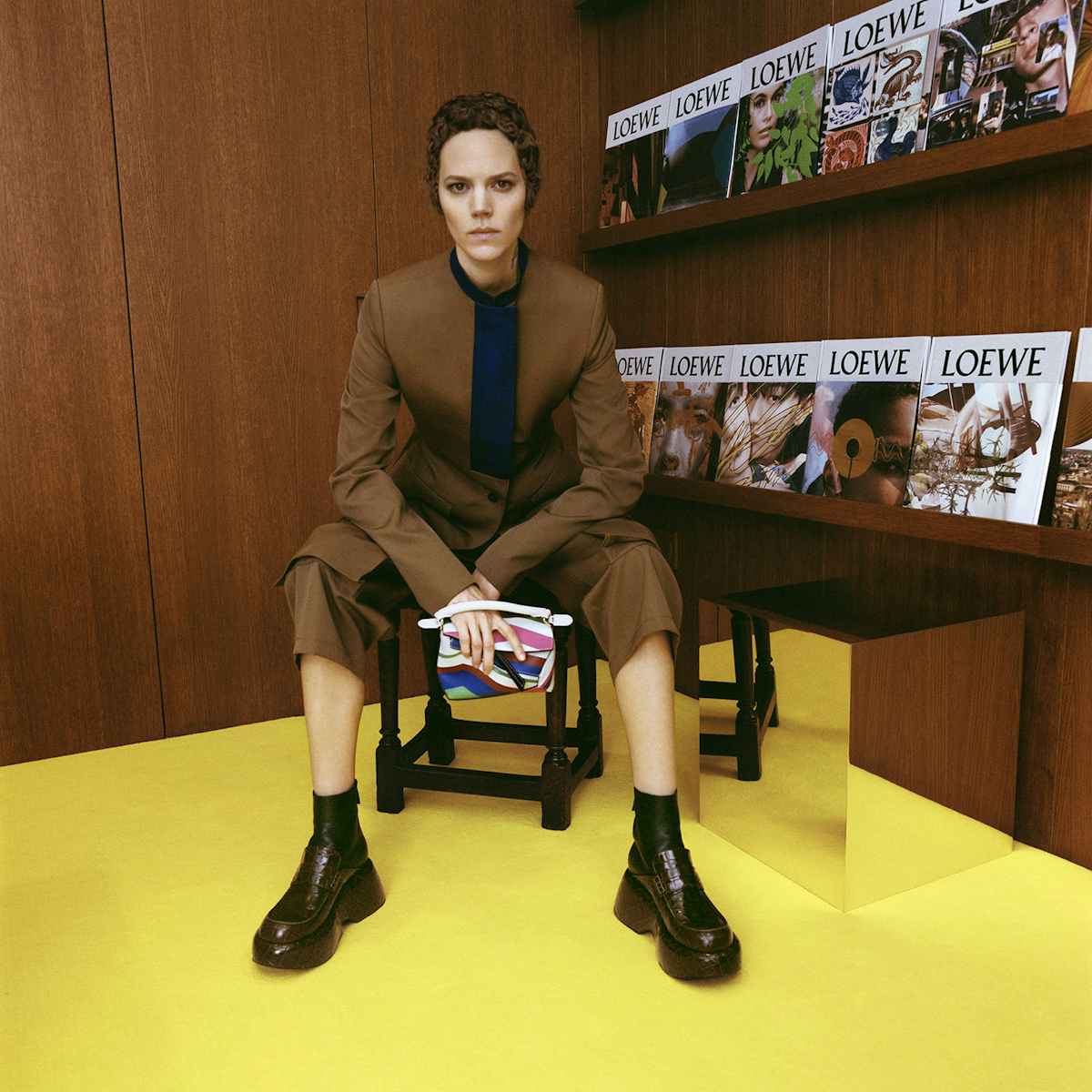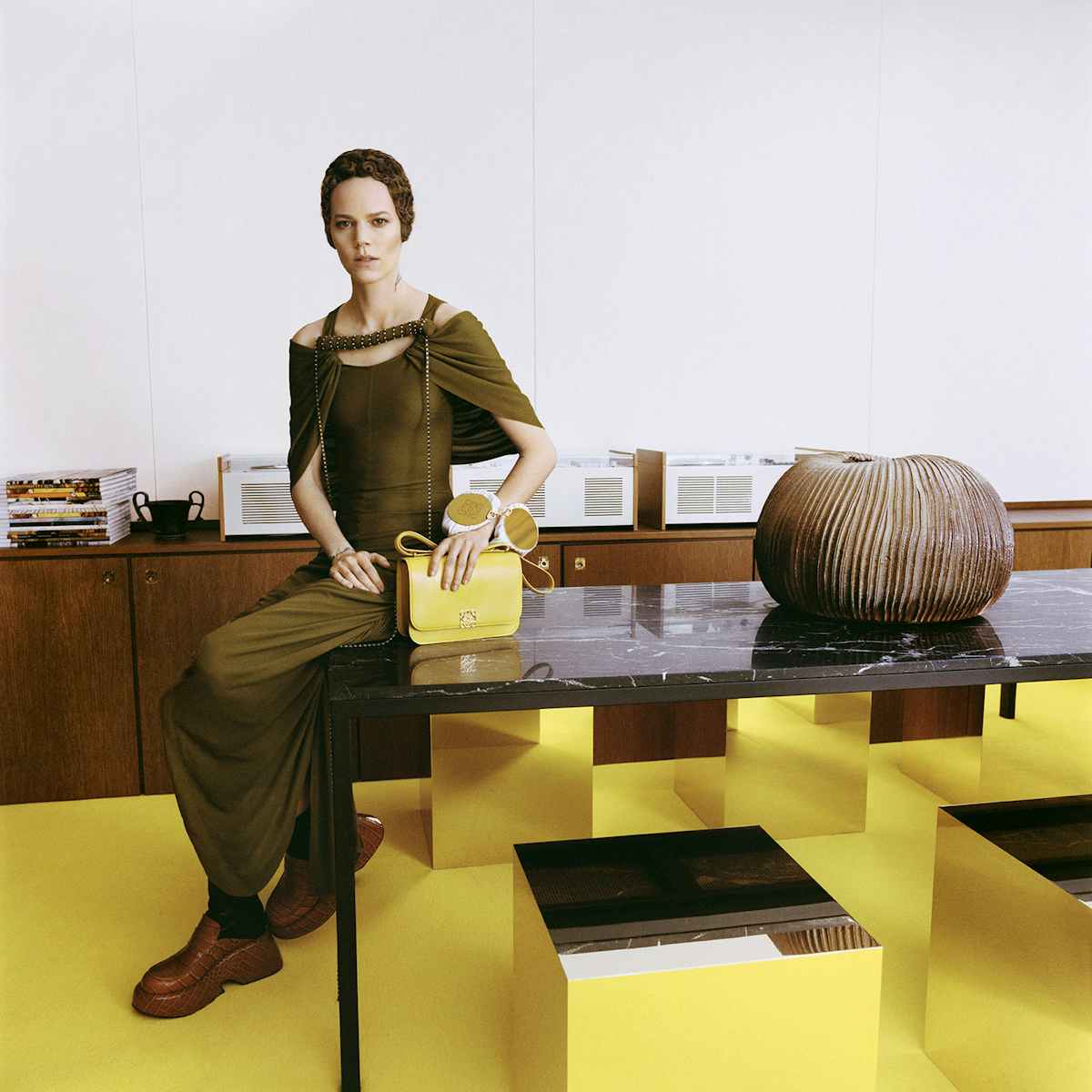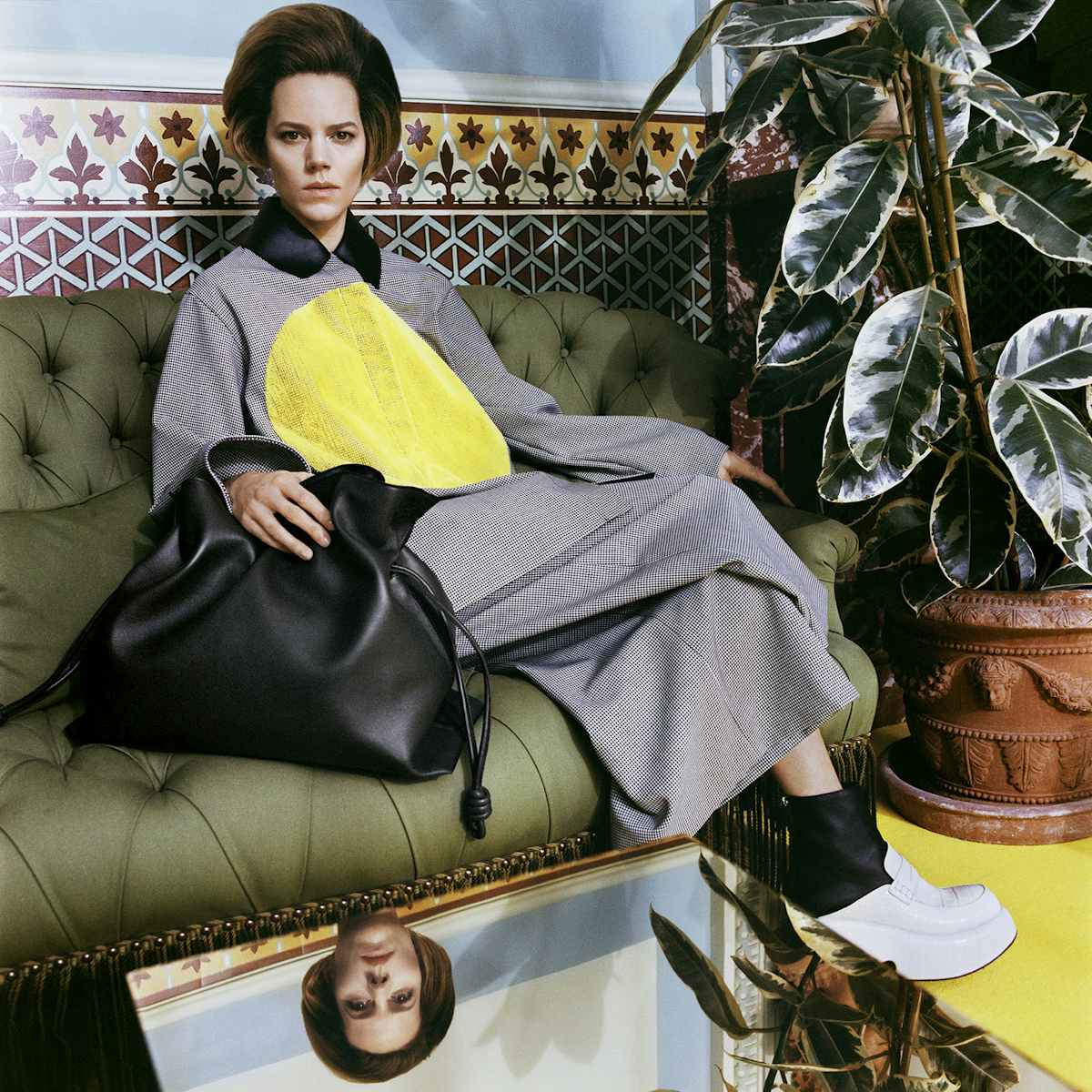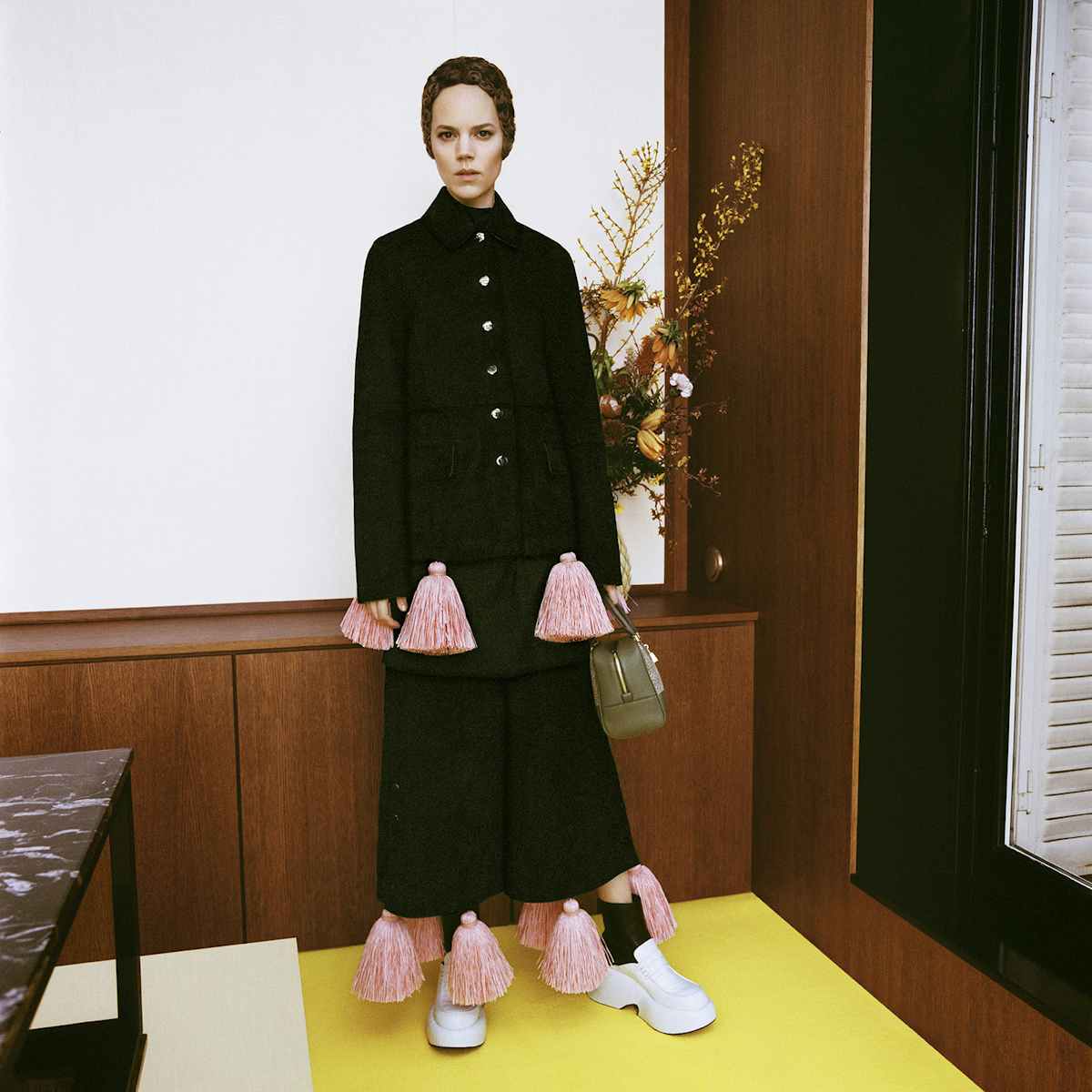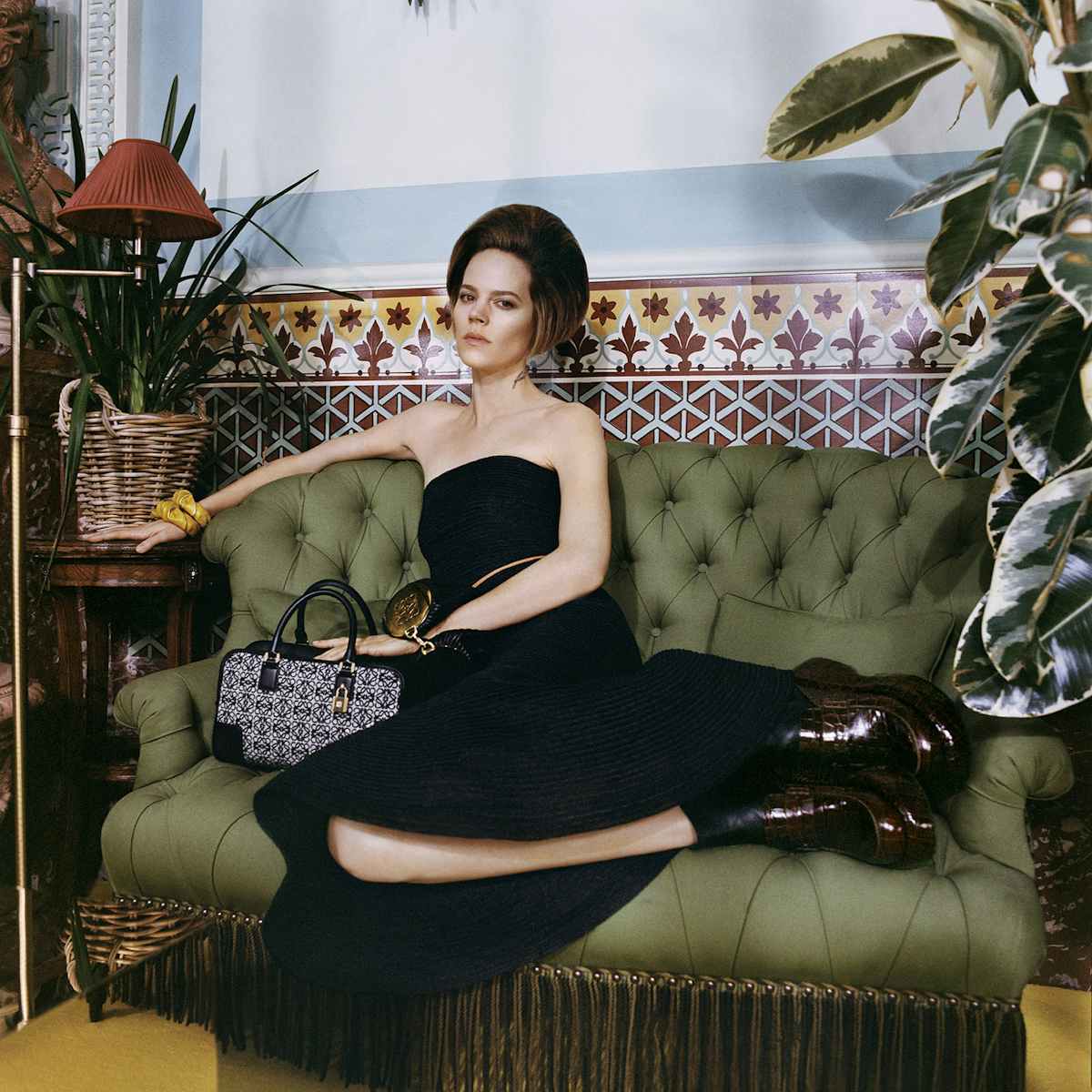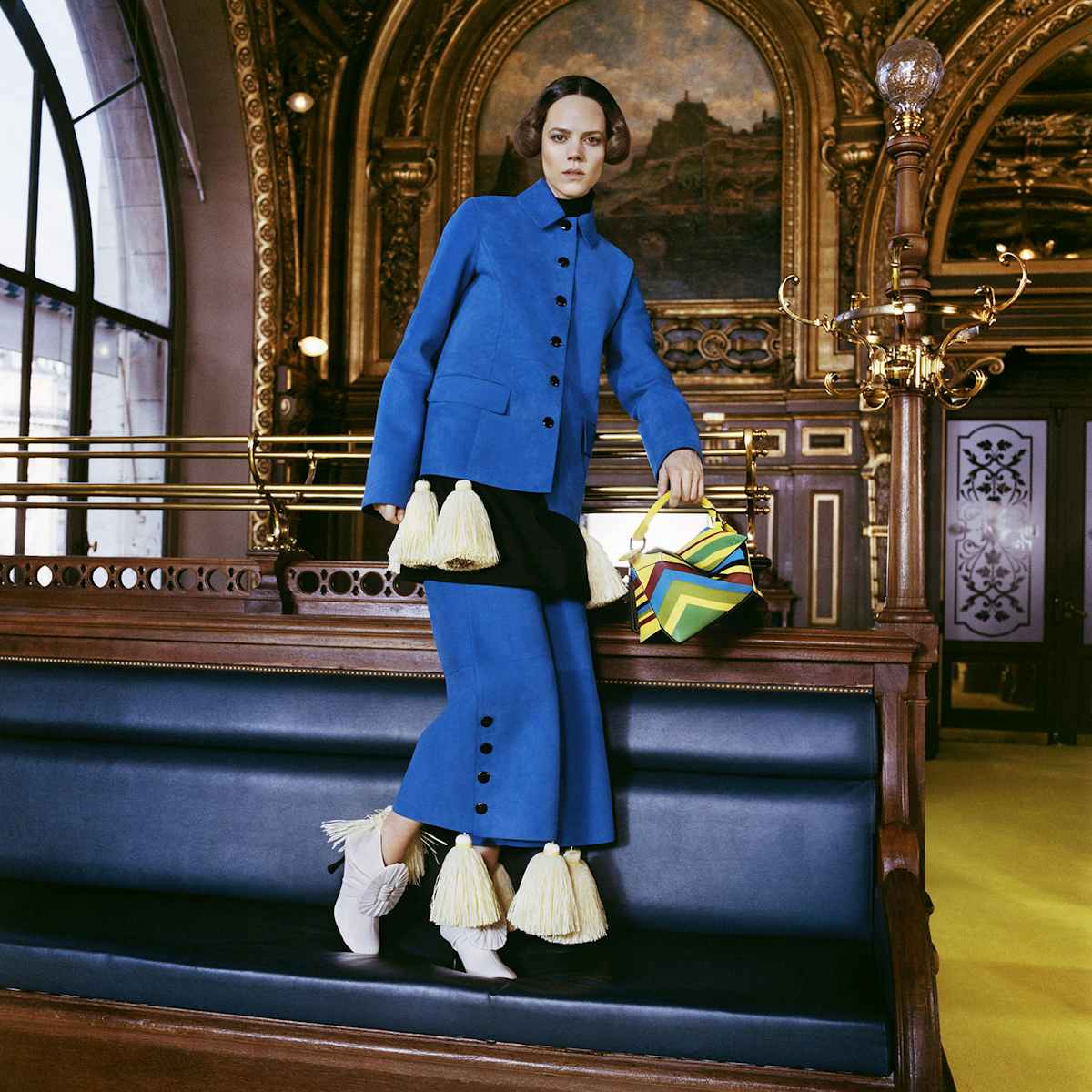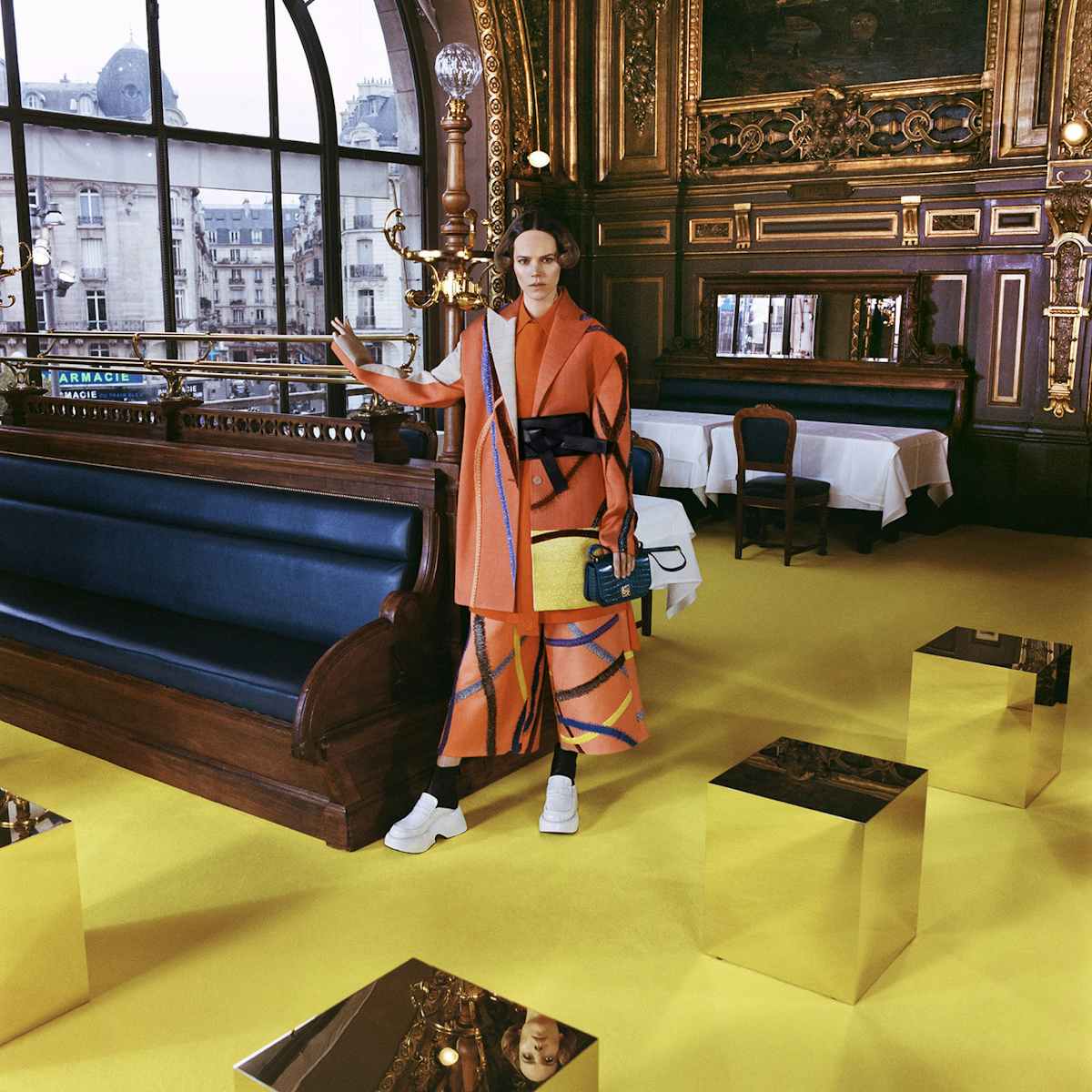 A darkly pragmatic approach to the changing faces of our reality
If ever there was a time for Rick Owens' dedicated army to prepare for battle, it's now. In a climactic AW21 collection, the American designer is after an answer for the unpredictable future.

But Owens isn't approaching the darkness of our times with a whimsical optimism. Rather, a rational pragmatism that lends itself to safeguarding our way through challenging times – protective facemasks are worn by each model, a surprising rarity this season, but a reality he adopts with a considered caution.

Presenting a show set back in the stillness of his garden on Venice's Lido, a two-hour drive away from his factory in Concordia, Owens' vigilance as a consequence of the past year's polarising politics and pandemic is reimagined through protective body coverings, skin-tight leather bodysuits and stacked, strapped thigh-high boots.

The act of self-containment is repurposed, aggressively, on heavy power shoulders, mimicking male aggression and conservatism – a nod to the Capitol riots in January which Owens, like many, was horrified by the act of brutality from the far-right. In an act of defiance, tailored jackets – made from recycled plastic waste – are ripped from the arm and replaced with cushioned snap-on sleeves: ​"In the Bible, the rending of one's garments is an act of grief or rage – to violently tear the clothes one is tearing apart," Owens writes in the press notes. It's demonstrated later in slashed black denim, repurposed shearling and cowhides reborn as coats and jackets.

A prevalent optimism has been felt universally this season, with designers opting to predict the future as anything but bleak. But Owens' approach comparatively is assertive, believing that to one day meet the light, we must address the now – be it in battle or through rationality. TJS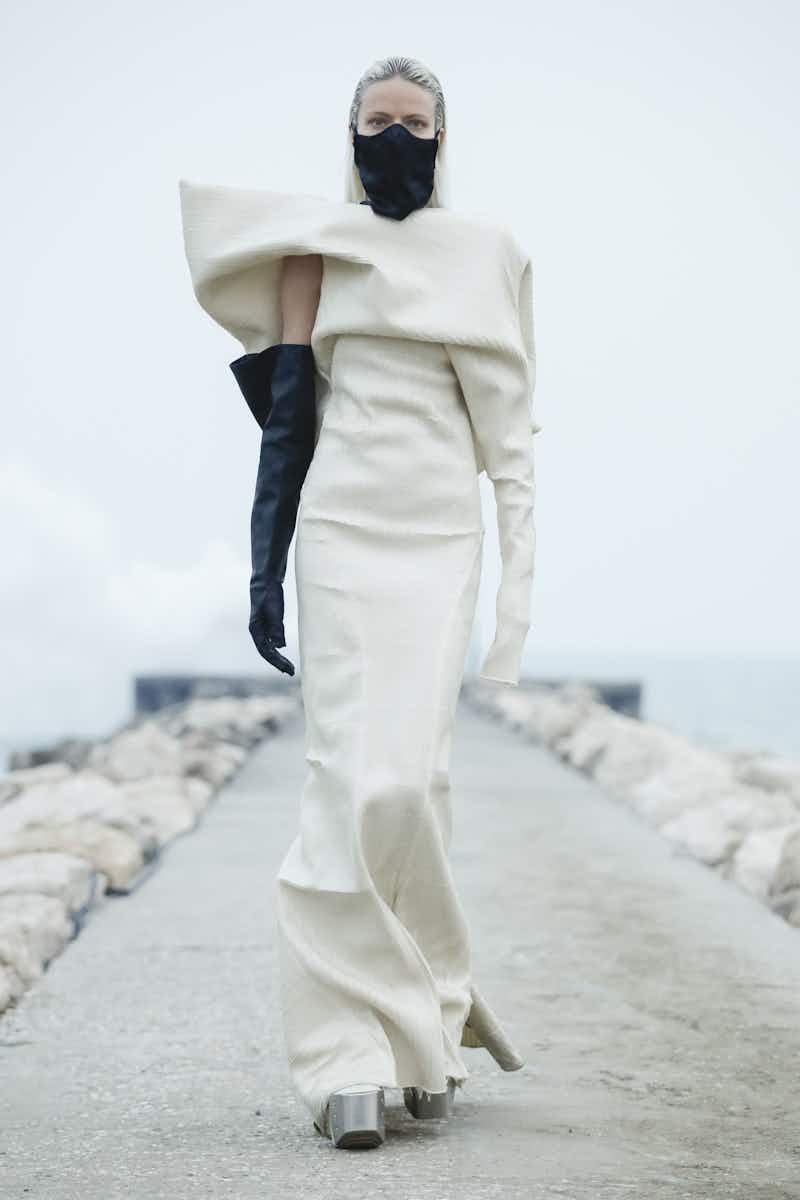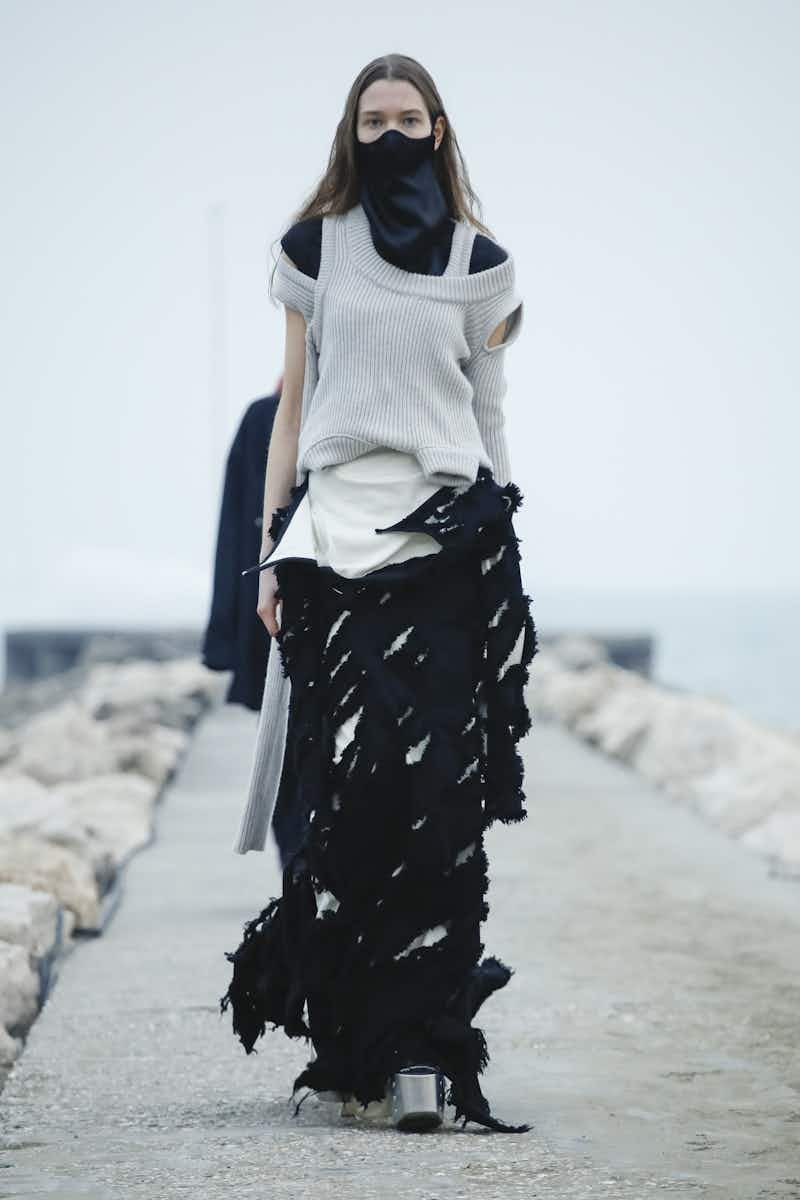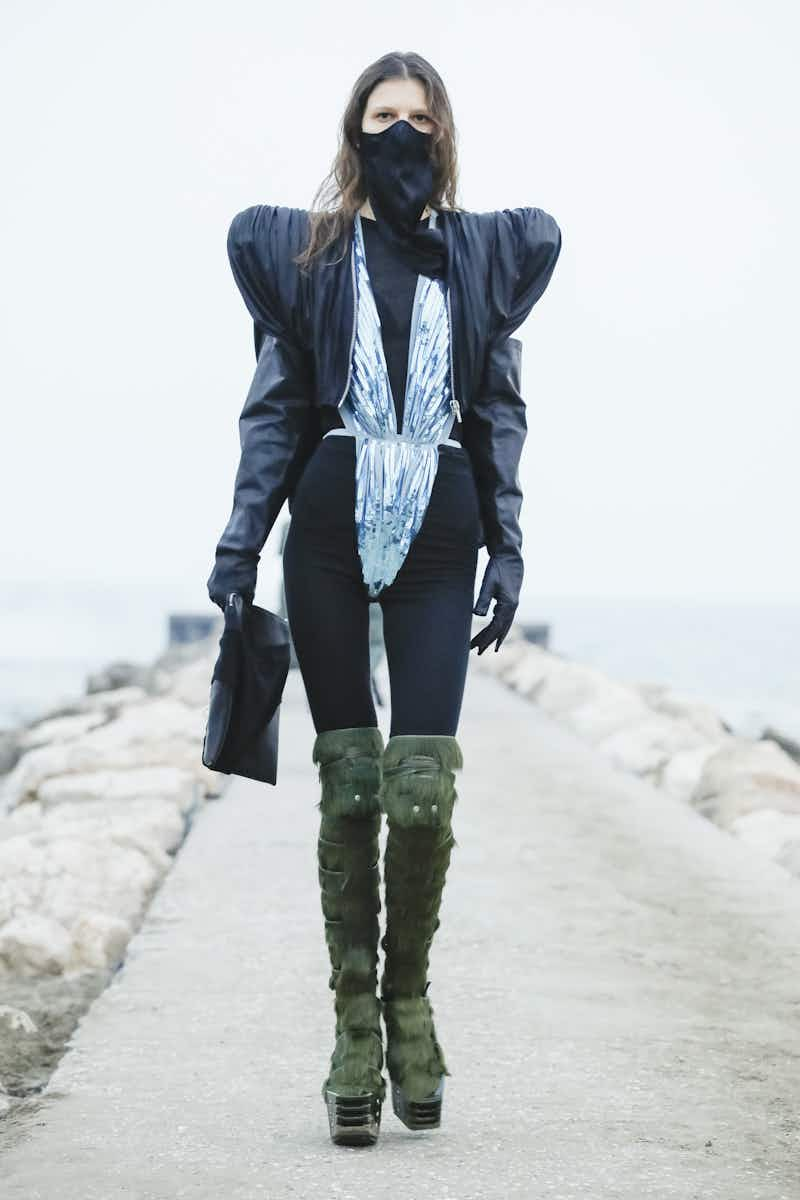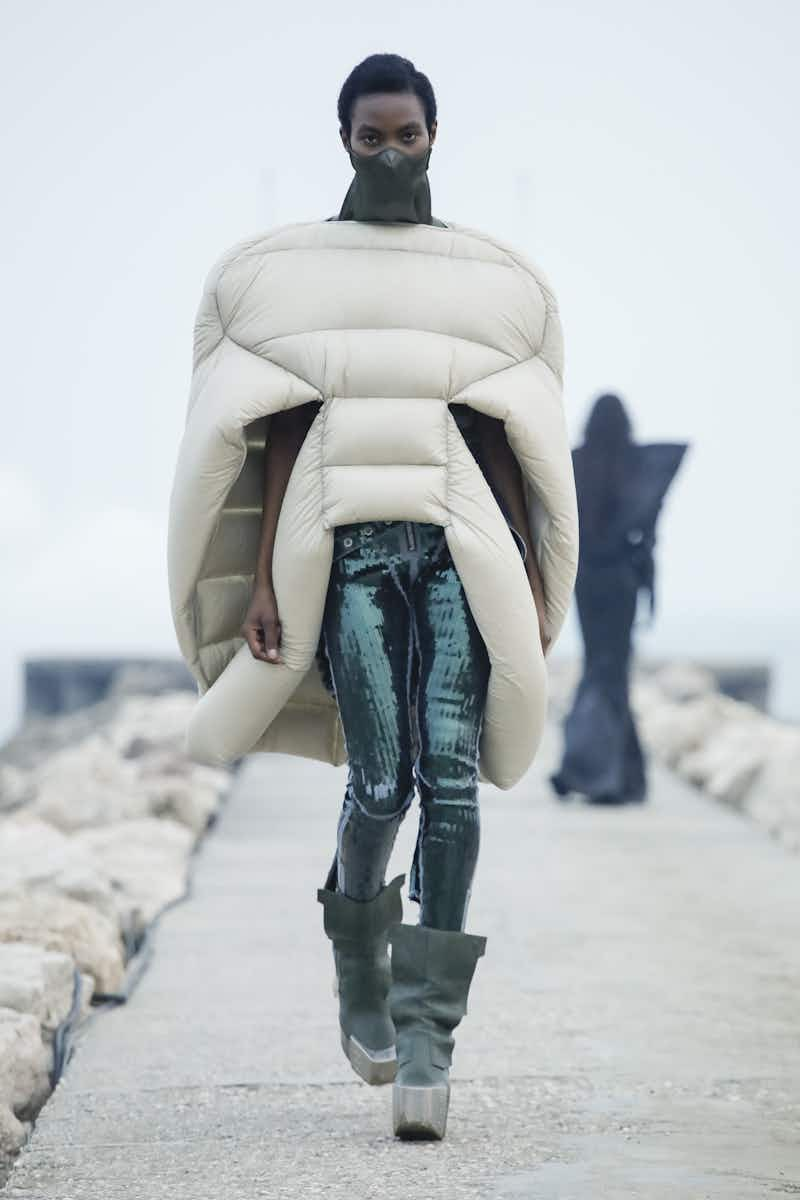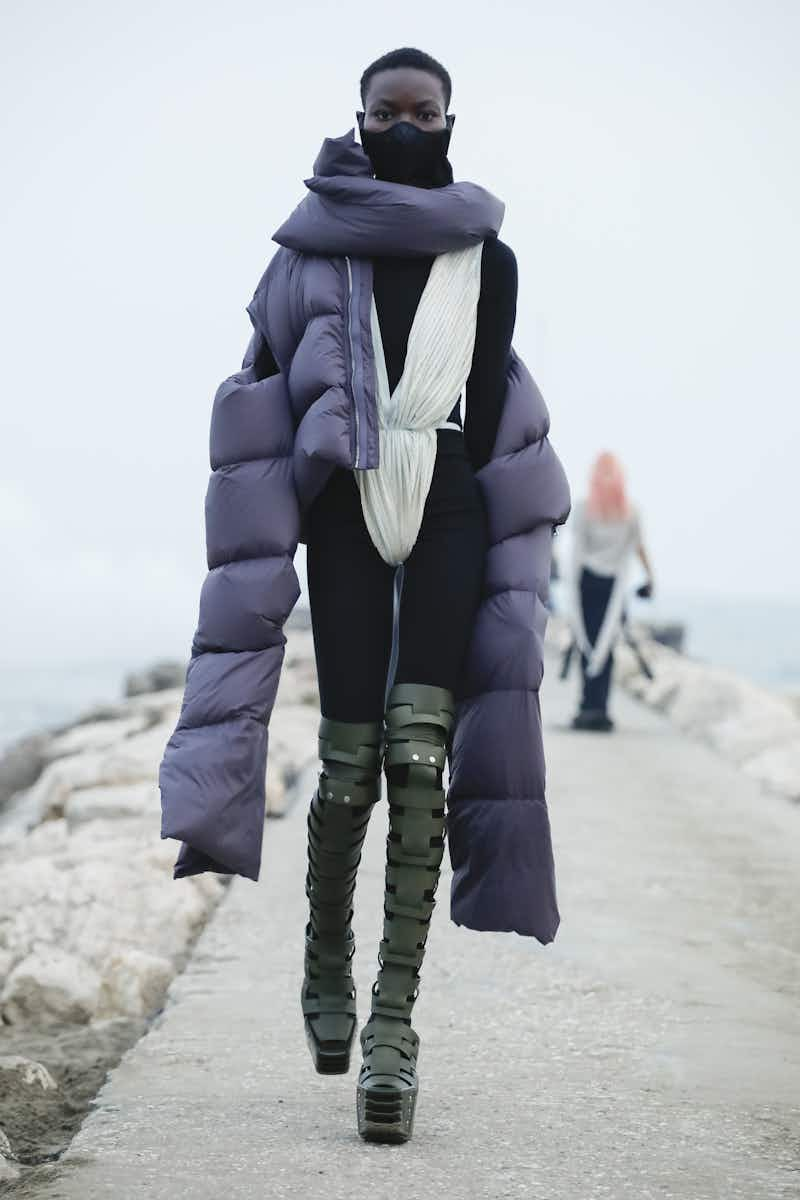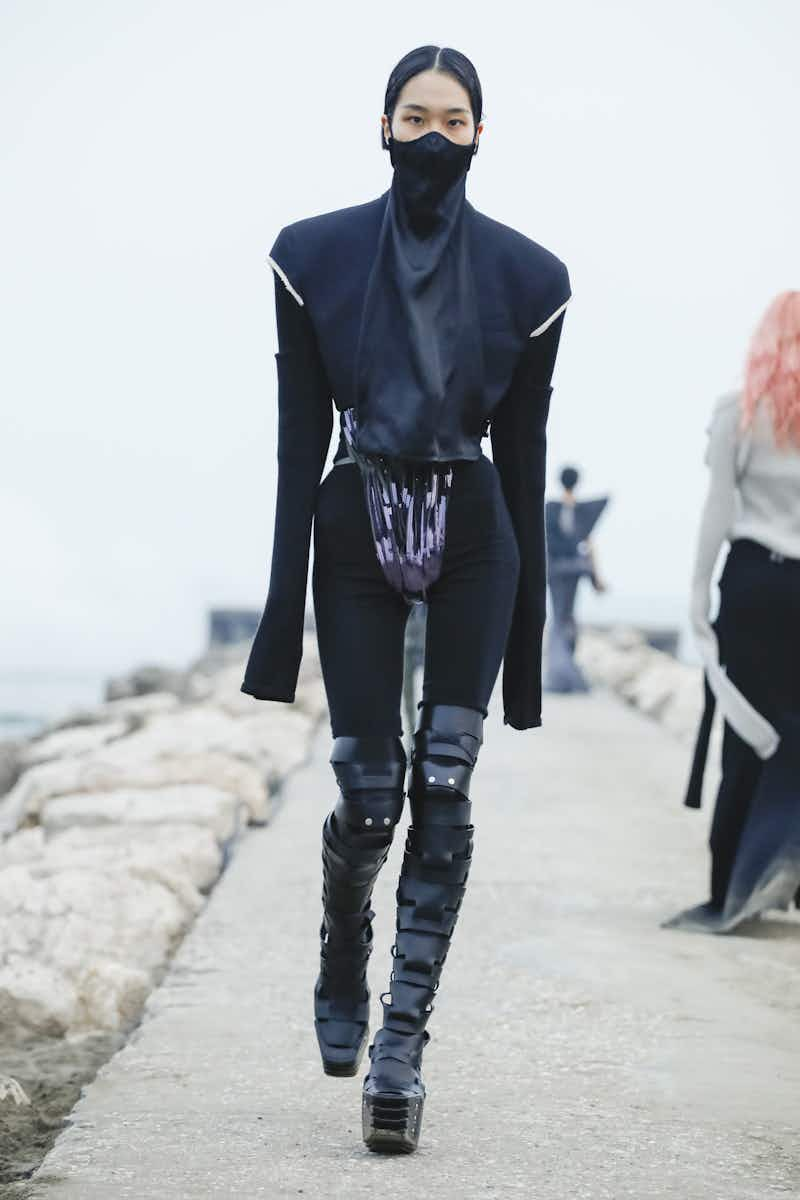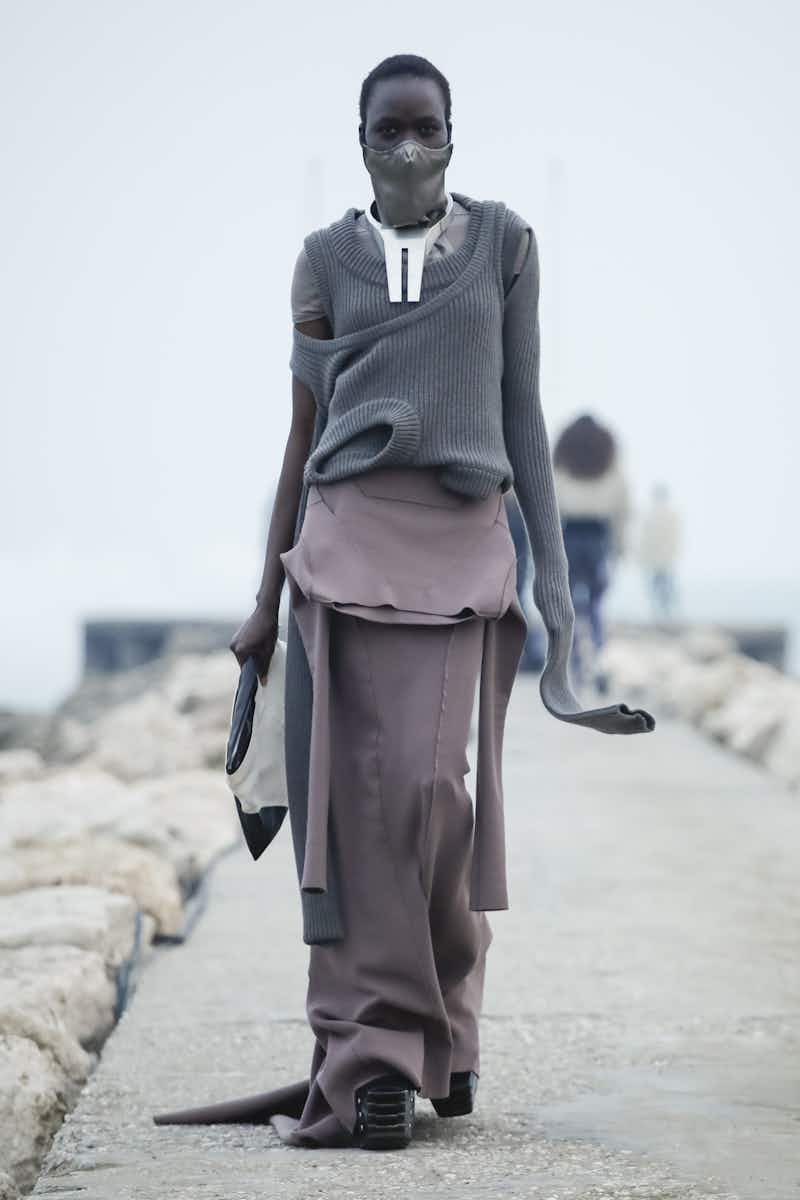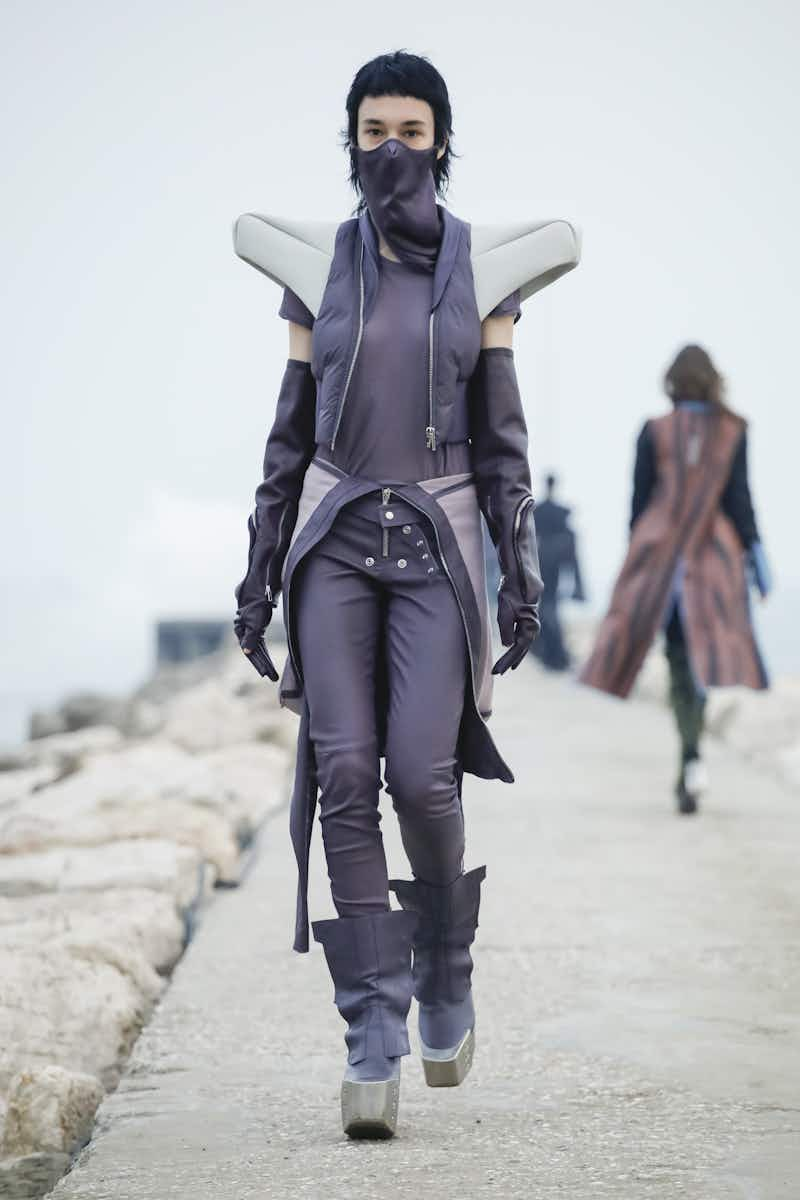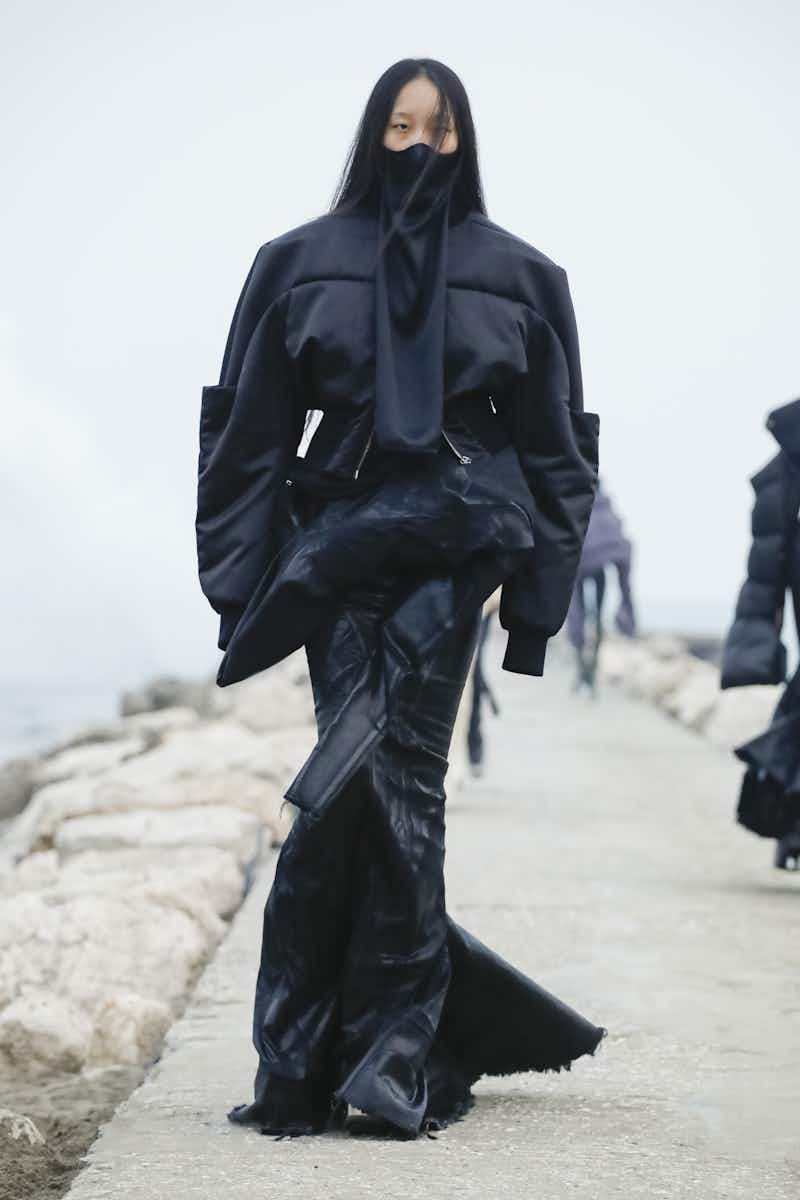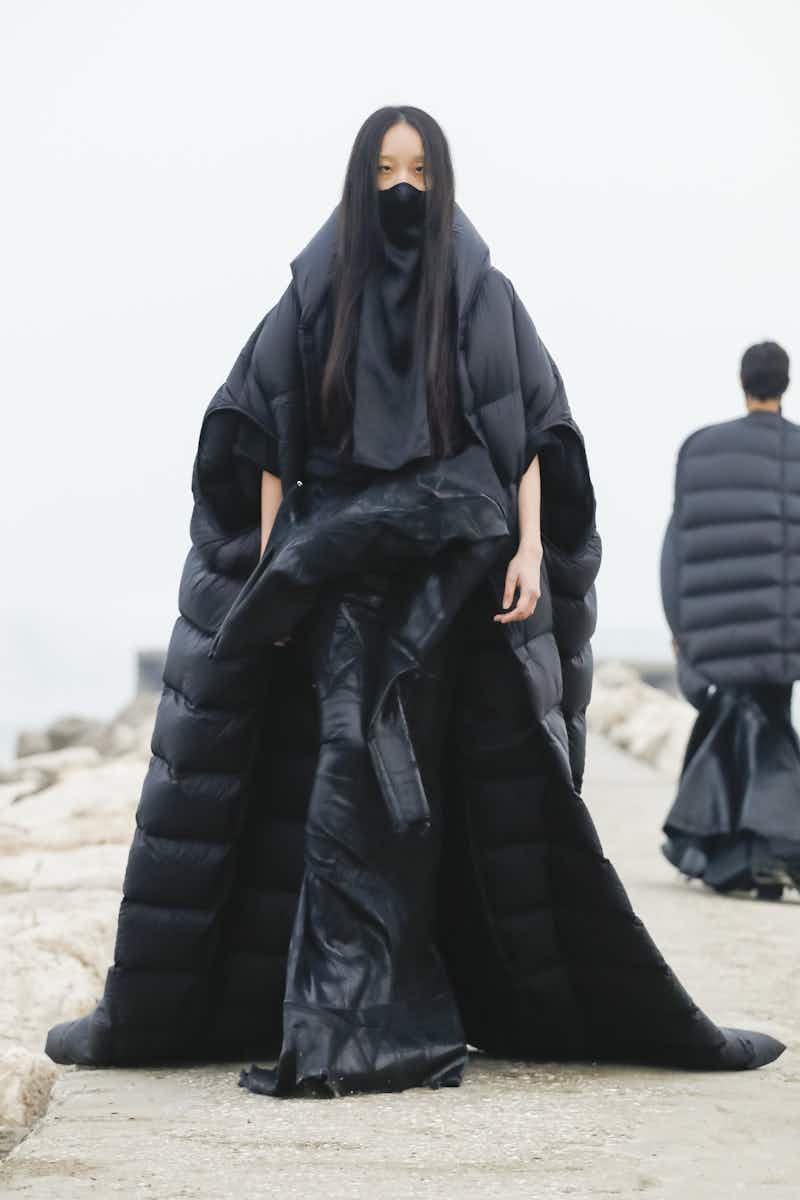 Jonny Johansson emerges from a pastel-hued dream into stark monochromatic clarity

Jonny Johansson, creative director of Acne Studios, took the heady dreamscape and whimsically turned it into an awakened reality this season. Brought on by his prediction of life post-pandemic Johansson presented contrasting moments of tough and sweet, soft and hard, voluminous and shapely for the Swedish brand's AW21 collection. ​"I was thinking about what happens when we emerge from isolation, the same but also somehow different," he says. And so ​"the dream" is imagined through soft pastel colours on wrap dresses, knitwear resembling the worn-in fluff of a teddy bear, and hazy draping on long, linen dresses, softly skimming the skin. Then the gears shift into a monochromatic clarity: ​"an ode to the white or black clothes worn for rituals in our life cycle, like weddings and funerals," Johansson expands. And so uninviting, oversized shades mask the face, while eveningwear is slick, asymmetric and oversized – at times ample, other times suddenly cinching the waist like on sharp-shouldered jackets and belted trench coats. Throughout, the body is mostly covered, but experimental open-structure cable knits – like on a primrose yellow co-ord and a charcoal grey, rope-like skirt expose parts of the skin, a nod to the emergence of life after isolation. TJS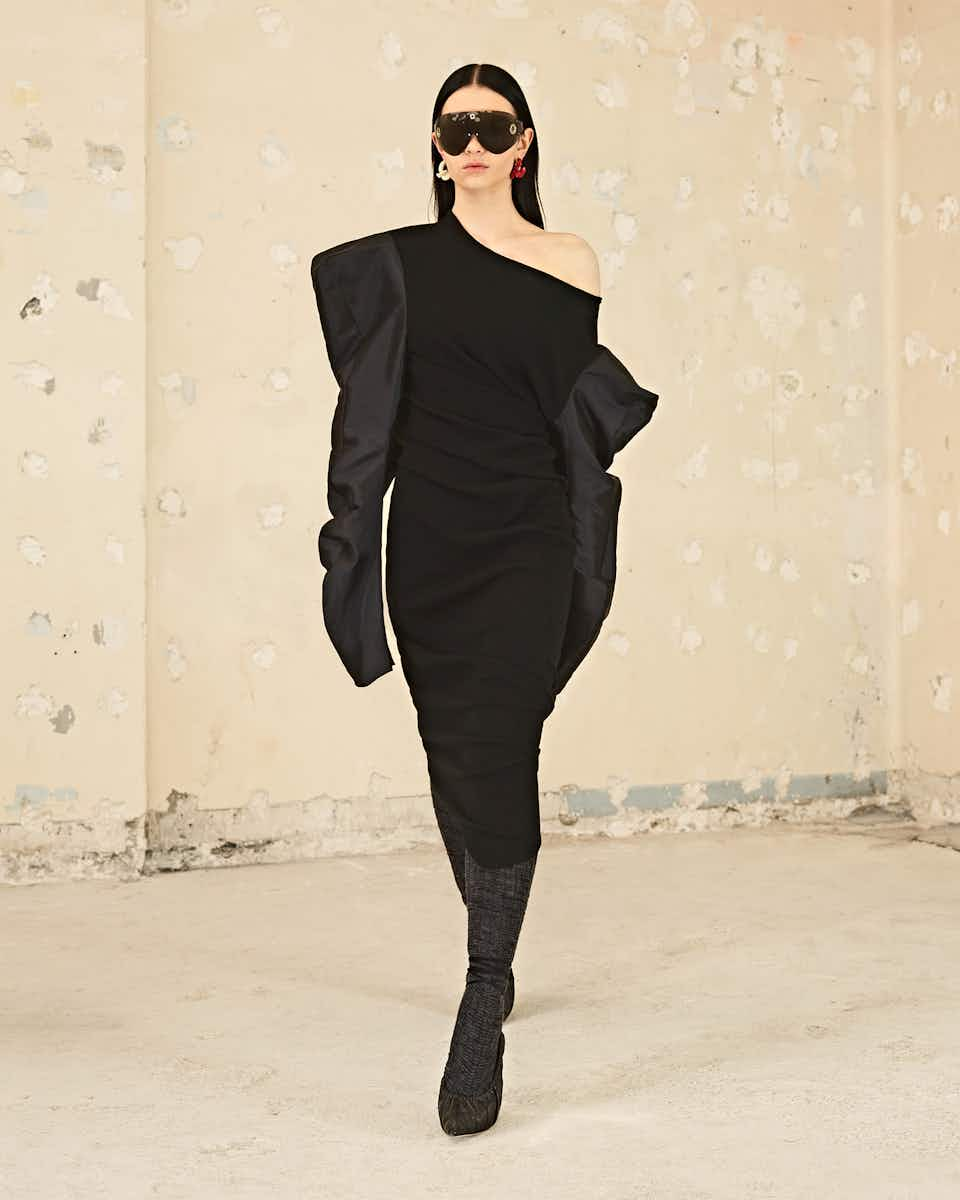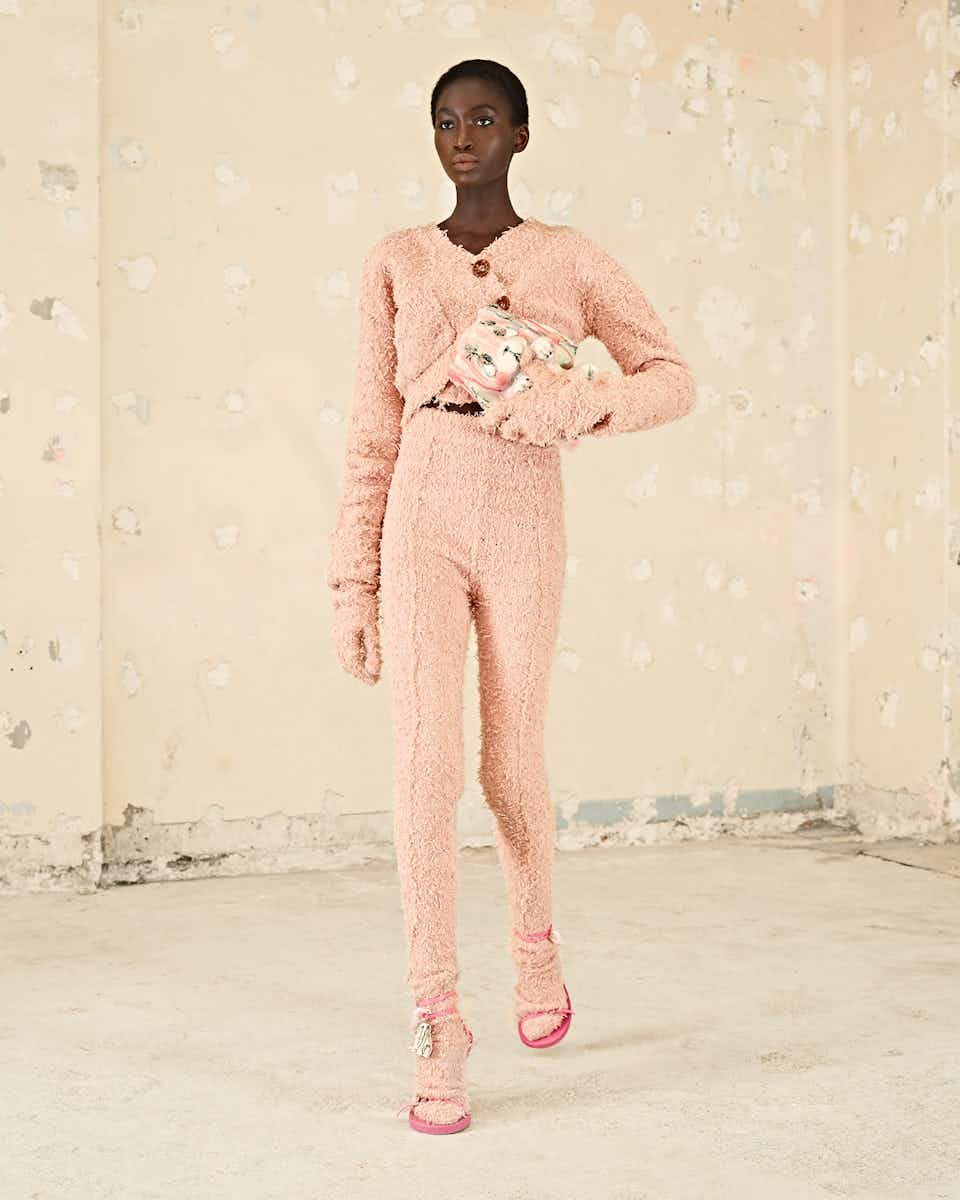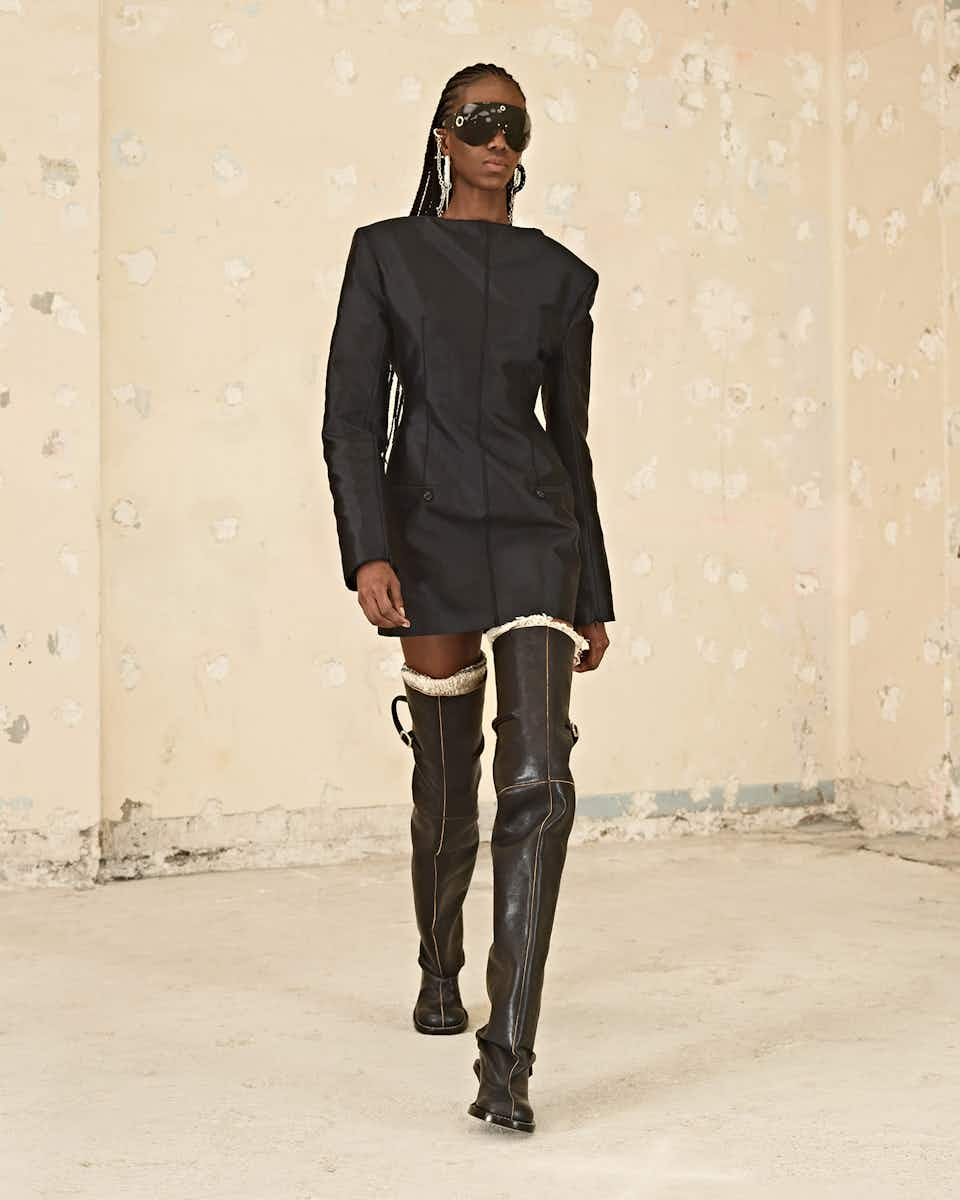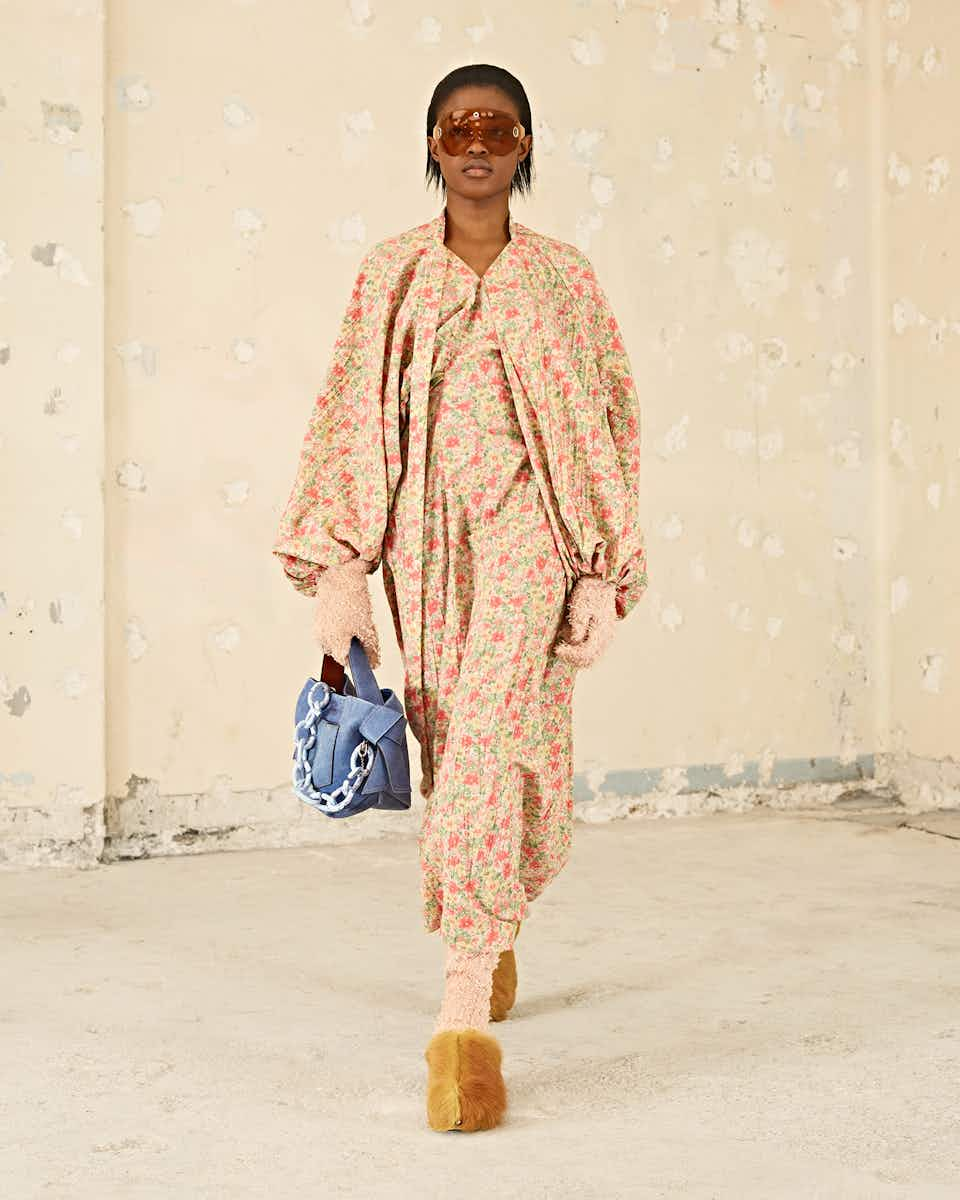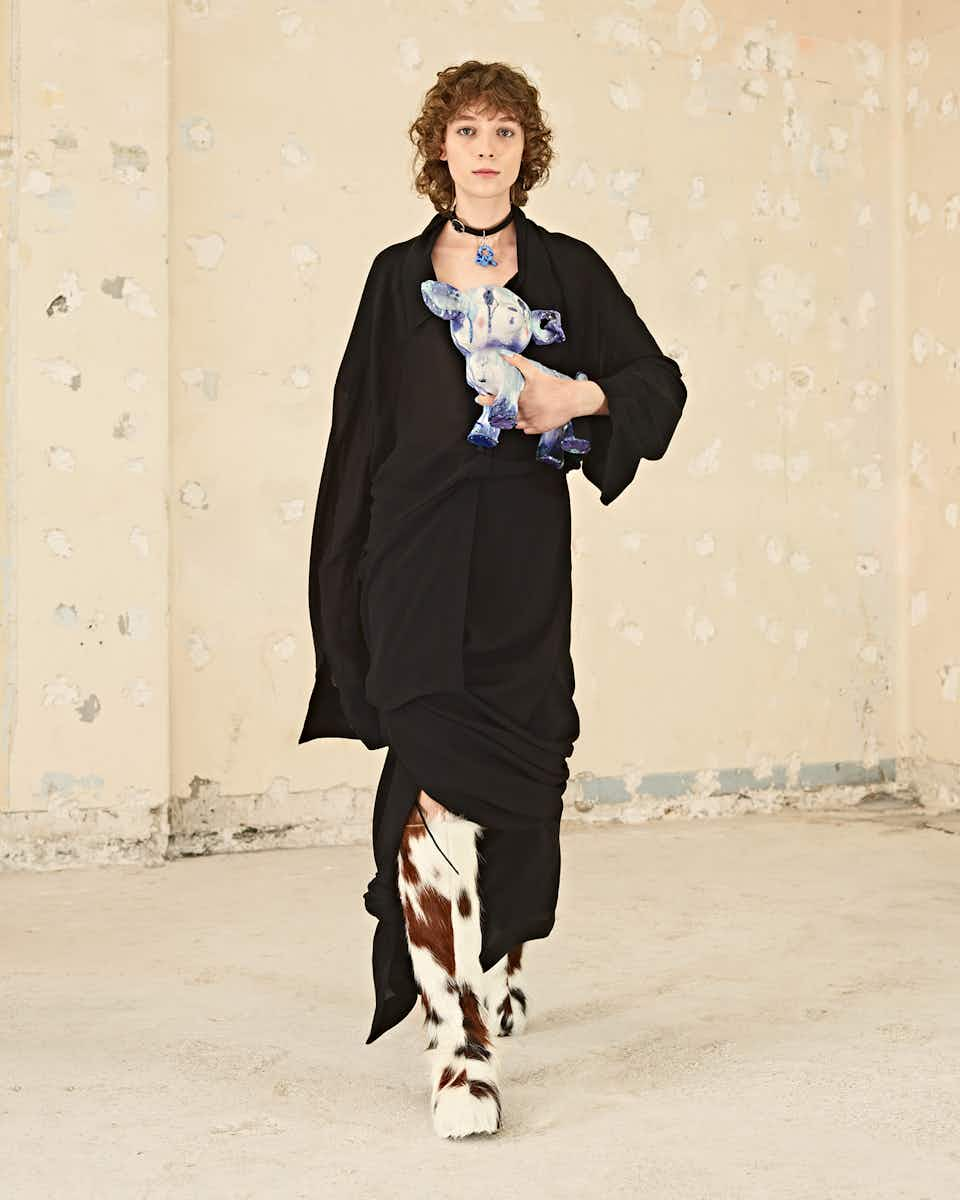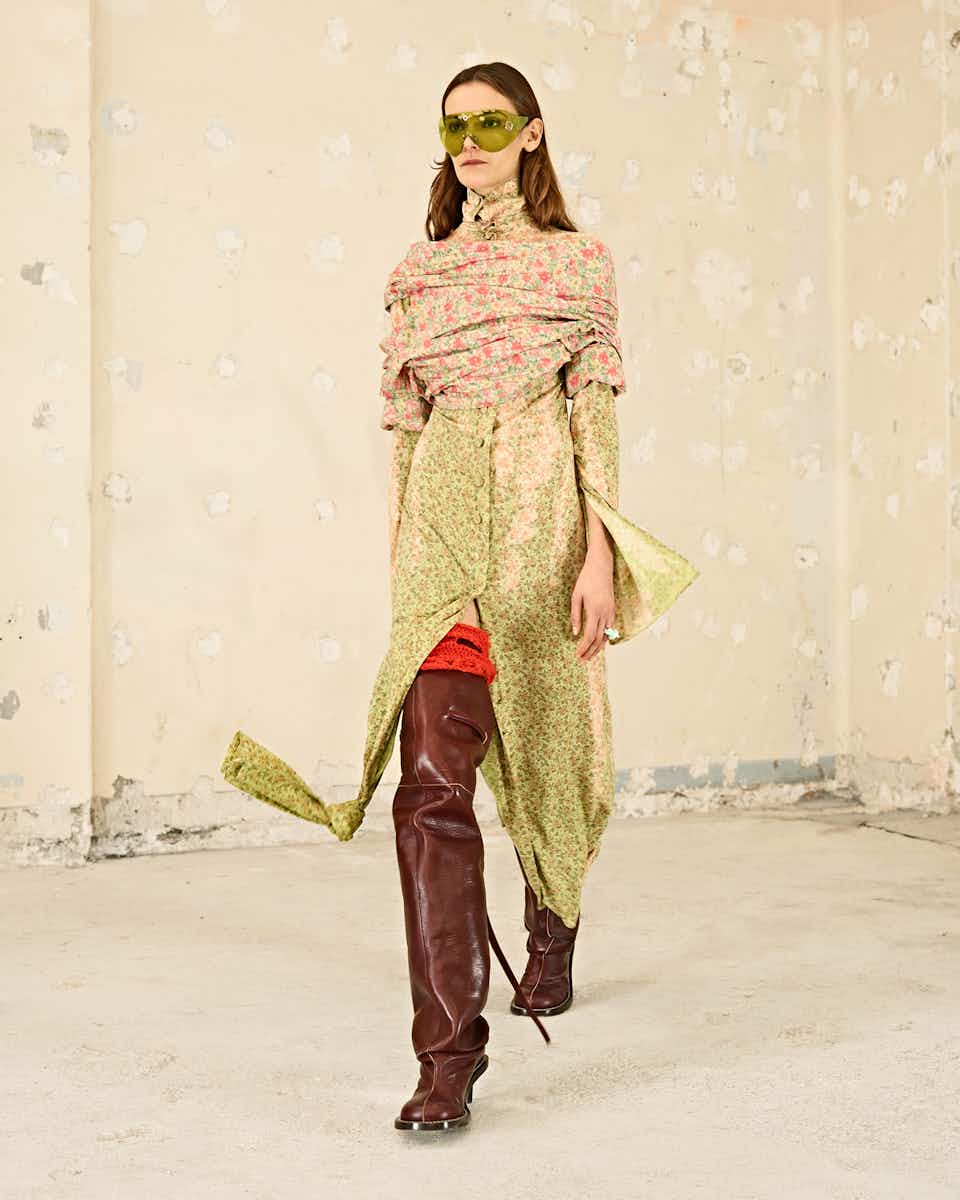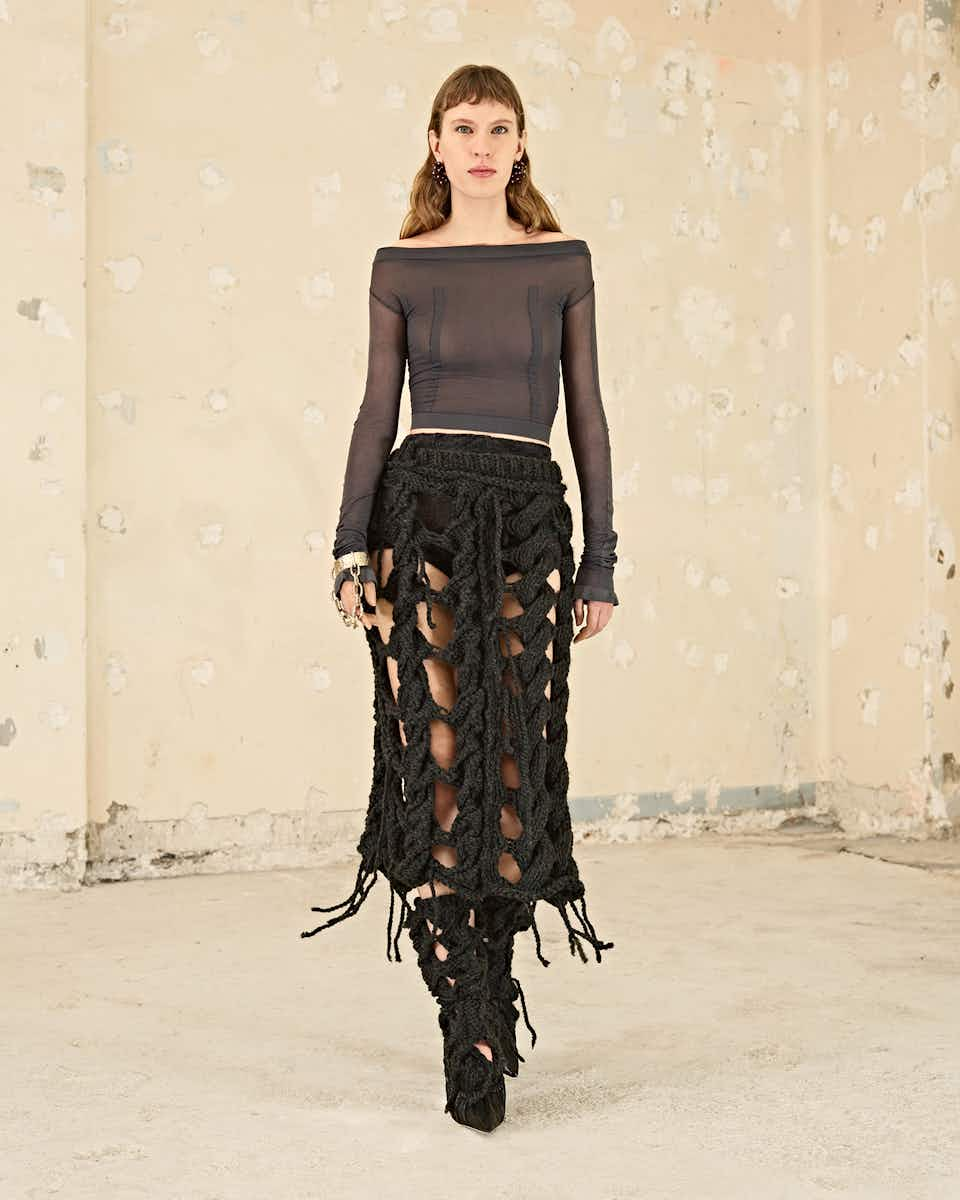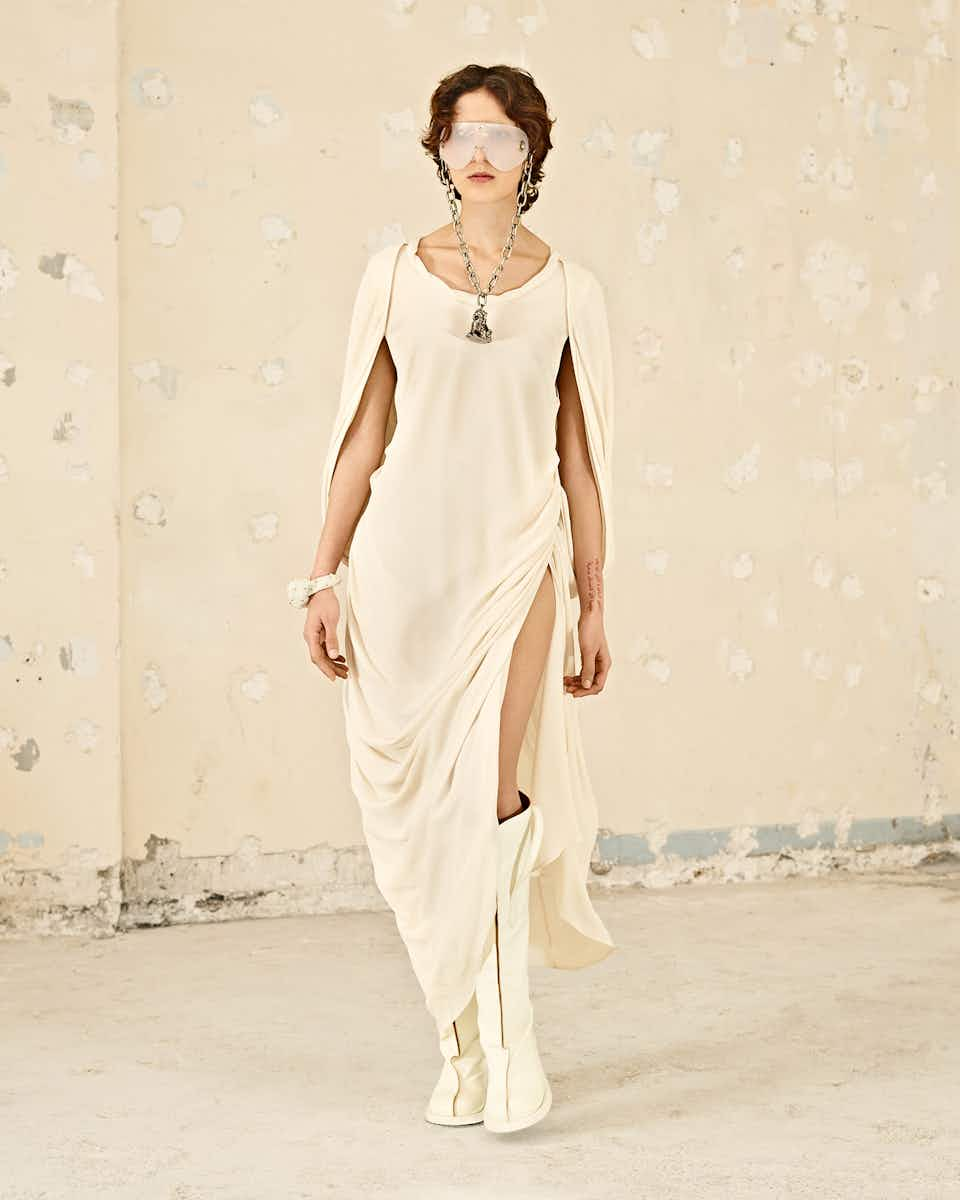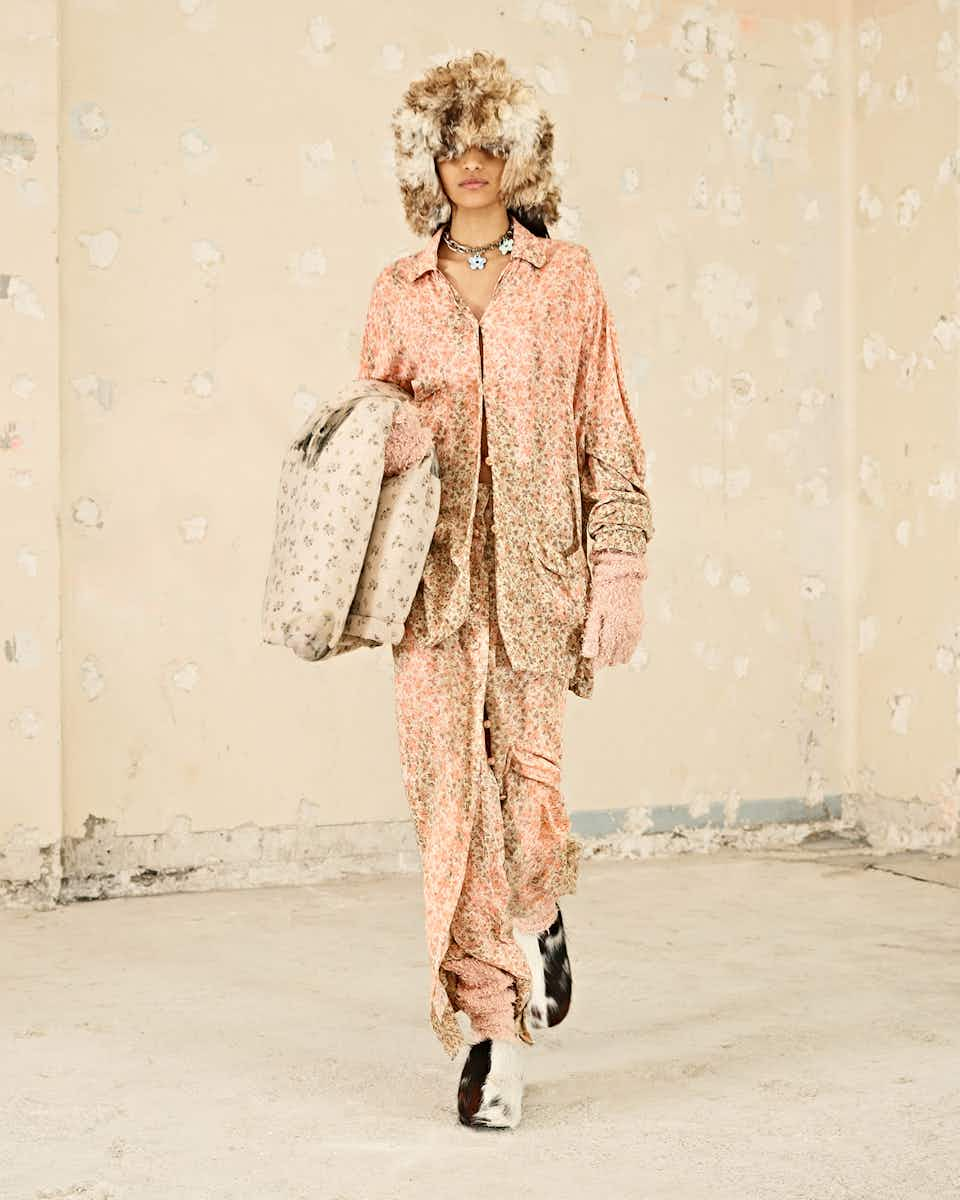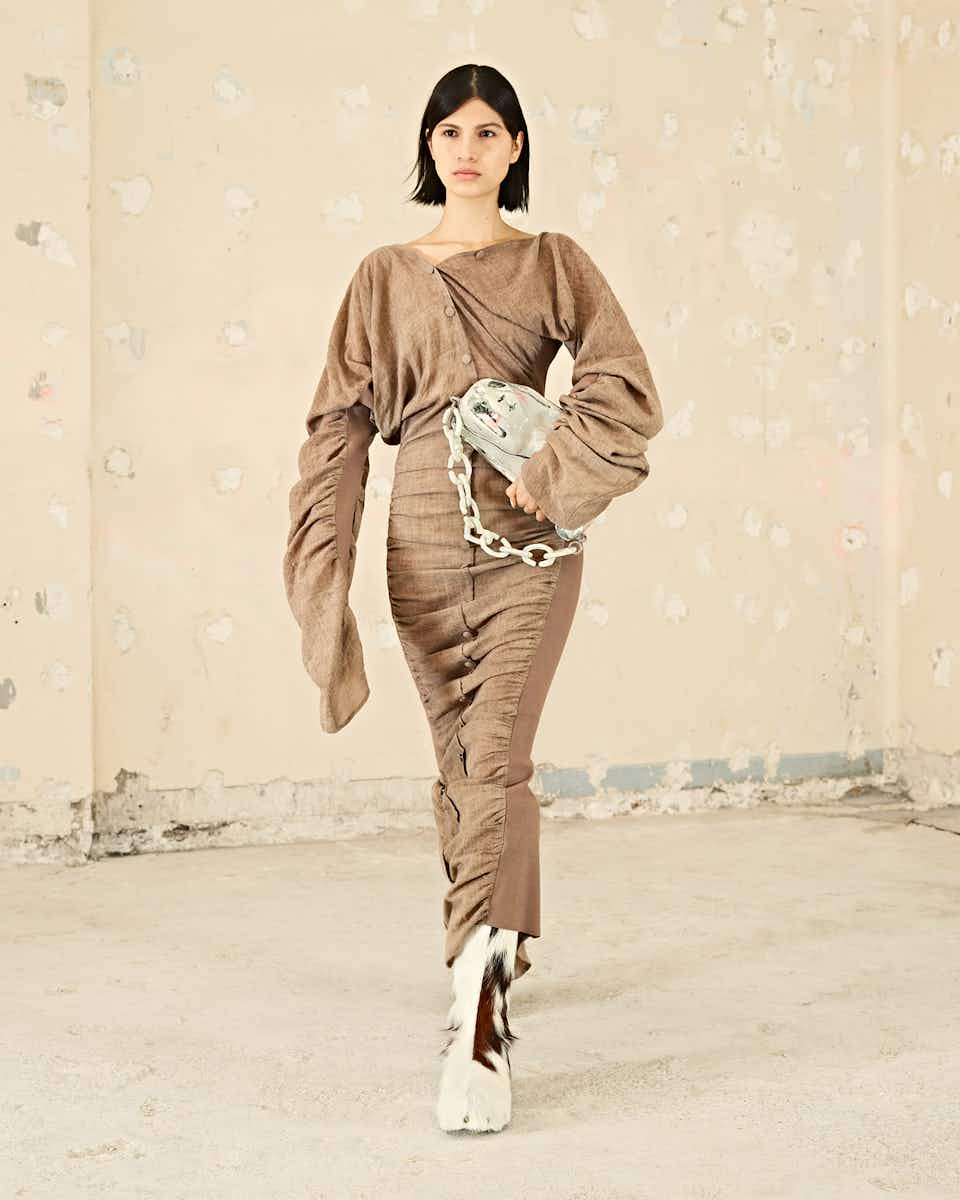 A self-referential showcase of elegance, pragmatism and eco-consciousness

This season, Marine Serre looked inwards with a collection aptly titled CORE. It was presented in three parts: a documentary and a book followed by the AW21 collection, in a powerful showcase of all the brand has accomplished over the past three years. This was an openly self-referential move, and Serre remains grounded in her design signatures and key pieces, smartly using them as references for reimagined silhouettes.
Skin tight mesh tops UV printed with the brand's ever present crescent moon are offset by leather patchwork jackets in rich chocolate tones, while scarf-print skirts flow freely alongside heavily layered, clashing patterns. Some are made from jersey, while others fall elegantly, adding depth to the fabric in the process.
As a self-described ​"archaeologist of textiles", the designer's playful approach to reworking materials sits at the heart of the collection, as hybrid garments drape the body, skilfully reconstructed to reveal smooth, sensual silhouettes.
Wavy moire in soft lilac and black feel both sporty and utilitarian, as tailored, crescent moon-covered jackets and trousers are presented in vivid shades of red, demonstrating Serre's commitment to subverting the recognisable print in innovative ways, without ever leaving it behind completely.
By using regenerated fabrics and recycled yarns throughout the collection, she has also chosen this moment of collective reflection to double down on her commitment to sustainability. ​"This last year has been difficult for everyone," Serre writes in the show notes. ​"Things must be done differently – we went to bring eco-futurism to the streets."
Ultimately, though, CORE is a love letter to those feeling lost in isolation, and finding strength in our roots ​"as a force for transformation." JW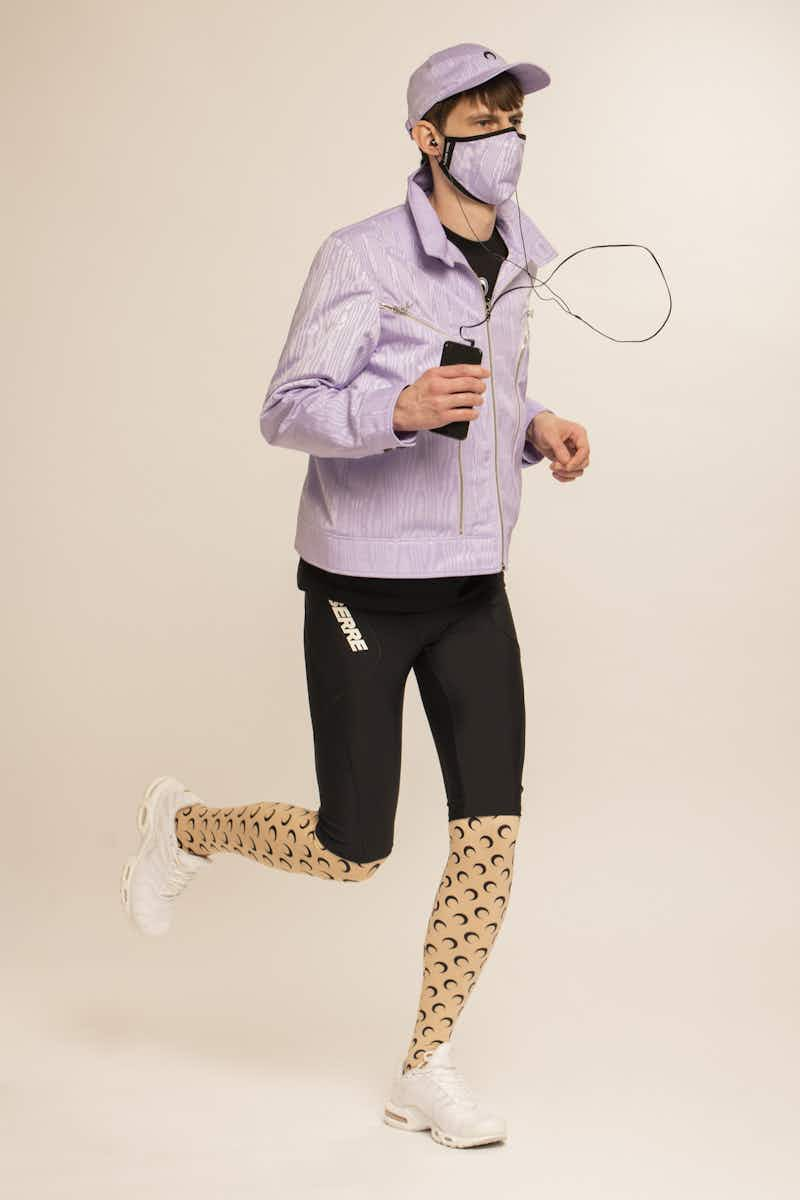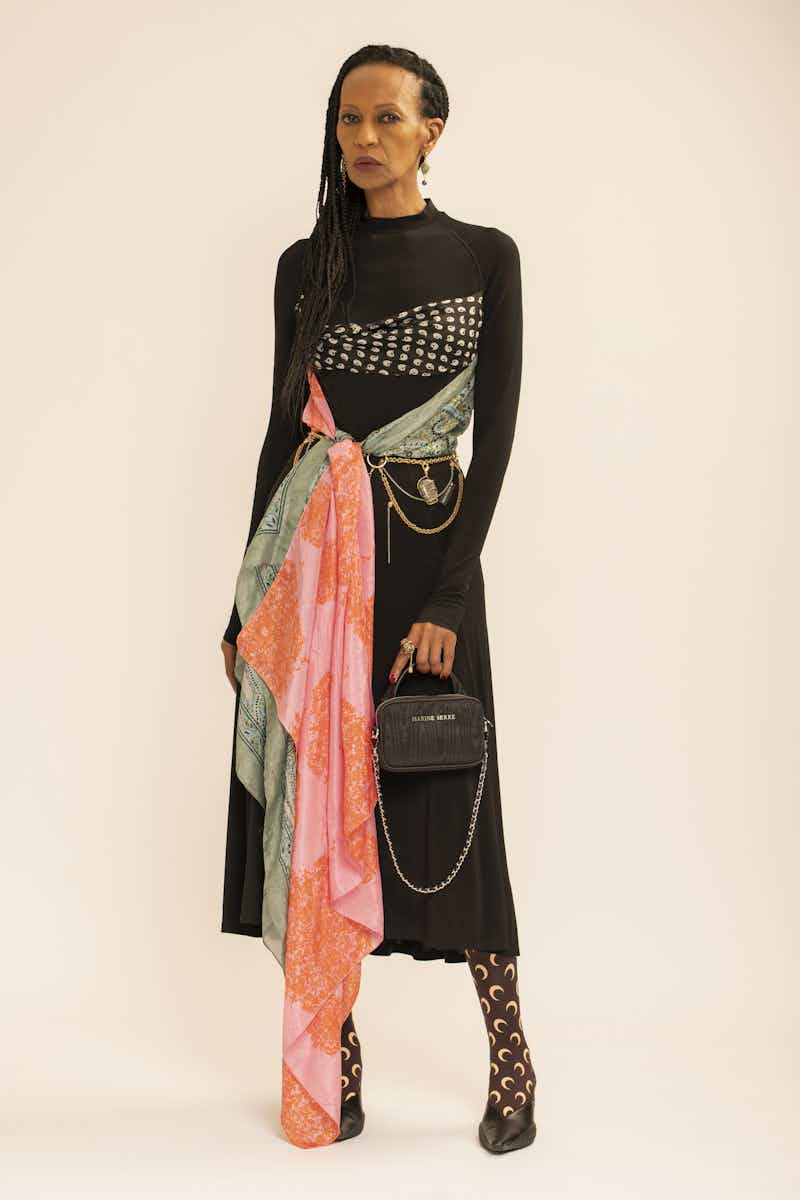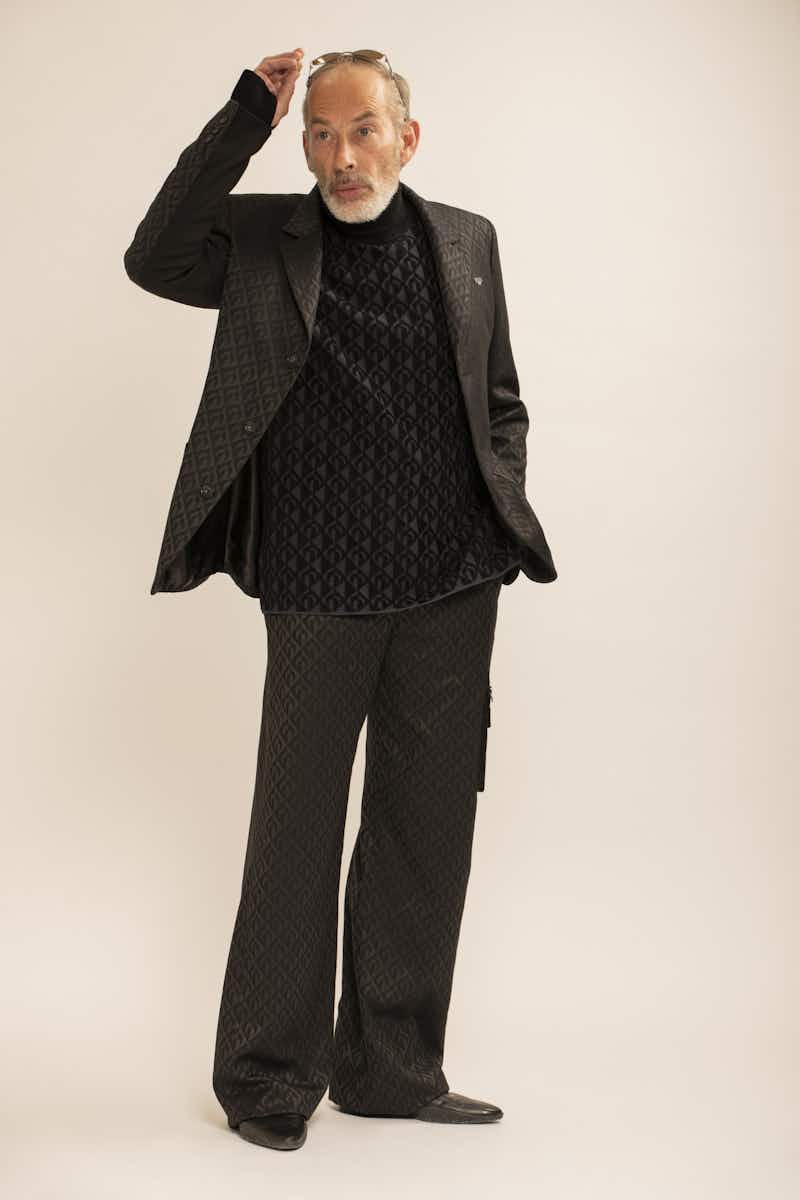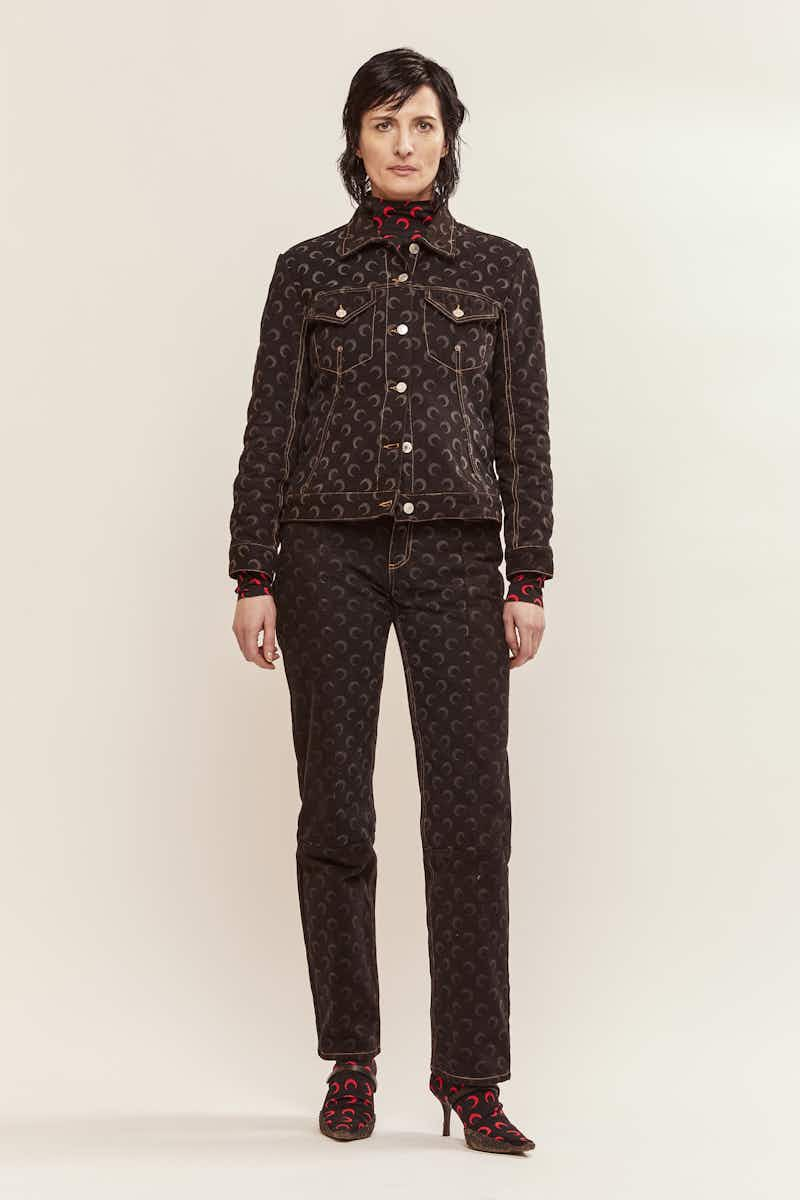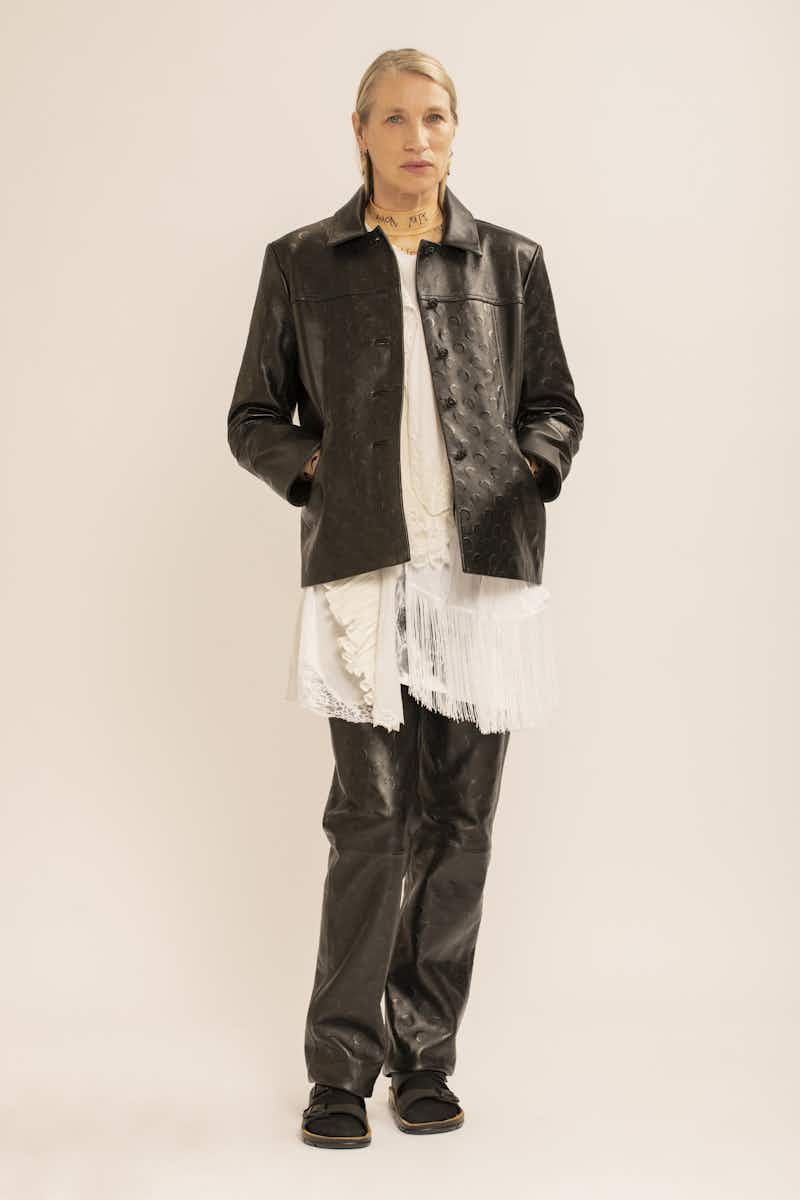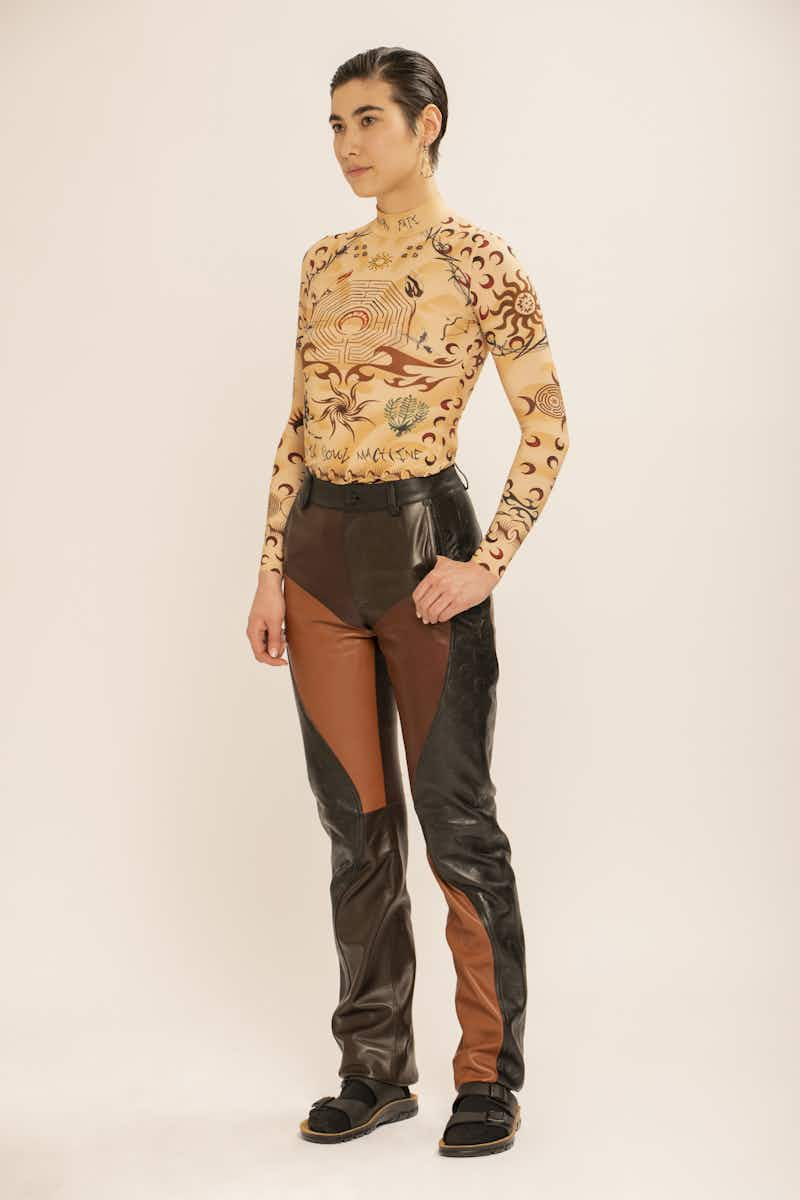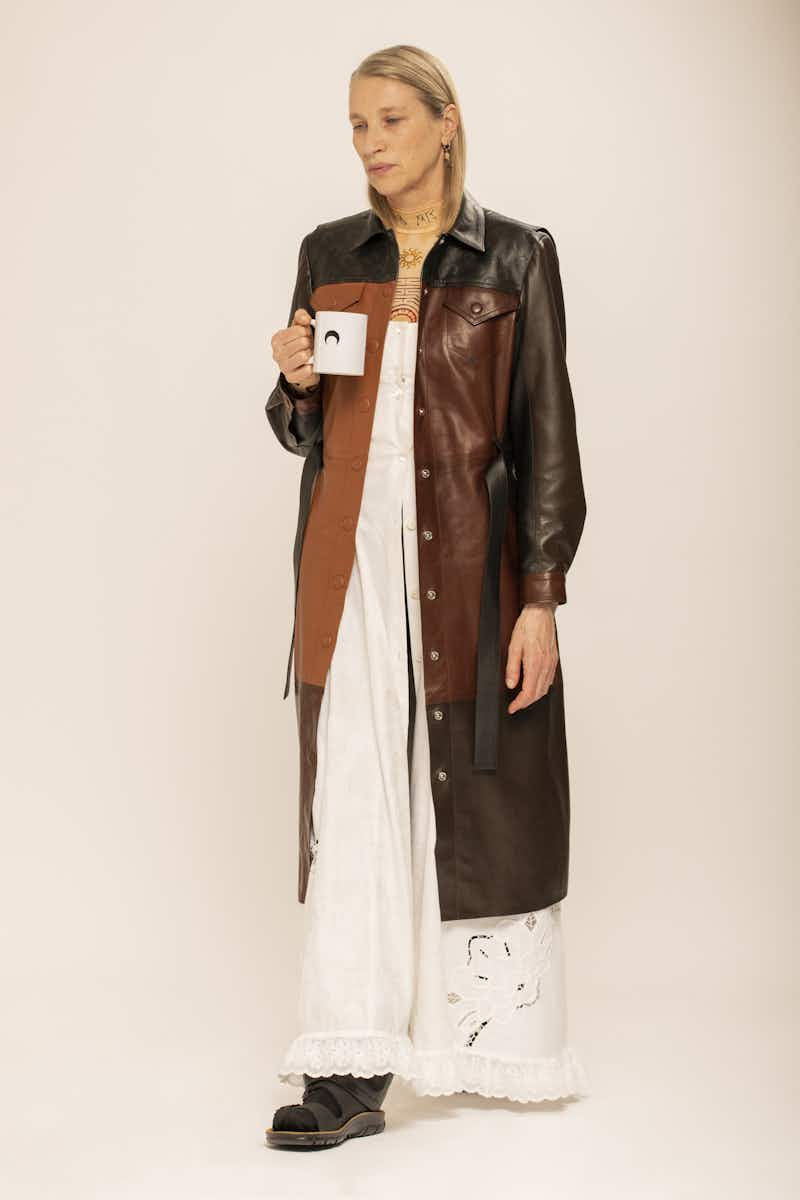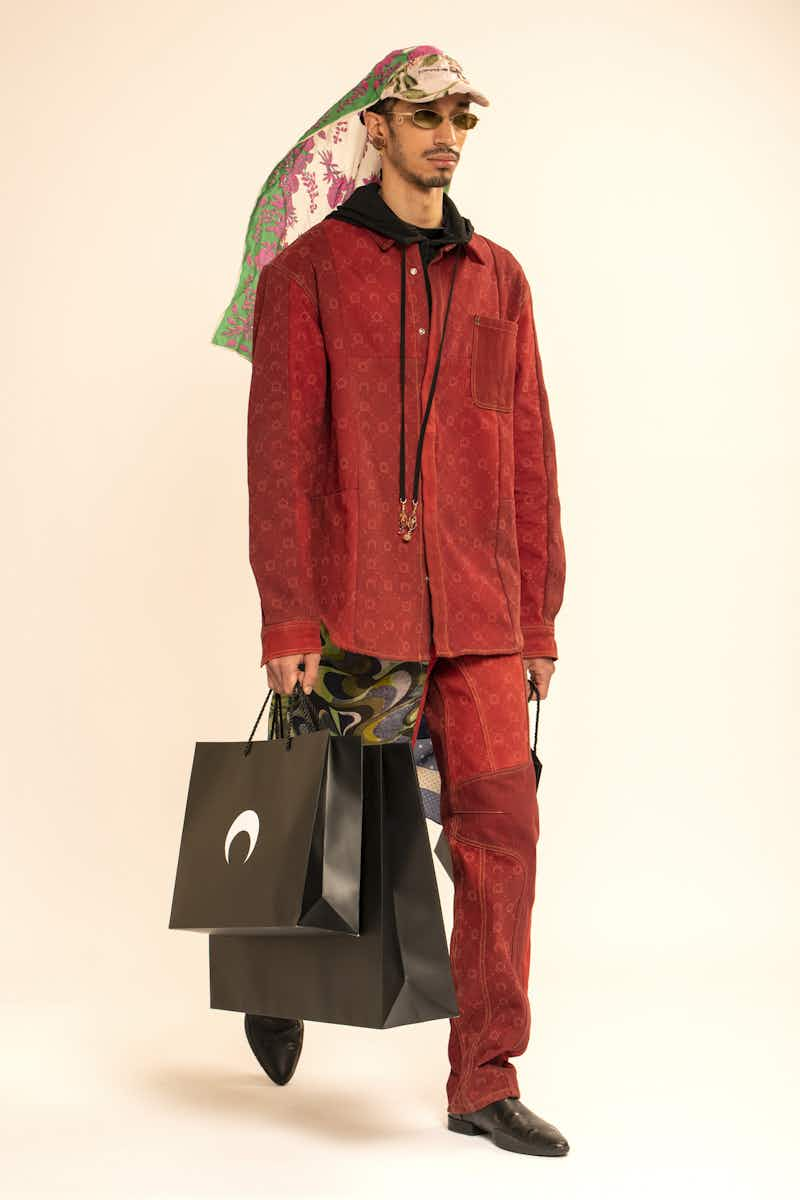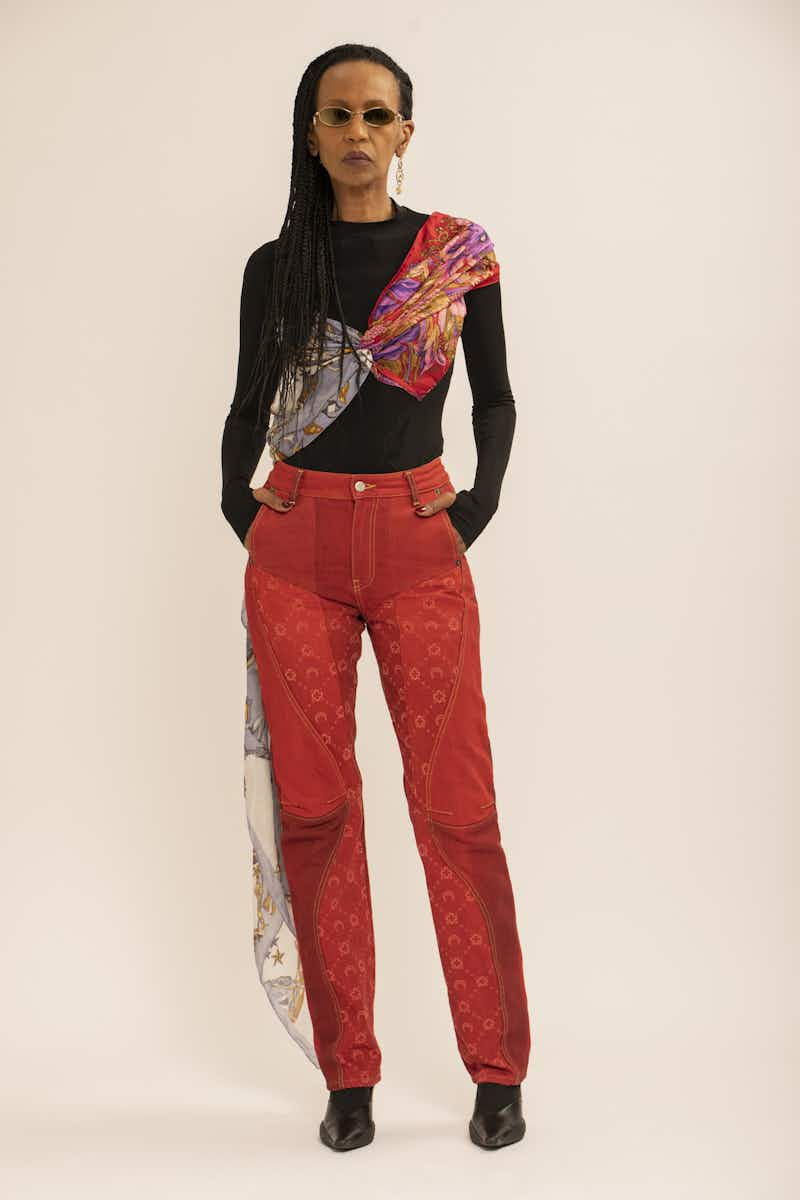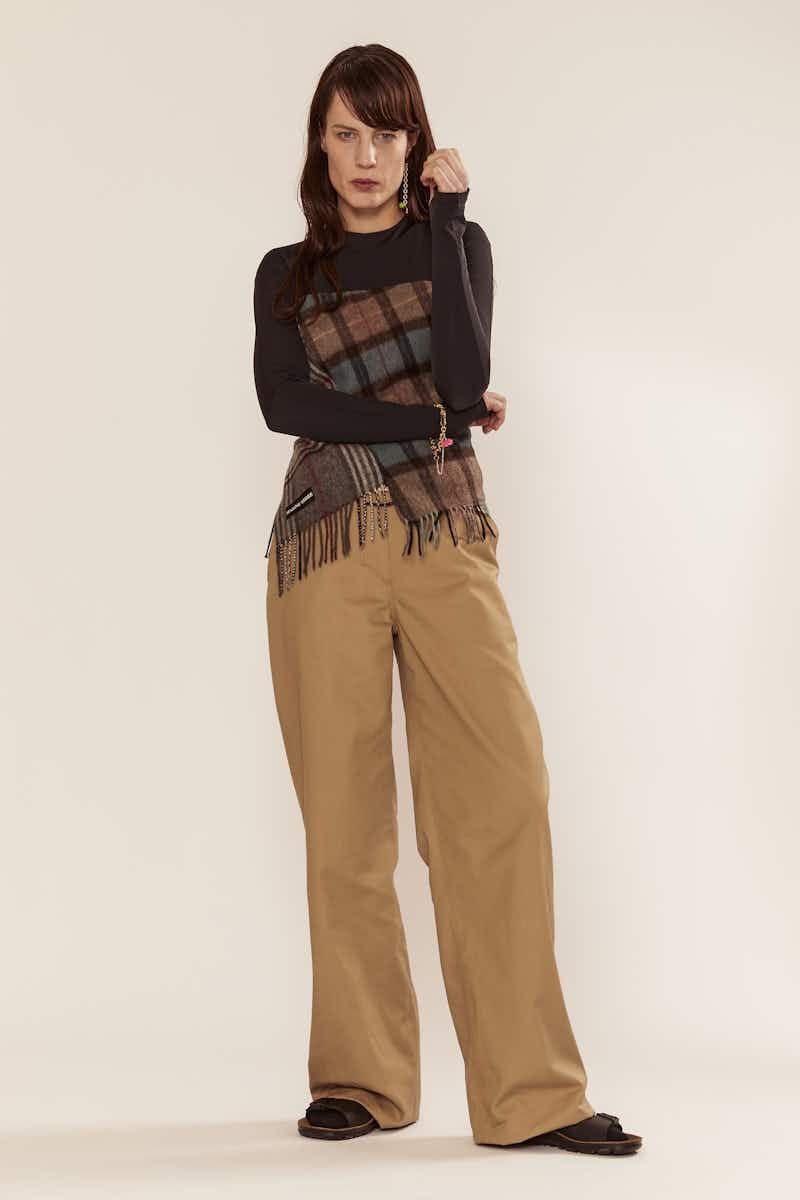 More like this