Saint Laurent Men's SS22: a case for skinny jeans

Impossible to ignore, the ultra-tight denim was paired with historic references throughout. But this is no rose-tinted vision of Camden Town, it's Anthony Vaccarello's bid for the future: camp, glam and gender-fluid.

Without the indie kid, where do skinny jeans belong? These days, the ultra-tight fit is most commonly found on muscled-out, #LegDay lads, the Love Island–ers who never skip a day training the calves. But there is also, of course, the Saint Laurent boy.
It seems like a by-gone era – a tumbleweed relic of British high streets post-Libertines. But it's a moment in time that Anthony Vaccarello resurrects and reimagines time and time again. The skinny jean was unavoidable as it opened up the French luxury house's SS22 show, presented yesterday in Venezia, Italy. And as the looks strode down the installation-slash-runway – a futuristic stage titled Green Lens, created by artist Doug Aitkin – it was impossible to put the creative director's vision of the skinny jean to one side. He makes them undeniably cool.
That's not to say they're for everyone. Some are so tight a drop of lube would suffocate. But on the Saint Laurent boy, paired with sharp sunglasses and a sea-salted, shoulder-length cut, there's an irreverence reminiscent of the reigning days of rose-tinted Camden Town – but less boozy, more refined; less nostalgic, more aloof.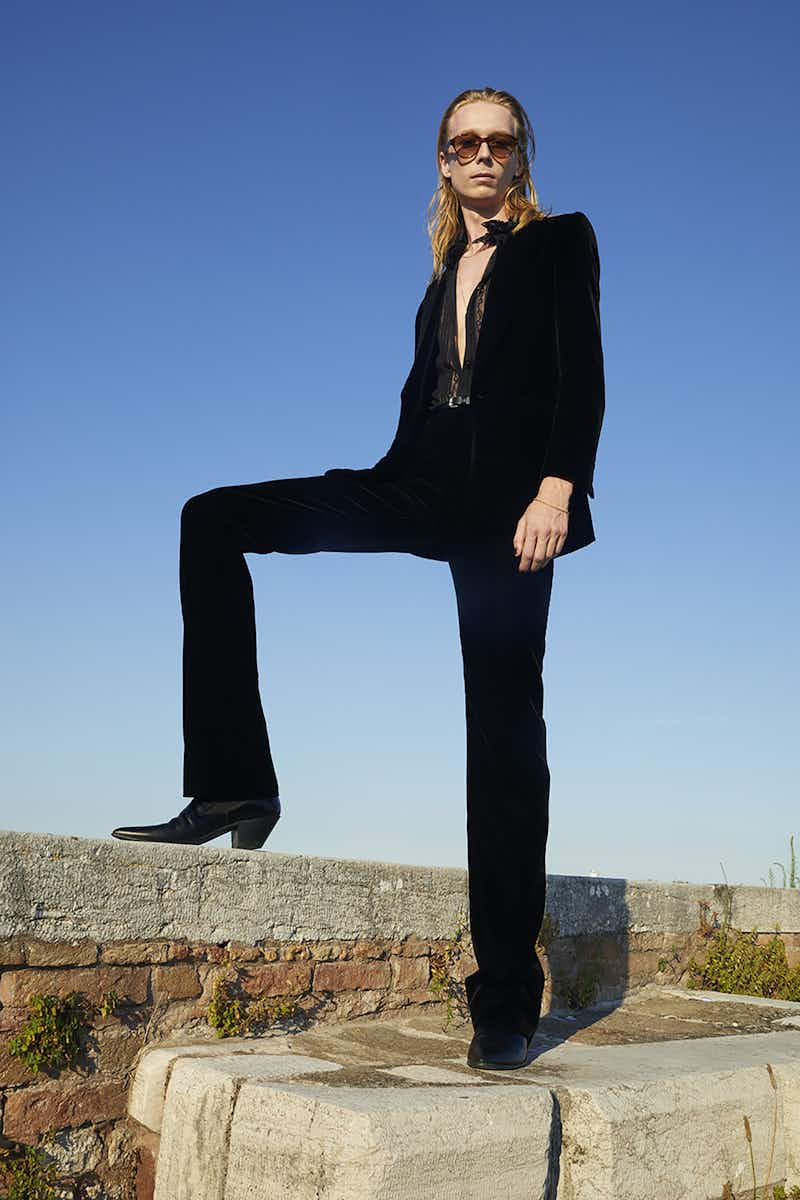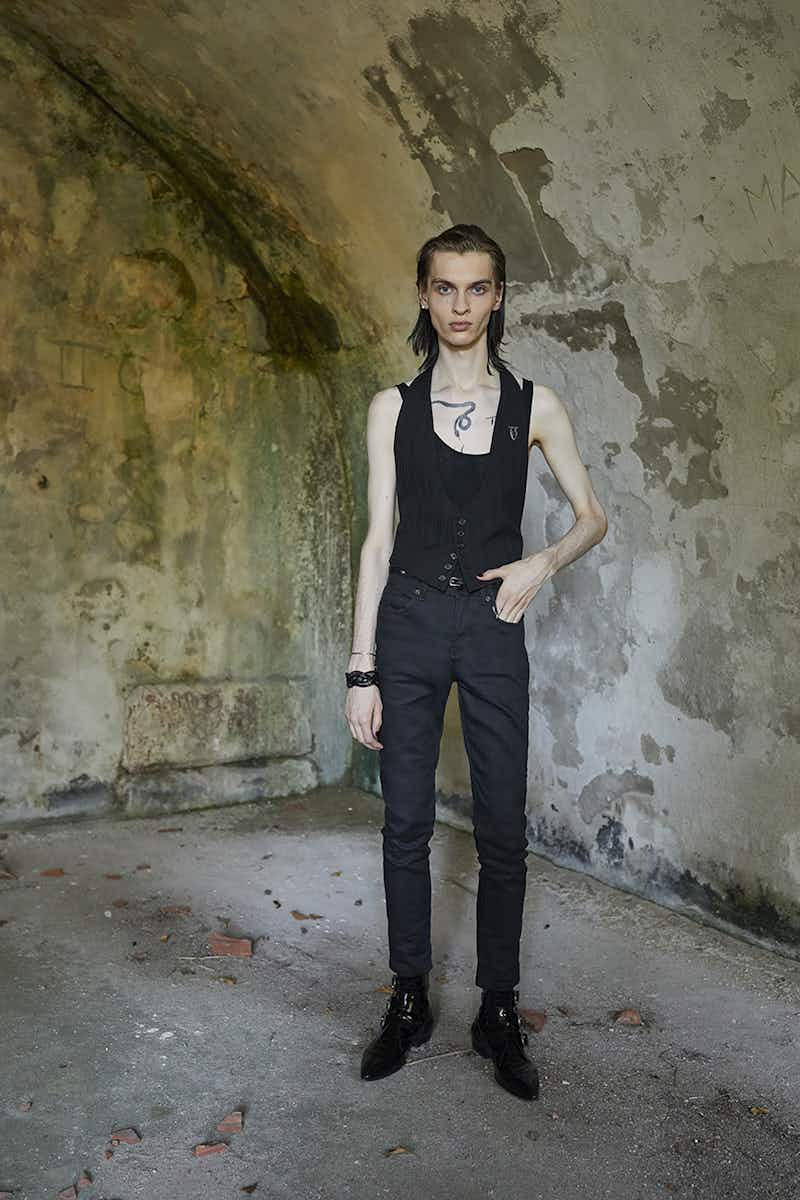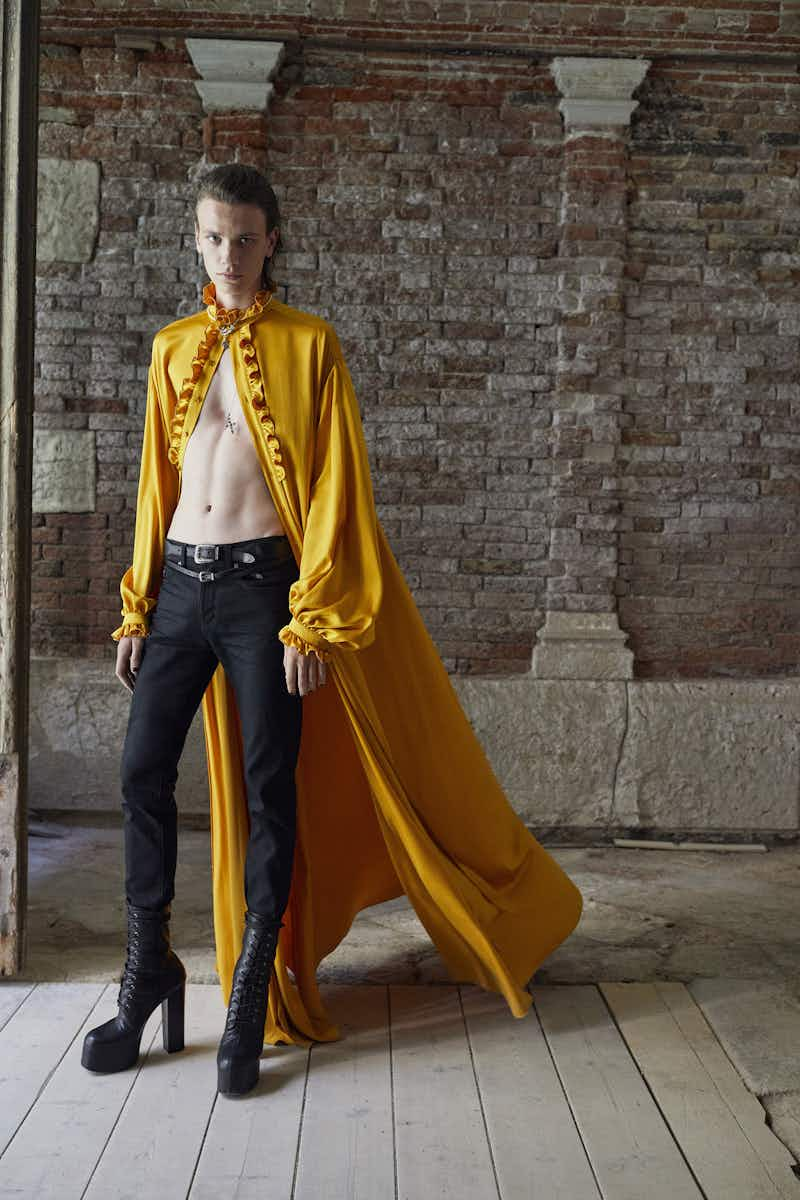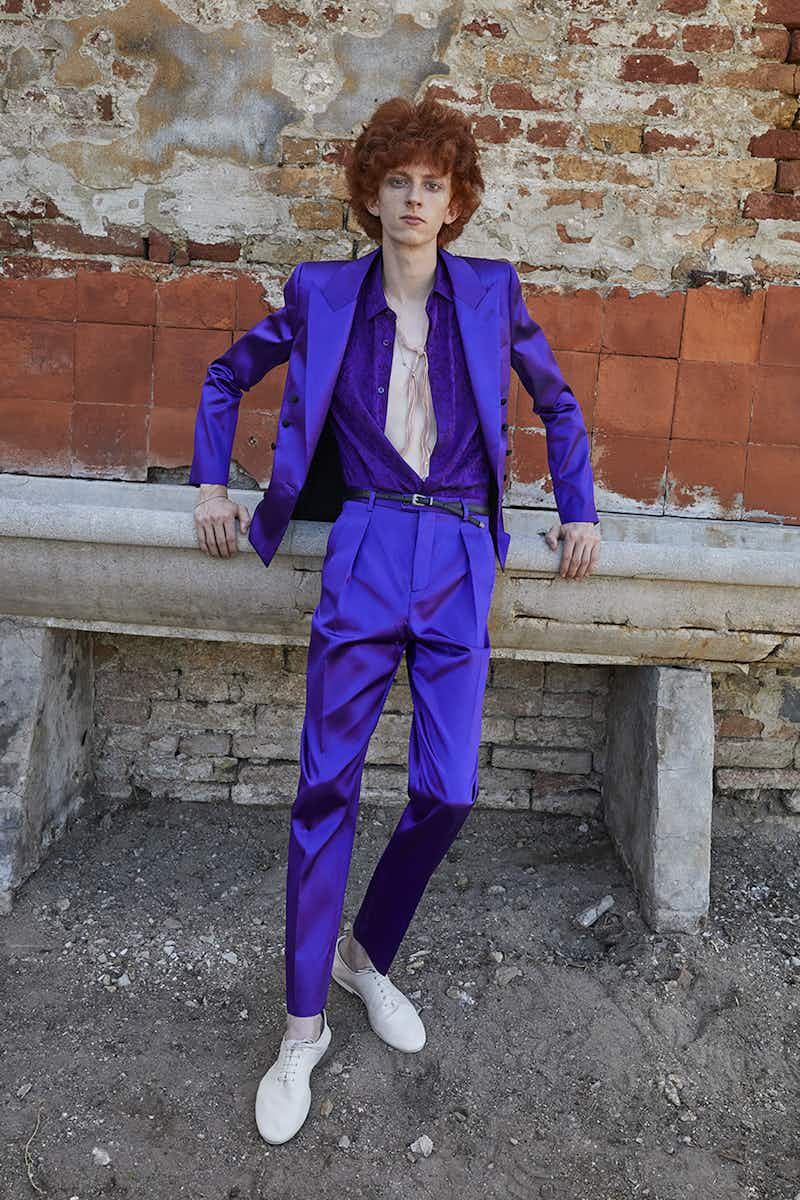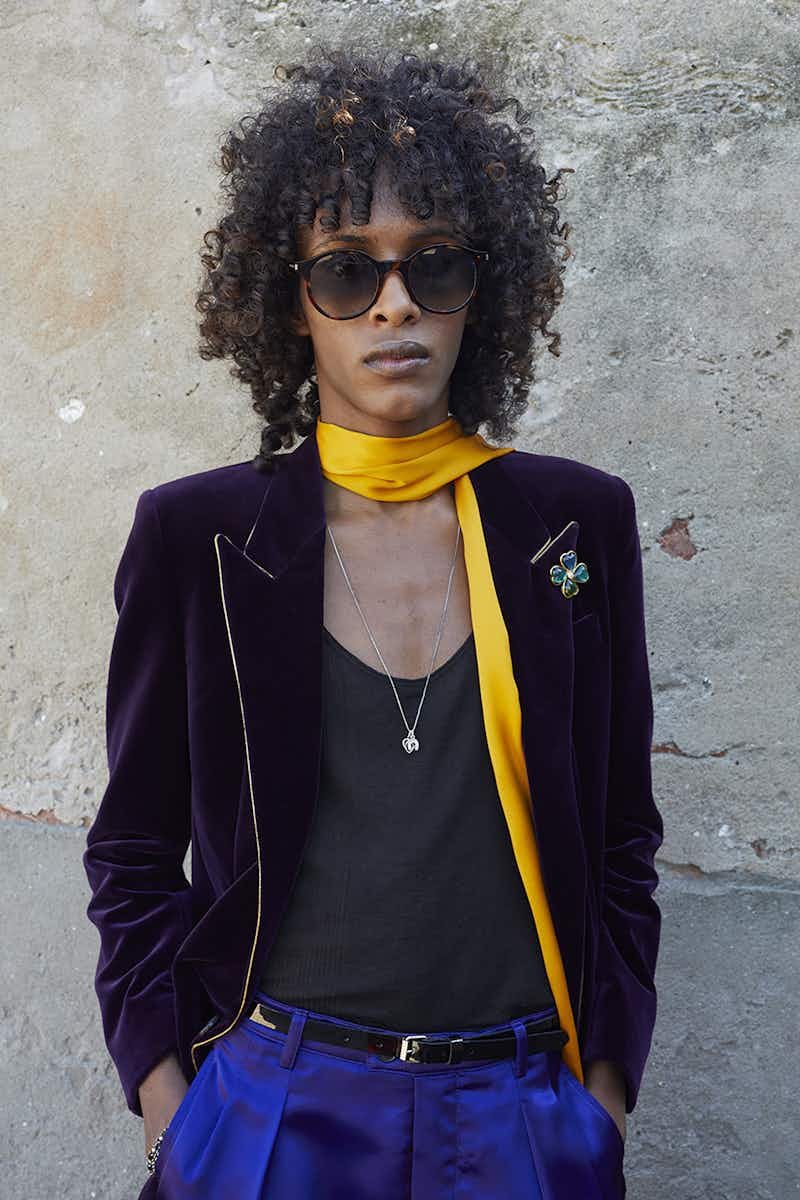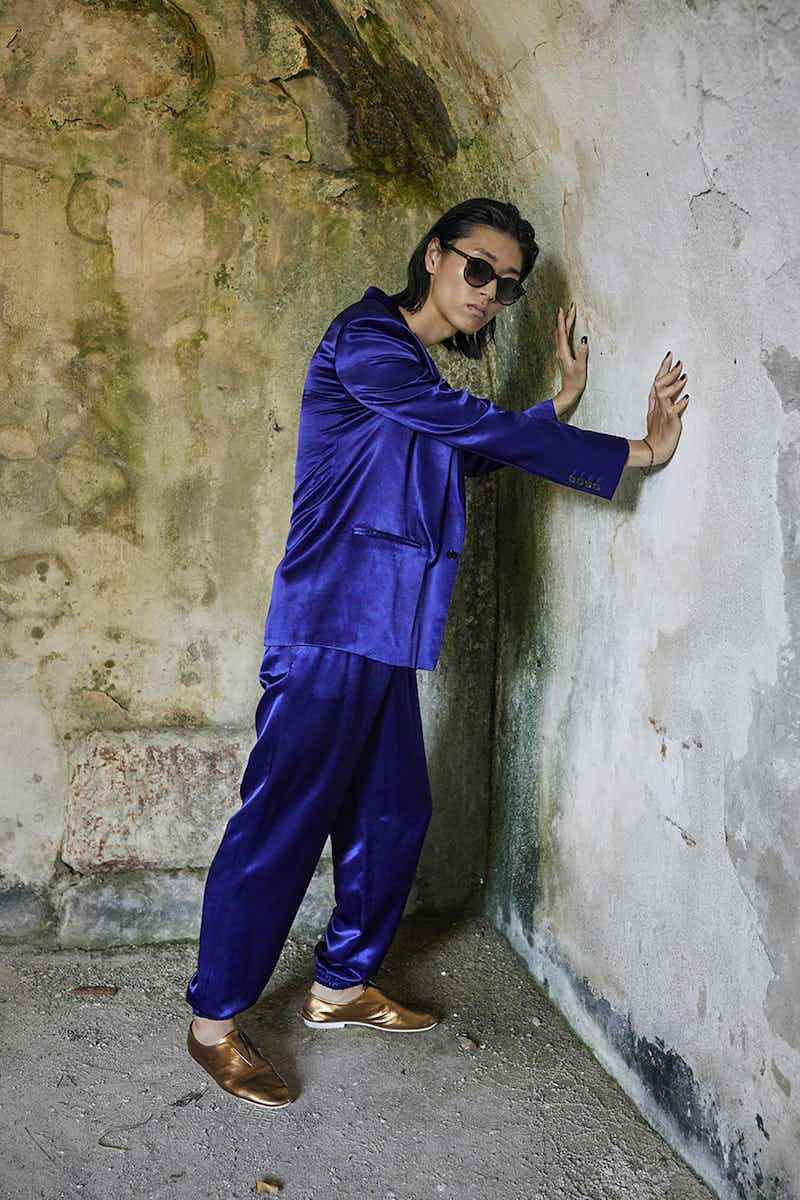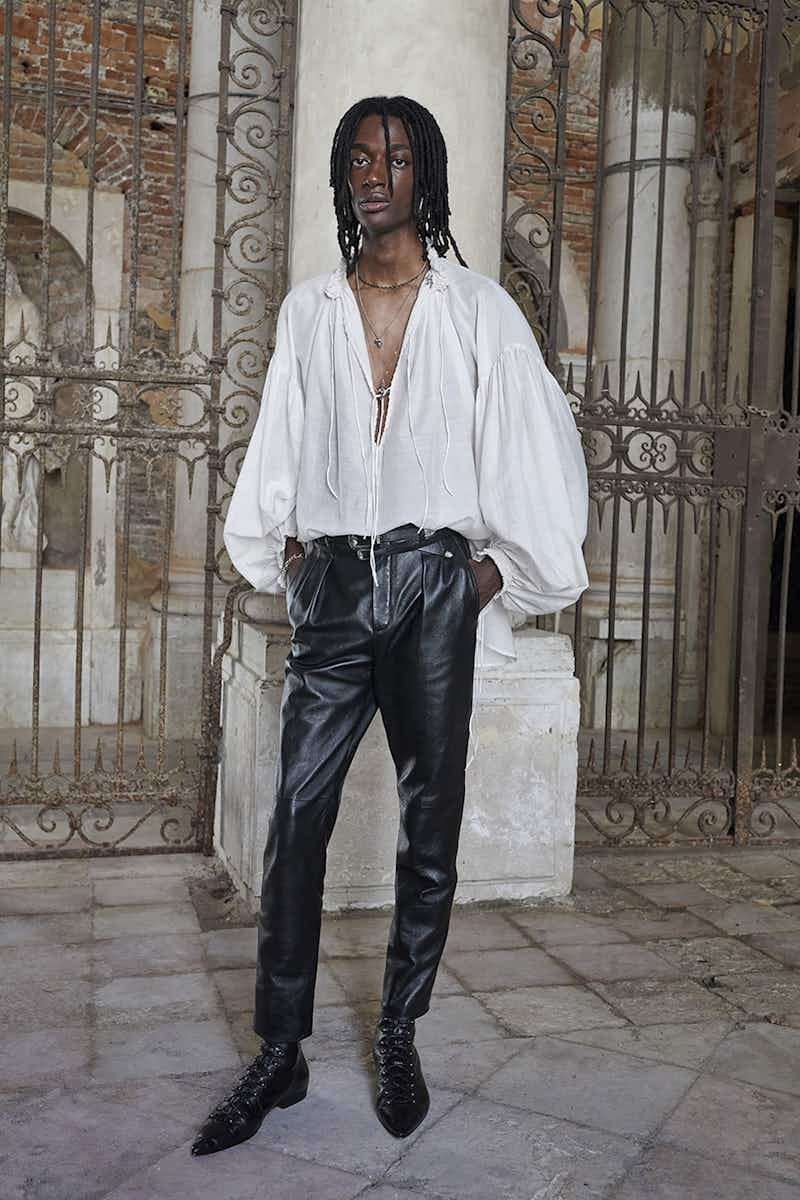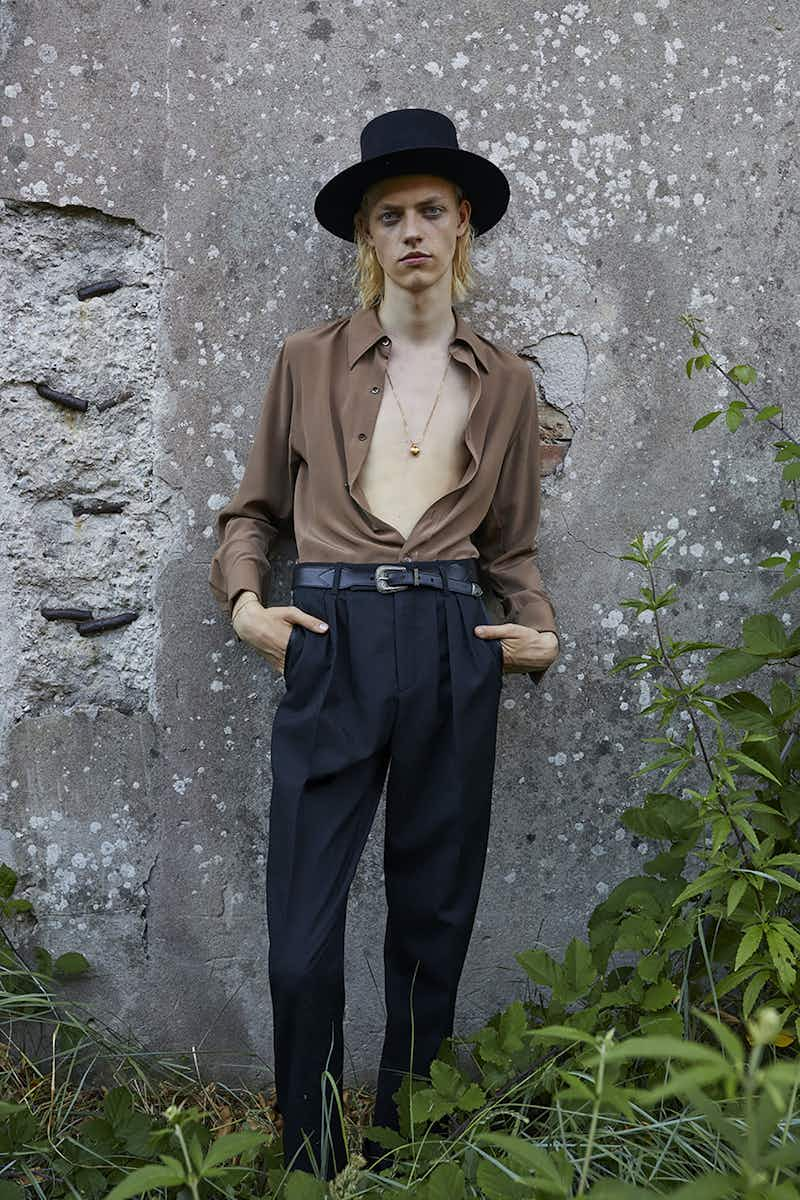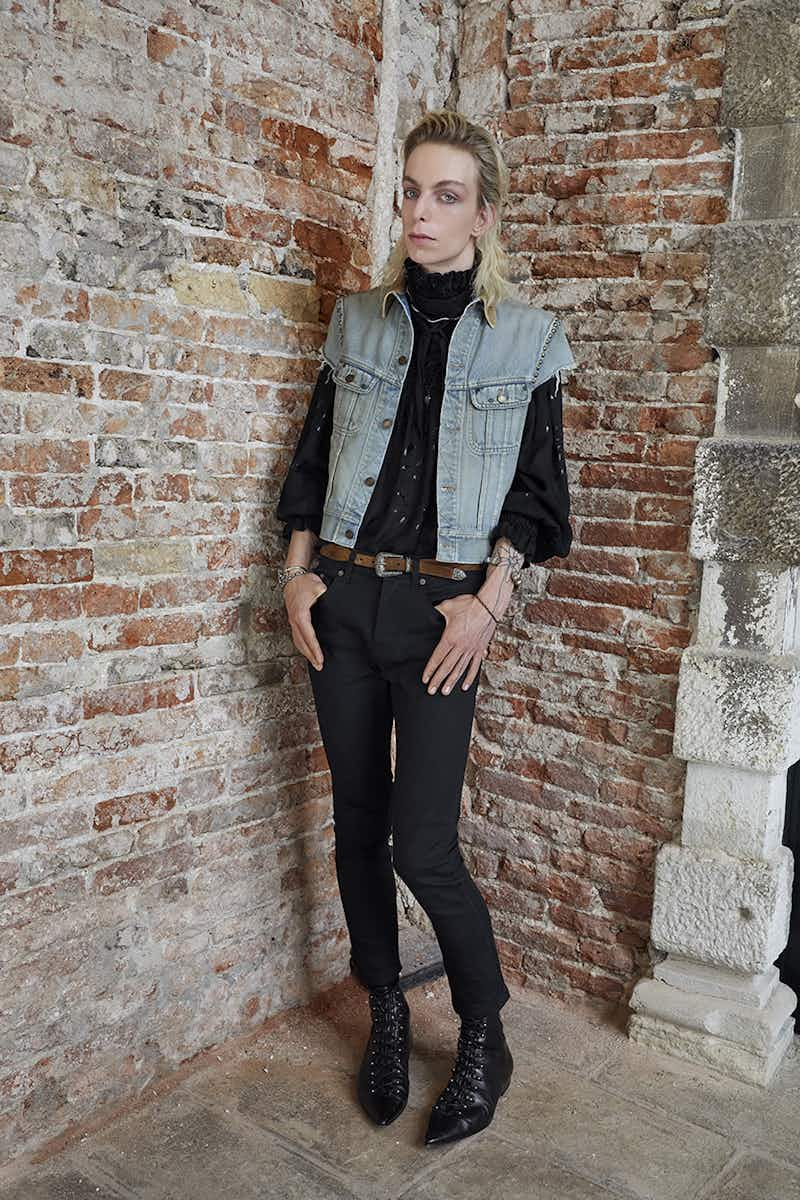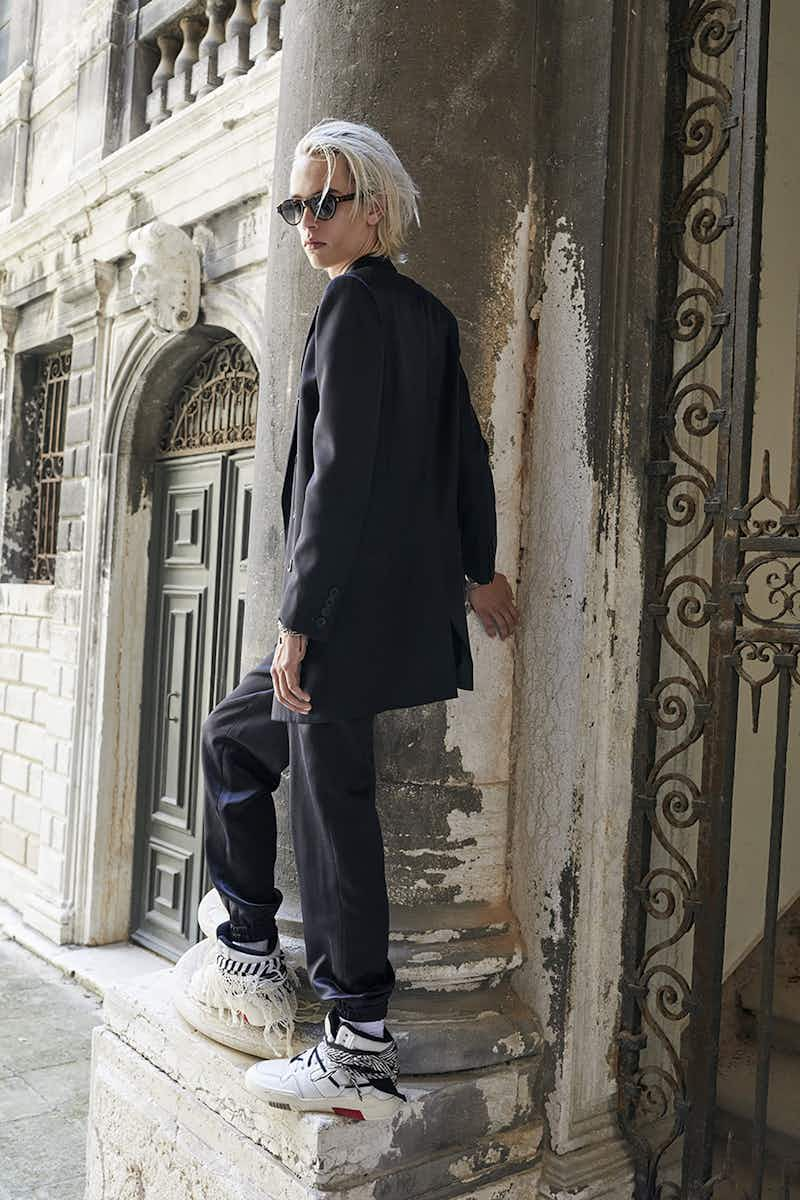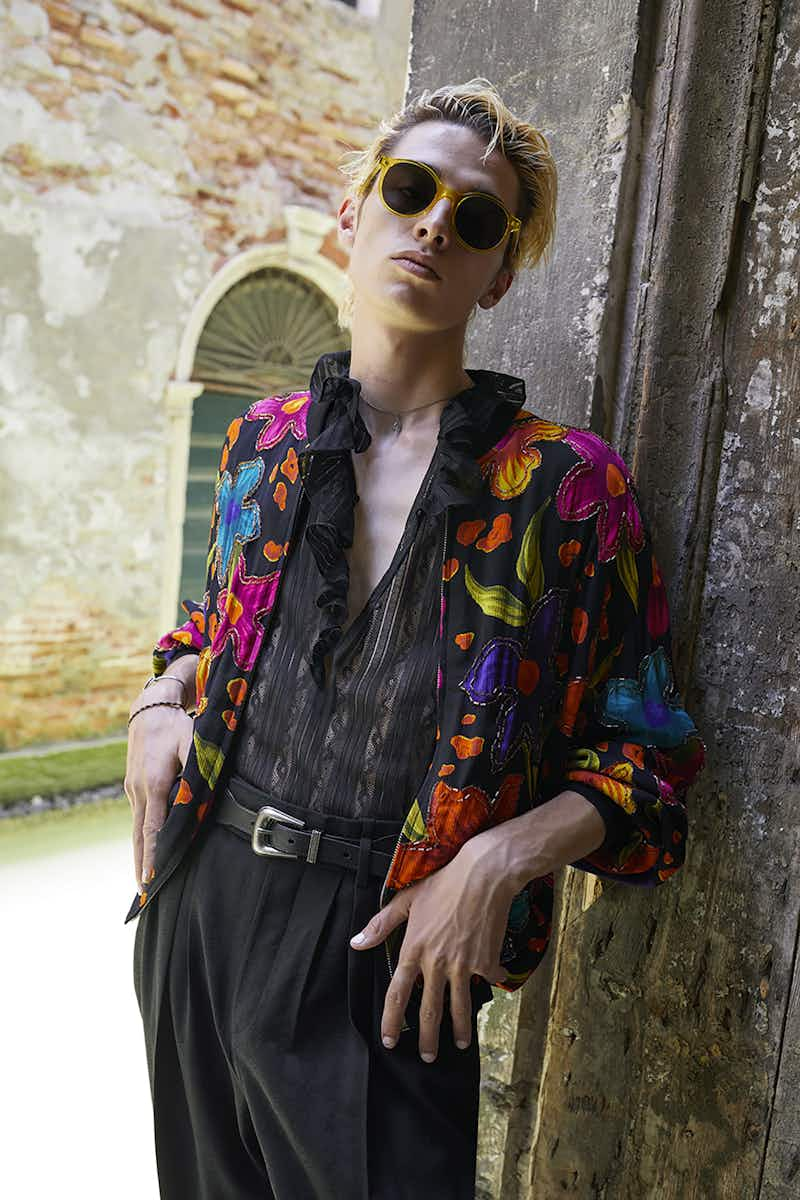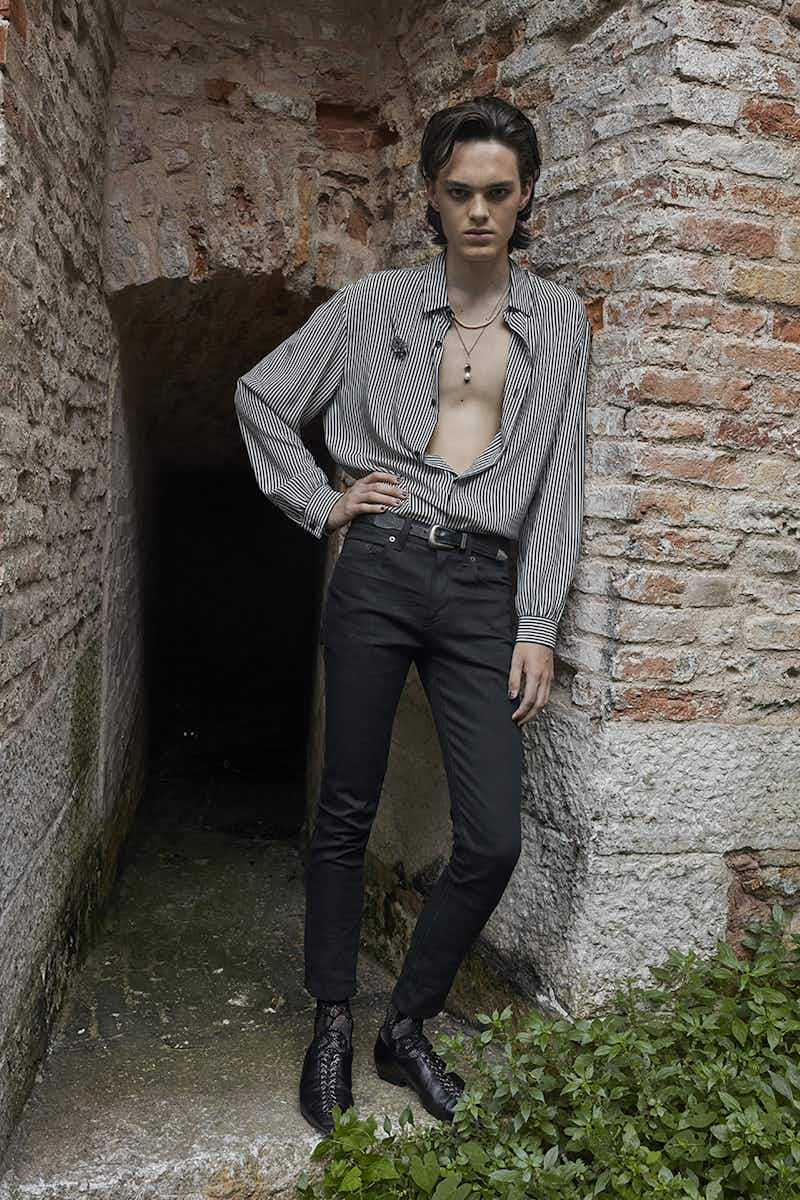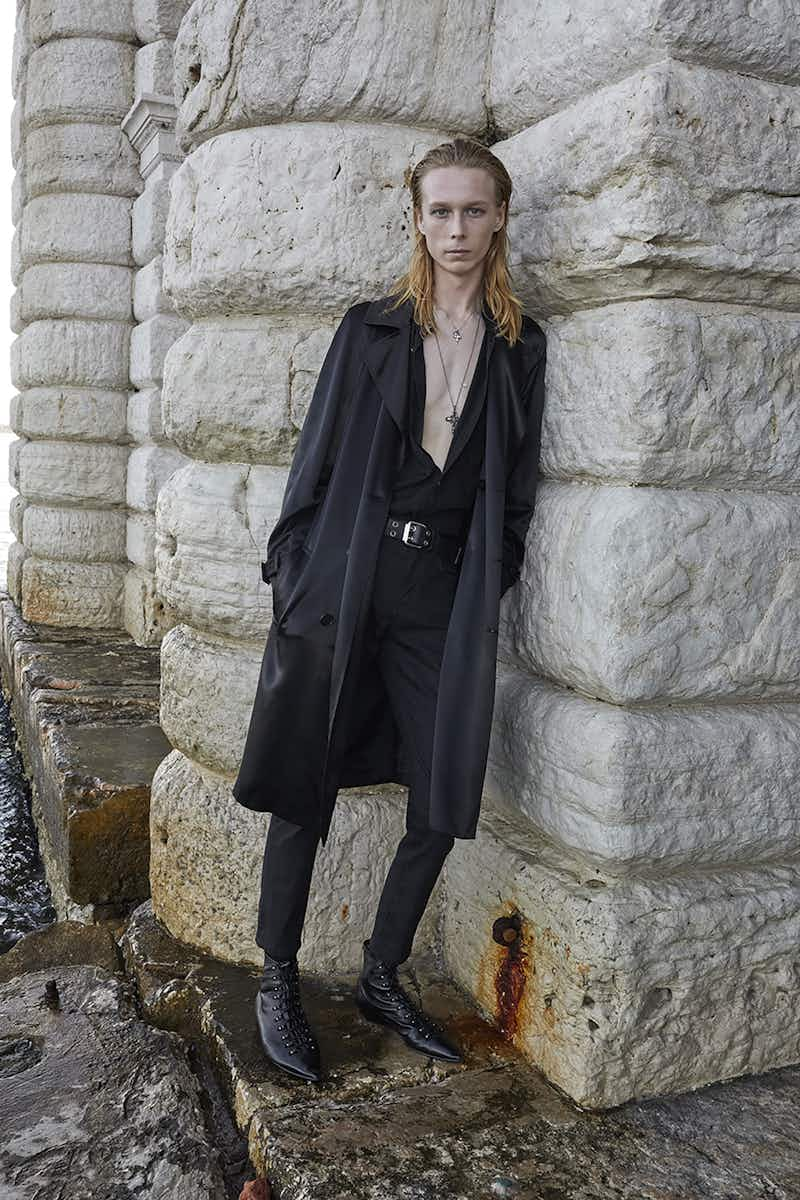 The show opened with a model walking on water. This was Vaccarello's vision of a future world, where the Saint Laurent boys strode around botanics, their looks reflected on the installation's mirrored surface. In Venezia, where the canal waters are impossibly blue and the city landscape deeply historic, the contrast between the old and new was present not only in the show's setting, but in the collection, too.
Striding like modern-day flaneurs, shirts with ruffled detailing were worn under razor-sharp blazers with shorts. And in a case for androgyny, necks were sliced far-south, revealing large portions of the chest. Better yet, lace detailing was intricate, poking out of shirt sleeves and covering the neck. Perhaps the best moment, though, was a cape. Secured at the neck, it appeared as an opulent evening coat from the back, albeit one that drags across the floor. From the front, it was a medieval statement.
The mood shifted as the sun went down, following darker notes of blood-red balloon sleeves, glam rock suiting and, after a series of loosely tapered trousers, a reprisal of the skinny jeans. The boots were somewhat elongated, accentuating the foot to disproportionate length and having the boys take steps with wide confidence. There's something telling about the historic references planted throughout Vaccarello's latest collection. Excess needn't be gaudy, or all that lavish. Presented in just the right amount, like here, it can be muted.
But then it all got quite Balearic – and camp. Look closer and you'll see that Saint Laurent's mix-model presentation was as gender fluid as it has ever been. Platform boots, ​'70s disco shapes in trouser suits, deep purple, heady tropical prints and canary yellow punctured the all-black rigidity of earlier looks. Then, floaty pirate-esque shirts, suits in light grey and relaxed trousers edged towards the final, dramatic look: a return of the cape, this time in gold. This is Vaccarello's future and it's optimum opulence for the modern-day Saint Laurent flaneur, skinny jeans, platforms, glam rock and all.


More like this