Supriya Lele SS22: optimistic, rave-ready future fashion
Supriya Lele has grown a die-hard fanbase over the past two or so years. These days, the label counts Bella Hadid and Dua Lipa as clients, and even Romeo Beckham has worn a wrap top by the designer. Waltz into any London party with a who's‑who guestlist and women will be confidently wearing Supriya Lele. It's sexy, Y2K-influenced, and, with its artful shapes, it's made to move in.

This morning, as the Midlands-born designer took the 9am slot at London Fashion Week, the legion of Lele paid no mind to the early wake-up call. It was her first show since before the pandemic and the buzz was electric. Notably, hoards of guests wore blues, oranges, dusty pinks and greens. The Indian colour palettes of Lele's previous collections have seemingly filtered through the fashion set, perhaps without them even realising.

Since her debut collection presented through Fashion East for AW17, Lele has developed her signature themes of noughties nostalgia and form-fitting drapery and, crucially, built a dialogue between her British identity and second-generation Indian heritage. Her parents came to the UK from India's central region in the 1980s, but for the designer, incorporating her culture into contemporary fashion has never been as simple as shoving a bindi on a model – and rightly so.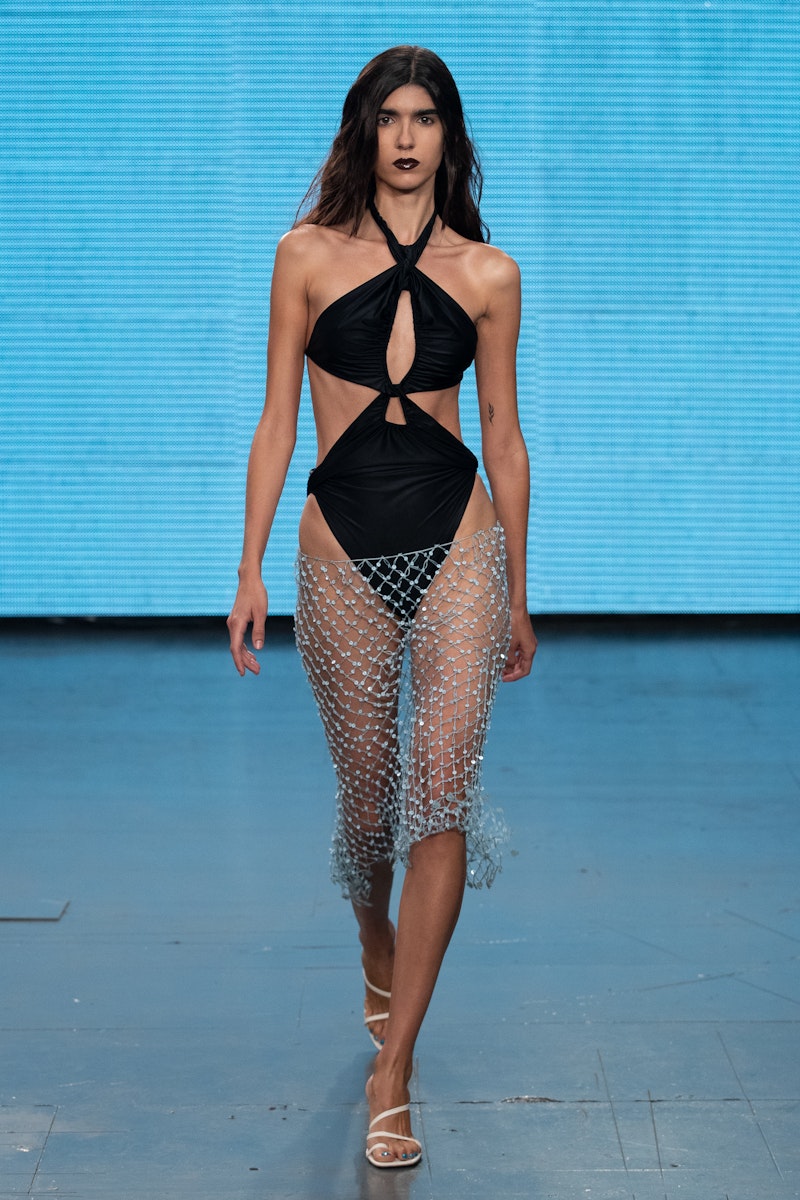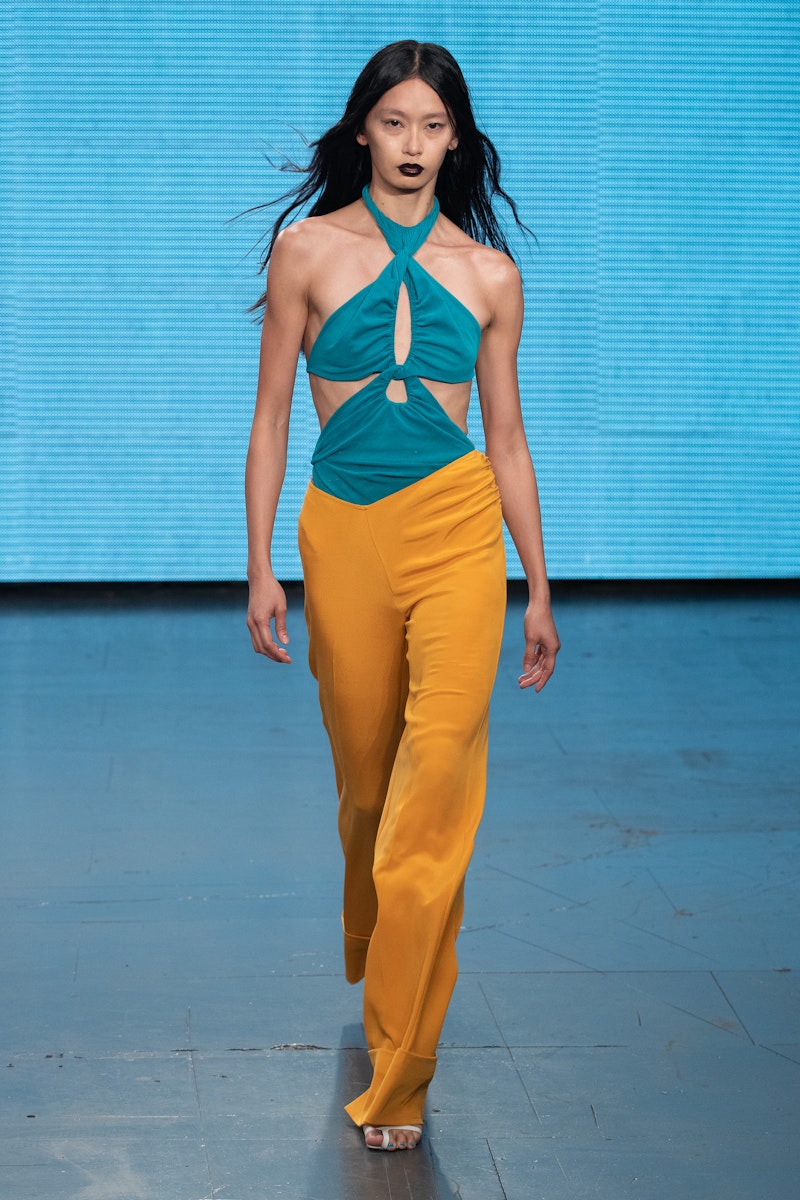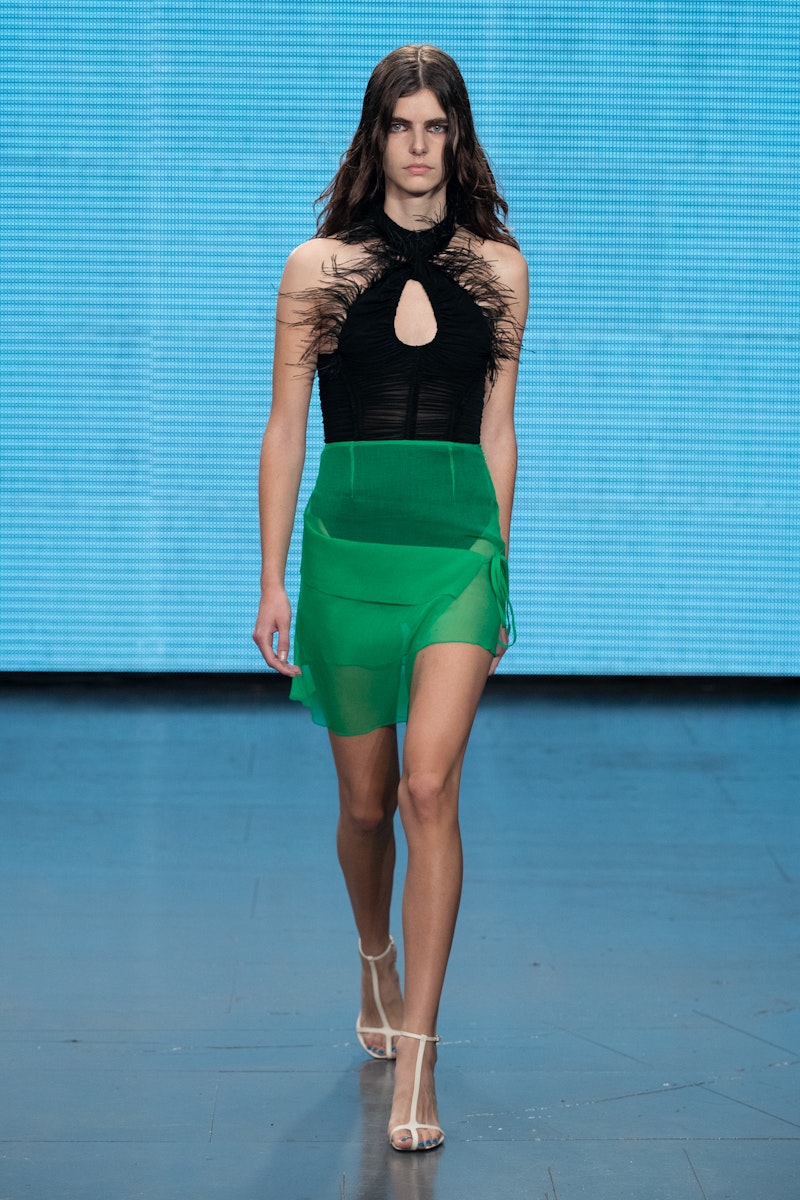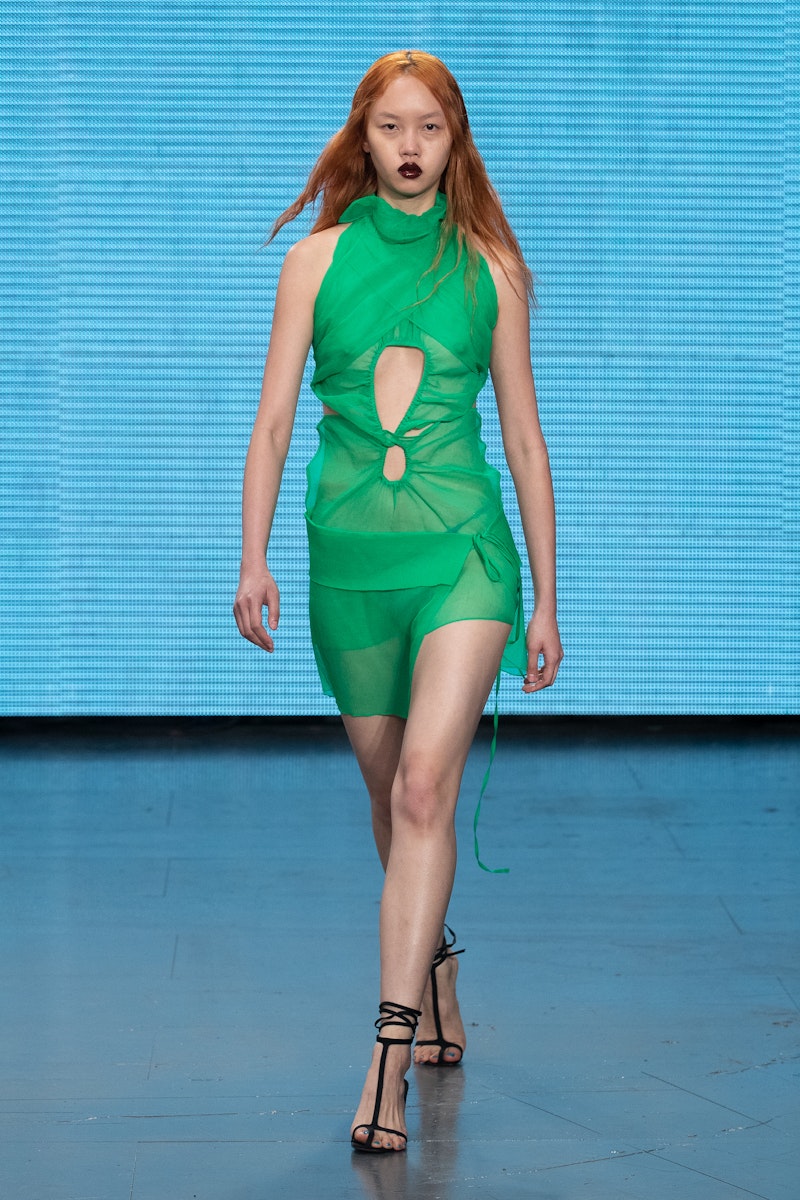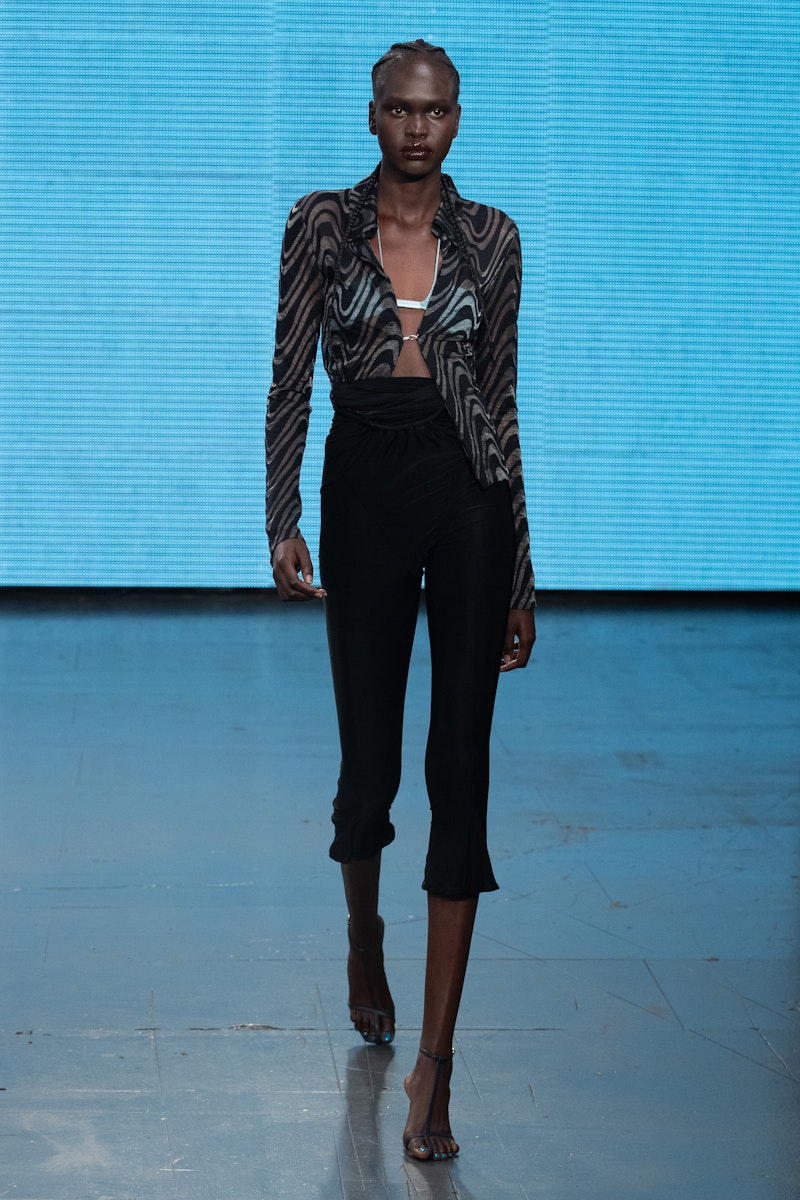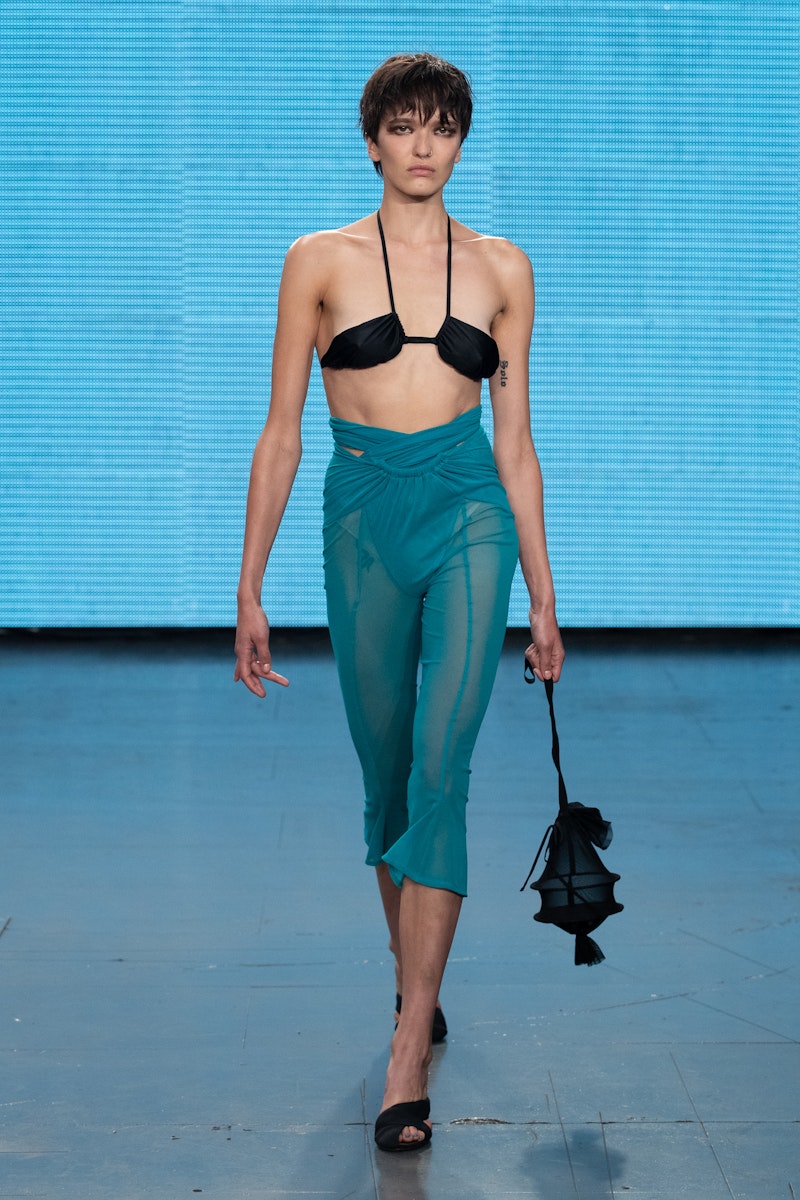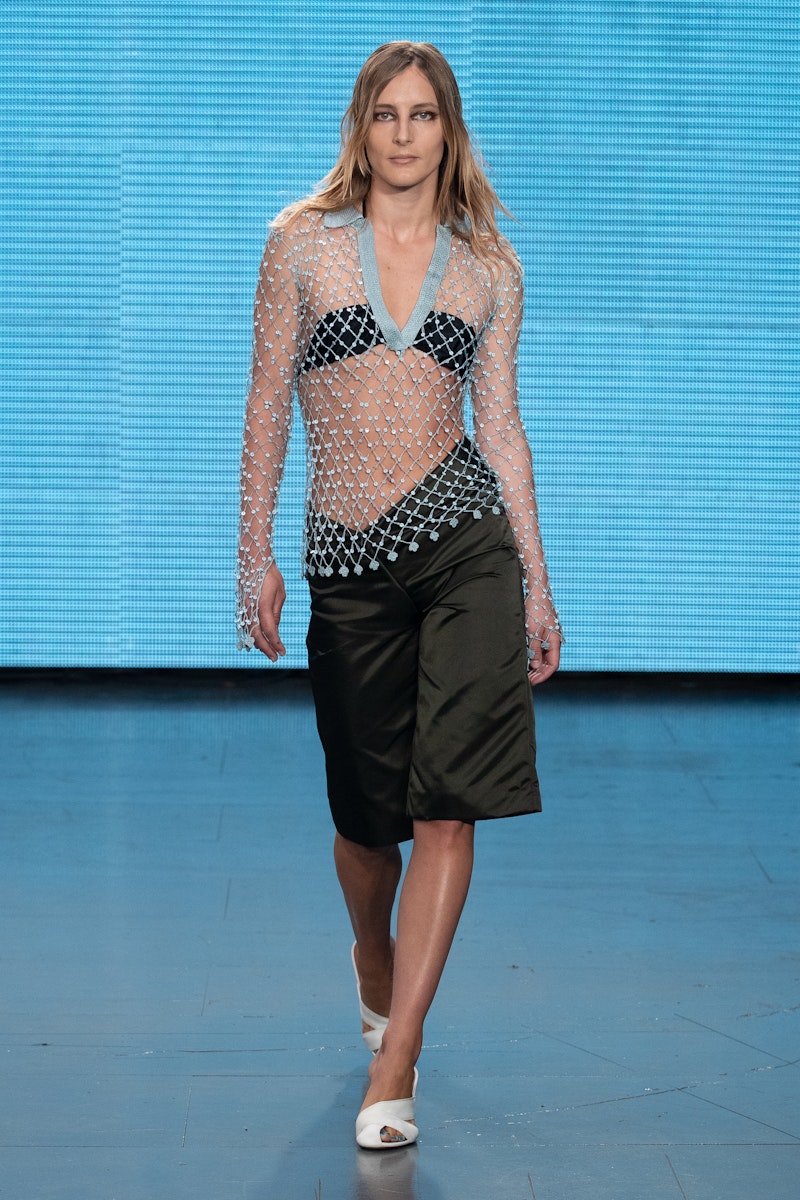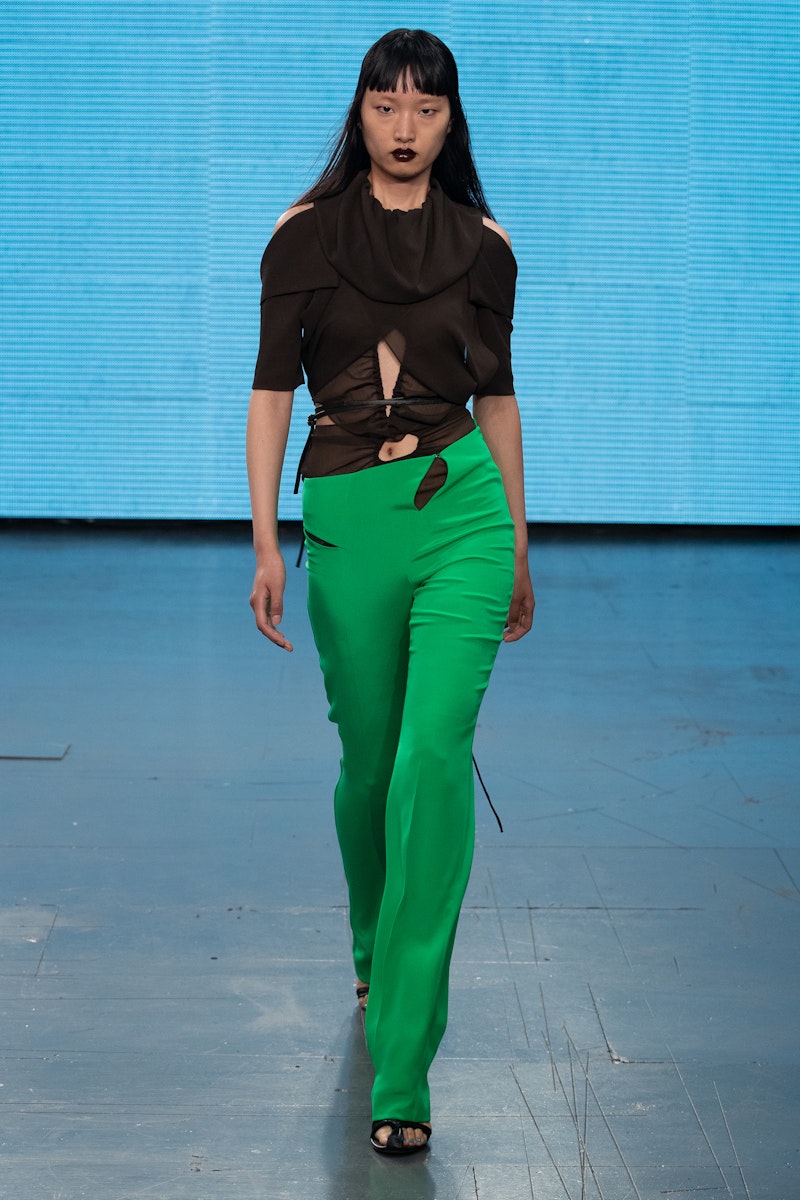 Rather Lele's design process, as shown in today's SS22 collection, analyses the cultural balance of growing up brown in the UK, subverting the warmth of traditional references, such as the flowing chiffon of a sari (sheer blue capri pants) or the orange of a madras print (sunset hues abound), to achingly contemporary heights. A shimmering beaded skirt bearing resemblance to a traditional Indian netted curtain, for instance, was placed around the waist, reaching past the knee.

A hedonistic streak juxtaposed the tradition, with rave-ready, torso-bearing bras clinging onto the neck via thin straps, cooling fabrics and minimal ​'90s miniskirts bearing resemblance to the simplicity of early Helmut Lang.

The one print on offer was psychedelic; a long-sleeve jacket attached at the middle bore monochrome swirls. Meanwhile, the earthy tones of Lele's previous collections were much louder. Shades of orange, green, yellow and turquoise were no longer muted, but rather wholly statement. Throughout the collection, cuts were deeply considered, with slashes made lengthwise down blouses to reveal the stomach and along the hip bones of slinky black trousers, while arms were exposed for much-needed breathing space on the dancefloor.

The collection also followed Lele's wipe-clean tradition, using butter-soft leather and PVC to make Grade A going out-out clothes. The collection's party credentials were bolstered by the accessories: the designer hit the sweet spot with glittering belly chains, strappy heels and skin – lots of it. This season, Supriya Lele waved a final goodbye to the hardships of the past year and, like her growing, mostly twenty-something fanbase, will likely be found at a rave near you real soon.
---