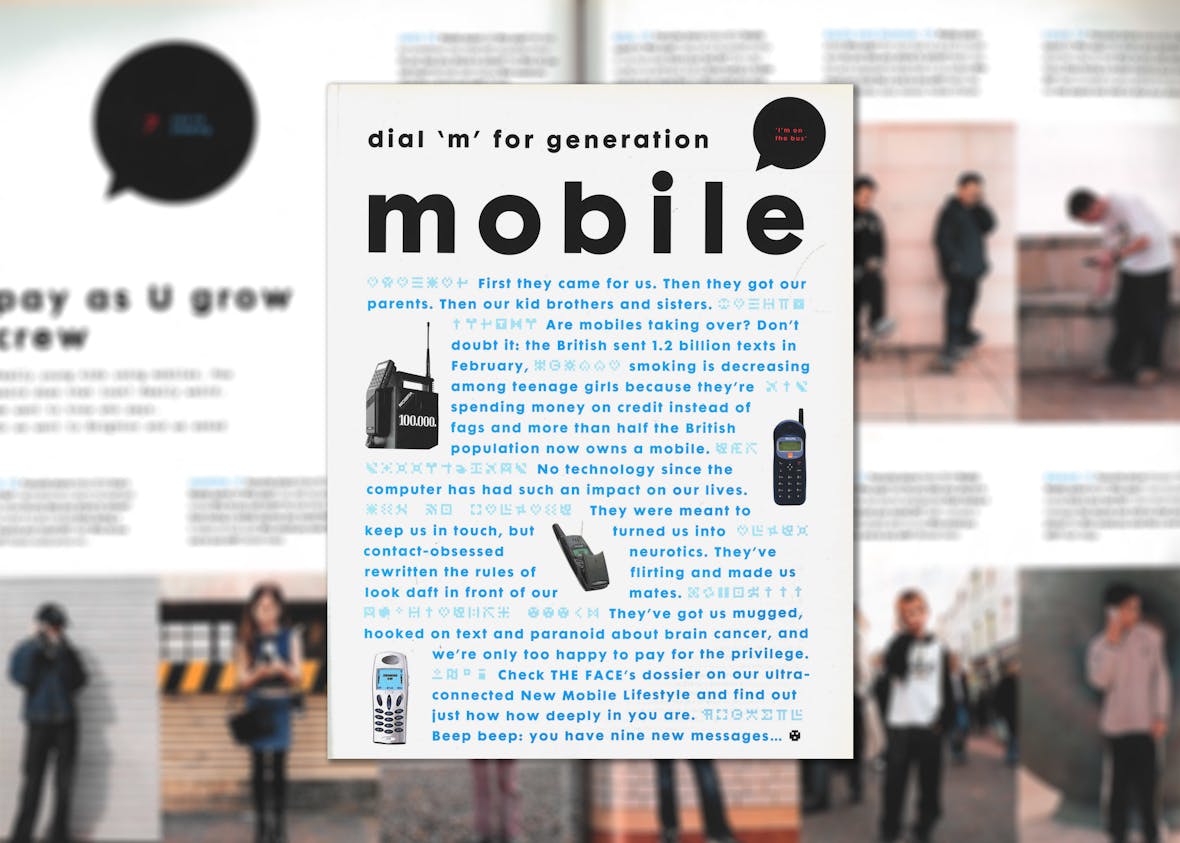 Dial ​

'

M' for Gen­er­a­tion Mobile
To cel­e­brate the long-await­ed return of The Face, we have select­ed a stand-out sto­ry from each year of our exten­sive archive, from 1980 to 2004.
Remembered by writer Lauren Cochrane
"It's hard to remem­ber a time before every­one had phones, but there was – and in 2002 it was becom­ing more and more com­mon for kids to want a mobile phone. A lot of peo­ple had them, obvi­ous­ly, but cer­tain­ly not every­one. And I guess one of the ways they did that was to steal them. So ​'jack­ing phones' was in the news quite a lot. It was peer-on-peer crime. We had to find a way to talk to a lot of kids about it, so we end­ed up going to The Brit School in Croy­don, talk­ing to all the stu­dents there about it. They said it was almost a tak­en-for-grant­ed ele­ment of own­ing a phone, that it might get stolen. Well, I guess that's still the case now… I did a lot of that kind of writ­ing for The Face, report­ing on social phe­nom­e­na. I also inter­viewed a cocaine addict for a cocaine spe­cial. Lat­er, some­where along the line, I moved from that hard-hit­ting, soci­o­log­i­cal kind of stuff into fash­ion. But I think that's a part of what made The Face so spe­cial, the mix of those things, all in one place."
Lau­ren Cochrane is Senior Fash­ion Writer at The Guardian, and Act­ing Edi­tor-in-Chief of The Guardian's bian­nu­al, The Fash­ion. She writes about every­thing from Marc Jacobs' lat­est cat­walk show to the cul­tur­al his­to­ry of the buck­et hat
First, they came for us. Then they came for your par­ents. Then our kid broth­ers and sis­ters. Are mobiles tak­ing over? Don't doubt it: the British sent 1.2 bil­lion texts in Feb­ru­ary, smok­ing is decreas­ing among teenage girls because they're spend­ing mon­ey on cred­it instead of fags and more than half the British pop­u­la­tion now owns a mobile.
No tech­nol­o­gy since the com­put­er has had such an impact on our lives. They were meant to keep us in touch but turned us into con­tact-obsessed neu­rotics. They've rewrit­ten the rules of flirt­ing and made us look daft in front of our mates.
They've got us mugged, hooked on text and para­noid about brain can­cer, and we're only too hap­py to pay for the privilege.

Chances are, if it hasn't hap­pened to you, it's hap­pened to some­one you know: at a bus stop, out­side the newsagent, in any dark cor­ner of urban Britain – a silent men­ace, a threat and then the grab. You've been phone­jacked. You're anoth­er sta­tis­tic on the score­sheet of Britain's newest street sport – a sport Britain's youth tribes in 2002 are play­ing to win.
If it's strik­ing that even five years ago there exist­ed noth­ing like the present cul­ture of mass mobile own­er­ship – up 600 per cent since 1995 – then it's noth­ing short of insane that on some streets peo­ple are being intim­i­dat­ed, mugged, shot and stabbed for hand­sets that cost less than £100 in the shops. Phone­jack­ing is a very young, very mod­ern kind of crime whose rise has been as mete­oric as the tech­nol­o­gy itself. In the past year, a 19-year-old woman in Waltham­stow, North Lon­don, was shot for her phone, a 12-year-old Croy­don girl stabbed for hers and a ten-year-old boy in Lewisham threat­ened at gunpoint.
The Home Office esti­mate that 710,000 phones were stolen last year on the streets, with 28 per cent of all street inci­dents involv­ing the rob­bery of a phone. They know all about that at the BRIT School for Per­form­ing Arts and Tech­nol­o­gy in Croy­don, South Lon­don. While rules dic­tate phones must be turned off, in a class of 25 14-year-olds only one per­son is with­out a mobile – and every­one has a tale to tell about the time they got jacked. A friend of Kate's was at West Croy­don bus sta­tion. ​"She was on her phone," says Kate. ​"Because she gave them atti­tude, they took her phone and beat her up." They're all clear why it hap­pens. ​"Some peo­ple do it because they can't afford a top phone, or to buy drugs," says Kay­la. ​"But most do it just because they can."
"It's got so com­mon," mut­ters Lisa, ​"that jack­ing a phone is like noth­ing. It's like walk­ing to the shop." Or, for that mat­ter walk­ing into the aver­age inner-city play­ground, where – for­get conkers, Poke­mon cards and weed – the only trade that real­ly mat­ters these days is in hand­sets. Emile, 15, goes to a school in North Lon­don, and says, ​"There's always some­one in the play­ground sell­ing jacked phones. You can buy one for around £20 to £30." In Croy­don, Jim­my, also 15, reck­ons he can ​"kin­da order a phone from a friend of a friend". Bil­lie lives up to the ​'Bad Girl' slo­gan embla­zoned on her top and runs through some street prices: ​"A 3210 is £25, a 3310 is £30, a 8310 is £50, and it goes right up to a Sam­sung A300 for about £200."
It's like­ly no one in the mobile indus­try ever antic­i­pat­ed just how the ulti­mate com­mu­ni­ca­tion tool would become the ulti­mate toy, for both adults and kids. As it stands, 88 per cent of 16 – 24-year-olds own mobiles. Con­sid­er also that 50 per cent of 7 – 15-year-olds own mobiles. While mobile man­u­fac­tur­ers stren­u­ous­ly deny tar­get­ing under-16s, the gen­er­al mar­ket­ing con­sen­sus is that when it comes to the youth demo­graph­ic, mobile phones are the new train­ers: func­tion­al tool, fetish item and per­son­al­i­ty exten­sion rolled into one. Urban myths which sur­faced in the ear­ly Eight­ies of peo­ple being held up for their train­ers in New York's tough neigh­bour­hoods seemed charm­ing­ly unbe­liev­able. But put that to any­one who's been jacked for a cheap pay-as-u-go phone and it's unlike­ly they'd see the fun­ny side. For a tech­nol­o­gy sold on the basis of per­son­al empow­er­ment, with all that implies for kids and teenagers, it's impos­si­ble to ignore the irony that mobile tech­nol­o­gy has the capac­i­ty to make a vic­tim or a crim­i­nal of any­one. Par­tic­u­lar­ly the young.
Accord­ing to the Home Office report the aver­age thief is 16. ​"Phones are small and mod­ern. They're easy to steal and they are a youth prod­uct," says a Home Office spokes­woman. ​"That's why this is pri­mar­i­ly a youth crime."
The tal­ly of 710,000 stolen phones hasn't gone unno­ticed in White­hall. At the sharp end of the Blair government's new empha­sis on tack­ling ​'street crime' are peo­ple like Paul Anstee, Detec­tive Inspec­tor for the Lon­don bor­ough of Bar­net. He insists the police take juve­nile mobile phone theft very seri­ous­ly. ​"Over the last year, street crime has been dom­i­nat­ed by mobile phone rob­bery and in 50 per cent of those cas­es, a per­son of school age is rob­bing a per­son of school age. We're deal­ing with that by cut­ting off dark alleys, mov­ing bus stops, putting plain-clothes police­men in the area, set­ting up a junior ver­sion of Crimestop­pers and going into schools on a direct level."
He urges young peo­ple not to use phones after school, which is ​"the most com­mon time for theft to hap­pen", and offers the some­what unre­al­is­tic advice of ​"wait­ing until you get home" to call or text. In addi­tion to the police, the judi­cia­ry are begin­ning to take a very dim view of the jack­wave: Lord Jus­tice Woolf recent­ly sen­tenced two phone thieves – both under 18 – to three years apiece.
But there's a basic prob­lem which means that the mobile black mar­ket isn't about to col­lapse just yet. Type *#06# into your hand­set. The num­ber that appears on your screen is your Inter­na­tion­al Mobile Equip­ment Iden­ti­ty code, a unique ser­i­al num­ber giv­en to each hand­set dur­ing pro­duc­tion. If your phone is stolen, quot­ing its IMEI num­ber to your oper­a­tor will black­list the hand­set and ren­der it unus­able. Until recent­ly, how­ev­er, IMEI bar­ring only worked on the orig­i­nal owner's net­work, mean­ing the stolen phone retains a sell-on val­ue; once ​'unlocked' from its exist­ing net­work and switched to anoth­er, it's usable again. Because every­one has a con­sumer right to change their net­work, unlock­ing is an entire­ly legal pro­ce­dure using a soft­ware sys­tem that can be bought on the net for £30 or car­ried out by any mobile retail­er. At a shop in London's West End per­form­ing demon­stra­tions of how a phone's IMEI is trans­ferred from Orange to Voda­fone, they admit to hav­ing sev­er­al reg­u­lar tech-savvy young assis­tants who can unlock more than one phone at a time. It costs £25 and takes five to ten min­utes – with no ques­tions asked. ​"How am I sup­posed to know whether the phone is stolen?" protests one sales assis­tant, not unreasonably.
Voda­fone, Orange, BT Cell­net and T-Mobile (for­mer­ly One 2 One) have now agreed on mul­ti­lat­er­al shar­ing of IMEI num­bers in an effort to com­bat mobile crime. The adapt­abil­i­ty and secu­ri­ty of mod­ern tech­nol­o­gy is one thing, but the inge­nu­ity of the deter­mined mod­ern street kid is quite anoth­er. For the jack gen­er­a­tion, steal­ing mobiles is more than just a quick route to a few extra quid. It's also fun. In a fea­ture­less Young Offend­ers Unit in South Lon­don, a group of teenagers are telling The Face about the busi­ness of jack­ing. Wayne, 18, makes his mon­ey from the unlocked hand­set itself. Every phone and each com­po­nent – bat­tery, fas­cia, ear­piece – has its own street val­ue. But only true style equals real mon­ey. Top prize booty on a street cor­ner near you include the dou­ble-screened Sam­sung A300, Motoro­la Wings and the Nokia 8310. Adam, 14, prais­es the inter­net for its mon­ey-mak­ing poten­tial: ​"I stole a 8890, put it on Freeserve and some­one in Amer­i­ca paid £285 for it." Car­ry a chunky Nokia 5110 ​'face-off' phone? Then you're safe. ​"Some­one tried to jack me the oth­er day," says Lee, 17, ​"but because I lost my Wings, I'm using a face­off till I get anoth­er one. They took one look at that and walked away."
The most vocal per­son in the room is 16-year-old Patience. She terms the girls she steals with ​'asso­ciates' and knows all about arrest pro­ce­dure. ​"You just say ​'no com­ment,'" she says, ​"and they can't do nut­tin'." She start­ed out steal­ing phones from bags in school chang­ing rooms but, like the oth­ers, moved onto the streets. She feels as if steal­ing phones isn't a crime exact­ly – it's just some­thing that hap­pens. ​"It's not like we leave our yard and go, ​'Let's take some phones.' It's so nor­mal and so many peo­ple do it, it almost doesn't feel like a crime at all," she explains. Rather, it's a com­pul­sion. ​"It's spon­ta­neous. If some­one is too ​'sumthin' sumthin', hold­ing their phone out like bait – it's like they want you to take it."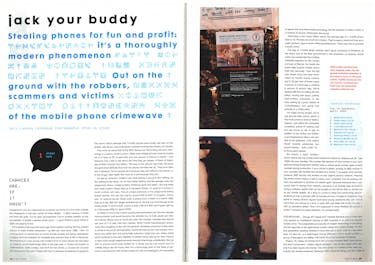 Unlike the oth­er sta­ple of street kid crim­i­nal­i­ty, joyrid­ing, jack­ing phones isn't about destroy­ing adult's expen­sive toys. ​"Jack­ing is not a pro­fes­sion­al, organ­ised crime," says Detec­tive Inspec­tor Anstee. ​"It's more about a kick from being able to do it." Tak­ing from the haves and sell­ing to the have-nots of the young urban poor, jack­ing is rit­u­al humil­i­a­tion; the cash just sweet­ens the deal. For Jacob, 15, it's almost like money's not the point. He takes phones off peo­ple younger than him, as if it was for their own good. ​"All them lit­tle boys with their 3310s that their mum bought them," he tuts. ​"When I was their age, I didn't know noth­ing about phones." While jack­ers like him gen­er­al­ly stick to intim­i­dat­ing their con­tem­po­raries, the hordes of barflies flood­ing city nightspots are their pre­ferred prey. ​"Busi­ness­men are the best," Wayne chuck­les. ​"They have the best phones and you know they're not gonna chase you because they've got shoes on." Pic­ture a kid in a hood and train­ers scam­per­ing off with a mid­dle-aged suit giv­ing chase, and you have the rea­son tech­nol­o­gy, law and pret­ty much any­thing else won't top the jack gen­er­a­tion: for now it's too much like good fun.
And whose fault is it any­way? The wran­gling over who's real­ly to blame for the mobile phone crime­wave goes on. Jack Wraith of the Mobile Indus­try Crime Action Forum (MICAF) says, ​"The ele­ment of the fash­ion item about mobiles is what the chil­dren love." BT Cell­net deny mar­ket­ing to chil­dren. ​"Crime is sweep­ing the whole coun­try and with­in those fig­ures comes mobile phone theft," says a spokesper­son. The Home Office, mean­while, sin­gle out man­u­fac­tur­ers. ​"Bet­ter secu­ri­ty would have pre­vent­ed the rise in mobile theft. Devices should be as secure as they can be." Mary Crow­ley, of The Par­ents' Asso­ci­a­tion, says it's also the fault of grow­ing com­mer­cial­ism: ​"There's an awful pres­sure chil­dren are under – you can see why they would want to acquire expen­sive things with­out pay­ing for them."
Com­mer­cial­ism? Flashy design? The gov­ern­ment? Teach­ers? Par­ents? Either way, Patience, Wayne, Jacob and their crew are oper­at­ing in a fast-grow­ing junior domes­tic black mar­ket. A law­less gen­er­a­tional army com­ing for your A300, your flip­py Wings, even your bog-stan­dard Nokia. You can only hope their bet­ter judge­ment, if not low bore­dom thresh­old, will change all that soon.
Nokia's pre­scient bundling of the pre­his­toric Snake with their hand­sets has helped intro­duce a whole new gen­er­a­tion to the thrills of Eight­ies arcade games. If your thumbs are still aching from your last tus­sle with the ser­pent on the bus to work, spare a thought for 33-year-old archi­tect Ste­fano Mir­ti, whose half-hour ses­sions led him to clock up a high score of 3,748 last year. Obsessed? Uh-huh…
Are you addict­ed to Snake?
l was last Sum­mer, when I was play­ing it a lot. I'd have to get my fix first thing in the morn­ing and then I'd play it last thing at night, to get to sleep. I was play­ing so much I broke my Nokia 6210's key­pad. But once I reached my top score, I lost inter­est. Now I just play Oppo­site [Nokia's take on clas­sic board game Oth­el­lo].
What's the appeal?
Its sim­plic­i­ty. It takes two min­utes to learn but if you want to become a good play­er, it's worth invest­ing time in it. Most peo­ple think it's a mat­ter of quick reflex­es. But real­ly it's about devel­op­ing a play­ing sys­tem and stick­ing to it.
How do you fol­low a pat­tern when the dots come up randomly?
It is about the snake, not the dots. Some­thing very close to Con­fu­cian teach­ing – con­cen­trate on the Way itself. It takes dis­ci­pline but if you fol­low a pre-set pat­tern, you stop con­cen­trat­ing on the but­tons and you relax. Your mind becomes emp­ty and you get lost in the screen. Remem­ber Tom­my by The Who? It was about a deaf, dumb and blind boy who was a pin­ball cham­pi­on. He played by intu­ition, which is what you've got to do.
Any oth­er tips?
My girl­friend lived 10,000km away. That helped. Oh, and the best time to play is in the morn­ing after you've just wok­en up. You're more relaxed.
Is your Snake obses­sion unhealthy?
Peo­ple may now think I'm some kind of weirdo who spends his whole life play­ing Snake, but I'm just a nor­mal guy with a job. Real life, real fun, is not to be found in Snake, or in com­put­er games.
Phil Hoad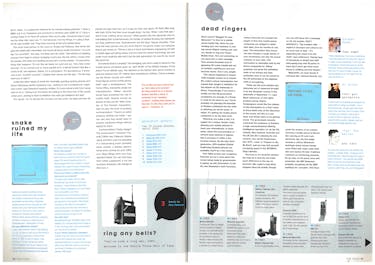 Brain can­cer? Mugged for your Motoro­la? Try this for a mobile phone health risk: there you are, mind­ing your own busi­ness in your top-secret Afghan train­ing pad, and you decide to ring your friend, Mul­lah Omar. He's not answer­ing, so you leave him a voice mes­sage. Then sev­er­al thou­sand tonnes of gleam­ing US cruise mis­sile sail out of nowhere, wast­ing you and your ter­ror­ist chums. 1−2−1, alright.
This almost hap­pened in August 1998 (mis­siles locked on to Osama Bin Laden's phone trans­mis­sion, but missed their tar­get) in retal­i­a­tion for the attacks on US embassies in Africa. The­o­ret­i­cal­ly, if you have a mobile and the US gov­ern­ment con­sid­ered you enough of a threat, it could do the same to you. You're prob­a­bly not plan­ning the down­fall of West­ern civil­i­sa­tion but the state is watch­ing you all the same; or rather, it's get­ting the mobile phone com­pa­nies to do the hard work.
When­ev­er you make a call, It is logged via a unique ​'loca­tor code', allow­ing your mobile net­work to track your where­abouts. In urban areas, where the con­cen­tra­tion of net­work base sta­tions is high­est, this is accu­rate to with­in a few hun­dred metres. By the time third-gen­er­a­tion, GPS-enabled phones are avail­able, that'll be a few metres.
Civ­il rights groups and con­spir­a­cy the­o­rists are up in arms about the moves being made by gov­ern­ments to gath­er this infor­ma­tion. In the UK, last December's Anti-Ter­ror­ism Crime & Secu­ri­ty Act dou­bled the length of time that mobile phone com­pa­nies are oblig­ed to retain their data, from six months to one year. The infor­ma­tion they record not only includes a rough sketch of your move­ments, but also the actu­al con­tents of your calls. This infor­ma­tion is osten­si­bly held by the phone com­pa­nies for ​'billing' pur­pos­es, but giv­en the enfee­bled state of our pri­va­cy and data pro­tec­tion laws, it can be seized by the UK author­i­ties at the slight­est whiff of wrongdoing.
"These are the most aus­tere and dra­con­ian set of mea­sures brought in by any Euro­pean coun­try in the after­math of Sep­tem­ber 11," says Mark Lit­tle­wood, of civ­il rights pres­sure group Liberty.
Cam­paign­ers would like the release of this infor­ma­tion on a strict need-to-know basis only, at the dis­cre­tion of the courts, but this is a vain hope. And things seem to be get­ting worse. The gov­ern­ment recent­ly con­firmed the exis­tence of Ech­e­lon, a huge com­mu­ni­ca­tions-fil­ter­ing intel­li­gence oper­a­tion run by the US, Cana­da, New Zealand, Aus­tralia and the UK (the EU is plan­ning its own ver­sion). Use cer­tain keyphras­es, like ​'WTC', ​'nuke' or ​'Pre­pare to die, Mr Bond', and you may find your­self occu­py­ing space in the Inter­pol fil­ing cabinets.
The irony is, it's doubt­ful whether the step-up in secu­ri­ty will make much dif­fer­ence to the war on ter­ror­ism (Bin Laden's long since stopped using his mobile, though you can still leave him a mes­sage on his old num­ber: 00873 682505331). ​"The prob­lem with regard to ter­ror­ism and crime is not so much lack of data – It's sep­a­rat­ing the wheat from the chaff," says Lit­tle­wood. ​"Hav­ing tens of thou­sands of emails and calls inter­cept­ed may well fill police in-trays but it won't get them much clos­er to ful­fill­ing secu­ri­ty tar­gets." Mean­while, we must decide if con­cepts like ​'nation­al secu­ri­ty' are worth the ero­sion of our pri­va­cy. Car­ry­ing a mobile phone is almost like car­ry­ing an ID card-cum-elec­tron­ic tag; the first steps towards a John­ny Mnemon­ic tech­topia where human beings come fit­ted with chips under their skin and receive 80-year Voda­fone con­tracts as chris­ten­ing presents. So go easy on the per­vy texts and remem­ber: the MI5 the­saurus prob­a­bly recog­nis­es all the SMS spellings for ​'cannabis'. Phil Hoad
Kirsten Dun­st – Teen Angel
I hate cell­phones. I lost mine recent­ly so I was like with­out it for, like, four days to a week. It was a Motoro­la. I don't do text mes­sag­ing. I don't even look at my bill because I have a finan­cial advi­sor to do that. But I'm sure it's high, ​'cause I'm always talk­ing on it. Fan calls? No. No way. Oh God, no.
DJ Oxide – Hair-gel Garagista
Twelve hours is prob­a­bly the longest I've gone with­out using my mobile – it's a mini Sam­sung. I do get calls from fans every now and then, but I'm polite. Then I change my num­ber. I only send a cou­ple of texts a day and my bill is about £150 a month. I always read my bill ​'cause Orange skanked me!
'Fat' Rik Waller – Pop Idol
I've only ever gone one day with­out my mobile – a Nokia 3330 – because I'm a real tex­ta­holic. I send at least 50 a day. It costs a for­tune – the last bill was £250. Before I got into the busi­ness it was £30. I always read my bill these days. Do I get fan calls? Yes, I do. Isn't it fantastic?
For­get the Third Place: the scari­est com­pul­sion on the block is total­ly mobile.
And so, after the text mes­sage books, text mes­sage spam­ming, text mes­sage TV theme nights and the text mes­sage spe­cial offers from mobile net­works to let you win even more text mes­sag­ing time, the ​'text mes­sage phe­nom­e­non' (© all news­pa­pers, every­where, ever) has final­ly achieved the ulti­mate dis­tinc­tion of the mod­ern lifestyle acces­so­ry: it has pulled in its own real-life, med­ical­ly-cer­ti­fied, treat­ment-seek­ing addict.
Because he is being treat­ed in an addic­tion cen­tre – the Ring­gar­den clin­ic in Den­mark, which spe­cialis­es in alco­holism and gam­bling – the subject's name can­not be revealed. His ther­a­pist Dr Michael Jorsel, how­ev­er, will say that he is in his mid-twen­ties, from a small town in Den­mark, and an ex-chauf­feur. He began using text mes­sag­ing to stay in touch with his clients, but then start­ed chat­ting to friends to pass the time spent wait­ing between jobs. By the time he sought help, he was send­ing more than 200 texts a day, run­ning up a quar­ter­ly bill of £970.
Dr Jorsel, to whom the SMS-addict was referred by his GP, main­ly treats ​'ludo­ma­nia', or gam­bling addic­tion. Over the last two years, though, he has also treat­ed addicts of dig­i­tal tech­nol­o­gy because they tend to ​'show many of the same feel­ings and behav­iours' as ludo­ma­ni­acs. Both groups may lie to dis­guise their com­pul­sion, become rest­less when they have to stop, or indulge their addic­tion to escape oth­er problems.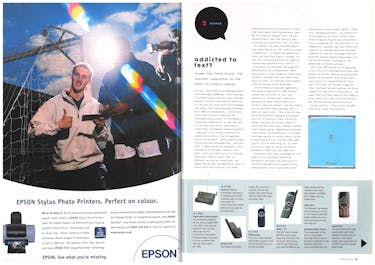 The dif­fer­ence between gam­blers and peo­ple addict­ed to SMS and/​or using the inter­net is the ​'con­cealed' or ​'dis­tanced' iden­ti­ty. Being sep­a­rat­ed from oth­ers by a screen, says Dr Jorsel, ​"gives them a lot of con­trol they per­haps can't feel in real life". This kind of com­mu­ni­ca­tion often appeals to peo­ple who try to con­trol their rela­tion­ships, because it allows them to reply as and when they choose, rather than requir­ing an imme­di­ate response like ver­bal con­ver­sa­tions. Although text mes­sag­ing is rarely about using a fake iden­ti­ty in the way that gam­ing or online chat­ting is, it does allow you time to think up decent put­downs, chat-ups and come-ons.
Treat­ment for text-wreck­age is the same as for inter­net-addict­ed patients: coun­selling ses­sions to make the patient more aware of his com­pul­sions, and to get him inter­act­ing with real peo­ple again. There are, dis­ap­point­ing­ly, no reports of with­draw­al or of cold-turkey-drum­stick fin­gers twitch­ing invol­un­tar­i­ly or tap­ping out ​"hlp me pls!!!" on imag­i­nary key­pads. Nor are there any reports of reg­is­tered text mes­sage addicts in the UK, although sev­er­al British psy­chol­o­gists have been con­tact­ed by peo­ple claim­ing to be addict­ed to mobile phones.
With the SMS mar­ket still grow­ing – over a bil­lion mes­sages are sent each month in the UK, mak­ing an esti­mat­ed £265m for net­works and adver­tis­ers – you'd have to expect more of this sort of thing. Dr Jorsel sug­gests that ​"per­haps we are see­ing the first signs of a new kind of addic­tion". He says that for most peo­ple the com­pul­sion lasts only two or three months, but oth­ers may be less resis­tant. So be care­ful. This stuff can SMS with your head.
Bill Bat­ty
Is your phone ruin­ing your cool? Does your mobile make you look like a chump with its crap hand­set and lame-ass fas­cia? Check our how-not-to-mobile style file.
See the seat next to you? Any idea why it's emp­ty? Because of your everyone-look-at-me-I've-got-a-mobile act, per­haps? Did you dis­cov­er phones yes­ter­day, or something?
It's not Shakespeare's son­nets, mate – it's a text mes­sage. Stop try­ing so hard. She's prob­a­bly already think­ing about dump­ing you. Try buy­ing her flow­ers instead. Or use a landline.
Great cheek­bones, guy. But do you real­ly hope to find the love of your life car­ry­ing your phone in a cel­lo­phane hol­ster? You might as well wear a sand­wich board say­ing ​"I am insane".
We'd love to say great things about this girl's pos­te­ri­or, but all we can focus on is that ter­ri­ble Union Jack fas­cia. Look, the empire col­lapsed ages ago, love. Move on.
Mobile rela­tion­ship hell. She calls, he texts. Talk about com­mu­ni­ca­tion devices mak­ing com­mu­ni­ca­tion impos­si­ble. These guys should lose Voda­fone and get counselling.
Pub tables are for pints, your fags, ash­trays, beer mats and crisps. Put your phone away, los­er. No one thinks you're cool.
Huh? This guy tries to rock the anar­cho-trib­al­ist, back-to-the-earth look, and then total­ly gives the game away with his blow­er. What's so eco­log­i­cal about a talk plan, warrior?
Turn round. Go to the shop. Give the man your fas­cia and ask for your mon­ey back. Admit it was all just a bad mis­take. It'll all be OK tomor­row. You know you're stronger than that.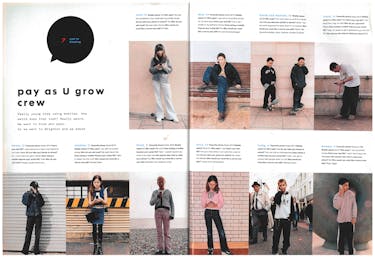 Real­ly young kids using mobiles. How weird does that look? Real­ly weird. We want to know who pays. So we went to Brighton and we asked.

Favourite phone Nokia 8210
Week­ly spend £4
Who pays? Me
How's your text life? I can send five a day, for free
Who do you call most? Mates
Does hav­ing a mobile improve your social life? Yeah, it's eas­i­er to get a girl­friend if you can text her
Has any­one ever tried to steal your phone? No
Favourite phone Eric­s­son T68
Week­ly spend £6-£7
Who pays? I use my pock­et money
How's your text life? I don't send many text messages
Has any­one ever tried to steal your phone? No
Who would you most like a one-to-one with? Ryan Giggs
Favourite phone Nokia 3310
Week­ly spend £3
Who pays? Me
Do you take your phone to school? Yes, but only for emergencies
Does hav­ing a mobile improve your social life? Yeah, I can get in con­tact with peo­ple when I'm out
Who would you most like a one-to-one with? Michael Owen
Favourite phone Nokia 3310
Week­ly spend About £1
Who pays? I pay
How's your text life? I've got a deal where I can send five a day for free
Do you take your phone to school? No, we're not allowed
Who would you most like a one-to-one with? Tuck­er from Nickelodeon
Favourite phone Nokia 8210
Week­ly spend £5
Who pays? I do, with my pock­et money
Who do you call most? My best friend, Mel
Does hav­ing a mobile improve your social life? Yeah. It makes me look cool!
Who would you most like a one-to-one with? Gareth Gates
Favourite phone Nokia 3330
Week­ly spend £2
Who pays? My mum
Does hav­ing a mobile improve your social life? Yeah – peo­ple respect you more if you have one
Has any­one ever tried to steal your phone? No
Who would you most like a one-to-one with? Michelle from Destiny's Child
Favourite phone Nokia 8210
Week­ly spend £4
Who pays? I pay out of my pock­et mon­ey. Or my mum pays
How's your text life? Ten a day – most­ly to my girl­friend, Emma
Does hav­ing a mobile improve your social life? No
Who would you most like a one-to-one with? Arnold Schwarzenegger
Favourite phone Nokia 3310
How's your text life? I send about ten a day to my boyfriend and best mates
Do you take your phone to school? No. I don't want it to get it nicked
Does hav­ing a mobile improve your social life? Yeah
Who do you call most? Peo­ple usu­al­ly phone me…
Week­ly spend £3-£5
Who pays? Our mum tops us up £10 a month each
Do you take your phone to school? Karim: Yes, but we're sup­posed to keep them in our lockers
Who would you most like a one-to-one with? Karim: My favourite wrestler, Kane. Hes­ham: Pud­dle Of Mudd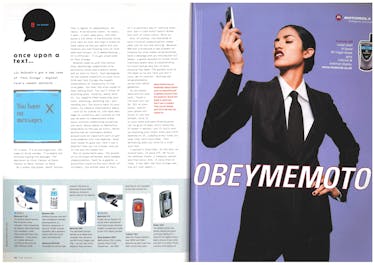 Liz McGrath's got a bad case of ​'Text Cringe', a dig­i­tal love's newest obstacle
It's late. I'm on the night bus. His name in on my screen. I've spent ten min­utes typ­ing this mes­sage. The deci­sion is this: Can­cel or Send. Can­cel or Send. Can­cel or Send.
So I press the ​'send' but­ton. Then I regret it imme­di­ate­ly. No reply. Five min­utes lat­er, no reply. I wait. I wait some more. And then quite a lot more. A few min­utes turns into half an hour and then a chasm of time opens up and you watch all con­fi­dence you had flow­ing into it like sand and fuu­uck, it's embar­rass­ing… It's offi­cial – I've got a bad case of Text Cringe.
Who­ev­er came up with the notion that tech­nol­o­gy sim­pli­fies life obvi­ous­ly nev­er had a mobile phone and an itch to flirt. Text mes­sag­ing is the newest lia­bil­i­ty to your love life and Text Cringe the newest incar­na­tion of inse­cu­ri­ty in the love game. You feel the slow creep of fear tak­ing hold. You can't think of any­thing else. Final­ly, pan­ic sets in. You imag­ine them receiv­ing your text, smirk­ing, delet­ing you, dis­card­ing you. You scur­ry back to your inbox. It remains obsti­nate­ly empty.
Love it or loathe it, the text mes­sage is uncan­ni­ly well-suit­ed to the way we want to com­mu­ni­cate these days: with­out com­mit­ting our­selves too much. Which makes it emi­nent­ly adapt­able to the way we flirt. Nev­er before has an inan­i­mate object played such an impor­tant part in get­ting some­one into the bed­room. Good text leads to good sex. Don't own a mobile? Then you're fucked, and not in the way you hoped for.
But it works both ways. The purest of no-strings-attached, bets-hedged com­mu­ni­ca­tion, text is a gam­ble, a quick­fire round to the next lev­el of inti­ma­cy. You either pass or fail.
It's a pain­less way of vet­ting some­one. Don't like their texts? Blank the rest of their calls. Move on.
And, of course, the down­side of such clin­i­cal com­mu­ni­ca­tion comes when you're the one tex­ting. Because SMS has intro­duced a new ele­ment of inse­cu­ri­ty into human rela­tion­ships. Send a mes­sage and you relin­quish all pow­er, a grave mis­take in those first ruth­less weeks when a rela­tion­ship is touch and go and you're both play­ing The Game. The gold­en rule of The Game is to act like you don't care. Be in con­trol. Tex­ting can sin­gle hand­ed­ly screw your whole game plan.
So you press ​'send' and sit and wait. There's not much you can do. Sit on your hands. Switch your phone off. Chuck it out the win­dow. Give it to your mate and make them promise not to give it back until tomor­row. It doesn't mat­ter: you'll still end up check­ing your inbox like your life depends on it, jump­ing every time you hear that tell-tale beep. Then deflat­ing when you find it's from your mum.
I wait­ed a long time. In the end, he texted back. It paid off. We're on, for anoth­er round. I com­pose, pause, and then send. And, in less than no time, I can feel the Text Cringe com­ing all over again…
Phones that take pic­tures and play tunes Nokia's immi­nent

7650

brings West­ern gad­get gimps the abil­i­ty to take pic­tures; in Japan, i-Mode users have had access to this fea­ture for a cou­ple of years now. Also, the arrival of hand­sets equipped for poly­phon­ic ring­tones – which fea­ture sev­er­al notes play­ing at once – means those cacoph­o­n­ic bleeps will final­ly be replaced by sweet music.
Phones that don't look like phones Siemens Ammonite ​

'

con­cept' phone looks like the off­spring of a kitchen clock and the fos­sil it's named after. Until opened up, DoCoMo's P

2101

V resem­bles noth­ing so much as a Fer­rari F

355

sports car. All this leads to one unavoid­able con­clu­sion: strange­ly shaped is the new small. Your phone looks like a phone? That's sooo

2001

.
Total­ly cus­tomis­able phones Fas­cias, logos, what­ev­er… Com­pared to the grown-up cus­tomis­ing options com­ing your way, they're child's play. K-Java is the ver­sa­tile oper­at­ing sys­tem head­ed for our phones. Being ​

'

open source' means the shape, size and nature of what appears on your screen will be more eas­i­ly altered; by you, if you're feel­ing nifty. If you still can't pro­gramme the video, you're stuffed.
Lux­u­ry phones Nokia has start­ed recruit­ing fash­ion design­ers to work on lim­it­ed-edi­tion mod­els. But even that's a bit Pound­stretch­ers next to the new ​

'

phone' from Ver­tu. ​

"

The world's most exclu­sive per­son­al com­mu­ni­ca­tion instru­ments" as they describe them, come in

18

-carat plat­inum, white or yel­low gold fin­ish­es. Price? A prince­ly £

15

,

000

.
Retro phones Now that hand­sets are ubiq­ui­tous, the pur­suit of exclu­siv­i­ty in phone own­er­ship is now para­mount. Mobile phone enthu­si­asts are increas­ing­ly return­ing to old – make that ​

'

clas­sic' – mod­els. Indus­tri­al-look­ing sets from the mid-Nineties are being treat­ed to home­made tech upgrades and receiv­ing trib­utes from the increas­ing num­ber of retro­phone news­groups and deal­ers on the internet.
No phones at all What bet­ter way to affirm your inde­pen­dence than by renounc­ing the mobile phone? You're not in? Tough. They can wait. You did with­out one before, after all. The Face tried to speak to some anti-mobile activists about this, but they wouldn't return our call.
---