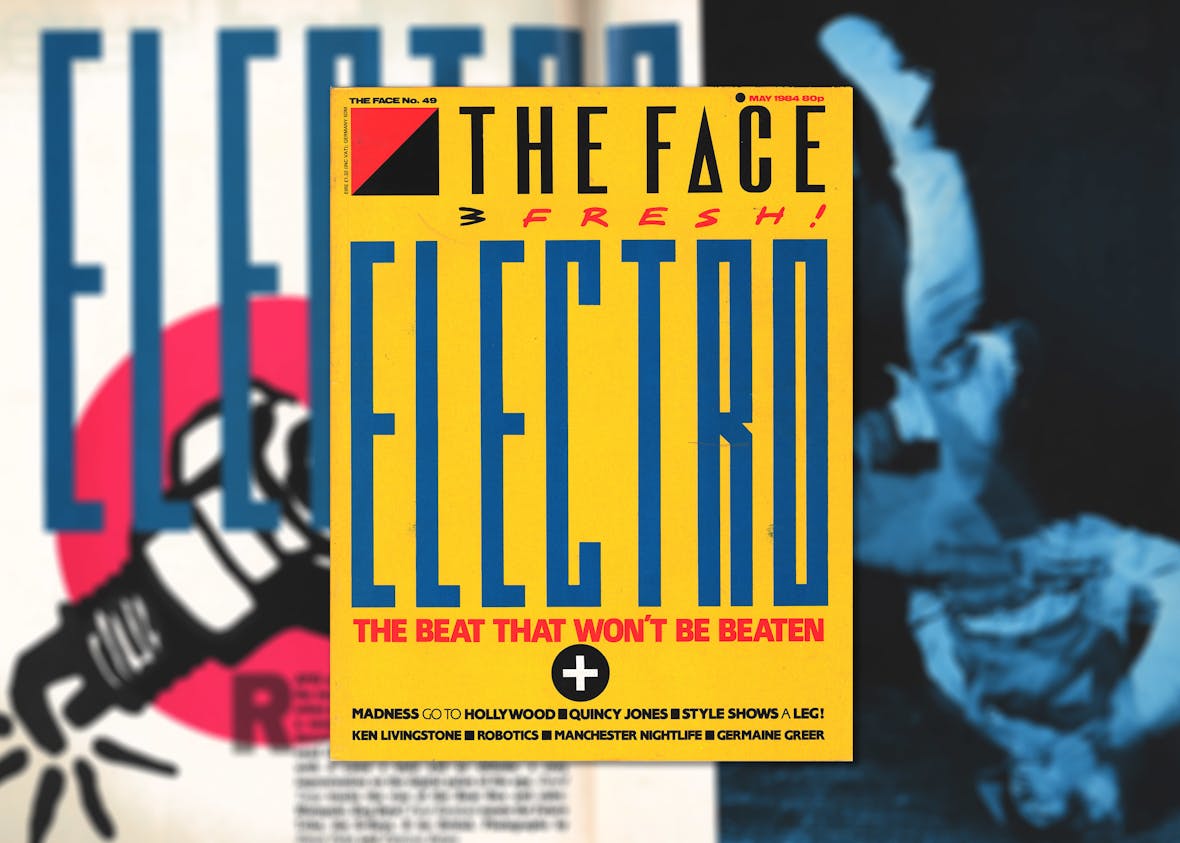 Elec­tro: The Beat That Won't Be Beaten
To cel­e­brate the long-await­ed return of The Face, we have select­ed a stand-out sto­ry from each year of our exten­sive archive, from 1980 to 2004.
Remembered by photographer Steve Pyke
"Hip-hop was only just kick­ing off in the UK, and I'd been asked to pho­to­graph a num­ber of bands for the NME, both in the UK and in the States, and in New York par­tic­u­lar­ly. And these Soul Son­ic Rock­ers were com­ing over from New York for a gig in Brix­ton, and [Fea­tures Edi­tor] Paul Ram­bali asked me if I could do a series of pho­tographs for an extend­ed piece about them and the dance that they did: break­ing. He want­ed me to do some­thing in an exper­i­men­tal way, and I imme­di­ate­ly thought of these pic­tures of Ead­weard Muy­bridge. He shot ear­ly pho­tographs of hors­es run­ning, with mul­ti­ple expo­sures but on the same frame. So what I thought we could do is shoot in the stu­dio against a black back­ground, and shoot with a strobe light that would fire off six lights in a sec­ond. So six in a sec­ond would give you six dif­fer­ent frames, a series of move­ments in one sec­ond. So each frame, each pic­ture that you're look­ing at there, rep­re­sents a sec­ond of move­ment with those break­dancers. They came in and did their thing, and I showed them two or three Polaroids of each break­dancer, and they real­ly liked the idea. They were play­ing their music on their beat­box, and they were break­danc­ing to it. It was a lot of fun – all the shoots I did for The Face were a lot of fun. Paul and [Edi­tor] Nick Logan and [Design­er] Neville Brody gave pho­tog­ra­phers and writ­ers cre­ative license and left you alone to do what you do, which was great. It had a mas­sive impact on my career."
Steve Pyke is one of the lead­ing por­trait pho­tog­ra­phers of his pro­fes­sion. Through­out his career he has devel­oped, fund­ed and pub­lished a num­ber of per­son­al projects, and has pub­lished nine books. In 2004 he received an MBE for his ser­vices to the Arts. In 2006 he was made a Friend of the Roy­al Pho­to­graph­ic Soci­ety. Steve lives and works in New Orleans.
Rapid and sol­id, fast and fran­tic, the Elec­tro beat is the new Sound of the City – as stim­u­lat­ing as the urban jun­gle that spawned it. Dis­missed as a craze, a nov­el­ty, denounced as sin­is­ter robot music devoid of ​'real' emo­tion, it proved to be a tough seed that took root on England's pave­ments. And with it came a style and an atti­tude; a zany impro­vi­sa­tion on the dig­i­tal pulse of the age. David Toop tracks the rise of the Beat Box and asks: Wotup­s­ki, Bug Byte? Paul Ram­bali meets the Future Tribe, the B-Boys. B for British. Pho­tographs by Steve Pyke and Patri­cia Bates.
PHASE 1: THE HIP-HOP WON'T STOP

Trevor Birch is a B-Boy. That's ​'B' for Bad, Beau­ti­ful, Black, Break­ing, the Bronx. But in Trevor's case, ​'B' for British. He couldn't tell you which sub­way line leads to the New York bor­ough north of the Harlem riv­er that has giv­en him, at 18 in East Lon­don, an activ­i­ty, an iden­ti­ty. But he has heard the records, seen the look, knows the moves.
He prac­tis­es them up to four hours a day, dur­ing lunch breaks at the Com­mu­ni­ty Project where he works with his old school-friend Gen­giz Ozka­di paint­ing murals, and lat­er in the evening in the bed­room at Ozkadi's coun­cil home. To records like New­cleus' Jam On It and One For The Tre­ble by Davy DMX, taped from Radio Invic­ta on Sun­day nights because they can't afford to buy the records – thus pirat­ing the pirates – they rehearse the flam­boy­ant ges­tures of a satel­lite sub­cul­ture, danc­ing a zany impro­vi­sa­tion on the micro-elec­tron­ic pulse of the age.
And every Fri­day night they trav­el six miles to the Elec­tric Ball­room in Cam­den. Both wear yel­low peak caps and iden­ti­cal red and blue Adi­das jog­ging suits over… it's impos­si­ble to say over what because they nev­er take them off, nev­er even unzip their anoraks. Obliv­i­ous to the writhing bod­ies around them, they stand fac­ing each oth­er on the crowd­ed dance­floor, wait­ing for the mutant crack of the Linn Drum, the sig­nal that gal­vanis­es them into tense, jerky spasms, swapped back and forth like a ball of invis­i­ble voltage.
"We like doing it," says Trevor. ​"We don't do it for mon­ey. It keeps us from doing some­thing stu­pid." He picked it up three years ago from his elder broth­er, when it was called Robot Danc­ing. At the Tidal Basin club near his home, he kept abreast of the dance style that evolved into Body-Pop­ping and Break-Danc­ing. He has nev­er been to Covent Gar­den, where at times late last sum­mer it seemed there were more Break Dance crews than tourists to fund them. He and Ozka­di call their crew Tech­ni­cal Pop­pers, and they like to keep their moves up their sleeves. Once, at the Kens­ing­ton club in East Ham, Trevor made the error of show­ing off his best style. ​"So many peo­ple took my moves that I had to go home and start all over again!"
Com­pe­ti­tion is fierce, rep­u­ta­tions are wait­ing to be made and lost. The threat of ​'Pirates' or ​'Biters' – peo­ple steal­ing your moves – is always present. The Tech­ni­cal Pop­pers, who nev­er make their best moves at the Ball­room, have eight or so friends local­ly with oth­er crews. ​"They're look­ing for a chal­lenge, but I don't think we'll oblige them."
Right now, their main con­cern is track­suits: Hum­mel red and blue track­suits with diag­o­nal white stripes that they've seen in a local sports shop. Trevor asks if I know of any clubs that want to pro­mote a crew in return for the price of two Hum­mel track­suits. They've got to have those suits. In two weeks' time, there is the third heat of the All-Lon­don Inde­pen­dent and Team Body-Pop­ping, Crack­ing and Break-Danc­ing Cham­pi­onship. The Tech­ni­cal Pop­pers reck­on they have a good chance: ​"We've seen every­body else's moves, but they ain't seen ours!" But first, they need those suits.
"You ought to have a flick book to explain it," says Robert Hen­ry, a 22-year-old DJ and pro­mot­er who has been involved in organ­is­ing the cham­pi­onship. ​"Pop­ping by pros is a vio­lent manoeu­vre of the mus­cles. What they say is: You get tight, and you pop!" He clench­es the mus­cles on his arm and releas­es them sud­den­ly. ​"Crack­ing – that's a manoeu­vre of the joints like when your elbow or shoul­der cracks. This time his arm snaps at the joints, as though a knot were pass­ing along from one to the next and across the chest." And Break­ing is where you are more like­ly to be hor­i­zon­tal than ver­ti­cal!" But there is no room to demon­strate the star­tling acro­bat­ics that arose in the eight-bar rhythm breaks char­ac­ter­is­tic of late-Sev­en­ties soul and funk discs.
No doubt about it though, this is the biggest dance craze to hit the UK since Robot­ics. ​"So many teams have come out of the wood­work," enthus­es Robert. ​"We always knew the UK had the same cre­ative pow­er as the Amer­i­cans." The first heats were held at a club near Brick Lane in East Lon­don. ​"We want­ed to put the show on where Body-Pop­ping came from. It's like a con­crete jun­gle around there; it's the near­est thing to the ghet­to." Teams and indi­vid­u­als came from all over: Bat­tersea, Cat­ford, Dagen­ham, Bal­ham, Ley­ton, Tot­ten­ham – ​"Any run-down area in London."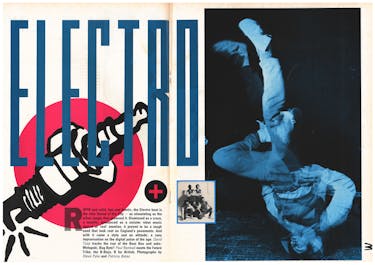 Robert has a the­o­ry: ​"It's caught on because it's such a rad­i­cal form. It's expres­sive. All you need is the music and a street-cor­ner, and you can get away from the pressures."
His the­o­ry isn't new but it fits. And it goes fur­ther. Young blacks in Britain who might five years ago have looked to reg­gae, with its potent fig­ure­head of the late Bob Mar­ley, for the trap­pings of cul­tur­al iden­ti­ty, now turn to the Bronx, to the Beat-Box and the Ghet­to-Blaster. A style import­ed in the grooves of Plan­et Rock by the Soul Son­ic Force in 1982, glimpsed on the fad­dish videos of main­stream pop and soul acts, a tough, city-spawned seed, has tak­en root on England's pave­ments. It has been nour­ished by the bur­geon­ing elec­tron­ic beat, rapid and sol­id, fast and fran­tic like the Swarm­ers on the third wave of Defend­er. It finds its spir­it in raps like Get­tin' Mon­ey by Dr Jekyll and Mr Hyde.
"Every­thing is fun­ny when you're get­tin' mon­ey" they chant, adding a sar­don­ic ​"Ha-Ha Ha!"
It has its fast-mov­ing entre­pre­neurs in peo­ple like Mor­gan Kahn of Street­wave Records who, like Chris Black­well with Island Records' ska and soul releas­es in the Six­ties, is mak­ing this new sound acces­si­ble with his best-sell­ing elec­tro com­pi­la­tion albums. It is sus­tained by DJs like Her­bie of the Mas­ter­mind road­show, who mix­es the elec­tro albums for Street­wave and who, along with Paul Ander­son of Trou­ble Funk, can be guar­an­teed to draw the crews.
It has even had its pop­u­lar suc­cess­es, if some­times fake (Break Machine's recent Street Dance) or trite (the Rock Steady Crew's hit last year). And it has an audi­ence hun­gry for infor­ma­tion. Trevor Birch missed the New York rap movie Wild Style when it came out, but when the Rock Steady Crew per­formed at an elec­tron­ics fair in Olympia last year, the Tech­ni­cal Pop­pers were there. They weren't the only ones. The hall was full of Biters, who must have been dis­ap­point­ed. ​"Their Breakin' was alright but their Pop­pin' was dry."
In a sub­ur­ban semi in Wood Green belong­ing to their manager's par­ents, the Soul Son­ic Rock­ers are gath­ered watch­ing a video of their heroes, an Amer­i­can crew named Dynam­ic Rockers.
"That's wicked, man!"
"His body's like rubber…"
"Mur­der!"
On the video, a fraz­zled, black and white copy of a copy, one of the Dynam­ic Rock­ers is doing a Heli­copter – called a Wind­mill in the US – fol­lowed by a Headspin.
"That's my move," says Eddie. ​"That's one of the hard­est moves!"
The Dynam­ic Rock­er comes out of the Head­spin, flip­ping upright into a pose, legs and arms intertwined
"All Break­ers got­ta have a pose" laughs Eddie.
And all Break­ers must have a nick­name, too.
The nick­names of the Soul Son­ic Rock­ers are Vir­go (Eddie aged 19), Cream Crack­er (Bee, 18), Sleepy Legs (Mussy, 18), Back Flip (Son­ay, 16), Crazy Kid (Ozzie, 18) and Exter­mi­na­tor (Mus, 16). Nine­teen-year-old Andrew's nick­name is Chis­el, because he sculpts the Soul Son­ic Mix­es they dance to, buy­ing two or three US import sin­gles a week with his dole mon­ey, and tak­ing eight hours to mix a 45-minute tape with tech­niques culled from see­ing scratch­ing on TV and watch­ing Her­bie mix with the Mas­ter­mind roadshow.
Eddie and Bee, the two lead­ers of the crew, met at work in 1982 and formed what was then called the Break­ers Crew. Out­fit­ted in Tiger anoraks – ​"because," says Bee, ​"all the oth­er crews were wear­ing Adi­das and we want­ed some­thing unusu­al" – the Break­ers Crew, which soon grew to com­prise sev­er­al of Bee's Turk­ish friends, began going to dis­cos like Bananas, Buzby's, the Pink Ele­phant and the local Nightin­gale. By last sum­mer, they were Break­ing every week­end in Wood Green shop­ping mall or the West End.
"First time we went out, we got chal­lenged," Bee recalls. A chal­lenge works like this: ​"If we do fif­teen Head­spins and they do ten, they got­ta walk away!" Simple.
They quick­ly absorbed the lan­guage of hip-hop: Back Spin, Head Spin, Heli­copter (spin­ning on the shoul­ders), One-hand Glid­er (spin­ning on one hand), Body Slam (falling on the back), Scor­pi­on (walk­ing on the hands), Crab (it helps if you're dou­ble-joint­ed), Wav­ing, Crack­ing, Pop­ping. Jef­frey Daniel is the first per­son they can recall doing Robot­ics with a hint of Pop­ping when Sha­la­mar appeared on Top Of The Pops in 1980 and ​'81. And they admire the Dynam­ic Rock­ers because ​"they don't Pop, they Smurf and Break". There's an Eng­lish way of spin­ning that used to get laughed at in Amer­i­ca, they explain, because it was slow­er. Amer­i­can Pop­pers use their hands and feet simul­ta­ne­ous­ly so it's hard­er to copy.
Towards the end of last year, their par­ents start­ed telling them off for danc­ing in the streets. Just then, as luck would have it, Ozzie's elder broth­er saw them and offered to be their man­ag­er. They changed their name to Soul Son­ic Rock­ers, after Soul Son­ic Force and Dynam­ic Rock­ers. Now they have book­ings at Hom­bres and Stu­dio Val­bonne, a Thurs­day night res­i­den­cy com­ing up at the Roy­al Rooms in Edmon­ton, and their par­ents are hap­py. What about their girlfriends?
"They like it, man. They like the fun­ny moves!" Mus gets up to demon­strate, Pop­ping his hips in a curi­ous square motion. ​"But they can't do it. Good thing. Guys hurt them­selves enough!"
Nowa­days, when peo­ple ask them to demon­strate a move, they decline. There are too many Biters around. ​"We learnt rough, real­ly" mus­es Eddie, ​"off the streets. That's where it comes from: The best place for any­one to learn is on the streets. You got­ta have all the peo­ple around you. Not at home by yourself."
As befits their emerg­ing sta­tus, they all now have new red and yel­low track­suits; but, since that sta­tus is not yet assured, the same old Hi-Tee and Mitre train­ers. ​"It doesn't mat­ter what train­ers you use," says Mus. ​"But you got­ta have them. It shows you're a Break­er, you got the style." Like their Puer­to Rican coun­ter­parts in New York, Alge­ri­ans and Africans in Paris, the sons of Germany's ​'Guest Work­ers' in Berlin, they have the style. An inter­na­tion­al style that suits any urban back­drop; fast and mad­cap like a video game, loose and light like the clothes, portable as a ghet­to-blaster, plugged into the dig­i­tal rhythm. They are the tech­no­log­i­cal prim­i­tives, the Future Tribe. And, as Man Par­rish pre­dict­ed in 1982, they don't stop.
Along with crews like Kly­max, Phase 2, The Kleer Crew and Phinx, the Soul Son­ic Rock­ers have come through to the semi-final of the All Lon­don Body-Pop­ping, Crack­ing and Break-Danc­ing Cham­pi­onship. In the indi­vid­ual stakes, Horace Mills, Ricky Facey from Plais­tow, a white teenag­er named Bri­an Web­ster who impressed every­body, and the well-known Soul Boy are all in the con­test – which, inci­den­tal­ly, has as its mas­cot the ​'1994 Break­ing Champ', a sev­en-year-old called Luke Skywalker.
At the finals in August at the Lyceum Ball­room, they will be com­pet­ing for prize mon­ey of £2,500 – and the chance to emu­late the pro­fes­sion­al suc­cess of crews like Zulu Rock­ers and Side­walk, the first team to come out of the UK.
If the Tech­ni­cal Pop­pers win, Trevor Birch wants to use the mon­ey to go to New York, where it all started.
"I know they're not all that good but I wan­na find out," he says gen­er­ous­ly. ​"If I go some­where where the action is good – clubs open all night – I know I'II get bet­ter quick­er." In the win­dow of a sports­wear shop in Can­ning Town is a red, blue and white Hum­mel track­suit, the only thing stand­ing between him and the biggest break of all.
PHASE 2: THE BEAT­BOX BITES BACK

1984: 2am at The Fun­house and the giant video screen fills with the image of the Mas­ter O.C.'s hands scratch­ing an Enjoy 12inch. O.C. and Krazy Eddie are vibrat­ing the sound sys­tem for the Fear­less Four, onstage (and ever-so-human) per­form­ing the robot raps of Prob­lems Of The World, F-4000 and the one that made their name, Rockin It.
Twen­ty-four years ear­li­er, one night in 1960, Bob­by Robin­son left his retail store – Bobby's Hap­py House Records on Harlem's 125th Street – got into his car and drove 60 miles to hear a tune called Wig­gle Wob­ble.
Robin­son, a black record pro­duc­er who released mate­r­i­al by many R&B artists, had heard about the song and the dance craze that went with it. He remem­bers it clear­ly: ​"It was a thing called the Wob­ble. It was a kind of dance like a wob­bling duck and every­body was doing it." The song was a dance instruc­tion nov­el­ty per­formed by Les Coop­er, a piano play­ing ex doo-wop singer. Bob­by recalls the may­hem it was cre­at­ing with the crowds and the trim­ming he felt was in order: ​"It was a song where peo­ple lis­ten – ​"You put your right foot for­ward and then you wig­gle to the left" – and all this and that. So I said, ​'The very first thing I wan­na do is take all the words and throw ​'em in the garbage.' So he had a fit. ​'No! No! This is the instruc­tions telling them how to do the dance.' I said, ​'They know how to do the dance!'."
With his mouth shut firm, Les Coop­er took Wig­gle Wob­ble to a mil­lion sales and beyond on Robinson's Ever­last label. It was far from being Bobby's only dance fad suc­cess. For the first release on a new label, Enjoy, he launched Soul Twist by King Cur­tis and over two decades lat­er – on the same label – jumped the band­wag­on again with I'm The Pack­man (Eat Every­thing I Can) by The Pack­man. The Pack­man wack­awacked elec­tron­i­cal­ly rather than wig­gle-wob­bling acousti­cal­ly, but dance craze records are con­sis­tent over the years. Duck mania or Pac­ma­nia – what's the difference?

Records, like I'm The Pack­man (tagged elec­tro-funk in this coun­try), have made the chips hit the fan. An already sharply divid­ed soul scene in Britain has riv­en into war zones – dis­cos with mutu­al­ly hos­tile rooms for fis­sured sub-sub­cul­tures, guer­ril­la tac­tics from fanzines like Black­beat, civ­il strife in Echoes mag­a­zine, ene­my sym­pa­this­ers in black music and heavy artillery from radio jock Rob­bie Vin­cent (a pithy dis­missal, ​"that elec­tro shit", in The Face). To the cha­grin of white soul fans (tra­di­tion­al­ists and jazz funkers) many elec­tro-con­sumers are young blacks; despite its European/​Asian influ­ences it is still a major rep­re­sen­ta­tion of black and His­pan­ic teen lifestyle in today's urban America.
1982 was the year when the funk warped out into hyper­space. An all-elec­tron­ic black music had been a long time com­ing – Sly Stone was using drum machines in the ear­ly Sev­en­ties (check out Time on There's A Riot Going On); Ste­vie Wonder's Music Of My Mind and Talk­ing Book albums estab­lished him as a synth inno­va­tor and Sylvia and Joe Robinson's All Plat­inum set-up in New Jer­sey used frosty elec­tron­ic back­drops for the pop dis­co of The Moments and Sylvia herself.
It was All Plat­inum, recon­sti­tut­ed as Sug­arhill, Bob­by Robinson's Enjoy and indi­vid­ual records like Vaugh­an Mason's Bounce, Rock, Skate, Roll which helped estab­lish a new ambi­ence in East Coast post-dis­co. Slow and heavy, it reflect­ed South and West Bronx break­beats. Like an update of Mis­sis­sip­pi fife and drum rhythms fil­tered through the Isley Broth­ers it led to elec­tron­ic pulse music only bare­ly cling­ing to dis­co con­ven­tions. Free Expression's Chill Out in 1981 was a cru­cial record as was Jazzy Sen­sa­tion on Tom­my Boy. Jazzy Sen­sa­tion con­vened hip-hop DJ Afri­ka Bam­baataa and var­i­ous of his MCs with dis­co DJ Shep Pet­ti­bone and pro­duc­er Arthur Bak­er. The record had con­trast­ing rap ver­sions of Gwen McCrae's Funky Sen­sa­tion – both used elec­tron­ic per­cus­sion but one fea­tured bass gui­tar and the oth­er sub­sti­tut­ed synth bass. You could almost smell the smoke from burn­ing bass gui­tars and drum kits.
Bambaataa's fol­low up, Plan­et Rock, was again a col­lab­o­ra­tion with Bak­er plus MC group Soul Son­ic Force and key­boardist John Robie. Barn want­ed to re-cre­ate the melo­dra­ma of B-Boy favourites like Kraftwerk's Trans Europe Express or Babe Ruth's For A Few Dol­lars More Mor­ri­cone cov­er as well as using rhyth­mic ideas from Cap­tain Sky's Super Sperm and Kraftwerk's Num­bers. A big fan of Yel­low Mag­ic Orches­tra (you can hear Barn and Jazzy Jay cut­ting up YMO's Fire­crack­er on the noto­ri­ous Death Mix on Win­ley), he was deeply impressed by Kraftwerk's music and image: ​"Kraftwerk – I don't think they even knew how big they were among the black mass­es back in ​'77 when they came out with Trans Europe Express. When that came out I thought that was one of the best and weird­est damn records I ever heard in my life… That's an amaz­ing group to see – just to see what com­put­ers and all that can do."
Being a B-Boy or B-Girl was about being cool. Kraftwerk's four besuit­ed Aryan show­room dum­mies were pas­sion from the deep freeze. Like a mas­sive joke at the oth­er extreme from George Clinton's the­atre of excess, they were fas­ci­nat­ing to kids who had grown up par­al­lel with the micro-chip revolution.
The music tracks for both Plan­et Rock and Play At Your Own Risk (a record by Plan­et Patrol) were record­ed in one night. Bak­er remem­bers that the sound was part­ly defined by the lack of tech­nol­o­gy at that time. ​"There was no secret to that sound – it was just that we didn't have racks of shit. We had this one PCM [a dig­i­tal delay unit]. In the last year and a half tech­nol­o­gy has gone hay­wire. When we did Plan­et Rock that was one of the first records to use a Roland… now every­one has a drum machine."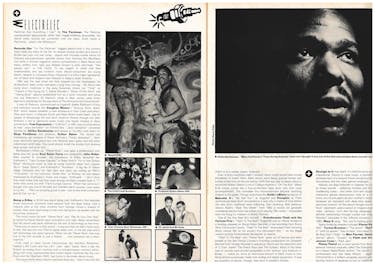 Funk used to need human metronomes like Hamil­ton Bohan­non, Fatback's Bill Cur­tis and the J.B.s' John ​'Jabo' Starks. Now it has the Roland, an ana­logue drum machine with a micro­proces­sor mem­o­ry which, along with more sophis­ti­cat­ed (and cost­ly) dig­i­tal machines like the Linn Drum and the Ober­heim DMX, has come to dom­i­nate dance music.
The usu­al whine about robot­ic machines (they are – that's why kids like them) is to a cer­tain extent irrelevant.
Even if drum machines hadn't exist­ed, dis­co mix­es would have forced some­body to invent them. Bass drums were being pushed fur­ther and fur­ther to the front of the mix and by 1979 (the last year of clas­sic dis­co) a record like Wal­ter Gibbon's mix of Colleen Heather's On The Run (West End) comes across like a four-on-the-floor bass drum solo with vocal accom­pa­ni­ment. The inevitable tiny incon­sis­ten­cies become ter­ri­fy­ing chasms in the pulse. Though drum­mers like Kei­th LeBlanc (pro­duc­er of Mal­colm X's No Sell Out) at Sug­arhill and Pump­kin at Enjoy rein­tro­duced bass drum syn­co­pa­tions it was only a mat­ter of time before the new drum machines were fol­low­ing, then out­do­ing, their pat­terns. Sharon Redd's Beat The Street from 1982 (a record not gen­er­al­ly con­sid­ered elec­tro-funk) has a bass drum play­ing 16th notes – impos­si­ble even for Kung Fu mas­ters or Bion­ic Women.
One of the first Beat Box records – Grand­mas­ter Flash and the Furi­ous Five's Flash To The Beat (Sug­arhill) was an offi­cial remake of a boot­leg released on Boz­zo Meko Records, a live record­ing from Bronx Riv­er Com­mu­ni­ty Cen­tre. Flash To The Beat show­cased Flash throw­ing down vicious fills on his ancient Vox per­cus­sion box – on the ille­gal ver­sion putting Ein­sturzende Neubaut­en to shame.
Flash To The Beat and Plan­et Rock grew out of hip-hop and were par­al­lel to the late Patrick Cowley's hi-ener­gy pro­duc­tions for Sylvester (derived from Gior­gio Moroder's sequencer dis­co) and the elec­tron­ic soul of D Train, Kashif, The Peech Boys and The Sys­tem. Most of the lat­ter type of records have proved accept­able to the ​'seri­ous' soul fra­ter­ni­ty in Britain – luck­i­ly so, since an enor­mous amount of black music is now being almost exclu­sive­ly made with ana­logue and dig­i­tal equip­ment. It was the juve­nil­i­ty of elec­tro, though, that stuck in people's throats.
Strange as it may seem, it's hard for some peo­ple to see pop cul­ture as inspi­ra­tional. Elec­tro is craze music, a sound­track for vid kids to live out fan­tasies born of a sci­ence fic­tion revival (cour­tesy of Star Wars and Close Encoun­ters) and the video games onslaught.
Nobody can play Defend­er or Galax­i­an for long with­out being affect­ed by those sounds – sick­en­ing rum­bles and throbs, fuzzy explo­sions and mad­den­ing tunes – and when Gort and Gor­gar began to talk the whole inter­ac­tive games phe­nom­e­non took on a men­ac­ing aspect. Do they know you've just spent all your mother's mon­ey? Do they care that your fan­tasies are sat­u­rat­ed with deep blue space wars and glow­ing vio­let elec­tron­ic insects? All the elec­tro boo­gie records that flew in the Plan­et Rock slip­stream used a vari­ant on imagery drawn from com­put­er games, video, car­toons, sci-fi and hip-hop lan­guage. Just as The Cuff Links defined rela­tion­ships through nuclear war images in their song Guid­ed Mis­siles (record­ed in the A-Bomb con­scious Fifties), so, on Nunk in 1982, Warp 9 sang: ​"Girl, you're look­ing good on my video…"
Space break­ing releas­es includ­ed Plan­et Patrol's Play At Your Own Risk, Tyrone Brunson's The Smurf, The Fear­less Four's Rockin' It (with its spooky ​"they're here" intro tak­en from Pol­ter­geist), Hip Hop Be Bop (Don't Stop) by Man Par­rish, George Clinton's Com­put­er Games album, Scor­pio by Flash and the Furi­ous Five and The Jonzun Crew's Pack Jam.
Plan­et Patrol are a vocal quin­tet from Boston (a breed­ing sta­tion for aster­oid funkers) orig­i­nal­ly called The Ener­get­ics, who applied their skills to a clas­sic Baker/​Robie rhythm. The record mixed acoustic piano with syn­the­sis­ers and dub delay effects – tagged onto the end of the instru­men­tal is a bril­liant acapel­la sec­tion which speeds and slows the hip-hop ver­sion of applause (a sort of macho dog bark).
The dog bark turned up again on Man Parrish's record – pro­duced by Par­rish (a white Brook­lyn-born synth-freak whose pre­vi­ous expe­ri­ence includ­ed porno sound­track writ­ing) and Raul A. Rodriguez, a dis­co jock cur­rent­ly pro­duc­ing The Two Sis­ters on B-Boys Beware and High Noon.
The Smurf by Wash­ing­ton DC-born bass play­er Tyrone Brun­son was pure dance craze instru­men­tal. Smurf­ing was a New York dance inspired by one of the Sat­ur­day morn­ing TV car­toon shows, a fer­tile source of imagery for graf­fi­ti artists and catch­phras­es for rap­pers. Smurfs, like all great his­tor­i­cal fig­ures, have a com­plex back­ground. Orig­i­nal­ly based on char­ac­ters from Spiro, a French com­ic of the Six­ties, they became an inter­na­tion­al pro­mo tool, a Dutch hit record (thanks to the genius of Father Abra­ham) and a series of dance discs. The lat­ter includ­ed Let­zmeurph Across­da­surf by The Micron­awts (actu­al­ly a Vil­lage Voice crit­ic, Bar­ry Michael Coop­er, with a dub mix by Bam­baataa) on Aaron Fuchs' Tuff City label; Sal­sa Smurf by Spe­cial Request (a Tom­my Boy col­lab­o­ra­tion between two con­trib­u­tors to NYC radio sta­tion 92KTU – Car­los DeJe­sus and Jose ​'Ani­mal' Daiaz, who also mixed Rhet­ta Hugh­es elec­tro hi-ener­gy Angel Man) and Smer­phies Dance on Tell­star by Spy­der D, a young man named Duane Hugh­es who, to my knowl­edge, is the only hip-hop­per to car­ry a busi­ness card.
Anoth­er dance craze of the peri­od was the Webo or Hue­vo (Span­ish for egg). The Webo had its very own audio track, typ­i­cal of ​'82/'83 mad­house dub mix­es, called Hue­vo Danc­ing by Fresh Face. Hue­vo Danc­ing was a cre­ation of vet­er­an soul singer/​producer George Kerr and keyboardist/​guitarist Reg­gie Grif­fin. Its vio­lent elec­tric drums and seem­ing­ly ran­dom attacks on the mix­ing desk faders give it a spe­cial place in my heart. Both Kerr and Grif­fin were asso­ci­at­ed with the Sylvia and Joe Robin­son empire and Reg­gie Grif­fin went on to make his own elec­tro boo­gie record, Mira­da Rock for Sweet Moun­tain Records, a Sug­arhill subsidiary.
Also doing time at Sug­arhill with some uncred­it­ed ses­sion work was Michael Jonzun, of the despised yet total­ly bril­liant Jonzun Crew. Pack Jam on Tom­my Boy is one of the tough­est records of the last few years (I say that as a per­son old enough to have seen The Ronettes and Otis Red­ding live on stage). Like Miran­da Rock (​"I am a com­put­er") or Tilt's Arkade Funk (​"I am an arkade funk machine") there was no beat­ing about the bush. Pack Jam was a video game record and if adults want­ed to run scared that was their business.
Many of the elec­tro musi­cians and pro­duc­ers recog­nise their music as the fusion that it is – street funk and hip-hop mixed with influ­ences from British syn­the­sis­er groups, Latin music and Jazz fusion – all thrown into the robot danc­ing, break­ing and moon­walk­ing melt­down. Lot­ti Gold­en and Richard Sch­er, producers/​writers for Warp 9, Chill­town and Ladies' Choice, called their first Casio-pow­ered Warp 9 release Nunk, a hybrid of N-ew wave and f-UNK.
Elec­tro is clos­er to past Afro-Amer­i­can fusions than a lot of the Sev­en­ties dis­co pro­mot­ed by British disc jock­eys cur­rent­ly run­ning anti-elec­tro cam­paigns (Mag­ic Fly by Space, for exam­ple, a reg­u­lar on ear­ly edi­tions of Rob­bie Vincent's Radio Lon­don show) and it is arguable that it shows stronger black music roots than cer­tain pop­u­lar jazz-funk or soft soul records of recent years. Every­body acknowl­edges the pio­neer­ing of Miles Davis and Her­bie Han­cock in com­bin­ing elec­tron­ics with funk, Afro, Latin and jazz (check out On The Cor­ner and Head­hunters) and Material's pro­duc­tion on Hancock's Future Shock was oblique­ly inspired by Hancock's own mid-Sev­en­ties albums.
The cur­rent phase of elec­tro, par­tic­u­lar­ly elec­tro-rap and scratch mix­es, is like black met­al music for the Eight­ies, a hard-edged, ugly, beau­ti­ful trance as des­per­ate and stim­u­lat­ing as New York itself. Run DMC's records on Pro­file are direct-to-disc wall poems; The B-Boys, The Boo­gie Boys, The Beat Box Boys, Davy DMX, Pump­kin and DJ Divine – all phys­i­cal graf­fi­ti on music his­to­ry books. For the Cold Crush Broth­ers, the Mad Max war­riors of rap, their Punk Rock Rap is a reflec­tion of the exot­i­ca of white rock uptown in Wash­ing­ton Heights.
Noth­ing is sacred in the com­put­er age. As com­put­er pro­gram­mers, copy­right lawyers and cor­po­ra­tions strug­gle to pro­tect them­selves against micro raiders and mash­ers, the vid­kids swarm down from the top of the screen, hun­gry for the cos­mic crash.
---