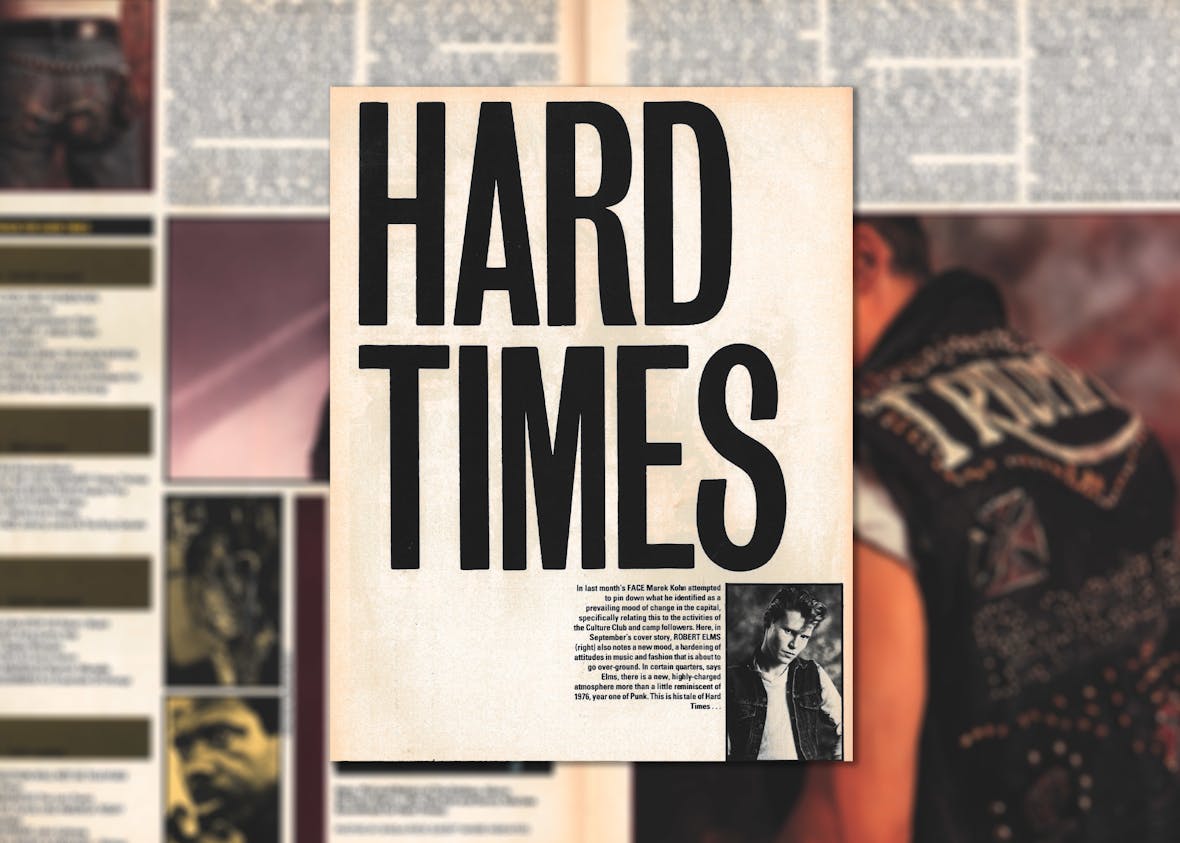 Hard Times
To cel­e­brate the long-await­ed return of The Face, we have select­ed a stand-out sto­ry from each year of our exten­sive archive, from 1980 to 2004.
Remembered by writer Robert Elms
"I went in and gave this spiel to Nick Logan about this amaz­ing scene: ​'Look: all that colour and every­thing that every­one knows about New Roman­tics has changed.' At that stage, peo­ple thought every­one in Lon­don night­clubs were wear­ing ruffs and frills and danc­ing to elec­tron­ic music. I was 22, and I had fair­ly good anten­nae. Thatch­erism was real­ly kick­ing in, and you could just feel this change in the air. And in the trousers. My ​'research' came from being out every sin­gle night in Lon­don. The thing that was best about The Face was that it was writ­ten, pho­tographed and designed by the peo­ple who were there. It was nev­er out­siders look­ing in. It was insid­ers look­ing out. The actu­al cov­er is my friend Lee Bar­rett who was Sade's man­ag­er, and the Levi's he's wear­ing were mine. The writ­ing is fan­tas­ti­cal­ly pre­pos­ter­ous, but also quite on the mon­ey. I mean, it is very arro­gant – ​'read this twice because you might not get it' – and not too many peo­ple are going to let you get away with that. But if it was good, Nick would let you get away with that stuff. That was his genius as an edi­tor. I think gen­uine­ly the biggest reac­tion to the Hard Times cov­er being pub­lished is that with­in about a month there were jeans with rips and holes cut in them on sale in High Street shops – and there have been ever since! Then there were lots of peo­ple who were like: ​'Wow, a great bit of writ­ing.' And then there were oth­ers who said: ​'You pre­ten­tious twat.' They were prob­a­bly both right."
Robert Elms is a writer and broad­cast­er. For 25 years he has been pre­sent­ing a dai­ly show on BBC Radio Lon­don. His lat­est book is Lon­don Made Us: A Mem­oir of a Shape-Shift­ing City (Canon­gate)
A SET OF PRE­LIM­I­NARY ASSUMPTIONS
Bear with me for a while, this first bit may be hard but it is impor­tant. Read it twice if you have to because there is some­thing that you are going to have to grasp before we can go any fur­ther. And that is the notion that Youth Cul­ture now rep­re­sents not a rebel­lion but a tra­di­tion, or rather a series of tra­di­tions that date back to the advent of the teenag­er and con­tin­ue to grow along a com­pound con­tin­u­um of action and reaction.
Imag­ine a spi­ral that begins with a birth out of afflu­ence and post-war lib­er­a­tion and moves through time pro­pelled by its own mythol­o­gy and its own con­trari­ness and is affect­ed by tech­nol­o­gy and whim­sy and eco­nom­ics. It is cycli­cal, but the cir­cle is nev­er com­plet­ed because it is also evo­lu­tion­ary, there­fore pat­terns repeat but they are nev­er quite the same.
Now you must also accept that there is no such thing as a ​"gen­er­a­tion gap" any­more; how can you rebel against the gen­er­a­tion of Coltrane or Bran­do or Macinnes? What we have is a her­itage that you can draw suc­cour and inspi­ra­tion from, and there's those who do and those who don't. That's the only gap.
In the mid-Sev­en­ties there was real­ly only North­ern Soul with its sparse, func­tion­al uni­form, its £30 sin­gles and its clenched fist plea to keep the faith which kept alive the tra­di­tion of a mobile, under­ground lifestyle that demand­ed com­mit­ment and pledged enjoy­ment. But in recent years we've expe­ri­enced a dra­mat­ic revival in the colour and clam­our of what was once called Youth Cul­ture but is now in dras­tic need of redefinition.
Right now every kid is a dressed-up kid, every home has a hip­ster. Just how that occurred and where it's all lead­ing takes us neat­ly into A Tale Of Hard Times.
It's more than just a feel­ing now, more def­i­nite than the pres­ence of den­im where once was silk; it's def­i­nite­ly a cycle reassert­ing itself, but we'll return to that much later.
Suf­fice to say things are chang­ing. What began as a desire to shed the cling­ing, depres­sive old skin of post-punk monot­o­ny and replace it with a set of bold, bright new clothes is slow­ly evolv­ing into an entrenched, die-hard men­tal­i­ty where Good Times is replaced by Money's Too Tight (To Men­tion). But the danc­ing at least doesn't stop.
It's still eas­i­est to describe as a hard­en­ing of atti­tude. Some­how the atmos­phere when you walk into a club today is dif­fer­ent; gay aban­don has evolved into a clenched teeth deter­mi­na­tion where pre­cious lager cans are cra­dled to stop them dis­ap­pear­ing and sweat has replaced cool as the mark of a face.
Sure­ly every­body knows by now that it was nev­er a chintzy, cock­tail set whirl of debs' do's. That only ever exist­ed in the minds of a para­noid rock press and the par­ties of a few Funkapoli­tan flunkies. But mis­un­der­stand­ing and mis­rep­re­sen­ta­tion of the kind that labelled those who want­ed to dress and dance as ​"lit­tle Lord Fauntleroys" and even ​"escapist mid­dle-class fas­cists" turned too often into self-ful­fill­ing prophe­cy as too many peo­ple got the wrong end of the stick and then toyed with it.
But if we take a look at how things stand right now, lit­er­al­ly take a look, you'll see that clothes at least are def­i­nite­ly get­ting hard­er. Ubiq­ui­tous Levi's worn into holes, sweat­shirts serv­ing their pur­pose and los­ing their sleeves, leather dom­i­nat­ing every­thing; sand­blast­ed for effect if you're rich and Ital­ian, gen­uine­ly old and ragged if you're not. Leather caps, leather jerkins, big boots or no socks and espadrilles. Trousers are get­ting tighter, T-shirts ripped and torn.
The ref­er­ence points are numer­ous but the look is new. Bran­do on a motor­bike in the Amer­i­can Fifties that nev­er made Hap­py Days. There's the ever present rock­a­bil­ly input only now pink pegs have made way for stained drain­pipes and checked shirts have been ripped to shreds. A touch of bol­she­vism here and there with flat caps and red flags, still a glimpse of beat­nik ankles and shades, and an awful lot of macho gay icons. And what you have is Lon­don in the win­ter of 1976.
Fash­ion has always had its own very inter­nalised mech­a­nism of change based on action and reac­tion; you know, some­one wears some­thing, so every­one else wears it, so he wears some­thing else. But in recent times that process has been speed­ed up to an almost inde­cent pace by a media that's been alert­ed to the fact that something's going on and is more than will­ing to tell every­body. And indeed the lat­est change was a reac­tion against scores of kids in their grandfather's suits and their mother's make­up, against idiot dancers on Top Of The Pops dressed up in cast-offs from Auntie's last pan­tomime, a reac­tion against Bucks Fizz dressed as New Roman­tics and Pete Shel­ley in a suit.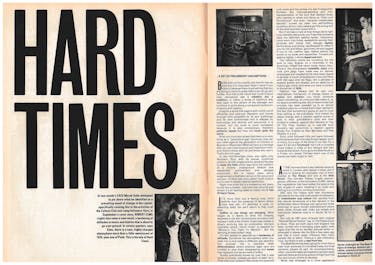 Sure, suits fol­lowed frills and jeans fol­lowed suits because that's the way things hap­pen, but it is more, it's a sign of the times if you like. For a start it's all very func­tion­al: hot funk in crowd­ed clubs makes a mess of any designs that lean towards dandy­ism. If you go to the Beat Route on a Fri­day you sweat. Per­haps that's one of the places we real­ly ought to visit.
At the moment there's two def­i­nite trends at work in Lon­don after eleven o'clock, and if you're look­ing for exam­ples, one of them resides at The Palace and one at the Beat Route. The Cam­den Palace, huge­ly pop­u­lar, glossy, effi­cient, is the equiv­a­lent of ABC; tak­ing the ingre­di­ents that have added the spice to the last cou­ple of years, dress­ing it up nice­ly and sell­ing it to a mil­lion, smil­ing con­sumers. ABC and The Palace both bear impres­sive wit­ness to the fact that a whole­sale revi­tal­i­sa­tion of main­stream pop cul­ture has result­ed from the nat­ur­al ten­den­cies of a few dancers in the wilder­ness. Steve Strange very gen­uine­ly hosts evenings of good hon­est enter­tain­ment where bank clerks min­gle with milky bar dreads and every­body believes they're in Stu­dio 54 for a night.
But just as ABC soon dropped their orig­i­nal ​"Rad­i­cal Dance Fac­tion" tag, so The Palace is just a dis­co. They are both signs that Eng­land has been turned into a swing­ing place again, both signs that the oh-so derid­ed atti­tude which reemerged in places like the Blitz a few years ago has had a much wider influ­ence than many peo­ple like to admit. There is a new ortho­doxy now, but there is also a new front line.
The Beat Route has been going for more than a year now; some say it's not what it was, but it has cer­tain­ly played its part. Its uncom­pro­mis­ing, often uncom­fort­able atmos­phere has kept away paint­ed faces and pry­ing eyes so things have had the rare lux­u­ry of time to devel­op. What has emerged is a more aggres­sive hedo­nism where sex and danc­ing and stim­u­lants rep­re­sent a back-against-the-wall defi­ance. The Beat Route attracts peo­ple from all over the coun­try, and the age range is right across the board. That's vital, this whole new feel isn't just that of a new gen­er­a­tion: that con­cept sim­ply doesn't apply any­more. It's 15 year olds and 35 year olds danc­ing defi­ant steps side by side. Peo­ple who've learnt to dance to Gil Scott-Heron have learnt that age doesn't mean a thing.
But there's also a dark side, vic­tims of an all-out lifestyle. For some hedo­nism has turned to cheap hero­in as depres­sion cre­ates one of its ugli­est panaceas. But just as hard times leave scars on some, so oth­ers become hard enough to beat it.
Just as the idea for once-a-week clubs where you use their space to cre­ate your envi­ron­ment orig­i­nal­ly rose out of a black soul boy tra­di­tion of ware­house par­ties where you lit­er­al­ly do every­thing your­self, so The Palaces and the Ultra­te­ques which cater six nights a week for the new elec­tropop creamed off the ideas and the ener­gy which arose out of the once-a-week clubs, to stuff the pock­ets of financiers. So, young and old, those who real­ly care, move back to ware­hous­es and cre­ate their own space. Enter the Dirtbox.
The increase in the num­ber of ware­house par­ties of late is a sure sign that some­thing is hap­pen­ing, and the oth­er thing hap­pen­ing is the Dirt­box: a tra­di­tion builds upon itself.

Sit­u­at­ed above a chemist in Earls Court, the Dirt­box will almost def­i­nite­ly have ceased to exist by the time you read this. But its pol­i­cy of £1.50 entry, bring your own drink in a cramped claus­tro­pho­bic room with a fan, some set­tees and a sound sys­tem pro­duced a series of wild nights. All organ­ised by two decid­ed­ly post-Blitz kids and DJ'd by a rock­a­bil­ly who shopped in Sex before the Pis­tols did. Built to self-destruct, it bore all the hall­marks of the times, danc­ing on the edge of ille­gal­i­ty. They've already got anoth­er place to move to: move fast, hit hard gueril­la tac­tics. I may be get­ting a bit roman­tic, but the Dirt­box is a return to the soul. Now that's a word for the times.
Just as main­stream pop cul­ture becomes more and more pro­duced, safer, pre­dictably bright and dance­able, so the reac­tion occurs. The spi­ral moves on by look­ing back, look­ing for some roots, search­ing for a lit­tle soul in a soul­less world.
If Kevin Row­land is still search­ing for soul rebels then now is the time when he could just find them. For just as peo­ple will now draw selec­tive­ly from the wardrobes of the past, so they'll live and learn from a musi­cal her­itage that stretch­es right back. The imma­ture, myopic desire to reject things because of their age has been resigned to an acned past. Soul is about depth and it's the new rebels with torn jeans who are dig­ging deep.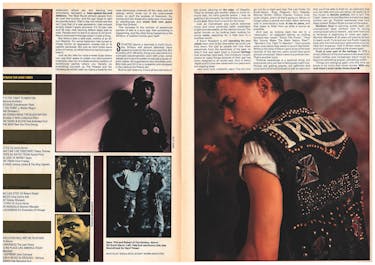 Jazz, soul, funk, rock­a­bil­ly, cajun. You can now go out for a night and hear The Last Poets, Gil Scott-Heron, King Plea­sure, Ann Pee­bles, War­ren Smith, Clifton Che­nier. Cul­ture Club, quite sim­ply, aren't all that's going on. Music no longer plays a cen­tral and real­ly rather damn­ing role in everybody's lives. It has its place, and that place is filled from as wide a source as possible.
And just as look­ing back has led to a ​"dis­cov­ery" of neglect­ed tal­ents, so look­ing for­ward has meant Shoot The Pump, How We Gonna Make The Black Nation Rise?, Money's Too Tight To Men­tion. Hard sounds when every­body else wants to sound like Dol­lar. With­out the likes of Steve Lewis some of the best records of the last two years would have gone almost unno­ticed. Steve Lewis is a polit­i­cal man. That's anoth­er topic.
Polit­i­cal aware­ness is a per­son­al thing, but every­body who can feel is feel­ing pain right now. Peo­ple are get­ting angri­er, the opti­mism that once led to bluff and brava­do is now an opti­mism that you'll be able to hold on, an opti­mism that you can defy and you can dance. An awful lot of the music is direct­ly polit­i­cal, but it isn't The Clash: lis­ten to Cur­tis May­field and see how deep pol­i­tics can go. Polit­i­cal aware­ness now runs deep indeed. Robert Wyatt is a star on the scene.
North­ern Soul is spin­ning qui­et­ly back, old unem­ployed steel­work­ers next to young unem­ployed school leavers. Jazz both here and in Amer­i­ca is begin­ning to mean jazz again; Wyn­ton Marsalis at 20 years old play­ing bebop to teach us all. Funk and soul are final­ly creep­ing back into the funk and soul racks where once lay lit­tle but forg­eries. And in Britain black leather and torn jeans are walk­ing the streets again.
Punk is now part of the her­itage. In 1976 a small off­shoot of the club scene broke away from bright clothes and increas­ing­ly bland music to become some­thing angri­er, some­thing wilder. Things are chang­ing again only this time we know a lot more than three chords. With any luck there's even hard­er times ahead.
---