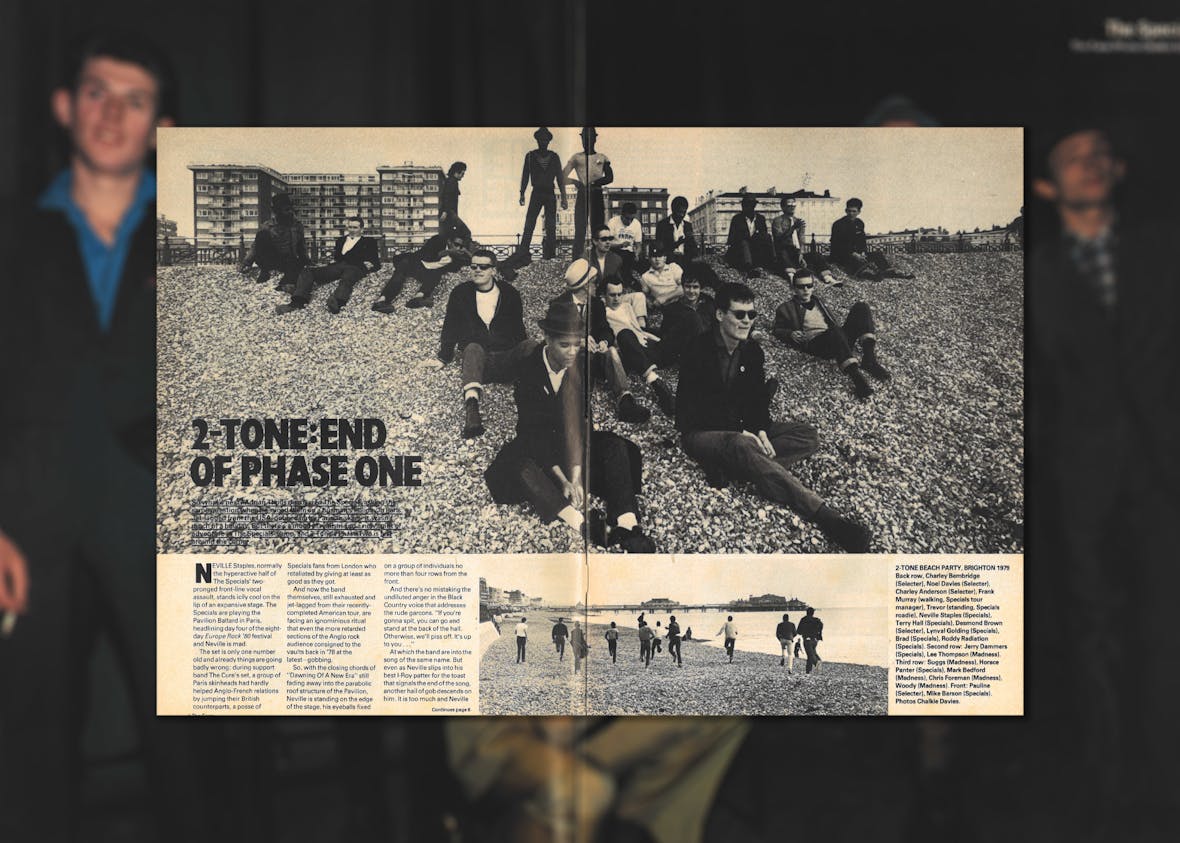 2

-Tone: End Of Phase One
To cel­e­brate the long-await­ed return of The Face, we have select­ed a stand-out sto­ry from each year of our exten­sive archive, from 1980 to 2004.
Remembered by writer Adrian Thrills
"Nick Logan had been speak­ing to me about this new mag­a­zine he want­ed to launch that com­bined music, style, the whole mael­strom of pop cul­ture. We knocked around a few ideas about who'd be good and came up with The Spe­cials. I think the sto­ry was just pret­ty much set up by myself and Chalkie Davies, the pho­tog­ra­ph­er. It was lit­er­al­ly a cou­ple of phone calls and we were on the tour bus to Paris. In that peri­od, if you'd writ­ten about a band – and I'd writ­ten about The Spe­cials quite a lot, in the NME – the access you got was unpar­al­leled. You basi­cal­ly lived and trav­elled on the road as a mem­ber of the band. Jer­ry Dammers pret­ty much said to me on that trip: ​'You're just like one of The Spe­cials.' I would have been 20 at the time. They'd just come back from an Amer­i­can tour and were quite glad to be back in Europe. They did the show in Paris, which turned out to be a ful­ly riotous affair – fight­ing in the audi­ence! The sup­port act was The Cure. The Spe­cials were the right band for the first cov­er of The Face because they had the musi­cal cre­den­tials, they were a big British band at the time and they also had that dis­tinct style ele­ment. You could see from the start that The Face was going to be a suc­cess. It flew off the news­stands, cer­tain­ly. All the ingre­di­ents that made The Face such a great pub­li­ca­tion are all there in that first issue. It was obvi­ous­ly tweaked and it devel­oped over the fol­low­ing years, and it came on leaps and bounds in terms of design, look and cov­er­age. But it was a great moment in British youth cul­ture publishing."
Adri­an Thrills first met The Face's founder Nick Logan when the lat­ter was edit­ing NME in 1978. Thrills inter­viewed The Clash for the cov­er of Logan's Smash Hits and wrote about The Spe­cials for the first cov­er of The Face in 1980. He became assis­tant edi­tor of NME in 1985 and was launch edi­tor of foot­ball month­ly Goal in 1995. He has been The Dai­ly Mail's rock and pop crit­ic since 1997
Neville Sta­ples, nor­mal­ly the hyper­ac­tive half of The Spe­cials' two-pronged front-line vocal assault, stands ici­ly cool on the lip of an expan­sive stage. The Spe­cials are play­ing the Pavil­ion Bal­tard in Paris, head­lin­ing day four of the eight-day Europe Rock ​'80 fes­ti­val and Neville is mad. The set is only one num­ber old and already things are going bad­ly wrong: dur­ing sup­port band The Cure's set, a group of Paris skin­heads had hard­ly helped Anglo-French rela­tions by jump­ing their British coun­ter­parts, a posse of Spe­cials fans from Lon­don who retal­i­at­ed by giv­ing at least as good as they got.
And now the band them­selves, still exhaust­ed and jet-lagged from their recent­ly com­plet­ed Amer­i­can tour, are fac­ing an igno­min­ious rit­u­al that even the more retard­ed sec­tions of the Anglo rock audi­ence con­signed to the vaults back in ​'78 at the lat­est gobbing.
So, with the clos­ing chords of Dawn­ing Of A New Era still fad­ing away into the par­a­bol­ic roof struc­ture of the Pavil­ion, Neville is stand­ing on the edge of the stage, his eye­balls fixed on a group of indi­vid­u­als no more than four rows from the front.
And there's no mis­tak­ing the undi­lut­ed anger in the Black Coun­try voice that address­es the rude garçons. ​"If you're gonna spit, you can go and stand at the back of the hall. Oth­er­wise, we'll piss off. It's up to you…"
At which the band are into the song of the same name. But even as Neville slips into his best I-Roy pat­ter for the toast that sig­nals the end of the song, anoth­er hail of gob descends on him. It is too much and Neville decides on the spot that he can take no more.
One ath­let­ic leap over the mon­i­tors lat­er and the vocal­ist is down in the pogo­ing pit sort­ing out the guy respon­si­ble. Unfor­tu­nate­ly, it was that sort of show and the bad vibes so untyp­i­cal of a Spe­cials gig con­tin­ue right through to the encores. A bunch of Lon­don and Coven­try rude boys, who had trav­elled over on the Chan­nel fer­ry that after­noon, join the band onstage in time-hon­oured fash­ion for the clos­ing Skin­head Sym­pho­ny. The moon­stom­pers are met by a bar­rage of fly­ing cans and Neville under­stand­ably comes close to los­ing his cool a sec­ond time.
Instead, Ter­ry Hall puts the band's view­point in his own bit­ter, sar­cas­tic style, cut­ting through all the non­sense with the char­ac­ter­is­tic no-bull­shit hon­esty that has always been a part of The Spe­cials' make-up: ​"A lot of you have been very naughty tonight. You've fought, you've spat at us and gen­er­al­ly shat on us… but we've enjoyed our­selves. Goodnight!"
"A lot of you have been very naughty tonight. You've fought, you've spat at us and gen­er­al­ly shat on us… but we've enjoyed our­selves. Good­night!" – Ter­ry Hall
He picks up a crunched can for the­atri­cal effect, bal­ances it momen­tar­i­ly on his bonce and flicks it sky­wards before slip­ping away.
Lat­er, in the dress­ing room, one of the Willes­den skins who had been oper­at­ing the band's offi­cial T-shirt stand before it was over­turned in the furore of the vio­lence, gives a less-sub­tle appraisal, telling the group that they should have left the stage in dis­gust the moment the first can was aimed at them.
"That lot didn't deserve you!"
He was right, of course. But that was of lit­tle con­so­la­tion to The Spe­cials, who had come to Paris in the first place for what they had hoped would be some­thing of a break. Unlike­ly as it may seem from the above, the trip start­ed off as the 2-Tone works out­ing, a sort of busman's hol­i­day after the rigours of six month's con­stant tour­ing and the weary­ing US trek.
The entourage had left the 2-Tone Lon­don offices the pre­vi­ous after­noon in bright sun­shine and high spir­its to a pre-record­ed cas­sette sound­track of Lin­ton Kwe­si John­son, Rico, Tap­per Zukie and Desmond Dekker, the lat­ter hav­ing just sent 2-Tone a demo tape for consideration!
Each mem­ber of the band, road crew and Rick Rodgers' Trig­ger man­age­ment team had been allowed to bring along girl­friends and wives for what should have been a relax­ing week­end across the water. Some hope.
As the coach trun­dled lazi­ly towards Dover and the fer­ry, lega­cies from the Amer­i­can tour were abun­dant: bass­man Sir Horace Gen­tle­man put his cam­er­a­work on pub­lic show, hand­ing round a series of snap­shots from the tour; gui­tarist Rod­dy Radi­a­tion and organist/​visionary Jer­ry Dammers sport­ed chunky Starsky cardi­gans; Ter­ry Hall wore a Yan­kee base­ball jacket.
The new clob­ber aside, Amer­i­ca also gave the group acute jet­lag and a nag­ging doubt in the back of their minds as to what they were actu­al­ly achiev­ing in tak­ing punky-reg­gae to the colo­nials. As Horace pon­dered, in reply to the obvi­ous ques­tions about the tour, ​"I just don't know how it went real­ly. How do you gauge some­thing like that? What can you say?"
Jer­ry Dammers, how­ev­er, was more forth­com­ing. He hat­ed Amer­i­ca, inti­mat­ing that the gig sched­ule over there had all but sapped the group of their intox­i­cat­ing zap onstage by the end of the tour.
"By the time the last few dates came around, we were actu­al­ly get­ting to the stage where we weren't enjoy­ing play­ing. I've nev­er felt like that before. That's what it does to you. And if you're not enjoy­ing it, then there isn't real­ly much point in going on.
"I'm not sure if it would work out, but, in the future, we might just do odd gigs instead of mas­sive tours. A bit like PiL, but not quite as extreme."
Has the spark final­ly gone out of it for The Spe­cials, a band who, on the sur­face, have already achieved every­thing they set out to do? I doubt if it has come to that. Dammer's appar­ent dis­il­lu­sion­ment is only super­fi­cial and sure­ly any­one who has gigged as solid­ly as The Spe­cials in the past six months is enti­tled to the odd bout of dis­in­ter­est as far as live work is concerned.
How­ev­er, one oth­er nag­ging doubt does hang uneasi­ly over their shoul­ders – a feel­ing of what next? Musi­cal­ly, their con­ta­gious hybrid of punk and ska has been pushed more or less to its lim­its. To para­phrase Lin­ton Kwe­si John­son, the first phase has come to an end and it's time for the sec­ond phase to show.
No-one, thank­ful­ly, is more aware of this than the group them­selves. Give or take a few new songs – Rod­dy Radiation's Rat Race and Lyn­val Golding's Rude Boy Outa Jail which should form both sides of the next sin­gle – the band have been play­ing exact­ly the same set for over a year. And it shows. Their Pavil­ion gig was a long way from The Spe­cials at their best. The inter­rup­tions aside, most of the play­ing itself was too tense, a result no doubt of all the shat­tered nerve ends brought on by the con­stant touring.
But, as Jer­ry Dammers said as he left the dress­ing room, the Pavil­ion gig was also the last time that set would be played.
For the first time since the release of Gang­sters, The Spe­cials are tak­ing an enforced break to write new songs and recon­sid­er their posi­tion. The new songs are des­tined for the sec­ond album, which is due to be record­ed with engi­neer Dave Jor­dan, now an inte­gral part of the 2-Tone set-up, in Coventry's Hori­zon stu­dio in May.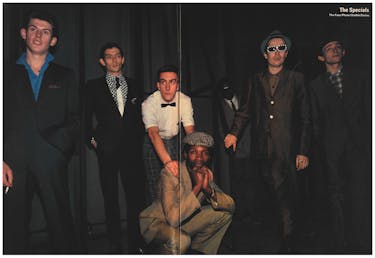 It is ear­ly days as yet, but there are already a few point­ers as to how the band might progress, the most intrigu­ing being Dammers' pas­sion for muzak-trashy bland wall­pa­per music, the sort of thing you might hear played in a super­mar­ket or a Chi­nese restau­rant. Indeed, while in Paris, Jer­ry took time out to go and pick some unlike­ly sound­ing LPs from a bar­gain bin, stuff like Stereo Par­ty For Two, a com­pi­la­tion of cha-cha, rhum­ba and marim­ba tunes!
"I think it's time for the 2-Tone bands to start get­ting a bit more exper­i­men­tal," explains the man they call The General.
"Some of it has real­ly start­ed becom­ing a big cliché. Real­ly, we've got to go back and start all over again. It's back to square one."
Jer­ry has always been the major moti­vat­ing per­son­al­i­ty in The Spe­cials, but they have nev­er been a one-man-band by any stretch of the imag­i­na­tion and it could be that the next album will see oth­er mem­bers well to the fore in a song­writ­ing capac­i­ty. In addi­tion to ​'Rat Race', for instance, Rod­dy Radi­a­tion is work­ing on a ska-rock­a­bil­ly fusion while Lyn­val and Neville are also both work­ing on solo projects.
Then there's soul man John ​'Brad' Brad­bury. The drum­mer already has a solo sin­gle ready for release in a cov­er of the old soul stan­dard Sock It To ​'Em JB, orig­i­nal­ly done on the red Atlantic label in 1966 by Rex Garvin And The Mighty Cravers. Brad record­ed his ver­sion just before Christ­mas in a small Streatham stu­dio with the oth­er mem­bers of The Spe­cials and trom­bon­ist Rico and flugel­horn play­er Dick Cuthell fill­ing in the var­i­ous instru­men­tal roles. The sin­gle should appear, almost def­i­nite­ly on 2-Tone, under the guise of The JB All Stars.
As far as Brad is con­cerned the sin­gle should help forge a link between what The Spe­cials are doing and the bur­geon­ing grass-roots R&B/soul revival being insti­gat­ed by bands such as Dexy's Mid­night Run­ners, the Q-Tips, Red Beans And Rice and The Step.
"I've always been heav­i­ly into the soul thing, prob­a­bly more so than the ska thing but, from the point of view of a drum­mer, there's no dif­fer­ence when it comes down to it. There are a lot of sim­i­lar­i­ties and it is very easy to slip from a ska drum pat­tern to a soul one. I'd hate to think that the soul thing will miss out again this year. It tries once a year and this could be the year that it makes the break­through. The dis­co thing is still going strong in Amer­i­ca but it can't go on for­ev­er. Peo­ple are going to start want­i­ng more than that, which is where real soul comes in."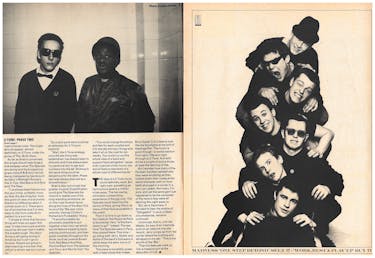 So a soul-punk slant could be an alley­way for 2-Tone to explore?

"Well, the 2-Tone strat­e­gy, once the ska thing was estab­lished, has always been to diver­si­fy and it has always been my per­son­al aim to get soul num­bers into the set. Stick­ing to the same thing could be dan­ger­ous for the label. Phase two was always planned as a diversification."
Brad is also con­vinced that greater musi­cal diver­si­fi­ca­tion could give The Spe­cials the chance to realise one of his long-stand­ing ambi­tions: an on-the-road musi­cal revue along the lines of the Stax/​Volt tours of the ​'60s and, more recent­ly, George Clinton's Parliament/​Funkadelic ​'thang'.
"It would prob­a­bly be phys­i­cal­ly pos­si­ble to put togeth­er a two-hour set which would fea­ture a back­ing band, play­ing con­tin­u­ous­ly, and then guest vocal­ists through­out the show, such as Lav­erne Brown from Red Beans And Rice, Pauline Black from The Selecter and Ter­ry and Neville from The Specials.
"You could change the tem­po and feel for each vocal­ist and mix the ska and soul things and take it all on the road for six weeks. You could cut out the whole idea of a band and sup­port band alto­geth­er ​'cause over a peri­od of two hours, you wouId fea­ture ele­ments of a whole load of dif­fer­ent bands."
The idea of a 2-Tone revue could def­i­nite­ly work. But right now, some­thing as har­mo­nious seems a mil­lion miles away. The har­row­ing, ulti­mate­ly unre­ward­ing expe­ri­ence of the gig over, The Spe­cials trav­el back into the cen­tre of Paris, giv­ing lifts to as many of their fans as pos­si­ble in the coach.
Then it is time to go down to the night­club, the Palace de Paris to be pre­cise. Very ​"is this the place to go?" indeed. The last time The Spe­cials were in Paris, they played there. This time, I go along with Jer­ry, Rod­dy and some of the band's fol­low­ers to while away the ear­ly hours of the morning.
The place is incred­i­bly posey with a laser show that makes Blue Oys­ter Cult's beams look like the fairy lights at the end of Hast­ings Pier. The music is good though a var­ied selec­tion from ​'70s soul right on through to 2-Tone. And with drinks a cou­ple of quid a throw, at least the danc­ing is free.
But I won­der how many of the Parisian trendies realised who they were snub­bing as they looked down their noses at the weird char­ac­ter with no front teeth slumped in a cor­ner in a torn Levi jack­et. Not many, I'm sure, and yet the same gent just hap­pened to be the com­pos­er of the record they were all danc­ing the night away to.
But Jer­ry Dammers, if amused to hear the strains of Gang­sters in such unlike­ly cir­cum­stances, remains unmoved.
Unmoved, that is, until the DJ, by way of an inter­lude, puts on an obscure cha-cha record. Jer­ry jumps up from the cor­ner where he is sit­ting and whis­pers in my ear, ​"This is the sound of the ​'80s."
Then his fea­tures crack up into a mas­sive grin at the absur­di­ty of it all.
---