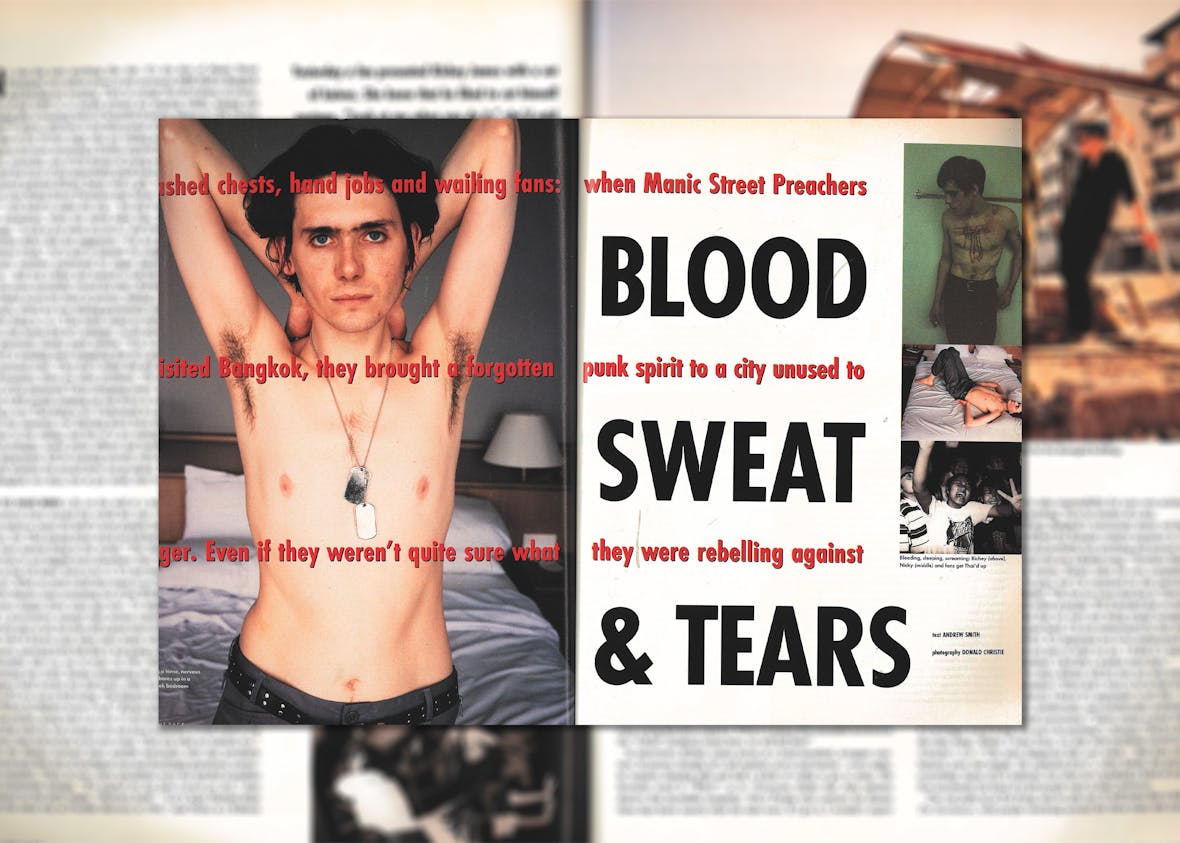 Blood, Sweat and Tears
To cel­e­brate the long-await­ed return of The Face, we have select­ed a stand-out sto­ry from each year of our exten­sive archive, from 1980 to 2004.
Remembered by writer Andrew Smith
"The trip was quite leg­endary because it was about six months before Richey Edwards, the gui­tarist, dis­ap­peared. It was very intense because the Man­ics' fans were mas­sive­ly pas­sion­ate – there were dozens and dozens of peo­ple hang­ing around the hotel to hope­ful­ly just catch sight of them. The band were real­ly at the top of their game and top of their fame so it was an amaz­ing moment to catch them. But Richey was doing this thing occa­sion­al­ly – or, famous­ly – where he would cut him­self onstage. That chimes with a par­tic­u­lar aspect of Thai cul­ture. And Nicky Wire, who has hypochon­dri­ac ten­den­cies, wouldn't leave the hotel. So the whole thing felt very on-the-edge, a jour­ney into the heart of dark­ness. I've done a lot of very intense pieces since, but that was one of the real­ly mem­o­rable ones. Richey was a real­ly odd and very com­pelling char­ac­ter. He was mas­sive­ly self-dis­ci­plined, espe­cial­ly on punc­tu­al­i­ty, more so than any­body I have ever met. But he was also drink­ing a lot on that trip. But, then, we all were, so that didn't stand out more than any­thing else. When he dis­ap­peared, yes, in ret­ro­spect you could say: ​'I guess the signs were there.' But in the fog of every­thing (a) around his char­ac­ter, (b) around the crazi­ness of being in a very pop­u­lar band like that and then © being in a coun­try where every­thing was alien, it would have been a stretch to say that you expect­ed some­thing like that to hap­pen. So I was as shocked as anyone."
Andrew Smith is an author, broad­cast­er and jour­nal­ist. He has writ­ten for The Face, Ray­gun, The Guardian, The Observ­er, Sun­day Times and oth­ers, and is the author of the inter­na­tion­al best­seller Moon­dust: In Search of the Men Who Fell to Earth, Total­ly Wired: The Rise and Fall of Josh Har­ris and the Great Dot­com Swin­dle, and the upcom­ing Adven­tures in Coderland.
Share
No one has seen any­thing like this. It's the first of Man­ic Street Preach­ers' two sell­out shows at the cav­ernous MBK Hall in Bangkok and the fans are weep­ing. They're cry­ing! Not all of them, of course. Most of the 4,000 or so peo­ple present are pogo­ing wild­ly, leap­ing and gyrat­ing like a sweat­ing shoal of beau­ti­ful brunette salmon in ​"Sid Vicious Dead" T-shirts, obliv­i­ous to the lit­tle pock­et of Man­ics fanat­ics over by the far side of the 50-foot stage who are wail­ing and tear­ing at their hair like reli­gious devo­tees mourn­ing a fresh­ly-expired leader.
See, yes­ter­day, one of the dozens of young women who've been hang­ing around the foy­er of the improb­a­bly plush hotel where the band are stay­ing, pre­sent­ed gui­tarist Richey James with a gift. It was a set of knives. She'd nev­er seen Man­ic Street Preach­ers play before – they're the first ​"alter­na­tive" rock band to make the trip – but she'd read the reviews and knew that some­times, when the mood takes him, James likes to cut him­self onstage. ​"Look at me when you do it," she'd said.
Richey didn't like the sug­ges­tion: ​"I'm not going to be anyone's cir­cus sideshow freak," he'd said to him­self. So tonight, dur­ing the pair of solo acoustic num­bers per­formed by singer James Dean Brad­field (his real name – dad was a bik­er and want­ed to call him Clint East­wood Brad­field, but his mum mer­ci­ful­ly vetoed the idea), Richey went back­stage and drew the blades across his chest in pri­vate, mak­ing a series of bloody hor­i­zon­tal wounds, which are now shin­ing grue­some­ly under the bright lights.
The thing is, to a Thai mind, raised on their gen­er­ous strain of Bud­dhism, this means that he's unhap­py. As the show shud­ders to a cli­max with the glo­ri­ous­ly cheeky punk anthem You Love Us, this sec­tion of the crowd is stand­ing there imag­in­ing that he's going through some dev­as­tat­ing per­son­al cri­sis. They don't realise that this is how he has fun. Down­stairs, there are oth­er prob­lems. The MBK Hall is on the fourth floor of the mam­moth Tokyo shop­ping cen­tre. It was not designed to with­stand 4,000 peo­ple jump­ing up and down in uni­son, this not tra­di­tion­al­ly being a very Thai thing to do. Under­neath is a posh restau­rant. Quite apart from the unseem­ly row fil­ter­ing down from above, cracks have begun to appear in the ceil­ing, and bits of it are rain­ing down on the diners.
Accord­ing­ly, senior police offi­cers and mem­bers of the city's engi­neer­ing depart­ment will be meet­ing secret­ly with the pro­mot­ers tomor­row to decide whether the sec­ond show can go ahead. The Man­ics have only been in Bangkok two days, but as per usu­al, they've already made their mark.

Oh to have been a fly on the wall at a meet­ing of top Sony Records exec­u­tives from around the world last year when, each del­e­gate hav­ing been asked to name the label's most pop­u­lar band in their respec­tive ter­ri­to­ries, the Thai among them stood up fear­less­ly and declared, as if it was the most nat­ur­al thing in the world, ​"The Man­ic Street Preach­ers!" Not that they're not big­gish news else­where: they've had 11 top 30 hit sin­gles in the UK alone. Soon to be 12. It's just that they're so quin­tes­sen­tial­ly British. What on earth could they mean to an Asian audience?
The Man­ics came scream­ing out of the Welsh Val­leys like a queasy gan­grenous drag­on three years ago now. To begin with, they seemed more like a provoca­tive con­cept than seri­ous con­tenders. In truth, they could scarce­ly play at all, but they did a great inter­view: four lip­py work­ing-class lads who'd known each oth­er since junior school, all punky fake fur and mas­cara, spew­ing forth bile like it was going out of style.

Actu­al­ly, bile was out of style. In 1991, British inde­pen­dent rock was retreat­ing into itself. Sex­less shoegaz­ing and escapist, ephemer­al dream-pop­pery held wor­thy but dull sway, while the third (fourth? fifth?) Sum­mer Of Love was in full swing. The Man­ics seemed to want to piss all over it. ​"When JG Bal­lard wrote Crash," Richey spits, cit­ing the nov­el as one of his favourites, along with Last Exit To Brook­lyn and Amer­i­can Psy­cho, ​"he said that what he was try­ing to do was force human­i­ty to look itself in the mir­ror, then rub its face in its own vom­it. That was what we want­ed, too."
So the Man­ics stormed these sen­si­ble bar­ri­cades with that pecu­liar­ly idio­syn­crat­ic Brit mix of intel­li­gent suss and shock­ing­ly gra­tu­itous, scat­ter-gun stu­pid­i­ty. Then, as now, their spe­cial­i­ties were the spite­ful sound­bite and sit­u­a­tion­ist out­rage. ​"We laughed the day John Lennon got shot," they declared on the ear­ly sin­gle Motown Junk. ​"Let's hope Michael Stipe goes the same way as Fred­die Mer­cury in 1993," said Nicky at a Kil­burn Nation­al gig in 1992, pro­vok­ing howls of anger from the week­ly music press, who had been glee­ful­ly report­ing (false) rumours that the hal­lowed REM singer was dying of Aids. As with Kurt Cobain, blus­ters Richey now, the press had want­ed a death. It was hypocrisy.
Then there was the NME inter­view in which Richey, in the course of defend­ing him­self against a counter-charge of hypocrisy (the Man­ics had declared an inten­tion to split up after their first album. They didn't), carved ​"4 Real" in his arm, los­ing so much blood he end­ed up in hos­pi­tal. All of which occurred a full 36 months before the so-called New Wave Of New Wave made punk atti­tudes – or at least some punky styling – vogueish again.
Dur­ing the inter­ven­ing years, Man­ic Street Preach­ers were out there on their own. Wise­ly per­haps, they refuse to be drawn on the sub­ject of the NWONW, though sources close to the group insist that they view it with the same con­tempt with which they view most move­ments. Nev­er­the­less, they may take heart from the fact that the world seems final­ly to be catch­ing up with them. The Man­ics are no longer out on quite such a bloody limb.
How is all this under­stood by the gen­tle peo­ple of Thai­land – the self-muti­la­tion, the hyper­bole, the wil­ful self-con­tra­dic­tion? ​"Alter­na­tive" rock, for want of a bet­ter term, is new here and there's an inno­cent, infec­tious excite­ment sur­round­ing it, rather as there must have been in the UK dur­ing the beat boom of the ear­ly Six­ties. The first nation­al­ly-dis­trib­uted music glossy has recent­ly been launched and it's called, after Man­ic Street Preach­ers' first LP, Gen­er­a­tion Ter­ror­ist. Its edi­tor, a qui­et, cour­te­ous man named Norasate Mud­kong, also runs the Man­ics' fan club.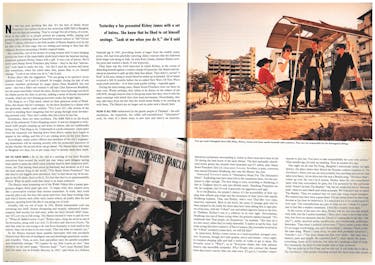 Gen­er­a­tion Terrorist's mot­to is ​"Alter­na­tive Music For The Alter­na­tive Idiots". Some­thing may have been lost in the trans­la­tion there, but the sen­ti­ment is clear enough. The first thing to note, accord­ing to Mud­kong, is that in Thai­land they're only into British music. Smash­ing Pump­kins are OK, he con­cedes, but US rock is gen­er­al­ly too aggres­sive and ugly.
As to the Man­ics, the people's choice, it's the acces­si­bil­i­ty of their rip­ping four-minute pop songs and the elo­quence of their lyrics that appeal, Mud­kong explains. That, and Richey, who's very Thai-like: very calm, reserved, repressed. Back in the hotel, the army of teenage girls who've been camped in the lob­by for three days have been ask­ing him to sign pho­tos of his arm, with the ​"4 Real" scar and added cig­a­rette burns to the fore. In Thai­land, Richey's arm is a celebri­ty in its own right. Nev­er­the­less, Mud­kong was one of those cry­ing when the gui­tarist slashed him­self. ​"It's tra­di­tion­al that Thai peo­ple cut them­selves," he explains. ​"But they do it as a last resort, when they're real­ly mis­er­able. It makes us sad for him. And some young fans have copied it. If Steve Lamacq [the jour­nal­ist involved in the ​'4 Real' inci­dent] comes here, we will kill him!"
In inter­views, Richey comes across as a loud-mouthed, arro­gant crea­ture. In per­son, though, he's soft-spo­ken, nervy and intense – every night, he requires sleep­ing pills and half a bot­tle of vod­ka to get to sleep. His favourite word is ​"Why?", as in ​"Every­one thinks that Aids patients deserve this incred­i­ble sym­pa­thy. Why? Peo­ple who con­tract the dis­ease these days knew exact­ly what the risks were. If I got it, I wouldn't expect any­one to pity me. You have to take respon­si­bil­i­ty for your own actions." Nine months ago, he took up smok­ing. Now he smokes 40 a day.
One night we all vis­it Pat Pong, Bangkok's noto­ri­ous­ly sleazy red light dis­trict, the place where they filmed the Russ­ian roulette sequence in The Deer­hunter, where you can see and prob­a­bly buy any­thing and any­one that takes your fan­cy. As we dri­ve into the area a Bea­t­les song, Nowhere Man, comes up over the van's hi-fi sys­tem. Richey takes his own com­pi­la­tion tapes with him every­where he goes, but I'm sur­prised by this par­tic­u­lar track. Doesn't he hate The Bea­t­les? ​"Oh, but we wrote that line in Motown Junk when we were black-and-white as peo­ple. We'd decid­ed that we hat­ed The Bea­t­les. Then we realised that we were just being stu­pid teenagers. We realised that they were a great band. I'm not embar­rassed by that song, because at the time we believed it. It's impor­tant not to be embar­rassed by your past. The con­tra­dic­tions are part of what we are. I think it's impor­tant to feel like a wanker some­times. I feel like a wanker most days."
In the course of the next two days, Richey will lay into not only peo­ple with Aids, but the Lon­don home­less ("Most don't want to be in that sit­u­a­tion, but there are ele­ments that do. I know it's unpop­u­lar to say this – but why?"), snobs, invert­ed snobs, intel­lec­tu­als, anti-intel­lec­tu­als, politi­cians, his­to­ri­ans. Then there's polit­i­cal cor­rect­ness ("There comes a point when it's no longer worth liv­ing, you can't do any­thing"), ther­a­py ("Such a mid­dle-class thing. Where I come from, we deal with prob­lems our­selves"), Schindler's List ("The most dan­ger­ous film ever made – that man was a bas­tard, pure and sim­ple. He exploit­ed Jews"), oth­er bands, the press… every­thing. Some of it's bol­locks, but often he's speak­ing a kind of truth. Not nec­es­sar­i­ly the kind of truth peo­ple want to hear, however.
The van pulls up in Pat Pong, and we pile out. It still looks like it did in The Deer­hunter, with peo­ple swarm­ing around the three main side streets like thin, rav­en­ous insects. Every­thing is neon – even the peo­ple look neon, their faces flash­ing red or blue one instant, then dis­solv­ing into sil­hou­ette the next. Down one of the lanes is a mar­ket sell­ing imi­ta­tion Euro­pean goods. I stop to exam­ine some fake Rolex­es, then, look­ing up, realise I've become sep­a­rat­ed from the group. For a few min­utes, pan­ic sets in. The crowd clos­es round. ​"You want sex?" ​"You want live show?" ​"We've got men and women, women and women, ping pong…" Then, sud­den­ly, James appears out of nowhere, chuck­ling. ​"We won­dered where you'd got to."
James is the enig­mat­ic one, the one who can actu­al­ly play his gui­tar rather well, the Michael Nesmith to Richey's Micky Dolenz and Nicky's Peter Tork. Live, he holds the show togeth­er almost sin­gle-hand­ed­ly. Asked about that now-infa­mous boast that his band were going to jack it in after the first LP, he explains that in the begin­ning, the Man­ics drew up a blue­print. They list­ed their favourite artists, in order of pref­er­ence, com­ing up with the Sex Pis­tols, Pub­lic Ene­my, The Clash, Guns N' Ros­es and the Stones. The Pis­tols, they agreed, were the great­est: one great album, mutu­al hatred, implo­sion. A lega­cy that would one day inspire angry young­sters like Man­ic Street Preach­ers to do the same. Unfor­tu­nate­ly, Gen­er­a­tion Ter­ror­ists failed to make the impact that Nev­er Mind The Bol­locks had. The only option was to stay together.
We join the rest of the par­ty in one of the go-go bars. Everyone's here apart from Nicky, who's stayed back at the hotel with his bag of med­i­cines, ter­ri­fied of con­tract­ing heat stroke or some hideous trop­i­cal dis­ease. No one sees him for days dur­ing our stay, and appar­ent­ly every time he leaves his room he faints, this despite the fact that he was the youngest ever boy from his region to play for the Welsh Nation­al Youth soc­cer team and once had a tri­al for Arse­nal. He doesn't drink, hav­ing giv­en up two years ago, after a ​"brief flir­ta­tion with hedo­nism". ​"Phys­i­cal­ly my body wasn't up to it," he offers, when even­tu­al­ly cor­nered by a tape recorder. ​"There was a time in War­ring­ton when I just com­plete­ly broke down. I was cry­ing on the tour bus for four hours. I was so ill. After that, I packed it in."
You're not inter­est­ed in see­ing Pat Pong? ​"No, I don't find sex very inter­est­ing to talk about and I'm not that voyeuris­tic in gen­er­al. I just can't divorce sex from emo­tion the way some peo­ple can."
In the go-go bar, there's a large rec­tan­gu­lar plat­form, where a dozen women in biki­nis dance to crap dis­co sounds. Each has a num­ber tag. Right now, Bangkok is awash with mon­ey, the Thai econ­o­my being the strongest in the region, but the wealth gap is huge. For many, the go-go bar and pros­ti­tu­tion is their only means of escape from abject poverty.
"See that one over there?" asks James sly­ly. When he was at school, James had a slow eye. He got bul­lied and at one stage, had no less than 15 cru­el nick­names, such as ​"Cross­fire", ​"Radar", ​"Min­der" and ​"He-Man". When he found that he could pick up a gui­tar and play it well, it was the first time he'd ever been bet­ter at some­thing than his dash­ing class­mate Nicky Wire. This may be why he's so good at it now and why he's more seri­ous about it than the oth­ers. ​"Did you see her look­ing at me? She likes me. I must be gor­geous tonight." He's jok­ing, of course, describ­ing some­thing of the ambiva­lence he feels at sit­ting here, watching.
Richey's not going to be trapped in that kind of emo­tion­al maze. Before I arrived, the boys had already vis­it­ed Pat Pong once. They sam­pled the go-go bars, then went to a ​"les­bian" live show. ​"It was so chore­o­graphed," says James, ​"not erot­ic at all." After­wards, Richey hopped in a cab to anoth­er part of town, the part where the mas­sage par­lours are.
In Bangkok the par­lours are like depart­ment stores, each with three floors, each floor con­tain­ing 30 or so women, ranged behind a glass par­ti­tion. You choose one, go to a room with her and for 2,000 baht (approx­i­mate­ly £70), you take off your clothes and she gives you a mild mas­sage. For a bit more mon­ey, she'll take her clothes off. For a bit more, you get a hand job. A bit more and you get to fuck her. Except that it's reck­oned that 80 per cent of them are infect­ed with HIV. In the course of our first night in Bangkok, we learn that, yes­ter­day, Richey went on a per­son­al expe­di­tion to one of these insti­tu­tions. A heat­ed, or more accu­rate­ly, a well-oiled argu­ment ensues. For all their attempts at out­rage, Man­ic Street Preach­ers are a home-lov­ing, fam­i­ly-ori­ent­ed bunch. Until recent­ly, they all still lived with their par­ents. Unlike Nicky, who's just got mar­ried, how­ev­er, Richey has nev­er had a last­ing rela­tion­ship. Until the band became suc­cess­ful, by which time he was aged 20, he was a vir­gin. He doesn't see why he should apol­o­gise for any of this. Nor for get­ting a hand job at a Thai mas­sage parlour.
"I'm not a very sex­u­al per­son," he says. ​"I don't need the phys­i­cal close­ness of a rela­tion­ship. And I'm afraid of the pain that goes with it, to be hon­est. I think it's more of an ani­mal­is­tic urge. Every man mas­tur­bates, it's some­thing you just do, two or three times a day. It's not the same as lust. Sleep­ing with some­one, for me, is a change from wank­ing. If we go on a 25-date tour, I might sleep with one or two people."
Women? ​"Yeah, women."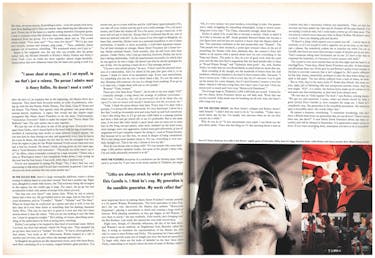 There are a few lines from Faster, the B-side to the new sin­gle PCP – iron­i­cal­ly enough, a song about the scourge of polit­i­cal cor­rect­ness – which run: ​"I am puri­ty, they call me perverted/​I am all the things that you regret/I've been too hon­est with myself/​I should have lied like every­body else."
"Yeah. I think the press always want liars. Every time I've slept with a groupie, I've always felt dirty after­wards. It's very func­tion­al. I know for a fact that I could go down­stairs now and come back up and fuck some­body. I don't like doing that, so if I go and pay 2,000 baht at a mas­sage par­lour and have a bath and get jerked off, to me it's prefer­able. But at the same time, if we were like oth­er bands, a par­ty band, and we went out to some bars in Pat Pong and got pissed, came back, smashed up the hotel room, went onstage, were very aggres­sive, fucked some girls after­wards… in lots of mag­a­zines we'd get com­plete respect for doing it. Look at Pri­mal Scream. But because we're not like that, we stand in dan­ger of being con­demned. We're just being more modem about it. For me, every­thing is very care­ful­ly thought out. This is the way I choose to live my life."
How do you choose who to sleep with? ​"It's just peo­ple who come back-stage. I like per­fect aes­thet­ic bod­ies, but most of the peo­ple I sleep with, I'm not real­ly phys­i­cal­ly attract­ed to at all."
With the pos­si­ble excep­tion of a crack­down on the boot­leg tapes which used to account for 75 per cent of the music mar­ket in Thai­land, the sin­gle most impor­tant fac­tor in mak­ing Man­ic Street Preach­ers' jour­ney pos­si­ble is a DJ named Wasana Wirachart­plee. The local equiv­a­lent of John Peel, she's the one who dis­cov­ered the Man­ics' pop anthem Motor­cy­cle Empti­ness, play­ing it mer­ci­less­ly to death and cre­at­ing a huge swell of inter­est. With pleas­ing sym­me­try, as they got big­ger, so did Wasana. ​"l owe them so much," she says mod­est­ly. Next month, she's bring­ing over the Boo Radleys. Last week, she opened her own indie record shop. Right now, though, it's Sat­ur­day after­noon, the day of the final show, and Wasana's on-air side­kick, an Eng­lish­man from Barns­ley called Mr Bee, is act­ing as trans­la­tor for rep­re­sen­ta­tives of the Man­ics' fan club who've come to meet Richey and Nicky. The ques­tions he's been asked to put to them pro­vide some sort of insight into how the band are per­ceived. To begin with, there are the looks of dis­be­lief on the fans' faces when Nicky, respond­ing to an inquiry about the state of music in Britain, replies:
"Oh, it's very cyn­i­cal, very post­mod­ern, everything's a joke. Our generation's real­ly strug­gling for some­thing mean­ing­ful, try­ing to invent some­thing new every year." The Thais, rea­son­ably enough, think this sad.
Richey is asked if he would like to become a teacher. Nicky is asked if he'd like to become an MP. Suede gui­tarist Bernard But­ler has become a cult fig­ure here and the fans are anx­ious to know what the Man­ics think of him. One express­es con­fu­sion at the anti-monar­chist rant Repeat. The Thai peo­ple love their monarch, a point lat­er stressed when, in the act of pre­sent­ing the Man­ics with their plat­inum disc, the country's Sony MD makes us all squirm with a speech about how we owe every­thing to the King and Queen. The point is, they do a lot of good work with the rur­al poor and the fans here find it ungra­cious that the band should refer to them as ​"Roy­al Khmer Rouge" and ​"Imi­ta­tion demigods". Ah, well, blush­es Nicky, we real­ly had our own Roy­al fam­i­ly in mind when we wrote that one. Most reveal­ing of all, though, are the hun­dreds of let­ters from fan club mem­bers, which are hand­ed to the band in three mas­sive files. One goes: ​"I have a motor­cy­cle. I like to ride it every day but it's old now. I try to pick up the mon­ey for a new chop­per, but it's hard because I receive a very low salary. Maybe it will take a long time, but I don't care, I can wait. I love my motor­cy­cle so much and I love your Motor­cy­cle Empti­ness."
The aver­age wage in Thai­land is 2,000−3,000 baht per month. Tick­ets for the two Man­ic Street Preach­ers shows are 440 baht each. Work that one out for your­self. Indie music may be break­ing out all over Asia, but there's still a long way to go.
On the sec­ond night, the floor doesn't col­lapse and Richey doesn't slash him­self. ​"I didn't feel any need to do it," he con­fides. ​"Today was a much bet­ter day for me. I'm usu­al­ly very ner­vous when we do our first con­cert for a while." Why do you do it? ​"It just con­cen­trates your mind. I can block out the pain fair­ly eas­i­ly. There was this thing on TV this morn­ing about a man in Lon­don who had a vasec­to­my with­out any anaes­thet­ic. They cut into his scro­tum and heat-sealed the tube and he blocked off the pain him­self. I'm not say­ing I could do that, but I could make a bet­ter go of it than most. The one per­son I admire more than any oth­er is Hen­ry Rollins. He doesn't need a crutch. I have my sleep­ing pills and alcohol."
"If there's a thing which annoys you or piss­es you off… I nev­er shout at any­body, so if I cut myself or stub a cig­a­rette out on my arm, to me that's just a release. Say some­body push­es me or punch­es me when I'm out in Cardiff, that hurts me more than hav­ing a cou­ple of stitch­es put in my arm. That's some­one tak­ing their frus­tra­tion out on me. If I have a fair deal of con­tempt for human­i­ty, it's because it's nev­er hon­est with itself."
The crowd is even more men­tal than on the first night and the band is in star­tling form. These days, Man­ic Street Preach­ers can play. At least James and drum­mer Sean can: Nicky gets by and Richey's gui­tar is low enough in the mix to pro­voke rumours that it isn't plugged in. He's pret­ty offend­ed by this idea. James, mean­while, pro­fess­es to miss the days when things just used to fall apart. The last album suf­fered from a lack of chaos, he adds. But in 1994, they're far more Guns N' Ros­es than Pis­tols: the tunes are taut, tight, full of blis­ter­ing riffs and unex­pect­ed melod­ic twists. And the new sin­gle PCP is a cork­er, the furi­ous lyrics made up of a series of cut and paste one-line med­i­ta­tions, as their best lyrics always were.
"We lost that on Gold Against The Soul," says Richey, echo­ing James. ​"We got too self-con­scious. I mean, crit­ics are always struck by what a great lyri­cist Elvis Costel­lo is, how com­plete his songs are. I think he's com­plete­ly crap. My gen­er­a­tion is the sound­bite gen­er­a­tion. My atten­tion span is incred­i­bly short. My words reflect that." He paus­es a moment, con­sid­er­ing. ​"I remem­ber won­der­ing, why isn't there a British band from our gen­er­a­tion that we can all love? There's nev­er been one, has there?" A new Man­ic Street Preach­ers album has been record­ed and will be released in Sep­tem­ber. It is appar­ent­ly a major return to form. If you want some­thing done, some­times you have to do it yourself.
---