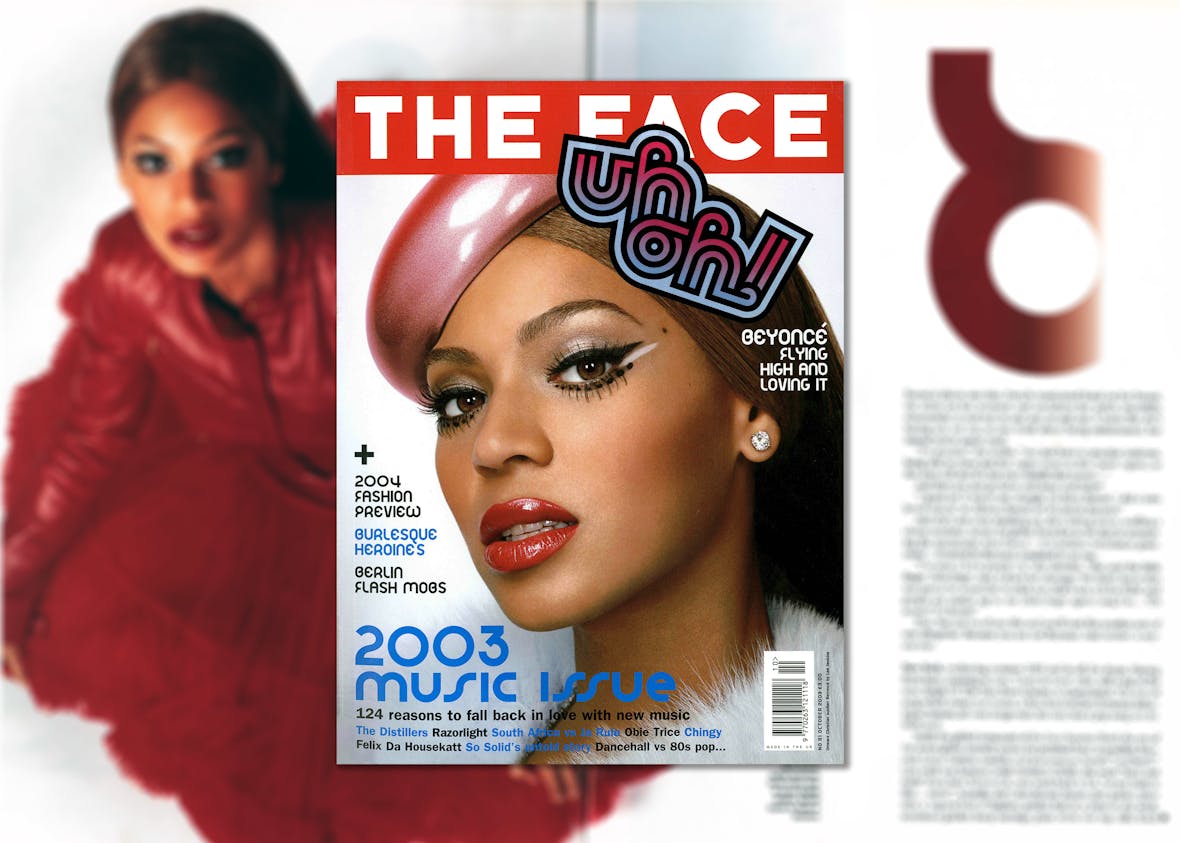 Per­fect Diva
To cel­e­brate the long-await­ed return of The Face, we have select­ed a stand-out sto­ry from each year of our exten­sive archive, from 1980 to 2004.
Remembered by writer Sylvia Patterson
"'Crazy In Love' had been released, and obvi­ous­ly it was absolute­ly mas­sive right across the plan­et. So it was a bit of a coup for The Face to get Bey­on­cé in the first place – but she would have been aware of the mag­a­zine because she'd been on the cov­er in 2000 when she was with Destiny's Child. We met in the very gild­ed, very ornate restau­rant of The Four Sea­sons hotel in New York. We were left alone togeth­er for about an hour and a half, which was quite a lot for big Amer­i­can stars at the time. Bey­on­cé was eat­ing an omelette – no carbs! – and she was as still as a human being could be. There was a Zen com­ing from her. It real­ly was like talk­ing to a holo­gram. She was the absolute, undis­put­ed mas­ter of the mut­ed per­son­al­i­ty gam­bit. And because ​'Crazy In Love' was obvi­ous­ly made with Jay-Z, all I was try­ing to do was get her to con­firm their rela­tion­ship. And she absolute­ly just sat there glim­mer­ing and smil­ing and telling me absolute­ly noth­ing about any­thing. I was try­ing to remind her about things like her mum Tina hav­ing rules in place, cer­tain­ly in the Destiny's Child years. They weren't allowed to even play any hip-hop or gangs­ta rap music around the girls because this pro­fan­i­ty wouldn't have been allowed. So I'm say­ing: ​'Oh yeah, so you're hang­ing out now with drug deal­ers and all this kind of thing?' And she was hav­ing absolute­ly none of it except one hun­dred per cent ​'you're fun­ny!' and say­ing noth­ing what­so­ev­er. It was about 13 years lat­er before she actu­al­ly became some­one with an opin­ion in her work, and in her per­sona, where she start­ed to get involved in Black Lives Mat­ter and became a spokesper­son for a gen­er­a­tion. But at that point, it real­ly was holo­graph­ic, the per­son that I was talk­ing to. But she was very, very charm­ing at the same time. So, what can you do?"
Sylvia Pat­ter­son cut her jour­nal­is­tic teeth at Smash Hits in its mil­lion-sell­ing, late Eight­ies hey­day, and lat­er wrote for NME, The Face and Q. Her 2016 mem­oir I'm Not With The Band (Sphere) was short­list­ed for the Cos­ta Biog­ra­phy Award, the NME Awards Book Of The Year and the Pen­deryn Music Prize, win­ning BBC Radio 1 Annie Nightingale's Book Of The Year. Despite over 30 years liv­ing in Lon­don she still sounds like she comes ​"fae Perth".
Beneath Bey­on­cé Knowles' shin­ing, gold­en exte­ri­or lies a heart which is… damn! It's shiny and gold­en too. But although she seems the ide­al super-star for glit­tery-shal­low 2003, there's more: Bey­on­cé brings pas­sion. She sings it like she means it… eyes shut, sweat pour­ing, body rock­ing. Sylvia Pat­ter­son salutes a mod­ern Aretha.
Bey­on­cé places one tiny, French-man­i­cured hand on her breast, the oth­er on her stom­ach and undu­lates her pelvis smooth­ly, slooooow­ly, in and out, in and out, in and out. It looks like she's hav­ing sex, on top, so you think about being embar­rassed, but instead you're saucer-eyed.
"It's prac­tice," she smiles, ​"you just have to prac­tise iso­la­tion, being able to move just this [upper tor­so] or this [pelvic region], so this stays still and it's just your mid­dle that moves…"
And then you just go faster and faster and faster?
"I guess so! It was in me, though. It's from dancin'. I did a lot­ta lyri­cal dancin' an' African dancin' an' it's just in ma soul."
And she's not even stand­ing up, she's sit­ting down, scoff­ing a cheese omelette. Across the globe, from five to 50, they're attempt­ing the spec­tac­u­lar Arse Dance – this bal­lis­tic bel­ly dance-gone-under – invent­ed by Bey­on­cé, emu­lat­ed by no one.
"I've seen a lot­ta peo­ple try," she chor­tles, ​"that and the lit­tle fin­ger (licks fin­ger, runs it down her cleav­age). We didn't know that was gonna be some­thin' to stick out, that's just a lit­tle fill­in' and peo­ple are comin' up to me (licks fin­ger again) and I'm… ​'Oh noooo!' It's funny!"
True. You can try all you like and you'll look like anoth­er sort of arse alto­geth­er. Because you are not Bey­on­cé. And nei­ther is any­one else.
New York, swel­ter­ing Sum­mer 2003 and in all the shops, blar­ing from bars, crank­ing in cars, Crazy In Love rules, still song of the now, Sin­gle Of The Year, from Queens to Queens­land. The sort of song which makes you insane, a Stax-horn bed­lam bonan­za induc­ing an instant, all-over drugs rush, the very best a pop song can do. With soul.
Inside the gild­ed restau­rant of the Four Sea­sons Hotel, the eye of the storm glides serene­ly across the pol­ished floor in jew­elled, four-inch Louis Vuit­ton san­dals and pro­nounces her­self ​"con­fused!" Last week was Jamaica (with Destiny's Child), this week ​"back and forth" from New York to LA, next week back to LA, ​"so my body is like… weird". Actu­al­ly, she's sketch­book dream-girl, gold­en-glow skin, a vaguest hint of lip­gloss, gold­en hair in a pony-at-the-neck, enor­mous gold­en-hoop ear­rings, plain white vest top, silky black Chloé trews with a tassled rope strewn round her waist. Bey­on­cé 2003 – so far beyond the vel­vet rope, she's bloody wear­ing it.
Two and half years ago, the last time The Face met Bey­on­cé, Destiny's Child had sold eight mil­lion records and the group's song­writer, lead singer, co-pro­duc­er and chore­o­g­ra­ph­er had neck strain, swollen ton­sils and a viral infec­tion, and was giv­en to smash­ing her fist into her palm with evan­gel­i­cal zeal. "…We have a dream! (Blam!)… mega­su­per­stars! (Pow!!)… and there's nuthin' any­one can say or do to stop that mag­ic comin' through!" (Hal­lelu­jah!!!) And lo, there was light! And, lawks, Destiny's Child sold 33 mil­lion albums world­wide while Beyoncé's solo career has tele­port­ed the Tex­an Chris­t­ian enig­ma to unfore­seen galac­tic dimen­sions. Today, she's Zen-calm, maybe because today she is sim­ply The Thing: glob­al Num­ber One pop brand, bur­geon­ing Hol­ly­wood film­star, face of Pep­si and L'Oreal (while at 21, Madon­na was a tits-out ​"dancer" who'd yet to sell a sin­gle record).
"Oh I dun­no if I ever felt ​'I am The Thing" she hoots, in her hyp­not­i­cal­ly slow South­ern husk, ​"but I've felt proud. And I've felt like, ​'It's happening!',"
Christi­na – tal­ent­ed tart. Justin – tal­ent­ed tart with jokes. Bey­on­cé – tal­ent­ed. And gor­geous and gra­cious and old-skool untouch­able, like the alien pop-stars of old, poised on a pedestal so far above the just-like-you norm. You can reach all you like, but she's Beyond. Bey­on­cé lis­tens to this the­o­ry and agrees. It's how she wants to be per­ceived and how she likes her heroes too. ​"I wish I would've said that," she smiles – and she smiles a great deal. ​"Just say that I said that! Huhuhuh!"
She's eeri­ly reserved, the woman her chums call ​'B', charm­ing but alarm­ing­ly mut­ed; a per­son who trans­forms in the glare of the lights and the per­pet­u­al Miss World wind-machine, into some colos­sal, hyper-real creation.
"On stage, it's weird," she mus­es, ​"cause I'm aggres­sive and strong and pow­er­ful and I'm just… high! Off-stage I'm, y'know, chill­in'. Huhuhuh! I just wan­na be kin­da in the back­ground and cool out."
Almost sev­en years inside world­wide fame and Bey­on­cé has changed, for bet­ter and for worse. She's more guard­ed than before, if that's pos­si­ble, and works less than before, which is essen­tial if she wish­es to stay sane. If it some­times seems Bey­on­cé has no life to tell us about, it's because all she's ever done is work: cre­at­ing, per­form­ing, pro­mot­ing, trav­el­ling across the globe, since the age of 15, when she first hit Num­ber One (with No No No Part II, fea­tur­ing Wyclef Jean). Last year, she took an unprece­dent­ed one week off (she went to Rome, and almost blubbed inside the Vat­i­can, ​"sobeey­ooo­ti­ful!") A week from today, she's tak­ing her first two-week break since child­hood. For us, that's insan­i­ty; for Bey­on­cé, it's a breakthrough.
"I've changed a lot in the past cou­pla years," she decides, all deep almond eyes, slow­ly pick­ing through her omelette, ​"I feel like I've worked real­ly, real­ly hard and I don't have to do as much as I did. I did it when I was 15, 16, y'know, I had more ener­gy – not that I'm that much old­er! But I feel like I've done that, I've already kin­da paid my dues. Now, I have a more bal­anced life."
By which she means, most prob­a­bly, she has a boyfriend, called Jay-Z, but we'll nev­er know, ​'cause she refus­es to dis­cuss it.
Why do you work, like you work, in the end?
"Because I wan­na be remem­bered," she blinks, ​"and I wan­na be respect­ed. And I wan­na be an icon."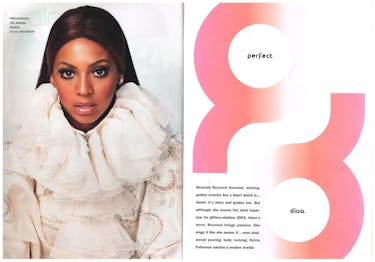 Bey­on­cé Gise­le Knowles is a born win­ner, the way world-class ath­letes are, like Becks, the Venus sis­ters, Michael Jor­dan. She's been win­ning since she was four, in tooth­some all-Amer­i­can beau­ty-and-tal­ent pageants. At nine, when she invent­ed Destiny's Child (so good, Dad gave up his job to guide them), they'd sing to fam­i­ly vis­i­tors and charge $5 for prop­er tick­ets – from the off, a seri­ous busi­ness. In her com­fort­able, mid­dle-class Hous­ton home, the mantle­piece heaved with the weight of her pre-teen tro­phies; today, there's a whole part of the fam­i­ly home­stead, ​'The Reflec­tions Room', stacked to infin­i­ty with wall plaques, plat­inum discs, MTV Awards, Brits, Gram­mies, the rest. No won­der, per­haps, she has thoughts about immor­tal­i­ty, at 21 years of age. (Not so long ago, ​'icons' were what we called dead peo­ple.) It doesn't mat­ter any­more, about The Oth­er Three, LeTavia, LaToya and Far­rah Franklin, the Destiny's Child mem­bers who buck­led under Dad's regime, the result­ing law­suits send­ing betrayed Bey­on­cé to bed for sev­er­al weeks.

Even­tu­al­ly, she did what she always does – turned the neg­a­tive into tri­umph, the ​'revolv­ing door' jibes cre­at­ing the globe-strad­dlin' anthem Sur­vivor. Right from the begin­ning, Des­tiny Child were a girls' group, their great­est sin­gles homages to eman­ci­pa­tion, much of it unapolo­get­i­cal­ly finan­cial. Bills Bills Bills ("Can you pay my bills?… I don't think you do!"), Inde­pen­dent Women Part 1 ("The shoes on my feet, I bought ​'em"), Sur­vivor ("You thought I'd be broke with­out you, but I'm rich­er…") For years, Beyoncé's had let­ters say­ing she's lit­er­al­ly ​"saved" women's lives. Booty­li­cious, too, was a girls-own theme, a paean to the pres­sures of phys­i­cal per­fec­tion; her strug­gle to con­trol the thun­der in those rib-crackin' thighs. (Her low carb diet pre­vails – today, there's no toast with that omelette – ​"I don't eat a lot­ta carbs, but I eat good… an' I dance!") Women, tots, teenagers, drag-queens – every­one loves Bey­on­cé. For every man, though, who ​"loves" her, there's anoth­er who deems her ​"too whole­some", because in some ways she's deeply asex­u­al, a 2D car­toon poster in a Fifties fan­ta­sy movie, say, Attack Of The 50-Foot Woman.
What do you hope to inspire in people?
"Well, basi­cal­ly," says Bey­on­cé, ​"we're women. And I just want women to accept them­selves. Learn to accept them­selves. And their imper­fec­tions. I try to take every­thing that hap­pens to me, every bad expe­ri­ence, and make it some­thing pos­i­tive. If that's a song, or just me know­ing bet­ter now. It takes you to get old­er to real­ly think about life. You can't be mad at your­self for mak­ing mis­takes. You can't be mad at your­self because you don't look like…"
You.
"Noooo! I just want women to love them­selves and trust their instincts and be secure in them­selves. And know that you can be in love but in order for that to be pure and won­der­ful and beau­ti­ful, you have to love your­self, y'know? Because it's so true."
Absolute­ly none of which would add up to a knoll of pret­ti­est knick­ers, were it not for the music itself.
Bey­on­cé Knowles has writ­ten some of great­est pop sin­gles of her gen­er­a­tion. Not one of them con­tains pro­duc­tion-line clichés and many are musi­cal­ly unfath­omable – unique, com­plex, cre­ative sound­scapes across the spec­trum of state-of-the art sound. Say My Name is bonkers, unsingable, unless you've Beyoncé's con­tor­tion­ist ton­sils. Such is the stu­dio pow­er she now wields, she inter­views poten­tial pro­duc­ers, no mat­ter what clout their name carries.
"I inter­view and talk to a lot­ta pro­duc­ers," she says, ​"before I even lis­ten to any of their music. It's all about the vibe. When you get two peo­ple in the stu­dio, just because they both are tal­ent­ed, if you're not feel­ing each oth­er, there's no chem­istry, there's no hit, there's no great song."
Her albums, nonethe­less, remain flawed – too long, too slow, too ​"God". Dan­ger­ous­ly In Love is an exquis­ite­ly sung, pop-soul-R&B show­case, giv­en to moments of mim­si­est weed-pop. We don't need Mis­sy Elliott coo­ing about Sagit­tar­i­ans. (Nonethe­less, it's the album almost sin­gle­hand­ed­ly keep­ing belea­guered Sony Records afloat.)
"It wasn't the most com­mer­cial album," nods Bey­on­cé, ​"which was some­thing that I did con­scious­ly. Because Destiny's Child sold 33 mil­lion records, big pop albums, we've already done that. I can't sat­is­fy a five year old and a 55 year old, men and women, the crit­ics and the fans – there's no way. So I said, ​'I'm gonna sat­is­fy myself.'"

When Bey­on­cé writes songs, she has no mas­ter­plan. Every­thing you hear is spon­ta­neous, one-off chem­i­cal face-offs between her­self and her cho­sen col­lab­o­ra­tors; this time, Jay-Z, Sean Paul, Big Boi, Sleepy Brown, Mis­sy Elliott, Luther Van­dross and var­i­ous co-producers.
"When I'm in the stu­dio," she says, ​"I don't think, I just write what­ev­er inspires me. Crazy In Love – it was weird how that song came. I was in the stu­dio and I was lookin' real­ly tacky. I need­ed to get Kel­ly a birth­day present but I didn't wan­na go out any­where, cause I was lookin, crazy. Just, y'know… tacky! So I kept sayin', ​'I'm lookin, crazy right now, I'm a lit­tle crazy right now…', [Pro­duc­er] Rich Har­ri­son, he'd come up with the live horns, he's incred­i­ble, and we couldn't think of the melody or the con­cept of the song: ​'What do we sing to this?' So he said, ​'That should be the cho­rus' and I'm like ​'What?' and he's, like, ​'You're lookin, crazy right now…' and I'm like ​'Oooh-kaaay…' so we start­ed hum­min' and sin­gin' and there it was, that song was done. It's the weird­est things that inspire great songs. Some songs, we had absolute­ly noth­in'. We just sat in the stu­dio, start­ed hum­min' an' talkin' and playin', all the stuff with Scott Storch, Me, Myself And I, Baby­boy, were done from scratch. It's real­ly incred­i­ble. When you wake up, you have absolute­ly no idea what's gonna hap­pen. It's like… his­to­ry can be made. Or not!"
Beyoncé's made it plain: pri­vate life is pri­vate, so move along now, there's noth­ing to see. Jouranists, some­times, can pun­ish her for it, (espe­cial­ly men) imply she some­how has no soul, a robo-being sculpt­ed by her mad­man-ambi­tious father, her metic­u­lous­ly self-con­trolled career some sin­is­ter, manip­u­la­tive lie. She's strong, focused, white-hot ambi­tious and there­fore ruth­less, cal­cu­lat­ed, Cruel­la De Vil. She sits, it's imag­ined, in a pow­er-meet­ing palace, dis­sect­ing the demo­graph­ic, tick­ing off ter­ri­to­ries. To a cer­tain extent it's true, but it's true of every­one else, even if it's just every­one else's ​'peo­ple'. And it's true of, say, 50 Cent, but that's OK, ​'cause he shows you inside his bul­let holes.
How many times have you been in love?
"Uh… I dun­no. Huh uh uh."
Yes, you do.
"No, I don't! I'm not sure! I dun­no. That depends. But I have been in love. I do feel like I have been in love."
And right now?
"Right now? (Scoffs some more omelette.) Yooor­rr fun­ny. I'm hap­py. I'll say that."
When did you last see Jay-Z?
(Gigan­tic grin, enor­mous pause.) ​"I saw him on tele­vi­sion today. The video."
And how did you feel?
"I've seen it a hun­dred times. Huhuhuh!"
Was there a flut­ter in your heart?
"Yoooor fun­ny…"
Why all this mys­tery, though? Is it because you believe so much in enigma?
"Well, the old­er I get, the more I feel I have to pro­tect cer­tain things. Not only my rela­tion­ships, my per­son­al rela­tion­ships, but… the inside of my house. Or what kin­da car I dri­ve. Or what I spend my mon­ey on. Or if I spend my mon­ey. Any ques­tion that you wouldn't ask a stranger. If you wouldn't tell a stranger, then I'm not gonna tell the whole world. It's not that I'm afraid of any­thing, or not com­fort­able with any­thing… I think that's pret­ty nor­mal. I wan­na feel like I have cer­tain things that every­body else has. Pri­vate. There's no oth­er reason."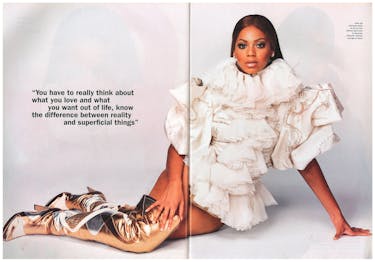 Two and a half years ago, you implied to me that you didn't believe in sex before marriage.
(Fork­ful of omelette freezes in mid-air.) ​"I nev­er said it. I've nev­er talked about that. Because I don't think that would be smart. For one, it's no one's busi­ness. For two, peo­ple nev­er for­get cer­tain things that you said. And they don't allow you, once you say any­thing, to change. Y'know? And I've always known that. So I've nev­er talked about any sex­u­al expe­ri­ences. Or any lack of. Or any­thing. Because I just don't. And I nev­er have. Because that's private."
If I were you, I would've made a bee-line straight for Justin Timberlake…
"Alright! Huhuhuh. We're gonna have to arrange that! He's hand­some. And very tal­ent­ed. And nice. There was a rumour we kissed or some­thin'. And I've nev­er touched him. I don't know him. I've met him and he's real­ly nice. I respect him, though."
A brief vis­it, here, to Crap Joke Cor­ner: Inci­den­tal­ly, if you ever get mar­ried to some­one called Mis­ter Cas­tle, that would be a mistake.
"Uh… ooooh-kaaaaay. Huhuhuh! Aaawl-rii­ight! Thank you!"
In 2000, The Face also talked to mum Tina Knowles (her styl­ist and on-the-road guardian) about some­thing she called The Rules, in-stu­dio laws which decreed no cussin', drink­ing and smok­ing, of any­thing, around the teenage Destiny's Girls. And no play­ing of blas­phe­mous, hard­core Hip Hop…
…and now you're work­ing with Jay-Z and tons of tough guys… you're hang­ing out with ex-drug deal­ers now!
"Uuu­u­u­um!" chokes Bey­on­cé and prangs her fork on her plate, ​"well, the morals and the way I treat peo­ple and han­dle myself is always in me. Me work­ing in the stu­dio with… peo­ple, every­body I work with, they're pro­fes­sion­als. And they're very tal­ent­ed. And we go in there and make music. My moth­er, actu­al­ly, was nev­er in the stu­dio with us when we did cre­ative things. Before we turned 18, one of the oth­er ladies' moth­ers trav­elled with us. Peo­ple kin­da have a dis­tort­ed con­cept of how things work. I was pro­tect­ed from a lot and I still am. Because I still have fam­i­ly mem­bers with me and peo­ple around me that pro­tect me an' tell me the truth. But my par­ents trust me. I trust them. They know that any­one that I'm around, they're good peo­ple, and when I'm in the stu­dio, I'm workin'."
How did your mum feel about Jay-Z's background?
"My fam­i­ly, like I said, any­one that I'm around, they know are good people."
And, here, Beyoncé's famed eye­brow shoots 15 feet above her head, and she bursts into hys­ter­i­cal laugh­ter. For ages. I see. So now you're down the stu­dio drinkin', cussin' and smok­ing a gigan­tic blunt to NWA tunes?
"Noooo… not quite."
These days, we don't get to know our pop folk, because they know, in the end, we don't have to. With the Amer­i­can pop brands, cer­tain­ly, the less they give of their actu­al selves, the more the hunger fuels us any­way. Illu­sion, con­trol, pro­tec­tion, dis­trac­tion and dam­age lim­i­ta­tion is all; there's way too much mon­ey at stake. If the pop brands are mere­ly reflec­tors, be thank­ful some of them, at least, are fabulous.
Why do peo­ple like you do these gigan­tic ads? You with Pep­si and L'Oreal, Madon­na and Mis­sy with Gap… you cer­tain­ly don't need the money.
(Bewil­dered.) ​"It's an hon­our to do a Pep­si commercial."
It seri­ous­ly is?
"Well… Michael Jack­son. I mean, for one it's a his­tor­i­cal thing, espe­cial­ly Pep­si. That's huge, those commercials."
It's part of a cul­ture that you want to be involved in?
"Yeah. L'Oreal, the pic­tures are beau­ti­ful and… why not? It's just a cool thing to be able to do. I go to Japan, France, I have L'Oreal ads in all dif­fer­ent places, so, y'know, peo­ple can see me there. And, all around, it just makes you… a big­ger star."
It's not like we didn't know that, but at least she had the balls to say it.
"And who's to say," she adds, gig­gling, ​"that peo­ple don't like the cash? Or need it? Huhuhuh!"
Does it both­er you that the world runs on money?
(Enor­mous pause.) ​"It's the way the world is. Yep."
Every day the pop gen­er­a­tion are fed colos­sal con­cepts of suc­cess, of wealth, of fame. D'you think young people's aspi­ra­tions are unrealistic?
(Enor­mous sigh.) ​"Hmm. Right. I know what you're sayin'. It is sad, some­days. You think, ​'What is real­i­ty? What is going on?' You have to real­ly think about what you love and what you want out of life, know the dif­fer­ence between real­i­ty and super­fi­cial things. You can't blame peo­ple on TV. The peo­ple around you, your fam­i­ly, it's up to them to instill cer­tain things, and they'll stick wit' you. Suc­cess to me does not mean a lot­ta mon­ey. I wan­na be hap­py. This album, I didn't write it to make mon­ey, I wrote it to make qual­i­ty music. To make his­to­ry, more so."
Next year, the biggest-sell­ing girl group in his­to­ry, return.
"Right now I'm thinkin' about what Destiny's Child is gonna do next," brims Bey­on­cé, ​"that's all I want now. God, give me those songs!"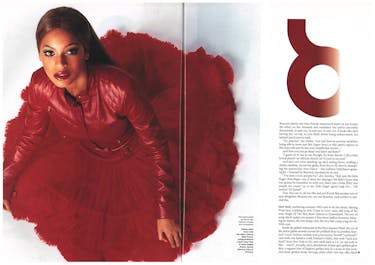 This autumn comes her sec­ond, post-Austin Pow­ers com­ic caper, The Fight­ing Temp­ta­tions, along­side Cuba Good­ing Jnr. Soon, there may be a fash­ion range, called B-Wear (co-designed with Tina). As well as Great, Bey­on­cé needs to be Good: with Kel­ly Row­land, she's already built a cen­tre for home­less kids in Hous­ton, where ​"they can come and go to the stu­dio, play bas­ket­ball". One day she hopes to do more, pos­si­bly from inside the White House. ​"I admire Bono," she twin­kles, ​"I wan­na do some­thing. I still have time." It's impor­tant for her ​"to be known as a nice per­son". This Sep­tem­ber 4, she turns 22. Hap­py Birth­day, ​"B" (she's Vir­go, ruled by perfection).
"Even­tu­al­ly, years from now," she says, gigan­tic ear­rings swing­ing in gild­ed glee, ​"I want to win an Oscar. A Tony. I already have Grammies…"
You're weird, you fab­u­lous super­stars. Why d'you need, so much, this affir­ma­tion from the world?
"Well, y'know," beams Bey­on­cé, clutch­ing her bejew­elled hand­bag, prepar­ing to rise from the most for­mi­da­bly rhyth­mic back­side the world has ever known, ​"there's cer­tain peo­ple that I nev­er thought would acknowl­edge what I do, who I love. Michael Jack­son, Prince, Aretha Franklin. It's just like any­thing else. If you're a doc­tor and you love a cer­tain doc­tor and that doc­tor tells you you're one of the best, it's like ​'Oh my Gaad.' I don't get off on every­one clap­pin' and what­ev­er-what­ev­er, I love (clutch­es bosom) sin­gin'! I most­ly want respect from peo­ple that I respect. Be able to sing, dance, act, real­ly do all of ​'em. Not just act because I was giv­en the oppor­tu­ni­ty, but real­ly be able to act. And sing. And dance. Not some­thing… where you can just get by. Real talent."
---