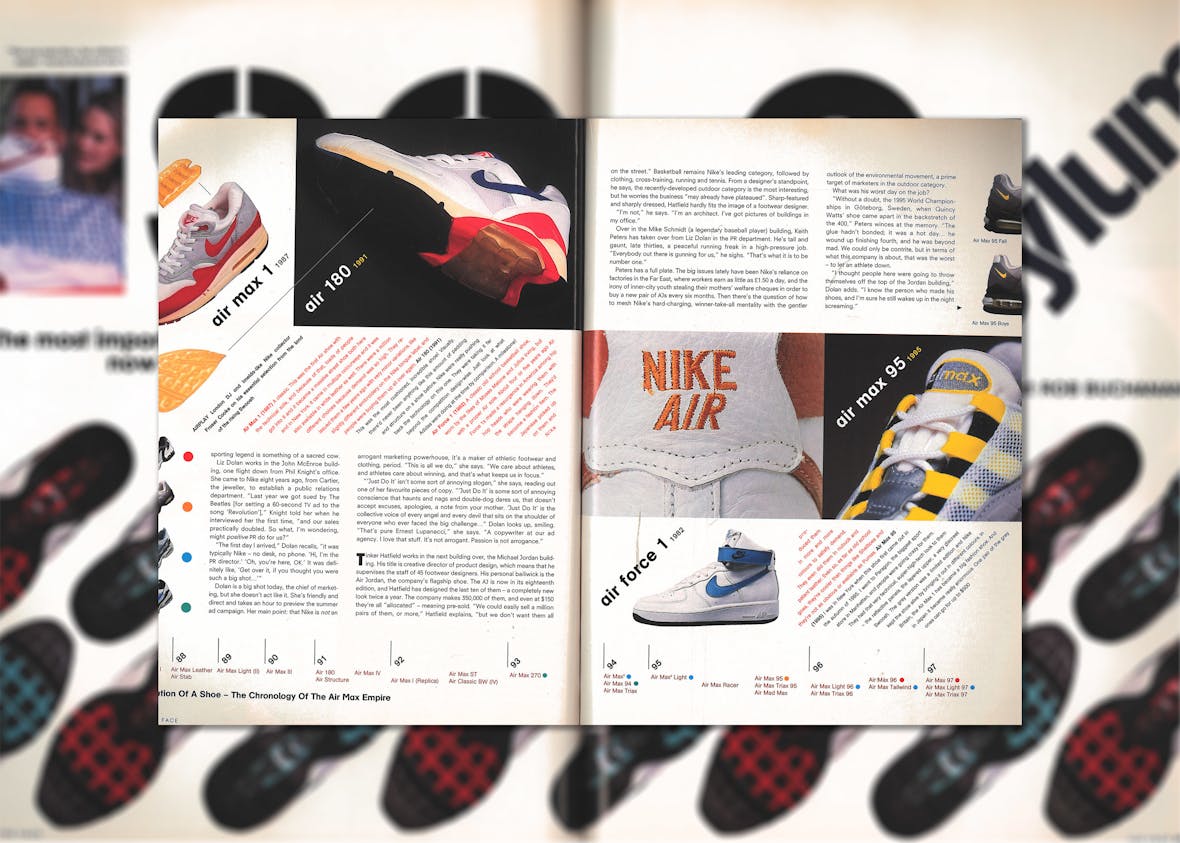 Sole Asy­lum
To cel­e­brate the long-await­ed return of The Face, we have select­ed a stand-out sto­ry from each year of our exten­sive archive, from 1980 to 2004.
Remembered by writer Rob Buchanan
"I went to Atlanta to see Phil Knight speak at a con­ven­tion – and con­ven­tions are ter­ri­ble places to report, so I was a lit­tle frus­trat­ed at not hav­ing enough mate­r­i­al. Then there was a sec­ond trip to Port­land to meet the Nike peo­ple. The cam­pus was cool, but the main thing that I got from that trip was peo­ple will­ing to spend time and talk open­ly, a lot more than I expect­ed. The best report­ing nugget was at the end of the sto­ry, the copy­writer who worked for Nike's ad agency. That was a sec­ond vis­it whilst in Port­land to his office. He was young and juiced up (on cof­fee) and real­ly will­ing to tell it how it was, at least from his stand­point. That last line I'm sure got him in hot water, but it also real­ly got to the heart of the sto­ry. Nike came in ear­ly, they were bold and they thought of every­thing before any­body else did. Nike is always a hot sto­ry. They changed the sports footwear game in a way that I don't know any­one who has come along since has man­aged to that extent. I'm sure there'll be anoth­er rev­o­lu­tion, but that was real­ly the sports busi­ness rev­o­lu­tion of my gen­er­a­tion, for sure. It's inter­est­ing to watch the NBA play­offs this year as it seems James Hard­en is so dom­i­nant and he's not a Nike guy – he's an Adi­das guy. But he's the only guy Adi­das has or the only big play­er that they have. So Nike still has the upper hand."
Rob Buchanan was a mag­a­zine fea­ture writer in the US from 1984 to 2005. From 2005 to 2016 he taught jour­nal­ism and envi­ron­men­tal stud­ies at Eugene Lang Col­lege. In 2016 he began work­ing in Com­mu­ni­ty Sci­ence and Marine Sys­tems Tech­nol­o­gy for the New York-based envi­ron­men­tal non-prof­it Bil­lion Oys­ter Project.
Every spring any­body who's any­one in the sport­ing goods busi­ness turns up in Atlanta, Geor­gia for the four-day orgy of buy­ing and sell­ing known as the Super­show. The heavy­weights in this $40 bil­lion indus­try are the shoe com­pa­nies, and it's their ​"booths" – sprawl­ing, ban­ner-encrust­ed sales pavil­ions – that dom­i­nate the main floor of the con­ven­tion cen­tre, three flights below the ground. They're all here on Lev­el C: strug­gling behe­moths like Reebok and Adi­das, fash­ion­able new­com­ers à la Fila and Air­walk, age­ing niche play­ers like Saucony and New Balance…

All but Nike. Its show­case is tucked away upstairs, far from the roar of com­merce and tan­ta­lis­ing­ly out of sight. The sig­nage is a mas­ter­stroke of osten­ta­tious under­state­ment. No words: just a sin­gle red logo – the famed Swoosh – post­ed at the foot of an esca­la­tor. Need­less to say, Nike's open­ing-day sales pre­sen­ta­tion is the Supershow's hottest tick­et, an invi­ta­tion-only affair that about half of Atlanta seems to want to crash. The 250 elect who make it on to the esca­la­tor buzz with antic­i­pa­tion. Not only is there the usu­al curios­i­ty – what will they come up with this time? – but also the prospect of a rare pub­lic appear­ance by Phil Knight, Nike's enig­mat­ic founder and chair­man. The show does not dis­ap­point. Impec­ca­bly pro­duced sports videos, ad snip­pets and grit­ty black-and-white pho­tos are pro­ject­ed on a wide movie screen; mod­els tramp across the stage with chore­o­graphed pre­ci­sion, and Nike sales and mar­ket­ing exec­u­tives stand to deliv­er snap­py cor­po­rate haikus, all to the beat of an edgy, qua­si-rave sound­track. Mid­way through, Knight takes the stage. He's a small man in his late fifties with wispy ringlets of blond hair and a thin, scrag­gly beard, but the bounce in his step hints at an ath­let­ic past. (As an under­grad­u­ate at the Uni­ver­si­ty of Ore­gon in the ear­ly Six­ties he was a gut­sy mid­dle-dis­tance run­ner.) The crowd leans for­ward, strain­ing for some nugget of wis­dom. Knight spent a lot of time in the Far East in Nike's ear­ly days – near­ly all of the company's footwear and cloth­ing is man­u­fac­tured there still – and his per­son radi­ates an almost Bud­dhist calm­ness and serenity.
Today, how­ev­er, he's all busi­ness: sales pro­jec­tions and long lists of new endorse­ment deals. ​"Last year we were up 27 per cent in footwear," he says, with the slight­est hint of a lisp. ​"Appar­el was up 53 per cent, and cracked $1 bil­lion for the first time. Inter­na­tion­al sales will pass $2 bil­lion for the first time this year. We believe we can con­tin­ue to grow at 15 per cent a year, and we have a stat­ed goal of dou­bling sales in five years, to $12 bil­lion… We have 35 World Cup soc­cer teams under appar­el con­tract… At the 1998 Olympic Games in Nagano, every hock­ey team in the com­pe­ti­tion will wear Nike." After Knight sits down, there's one last video – a par­o­dy of polit­i­cal adver­tis­ing in which one of Nike's biggest stars, base­ball slug­ger Ken Grif­fey Jr, is nom­i­nat­ed for the pres­i­den­cy, not of the major leagues, but of the Unit­ed States. It's flaw­less­ly shot and edit­ed, and fun­ny enough, with clever cameos by all sorts of retro-chic cult fig­ures and god­like überath­letes, but after the first minute you find your­self begin­ning to shift in your seat. You find your­self get­ting just the slight­est bit annoyed by the idea of the vast sums of mon­ey and cre­ative tal­ent spent on what is essen­tial­ly a van­i­ty project, dis­il­lu­sioned by all the obscure or once-cool celebri­ties who lent their names to it, and appalled gen­er­al­ly at the end­less rush to sign up any­body who ever said or did any­thing hip under the sign of the Swoosh. As if any of it had any­thing to do with shoes. You find your­self think­ing, ​"Just who do these guys think they are, anyway?"
But of course the peo­ple at Nike are one step ahead of you – that's their spe­cial gift. A few months lat­er, when their sum­mer adver­tis­ing cam­paign breaks, the lead slo­gan in their mag­a­zine ads reads: ​"So who the hell do Nike think they are, anyway?"
The list of plau­si­ble expla­na­tions for how Nike got to where it is today, which is to say not only atop the sport­ing goods and fash­ion casu­al­wear worlds but also the sports world in gen­er­al, is near­ly as long as the list of Nike endorsers. The jog­ging boom of the Sev­en­ties cer­tain­ly pushed them along. The boom in sports TV had some­thing to do with it, as did a run of bril­liant adver­tis­ing cam­paigns. And of course Michael Jor­dan, who turned out to be as com­pet­i­tive in his mar­ket­ing career as his bas­ket­ball one. But behind all of those things lurked a big­ger phe­nom­e­non: the rise of sports as a vehi­cle of mass com­mu­ni­ca­tion as wide-reach­ing as music – and a whole lot more suit­ed to sell­ing things. It was Phil Knight's genius, his par­tic­u­lar lega­cy to the his­to­ry of cap­i­tal­ism, to forge a con­nec­tion between the two realms.
"Peo­ple don't con­cen­trate their emo­tion­al ener­gy on prod­ucts in the way fans aban­don them­selves to the heroes of their games," Don Katz wrote in his semi-offi­cial his­to­ry of Nike, Just Do It. ​"The prod­ucts need­ed to be teth­ered to some­thing more com­pelling and profound."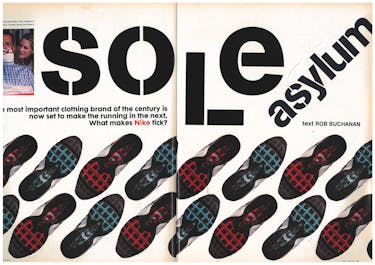 Which is not to say that Nike was found­ed on fun­da­men­tal­ly cyn­i­cal prin­ci­ples. Quite the con­trary: through­out the organ­i­sa­tion, the one con­stant seems to be a belief in sport as a world of pow­er, grace and nat­ur­al mer­i­toc­ra­cy, where the play­ing field is still lev­el and the old rules of fair play and true sports­man­ship still apply. It is, per­haps, an earnest, essen­tial­ly nos­tal­gic world­view – a long­ing for the puri­ty and inno­cence of child­hood – but there's no deny­ing its emo­tion­al appeal. As Katz not­ed: ​"Knight believed… supe­ri­or ath­let­ic abil­i­ty speaks to everyone's belief in some pri­mor­dial capac­i­ty for a kind of true great­ness that has been obscured over time by expe­di­en­cy, dis­ap­point­ment and the gen­er­al clut­ter of con­tem­po­rary life." The great dilem­ma for Nike today is that it has become the prover­bial 900-pound goril­la. As the com­pa­ny goes glob­al, the real chal­lenge is no longer about sell­ing shoes, or even shoes and cloth­ing. It's about tak­ing over the entire fab­ric of sports – man­ag­ing ath­letes, organ­is­ing leagues, cre­at­ing events. The risk is that in doing so, the com­pa­ny will wind up killing off the very thing it pro­fess­es to love.
From the out­side, it some­times seems an Orwellian spec­ta­cle, as if Phil Knight were dron­ing ​"WE ARE SPORT" into the world's tele­vi­sion sets. And yet there's some­thing impres­sive, some­thing that approx­i­mates to the daz­zling ener­gy of an ath­let­ic feat, in Nike's surge to pow­er. It's like watch­ing Michael Jor­dan soar to the bas­ket. Some­times you just have to stand back and marvel.
When I was a kid grow­ing up in north­ern Cal­i­for­nia, I had a 65-year-old neigh­bour who spent two hours a day in his garage lift­ing. Dr Turn­er was a remark­able man. From the neck up, he looked like Sig­mund Freud (he was, in fact, a psy­chi­a­trist), from the neck down, he looked more like the ear­ly Sylvester Stal­lone. We all thought he was crazi­ly self-obsessed as he con­tin­ued to lift into his sev­en­ties, and left his wife of 30 years for a young patient. But then one day there he was on TV, rip­pling in the lat­est Nike ad. Sud­den­ly all that lift­ing seemed all right.
A lot of Nike's endorsers fall into the obvi­ous, can't-miss, Michael Jor­dan cat­e­go­ry – golf prodi­gy Tiger Woods, for instance, who signed a $40 mil­lion deal with the com­pa­ny before his first pro tour­na­ment. But there's anoth­er, equal­ly impor­tant strand of signees who can trace their roots all the way back to Nike's first ​"celebri­ty" endors­er – the orig­i­nal ten­nis brat, llie Nas­tase. Like John McEn­roe, Den­nis Hop­per and Denis Leary, they're in the Nas­tase mould, spit­ting in the metaphor­i­cal face of sport's auto­crat­ic rul­ing bod­ies. Oth­ers, like Dr Turn­er, are mere­ly obses­sive or eccen­tric. Late­ly there seems to be a trend towards sign­ing ath­letes who don't even wear shoes when they com­pete: Gabrielle Reece, the beach vol­ley­ball ama­zon, or ski­er Picabo Street. A mar­ket­ing quandary? Not real­ly – they can always mar­ket a cross-trainer.
Nike is head­quar­tered in Beaver­ton, a leafy sub­urb of Port­land in America's north­west. Archi­tec­tural­ly speak­ing, it's not exact­ly open to the world: a long grassy embank­ment defends the place from pub­lic view. The first time dri­ving by in a car, it's easy to miss the place alto­geth­er. Inside, the 400-acre ​"cam­pus" con­sists of a half-dozen low-rise glass and con­crete tow­ers set think-tank-style around a large reflect­ing pond. There are flow­er­ing trees, a Japan­ese gar­den; play­ing fields and a mile-and-a-half run­ning path; an employ­ee lounge dec­o­rat­ed in the style of an Eng­lish pub. No rea­son ever to leave.
The Nike way of being is cau­tious­ly infor­mal. Nobody wears suits, but then again, no one has ever been spot­ted swim­ming in the pond. There are cov­ered walk­ways between the build­ings – it rains a lot in coastal Ore­gon – and each sup­port­ing col­umn bears a bronze bust of some sports star or anoth­er. The idea, I sup­pose, is to con­jure a sort of all-sport Hall Of Fame, but the busts are done in such a grotesque, gar­goyle style you think they must be car­i­ca­tures. Nobody laughs about them, though. At Nike, a sport­ing leg­end is some­thing of a sacred cow.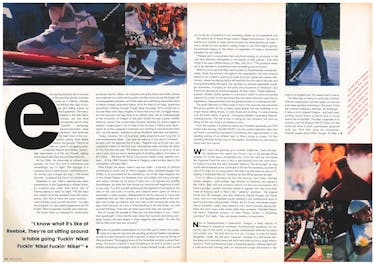 Liz Dolan works in the John McEn­roe build­ing, one flight down from Phil Knight's office. She came to Nike eight years ago, from Carti­er, the jew­eller, to estab­lish a pub­lic rela­tions depart­ment. ​"Last year we got sued by The Bea­t­les [for set­ting a 60-sec­ond TV ad to the song Rev­o­lu­tion]," Knight told her when he inter­viewed her the first time, ​"and our sales prac­ti­cal­ly dou­bled. So what, I'm won­der­ing, might pos­i­tive PR do for us?"
"The first day I arrived," Dolan recalls, ​"it was typ­i­cal­ly Nike – no desk, no phone. ​'Hi, I'm the PR direc­tor.' ​'Oh, you're here, OK.' It was def­i­nite­ly like, ​'Get over it, if you thought you were such a big shot…'"
Dolan is a big shot today, the chief of mar­ket­ing, but she doesn't act like it. She's friend­ly and direct and takes an hour to pre­view the sum­mer ad cam­paign. Her main point: that Nike is not an arro­gant mar­ket­ing pow­er­house, it's a mak­er of ath­let­ic footwear and cloth­ing, peri­od. ​"This is all we do," she says. ​"We care about ath­letes, and ath­letes care about win­ning, and that's what keeps us in focus."
"'Just Do It' isn't some sort of annoy­ing slo­gan," she says, read­ing out one of her favourite pieces of copy. "'Just Do It' is some sort of annoy­ing con­science that haunts and nags and dou­ble-dog dares us, that doesn't accept excus­es, apolo­gies, a note from your moth­er. ​'Just Do It' is the col­lec­tive voice of every angel and every dev­il that sits on the shoul­der of every­one who ever faced the big chal­lenge…" Dolan looks up, smil­ing. ​"That's pure Ernest Lupanac­ci," she says. ​"A copy­writer at our ad agency. I love that stuff. It's not arro­gant. Pas­sion is not arrogance."
Tin­ker Hat­field works in the next build­ing over, the Michael Jor­dan build­ing. His title is cre­ative direc­tor of prod­uct design, which means that he super­vis­es the staff of 45 footwear design­ers. His per­son­al baili­wick is the Air Jor­dan, the company's flag­ship shoe. The AJ is now in its eigh­teenth edi­tion, and Hat­field has designed the last ten of them – a com­plete­ly new look twice a year. The com­pa­ny makes 350,000 of them, and even at $150 they're all ​"allo­cat­ed" – mean­ing pre-sold. ​"We could eas­i­ly sell a mil­lion pairs of them, or more," Hat­field explains, ​"but we don't want them all on the street." Bas­ket­ball remains Nike's lead­ing cat­e­go­ry, fol­lowed by cloth­ing, cross-train­ing, run­ning and ten­nis. From a designer's stand­point, he says, the recent­ly devel­oped out­door cat­e­go­ry is the most inter­est­ing, but he wor­ries the busi­ness ​"may already have plateaued". Sharp-fea­tured and sharply dressed, Hat­field hard­ly fits the image of a footwear designer.
"I'm not," he says. ​"I'm an archi­tect. I've got pic­tures of build­ings in my office."
Over in the Mike Schmidt (a leg­endary base­ball play­er) build­ing, Kei­th Peters has tak­en over from Liz Dolan in the PR depart­ment. He's tall and gaunt, late thir­ties, a peace­ful run­ning freak in a high-pres­sure job. ​"Every­body out there is gun­ning for us," he sighs. ​"That's what it is to be num­ber one."
Peters has a full plate. The big issues late­ly have been Nike's reliance on fac­to­ries in the Far East, where work­ers earn as lit­tle as £1.50 a day, and the irony of inner-city youth steal­ing their moth­ers' wel­fare cheques in order to buy a new pair of AJs every six months. Then there's the ques­tion of how to mesh Nike's hard-charg­ing, win­ner-take-all men­tal­i­ty with the gen­tler out­look of the envi­ron­men­tal move­ment, a prime tar­get of mar­keters in the out­door category.
What was his worst day on the job? ​"With­out a doubt, the 1995 World Cham­pi­onships in Gote­borg, Swe­den, when Quin­cy Watts' shoe came apart in the back­stretch of the 400." Peters winces at the mem­o­ry. ​"The glue hadn't bond­ed; it was a hot day… he wound up fin­ish­ing fourth, and he was beyond mad. We could only be con­trite, but in terms of what this com­pa­ny is about, that was the worst – to let an ath­lete down."
"I thought peo­ple here were going to throw them­selves off the top of the Jor­dan build­ing," Dolan adds. ​"I know the per­son who made his shoes, and I'm sure he still wakes up in the night screaming."
Phil Knight found­ed his com­pa­ny, orig­i­nal­ly called Blue Rib­bon Sports, in 1971. At first, he mere­ly import­ed a Japan­ese shoe, the Onit­su­ka Tiger, but after a few years, hav­ing made his own con­nec­tions with man­u­fac­tur­ers in the Ori­ent, he start­ed his own line – a bold gam­ble from his per­spec­tive, a betray­al from Onitsuka's. The name Nike, after the Greek god­dess of vic­to­ry, came to one of his part­ners in a dream. Knight paid a Port­land graph­ic design­er $35 for the Swoosh design, and it took him time to warm to it. The prob­lem: it had absolute­ly no struc­tur­al function.
The Mon­tre­al games of 1976 were Nike's first Olympics. Adi­das spent a rumoured $7 mil­lion there; Nike gave away a total of $526 worth of mer­chan­dise. Four years lat­er, the sneak­er wars were in full swing. A nadir of sorts came on a winter's day in 1982, when an NBA for­ward named Dar­ryl Dawkins, hav­ing signed con­flict­ing endorse­ment con­tracts, took to the court wear­ing a Nike high-top on one foot and a Pony on the other.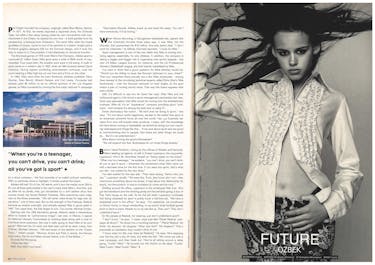 In 1984 Nike went after the best Amer­i­can ath­letes avail­able: Mary Deck­er, Joan Benoit, Alber­to Salazar and Carl Lewis. Con­verse had already paid $5 mil­lion to be an offi­cial spon­sor of the Los Ange­les games, so Nike entered by run­ning the first major nation­al TV cam­paign by a shoe com­pa­ny – the first exam­ple of so-called ambush mar­ket­ing. With no par­tic­u­lar shoe to high­light, it sim­ply pushed the brand.
Adi­das still had 124 of the 140 teams, and it won the medal count 259 to 63, but all three gold medals in the men's track were Nike's. And then, just as Nike hit its stride, they got blind­sided by a soft leather shoe that women loved, the famed Reebok Freestyle. Nike exec­u­tives were indig­nant at the flim­sy pre­tender. ​"We will nev­er make shoes for fags who do aer­o­bics," one of them said. But on the strength of the Freestyle, Reebok became an empire overnight, and actu­al­ly passed Nike in gross sales in 1987. Two years lat­er, the tide began to turn. Two words: Michael Jordan.
Start­ing with the 1992 Barcelona games, Reebok made a tremen­dous effort to bol­ster its ​"per­for­mance image"; last year, in Atlanta, it signed 52 Nation­al Olympic Com­mit­tees to cloth­ing deals along with a host of indi­vid­ual shoe endorsers. But was it real­ly going to beat Nike at its own game? Nike had the US track and field team and all its stars: Lewis, Dan O'Brien, Michael John­son. ​"We had sev­en of the starters on the ​'Dream Team'," Peters recalls. ​"Mon­i­ca, Andre and Pete in ten­nis, the Kenyan track team, the US and Ital­ian soc­cer teams, a lot of the Baltics…"
Sounds like Monop­oly.
"More like Risk."
Well, who didn't you have?
"Nourre­dine Morceli. Adi­das snuck up and lured him away. You can't have every­body; it's boring."
When Alon­zo Mourn­ing, a George­town bas­ket­ball star, signed With the Char­lotte Hor­nets three years ago, it was Nike, not the Hor­nets, that guar­an­teed his $16 mil­lion, five-year salary deal. ​"I don't work for Char­lotte," he blithe­ly informed reporters. ​"I work for Nike."
Sports man­age­ment is one of the new fields that Nike is mov­ing into – being agents, essen­tial­ly, for star ath­letes. In addi­tion, the com­pa­ny is tak­ing a big­ger and big­ger role in organ­is­ing new sports leagues – the new US Major League Soc­cer, for instance, and the US Pro­fes­sion­al Women's Bas­ket­ball League, are both heav­i­ly sub­sidised by Nike.
You start to think that a good ques­tion for Nike ath­letes would be, ​"Would you be will­ing to have the Swoosh tat­tooed on your chest?" Then you remem­ber there actu­al­ly are a few Nike employ­ees – among them sev­er­al of the cir­cu­lat­ing tech­ni­cal experts called Ekins (that's Nike back­wards) – with the Swoosh tat­tooed on their thighs, at the spot where a pair of run­ning shorts vents. That way the brand appears with every stride.
Still, it's dif­fi­cult to see too far down the road. After Nike and the Hol­ly­wood agency CAA struck a sport man­age­ment part­ner­ship last year, there was spec­u­la­tion that Nike would be mov­ing into the enter­tain­ment busi­ness. After all, it's an ​"expe­ri­ence" com­pa­ny pro­vid­ing sport ​"soft­ware". And cer­tain­ly, it's among the best ever at using TV.
Dolan down­plays the notion. ​"All we'll ever be doing is sport," she says. ​"It's not about world hege­mo­ny, except to the extent that sport is an extreme­ly pow­er­ful force all over the world. Yes, our busi­ness ten years from now will include oth­er prod­ucts. I mean, with the knowl­edge we have about run­ning or bas­ket­ball, we should be doing our own coach­ing video­tapes and things like that… If we care about sport and are good at com­mu­ni­cat­ing that to peo­ple, then there are oth­er things we could do… But it's not entertainment."
What about run­ning the sports themselves?
"We will expand into that. Busi­ness­es do run those things already."
Before I leave Port­land, I swing by the offices of Wei­den and Kennedy, Nike's lead­ing ad agency, to talk to Ernest Lupanac­ci, the copy­writer. Lupanac­ci, who's 29, describes him­self as ​"being raised on the brand".
"When you're a teenag­er," he explains, ​"you can't dri­ve, you can't drink: all you've got is sport. I remem­ber the excite­ment when Nike came out with a lacrosse shoe for the first time. If you were into sport, that's what you did – you wait­ed for the new shoe."
You also wait­ed for the new ads. ​"They were say­ing, ​'Here's who you are," Lupanac­ci recalls. ​"We were like, ​'Fuck, they know who I am – they must know some­thing about the shoes. It was about this rela­tion­ship [to sport], not the prod­uct. It was an invi­ta­tion to come and be cool."
Strid­ing around his office, Lupanac­ci is the arche­typ­al Gen X-er. He's got the head­band and the climb­ing pants and the tall lat­te going; a box of Pop Tarts hangs on the wall. As for the job itself, Lupanac­ci con­fess­es that being obsessed by sport is pret­ty much a full-time job. ​"We have a bas­ket­ball court in the office," he says. ​"On week­ends, we snow­board on Mount Hood, or we go wind­surf­ing, or we watch three foot­ball games back to back to back. Peo­ple try to do ads like us. They can't. They don't under­stand sport."
So the peo­ple at Reebok, for instance, just don't under­stand sport?
"I don't know," he says. ​"I mean, what was that ​'Plan­et Reebok' cam­paign all about?" He drops into a mock­ing bari­tone: "'Plan­et Reebok. No lim­its. No lawyers. No Slo­gans.' What was that? ​'No Slo­gans?' That's prac­ti­cal­ly an admis­sion they couldn't think of one.
"I know what it's like over there [at Reebok]," he says. He's step­ping over the line just a tiny bit here, but what the hell. ​"We come out with a new cam­paign, and they freak out. They're all sit­ting around a table going, ​'Fuckin' Nike!'" He pounds out the rhythm on his desk: ​"Fuckin' Nike! Fuckin' Nike! Fuckin' Nike!"
---