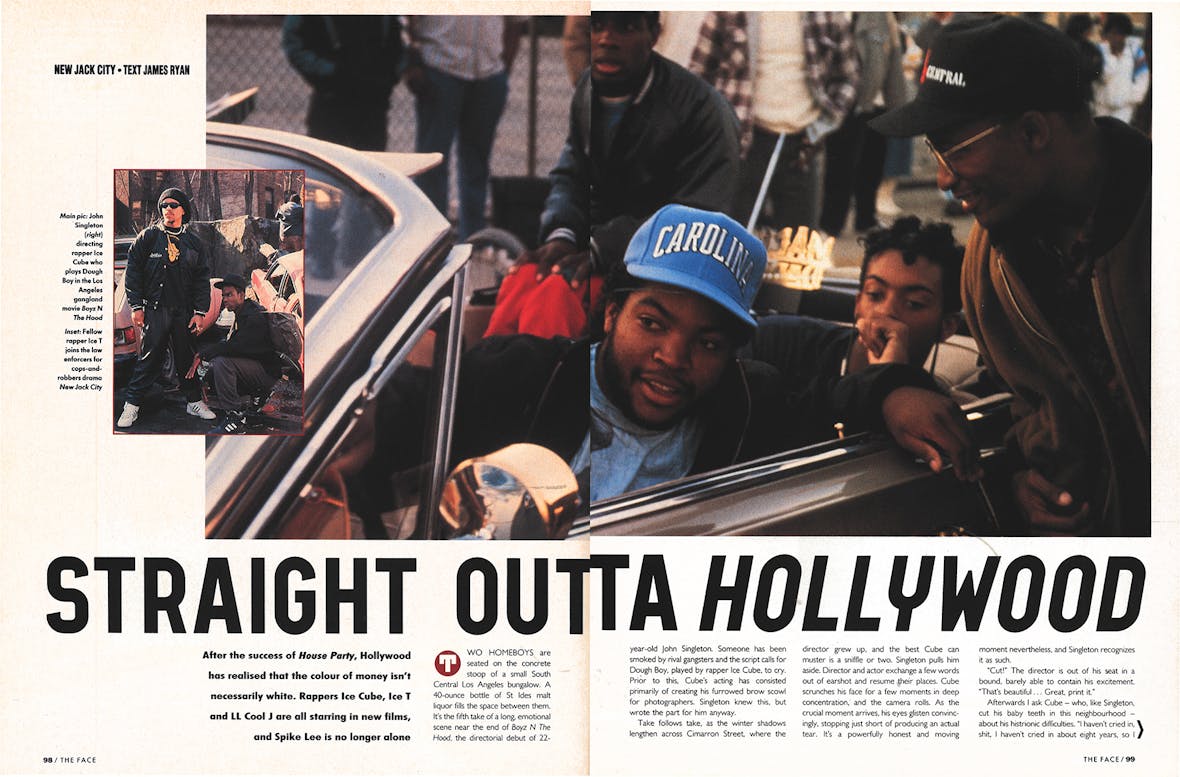 Straight Out­ta Hollywood
From the archive:
After the suc­cess of House Par­ty, Hol­ly­wood has realised that the colour of mon­ey isn't nec­es­sar­i­ly white. Rap­pers Ice Cube, Ice T and LL Cool J are all star­ring in new films, and Spike Lee is no longer alone.
Two home­boys are seat­ed on the con­crete stoop of a small South Cen­tral Los Ange­les bun­ga­low. A 40-ounce bot­tle of St Ides malt liquor fills the space between them. It's the fifth take of a long, emo­tion­al scene near the end of Boyz N The Hood, the direc­to­r­i­al debut of 22-year-old John Sin­gle­ton. Some­one has been smoked by rival gang­sters and the script calls for Dough Boy, played by rap­per Ice Cube, to cry. Pri­or to this, Cube's act­ing has con­sist­ed pri­mar­i­ly of cre­at­ing his fur­rowed brow scowl for pho­tog­ra­phers. Sin­gle­ton knew this, but wrote the part for him anyway.
Take fal­lows take, as the win­ter shad­ows length­en across Cimar­ron Street, where the direc­tor grew up, and the best Cube can muster is a snif­fle or two. Sin­gle­ton pulls him aside. Direc­tor and actor exchange a few words out of earshot and resume their places. Cube scrunch­es his face for a few moments in deep con­cen­tra­tion, and the cam­era rolls. As the cru­cial moment arrives, his eyes glis­ten con­vinc­ing­ly, stop­ping just short of pro­duc­ing an actu­al tear. It's a pow­er­ful­ly hon­est and mov­ing moment nev­er­the­less, and Sin­gle­ton recog­nis­es it as such.
"Cut!" The direc­tor is out of his seat in a bound, bare­ly able to con­tain his excite­ment. ​"That's beau­ti­ful… Great, print it."
After­wards I ask Cube – who, like Sin­gle­ton, cut his baby teeth in this neigh­bour­hood – about his histri­on­ic dif­fi­cul­ties. ​"I haven't cried in, shit, I haven't cried in about eight years, so I real­ly for­got how to cry. So many bad things hap­pened that it just numbs you," says the 22-year-old for­mer mem­ber of NWA, the group that blew the roof off the LA rap scene with albums like Straight Out­ta Comp­ton.
Can't get more real than that.
A year ago, no one would have dreamed that a con­ser­v­a­tive Hol­ly­wood stu­dio would have hand­ed $6 mil­lion to a kid from South Cen­tral just a few months out of film school to make a movie with a novice lead actor. But here is Sin­gle­ton, demon­strat­ing a pre­co­cious genius for slice-of-life sto­ry­telling and a tal­ent for cast­ing and work­ing with actors that would make vet­er­an direc­tors twice his age envious.
When I ask Colum­bia Pic­tures chief Frank Price why he signed Sin­gle­ton to a three-year deal, while most of his Uni­ver­si­ty of South­ern Cal­i­for­nia class­mates were still scram­bling for their first pro­duc­tion assis­tant jobs, he says: ​"I found him to be an extreme­ly tal­ent­ed fel­low. I thought he wrote a mar­vel­lous script. He made it very easy to back him. He had the con­fi­dence that I remem­ber Steven Spiel­berg had when I first met him when he was about 21."
But Singleton's quick rise is as much a recog­ni­tion of his tal­ent as a reflec­tion of Hollywood's real­i­sa­tion, after years of denial, that black film-mak­ers can attract big box office. In the wake of the suc­cess (both crit­i­cal and finan­cial) of such actor-direc­tors as Eddie Mur­phy, Robert Townsend (Hol­ly­wood Shuf­fle), Keenan Ivory Wayans (I'm Gonna Git You Suc­ka) and, of course, Spike Lee, the major stu­dios are scram­bling to cash in on the next wave of black auteurs.
"Right now, every stu­dio wants their own Spike," explains one tal­ent agent, who has tried unsuc­cess­ful­ly to land sev­er­al black directors.
Among oth­er things, young black direc­tors pro­vide a vital link for gen­er­al­ly unhip stu­dio exec­u­tives to the lucra­tive (and pre­vi­ous­ly inac­ces­si­ble) rap sub­cul­ture and the teen audi­ences who come with it. Regi­nald and War­ring­ton Hudlin, whose rau­cous $2.5 mil­lion teen movie House Par­ty – star­ring rap­pers Kid N' Play – raked in an impres­sive $23.6 mil­lion in the US last year for New Line Cin­e­ma, have secured a three-pic­ture deal at Tri-Star Pictures.
New Line has con­tract­ed Kid N' Play for a sequel, and the duo now have their own Sat­ur­day morn­ing kid­die show. Even inde­pen­dent black film-mak­ers like Charles Bur­nett (To Sleep With Anger) and Wen­dell Har­ris (Chameleon Street) have found them­selves being court­ed by stu­dios since mak­ing a splash on the film fes­ti­val cir­cuit last year.
And Ice Cube isn't the only rap­per com­ing to a the­atre near you this year. LL Cool J has a cameo role in Universal's The Hard Way, which stars Michael J Fox and James Woods. LA gang­ster rap­per Ice T stars as an under­cov­er cop in Warn­er Bros' New Jack City, which was direct­ed by Mario Van Pee­bles (son of black inde­pen­dent film direc­tor Melvin), and MC Ham­mer says he's enter­tain­ing sev­er­al offers in hope of going before the cam­eras this sum­mer. ​"Right now, it's the most fash­ion­able time to be black (in Hol­ly­wood)," says Ice T. ​"Hip hop was what put black up front."
John Bad­ham, who direct­ed such films as Sat­ur­day Night Fever and Short Cir­cuit, didn't know LL Cool J from shi­no­la when a cast­ing direc­tor sug­gest­ed him for The Hard Way role. The rapper's poten­tial to attract youth­ful tick­et buy­ers wasn't lost on him. ​"He came over to Uni­ver­sal at 2.30pm (for the audi­tion) and we had a riot. They prac­ti­cal­ly shut down the build­ing because every­body left their desks to see LL Cool J," recalls Bad­ham. ​"I got the point. The last time I saw that kind of atten­tion paid to some­body was when I had to shoot with John Tra­vol­ta in Brook­lyn. LL's only got eight lines (expand­ed from the orig­i­nal one), but test audi­ences rat­ed him third most liked thing in the movie."
LL, who didn't even have to doff his Kan­gol hat and gold chains to play the part, has no illu­sions about why he appears along­side Woods and Fox. ​"The major motion pic­ture indus­try knows that the rap­pers are a way to get to the urban audi­ence. The urban audi­ence gen­er­ates mon­ey. That's it. Mon­ey," he says.
LL has a good point. After all, who, apart from big rap names, could the majors turn to? Apart from Mur­phy and Den­zel Wash­ing­ton, there are vir­tu­al­ly no young lead­ing black men in Hol­ly­wood with the kind of built-in audi­ence that rap­pers deliver.
In his cops-and-rob­bers dra­ma, New Jack City, Mario Van Pee­bles brought in Ice T to bal­ance out the charis­ma of the vil­lain, a suave Harlem crack king­pin played to the hilt by Wes­ley Snipes.
"The tan­gi­ble role mod­el in the inner city is the drug deal­er and the rap­per," explains Van Pee­bles. ​"I could have cast myself, but I want­ed to put some­body there with a real authen­tic street voice. Now the audi­ence will roll in on Ice T's side of the equation."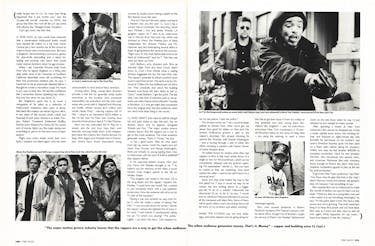 Play­ing a cop was cer­tain­ly no easy trick for Ice T, who has made a career of diss­ing ​"the Man". ​"I was wor­ried about my career," admits the rap­per, with­out the slight­est hint of irony in his voice. ​"I had friends in pen­i­ten­tiaries call­ing me up. ​'Yo what's you play­ing?' ​'The police.' Ugghh. I just don't like them. That hap­pens to be my pet peeve. I hate the police."
For his next movie, Ice T has a much broad­er palette to choose from. After word got out about how good his dailies on New Jack City looked, Hol­ly­wood ground a path to the rapper's doorstep. He's already shoot­ing his sec­ond film, Ric­o­chet, with Den­zel Wash­ing­ton – and is sort­ing through a pile of oth­er film offers, includ­ing a west­ern with Dan­ny Glover of Lethal Weapon fame.
An added bonus for stu­dios when they cast rap­pers in films is that most artists throw in a sin­gle or two for the sound­track, which can be con­ve­nient­ly released with the picture's open­ing. ​"It's exploita­tion," admits LL. ​"But you have to exploit as they are exploit­ing. One hand wash­es the oth­er. I want to be well known on a uni­ver­sal level."
Fame. Isn't that what fuelled hip hop in the first place? Ice T says it would be easy to be cyn­i­cal, but he's look­ing ahead to a big­ger pay-off. ​"If all of a sud­den Hol­ly­wood has dis­cov­ered it's on, so be it," he says. ​"I would love to roll down Hol­ly­wood Boule­vard and see all the mar­quees with black films. Some of them will be good, oth­ers won't, but at least there will be more of my broth­ers and sis­ters working."
While the stu­dios may see only dol­lar signs, and some rap­pers may be going along for the ride to get their faces in front of a mil­lion or two poten­tial new fans, young black film­mak­ers like Sin­gle­ton – and his even-more-pre­co­cious New York coun­ter­part, a 19-year-old Brook­lyn native by the name of Mat­ty Rich – are using the open­ing to push a more mean­ing­ful agen­da. Rich, who wowed audi­ences in Robert Redford's Sun­dance Film Fes­ti­val in Jan­u­ary with his debut effort, Straight Out Of Brook­lyn, caught the tail end of Melvin Van Pee­bles' Sophis­ti­cat­ed Gents on the late show when he was 12 and decid­ed he too want­ed to make movies.
After spend­ing a month at New York University's film school, he dropped out, wrote a script, cajoled some actors into work­ing for free, and financed an eight-minute clip with $I6,000 he bor­rowed on his mother's and sister's Amer­i­can Express cards. He then went on a black radio sta­tion ask­ing for investors. With­in two days he had anoth­er $40,000 to com­plete pro­duc­tion. Next he met Jonathan Demme, who intro­duced him around town, and Amer­i­can Play­house (the only com­pa­ny brave enough to finance last year's Aids sto­ry Long­time Com­pan­ion) agreed to pick up the tab for post-production.
"I call it the Mike Tyson syn­drome," says Rich. ​"You know how he gets that look in the ring? I didn't have any mon­ey but nobody was going to stop me because I had some­thing to say."
Rich recent­ly flew out to Hol­ly­wood to make the rounds of stu­dios, but says he hasn't cut any deals. ​"I think my duty as a young black man and a film-mak­er is to say some­thing mean­ing­ful," he says. ​"At this point, black is hot. We have a lit­tle pow­er and we're grow­ing. The most impor­tant thing is to keep that pow­er and not have black films stop at a point and then have to start all over again. What hap­pened for rap music, I hope that hap­pens in the film industry."
John Singleton's sto­ry is unique in that he went straight to ​'Go' and col­lect­ed his $6 mil­lion, skip­ping the low-bud­get inde­pen­dent-fea­ture or award-win­ning short-film stage. What sets him apart, friends and stu­dio acquain­tances inform me, is that he knows exact­ly what he wants.
In fact, he's known since the age of nine, when his dad­dy took him to see Star Wars. Five years lat­er, upon learn­ing post-ET that Spiel­berg had direct­ed his first movie in his ear­ly 20s, Sin­gle­ton made up his mind to dupli­cate the feat. But don't expect cute bug-eyed aliens to spring from his pen: his decid­ed­ly uncud­dly char­ac­ters are firm­ly based in a harsh reality.
Sin­gle­ton expe­ri­enced the down­side of Reaganomics while grow­ing up in South Cen­tral, first with his moth­er and then, like Boyz lead char­ac­ter Tre Styles, mov­ing in with his father to ​"learn how to become a man". His dia­logue bears the imprint of influ­en­tial mil­i­tant thinkers in the African-Amer­i­can com­mu­ni­ty, from min­is­ter Louis Far­rakhan to rap groups like NWA and Pub­lic Ene­my and, of course, film-mak­er Spike Lee.
Sin­gle­ton vivid­ly remem­bers meet­ing Lee when, aged 18, he attend­ed the open­ing night of She's Got­ta Have It in San­ta Mon­i­ca. ​"Spike wasn't like fron­tish and every­thing. He was real down. That's when I thought, ​'I'm not alone,'" Sin­gle­ton recalls.
Next, the soft-spo­ken, Armani-bespec­ta­cled direc­tor launch­es into a sto­ry about when he was in eighth grade and Rea­gan had declared that ketchup would hence­forth qual­i­fy as a veg­etable in school lunches.
"They said over the PA sys­tem in this inner-city school I was in, ​'The pres­i­dent has just been shot.' When that hap­pened all the kids in the class­room clapped and cheered. We were like, ​'Yaaaay, he got shot!' Even as kids we knew what the pro­gramme was."
Now Sin­gle­ton is in a posi­tion to push his own pro­gramme. Boyz N The Hood traces the lives of three ambi­tious youths try­ing to pur­sue their dreams in a world peo­pled by such role mod­els as crack deal­ers, ​"straw­ber­ries" – women who turn tricks for drugs – and racist cops. Sin­gle­ton says his goal in the film is to cap­ture the under­cur­rent of vio­lence per­me­at­ing life in South Cen­tral with­out mak­ing that the main focus.
As a junior at USC, Sin­gle­ton once stood up in front of 500 fel­low stu­dents and told the pro­duc­er of Col­ors – which starred Sean Penn and Robert Duvall as white cops bat­tling black and His­pan­ic gangs in Los Ange­les – that he had no busi­ness mak­ing the movie because he didn't know any­thing about life in the ghet­to. ​"He said, ​'Well, Ice T wrote the music,'" recalls Sin­gle­ton with rel­ish, ​"and I said, ​'well, Ice T didn't write the fuckin' script.' And every­body clapped."
Boyz touch­es on such press­ing inner-city prob­lems as drugs, teen preg­nan­cy, sin­gle-par­ent house­holds, but, unlike Col­ors and its ilk, the head­line-grab­bing issues are mere­ly back­ground for a film about rela­tion­ships – a father rais­ing his son, a boy learn­ing to respect his girl, home­boys com­ing to terms with their ​'hood.
"If you're not from this neck of the woods, you can't begin to talk about it," explains Ice Cube, who met the direc­tor at a Far­rakhan ral­ly in Los Ange­les two years ago. ​"All your infor­ma­tion is built upon stereo­types and what you think is going on in the inner city. John, he's from here. Hol­ly­wood is start­ing to real­ize that there are black peo­ple who can do bet­ter movies than a lot of these white direc­tors about what's going on in the inner city."
"Cer­tain­ly this is a black sto­ry, as writ­ten by a black man. But more impor­tant­ly it's a uni­ver­sal sto­ry," adds actor Lar­ry Fish­burne (King Of New York), who plays Furi­ous Styles, a father try­ing to guide his son, Tre (Cuba Good­ing), into respon­si­ble man­hood. ​"This is a sto­ry that could hap­pen in any work­ing-class neigh­bour­hood, be it black, white or Technicolor."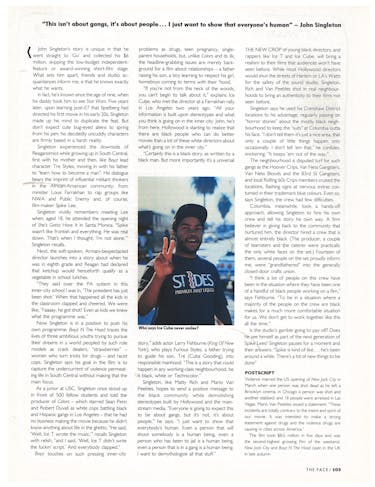 Sin­gle­ton, like Mat­ty Rich and Mario Van Pee­bles, hopes to send a pos­i­tive mes­sage to the black com­mu­ni­ty while demol­ish­ing stereo­types built by Hol­ly­wood and the main­stream media. ​"Every­one is going to expect this to be about gangs, but it's not, it's about peo­ple," he says. ​"I just want to show that everybody's human. Even a per­son that will shoot some­body is a human being, even a per­son who has been to jail is a human being, even a per­son that is in a gang is a human being. I want to demythol­o­gize all that stuff."
The new crop of young black direc­tors, and rap­pers like Ice T and Ice Cube, will bring a real­ism to their films that audi­ences won't have seen before. While most Hol­ly­wood direc­tors would shun the streets of Harlem or LA's Watts for the safe­ty of the sound stu­dio, Sin­gle­ton, Rich and Van Pee­bles shot in real neigh­bour­hoods to bring an authen­tic­i­ty to their films not seen before.
Sin­gle­ton says he used his Cren­shaw Dis­trict loca­tions to his advan­tage, reg­u­lar­ly pass­ing on ​"hor­ror sto­ries" about the most­ly black neigh­bour­hood to keep the ​"suits" at Colum­bia out­ta his face. ​"I don't tell them it's just a nice area, that only a cou­ple of lit­tle things hap­pen only occa­sion­al­ly. I don't tell ​'em that," he con­fides, snick­er­ing. ​"It keeps ​'em out of the way."
The neigh­bour­hood is dis­put­ed turf for such gangs as the Hoover Crips, Van Ness Gang­sters, Van Ness Bloods and the 83rd St Gang­sters, and local Rolling 60s Crips mem­bers cruised the loca­tions, flash­ing signs at ner­vous extras cos­tumed in their trade­mark blue colours. Even so, says Sin­gle­ton, the crew had few difficulties.
Colum­bia, mean­while, took a hands-off approach, allow­ing Sin­gle­ton to hire his own crew and tell his sto­ry his own way. A firm believ­er in giv­ing back to the com­mu­ni­ty that nur­tured him, the direc­tor hired a crew that is almost entire­ly black. (The pro­duc­er, a cou­ple of team­sters and the cater­er were prac­ti­cal­ly the only white faces on the set.) Four­teen of them, sev­er­al peo­ple on the set proud­ly inform me, were ​"grand­fa­thered" into the gen­er­al­ly closed-door crafts union.
"I think a lot of peo­ple on this crew have been in the sit­u­a­tion where they have been one of a hand­ful of black peo­ple work­ing on a film," says Fish­burne. ​"To be in a sit­u­a­tion where a major­i­ty of the peo­ple on the crew are black makes for a much more com­fort­able sit­u­a­tion for us. We don't get to work togeth­er like this all the time."
Is the studio's gam­ble going to pay off? Does he see him­self as part of the next gen­er­a­tion of Spike Lees? Sin­gle­ton paus­es for a moment and then answers. ​"Spike is kind of like… he's been around a while. There's a lot of new things to be done."
John Sin­gle­ton, 6th Jan­u­ary 1968 – 29th April 2019.
---