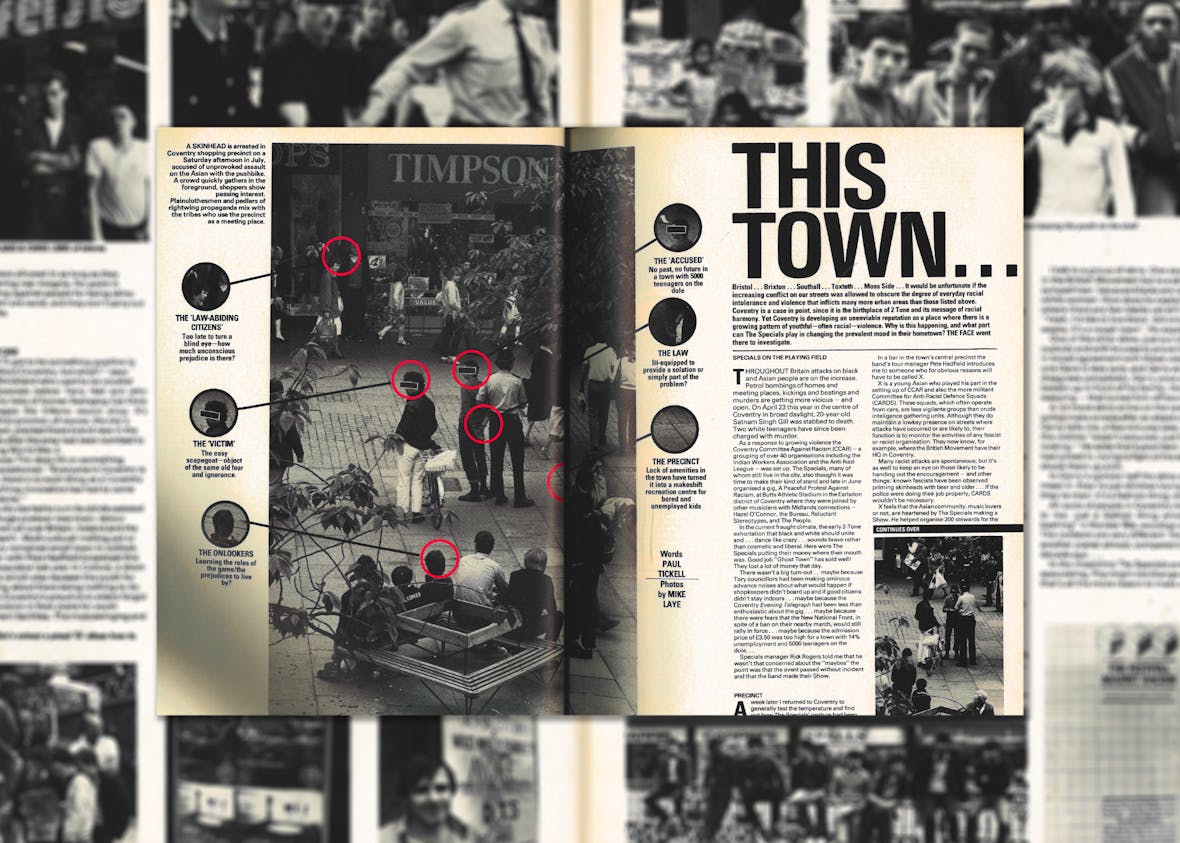 This Town: Chron­i­cling the Racial Ten­sions in Coventry
To cel­e­brate the long-await­ed return of The Face, we have select­ed a stand-out sto­ry from each year of our exten­sive archive, from 1980 to 2004.
Remembered by writer Paul Tickell
"[Founder/​editor] Nick Logan had his eye on any­thing that was of the moment, and that was what The Face was about. I don't think he was overt­ly polit­i­cal, but he was au fait with cer­tain social issues that were going on in the coun­try and he want­ed The Face to reflect that. ​"Ear­li­er that sum­mer there had been racist stab­bings in Coven­try car­ried out by skin­heads. I went there and it was like being in a lot of oth­er British towns because of the shop­ping precinct and so on. You could feel a kind of ten­sion… That wasn't par­tic­u­lar to Coven­try in that broad­er sense, but you had some­thing much more spe­cif­ic there and worse with those stab­bings and actu­al mur­der. I was very aware that not all skin­heads were racist, but some were card-car­ry­ing mem­bers of the Nation­al Front and the British Move­ment. But it's no good if you're just observ­ing them and let­ting them drift away: you've got to engage on some lev­el, which I did. Ghost Town by [Coven­try band] The Spe­cials had just been released. It was a huge song and it got me the sack from review­ing the sin­gles col­umn at NME. I made it run­ner-up, which made me a much-despised fig­ure at NME for some time. But you could say his­to­ry has absolved me: instead I made Sin­gle of The Week a song called Got­ta Stop (Messin' About) by a then rather obscure artist called Prince. The response to the arti­cle was very pos­i­tive, and cer­tain­ly it gave the social­ist work­er-types pause for thought. They'd been dis­miss­ing any­thing to do with The Face as a frip­pery and part of a con­spir­a­cy con­coct­ed by Steve Strange and a cou­ple oth­er fash­ion­able conspirators."
Paul Tick­ell wrote for The Face, Melody Mak­er, NME, Time Out and Elle, before mov­ing into TV in the mid-Eight­ies. He was a producer/​director on Net­work 7 and The South Bank Show. He has since direct­ed dra­mas and fea­ture films, notably Christie Malry's Own Dou­ble-Entry, and con­tin­ues to make doc­u­men­taries on sub­jects rang­ing from Matisse in Moroc­co to Going Postal, about school and work­place shoot­ings in the US
Bris­tol, Brix­ton, Southall, Tox­teth, Moss Side. It would be unfor­tu­nate if the increas­ing con­flict on our streets was allowed to obscure the degree of every­day racial intol­er­ance and vio­lence that inflicts many more urban areas than those list­ed above. Coven­try is a case in point since it is the birth­place of 2-Tone and its mes­sage of racial har­mo­ny. Yet Coven­try is devel­op­ing an unen­vi­able rep­u­ta­tion as a place where there is a grow­ing pat­tern of youth­ful – often racial – vio­lence. Why is this hap­pen­ing, and what part can The Spe­cials play in chang­ing the preva­lent mood in their home­town? The Face went there to investigate.

Through­out Britain attacks on black and Asian peo­ple are on the increase. Petrol bomb­ings of homes and meet­ing places, kick­ings and beat­ings and mur­ders are get­ting more vicious – and open. On April 23 this year in the cen­tre of Coven­try in broad day­light, 20-year-old Sat­nam Singh Gill was stabbed to death. Two white teenagers have since been charged with murder.
As a response to grow­ing vio­lence the Coven­try Com­mit­tee Against Racism (CCAR) – a group­ing of over 40 organ­i­sa­tions includ­ing the Indi­an Work­ers Asso­ci­a­tion and the Anti-Nazi League – was set up. The Spe­cials, many of whom still live in the city, also thought it was time to make their kind of stand and late in June organ­ised a gig, a peace­ful protest against racism, at Butts Ath­let­ic Sta­di­um in the Earls­don dis­trict of Coven­try where they were joined by oth­er musi­cians with Mid­lands con­nec­tions – Hazel O'Connor, the Bureau, Reluc­tant Stereo­types, and The People.
In the cur­rent fraught cli­mate, the ear­ly 2-Tone exhor­ta­tion that black and white should unite and dance like crazy sounds brave rather than cos­met­ic and lib­er­al. Here were The Spe­cials putting their mon­ey where their mouth was. Good job ​'Ghost Town' has sold well! They lost a lot of mon­ey that day.
There wasn't a big turn-out, maybe because Tory coun­cil­lors had been mak­ing omi­nous advance nois­es about what would hap­pen if shop­keep­ers didn't board up and if good cit­i­zens didn't stay indoors… Maybe because the Coven­try Evening Tele­graph had been less than enthu­si­as­tic about the gig, maybe because there were fears that the New Nation­al Front, in spite of a ban on their near­by march, would still ral­ly in force, maybe because the admis­sion price of £3.50 was too high for a town with 14 per cent unem­ploy­ment and 5,000 teenagers on the dole.
Spe­cials man­ag­er Rick Rogers told me that he wasn't that con­cerned about the ​"maybes", the point was that the event passed with­out inci­dent and that the band made their show.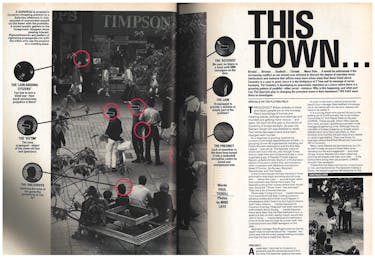 PRECINCT
A week lat­er I returned to Coven­try to gen­er­al­ly test the tem­per­a­ture and find out how The Spe­cials' ges­ture had been received.
In a bar in the town's cen­tral precinct, the band's tour man­ag­er Pete Had­field intro­duces me to some­one who for obvi­ous rea­sons will have to be called X.
X is a young Asian who played his part in the set­ting up of CCAR and also the more mil­i­tant Com­mit­tee for Anti-Racist Defence Squads (CARDS). These squads, which often oper­ate from cars, are less vig­i­lante groups than crude intel­li­gence-gath­er­ing units. Although they do main­tain a low-key pres­ence on streets where attacks have occurred or are like­ly to, their func­tion is to mon­i­tor the activ­i­ties of any fas­cist or racist organ­i­sa­tion. They now know, for exam­ple, where the British Move­ment have their HQ in Coventry.
Many racist attacks are spon­ta­neous, but it's as well to keep an eye on those like­ly to be hand­ing out the encour­age­ment – and oth­er things: known fas­cists have been observed prim­ing skin­heads with beer and cider. If the police were doing their job prop­er­ly, CARDS wouldn't be necessary.
X feels that the Asian com­mu­ni­ty, music lovers or not, are heart­ened by The Spe­cials mak­ing a show. He helped organ­ise 200 stew­ards for the gig. Skins were allowed in as long as they weren't wear­ing Nazi insignia. No point in dis­crim­i­nat­ing against peo­ple for being skins: not aII of them are racist, and they don't car­ry out all the attacks.
RECORD STORE
"There's got to be some­thing pos­i­tive to say about Coven­try, but what?," says Tim Strick­land who used to be vocal­ist with The Spe­cials before Ter­ry Hall and who now, with the help of for­mer Swing­ing Cat Chris Long, man­ages the Infer­no record shop. It's sit­u­at­ed in that precinct, of course, the city's con­crete heart, plant­ed there brand new in the ​'50s and ​'60s after the area had been bombed to rub­ble dur­ing World War 2.
After a pause, Tim does hit on some­thing pos­i­tive­ly para­dox­i­cal: ​"Every­one in Coven­try is an out­sider, there's no such thing as a Coven­try per­son: any­thing inno­v­a­tive has had to come from the outside."
When the city start­ed to turn its old dev­as­tat­ed sites into a huge post­war new town, labour flocked in from all over Britain, Ire­land and the Com­mon­wealth. Mul­ti-cul­tur­al melt­ing pot or not, Coven­try remained a small town in out­look. Tim, togeth­er with Pete Had­field, broad­cast this fact to the pop­u­lace last year in Cul­ture, a short-lived fanzine which also berat­ed the youth for doing noth­ing about there being noth­ing to do.
Years ago Coventry's proud civic elders for­got to make pro­vi­sion in their plans for youth enter­tain­ment facil­i­ties. The most swing­ing and image-con­scious the city got in the ​'60s was when Jim­my Hill came along and gave the foot­ball team a new strip and nick­name. The Sky Blues didn't win much but the thing that mat­tered, the Coven­try thing, was to be go-ahead.
Even now when unem­ploy­ment has caught up so rapid­ly with the once pros­per­ous city, the go-ahead streak won't go away: the local edu­ca­tion author­i­ty is in the process of intro­duc­ing a work train­ing scheme for 14-year-olds – fac­to­ry fod­der for fac­to­ries which are clos­ing down!
"This town is com­ing like a ghost town", The Special's lament. In spite of its nation­wide suc­cess Tim hasn't moved many copies of their sin­gle in the shops. Per­haps, lyri­cal­ly, the song is too uncom­fort­ably close to home.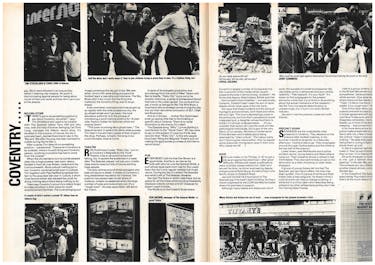 THE­ATRE
Ron Hutchinson's play Risky City, put on at Coventry's Bel­grade by the Youth The­atre, tries to do some home-truth telling, too. It packed the audi­ences in a week after The Spe­cials played; not just your mid­dle-class dra­ma types but lots of young work­ing-class people.
The play cen­tres around three teenagers who beat some­one to death; it draws on Coventry's long-estab­lished rep­u­ta­tion for vio­lence. The precinct has always seen its fair share of vio­lence, notably at week­ends when the large num­ber of pubs and clubs emp­ty out. It's a ​"rough town", the play spec­u­lates: talk about the Yukon…
In spite of its ener­getic pro­duc­tion and bor­row­ings from the work of Peter Ter­son and Bar­rie Keeffe, ​"Risky City" tums out to be emp­ti­ly rhetor­i­cal, a series of clich­es about bored kids lost to the urban sprawl. Too punk and too pat, it ends up being a bit like The Wild Boys, a local band who at strate­gic points dur­ing the play trot out their deriv­a­tive con­coc­tion of SLF, Clash and Buzzcocks.
And so it drones… Author Ron Hutchin­son ends up say­ing lit­tle that is illu­mi­nat­ing or spe­cif­ic about vio­lence. There is no racial dimen­sion to the dra­ma, for a start.
The Spe­cials song ​'Why'; Lyn­val Golding's con­tri­bu­tion to the Ghost Town EP, has more to say on the sub­ject. It's pop but it's far less nar­cot­ic than Risky City. ls this why peo­ple have been fill­ing the Bel­grade The­atre and not mak­ing the appro­pri­ate pur­chase at the Infer­no record shop?
PUB
Every­body told me that Ken Brown is a good bloke. And he is, as nice as his wife with whom he runs the Gen­er­al Wolfe, a pub whose large back-room has for four years been the city's only reg­u­lar reli­able live music venue. Dur­ing the day it's where The Spe­cials and what's left of The Selecter rehearse.
Ken had The Scars in while I was there, but he caters for all the tribes while avoid­ing Rock­a­bil­ly (because nobody comes) and Oi! (because he doesn't want trouble).
The Wolfe is on the Foleshill Road where Coventry's largest num­ber of immi­grants live. Ken is scorn­ful of the media which usu­al­ly presents the area in terms of a big ​"prob­lem". He thinks that Asians, West Indi­ans, British and Irish – Ken him­self is from Enniskillen – mix well local­ly. Cer­tain­ly, Foleshill hasn't seen the sort of racist attacks which oth­er parts of the city have.
Ken says that these inci­dents are the doing of hooli­gans and extrem­ists, both black and white, left and right. This line is depress­ing­ly close to the police one, but from Ken's per­spec­tive (a well-inte­grat­ed pub, a daugh­ter whose boyfriend is Indi­an) it's almost under­stand­able until you con­sid­er that racism isn't just the work of a few patho­log­i­cal indi­vid­u­als, but is part of the very fab­ric of our soci­ety. We have a Con­ser­v­a­tive Prime Min­is­ter who's talked about being swamped by ​"alien cul­ture". The Labour Par­ty don't have a good record either: they've passed some dra­con­ian immi­gra­tion laws in their time. Who needs the NF…?
SHOP
Jas is an Indi­an in his thir­ties. In ​'67 he got a job as an appren­tice elec­tri­cian after great dif­fi­cul­ty. Whites with less­er qual­i­fi­ca­tions were rou­tine­ly cho­sen before him. After he served his time, he did an engi­neer­ing degree and got a job at Rolls Royce, but left to help in the fam­i­ly shops on Foleshill Road.
Jas told me that he'd have gone to The Spe­cials gig if he hadn't been work­ing. Dur­ing a march organ­ised by the CCAR last May, he closed down his premis­es in sup­port. Although many blacks and Asians are out of work, the suc­cess of a small busi­ness­man like Jas makes some unem­ployed and poor whites resent­ful. ​"Paki bas­tard! It's your fault!" It's eas­i­er to find scape­goats for the present eco­nom­ic cri­sis than it is to think or do any­thing about the actu­al mechan­ics of the reces­sion – like the Tory mon­e­tarist deter­mi­na­tion to unswerv­ing­ly (no U-turn!) run down British industry.
Jas won't vis­it the precinct unless he's with friends.
PRECINT AGAIN

Skin­heads are the most vis­i­ble trib­al pres­ence in Coven­try. They descend on the precinct after foot­ball match­es. In the sum­mer it tends to be ear­li­er on a Sat­ur­day after­noon: nowhere else to go. They con­gre­gate around the Lady Godi­va stat­ue and the toi­lets at the top half of the precinct.
Low­er down, past Moth­er­care and a police inci­dent cen­tre, young Asians and West Indi­ans hang out. Their pres­ence shows a refusal to feel intim­i­dat­ed. They also want to keep an eye on the skins who have a habit of pick­ing on old­er Asian shoppers.
A group of young Asians tell me that The Spe­cials' gig has had an effect; the town has been qui­eter. One of a group of white and West Indi­an lads is less san­guine: he doesn't think a cul­tur­al event can help to change any­thing. A white kid in a Union Jack T-shirt describes being picked on by oth­er whites because they don't like him hav­ing black friends.
I talk to a group of skins. One says that he isn't in the British Move­ment but is a strong sym­pa­this­er: because blacks are tak­ing jobs and white women. How does he explain Glas­gow, where there are few blacks yet still no jobs? ​"Yeah, I'd like to live there: did once for six weeks. It's a rough town." No explanation.
One of the oth­er skins, just out of police cus­tody and with bruis­es to prove it, seems to be in broad agree­ment with these views. Anoth­er one, Dave, is less sure, and Ger­ry, an ex-skin, dis­agrees com­plete­ly. Ger­ry once saw an Asian beat­en up in front of his fam­i­ly; the chil­dren weep­ing – that turned him off bovver.
A lot more skins arrive on the scene and the police make arrests after an attack on passers-by. Ger­ry tells me, a few min­utes lat­er, that one of the vic­tims ​"wasn't coloured, just Ital­ian look­ing." He adds that bystanders – ​"stiffs" – had joined in, try­ing to fight off the skins: that had shook them up a bit.
In Gerry's opin­ion half the skins don't real­ly mean it: they're just chil­dren try­ing to prove they're men: it's a fash­ion thing, too. All sorts of peo­ple in Coven­try men­tioned that to me: just a fash­ion thing which, like ​"Paki-bash­ing" in the late ​'60s, would go away. Maybe. The con­texts are very dif­fer­ent: the ear­ly ​'80s, anoth­er plan­et almost, com­pared to over a decade ago.
In the mean­time, The Spe­cials aren't spec­u­lat­ing. Pop might not change any­thing, but that's all the more rea­son to make a show.
---