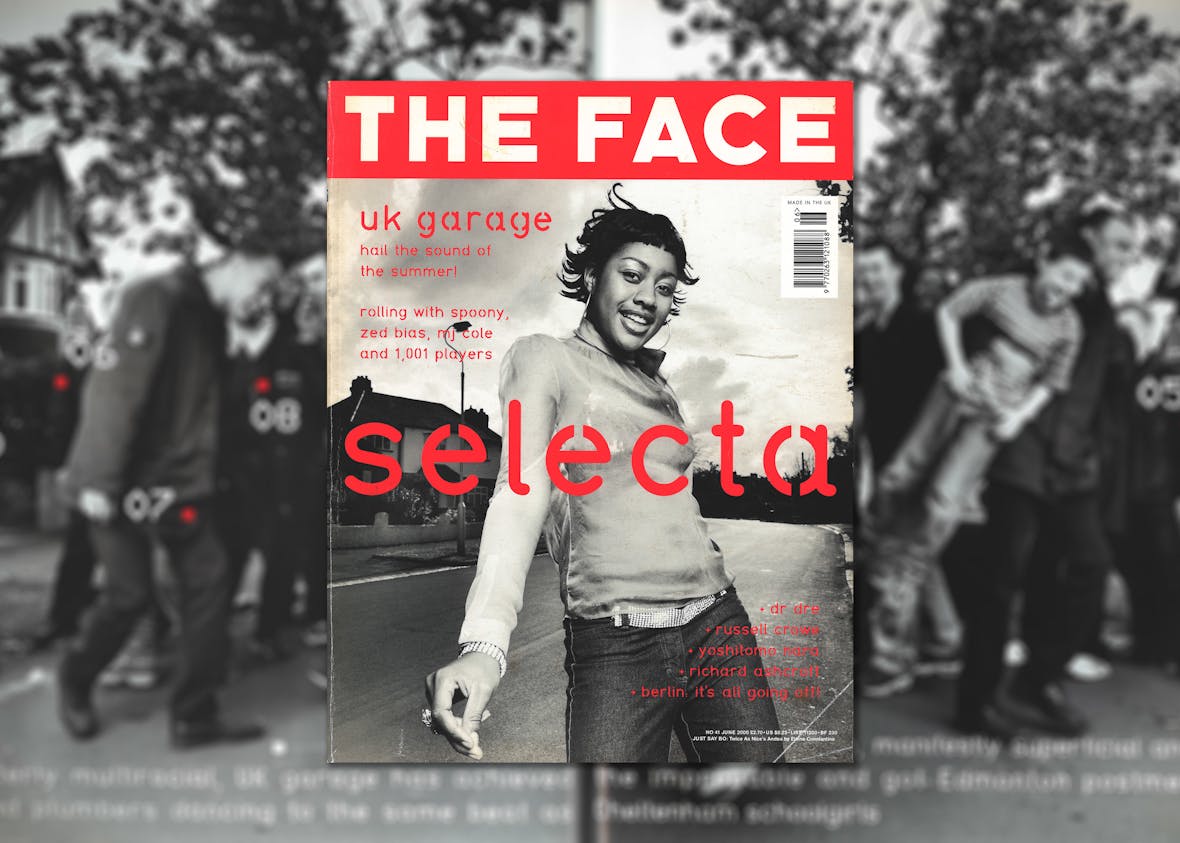 UK

Garage
To cel­e­brate the long-await­ed return of The Face, we have select­ed a stand-out sto­ry from each year of our exten­sive archive, from 1980 to 2004.
Remembered by writer Kevin Braddock
"There were lots of dif­fer­ent under­ground dance scenes in the Nineties, like trip-hop, big beat and what came to be known as UK Garage. Mike Skin­ner from The Streets was part of it in a rather abstract way – he just seemed to be at the lev­el of street youth cul­ture. I was liv­ing in East Lon­don at the time so I kind of noticed all this. I'd hear it on cars going past and think: ​'What is this music?' Then you'd flip through the pirate radio dials and think: ​'This is an inter­est­ing sta­tion, what's this stuff?' It hadn't bro­ken through; it cer­tain­ly hadn't got to the Craig David lev­el of hav­ing a num­ber one with Rewind. UK Garage was very street, raw, it had a cer­tain speed and aggres­sion to it. It wasn't smooth. It res­onat­ed with the feel­ing of walk­ing around East Lon­don feel­ing slight­ly off your head and think­ing: ​'I wan­na go and drink cham­pagne in some weird bar tonight!' It was par­ty music, and it was the sound of that time. After the fea­ture came out, I remem­ber bump­ing into [then Radio 1 DJ] Spoony in Soho. He was dri­ving a very flash car. He pulled over, jumped out and we had a nice lit­tle chat. He was, by that point, pret­ty famous. This must've been six months or a year lat­er. The Face was able to get to things ever-so-slight­ly before every­one else did, and this was a real­ly good exam­ple of that."
Kevin Brad­dock was Fea­tures Edi­tor on The Face 2000 – 2002. He is the founder of Torch­light Sys­tem: Sto­ry­telling for Recov­ery and author of Every­thing Begins with Ask­ing for Help (Kyle Books).
torch​light​sys​tem​.com, insta: @torchlight_system
It's shak­ing up the clubs, blast­ing from the pirates, eat­ing the Top 40 alive. And it could only have hap­pened here. The Face takes you on a tour of the places and faces build­ing the century's first pop phe­nom­e­non. Rewind? For­ward, fast!
The 3 Kings Wook­ie, Spoony and MC Neat go head to head in our garage con­fer­ence. Thrice as nice…
"Thing is, peo­ple here have grown up look­ing up to big Amer­i­can stars, but why should we? We're the play­ers now." – MC Neat
"I'd say, for the past sev­en or eight weeks, Twice As Nice has end­ed with me play­ing a Wook­ie tune, Wook­ie in the crowd and MC Neat next to me just boost­ing it, boost­ing the music, the DJs, the peo­ple, the vibe, everything."
"I always keep my best tunes till last, and three out of the last four could be Wook­ie tunes. That's how good he is." – DJ Spoony
"He's biased." – Wookie
If 27-year-old Jason ​'Wook­ie' Chue is the future of black British music, the build­ing in which he's spent sev­en years mar­shalling rene­gade snares and throb­bing basslines is the mon­u­ment to its past. Off an inaus­pi­cious Cam­den back street, the walls of Soul II Soul's stu­dio are hung with the trea­sure of the UK's last ful­ly requit­ed tan­gle with R&B. Once buzzed through the front doors, you find no less than three plat­inum and 18 gold discs on the walls – proof that even a place as driz­zly as the UK can get jig­gy on a nation­al scale when it real­ly wants to.
Wook­ie has spent most of his twen­ties work­ing here with Brit R&B chan­cel­lor Jazz­ie B, look­ing for ways to para­chute black music into main­stream con­scious­ness. Between them, they've agreed that the agi­tat­ed pow­er-shuf­fle of UK garage offers the best chance. The exclu­sive dep­u­ta­tion of A&R men who have heard dub­plates of Wookie's thun­der­ing new Bat­tle tune share the same con­vic­tion. In an A&R bub­ble econ­o­my cur­rent­ly afloat on blis­ter­ing­ly hot white labels, Wookie's new tune couldn't be more on the mon­ey if it was Gor­don Brown's pock­et calculator.
Wook­ie is fly­ing to New York to work with Ang­ie Stone tomor­row, but don't expect him to make much of the fact. This pro­found­ly con­sid­ered young man does not do ​'large'. He leaves that to col­leagues ​'at the sharp end' of UK garage. And so it goes that, when they present­ly bun­dle into Wookie's stu­dio, DJ Spoony and MC Neat bring with them a room­ful of cost­ly sun­glass­es, half-demol­ished Burg­er King take­aways, gold teeth, glot­tal stops, trad­ed fists, big rings and mas­sive laughs.

Craig David might be the pin-up of UK garage, but Spoony is its ambas­sador. The 29-year-old DJ and Dreem Teem mem­ber may describe him­self as ​"not exact­ly the fin­ished prod­uct as a broad­cast­er", but read­i­ly deliv­ers a line of end­less­ly enter­tain­ing ban­ter that couldn't be more suit­ed to the speed bur­ble of the Dreem Teem's Sun­day morn­ing show on Radio 1. He drove here in his Merc, has a Nokia pro­grammed with the James Bond theme, and refus­es to remove his sun­glass­es for fear the very act might dis­pel today's erup­tion of sun­shine. Mean­while, MC Neat could pass for Britain's Hard­est Man, but sounds like the soft­est when he begins to talk, which is not often. Pecu­liar­ly for an MC, he's giv­en to deep oceans of silence – though that's pos­si­bly because Neat sim­ply knows exact­ly when to talk and when not to. MCing has been his trade from the age of 11, after all.
UK garage's holy trin­i­ty have good rea­son to be so chip­per. It's due in part to its own abort­ed club­land siege of three years ago that UK garage is 2000's most excit­ing sound. Three years ago, the 1997-mod­el speed garage failed to cross over. It was snubbed by ​'cool' club­land and nation­al radio, mis­rep­re­sent­ed by the media and gen­er­al­ly mis­un­der­stood by the music biz. On the third year, UK garage rose again. This time, everyone's pay­ing attention.
But don't wor­ry if you didn't see it com­ing among this year's oth­er cul­tur­al blips – most of the music busi­ness was look­ing the oth­er way as well. Eas­i­ly the best thing about this UK garage is its trans­for­ma­tion from a per­sis­tent thud under the floor­boards and across the dark­er reach­es of the FM spec­trum into a chart-bust­ing ​'phe­nom­e­non' – one deliv­er­ing Moloko-sized and Art­ful Dodger-shaped guer­ril­la hits at a rate that leaves most music biz exec­u­tives ner­vous­ly thumb­ing through their cheque­book stubs.
UK garage 2000's most sat­is­fy­ing fea­ture, how­ev­er, is the way it struts around the upper reach­es of the charts like it was born to do so, yet con­tin­ues to rule dance music's under­ground through a pirate econ­o­my run on pure essence of rude. As instant, avail­able and throw­away as Steps, no less cred­i­ble than trip-hop, UK hip-hop, nu dis­co, trance, drum and bass, big beat, epic, pro­gres­sive and tech house put togeth­er, proud­ly sub­ur­ban, man­i­fest­ly super­fi­cial and utter­ly mul­tira­cial, UK garage has achieved the improb­a­ble and got Edmon­ton post­men and plumbers danc­ing to the same beat as Chel­tenham school­girls. That's why Sum­mer 2000 is the Sum­mer of UK garage.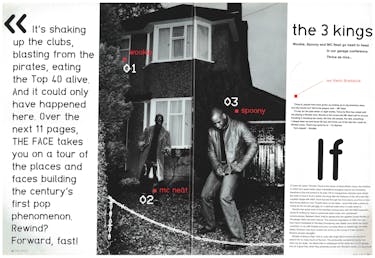 "Jay Da Flex: Lon­don is the cen­tre of the world when it comes to music. We're open to any­one with good songs"
But if UK garage's sin­gle-mind­ed­ly get-down imper­a­tive is so ergonom­i­cal­ly cor­rect for a nation that just wants to par­ty, that's pre­cise­ly because its sig­na­ture tunes bridge the dis­tance between the chart­land and the under­ground. Face it: from Zed Bias' growl-bass Neigh­bour­hood to Sweet Female Attitude's ban­tamweight Flow­ers, most under­ground tracks are so effer­ves­cent­ly pop­py that they would sim­ply blimp off into the upper ionos­phere if they weren't rigged to the urban expe­ri­ence by the weight of their own basslines.
And so Shanks & Bigfoot's Sweet Like Choco­late and Art­ful Dodger's Re-Rewind may have smug­gled two-step into the charts and giv­en a high-res TOTP gloss to the scene – to the tune of 700,000 copies, in the latter's case. But it's indie-launched salvoes like DJ Luck & MC Neat's Lit­tle Bit Of Luck and N'n'G vs Callaghan's Right Before My Eyes (chart entry plac­ings: 11 and 12 respec­tive­ly) that are the true phe­nom­e­na, the peo­ples choice anthems that have been sta­ples of the garage cir­cuit for years. But while many are being painstak­ing­ly ser­viced by major record com­pa­nies, even more are read­i­ly avail­able for £5.99 over the counter of a base­ment record store, or on a crack­ly FM pirate, or pump­ing out of the bass bins at Twice As Nice every Sun­day. This Sum­mer, it's Spoony, Wook­ie and MC Neat's world. We just go club­bing in it.

Why has it tak­en UK garage so long to arrive?
MC Neat: The way I look at it, Joe Pub­lic has spo­ken. Final­ly. All it is is expo­sure. He's been try­ing to speak for so long, but no one's been lis­ten­ing. The peo­ple who know the tunes is the street. And they buy the tunes.
Spoony: Pound for pound, peo­ple have the choice. They can buy Oasis or they can buy UK garage. And they buy UK garage.
UK garage is new­ly respectable, but isn't the most excit­ing aspect to its tri­umph the way it's been man­aged through an inde­pen­dent pirate economy?
Wook­ie: It only takes less than 10,000 sin­gles to get in the charts legal­ly. If you put a bar­code on a tune the way you're sup­posed to, you're in the charts straight­away. If peo­ple had done that in the first place, under­ground would have been in the charts a long, long time ago.
MC Neat: Try and hit a major with this music five or six years ago, they'd think you were a nut­ter. Straight­jack­et. Off you go. But because the majors dissed garage, we had to build it all up on its own. They didn't want this to hap­pen! We're the win­ners now, though. We sur­vived, we held out, we've got a healthy club scene.
Spoony: We've been in the trench­es, run­ning around sell­ing 2,000 copies on our own in the street, dodg­ing the police on the way into tow­er blocks, turn­ing up at the venues with no mic. But maybe what hap­pened in the past is a bless­ing in dis­guise. Build­ing foun­da­tions, get­ting roots is what it's all been about. Everyone's gone up to the moun­tains and come back stronger and wiser.
Last year, Twice As Nice ran a five-date nation­al tour; this year, there's a 45-date tour planned. That sounds more like a nation­al club­land phe­nom­e­non than strict­ly a Lon­don thing.
Spoony: Demo­graph­i­cal­ly, all the places that are sim­i­lar to Lon­don are feel­ing the music: Man­ches­ter, Sheffield, Bris­tol, Cardiff, Hud­der­s­field, Wolver­hamp­ton, Leeds – big cities where black peo­ple are liv­ing next to white peo­ple in coun­cil flats, not white peo­ple liv­ing in sub­ur­bia and black peo­ple liv­ing in the slums.
MC Neat: Up north now it's like, yeah! You come on after a local DJ and MC, and it's like a switch. It becomes a dif­fer­ent rave.
Spoony: That's because Neat gets all the groupies.
Wook­ie: Dem feel up yuh batty…
It's rumoured that Oxide Neutrino's Bound 4 Da Reload was licensed by East­West for £150,000…
Spoony: I heard it was more like £100,000. But it's still sil­ly money.
Wook­ie: The majors are hun­gry. They're see­ing under­ground artists mak­ing so much mon­ey on their own, sell­ing 15,000 vinyl sin­gles. Majors can't sell 15,000 vinyls. They want a piece of it, so they're sign­ing what­ev­er they see first. That's why they threw big mon­ey at DJ Dee Kline for I Don't Smoke. That kind of thing could break the scene. They did the same thing to drum and bass.
Are tunes like I Don't Smoke – sam­pled from ​'come­di­an' Jim Davidson's Chalkie char­ac­ter – giv­ing garage a bad name by being more pop­ulist than it already is? And it could hard­ly get more pop­ulist, could it?
Spoony: I don't like Bound 4 Da Reload; I'm not into I Don't Smoke either. If DJ Dee Kline came tomor­row with some­thing I liked, I'd play it.
But not that record In the last year, UK garage records have sam­pled Flat Eric, Whit­ney Hous­ton, Faith Evans, Armand Van Hei­den, Star­dust, Ed Rush, the theme tunes to Rocky, Super­man, Dr Who, Blue Peter and Eas­t­En­ders, I-Roy, Bel Biv Devoe, Ali G, Baby D and Pub­lic Ene­my. Sure­ly that's a sign of the scene's vital­i­ty and imagination?
Wook­ie: But a lot of those tunes are cheap shots. You shouldn't have mon­ey in mind when you're mak­ing music. Bound 4 Da Reload has tak­en things peo­ple know: to get a hit, you need to use some­thing the pub­lic know. But that's blatant.
"UK garage's audi­ence demo­graph­ic is approx­i­mate­ly the same as that of Boyzone."
Neat: But they're run­ning out and buy­ing Sweet Female Attitude's Flow­ers instead of Boyzone.
Spoony: It's def­i­nite­ly about the kids – that's who the audi­ence is. I played a Mon­day night at Cam­den Palace: three thou­sand kids. Sat­ur­day night when it's all adults in there, you can't park for miles; but on this Mon­day I parked straight up out­side. It was rammed like I've nev­er ever seen it before. But out­side, you wouldn't have known it was open
Neat: No cars! I did some­thing there with Dane from Anoth­er Lev­el, and there were 3,800 kids there.

Spoony: First track I played was N'n'G's Right Before My Eyes and they went mad, singing every word. I thought: ​"This is what it's all about."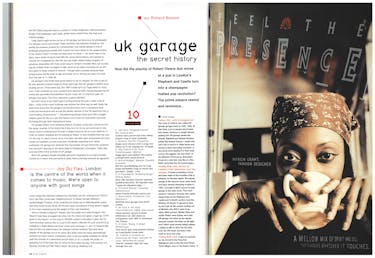 Craig David is reput­ed to have turned his back on UK garage to con­cen­trate of a career as a ​'seri­ous R&B artist'. A wise move?
Spoony: Right now, the labels are drop­ping R&B acts because they're flip­ping over garage. It would make so much sense for UK R&B vocal­ists to col­lab­o­rate with UK garage pro­duc­ers. Dane from Anoth­er Lev­el did Bug­gin' with True Step­pers. Now, if we put Lyn­den David Hall in a stu­dio, we'd have anoth­er hit. They took Kele Le Roc from garage because they want­ed her to do R&B. Now they want her to do garage. They'll get West­life to do R&B, so why do they need Kele Le Roe to do it? As it is, UK R&B is still a poor sub­sti­tute to Lau­ryn Hill, Puff Dad­dy and Big­gie Smalls. The dif­fer­ence is that UK garage is what it is. Wook­ie is Wook­ie: he's not Roger Sanchez in dis­guise. UK garage is real, it's unique, it's got total­ly its own identity.
With that, MC Neat bus­tles out into Cam­den, leav­ing the pro­duc­er and the DJ to pore over Wookie's lat­est track, Joy & Pain, a lis­som bal­lad cranked up by angu­lar two-step rhythms. ​"Too mel­low for the dance­floor," judges Spoony. Nev­er­the­less, he prac­ti­cal­ly melts into his swiv­el­ling chair, wear­ing a smile as Wide as the horizon.
To recap, then: hav­ing been stolen from the USA, gone ​'dark', been reduced to a cliché of black men, white girls and Krug, bur­rowed under­ground, sub­di­vid­ed from four-four into two-step and rewound its way to num­ber one, UK garage couldn't be any more real even if it need­ed to be.
Appear­ances on con­cept albums and wash­ing pow­der adverts may well be immi­nent. But right now, locked into the under­ground, locked onto the charts, UK garage is exact­ly where we need it to be. A'ight?
UK Garage: The Secret History
How did the play­ing of Robert Owens dub mix­es at a pub in London's Ele­phant and Cas­tle turn into a cham­pagne-fuelled pop rev­o­lu­tion? The prime play­ers rewind and reminisce…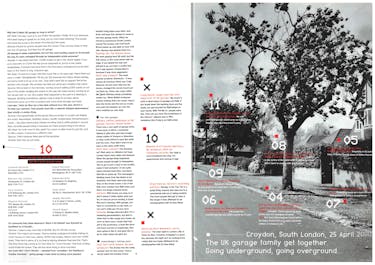 FIRST STEPS
Colour Girl, artist/​songwriter: The roots of what is now called UK garage go right back to 1992/1993. At that time, a lot of peo­ple who'd been Into house, hard­core or jun­gle start­ed get­ting Into US garage: labels like Smack, Eight­ball and Strict­ly Rhythm, artists like Robert Owens – music that had a bit of soul In It, while house and hard­core were becom­ing for­mu­la­ic. A few clubs were play­ing it in their main rooms; the biggest one was Rulin' at the Min­istry Of Sound on Sat­ur­days. It was at a club that was like an after-Rulin' par­ty that the UK sound began…
Tim­my Ram Jam, own­er of Lon­don clubs Aquar­i­um and The Tem­ple: I'd been pro­mot­ing a drum and bass night at the Par­adise Club in Isling­ton on Sun­day nights. We played garage in the sec­ond room; when drum and bass start­ed attract­ing trou­ble in 1993, I brought In Matt Lam­ont to play garage In the main room. Then that Sum­mer I start­ed a Sun­day club called Hap­py Days at the Ele­phant And Cas­tle pub In South Lon­don, near the Min­istry Of Sound. It opened at 9am, so we'd get all the peo­ple com­ing out of Min­istry who didn't want to go home. Matt Lam­ont, Mick­ey Sims and Justin Can­tor were DJl­ng; we'd play US garage, but pitch up the speed because peo­ple had been up all night and I didn't want peo­ple falling asleep. I added an MC to drop the UK style onto the US music because I was used to drum and bass.
Tim­my Ram Jam: It got too packed, so we moved to the Frog And Night­gown pub on the Old Kent Road; Tim­mi Mag­ic, now in The Dreem Teem, start­ed DJing there soon after. And drum and bass DJs start­ed to come in and play garage music. When we moved to [cav­ernous South Lon­don venue] The Arch­es, Karl Tuff Enuff Brown joined up with Matt to form Tuff Jam. Spoony was play­ing there too…
Spoony, OJ, The Dreem Teem: We were play­ing hard US stuff, but the dub mix­es, or the vocal mix­es with an edge. If you played the dub and pitched it up, you kept a soul­ful feel but it was spars­er. Peo­ple liked it because it was more aggressive.
Matt Jam Lam­ont: The most pop­u­lar pro­duc­er (Amer­i­can – it was almost all Amer­i­can then) was Todd Edwards. He put more skip into his drums, changed the vocals round and cut them up. There was a guy called MK [Mark Kitchen] doing some­thing sim­i­lar too. When British pro­duc­ers start­ed mak­ing their own music, they'd take the drums and the cut-up vocals, and push the bassline up a bit. We were cre­at­ing our own style.


FOR THE PEOPLE

Juliano, editor/​pub­lish­er of UK garage fanzine Sound Guide: There was a new spir­it at garage clubs. It was sexy; it still is. I remem­ber talk­ing to girls who said they bought cheap copies of Ver­sace or Moschi­no so they could afford to wear the out­fit just the once. They didn't want to be seen in the same out­fit twice.
Matt Jam Lam­ont: The dress­ing up? Well, ear­ly on, Min­istry had huge crowds which were real­ly well dressed. When the garage thing hap­pened, cer­tain peo­ple thought to them­selves, ​"We've got to put a stop to any trou­ble, make it feel exclu­sive." It was quite black-ori­ent­ed back then, and black kids like to dress up. The cham­pagne-drink­ing came from the desire to be exclu­sive. And there were less drugs than on the house scene: a lot of the kids were com­ing from R&B clubs, and that's not drugs-ori­ent­ed music.
Juliano: With house, you drop an E and It doesn't real­ly mat­ter what you do; so long as you're mov­ing, it looks like you're danc­ing. With garage, you have to con­cen­trate on the beat, so you can't real­ly get off your face.

Spoony: Garage attract­ed girls. It's a sweep­ing gen­er­al­i­sa­tion, but girls in clubs tend to like songs and vocals. As soon as there was a music that had grit in the pro­duc­tion, a beat like drum and bass and lots of sin­ga­longs, they were going to like it. And guys like to go to clubs where girls are.

SOMETHING'S TAK­ING OVER
Karl Tuff Enuff Brown, DJ and pro­duc­er: The arch­es was the real­ly sem­i­nal club for that scene. Then a cir­cuit called the Sun­day Scene devel­oped, with Spread Love at the Gass Club, which was very impor­tant, The Yacht Club at Tem­ple Pier and oth­ers. I'd go out work­ing on Sat­ur­day nights, then dri­ve to the Yacht Club and sleep in the car until it opened.
Colour Girl: The UK sound start­ed to take over around 1996. I used to go to US garage club Horny at Leg­ends In the West End on Thurs­days; in 1995 they were play­ing US stuff like Mari­ah Carey's Dreamlover and the Morales mix of Jamiroquai's Space Cow­boy. There was a group of young British pro­duc­ers, DJs and musi­cians, like me and Tim­mi Mag­ic, who want­ed to make garage music, but the peo­ple who ran clubs like Horny were scep­ti­cal. And then in 1996, their crowd start­ed chang­ing from being cool and trendy, to young kids who'd heard ear­ly UK garage on the pirates and were ask­ing for the records. By the end of that year, Matt Jam Lam­ont and Tim­mi Mag­ic were play­ing, the club was using pirate garage DJs and MCs, and they'd host­ed the launch par­ty for my Things Are Nev­er sin­gle – the first UK garage track to be playlist­ed on Kiss.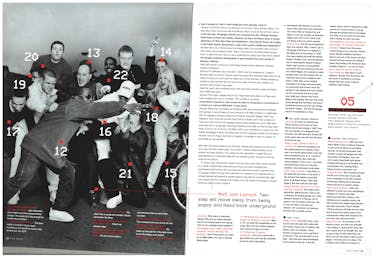 THE ​'SPEED GARAGE' DEBACLE
Spoony: In terms of nation­al hits, Nev­er Gonna Let You Go by Tina Moore set the ball rolling In 1997. That was an exam­ple of a stripped-down US track. And RIP Groove's Dou­ble 99 In the same year was the first UK track to go all the way.
Andy Lewis, head of A&R at Locked On: Record com­pa­nies and the media jumped too quick­ly. There was a six-month peri­od when every big dance pub­li­ca­tion got on it – bot­tle of cham­pagne, black guy, white girl, ​'speed garage' on the cov­er and they ham­mered that vision of a big sub-bassline, time-stretched vocals style…
Matt Jam Lam­ont: They fixed on the style RIP had done on the back of the Armand Van Helden sound [his remix of Sneak­er Pimps Spin Spin Sug­ar]. But that was just one style.
Tony Portel­li, direc­tor of Four Lib­er­ty records: The majors did a typ­i­cal Job, telling Europe, ​"This Is 187 Lock­down, the speed garage act." They released Kung Fu in Europe, and it wasn't a hit, so peo­ple could say, ​"Oh, it's all over then", and they lost inter­est. 187 Lock­down are tal­ent­ed, but that was a nov­el­ty record.

TWO-STEP!
Andy Lewis: Just after that, a new sound come through with tracks like The Dreem Teem's mix of Amira's My Desire, Dem 2's Des­tiny, Steve Gurley's Lessons In Love and Spir­it of the Sun. This was the start of two-step – the style that uses break­beats at two beats to the bar. It has the skip­py drums, and it's basi­cal­ly an R&B groove at a house tem­po. If you go through the pirates they're all play­ing two-step, and of course, tt's two-step that's hav­ing the chart success.
Huck­le­ber­ry Finn, DJ, pro­duc­er and buy­er at Uptown Records, Lon­don: Sweet Like Choco­late moved things on in a big way. Peo­ple knock Shanks & Big­foot because they're not part of the scene, but they showed the way for­ward by tak­ing it pop­py and hav­ing a hit. Every­one else thought, ​"Hang on – we can do that!"
Daue Nor­ton, press offi­cer, Four Lib­er­ty: And when it went plat­inum, Sweet Like Choco­late did the most of any­thing to con­vince peo­ple that this music could be day­time-radio friendly.
Huck­le­ber­ry Finn: A&R men from major labels come to Uptown Records to ask what we think are promis­ing records. Up till last Novem­ber, they wouldn't accept UK garage. But that was before Re-Rewind. And now we've seen Craig David and Sweet Female Atti­tude go in at num­ber one and num­ber two, beat­ing Steps. Dance music is pop music now.

Tony Portel­li: We're look­ing beyond the UK now. Every day we get calls from com­pa­nies In the US, Aus­tralia and Europe ask­ing about licens­ing tracks and how to con­tact artists.
Matt Jam Lam­ont: There are dif­fer­ent crowds now, and everything's bridg­ing off. There's the R&B-influenced stuff like Flow­ers, the mid­dle ground, bassline tracks, the RIP, Armand Van Hei­den-type grooves, and dark tunes like I Don't Smoke. I think pro­duc­ers will take the two-step sound away from being pop­py, back under­ground. When that hap­pens, the four/​four beat will come back.
Tony Portel­li: It's become a very diverse scene, and that's its strength. I was talk­ing to Jazz­ie B the oth­er day, and I asked him If he thought this was as big as Soul II Soul when they had hits In the US. He reck­ons this is much big­ger: ​"That was just our clique. This is mil­lions and mil­lions of cliques."
London's Twice As Nice is still the cru­cible of UK garage clubs. But around the coun­try, the gol­drush is on…
Karl Tuff Enuff Brown remem­bers the ​'old' days. ​"Over the last 12 months, it's all changed. It seems like I've blinked and gone from play­ing to the reg­u­lar, mature crowd of ravers who used to go to The Arch­es, and now it's all teenagers!"
The queue check­ing each oth­er out­side London's Twice As Nice is no longer the arche­typ­al UK garage snap­shot. You only have to lis­ten to the ​'nation's favourite' on a Sun­day – The Dreem Teem report that most callers to their Radio 1 show are from out­side Lon­don, while at the oth­er end of the after­noon, no Top 40 run­down this spring has been com­plete with­out a com­ple­ment of garage tunes fir­ing into the upper­most chart positions.
Scott Gar­cia might not agree, but it's clear­ly not the case that It's A Lon­don Thing. UK garage is, at last, liv­ing up to its name.
"It's com­plete­ly crossed over all over the coun­try," says Jean Branch, pro­gram­ming direc­tor of Galaxy FM, the Leeds sta­tion from which Radio 1 poached The Dreem Teem. ​"It's a real scene that's grown organ­i­cal­ly over the last cou­ple of years. Radio One want to own this music now, but nobody can. You can get Radio 1 play­ing your song, but with­out the under­ground and the pirates, it won't be a hit. There's pirates all over Britain now."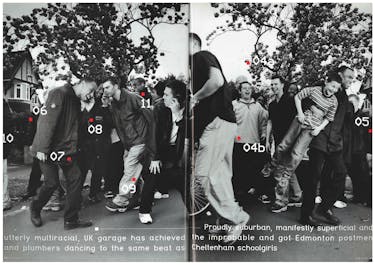 From the Mint Club in Leeds to Cul­tur­al Vibes in Southend, The Matrix in Read­ing to Silk City and Har­mo­ny in Birm­ing­ham, every city in Britain boasts some kind of garage night. Some are recent replace­ments for tra­di­tion­al Sat­ur­day par­ty venues; oth­ers are more gen­uine­ly grass­roots. But the net effect is the estab­lish­ment of a tight­ly-knit net­work of DJs, MCs and pirate sta­tions like Nottingham's long-run­ning Scene FM. Andy Ward of Galaxy FM now plays all over the Mid­lands, from slip­ping Art­ful Dodger in amongst four-to-the-floor house at Miss Mon­eypen­ny to strict­ly under­ground raves at the Pink Coconut in Der­by. ​"I doubt you'll ever see a garage room in Gate­crash­er," he jokes, ​"but I've even got Milk in Belfast ring­ing up to get me playing."
The ini­tial sub-bass rush of ​'speed garage' might have floun­dered out­side the Home Coun­ties but Juliano reck­ons that it laid the ground­work for this year's explo­sion. ​"It stayed stag­nant in Lon­don for a cou­ple of years," he says, ​"but that meant the DJs and MCs learned to be a bit more pro­fes­sion­al, learned how the busi­ness works. Now the scene has roots: it won't be blown over in a hur­ry." The sup­port net­work for UK garage always exist­ed. From the Hacien­da to Southport's soul week­enders, the Nineties saw strong enthu­si­asm for garage's gospel-voiced Amer­i­can cousin – par­tic­u­lar­ly in North­ern clubs, where the affec­tion for US garage took longer to wane. DJs like Bristol's Kevin Real Deal and Andy Ward in Birm­ing­ham all start­ed out play­ing Ker­ri Chan­dler records.

"I used to play US garage," says Kevin, ​"but about four years ago Amer­i­can records were very light­weight and British tunes were a lit­tle heav­ier. Now if I try and play any US records the crowd sim­ply won't have it. They see it as house music and they're not interested."
Garage might now be the nation's favourite sound, but each city has its own take: ​"Bournemouth is still on the old soul­ful sound, so you've got to bal­ance out what you play," enthus­es Karl Tuff Enuff Brown. ​"In Essex its a mix of the old garage stuff with some of the real drum and bass-y stuff. Up North the music is hard­er. Two-step is mas­sive in Birm­ing­ham. The place is renowned for it! They've been brought up with a real­ly strong reg­gae vibe and that tells in the garage they like."
Region­al flavours aside, Britain's dance­floors, it seems, have been caught in a pin­cer move­ment affect­ed by two high­ly unlike­ly allies: club­bers and chil­dren. ​"If you go to a chris­ten­ing now it'll be play­ing garage," says Andy Ward. ​"My brother's ten and he knows the words to Flow­ers. I've seen a girl as young as three sit­ting on her dad's knee singing along to Sweet Like Choco­late!"
Kevin Real Deal is one DJ only too hap­py to play to this new, younger crowd. ​"I've just signed a deal with First Leisure," he bub­bles. ​"To play pure garage at their dis­cos for 13 – 18-year-olds!"
Garage UK: this isn't any craze, and it's more than just a scene. This is a phe­nom­e­non, age-wide and nationwide.
---