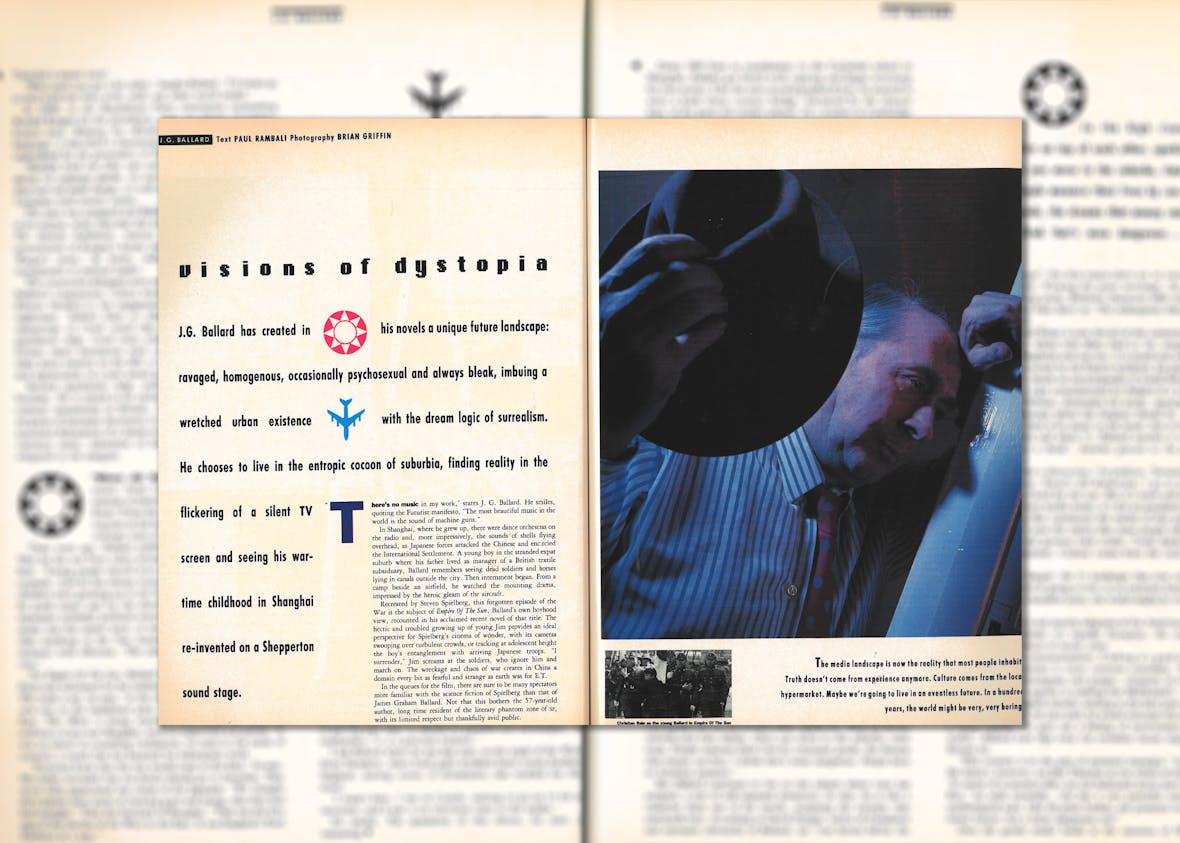 Visions of Dystopia
To cel­e­brate the long-await­ed return of The Face, we have select­ed a stand-out sto­ry from each year of our exten­sive archive, from 1980 to 2004.
Remembered by photographer Brian Griffin
"This was the sec­ond time I'd vis­it­ed J.G. Bal­lard, and he knew my work, which quite sur­prised me. I was also quite sur­prised where he lived: it was by the riv­er in Shep­per­ton, close to Heathrow Air­port. It felt quite appro­pri­ate for his books. It was rel­a­tive­ly nor­mal, one of those semis on the sub­urbs of Lon­don with bay win­dows, from just after the War I'd imag­ine. I remem­ber his gar­den, both front and back of the house, was grow­ing into the kitchen and the rooms on the ground floor. We'd got on quite well on the first shoot and he seemed to remem­ber every­thing; he had a great mem­o­ry. It was get­ting quite late in the day and get­ting dark, just me and him alone in this semi-detached house near a reser­voir. We went into his lounge – a very aver­age-sized liv­ing room – and by the fire-screen, there was a framed paint­ing by the famous Bel­gian sur­re­al­ist Paul Del­vaux. Very expen­sive, but he just had it propped up against the fire­place. I'm sure it was an orig­i­nal. So that was quite a shock. Plus, I don't like Del­vaux very much at all, so I told him that! We start­ed play­ing this game where I would think of an idea for the pho­to­graph and he would either accept it or deny it. I'd say: ​'Why don't we do it like this?' ​'No, I don't like that.' And then he'd sug­gest some­thing that I didn't like. It went on for quite some time. It was like a game of chess – this denial process. Any­way, I gave up even­tu­al­ly and so he got what he want­ed, which is the pho­to­graph you see in the mag­a­zine. I don't nec­es­sar­i­ly think it was a great pho­to­graph, but I hon­oured this game. I lost, in oth­er words. J.G. Bal­lard beat me!"
Bri­an Grif­fin is a pho­tog­ra­ph­er and direc­tor of short films, TV com­mer­cials and music videos. He pub­lished the sem­i­nal Work in 1988 with an accom­pa­ny­ing one-man show at the Nation­al Por­trait Gallery. In 1989 The Guardian described him as ​"pho­tog­ra­ph­er of the decade". He is a recip­i­ent of the Cen­te­nary Medal from the Roy­al Pho­to­graph­ic Soci­ety in recog­ni­tion of life­time achieve­ment in photography.
JG Bal­lard has cre­at­ed in his nov­els a unique future land­scape: rav­aged, homoge­nous, occa­sion­al­ly psy­cho­sex­u­al and always bleak, imbu­ing a wretched urban exis­tence with the dream log­ic of sur­re­al­ism. He choos­es to live in the entrop­ic cocoon of sub­ur­bia, find­ing the real­i­ty in the flick­er­ing of a silent TV screen and see­ing his wartime child­hood in Shang­hai re-invent­ed on a Shep­per­ton sound stage.
"There's no music in my work," states JG Bal­lard. He smiles, quot­ing the Futur­ist man­i­festo, ​"The most beau­ti­ful music in the world is the sound of machine guns."
In Shang­hai, where he grew up, there were dance orches­tras on the radio and, more impres­sive­ly, the sounds of shells fly­ing over­head, as Japan­ese forces attacked the Chi­nese and encir­cled the Inter­na­tion­al Set­tle­ment. A young boy in the strand­ed expat sub­urb where his father lived as man­ag­er of a British tex­tile sub­sidiary, Bal­lard remem­bers see­ing dead sol­diers and hors­es lying in canals out­side the city. Then intern­ment began. From a camp beside an air­field, he watched the mount­ing dra­ma, impressed by the hero­ic gleam of the aircraft.
Recre­at­ed by Steven Spiel­berg, this for­got­ten episode of the war is the sub­ject of Empire Of The Sun, Ballard's own boy­hood view, recount­ed in his acclaimed recent nov­el of that title. The hec­tic and trou­bled grow­ing up of young Jim pro­vides an ide­al per­spec­tive for Spielberg's cin­e­ma of won­der, with its cam­eras swoop­ing over tur­bu­lent crowds, or track­ing at ado­les­cent height the boy's entan­gle­ment with arriv­ing Japan­ese troops. ​"I sur­ren­der," Jim screams at the sol­diers, who ignore him and march on. The wreck­age and chaos of war cre­ates in Chi­na a domain every bit as fear­ful and strange as earth was for E.T. In the queues for the film, there are sure to be many spec­ta­tors more famil­iar with the sci­ence fic­tion of Spiel­berg than that of James Gra­ham Bal­lard. Not that this both­ers the 57-year-old author, long-time res­i­dent of the lit­er­ary phan­tom zone of SF, with its lim­it­ed respect but thank­ful­ly avid public.
Giv­en 600 lines as pun­ish­ment in the Cathe­dral school in Shang­hai, Bal­lard got bored with copy­ing and began invent­ing his own sto­ries. Like the semi-auto­bi­o­graph­i­cal Jim, he want­ed to write a book about con­tract bridge, fas­ci­nat­ed by the obscure log­ic of the game his moth­er played. As a stu­dent at Cam­bridge in the Fifties, read­ing med­i­cine and inter­est­ed in psy­cho­analy­sis, he was drawn to the works of Sur­re­al­ist painters, with their dis­qui­et­ing dream log­ic. He not­ed the resis­tance of crit­ics co the Sur­re­al­ists – though not, lat­er, of the pub­lic – and con­clud­ed that works of the imag­i­na­tion are unwel­come in Britain.
Sta­tioned with the RAF in Cana­da a few years lat­er, and now con­vinced he want­ed to be a writer, he dis­cov­ered the works of Amer­i­can pulp imag­i­na­tion in sci-fi jour­nals like Galaxy and Astound­ing. Inspired by the Sur­re­al­ists, and wary of adopt­ing a false Amer­i­can tone for his short sto­ries, he set about invent­ing his own imag­i­na­tive ter­ri­to­ry, the now famil­iar Bal­lard land­scape: a devo­lu­tion of the future present, the con­tem­po­rary world eat­en away.
In his first nov­el, The Wind From Nowhere, Lon­don is rav­aged by a freak storm. In The Drowned World, an urban land­scape, cloy­ing­ly unfa­mil­iar, is rav­aged by drought. In Con­crete Island, char­ac­ters are strand­ed between super­high­ways, vic­tims of a kind of clover­leaf dis­junc­tion. In Hel­lo Amer­i­ca, they alight on a desert­ed, decay­ing con­ti­nent, while in Ver­mil­lion Sands, they roam a depop­u­lat­ed ter­mi­nal beach some­where between Mia­mi, Rio and Tor­re­moli­nos. Grad­u­al­ly, Bal­lard honed his abil­i­ty to pro­duce works of sus­tained imag­i­na­tive pow­er, com­pelling metaphors of psy­cho­log­i­cal states.
He took as raw mate­r­i­al, not the stock sce­nar­ios of far-flung space trav­el but the tech­ni­cal jar­gon of Chem­i­cal Engi­neer­ing News (because he liked the type­face). He saw, with the first orbits of the Russ­ian Sput­nik in 1957, that sci­ence-fic­tion had become real­i­ty. With the pop artists who exhib­it­ed at the Whitechapel Gallery in the Fifties, he realised that real­i­ty had become a kind of sci­ence-fic­tion. He lat­er con­tributed to Michael Moorcock's New Worlds, his own col­lages of info-frag­ments and tele­flash­es. For his book The Atroc­i­ty Exhi­bi­tion, he repro­grammed this mate­r­i­al to describe the ner­vous break­down of social real­i­ty. The world was chang­ing apace, but Bal­lard kept up. He described a rat cage tow­er block in High Rise, a psy­cho­sex­u­al demo­li­tion der­by in Crash. Post space race, when the Moon was dis­cov­ered to be mere­ly dust, his nov­els caught the imag­i­na­tion of a young gen­er­a­tion that sensed an immi­nent every­day apoc­a­lypse, the future shock of the homoge­nous new suburbs.
"I fear this is the future," says Bal­lard, ensconced in a tat­tered black vinyl chair, an arti­cle of Six­ties mod­ernism run to seed that could eas­i­ly fur­nish one of his sto­ries. He is talk­ing about Shep­per­ton, the Lon­don sub­urb to which he moved in 1960.
"As peo­ple get more afflu­ent they want a bit of space, mid­dle man­age­ment peo­ple. All over the world, you can see it, from Johan­nes­burg to Helsin­ki. It's far more dan­ger­ous here than in the huge interur­ban tow­er blocks. Dri­ving through the sub­urbs of Ger­many in the Sev­en­ties I could see it. Every­thing is con­trolled. Even a drift­ing leaf looks out of place. In the high ris­es peo­ple live on top of each oth­er, sparks fly. They are dri­ven inwards and they dream. Once you move to the sub­urbs, time stops. Peo­ple mea­sure their lives by con­sumer goods, the dreams that mon­ey can buy. I think that's more dan­ger­ous. Peo­ple have no loy­al­ties anymore."
But Bal­lard con­tin­ues to live in this sub­urb where time has stopped, a sort of self-imposed alien­ation. In this, he is like a char­ac­ter from one of his nov­els, accept­ing the entropy that sur­rounds him. Accord­ing to David Pringle, edi­tor of Foun­da­tion and exten­sive chron­i­cler of Bal­lard, his ​"true heroes fol­low the log­ic of the land­scape". For this rea­son, there are no out­stand­ing fig­ures in his fic­tion. View­ing the mute wreck­age, the emp­ty, over­grown swim­ming pools, Ballard's char­ac­ters offer only fit­ful cries of protest and then dri­ve on. The redemp­tion they seek is found in acceptance.
The semi-detached house is now devoid of the com­mo­tion that filled it as Bal­lard, whose wife Mary died in ​'64, strug­gled to bring up his two daugh­ters and one son. It is small and unkempt. On an old desk in a cor­ner by the French win­dows, his glass­es rest on a pile of papers, beside an ency­clopae­dia of world fish­ing. An enor­mous can­vas, a copy com­mis­sioned by Bal­lard of a lost work by the Sur­re­al­ist Del­vaux, dom­i­nates his study, open­ing like a por­tal onto a dream­scape where the fire­place should be.
As in his work, there is no music in the house, but in the front room is an old black and white TV. Bal­lard watch­es it with the sound off, ​"to have a think". Anoth­er ges­ture to the pecu­liar anomie of our age?
"You have to make a dis­tinc­tion," he pref­aces, ​"between latent and appar­ent con­tent. Freud's old dis­tinc­tion. I go to Juan Les Pins with my lady friend for the sun. But it's more real to see it on TV. In 20th-cen­tu­ry media terms, it's the accu­mu­lat­ed pic­ture of Beirut or Tokyo that con­sti­tutes the real­i­ty of that par­tic­u­lar place. The media is now the real­i­ty that most peo­ple inhab­it. It shapes their lives and gov­erns their truths. Truth doesn't come from expe­ri­ence any­more. Cul­ture comes from the local hypermarket."
"That's anoth­er dan­ger: the TV land­scape that now suf­fo­cates the world. Maybe we're going to live in an event­less future." He leans for­ward. ​"In a hun­dred years, the world might be very, very boring."
For Bal­lard, this is not mere­ly the adop­tion of the Amer­i­can way of con­sum­ing. He thinks it's equal­ly Euro­pean, the result of an emer­gent world cul­ture of recent years.
"I'm not against inter­na­tion­al­ism. Cook­ing is a good anal­o­gy. This mix­ing of cuisines is more com­mon nowa­days. West­ern chefs cook with lemon­grass and gin­ger, ele­ments of ori­en­tal cook­ing. What I'm against is noth­ing but McDonald's."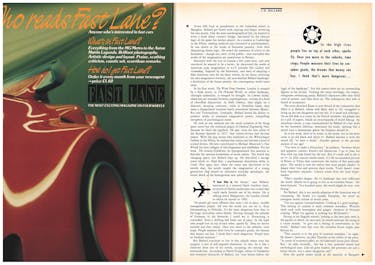 Sit­ting in his Eng­lish sub­urb, look­ing at the bare pear trees in the gar­den in which he once said he would wel­come the sit­ing of a cruise mis­sile, ​"to give me a feel­ing of involve­ment in the world", Bal­lard rues that even the event­less future might pass Britain by.
"This coun­try is in the grip of ter­mi­nal nos­tal­gia," he sighs. He doesn't, how­ev­er, see Mrs Thatch­er as the vil­lain of the piece. ​"In terms of eco­nom­ics, she's an old fash­ioned lais­sez-faire lib­er­al. But," he adds excit­ed­ly, ​"she has a very pow­er­ful sex­u­al and mytho­log­i­cal aura. Like all great lead­ers, she promis­es not just a bet­ter future, but a more dan­ger­ous one!"
Does the gen­tle read­er baulk at the men­tion of Mar­garet Thatcher's sex­u­al aura?
"Wait until you get a bit old­er," laughs Bal­lard. ​"I'd rather go to bed with her than with, well, any oth­er world leader."
In 1980, at the Repub­li­can Par­ty con­ven­tion nom­i­nat­ing Ronald Rea­gan for the pres­i­den­cy, some neo-left­ists cir­cu­lat­ed a bizarre tract. Bear­ing the offi­cial par­ty seal, in semi-clin­i­cal lan­guage, it described a dis­tress­ing vari­ety of sex­u­al asso­ci­a­tions engen­dered by the per­son­al­i­ty of the new candidate.
'Mul­ti­ple track cine films were con­struct­ed of Rea­gan in inter­course dur­ing (a) cam­paign speech­es, (b) rear-end auto col­li­sion with one and three-year-old mod­el changes, © with rear exhaust assem­blies, (d) with Viet­namese child atroc­i­ty victims…'
The tract was unsigned and Bal­lard him­self had no knowl­edge of its ori­gins, oth­er than that the words were his own culled from The Atroc­i­ty Exhi­bi­tion, writ­ten 13 years before, an eerie pre­mo­ni­tion of Reagan's future pres­i­den­cy and its sig­nif­i­cance. ​"Reagan's suc­cess," he wrote, ​"indi­cates society's peri­od­ic need to recon­cep­tu­alise its polit­i­cal leaders."
The con­ven­tion del­e­gates were not the first to be scan­dalised by Ballard's imag­i­na­tion. Crit­ics won­dered, is this sci­ence fic­tion? Edi­tors blushed at his engage­ment of themes of a neu­ro­log­i­cal night­mare. Bal­lard likes to relate how one read­er of the man­u­script of Crash not­ed that its author was in need of psy­chi­atric help. Crash dealt with a clas­sic theme of sci­ence fic­tion; man's fas­ci­na­tion with tech­nol­o­gy. The book, which takes place entire­ly on the M4, is about the auto acci­dent seen, and appre­ci­at­ed, as a new sex­u­al perversion.
Beyond psy­chi­atric help, reck­ons Bal­lard con­tent­ed­ly, is free­dom. He is proud to be exclud­ed from the intel­lec­tu­al and cul­tur­al main­stream in Britain. In Amer­i­ca he would be the recip­i­ent of hon­orary doc­tor­ates; in France, wide­ly dis­cussed. His sus­tained delin­eation of a dream world sin­gles him out as a great vision­ary artist, sub­ver­sive of bour­geois cer­tain­ties and thus rel­e­gat­ed to the margins.
Where did Bal­lard derive his dystopi­an views? From his study of psy­chol­o­gy, his inter­est in Sur­re­al­ism, from Marinet­ti and Max Ernst? From the med­ical ency­clopae­dia of crash injuries on his book­shelf? From the thor­ough­ly ordi­nary vista of his French windows?
Three years ago, Bal­lard pub­lished his first ​'seri­ous' nov­el. That he has not been tak­en seri­ous­ly before has nev­er both­ered him. ​"Young peo­ple should seize an imag­i­na­tive ini­tia­tive," he coun­sels. And he has always nour­ished this audi­ence. When his chil­dren were grow­ing up in the Sev­en­ties, the house was rocked by punk music and by the dia­tribes of the old NME. ​"Punk expressed pow­er­ful polit­i­cal resent­ments. The review­ing of the music was the car­ri­er wave. It was a hun­dred times more live­ly than any­thing in the New States­man." He describes the punk move­ment with affec­tion: ​"The rad­i­cal will meets dri­ving ambition."

For Empire Of The Sun, Bal­lard was nom­i­nat­ed for the Book­er Prize and wel­comed for his embrace of a ​'prop­er' lit­er­ary sub­ject. The book is set, he says, ​"at the end of one war and the start of a new one on the instal­ment plan. You see it in Iran and in the East. The West is being reject­ed." He recalls the strand­ed ambi­ence of pre-war Shang­hai, with its night­clubs and par­ties. It was an island of crum­bling civil­i­sa­tion, an oasis in the midst of tur­moil, a mood that has haunt­ed his sub­se­quent work.
"Every­one knew that the war would come to the East," he says. His father intend­ed that the fam­i­ly should go to Aus­tralia. They nev­er ful­ly appre­ci­at­ed the threat of the Japan­ese. ​"We thought their planes were made of chew­ing gum and string, that they had bad eye­sight." Then the block­ade of Shang­hai. ​"That was the first sign of the decline of the West in the East. It was England's Pearl Har­bour in a way."
Sep­a­rat­ed from his par­ents – unlike Bal­lard him­self – the boy Jim in Empire Of The Sun encoun­ters mer­ce­nar­ies, ban­dits, war rab­ble, and a fall­en Amer­i­can air­man who teach­es him, final­ly, that peo­ple will do any­thing for a potato.
In the prison camp, Jim befriends a young kamikaze pilot at the base along­side who, when his rit­u­al moment comes, can­not get his plane to start. The tor­por of this scene, famil­iar in the nov­els of Bal­lard, is over­whelm­ing; and final­ly purged by a new sign, the incan­des­cent halo over Hiroshima.
Embalmed in the book is a time out of time, glimpsed in the detri­tus at the bot­tom of emp­ty swim­ming pools, in the land­scape, clos­er than we feared.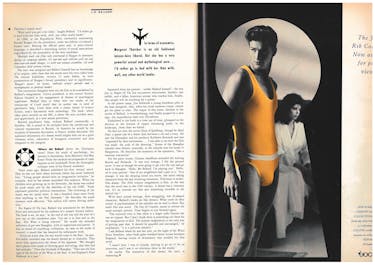 He had not seen the recent films of Spiel­berg, though he liked Duel, a sparse tale of a desert duel between a car and a lor­ry. He met the film­mak­er and his pro­duc­er Kath­leen Kennedy and was ​"impressed by their seri­ous­ness, I was able to see how the film was made, the scale of the shoot­ing." Scenes of the Shang­hai sub­urbs were filmed, iron­i­cal­ly, in the sub­urbs near his home in Shep­per­ton. He describes the enor­mi­ty of the oper­a­tion, ​"like a wartime evacuation".
For the par­ty scenes, Chi­nese chauf­feurs attend­ed the wait­ing Buicks and Packards. ​"It was very strange, I felt the ground move. It was as though we were going to get into the cars and go back to Shang­hai. ​'Hel­lo, Mr Bal­lard. I'm play­ing you.' ​'Hel­lo, we're your par­ents.' One of my neigh­bours had a part in it. Very strange. It was the sleep­ing mind you know, the mind tak­ing char­ac­ters from life and invent­ing sit­u­a­tions. Tele­vi­sion is awake, film dreams. The 20th cen­tu­ry imag­i­na­tion is film in the way that the nov­el was in the 19th cen­tu­ry. A dream has a vision­ary role. It's an inter­nal eye that sees some­thing invis­i­ble to the opti­cal eye."
With their sur­re­al set­tings, their strug­gling lost ill-shaped char­ac­ters, Ballard's books are like dreams. What truth do they reveal? A psy­cho­analy­sis of the sub­urbs can be read in them. But truth? His new nov­el, The Day Of Cre­ation, seems to reverse the usu­al entrop­ic process. Time begins to run for­ward again.
"The mys­ti­cal view is that there is a larg­er order beyond the one we impose. But I don't think there is some­thing out there for the imag­i­na­tion to find. The human imag­i­na­tion is our only way of get­ting past that. It should be guard­ed and encour­aged," he empha­sis­es, ​"it is a pre­cious resource."
I ask Bal­lard where he was last year, on the night of the Wind From Nowhere, when freak gales wreaked hav­oc across south­ern Eng­land, leav­ing scenes of dev­as­ta­tion that recalled his first novel.
"I wasn't here. I was in Cana­da, wait­ing to go on TV for an inter­view, and I saw it on tele­vi­sion there in the studio."
He smiles. The sym­me­try of this dream, for once, is reassuring.
---