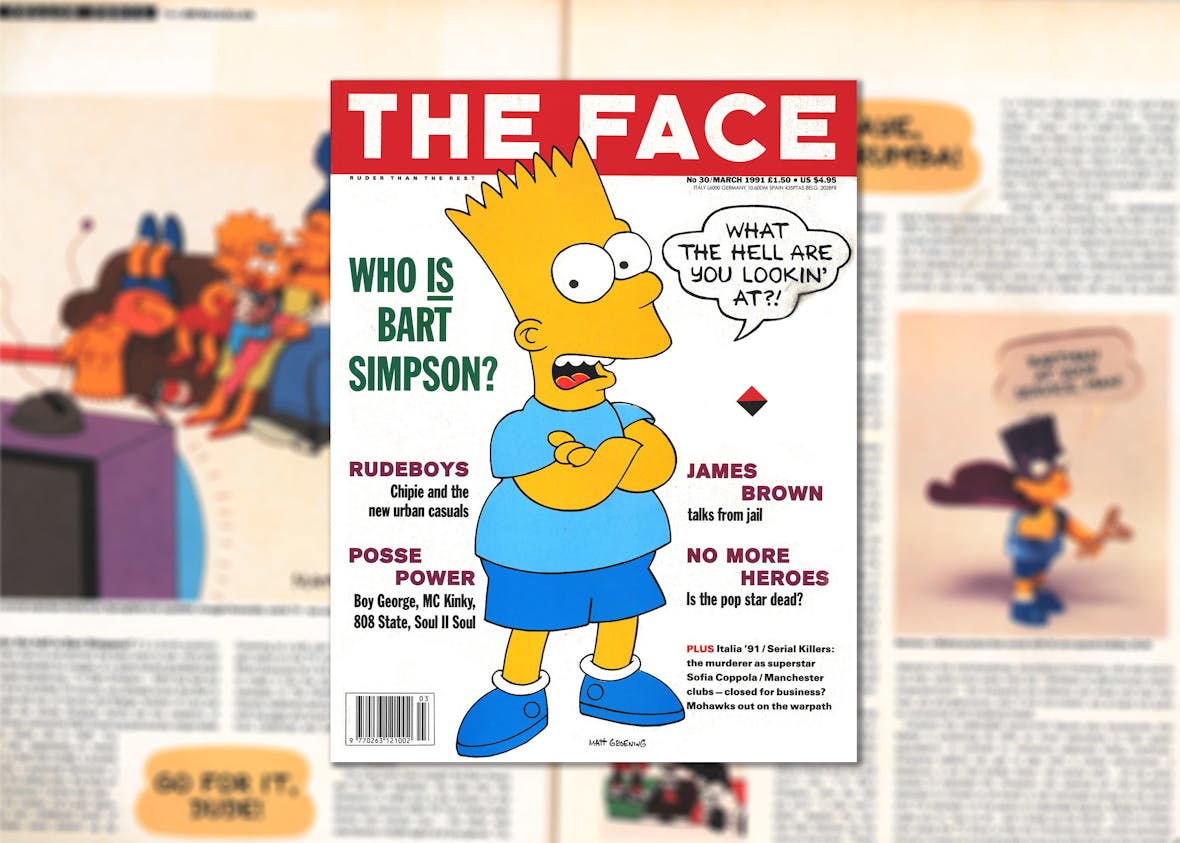 Who the Hell is Bart Simpson?
To cel­e­brate the long-await­ed return of The Face, we have select­ed a stand-out sto­ry from each year of our exten­sive archive, from 1980 to 2004.
Remembered by writer Jim McClellan
"We were aware of The Simp­sons, but it hadn't quite trans­ferred prop­er­ly to the UK. I had seen a cou­ple of boot­leg episodes on video; I knew this weird hack­er guy who was always get­ting in touch about doing a sto­ry in The Face about hack­er cul­ture – which obvi­ous­ly even­tu­al­ly end­ed up going main­stream. No one had spo­ken to Matt Groen­ing in any depth – all you had in the media were ​'moral pan­ic' sto­ries of kids being inspired by Bart Simp­son to say rude things to their teach­ers. But we had the oppor­tu­ni­ty to inter­view him, and the idea was to intro­duce the phe­nom­e­non to the UK, but give it a more ana­lyt­i­cal spin. As it turned out, he was very keen to talk to The Face – his ani­ma­tors even did an actu­al cov­er for us of Bart Simp­son. And he knew about the mag­a­zine and actu­al­ly liked being asked lots of dif­fer­ent ques­tions. It tran­spired he was a mas­sive fan of Lee ​'Scratch' Per­ry, so we talked quite a bit about that and his love of dub reg­gae. Then we talked about video games and the fact that he real­ly liked the old ver­sions of Crash Bandi­coot – he felt it had the kind of ener­gy of Tom and Jer­ry. There was this weird per­cep­tion that The Simp­sons was not suit­able for kids. So what we brought to it was an idea of: ​'No, this is inter­est­ing and it's actu­al­ly real­ly inter­est­ing on a few dif­fer­ent lev­els, and you should be aware of it.' It's hard to believe that, as a Fox show, it was cre­at­ed as part of the Rupert Mur­doch empire."
Jim McClel­lan was Con­tribut­ing Edi­tor at The Face, and at i-D, and wrote for Are­na, Esquire, Wired, The Inde­pen­dent, Bru­tus and Adbusters. After a stint at the BBC, he moved into acad­e­mia. He is cur­rent­ly Assis­tant Head of the School of Media and Com­mu­ni­ca­tion at the Uni­ver­si­ty of West­min­ster in Lon­don, where he leads the BA Jour­nal­ism degree.
Why do you say ​"Don't have a cow, man"? Oh man! Don't have a fish. Don't have a pig. Don't have a cow. What would you say?
What is your phi­los­o­phy of life? Make sure there are plen­ty of escape routes.
What are your views on edu­ca­tion? You want me to tell you about the damned school sys­tem? Wan­na hear some­thing good for your sto­ry? Are you tired of home­spun crap­o­la? Wan­na get to it? They hate children!
So you're look­ing for­ward to fin­ish­ing school? Man, no! Kids, stay in school! Oth­er­wise you'll have to go to work. I plan to stay on the edu­ca­tion gravy train until they kick me off screaming.
What do you think of music cen­sor­ship? Do you approve of the ​'parental guid­ance' stick­ers on records by acts like 2 Live Crew? Of course albums should be labelled, man. Why waste your mon­ey on music that won't dis­gust your parents?
What do you read? My sis­ter Lisa's diary. I make notes in the mar­gins. Most­ly, I read book reports of kids who've been in my grade before. Also, I once read The Boy Scout Hand­book. But, basi­cal­ly, I don't think any­body should will­ing­ly join an organ­i­sa­tion where there's a big guy with a whis­tle telling you what to do. Where the plus is that you learn to make knots!
Do you have a girl­friend? I don't like girls. They don't like me. Any­body who says dif­fer­ent is gonna find some­thing hot and smelly on their doorstep in the near future.
What do you have in your pock­et at the moment? (Bart pulls out 300 dol­lars in tens and twen­ties, and a pop gun bought from the Carousel o' Vio­lent Toys.)
You could put somebody's eye out with that gun. I should hope so, for 25 dollars!
Where did you get the mon­ey? I'm col­lect­ing for under­priv­i­leged kids. I only take a 30 per cent cut; oth­er char­i­ties take 40. Call me a saint, man!
Do you like your dad? I like that I get to call him Homer and he hard­ly ever stran­gles me for it. He's coura­geous. ​"Fear" is not in his vocab­u­lary. Come to think of it, nei­ther is ​"suc­cess". For that mat­ter, nei­ther is ​"vocab­u­lary".
What makes you hap­py? There's no sub­sti­tute for the social inter­ac­tion you get hurl­ing a spit­ball at your unsus­pect­ing neigh­bour or pop­ping a milk car­ton over the dress of a well-deserv­ing girl.
Do you have any advice for the read­ers? Com­mit the fol­low­ing sen­tences to mem­o­ry; you'll be sur­prised at how often they come in handy: I didn't do it! Nobody saw me do it! They can't prove anything!

Bart Simp­son was speak­ing to Bill Zehme. Matt Groen­ing, James L Brooks and Sam Simon helped him with his answers.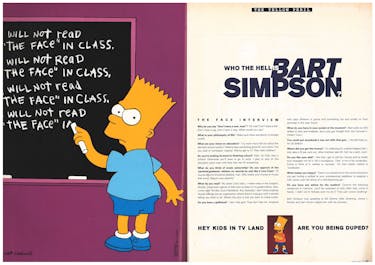 So who the hell is Bart Simp­son?
It's a dumb ques­tion, but then they're some­times the best ones to ask. And after being bom­bard­ed by images of a spiky-haired goof­ball-eyed chic geek declaim­ing ​"I'm Bart Simp­son – Who the hell are you?", per­haps we're enti­tled. Of course, you already know that Bart is the unruly ten-year-old son of Homer and Marge, broth­er of Lisa and Mag­gie, and that the whole Simp­son fam­i­ly are the cre­ations of left-lean­ing Amer­i­can car­toon­ist Matt Groen­ing (pre­vi­ous­ly respon­si­ble for the car­toon strips Life In Hell). You prob­a­bly know that, depend­ing on where you stand, Bart's a bad role mod­el, a sym­bol of apa­thet­ic youth, a poten­tial Demo­c­rat, a black man under his yel­low skin, the face on over 70 mil­lion Amer­i­can T-shirts last year.
Accord­ing to his cre­ator, he's part rep­re­sen­ta­tion of his own child­hood (most of Bart's catch­phras­es were dreamt up by Groen­ing as a kid), part revenge on the author­i­ty fig­ures of his youth, part satire on the TV myths of sub­ur­ban nor­mal­i­ty and hap­py fam­i­lies. Most obvi­ous­ly he's the star of The Simp­sons, the first car­toon sit-com to make it into the top ten Amer­i­can TV rat­ings since the fan­ta­sy sub­ur­bias of The Flint­stones and The Jet­sons. It's a show which clev­er­ly rede­fines fam­i­ly enter­tain­ment, which mix­es car­toon slap­stick with hip gags and smart lit­er­ary ref­er­ences, a show script­ed by writ­ers from Let­ter­man and Sat­ur­day Night Live, and over­seen by sit-com supre­mos such as the Oscar-win­ning James L Brooks (respon­si­ble for Taxi) and Sam Simon (Cheers).
You may even have caught the Bart the­o­ry and the Bart back­lash, the idea that The Simp­sons is real­ly just a hip ver­sion of the Sev­en­ties car­toon Wait Till Your Father Gets Home (not strict­ly true – the lat­ter was relent­less­ly mid­dle-aged and bour­geois). You may have seen Bart described as not so much rad­i­cal dude as cosy rebel, naughty but nice, ugly but cute Den­nis The Men­ace crossed with Plug from The Bash St Kids (check the archa­ic cat­a­pult) the Amer­i­can anti-hero reworked and depoliti­cised for a gen­er­a­tion of cocoon­ing boomers nos­tal­gic for the easy pranks of their lost youth.
It's true enough, but it isn't the full sto­ry. Bart has come to life in all sorts of unex­pect­ed ways, and we haven't yet closed the book on his ongo­ing iden­ti­ty cri­sis. It's still worth ask­ing who the hell he is, espe­cial­ly over here in Britain.
One answer is that he is the spir­it of Christ­mas to come. If it was just about pos­si­ble for the odd cul­tur­al recluse to miss the first wave of Simp­so­nia, no one stands a chance next Decem­ber, when a flood­tide of Bart Deco – toys, books, clothes, sweets, food, toi­letries and con­sumer junk – will hit the shops. So far 82 licences for Simp­son prod­uct have been grant­ed by PSL, the com­pa­ny super­vis­ing the UK mer­chan­dis­ing, from 3D bath-plugs to swimwear, radio-con­trolled skate­boards to car sun­blinds. ​"Big­ger than ET" is how PSL's Helen Bai­ley describes this Simp­son­ic boom. ​"But we are care­ful not to over-license. We have refused a lot of licences because we want to avoid overkill. We want to keep that cult feel."
With more licences on the way, it's hard to see how Bart's cult cred­i­bil­i­ty can be main­tained. It's also hard to see how his cre­ator Matt Groen­ing will be able to do any­thing about it. Accord­ing to the lit­er­a­ture that PSL sends to would-be licensees ("the resources you'll need to make the most of this extra­or­di­nary fam­i­ly"), he must approve all prod­ucts. In prac­tice, that is an impossibility.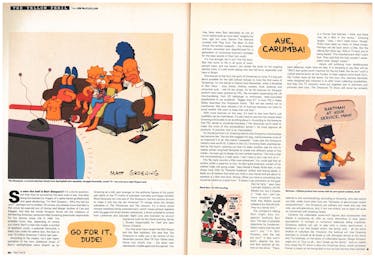 On the phone from LA, Groen­ing admits that Simp­sons mer­chan­dise has become like ​"the tail that wagged the dog, main­ly because none of us expect­ed it at all. We weren't pre­pared." (Last year the Simp­sons indus­try was worth $1.3 bil­lion in the US.) Groen­ing feels unem­bar­rassed by the boom, point­ing out that it's been anoth­er way for him to realise cer­tain long-held fan­tasies to sneak into dif­fer­ent areas of the media – he even got to design his own pin­ball machine. ​"My line is that the mer­chan­dis­ing is a tidal wave. I can't stop it, but I can surf on it."
This flip reply sounds a lit­tle over-rehearsed. You could add that all surfers suf­fer a wipe-out or two. As Bart goes busi­ness, cer­tain of his yob­bier traits risk going under. Take Mattel's Real­ly Rude Bart, in the shops now. With its Parental Guid­ance stick­er and leer­ing labels, it leads you to believe that what you hold in your hands and are about to squeeze is a Bart that farts. Wrong. What you have is some­thing that would be use­ful on a duck hunt. ​"It doesn't say any­where on the pack that he farts," says Gary Cart­mell, Mattel's UK PR. Maybe not, but it implies it. ​"Yeah, but I can't believe any­body would think that Mat­tel would release a toy that did that. They're a fam­i­ly firm."
The company's talk­ing Bart might also dis­ap­point hard­core Bart fans. The fear of pos­si­ble objec­tions by fun­da­men­tal­ists means that the doll won't say ​"I'm Bart Simp­son, who the hell are you?" It also won't belch, despite the fact that Bart belch­es all the time on the show. ​"There is a Homer that belch­es, I think, and there may be a Bart in the works," Groen­ing laughs. ​"Jeez, I don't real­ly know, though. There have been so many of these things. Per­haps we did back down a lit­tle. But the talk­ing Bart does say, ​'Kids in TV land, you're being duped.' The man­u­fac­tur­ers didn't want that. They said that the kids wouldn't under­stand what duped' meant."

Adults still suf­fer­ing from shell-shocked bank bal­ances might have an idea. It is tempt­ing to say Bart will be 1991's lean green prof­it machine for the toy trade. But he isn't such a cyn­i­cal phe­nom­e­non as the Tur­tles. In their orig­i­nal com­ic-book form, the Tur­tles were all the same. For the toys, four dis­crete iden­ti­ties were designed and coloured in to offer more col­lect­ing pos­si­bil­i­ties, and then the TV car­toons were put togeth­er just to pre­miere and pro­mote new toys. The Simp­sons TV show will nev­er be sim­i­lar­ly tai­lored to the mer­chan­dis­ing, accord­ing to Groen­ing, who also points out that, while most oth­er toys are ​"fan­tasies of glam­orous­ly vio­lent empow­er­ment", the Simp­sons are ordi­nary and weak and stay that way, are anti-glam­orous and, if not non-vio­lent, are at least not quite so con­cerned with break­ing heads.
Cer­tain­ly the col­lec­table sev­en-inch fig­ures plus acces­sories that Mat­tel is pro­duc­ing do offer an iron­ic alter­na­tive to their green equiv­a­lents. In con­trast to numer­ous elab­o­rate killing machines, Simp­sons addicts can get to play with a cranky lawn­mow­er, a bar­be­cue, a car that breaks down, the fam­i­ly sofa – all the junky residue of sub­ur­ban life. How­ev­er, the ​'satir­i­cal wit' that Groen­ing attempts to include at all lev­els is still ulti­mate­ly aimed at the same end. For exam­ple, on the repacks of col­lec­table fig­ures, Marge Simp­son urges you to ​"buy us all – don't break up the fam­i­ly". And no mat­ter how sharp the TV show is (like the Christ­mas show, which por­trayed Homer's mis­ery at not being able to buy his kids the toys they want­ed), mer­chan­dis­ers will con­tin­ue to see it as a dis­guised ad for prod­ucts yet to be made.
That's if they see it at all. With the show only screen­ing on BSkyB, and only reach­ing 2.29 mil­lion homes, Bart is simul­ta­ne­ous­ly every­where and nowhere. He's on adver­tis­ing posters and boot­leg T-shirts, on trail­ers before 20th Cen­tu­ry Fox films and videos, on mag­a­zine cov­ers and in gos­sip columns (inci­den­tal­ly, Groen­ing says there's no truth to the rumour that Madon­na will play Bart's girl­friend), on bags of Gold­en Won­der crisps and soon on every­thing from fast food to cheese and yogurt. But with the excep­tion of Do The Bart­man video, he isn't avail­able on most people's small screens. Nor will he be, while BSkyB con­tin­ues run­ning new episodes.
This doesn't both­er the mer­chan­dis­ers ("It's prob­a­bly helped us in a way," com­ments Helen Bai­ley), but it upsets Groen­ing, because it has helped move The Simp­sons clos­er to the spi­ralling com­mer­cial log­ic of the Tur­tles where, as he puts it, ​"all that was real­ly being mer­chan­dised was mer­chan­dise". The show is cru­cial for Groen­ing. It's where his char­ac­ters get real. Deprive them of that, and they wind up as a dif­fuse media event, ser­i­al adver­tis­ing, with Bart him­self not as the arche­typ­al under­achiev­er, but as Mr Mar­ket­ing 1991.
Most peo­ple think they know who to blame for this. Anoth­er answer to the ques­tion, ​"Who the hell is Bart?" is that he's Rupert Murdoch's toy­boy, sav­iour of Fox TV in the States, the face that sold a thou­sand dish­es (at least). Numer­ous cul­tur­al crit­ics have already picked over the ironies of Groening's left-lean­ing sub­ur­ban anar­chy being used to prop up the tot­ter­ing busi­ness of a reac­tionary right-wing media tycoon. Over here Mur­doch has obvi­ous­ly used The Simp­sons to get more view­ers for his satel­lite net­work (BSkyB has no hard fig­ures for how many new sub­scribers Bart attract­ed, but the show gets around a mil­lion view­ers a week). And with its £1 mil­lion mul­ti-media cam­paign to launch the show last Sep­tem­ber, the net­work did the most over here to change Bart from the star of a smart TV show into a Day-Glo doorstep­ping salesman.
But if Bart is the front-man for a new tele­vi­su­al order, in which the shared expe­ri­ence of nation­al net­works has been replaced by a frag­ment­ed cul­ture of niche mar­kets, blips, ads and video clips, BSkyB didn't do it all on its own. Just because The Simp­sons belonged to the Amer­i­can end of Murdoch's TV empire didn't mean it would auto­mat­i­cal­ly go out on Sky. It was offered to the BBC first. As with Pee Wee's Play­house, as with the orig­i­nal Simp­sons shorts in The Tracey Ull­man Show, the Beeb said no (too Amer­i­can). From there it went up for auc­tion, with Sky tri­umph­ing because (sur­prise, sur­prise) it was pre­pared to spend more on adver­tis­ing the show.
Groen­ing seems resigned to cer­tain com­pro­mis­es. ​"It's not as if there are any noble, upstand­ing left-wing TV cor­po­ra­tions I could have gone to. The big net­works have all turned down my ideas before. At least Fox took a chance."
Whether Groen­ing will remain com­fort­able as Bart becomes a glob­al play­boy, an inter­na­tion­al bright young thing, is anoth­er mat­ter. So far The Simp­sons has been sold in over 50 coun­tries, from Japan, Ice­land, Bermu­da and Brazil to Zim­bab­we and The Philip­pines. Accord­ing to William Saun­ders, head of inter­na­tion­al sales at 20th Cen­tu­ry Fox, no dubbed ver­sions have been trans­mit­ted yet. ​"They're being rewrit­ten to suit the coun­try and the lan­guage. The prob­lem is find­ing a way to say things like ​'Don't have a cow, man' in French. ​'Ne prend pas un vache, man' doesn't have the same ring to it."
Bart's catch­phras­es prob­a­bly wouldn't sound so smart in Afrikaans, cer­tain­ly not to Groen­ing. How­ev­er, the show has been sold to South Africa. ​"I've made my posi­tion clear. I have told peo­ple I would rather the shows weren't sold there. But what can I do? Not a sin­gle Hol­ly­wood stu­dio sub­scribes to the cul­tur­al boycott."
If his cre­ator isn't in a posi­tion to draw the line here, oth­ers have tried to add a lit­tle polit­i­cal colour, notably the Black Bart boot­leg­gers. Con­fess­ing that he isn't both­ered about the rip-off indus­try in gen­er­al (unlike 20th Cen­tu­ry Fox, which sued 150 com­pa­nies and indi­vid­u­als in July last year for breach of copy­right), Groen­ing says he thought that Bart Mar­ley, Bart X and co were great, ​"a quirky com­pli­ment, and a real spon­ta­neous response". He also agrees that they make good an imag­i­na­tive debt. ​"Obvi­ous­ly white sub­ur­ban slang is def­i­nite­ly a watered-down ver­sion of black slang. How­ev­er, Bart's hair­cut is more based on punk, and on my hair­cuts when I was eight."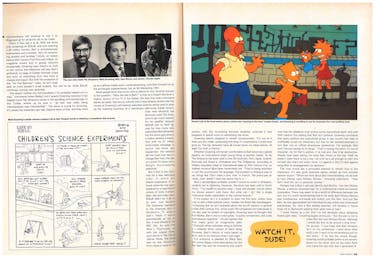 Not every­one is pleased by Black Bart, with some drip­py crit­ics bemoan­ing the fact that Bart has lost his inno­cence and charm now that his rebel­lious snarl shows some real polit­i­cal teeth, and with 20th Cen­tu­ry Fox stat­ing that Bart isn't polit­i­cal. Groen­ing com­ments that every polit­i­cal and sub­cul­tur­al group in the coun­try has tried to unof­fi­cial­ly co-opt his char­ac­ters, but that he has resist­ed attempts to turn Bart into an offi­cial all-pur­pose spokesman. For exam­ple, Bart won't be just say­ing no to drugs. ​"That's miss­ing the point. It's out of char­ac­ter. As for Bart's pol­i­tics, if he had any, they'd be destruc­tive. Peo­ple have been ask­ing me what Bart thinks of the war. Well, he doesn't want there to be a war, not until he's old enough to start one him­self. But that's not what I think. I'm against it. But I'm also against using Bart to pro­pa­gan­dise my opinions."
This may sound like a prin­ci­pled attempt to remain true to the char­ac­ters. It's also good busi­ness sense, picked up from anoth­er car­toon tycoon. ​"When we think about Bart mer­chan­dis­ing, we do look at how Dis­ney uses Mick­ey Mouse," Groen­ing com­ments. ​"They don't lend him out to par­tic­u­lar causes."
Per­haps that is Bart's ulti­mate iden­ti­ty and des­tiny – the new Mick­ey Mouse, a car­toon cor­po­rate logo for a multi­na­tion­al media and leisure cor­po­ra­tion. There may seem to be a world of dif­fer­ence between the two, but it's worth remem­ber­ing that in his ear­ly days Mick­ey Mouse was mis­chie­vous, anti-social and vio­lent, just like Bart. And just like Bart, he was appro­pri­at­ed and reworked by pop artists and street-lev­el sub­ver­sives. So, with a film already planned, will fam­i­lies in future troop off to Bart­world wear­ing their spiky hair­cut hats?
"I loved Dis­ney as a kid. And I've had fan­tasies about design­ing theme park rides," Groen­ing laughs omi­nous­ly. ​"But the plan is not to make Bart the next Mick­ey Mouse. Although I would like him to be around a long time." He paus­es. ​"I just hope that Bart Simp­son isn't on my tomb­stone. I have done oth­er stuff. I don't want to be remem­bered just for this show." If he had the choice, though, Groen­ing would prob­a­bly pre­fer to be remem­bered for the show and not (as looks like­ly over here) the spin-offs that it generated.
---