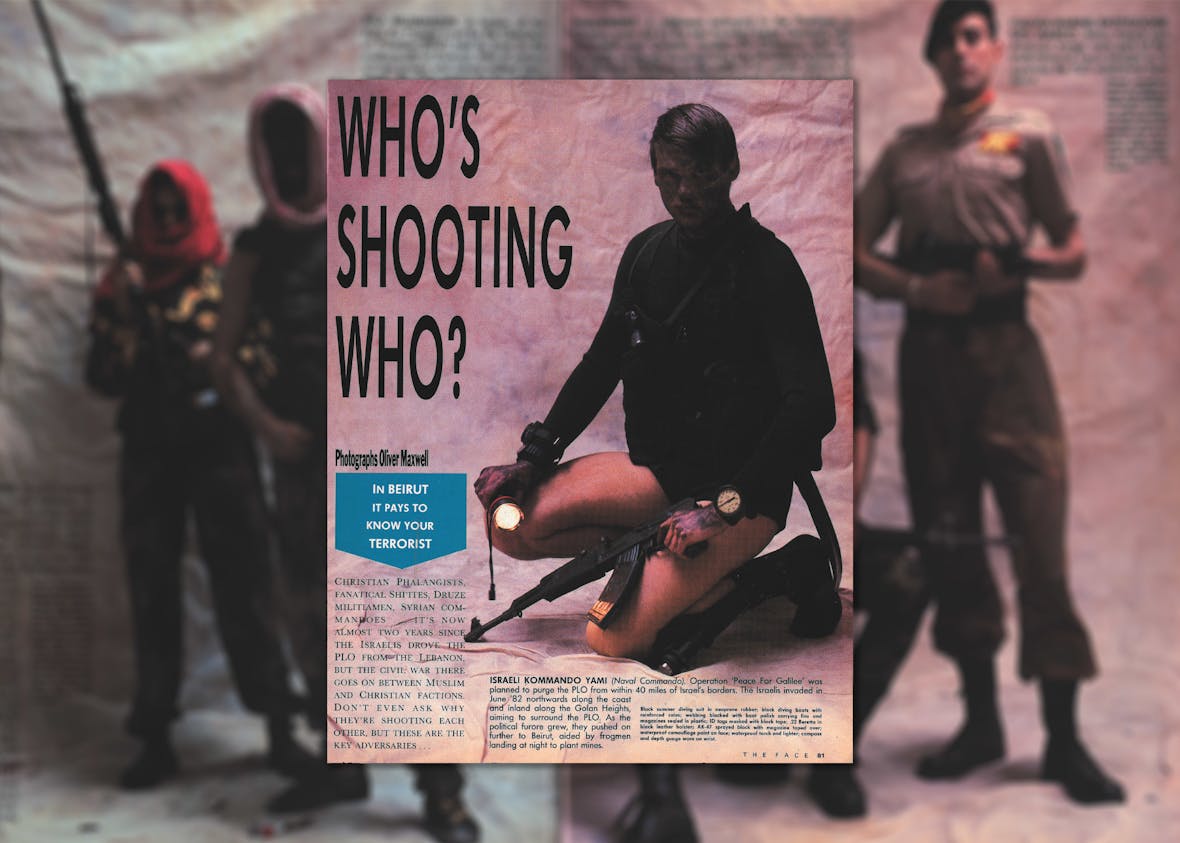 Who's Shoot­ing Who?
To cel­e­brate the long-await­ed return of The Face, we have select­ed a stand-out sto­ry from each year of our exten­sive archive, from 1980 to 2004.
Remembered by photographer Oliver Maxwell

"The fea­ture came about when I came across Osprey's Men-at-Arms series of books in Foyles on Char­ing Cross Road. ('Packed with spe­cial­ly com­mis­sioned art­work, maps and dia­grams, the Men-at-Arms series of books is an unri­valled illus­trat­ed ref­er­ence on the his­to­ry, organ­i­sa­tion, uni­forms and equip­ment of the world's mil­i­tary forces, past and present.') I felt that few peo­ple at the time under­stood what was going on in the Mid­dle East, in par­tic­u­lar, Lebanon, and thought a shoot fea­tur­ing the uni­forms would be a good way to illus­trate the dif­fer­ent fac­tions fight­ing each oth­er. I took the notion to Fea­tures Edi­tor Paul Ram­bali, who was always open to new ideas out­side of the usu­al remit. There was talk of us at one point going over there but Nick [Logan] vetoed it on the grounds of safe­ty and insur­ance. When the sto­ry appeared there was a lot of fuss in the press at the time, with arti­cles and let­ters in The Guardian, Time Out and Lib­er­a­tion in France amongst oth­ers, with dig­gy head­lines like ​'Beirut Bun­gle' and ​'Face Val­ues'. Most of the fuss stemmed from the head­line on the cov­er: ​'Beirut Fash­ion'. It was meant to be iron­ic but was tak­en far too lit­er­al­ly. As it hap­pens the images were recent­ly fea­tured in an exhi­bi­tion, Iconog­ra­phy of Revolt, at the City Gallery, Welling­ton, New Zealand, which also ref­er­enced the article."
Oliv­er Maxwell is a pho­tog­ra­ph­er, design­er and music pro­duc­er. Long a res­i­dent of Barcelona, he recent­ly moved up the coast to Calel­la to open a bar/​restaurant ​"for rea­sons of cul­tur­al health".
Chris­t­ian Pha­langists, Fanat­i­cal Shi'ites, Druze, Mili­ti­a­men, Syr­i­an Com­man­does… It's now almost two years since the Israelis drove the PLO from Lebanon, but the Civ­il War there goes on between Mus­lim and Chris­t­ian fac­tions. Don't even ask why they're shoot­ing each oth­er, but these are the key adversaries.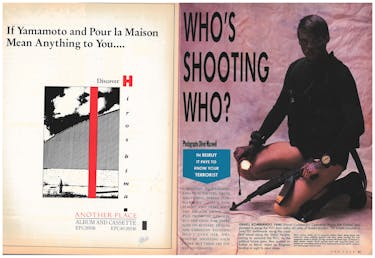 Israeli Kom­man­do Yami (Naval Commando)
Oper­a­tion ​'Peace for Galilee' was planned to purge the PLO from with­in 40 miles of Israel's bor­ders. The Israelis bor­ders. The Israelis invad­ed in June ​'82 north­wards along the coast and inland along the Golan Heights, aim­ing to sur­round the PLO. As the polit­i­cal furore grew, they pushed on fur­ther to Beirut, aid­ed by frog­men land­ing at night to plant mines.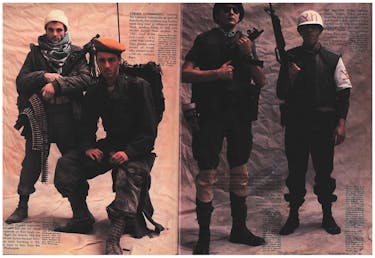 PLO Sniper
The PLO moved their HQ to Lebanon in 1970 after hav­ing been vio­lent­ly expelled from Jor­dan dur­ing the infa­mous ​'Black Sep­tem­ber'. 150,000 Pales­tini­ans arrived to join over half a mil­lion who fled there when they were oust­ed from the new state of Israel found­ed in 1948. Lebanon was the last ter­ri­to­ry bor­der­ing Israel that would host the PLO, but was unable to con­trol the south­ern bor­der areas and camps where gueril­las trained and from which they launched attacks on Israelis.
PFLP Muja­hadin
A fac­tion of the PLO, the Pop­u­lar Front for the Lib­er­a­tion South­ern city of Damour. With its var­i­ous splin­ter groups and unruly mil­i­tary com­mand, the PLO added to the polit­i­cal con­fu­sion of the Lebanon, but broad­ly allied itself to left­ist Mus­lim groups or mili­tias. The Muja­hadin ("Free­dom Fight­ers") fought the invad­ing Israelis espe­cial­ly bitterly.
Pha­langist
A Mili­tia­man belong­ing to the Pha­lange, a Chris­t­ian par­ty led by the late Pres­i­dent Bashir Gemayel, who elim­i­nat­ed rival Chris­t­ian fam­i­lies the Chamouns and the Frangeihs via bloody shoot­ings in the late Sev­en­ties. As leader of the Maronite Chris­tians, in the midst of an unholy alliance of Mus­lims and Marx­ists, he encour­aged Israel to help rid the lands of Pales­tini­ans but they found him an unre­li­able ally. It was Pha­langists who ​'cleared' the refugee camps at Sabra and Chatilla…
Ital­ian Marine, Bat­tiglione San Marco
Ital­ian, French and Amer­i­can troops were part of the Mul­ti-Nation­al Force brought in to super­vise the PLO with­draw­al from Beirut.
Druze Mag­ist (Machine Gunner)
The Druze Mus­lims sup­port­ed the Pales­tini­ans but did not allow them to oper­ate on their lands nor did they fight the Israelis. Like the Shi'ites, whose Syr­i­an-backed fanat­ics began truck bomb­ing in ​'83, they had most to fear from the Chris­t­ian Phalangists.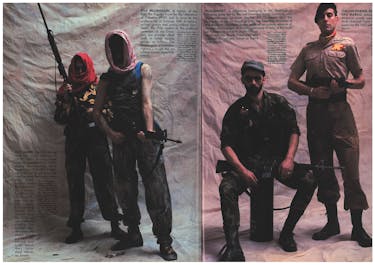 Syr­i­an Commando
View­ing the Lebanon his­tor­i­cal­ly as part of their lands, the neigh­bour­ing Syr­i­ans have long tried to influ­ence events there, send­ing forces to help one Mus­lim fac­tion anoth­er. By 1981, much of the Lebanon was under their con­trol. Their mis­siles were aimed at Israel, who want­ed an excuse to remove them.
IDF Golani Infantryman
The Israeli Defence Force (IDF) suc­ced­ed in dec­i­mat­ing the PLO, exiled in Libya with 1,500 dead com­pared to 368 Israelis. Near­ly 300 IDF sol­diers have died since in sniper fire, street bat­tles and truck bomb­ings. Lebanese civil­ian casu­al­ties are esti­mat­ed at around 5,000, as the var­i­ous Mus­lim and Chris­t­ian fac­tions con­tin­ue to squable for power.
IDF Shot­er Tzvai (Mil­i­tary Police)
Mil­i­tary Police admin­is­tered the many thou­sands of PLO gueril­las and staff cap­tured in the fight­ing along with oth­er Mus­lim mili­ti­a­men. They also held some 1,800 for­eign­ers from 26 coun­tries who were train­ing in PLO camps.
---