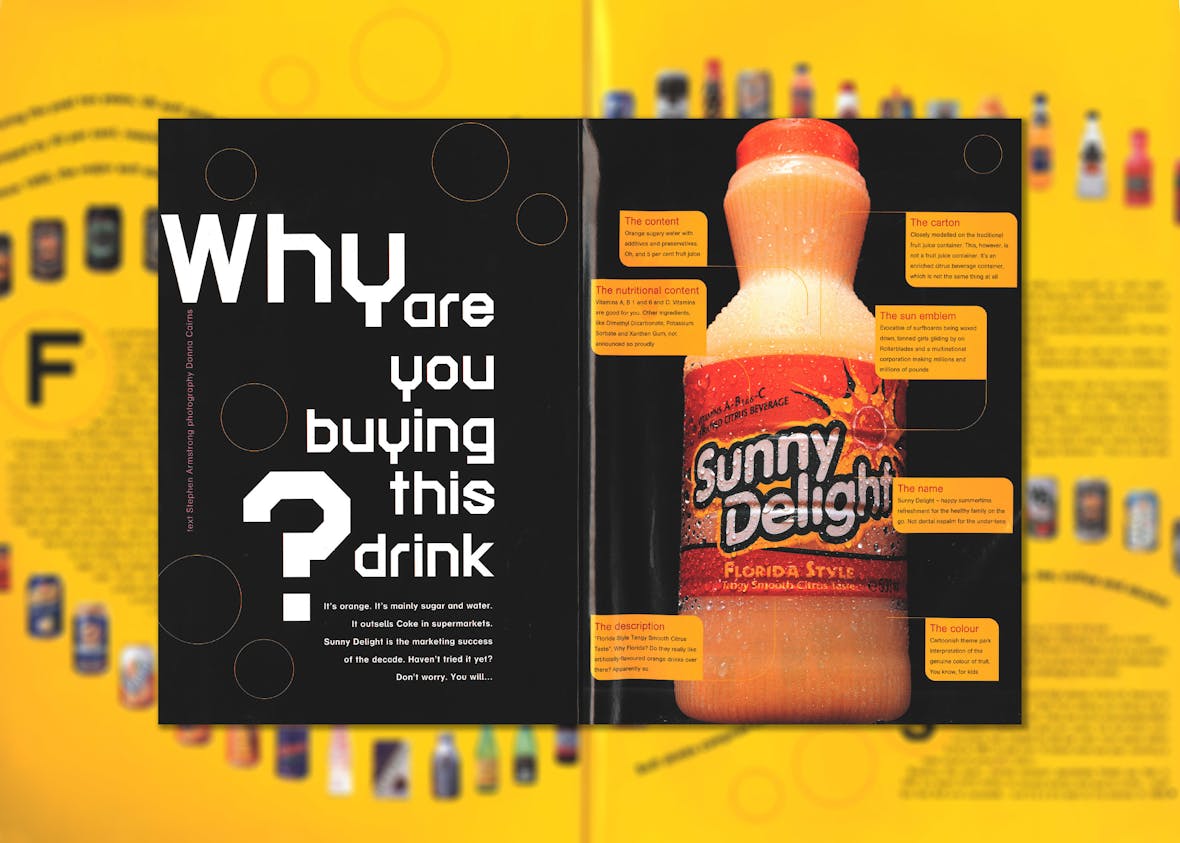 Why are you buy­ing this drink?
To cel­e­brate the long-await­ed return of The Face, we have select­ed a stand-out sto­ry from each year of our exten­sive archive, from 1980 to 2004.
Remembered by writer Stephen Armstrong
"Every­thing in cul­ture was up for grabs by The Face. The first sto­ry I wrote for the mag­a­zine was about pubs, and how these ​'super­pubs' had start­ed dom­i­nat­ing the high street, how they oper­at­ed, how they were chang­ing how young peo­ple were drink­ing and social­is­ing. Richard Ben­son, the Edi­tor then, said: ​'Assum­ing that the shop is as cul­tur­al­ly rel­e­vant as the charts or the club, what's the banger?' Which I thought was a very smart move because it recog­nised that every aspect of the reader's lives had val­ue and deserved atten­tion. That's why anoth­er fea­ture I did for the mag­a­zine was about choco­late bars. Sun­ny Delight had seem­ing­ly come from nowhere to be the dom­i­nant drink amongst kids. It was a street drink. But what was inter­est­ing about ​'Sun­ny D', as it quick­ly became known, was that it wasn't made by a small brand. A huge cor­po­ra­tion was using real­ly mas­sive mar­ket­ing tac­tics – tac­tics which had been most­ly adopt­ed very rapid­ly by the streets, in a very par­tic­u­lar way. I was curi­ous as to why that was. It hap­pens every now and again – look at Red Bull. There are cer­tain prod­ucts which are vast but feel real­ly local and tiny and nar­row. So it was try­ing to under­stand that: why a vast cor­po­rate machine pro­duced a drink that felt like it was, for a moment, hip-hop."
Stephen Arm­strong is a jour­nal­ist and author who wrote for The Face from 1992 until its final issue. He now writes for The Sun­day Times and Wired, and appears on Radio 4 and Sky Arts – thanks, in large part, to his work for The Face. Inevitably he has a screen­play in devel­op­ment, where he con­fi­dent­ly expects it to remain.
It's orange. It's main­ly sug­ar and water. It out­sells Coke in super­mar­kets. Sun­ny Delight is the mar­ket­ing suc­cess of the decade. Haven't tried it yet? Don't wor­ry. You will…
Dur­ing the past ten years, UK soft drink con­sump­tion has jumped up by 50 per cent, reach­ing a retail val­ue of £6.7 bil­lion. Since 1990, the major soft drink com­pa­nies have each launched up to five new prod­ucts a year.
First of all there's the name. Sun­ny Delight. Two bright, opti­mistic words put lov­ing­ly togeth­er by a com­pa­ny that cares. Sun­ny, accord­ing to Collins The­saurus, is a syn­onym for radi­ant, blithe, buoy­ant, joy­ful and smil­ing. Delight, the book says, can mean ecsta­sy, enjoy­ment, grat­i­fi­ca­tion, rap­ture and glad­ness. When two such pow­ers join togeth­er you get a phrase that means both every­thing and noth­ing. Sun­ny Delight. It could be a rest home or a cere­al or a Six­ties pop star or a fab­ric con­di­tion­er. What it is, of course, is a drink. Sun­ny Delight was launched in the UK in April of this year by the cor­po­rate behe­moth Proc­ter & Gam­ble. The com­pa­ny aims it at kids and mums, but so far it looks like every­one is drink­ing it – from kids on school hol­i­day to street-crawl­ing youths caught in Britain's Sum­mer urban stick­i­ness, from build­ing-site work­ers to parched desk-jock­eys escap­ing air-con­di­tioned offices. That's Sun­ny Delight: pure, fun, healthy refresh­ment. After five years build­ing the Sun­ny Delight plant in Bridge­wa­ter in Som­er­set, and two years' test-mar­ket­ing in Carlisle, with­in a month the drink was out­selling Coca-Cola in supermarkets.
Sun­ny Delight is an import from Amer­i­ca, where it has been on the shelves since 1968. There it is ​"just" a kids' drink, part of the snack vocab­u­lary and cul­tur­al land­scape. Kids call it Sun­ny D, like a car­toon rap­per or a mate's nick­name – hip ver­bal con­trac­tion that has also been used in the brand's British TV adver­tis­ing. This is the bev­er­age the UK's drinks indus­try already describes as a phe­nom­e­non, say­ing it will change the nature of soft drinks for­ev­er. P&G describes it as a ​"vit­a­min enriched bev­er­age", with the ingre­di­ents list­ed as water, sucrose, fruit juice, cit­ric acid, veg­etable oil, emul­si­fi­er, thick­en­er, potas­si­um sor­bate and dimethyl dicar­bon­ate. It also has an addi­tive that Britain's Food Com­mis­sion has nev­er seen before, some­thing called starch­sodi­u­mocten­syl­suc­ci­nate. Cru­cial­ly, the fruit juice con­tent of this potion is just 5 per cent. But each 500ml serv­ing con­tains more sug­ar than a can of Coke: ten teaspoons.
How, then, is this out­ward­ly-unin­spir­ing mix prov­ing such a threat to Coca-Cola? Main­ly because of the com­plex game of Let's Pre­tend which dom­i­nates the world of food and drinks.
Behind Sun­ny Delight is one of the most sophis­ti­cat­ed mar­ket­ing oper­a­tions the world has ever seen. Proc­ter & Gam­ble is vast. Based in Cincin­nati, it's the world's largest FMCG com­pa­ny – this is adspeak for Fast Mov­ing Con­sumer Goods. For P&G that means Old Spice, Insignia, Cov­er Girl, Ariel, Bold, Daz, Dreft, Fairy Liq­uid, Bounce fab­ric con­di­tion­er, Flash, Nox­e­ma shav­ing cream, Lenor, Pam­pers, Pringles, Max Fac­tor, Biac­tol, Camay, Clear­asil, Crest tooth­paste, Head & Shoul­ders, OiI of Ulay, Man­date, Pan­tene hair prod­ucts, Pep­to-Bis­mol, Vicks, Vidal Sas­soon hair prod­ucts, Mil­ton Ster­il­is­ing Flu­id and Zest soap.
Man­ag­ing such a dis­parate range of prod­ucts requires a tight­ly con­trolled mar­ket­ing strat­e­gy. This con­trol even extends down through the cor­po­rate struc­ture. Accord­ing to Alice Swasy's book Soap Opera: The Inside Sto­ry Of Proc­ter & Gam­ble, at P&G there is a com­pa­ny pol­i­cy on mem­os. Every memo with­in the com­pa­ny has to be on a sin­gle side of A4, dou­ble-spaced, or it is returned to you. With­out cor­rec­tions. Send out anoth­er rule-break­ing memo and you may regret it. You can be fired for talk­ing to the press with­out per­mis­sion, even if you only work for a com­pa­ny that works with P&G. At P&G there are rules for mak­ing adverts. These include the num­ber of sec­onds you can show deodor­ant being sprayed on to the body. This is the length of time that research says con­sumers pre­fer. It is this com­pa­ny that calls its prod­uct Sun­ny Delight.
The high­ly struc­tured world of Proc­ter & Gam­ble can be seen in the bright and breezy adver­tis­ing-by-num­bers cam­paign that backed this launch. Kids run in from school and aim straight for the fridge. We see the man­child pass over the bot­tle of cola and seem dis­ap­point­ed for a frac­tion of a sec­ond. Sud­den­ly: joy! He sees the Sun­ny Delight. He grabs the bot­tle and he and his mates sup togeth­er, prais­ing it to the heav­ens, glo­ry­ing in the sun-drenched joy of life epit­o­mised by this drink. Even­tu­al­ly, they run out of the stuff – but no, it's OK, mum arrives with a new bot­tle! As she walks off, she receives the ulti­mate acco­lade. One boy turns to her son and says: ​"She's alright, your mum…"
If you're a mum, there's all the pres­sure you need in that ad. The pres­sure to raise your kid's sta­tus with his mates, the pres­sure to raise your sta­tus with your kids, and the pres­sure to keep your child healthy. Cru­cial­ly, too, the 1.5-litre car­tons are stacked in super­mar­kets next to the break­fast juices rather than the big bot­tles of cola and are aggres­sive­ly priced against these oth­er pre­mi­um fruit juices vying for ​"mum's" mon­ey. It will stay drink­able for five days after open­ing. It doesn't have to be kept in the fridge. It is the per­fect drink for the busy, thirsty, cost-con­scious, domes­tic-peace-lov­ing household.
The car­ton that Sun­ny Delight comes in explodes with the sort of sym­bols we asso­ciate with fruit juices. The warm orange colours, plas­tic con­tain­er and gar­ish lid all cry ​"juice!", but nowhere does the word ​"juice" appear. Indeed, Sun­ny Delight also has the most cun­ning­ly craft­ed label you've ever seen. Sun­ny Delight's label is actu­al­ly a cel­e­bra­tion of the unre­al. It doesn't sell itself as a drink or a juice. It calls itself a ​"bev­er­age". It doesn't say it's from Flori­da or Cal­i­for­nia. It says it's Flori­da or Cal­i­for­nia Style. It won't even use the word ​"fruit", pre­fer­ring instead to employ the phrase ​"cit­rus taste".
Sun­ny Delight is avail­able in six flavours, two of them orange-based. These ​"two great orange tastes… have a unique blend of Orange, Tan­ger­ine and Lime [their cap­i­tals]," say Sun­ny Delight Cus­tomer Ser­vices in a leaflet that prob­a­bly dropped through your let­ter­box in July. But Flori­da Style has a ​"tangy taste", Cal­i­for­nia either a ​"smooth" or ​"soft taste". Togeth­er, this is ​"the great stuff that kids go for!" All this, of course, is under­pinned by the vit­a­min enrich­ment to give an over­pow­er­ing impres­sion of health… with­out actu­al­ly say­ing any­thing about health.
The Sun­ny Delight car­ton is, in short, a semi­otic mas­ter­piece. This has, under­stand­ably, raised a few eyebrows.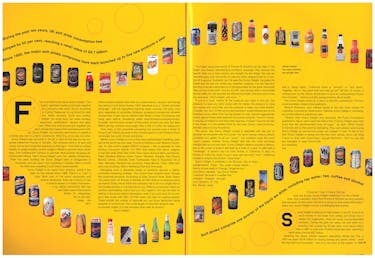 Richard Robin­son, who fol­lows trends in the soft drink mar­ket for mar­ket­ing con­sul­tan­cy Data­mon­i­tor, believes Sun­ny Delight's mar­ket­ing-led pro­file fol­lows a pre­car­i­ous logic.
"Short­ly after Sun­ny Delight was launched, the Food Com­mis­sion pub­lished a report which said that half-a-litre of Sun­ny Delight gave kids more than the rec­om­mend­ed dose of sug­ar," he says. ​"What Proc­ter & Gam­ble did at that point is inter­est­ing. They said peo­ple were buy­ing Sun­ny Delight as well as fruit juices, not instead of them. If that is true then Sun­ny Delight is eat­ing into the fizzy drink mar­ket, which will bring it face to face with Coca-Cola," argues Robin­son. ​"And no one has yet man­aged to beat Coca-Cola in a mar­ket­ing war."
"If that isn't true, it means that par­ents are buy­ing Sun­ny Delight believ­ing it to be a health drink. And, inevitably, they'll find Proc­ter & Gam­ble out and prob­a­bly feel betrayed. At that point, the drink is going to face some dif­fi­cul­ties." Either way, Sun­ny Delight is in for a chal­leng­ing few months.
Sun­ny Delight is play­ing for high stakes. In the UK, there is so much mon­ey to be made from sell­ing soft drinks that it defies the imag­i­na­tion. Here are some incom­pre­hen­si­ble num­bers. Dur­ing the past ten years, UK soft drink con­sump­tion has jumped by 50 per cent, from sev­en bil­lion litres in 1987 to well over ten bil­lion litres last year, reach­ing a retail val­ue of some £6.7 billion.
Break­ing this down, mar­ket research spe­cial­ists Mintel say that in 1997 we spent £419 mil­lion on buy­ing ener­gy and sports drinks – stuff like Red Bull and Lucozade – and it's a tiny part of the mar­ket. In 1996, 110 mil­lion litres of sports drinks were sold com­pared to 625 mil­lion litres of bot­tled water; 1.3 bil­lion litres of fruit juice and juice drinks (eg Snap­ple, Oasis); 2.7 bil­lion litres of squash; and 4.7 bil­lion litres of the dad­dy of them all: fizzy drinks.
That works out at 159 litres of soft drinks for every man, woman and child in the coun­try. Soft drinks now com­prise one-quar­ter of all the liq­uid that we drink, includ­ing tap water, tea, cof­fee and alco­hol. Since 1991, tea in par­tic­u­lar has been in seri­ous decline – hence the des­per­ate strug­gle for inno­va­tion by the tea com­pa­nies, from Tetley's round bag in 1989, the instant tea gran­ule in 1991, and PG Tips' Pyra­mid® tea bag from last year. After over­tak­ing cof­fee, beer and milk at the end of the Eight­ies, soft drinks are now chal­leng­ing tea as the nation's favourite drinks.
Since 1990, the UK's major 20 to 30 drinks com­pa­nies, from Coca-Cola through SmithK­line Beecham (which makes Lucozade, Ribena and, er, anti-diar­rhoea tablet Dio­calm) to Schweppes have each launched up to five drink prod­ucts a year. One of the newest is this summer's Ribena Twist. This is tagged ​"Water With A Twist". Isn't this like say­ing ​"this is very, very dilut­ed fizzy Ribena that's gone a bit flat"? Or is that too cyn­i­cal? Anoth­er fresh face in your newsagent's chill cab­i­net is Tiz­er Ice. This tastes cool because of, drinks indus­try observers say, the men­thol. This is just like being on hol­i­day in, say, St Moritz and draw­ing deep from the clear, revi­tal­is­ing moun­tain air. Obviously.
Most of these launch­es have failed spec­tac­u­lar­ly. Remem­ber Tab Clear? Launched in Feb­ru­ary 1993, Coca-Cola spent £10 mil­lion on its mar­ket­ing in the first year. It was the drink sen­sa­tion of that spring, sell­ing mil­lions of litres. Now? Off the shelves for­ev­er. And Outspan's juice drink range, buoyed up by a £2 mil­lion mar­ket­ing bud­get in 1992? Off the shelf a year later.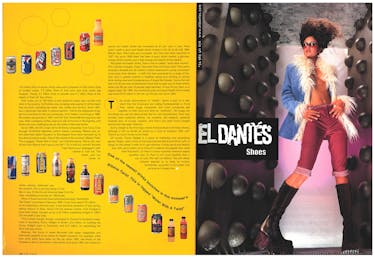 This is small change, though, com­pared to Proc­ter & Gamble's invest­ment in launch­ing Sun­ny Delight in Britain: £12 mil­lion on build­ing the Sun­ny Delight plant in Som­er­set, and £10 mil­lion on adver­tis­ing the drink this year alone.
Bizarrely, this boom in water flavoured with sug­ar, veg­eta­bles and chem­i­cals appears to be dri­ven by health con­cerns. For exam­ple, while fizzy drink sales have been on the up since 1992, two-thirds of the increase is due to the boom in diet drinks. And since 1992, the mar­ket for sports and health drinks has increased by 67 per cent. In fact, there wasn't real­ly a sport and health drinks mar­ket in the UK at all until 1994. Before then, there was just Lucozade, and that had been launched in 1927. But since 1994 there has been a sport drinks mar­ket, a glu­cose-ener­gy drinks mar­ket, and a high-ener­gy stim­u­la­tion drinks market.
Along­side the health drinks, there's the so-called ​"adult drink mar­ket". This includes Snap­ple, Oasis, Moun­tain Dew and Aqua Libra. This sec­tor is bare­ly a decade old, its cre­ation a direct response to young con­sumers' move away from alco­hol – a shift that was prompt­ed by a range of fac­tors, from a greater inter­est in health­i­er eat­ing and drink­ing to stern­er drink-dri­ving laws and increas­ing use of drugs like Ecsta­sy. Hence the fact that only 30 per cent of pen­sion­ers have ever bought any of these drinks, while over 85 per cent of peo­ple aged between 15 and 24 buy them on a reg­u­lar basis. By 1997, this com­bined adult and sport/​health drink mar­ket was worth £270 mil­lion in the UK, up 344 per cent since 1992.
The whole phe­nom­e­non of ​"health" drinks is part of a new trend that the Amer­i­cans are call­ing Nutraceu­ti­cals or Food Plus, where drugs com­pa­nies and food com­pa­nies get togeth­er to offer food and drink as ​"med­i­cine". No longer are the things you eat and drink sim­ply fuel for your bio­chem­istry. Now they actu­al­ly have med­i­c­i­nal effects, via nutri­ents, salt bal­ance, essen­tial min­er­als and, of course, vit­a­mins. And that's just what Sun­ny Delight shouts from the label. Vitamins.
Sun­ny Delight is the first mass-mar­ket Nutraceu­ti­cal to hit these shores, although it will no doubt be joined by a host of imi­ta­tors. Why not? There's so much mon­ey to be made.
Of course, Sun­ny Delight is a piece of mar­ket­ing and adver­tis­ing genius. Sug­ar, water, a hint of fruit and a tex­ture that is smooth (or soft, or tangy) on the palate. It tells us it's got vit­a­mins, it looks good and healthy and, well, we'd pre­fer not to know it's made by the peo­ple who make Ariel Auto­mat­ic. Or that it's some import­ed Amer­i­can sta­ple (anoth­er one). Or that it's not much health­i­er than a can of cola. We want to believe. The soft drinks indus­try expects us to keep on buy­ing. Some­times, we pre­fer to be fooled. Just as long as it tastes nice.
---