Trend or godsend? We road test the infrared sauna

"A healthy flush in my cheeks, a spring in my step and a noticeably better mood." THE FACE's Beauty Editor-at-Large Nellie Eden gives the hot new sauna on the scene the green light.
It's likely that many of you have used a sauna before. You know, that wooden box that's heated to a temperature of between 70 and 100 degrees Celsius. So hot. So fancy. So… sweaty. According to Harvard Medical School, the average Joe will pour out a whole pint of sweat during a short stint in a traditional sauna. It's thirsty work! Having stepped two feet into one this week, I would know.
Enter infrared saunas: a new wave of sweat-inducing therapies that typically heat to a maximum of around 60 degrees Celsius, warming the body instead of the entire room. Not only do they make you sweat, infrared saunas have other benefits for the body, too. Lunch break mini-infrared saunas, like those on offer at Soho's Glow Bar, are popping up all over London, promising health and mood boosting benefits like better sleep, de-stressing, detoxification and endorphin stimulation. Interested? Read on.
I visited the uber glamorous new 180 Health Club, founded by shop-owner, life and style guru Alex Eagle, located on London's The Strand to get in on the glow. The facilities are out-of-this-world luxe. Think: terrazzo changing rooms and one-on-one reformer pilates studios. In vast white studios that host activities like fencing and acupuncture, huge screens play looping vistas of Tuscan landscapes or crashing waves.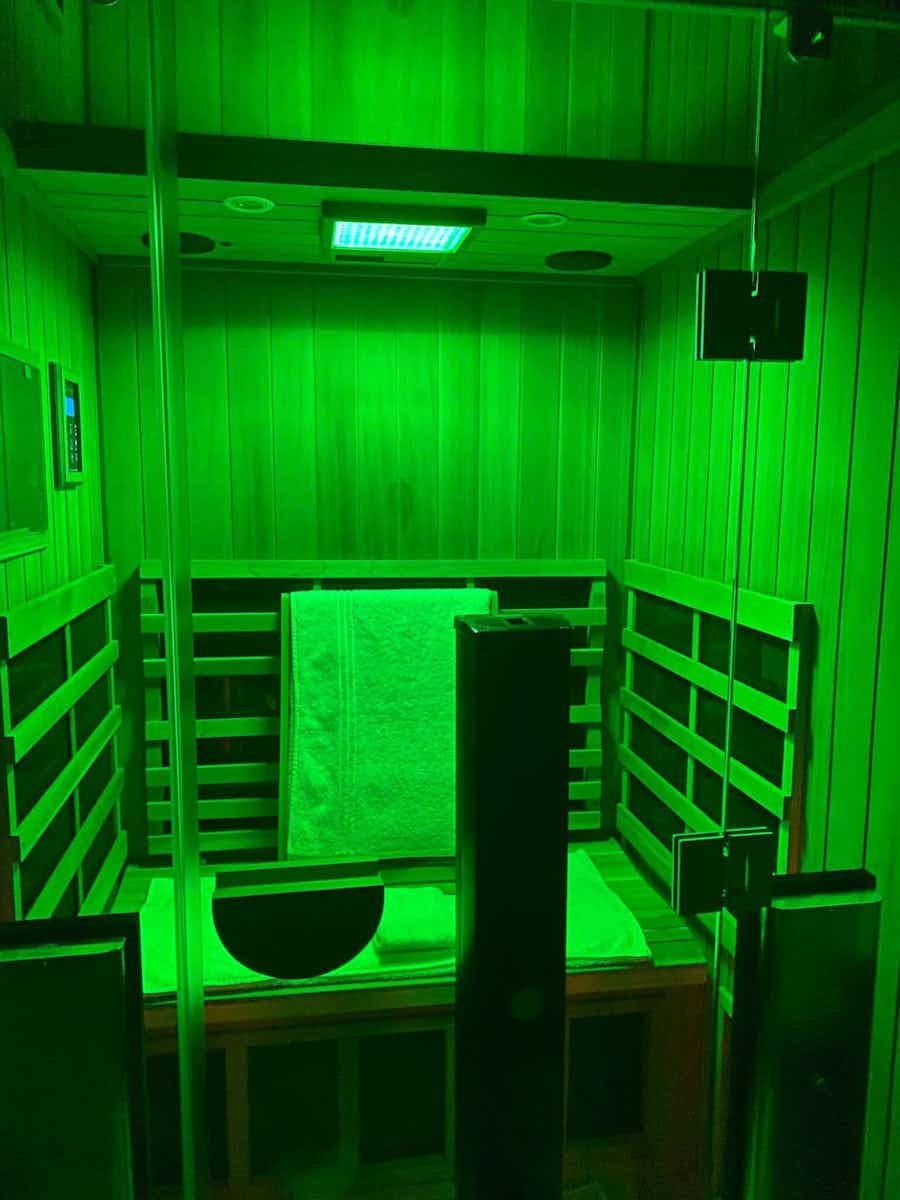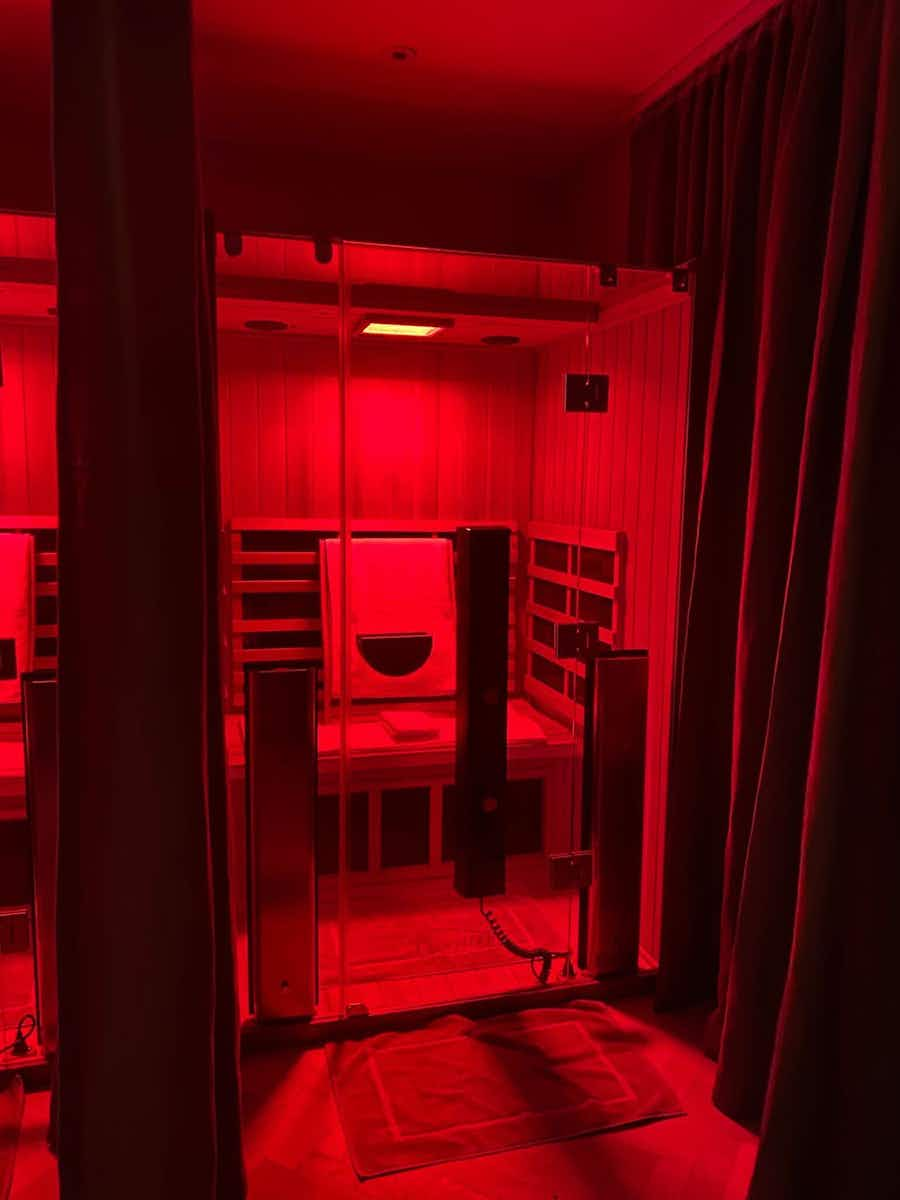 There are two small cabin-style infrared saunas at 180 Health Club. I am told to grab a glass of water, undress (completely, if I want to) and zone out for the next 25 minutes. I am shown how to change the colour of my sauna using a panel above my head and I'm shown how to dial-up a set of panels directly opposite my face for a ​"boost". I flick between green, yellow and blue before settling on red for the last ten minutes. Chromotherapy is cooked into this sauna experience. Otherwise known as colour light therapy, chromotherapy is the belief that exposing yourself to different coloured lights will have a varying impact on your bodily senses and responses. Green and yellow are supposed to reduce skin redness and inflammation, and red is supposed to promote cell renewal and relaxation.
The heat is pleasant. It's not as fierce as a typical sauna temperature, but I'm glad of the water and happy I chose to go in nude. A deep serenity sinks in, the kind that's more acute when you know the hustle and bustle of city life lies just a few metres away. For someone as restless as me, the 25-minute session is ideal. I shower, dress and thank the staff (one of whom tells me I'm in for a great night's sleep, and that she tries to always squeeze one in before the beginning of her menstrual cycle).
I leave just before 9.30am, and I have a healthy flush in my cheeks and a spring in my step. I am noticeably in a better mood. Whether that's a placebo effect or not, I'm unsure, but that evening I sleep uninterrupted. Priced at £40 for 25 minutes, it's about half as long and twice as expensive as the average workout class in London, but the effect feels different – holistic and calming, more to do with my mood than my body. I can see how a treatment like this could become part of a busy person's lunchtime schedule in the future, if only to have 25 minutes free from screen time.


More like this