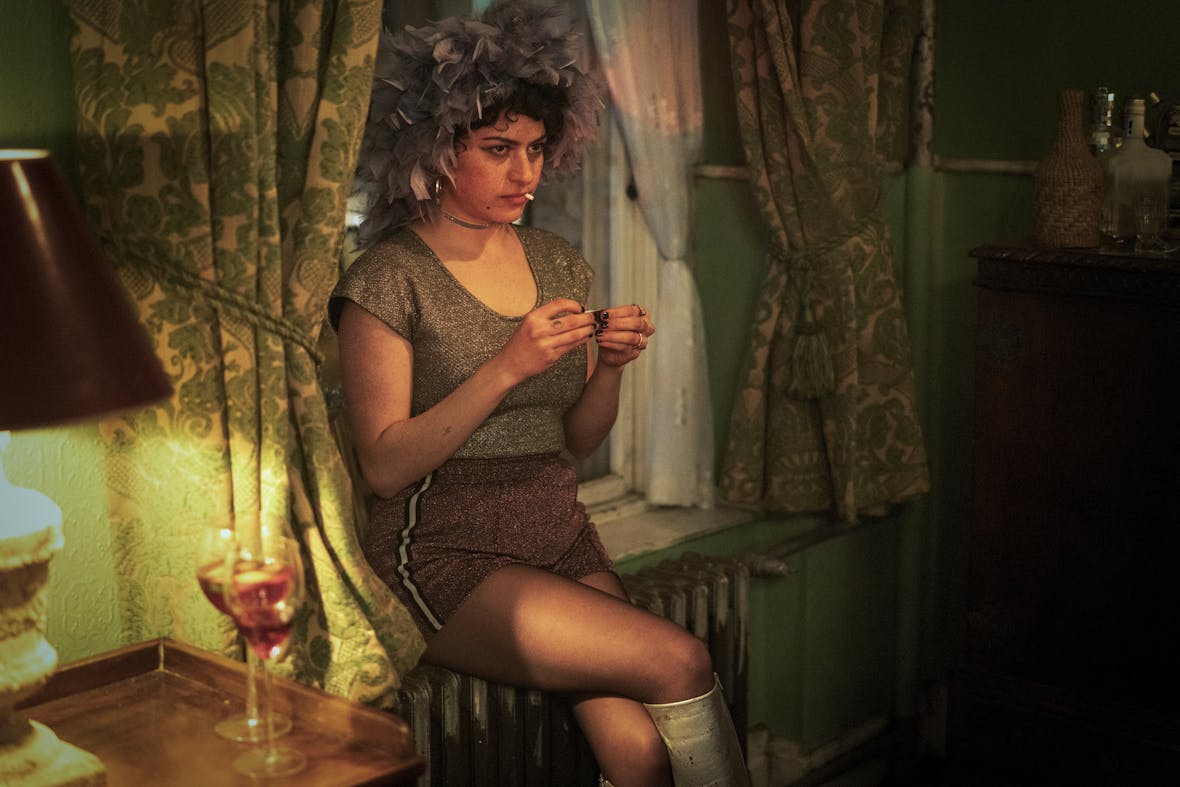 Alia Shawkat is tak­ing things up a gear
Alia Shawkat just turned 30, a mile­stone with the poten­tial to send any­one into a spi­ral of anx­i­ety. And to be clear, the Amer­i­can actress-turned-film­mak­er – who received her big break two decades ago in a Bar­bie com­mer­cial (Bar­bie In A Porsche – a clas­sic of the toy ad genre) – shares this sense of uncer­tain­ty. But rather than feel­ing the fear, she's embrac­ing the shift in gear.
"When you get old­er you have to be more respon­si­ble, and health­i­er. You're like: ​'Oh wait, I can't drink every day?'" she says with a smile.
"I think by the time you turn 30, you're at this kind of cross­roads where you know that you want to be seen in a dif­fer­ent way. You're just not exact­ly sure how yet."
Shawkat is aching­ly self-aware with a com­fort­able, mat­ter-of-fact air to her. When we meet in a plush cin­e­ma just off Pic­cadil­ly Cir­cus in cen­tral Lon­don, the Cal­i­forn­ian is swad­dled in a Nike anorak and doo­dling on a scrap of paper. Her boun­ti­ful freck­les are topped by hair that was recent­ly most­ly shaved off in prepa­ra­tion for her lead role in the third sea­son of New York-set mur­der-mys­tery com­e­dy Search Par­ty.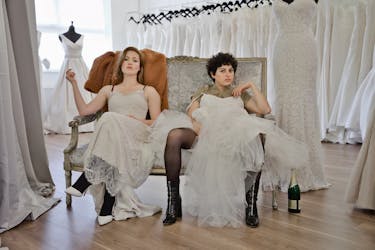 Since the show launched in 2016, Shawkat has writ­ten, pro­duced and starred in her first fea­ture, Duck But­ter for Net­flix, and reprised her role as Mae­by Fünke for anoth­er Arrest­ed Devel­op­ment come­back. Right now, though, she's appear­ing along­side Hol­l­i­day Grainger (Patrick Mel­rose) in Ani­mals, a Dublin-set tale of tox­ic friend­ship adapt­ed from Emma Jane Unsworth's best-sell­ing 2014 novel.

She plays Tyler, the abra­sive but loy­al part­ner-in-crime to Grainger's Lau­ra, a late-twen­ty-some­thing with healthy appetite for booze, cocaine, one-night stands and flop­py-haired front­men in bands.
"She's a vibrant, out­go­ing nar­cis­sist who pret­ty much likes to do what she wants and has a hard time accom­mo­dat­ing oth­er peo­ple," is Shawkat's take on Tyler. At once daz­zling­ly extro­vert­ed yet elu­sive, Tyler's past is mys­te­ri­ous, but hints can divined in her many out­fits; over­sized shag­gy coats, sequined dress­es in mer­maid shades and bold hemlines.
"I love the wardrobe in this movie," Shawkat beams.
"It's impor­tant to me to find the right pair of shoes for a char­ac­ter. There's this amaz­ing pair of sil­ver boots that I wear in the film – the moment I put those on I was doing high kicks. I thought: ​'This is Tyler.'"
"As much as these clothes were a cos­tume for me as an actor," she con­tin­ues, ​"they were a cos­tume for Tyler as well. It's her way of say­ing: ​'Look at me, but don't come too close.'"
Shawkat and Grainger are effort­less­ly com­pat­i­ble as aim­less friends intent on liv­ing in the now and ignor­ing the lat­er, the result in part of pre-pro­duc­tion bond­ing between the Amer­i­can and the Englishwoman.
"Hol­l­i­day and I spent a lot of time talk­ing about friend­ships where we'd been Tyler or Lau­ra," Shawkat says. ​"That dynam­ic where you're so close that shar­ing the oth­er per­son feels impos­si­ble. We thought about when we'd begin to feel threat­ened; where does the fear come up? When do we begin to become manipulative?"
Tyler in par­tic­u­lar wears her flaws like army stripes, meet­ing her crit­ics with the brazen defi­ance of some­one who's not ready to move for­ward and grow up.
"There's the Tyler that I thought I knew while I was play­ing her, and then anoth­er one that I saw when I was watch­ing the film. She felt a lit­tle sad­der to me. It's like she's putting on this show that once worked real­ly well, but now the eye­lin­er is a lit­tle dry, the boa isn't hang­ing the same way that it used to. You're start­ing to see behind the cur­tain a lit­tle bit more."

Por­tray­als of women on the cusp of their thir­ties have flood­ed the screen of late, from the stars of pot­ty-mouthed Net­flix ani­ma­tion Tuca & Bertie to sit­com Broad City, in which Shawkat had a brief but hilar­i­ous­ly self-indul­gent cameo as Ilana Glazer's near-iden­ti­cal love interest.
"It does seem like women of this age are becom­ing more expres­sive through this art form because it's a real­ly fas­ci­nat­ing time," Shawkat agrees. ​"You're begin­ning to become more aware of your sex­u­al­i­ty and the shift that's start­ing to take. You're more aware of how peo­ple respond to you.''
"And then there are these ques­tions about being a moth­er, or hav­ing this dic­tat­ed fam­i­ly life that comes with grow­ing up. There's a pres­sure to have all of that, even if it's not nec­es­sar­i­ly what you want to do."
Shawkat came out as bisex­u­al in a mag­a­zine inter­view in 2017. Her jour­ney is reflect­ed in part in Duck But­ter. She'd orig­i­nal­ly writ­ten the com­e­dy film with a straight cou­ple in mind, before reori­ent­ing the script to make her love inter­est a viva­cious young woman (played by Laia Cos­ta). It's a com­plex and vul­ner­a­ble char­ac­ter study, not to men­tion a huge­ly assured fea­ture writ­ing debut.
"It was the first time that I actu­al­ly fol­lowed through and made some­thing," she acknowl­edges, adding that she's intent on con­tin­u­ing her screen­writ­ing career. ​"I'm work­ing on a show now which is even more per­son­al. In some ways it's about my fam­i­ly. It's fuck­ing hard to write, but I'm get­ting there!"
A tru­ly mod­ern mul­ti-dis­ci­pli­nary won­der, Shawkat is also an estab­lished artist, her work rang­ing from warped mono­chrome por­traits of Don­ald Trump to colour­ful, polit­i­cal collages.
Though her least pub­licly known attribute, Shawkat's art feels like the most authen­tic reflec­tion of her­self. It's a peek into the inner work­ings of a woman who craves con­nec­tion and expe­ri­ences every­day inse­cu­ri­ties, but who also feels empow­ered by what she does.
"My grand­fa­ther was an actor and he'd say: ​'Don't act because you want to – act because you need to.' That felt a bit extreme to me, as I don't feel like I need to act. But I do feel like I need to make art, that's for sure."
"It not only helps me as a means of cathar­sis. It helps me con­nect to peo­ple, which I think is what this life is all about. It's about bal­anc­ing the two voic­es in your head," she con­cludes. ​"The voice that's like: ​'You don't know what you're doing, you're a joke.' And then the one that's say­ing: ​'You're going to change the world.'"
More pow­er to the many tal­ents, and many voic­es, of Alia Shakwat.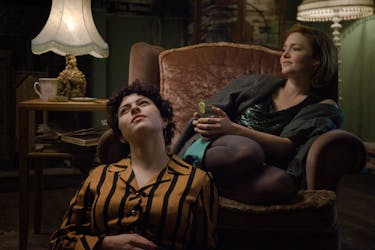 Ani­mals pre­miered at Sun­dance Lon­don this month, and is released in UK cin­e­mas on 2nd August
---