Curator, writer and art-lover Shonagh Marshall has edited a list of the must-see exhibitions opening this month.
The Face's new column sees curator, writer and art-lover Shonagh Marhsall edit a list of the must-see art and photography exhibitions opening around the world each month. As Marshall explains, in Dream Spaces: Memory and the Museum, author Gaynor Kavanaugh wrote that a museum ​"energises both our imaginations and our memories. It illuminates feelings. Anarchic and unpredictable". Within these spaces, ​"we can arrive at all sorts of possibilities not considered by those who make museum exhibitions… many things might tumble through our minds: bits of songs, half-written shopping lists, things left unsaid".
It's the exact reason that Marhsall makes exhibitions. ​"To do it well, I believe it is important to see a lot of them – big ones, small ones, contemporary and historical," she explains. ​"I go to around four a week. To me, these spaces offer an opportunity to see the world in a new way, to draw connections and learn something new. I marvel how a neighbouring nugget of knowledge had been waiting to be linked to a fresh fact all along." Full of cajoling words, Marshall's list is here to inspire your next gallery trip.
Goshka Macuga: What was I? Prada Rong Zhai, Shanghai, until 2 June
Staged in a 1918 historic residence that has been renovated into an exhibition space by the Prada Foundation this show features a new commission by Polish-born, London based contemporary artist Goshka Macuga. Entering a fictional, post-apocalyptic world, an android wanders the house, delivering a monologue made up of excerpts of seminal speeches from history, while revealing his personal art collection and belongings that comprises 25 works from Collezione Prada.
Dorothea Tanning at Tate Modern, London until 9th June
'I wish you could see this show' a female artist friend wrote to me, ​'she so perfectly depicts what it's like to be a woman making art.' Wanting her work to evoke ​'unknown but knowable states' this exhibition explores how Dorothea Tanning expanded the language of surrealism. While there also go and see Nan Goldin's ​'Ballad of Sexual Dependency'. The ever-evolving slide show of Goldin's images of her downtown New York cohorts set to a soundtrack – it is one of my favourite pieces of art.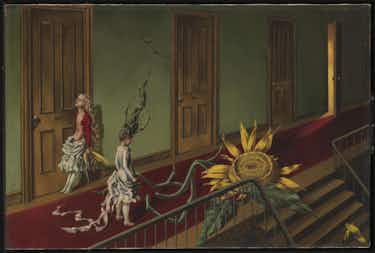 The Art of Disney: The Magic of Animation, Dongdaemun Design Plaza, Seoul, until 18th August
I love pop culture. I am really interested in how you take something that garners such gargantuan audiences, in this case, the animations Disney is famed for, and instil it into an exhibition. The success hinges on telling a story and considering the work as an object worthy of scrutiny. This show has 500 works, wow; ranging from the Mickey Mouse's 1928 debut in the short film Steamboat Willie, through to artworks from the 2013 hit Frozen.
I, I, I, I, I, I, I, Kathy Acker ICA, London, until 4 August
Art critic Jonathan Jones gave this exhibition five stars. Describing Acker as a ​'poet, novelist, self-styled plagiarist and social visionary… [who] gleefully sailed the seven seas of literature stealing what she wanted and leaving nuggets of savage rhetoric in her wake' he continues that I, I, I, I, I, I, I, Kathy Acker is a ​'Babylonian beast of an exhibition'. This is the kind of show I want to immediately go and experience.
Whitney Biennial Whitney Museum of Art, New York, 17 May - 22 September
Introduced by the founder of the Whitney Gertrude Venderbilt Whitney in 1932 the Biennial is the longest-running exhibition in America. Curated by Jane Panetta and Rujeko Hockley it shows work by 75 contemporary artists spanning painting, sculpture, installation, film and video, photography, performance and sound. I am excited about Heji Shin, Martine Syms, and Kyle Thurman but the point here is all about discovering something new, so go with ​'no expectations and a heart full of hope' as my Mum would say.
David Wojnarowicz: History Keeps Me Awake at Night, Museo Reina Sofía, Madrid, 29th May – 30th September
I saw this exhibition when it was at the Whitney Museum of Art in New York last year. Spanning Wojnarowicz's career, from the late 1970s until his untimely death in 1992 through AIDS-related complications, it presents his diverse body of work. Using mixed media to explore social constructs encompassing the use of photography as a narrative tool; collage as a resource for critique and political statement; painting to explore different allegorical processes; and photomontage and text as an approach to the queer and identity politics which shaped his role as an activist. This is an important exhibition, not to be missed.
Camp: Notes of Fashion, Costume Institute at Metropolitan Museum of Art, New York, 9 May – 8 September
Using Susan Sontag's 1964 essay ​"Notes on ​'Camp'" as a framework the genius curator Andrew Bolton's yearly behemoth show scrutinises how fashion designers engage with camp in a myriad of compelling, humorous, and sometimes incongruous ways. Bolton's shows generate huge interest, from a huge cross section of people. I think exhibitions are supposed to both educate and entertain; his shows do that in spades.
Carsten Höller, Museo Tamayo, Mexico City, until 30th June
The first exhibition of Carsten Höller's work in Mexico City, this retrospective charts the career of the German-born artist who trained as a scientist. Applying this knowledge to his art practice, he is interested in human interaction. Known for large-scale site-specific installations, for this show he has built Decision Tubes (2019) offering a fresh perspective to the museums brutalist architecture. The exhibition also includes a selection of works spanning his ten-year oeuvre.
Mariette Pathy Allen: Rites of Passage, 1978 – 2006 and James Bidgood: Reveries Museum of Sex, Until 8th September
The Museum of Sex is a strange proposition, one part permanent collection (including boob bouncy castle), the other temporary exhibitions which pack a punch – notably The Incomplete Araki, Leonor Fini: Theatre of Desire and the Mariette Pathy Allen and James Bidgwood shows that are on now. The photography and film on display by James Bidgwood charts his work in ​"physique photography" – the highly coded gay pornography of the ​'60s. The images are highly constructed, including young men in lavish sets. Alongside is a show by Mariette Pathy Allen, which spans 40 years of work documenting trans and gender-variant communities. Her images are a phenomenal testament to the ability of photography has to capture emotion.
Frank Bowling, Tate Britain, London, 31st May – 26th August
Frank Bowling was the first black living artist to have a work acquired by The Tate when they added: ​"Spread Out Ron Kitaj" (1984 – 86) to their collection in 1987 and the first Black British artist to be elected to the Royal Academy of Art in London in 2005. His work fuses abstraction with personal memories and this major retrospective offers an opportunity to see works from across his 60-year career, including those from key series such as the Map Paintings and the Poured Paintings of the ​'80s.
Jessi Reaves, Bridget Donahue, New York, until 12th May
Jessi Reaves is part of a group of New York-based creatives who are developing a distinct visual language. In her first solo show, Reaves draws attention to materiality, in both construction and stylistic flourishes. Featuring chairs, tables, cabinets and shelves – the sculptures are both irrational and imperfect, their human scale and materials referencing historical and conventional forms.
Kyotographie International Photography Festival, Kyoto, until 12th May
Held in the ancient city of Kyoto this is Japan's largest international photography fair. This year's theme charts the national ​'vibe' as Japan enters the new imperial era Reiwa, which began on 1st May. Also, this month is Photo London another world-renowned photo fair held at London's Somerset House, from 16 – 19th May.

Rembrandt, Vermeer & The Dutch Golden Age, Louvre Abu Dhabi, until 18th May
The development of Abu Dhabi as a built cultural centre spans to an outpost of the Parisian historic institution the Louvre Museum. This exhibition, ending soon, charts Rembrandt's artistic journey and his relationships with friends, rivals, and contemporaries in the Dutch cities of Leiden and the wider Netherlands during the Dutch Golden Age of the 17th century. Also including works by Vermeer, Jan Lievens and Carl Fabritius.
Civilisation: The Way We Live Now, Ullens Centre for Contemporary Art, Beijing, until 19th May
Civilisations: The Way We Live Now includes 100 photographic works looking at the interconnected nature of human society today. A challenging and unruly subject it is curated by legendary curator William Ewing with Bartomeu Mari and Holly Roussell Perret-Gentil. In a time when we consume plentiful images I am intrigued how we are developing ways to read and communicate through them. Furthermore how they will act to document both reality and fiction and how do we tell this apart? I would love to see this show, which is on a world tour – next stops Melbourne, Australia, Auckland, New Zealand and finally Marseilles, France.
Korakrit Arunanondchai and Alex Gvojic (with boychild): No history in a room filled with people with funny names 5 Bangkok Citycity Gallery, Bangkok, until 19 May
This exhibition serves as a reconfiguration of Korakrit Arunanondchai's continuous thoughts and collaborations over the past six years with two artists Alex Gvojic and boychild. A video installation in the piece boychild plays the role of the Naga, a character constantly at state of becoming. Arunanondchai is interested in the way in which history can mutate and form over time, especially within oral tradition, his work engaging in authenticity, self-representation, and tourism through the lens of cultural transplant.

More like this