Euphoria's Bar­bie Fer­reira is bring­ing sexy back
Like any good epiphany or break­through, it hap­pened in ther­a­py. Bar­bie Fer­reira was sat on a couch dur­ing a reg­u­lar ses­sion when she got a call, the call, from HBO, telling her she beat out one oth­er girl to score the role of Kat Her­nan­dez on Eupho­ria. ​"I lit­er­al­ly was with my ther­a­pist for 30 min­utes talk­ing about how anx­ious I was!" she says, chat­ting away at a clip over the phone from LA. ​"I remem­ber just get­ting that call and crying."
As Kat, Fer­reira plays a zeal­ous One Direc­tion fan fic­tion writer who needs to ​"catch a dick," accord­ing to her friend Jules (Hunter Schafer), and con­se­quent­ly expe­ri­ences a las­civ­i­ous sex­u­al awak­en­ing. She starts per­form­ing on cam­era for side mon­ey and hooks up with a stud under the fer­ris wheel at the local fair.
Eupho­ria, for the unini­ti­at­ed, is a mix of cre­ator Sam Levinson's real-life strug­gles with drug addic­tion and an Israeli Skins-type show of the same name. First, it was the ​"point­less­ly gra­tu­itous" ​"30 penis­es" scene in episode two that had enraged Boomers try­ing to lock it up in TV jail. Then, shock hor­ror, peo­ple realised the show was good, and real, if a bit hard to swal­low. The con­tro­ver­sy sub­sided until… one episode lat­er – Kat's episode. Barbie's char­ac­ter Kat fan­ta­sis­es about the rela­tion­ship between 1D's Har­ry Styles and Louis Tom­lin­son, her teenage crush­es. A graph­ic, ani­mat­ed sequence shows the two singers canoodling. Fans were uproar­i­ous, and Tom­lin­son him­self tweet­ed ​"I can cat­e­gor­i­cal­ly say that I was not con­tact­ed nor did I approve [that scene]."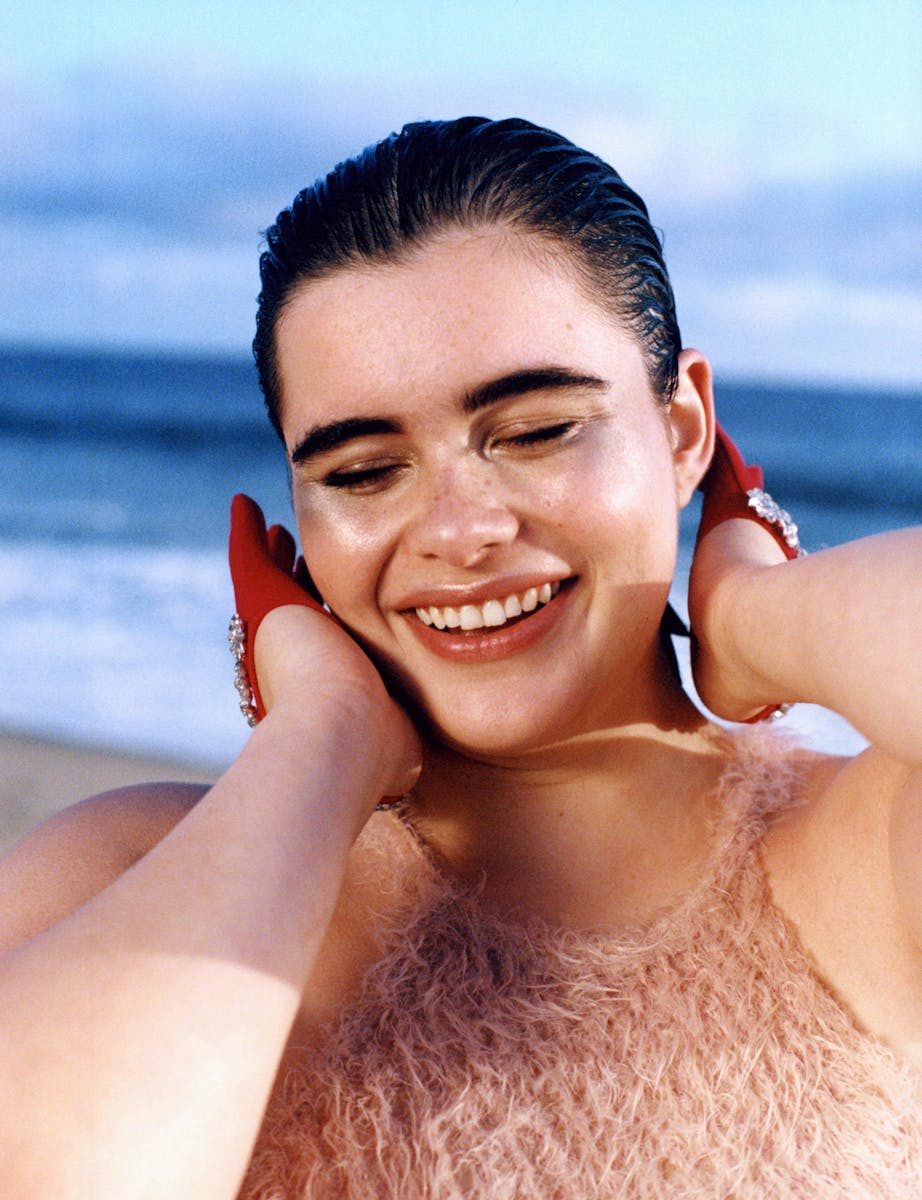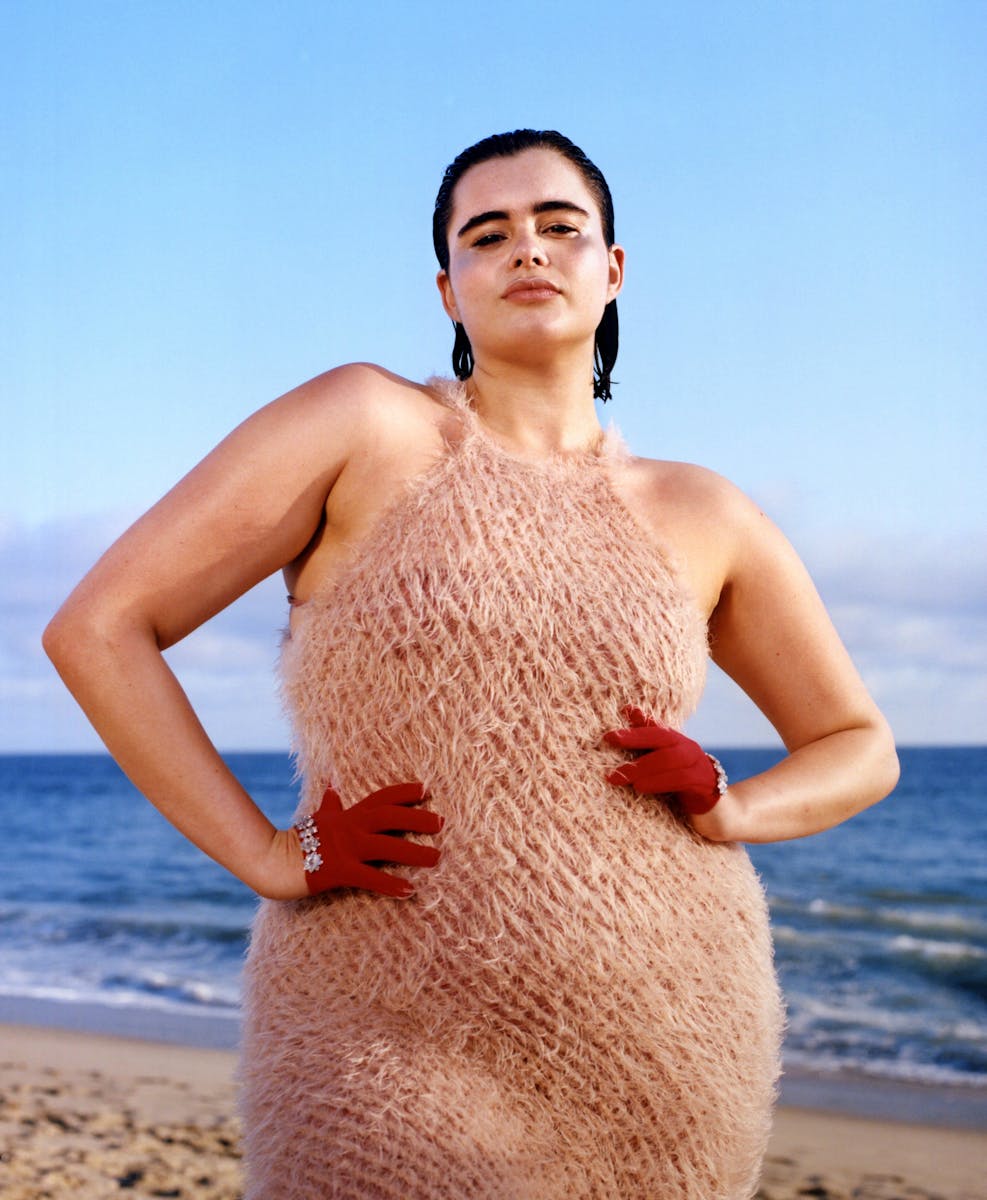 So now, three episodes in, Eupho­ria had pissed off Boomers and Direc­tion­ers. Fer­reira had some idea that the show's top­ics would become some­what of a cause célèbre among the more puri­tan­i­cal. ​"As a per­son who's been on the inter­net since I was nine, I did not expect this show to come out and get no press or any­thing. Like, I total­ly got it. It's not meant to be for con­ser­v­a­tive moms." But as a Direc­tion­er her­self, she was just gen­uine­ly excit­ed that Lar­ry Stylin­son made it onto main­stream tele­vi­sion. ​"When I read Eupho­ria​'s [script], the first thing that real­ly stuck out was that the char­ac­ter was a One Direc­tion fan fic­tion writer," she says. ​"And although I didn't write fan fic­tion, I was def­i­nite­ly a [One Direc­tion] fan. Lar­ry Stylin­son and fan fic­tion, this whole world, is such a big part of the inter­net and no one real­ly talks about it in tele­vi­sion or movies; peo­ple ignore it and think it's, like, kids being kids. I lit­er­al­ly idolised peo­ple like One Direc­tion and felt some com­mu­ni­ty in that. And I think Kat relates to that."
Bar­bie Fer­reira grew up in Queens, New York, for most of her life. She moved to New Jer­sey for a stint, but since the age of 17 would scrounge quar­ters for train fare into Man­hat­tan. She is 22, half Brazil­ian and has lived in LA since Sep­tem­ber of last year. Fer­reira zigzagged from Tum­blr sen­sa­tion to Amer­i­can Appar­el bill­board mod­el to an appear­ance in Car­ly Rae Jepsen's video for Boy Prob­lems to becom­ing a mega­phone for body pos­i­tiv­i­ty, all while stunt­ing on the ​'gram in form-fit­ting latex and post­ing videos with her beloved cats, Mor­timer (hair­less) and Mag­dale­na (hair). Then act­ing – audi­tion, audi­tion, call back, audi­tion. ​"It just seemed like I was float­ing, like I was get­ting close to it but not enough," she tells me of all the attempts to break into the Dream Fac­to­ry. ​"I was mod­el­ling and it was going well. I didn't know if any­one would ever take me seri­ous­ly as an actor. I was doubt­ing myself. I was like, ​'Am I the kind of the per­son that can do this?!'"
And maybe she wasn't, until Eupho­ria called for a big­ger girl who could both con­fi­dent­ly por­tray a sex­u­al mat­u­ra­tion while also being uncom­fort­ably vul­ner­a­ble. The series basi­cal­ly trades in acts of teen mor­ti­fi­ca­tion. Fer­reira was game. The role was seem­ing­ly made for her. ​"There was anoth­er girl who was real­ly great and they were so dif­fer­ent, but Bar­bie is just a star," Eupho­ria​'s cast­ing direc­tor, Jen­nifer Ven­dit­ti, said of her deci­sion to cast Bar­bie in the role. ​"She has some­thing about her that you want to watch. She's not afraid to be vul­ner­a­ble and to be hon­est about what she's feel­ing or what her strug­gles are, and I think that's real­ly attractive."

She's not afraid to ask for what she wants, either. Case in point: Fer­reira turned up to set on day one, sat in the hair stylist's chair, and pre­sent­ed him with the exact type of bob hair­cut she imag­ined her char­ac­ter would have. ​"I made a Ghost World mood board," she explains, laugh­ing. ​"My style is so based off of corn­ball films that I grew up with and loved watch­ing like Jaw­break­er, The Craft or Ghost World. I just feel that Kat def­i­nite­ly watched Ghost World and com­plete­ly relat­ed to Enid."
In Ghost World, Enid is a dead­pan, strong-mind­ed mis­an­thrope who projects her inse­cu­ri­ties onto oth­ers through her cut­ting obser­va­tions (choice quote: ​"I just hate all these extro­vert­ed, obnox­ious, pseu­do-bohemi­an losers"). Enid is every­thing that the real-life Fer­reira is not – her infec­tious pos­i­tiv­i­ty bub­bles out of the phone's receiv­er when we talk. Halfway through our con­ver­sa­tion, just as she's a para­graph deep into a mis­sive about the impor­tance of prop­er­ly por­tray­ing drug addic­tion, she lets out an ear-split­ting yelp. ​"Ahhh! Sor­ry, my cat just scratched me! Morty!" She breaks into a laugh. Mor­timer has not been declawed.

The drug-addled Rue, played by Zen­daya, nar­rates the series. In episode two, she says some­thing to the effect of, ​"I know you're not allowed to say it, but drugs are kin­da cool… until they ruin your skin, and your life, and your fam­i­ly." I point out that Leonar­do DiCaprio took the role of smacked-up junkie Jim Car­roll in 1995's The Bas­ket­ball Diaries in part to con­demn the ​"whole hero­in craze," he told Den­nis Coop­er at the time. ​"I want­ed to help make some kind of state­ment against hero­in." Regard­less of DiCaprio's inten­tion, the Wikipedia entry for ​"hero­in chic" lists The Bas­ket­ball Diaries as one of the paragons of the genre of films that glam­ourise the drug. Will Eupho­ria end up unin­ten­tion­al­ly doing the same? ​"It's so impor­tant to show Rue's per­spec­tive on why she's doing the drugs so that peo­ple can watch it and feel like, I get it," Fer­reira says. ​"I'm not going to judge some­one who's a drug addict that's on the street or some­one that I know who's fac­ing addic­tion issues. We all know peo­ple like that in school. We're just like, why can't this kid just be nor­mal? And there are rea­sons. And of course, there are more episodes of this show, so you see it unravel."
There are so many chances for Eupho­ria to come off as moral pos­tur­ing, some kind of virtue sig­nalling series for woke mil­len­ni­als. Yet it presents all of these teen strug­gles (addic­tion, rape, tran­si­tion­ing) almost with­out com­ment. It's very ​"show, don't tell." And to its cred­it, Eupho­ria has reached a lot of eye­balls.
The show is fun­ny, too. Kat begins cam­ming (per­form­ing sex­u­al acts on cam­era in exchange for mon­ey) and in one scene, an over­weight man with a micrope­nis pays to plea­sure him­self to her (wear­ing only bra and panties) over Skype. ​"I had an ear­piece in so I could hear him," she says. ​"They set up a room in the stu­dio and upstairs was his bed­room. And I remem­ber walk­ing by that room in the begin­ning of the day and I saw a giant jar of jam. Like the biggest, quart-size jar of jam half-eat­en in there. The atten­tion to detail in this room with socks and nasty Chee­to bits every­where. I was like, ​'Uh oh, I'm ready for a good one.' I went down­stairs to my bed­room set and I actu­al­ly cammed with him on Skype so I could see him and my reac­tion was very real. [laughs] I did not see that micrope­nis until it popped up on my Skype!"
Her client, I guess you could say, also has a foot fetish. Kat, parked on her bed, plays around, siz­ing up her feet through her iPhone's lens. I ask the cast­ing direc­tor if they con­sid­ered Ferreira's feet before she was giv­en the part. ​"No, we didn't!" Ven­dit­ti says, laugh­ing, ​"we assumed they were OK." Fer­reira laughs it off. ​"I have an inse­cu­ri­ty about my feet because my best friend from high school, Han­nah, would always tell me, ​'You have the ugli­est feet in the world.' So I feel very empow­ered. Peo­ple fic­tion­al­ly want to pay for my feet!" All toes account­ed for, Fer­reira dived, erm, foot-first into Kat's world and found her­self embody­ing a char­ac­ter that will hope­ful­ly con­nect with Eupho­ria​'s fans. Kat can't help but exude confidence.
That onscreen con­fi­dence mir­rors Ferreira's abil­i­ty to hold our gaze off­screen, where she often posts pho­tos of her Bodicel­li fig­ure to her 560,000 fol­low­ers on Insta­gram and racks up com­pli­ments like ​"thick" and ​"final form." ​"I always feel sexy," she says, self-assured. ​"But that sex­i­ness took a long time for me to unpack. It's tak­en a long time to get over society's image of what it means to be sexy. And, for me, sexy is some­one who – I'm try­ing to say this with­out being corny – flaunts their flaws and doesn't care about what oth­er peo­ple think." By her own def­i­n­i­tion, and to use a sim­i­lar­ly corny phrase, Bar­bie Fer­reira is bring­ing sexy back.
Pho­to assis­tant: Lance Williams; Hair: Sara Taga­loa; Make-up: Tia­go Goya.
---