Read an exclusive extract of Bolu Babalola's Honey & Spice
The bestselling author's anticipated debut novel tells the warm tale of a fake relationship blossoming into a full-blown romance. Go on, be the first to get stuck in!

For the highly anticipated follow-up to her bestselling short story collection, Love in Colour, author and self-professed romcomoisseur Bolu Babalola is back with her stomach-fluttering debut novel, Honey & Spice. In addition to being one of Twitter's sharpest posters, Babalola has established herself as an astute voice of millennial romance, relationships and friendships in her writing, which Honey & Spice offers up in bucketloads.
The novel tells the story of Whitewell University student Kiki Banjo, who usually cautions her Afro-Caribbean society girlfriends about the perils of situationships and engaging with players. But that's before she finds herself taken with one of campus' worst offenders, the charming Malakai Korede, who's not-so-affectionally nicknamed ​"the wasteman of Whitewell" by Kiki. What follows is a thrilling tale of fake relationship blossoming into a full-blown romance, complete with themes exploring growth, vulnerability and the sweet, sweet sensation of falling in love.
Read an exclusive extract of Honey & Spice and marvel at the book's newly-released final cover below.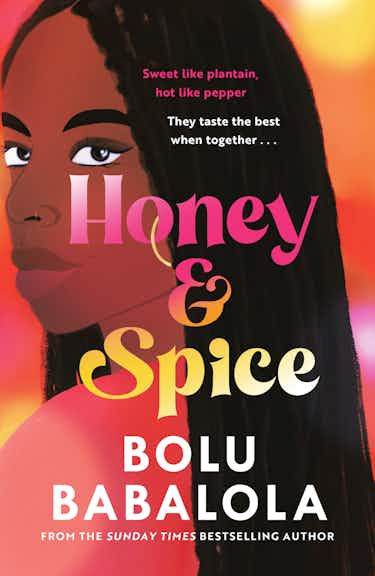 'Do you like that?'
I shifted on the bed as the fifty-thread count sheet scratched against my calves. Biggie was staring down at me from across the room in 24 x 38 form, half-peeling, half-clinging to the wall with contraband Blu-tack, his crown wonky. An apt display of the indignity of being stuck as a witness to everything that went down in a twenty-year-old guy's uni room. My guy – not my guy, but my guy – was using my left breast as a stress ball and OK, yeah, it was mid-term, so we had a ton of assignment deadlines, but take up yoga or something, lift more at the gym, but please do not take the pressure out on my tender tit. (It was day twenty-one on my twenty-eight-day cycle. Hence why I was here. Ovulation sometimes makes decisions for you.) My guy's vodka-spiked breath was hot and curled around my neck, suffocating me. Above us, Biggie's eyes looked bemused, brows furrowed in concern. I feel you, Big Poppa.
This really wasn't as much fun as I'd hoped. As much fun as it used to be. The newness, the thrill, had worn off, and exposed the fact that my guy really had no clue what he was doing. He relied on his status as campus hottie to do his work for him, trusting his squinted hazel eyes, which counterfeited intensity and interest in you – the real you, Ma – to do all the work for him. He didn't engage with his attraction to you because he was so sure of your attraction to him, and why bother trying to make you feel good when he assumed everything he did would automatically feel good to you?
My guy had asked me a question, but he wasn't waiting for the answer. He moved to suckle at my neck aggressively, toothily, still using my boob as a distraction from the 3,000-word essay on macroeconomics he had due in about nine hours.
Honestly, why do so many guys mistake vigour for technique? Like, OK, you want me – this much is clear and, frankly, understandable – but what are you going to do with it? Where is the finesse, hun? The clear understanding that you are handling a masterpiece?! You've got this far. Appreciate it.
I shimmied beneath him and for a few seconds the movement deluded him into thinking he was doing something right. He groaned an ​'Oh is it, Babe?'– until he realised I was shimmying out from under him to sit up straight, snap my bra back on, slip on my T‑shirt, pull down my tan corduroy mini and shrug on my leather jacket.
It ain't, Babe.
Honey & Spice by Bolu Babalola (£14.99, Headline) comes out on 21st July and is available to pre-order here

More like this