"

The greatest game show the world has ever seen": how Fall Guys became the surprise hit of the year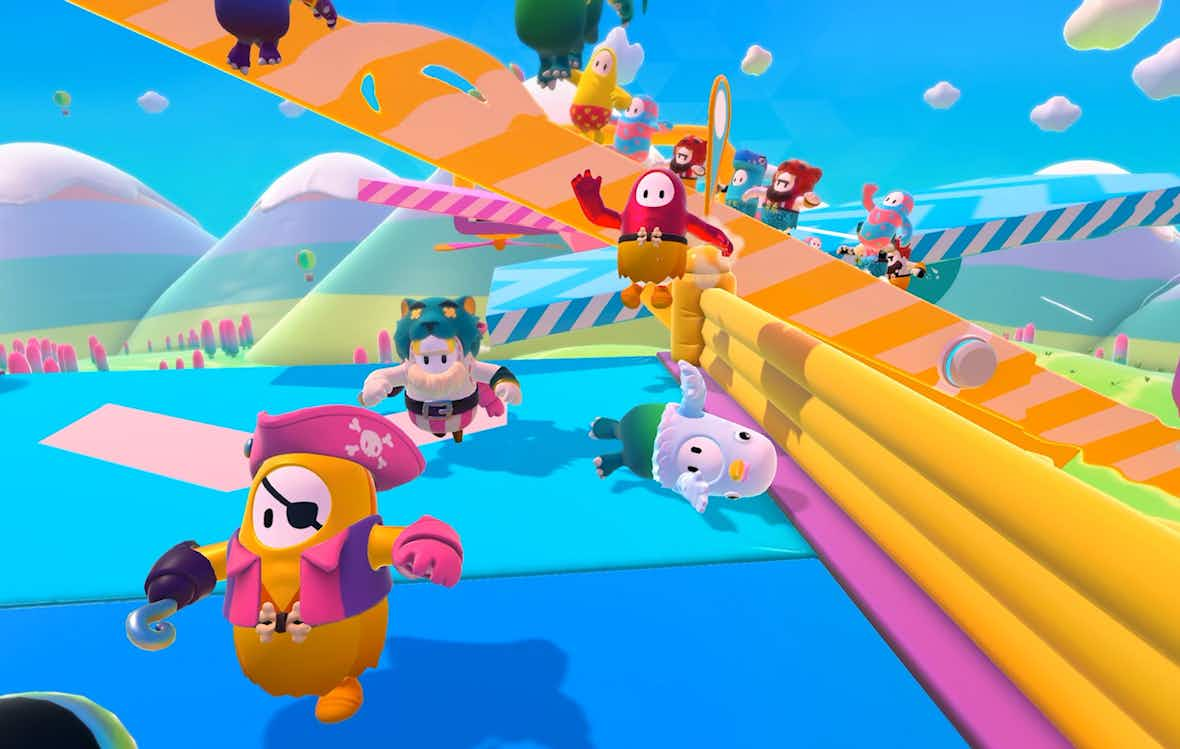 A slime-filled respite from ongoing global catastrophe, the jelly bean battle royale has become one of the biggest games of 2020. Now its developers want it to become a very different kind of platform.
No exaggeration: winning my first crown in Fall Guys might be the single greatest thing to happen to me this year. The bar is low, sure, but when the shock wore off and I realised I was the lone survivor on Jump Showdown, I nearly cried. After umpteen hours, I was the Fall King, and nobody could take that away from me.
Since launching in August, Fall Guys has been hard to avoid. Having topped the charts on Twitch, Steam and PlayStation 4, the multi-coloured party game has racked up millions of players and generated tens of millions of hours of content. A slime-filled respite from ongoing global catastrophe, the jelly bean battle royale has become one of the biggest games of the year, creating as much stress as excitement for a growing studio like Mediatonic.
"One of the most stressful weeks of my life, I think," Joe Walsh, Lead Designer on Fall Guys, says about the game's release. ​"It's one thing when people have paid for your game, and on Steam we were slightly less worried, because if you paid £15 for the game, you're probably going to come back if the servers are on fire. But if it's free, people don't come back for free stuff, you only get one shot a lot of the time."
Those players are PlayStation Plus subscribers, who received Fall Guys as a free download as part of the service. Extremely lucrative advertising that paid off enormously, with Fall Guys becoming the most downloaded game in the subscription's history, a start so promising servers struggled to keep up.

​"It's quite difficult to manage that on social media, because obviously, you have all these people telling you to ​'fix the servers, fix the servers', but we took the approach of just being really open and honest about it," Oliver Hindle, Senior Community Manager on Fall Guys, says. ​"We didn't just tweet about the server issues, which I think would have not gone as well. We kept it fun and light-hearted still."
For the uninitiated: Fall Guys is a free-for-all multiplayer game in which you vie to be the last oval-shaped competitor standing against 59 others across several randomly chosen stages, each presenting a distinct challenge. Due to their poor balance, rotund bounciness, and nigh total invulnerability, most rounds involve watching the titular guys fall into each other in hilariously frustrating ways. It's Japanese game show Takeshi's Castle by way of Adventure Time, which isn't far off the initial pitch.
"We basically sent [Devolver] a one-page document with a bunch of gifs of Takeshi's Castle, that said ​'this, but a game?' at the top," Walsh recalls. ​"There wasn't really much more to it than that. And they were like, ​'Cool, yeah, sweet. Let's make it' and the circus began from there, essentially."
Until this summer, Fall Guys looked like it'd be another strong addition to publisher Devolver Digital's oeuvre, drawing a healthy audience without disturbing any of the established heavyweights. Then the first beta happened, and Fall Guys had more viewers and creators than the likes of Grand Theft Auto V, League of Legends and PlayerUnknown's Battlegrounds on Twitch.
"We had a Google form that YouTubers and streamers could sign up to and say they're interested in covering the game, and when the first beta hit, we had like a thousand of them sign up," Hindle says. ​"So we had an inkling that there was a lot of interest, but the numbers just totally amazed us. We kept seeing it climbing up the charts and we didn't really know what to expect but it just kept going higher and higher."

It's not hard to see why. The roulette wheel structure and blend of co-op and single-player gameplay merge the kinetic excitement of Gladiators with the interpersonal drama of The Crystal Maze. Tension doesn't have the bloodlust of Call of Duty, and everything is quickly understandable in a way Dota 2 or Overwatch aren't.
"Any of the rounds in the game can be explained in three words, and that's because we want it to be spectatable," Walsh explained. ​"If someone comes and looks over your shoulder and asks ​'What are you watching?' it's like, ​'Oh, they just have to avoid the slime or race to the finish or collect the eggs'. You just get it and you're watching it, and you're invested. That's something that's very rare in streaming games, either they're hard to understand or else they're very abstract concepts. Fall Guys does a great job of turning that on its head and simplifying things down into a very digestible, watchable, eminently streamable format."
The memes and streaming highlights were swift and many. The community rallying around Tim ​"TimTheTatMan" Betal's struggle to earn his first crown was an early crescendo, as mock-ups for custom skins flooded in. So many brands were getting in touch, Mediatonic weaponised their interest with a bidding war to buy an in-game skin of your design in support of UK charity Special Effect. Streamers Tyler ​"Ninja" Blevins and Jimmy ​"MrBeast" Donaldson won, pledging one million dollars in a joint bid.
"We weren't really sure what to expect, so it was amazing to see how high it actually got," Hindle says. ​"But I was surprised that it was influencers that won in the end rather than some of the huge brands that have been creating Fall Guys like KFC."
Though more playful than Counter-Strike or Valorant, Fall Guys is still about winning, and the difference between enthralled and frustrated can be a fine line. If I could remove Fall Ball – which I'm relieved is also one of Walsh's Achilles heels – or practice it in isolation so I can do more than flail hopelessly towards the ball, I would. But letting me do so would defeat the purpose.
"We know you want it, but that doesn't mean you should have it, because the fun of reaching those final rounds is the ability to get that practice in," Walsh tells me. ​"You can't really replicate the final circle feeling of a battle royale, you have to just get there, and you have to get comfortable in those situations."
Between handling server fires and cheaters, routine overhauls to existing content, and the first expansion, a fantasy-themed pack of stages and skins available in October, Mediatonic is all hands on deck right now. Such a workload can easily lead to an exhausted team, especially in video games where crunch is often a default. Hiring is underway, but finding the right people is a process that needs appropriate time, and meanwhile, there's a fervent player-base to keep happy. Walsh makes it clear Mediatonic is strictly against overworking, accommodating any breaks the staff need, enforcing as such if needs be.
"Some people were energised by the launch and just want to work and you actually have to tell them, ​'please take some time off, because you're just working, you're just obsessed with it'," he says. ​"Whereas you have other people who go the other way, and seeing Fall Guys on Twitter 24/​7 is exhausting and need time off. It's about making sure that people stay healthy and making sure they have some time away from the game because it threatens to be all-encompassing."
Tournaments have sprung up, for anyone feeling particularly gung-ho about their ability to avoid oversized fruit on a conveyer belt, but the plan is for Fall Guys to be a different kind of platform. Mediatonic and Twitch both want to encourage players to stretch the game show concept as we fall into the future.
​"We would love to see what people do, and we're hoping to bring more tools out to help people do these events," Walsh says. ​"Ultimately, Fall Guys is the greatest game show the world has ever seen, and we want to give people the ability to help us fulfil that dream."

More like this