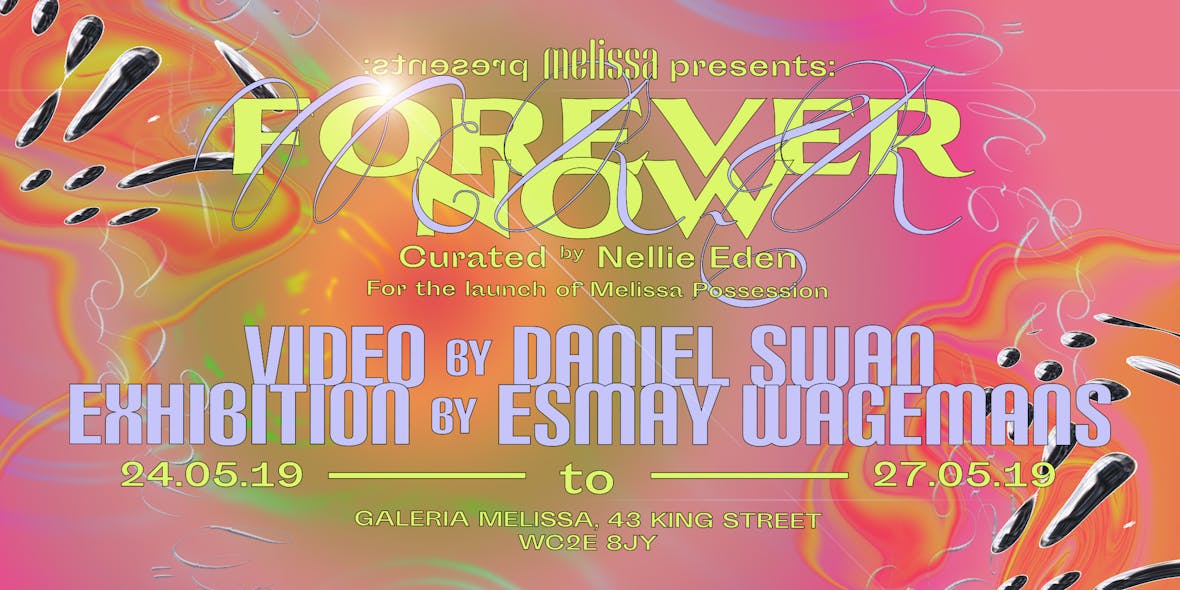 "

What if some things do last forever?"
"What if some things do last for­ev­er?" asks Nel­lie Eden, writer, edi­tor and guest cura­tor of Gal­le­ria Melissa's lat­est col­lec­tive show, For­ev­er Now, that's set to take over the Lon­don gallery space this week fea­tur­ing the work of four artists whose work cen­tres around the themes of nos­tal­gia and futurism.
Draw­ing inspi­ra­tion from Melissa's Pos­ses­sion san­dal (more wide­ly known as ​"the jel­ly shoe" ever since their 1997 debut), the exhi­bi­tion explores the ter­ri­fy­ing idea of liv­ing for­ev­er. Eden notes, ​"liv­ing for­ev­er is an appalling idea, but one that I like to con­sid­er, and one I think the beau­ty indus­try is rav­en­ous­ly chas­ing. We're liv­ing longer, aid­ed by tech, surgery, med­i­cine and machines".

The inno­va­tors of today select­ed by Eden – Shy­girl, James Mas­si­ah, Daniel Swan and Esmay Wage­mans – each embody both nos­tal­gia and futur­ism in their work; com­mit­ted to look­ing for­ward, as opposed to look­ing back. For the exhi­bi­tion, each artist cre­at­ed some­thing in response to Eden's question.
Poet James Mas­si­ah, has craft­ed an audio piece from clips, lost and found (old songs from raves, voice notes and record­ings that weave togeth­er to cre­ate a patch­work quilt of sound, intend­ed to trans­port you); visu­al artist Daniel Swan, has cre­at­ed an abstract video explor­ing mem­o­ry with a gela­tine aes­thet­ic (focus­ing on shift­ing shapes and half-seen faces that look at mem­o­ry and the inner-work­ings of the imagination).
Mean­while Lon­don musi­cian Shy­girl, will be per­form­ing a live set (that no doubt show­cas­es her clos­er-to-art-than-pop new-wave style), wear­ing a piece designed by Dutch design­er Esmay Wage­mans, whose work sees her exper­i­ment with sil­i­cone, plas­tic, rub­ber, latex and resin, while explor­ing the dig­i­tal­i­sa­tion and tech­nol­o­gi­sa­tion of soci­ety, and how this affects the human body.
The exhi­bi­tion is open to the pub­lic on 24 – 27th May at London's Gal­le­ria Melissa
---