Ever wondered how hotels get their lobby smell?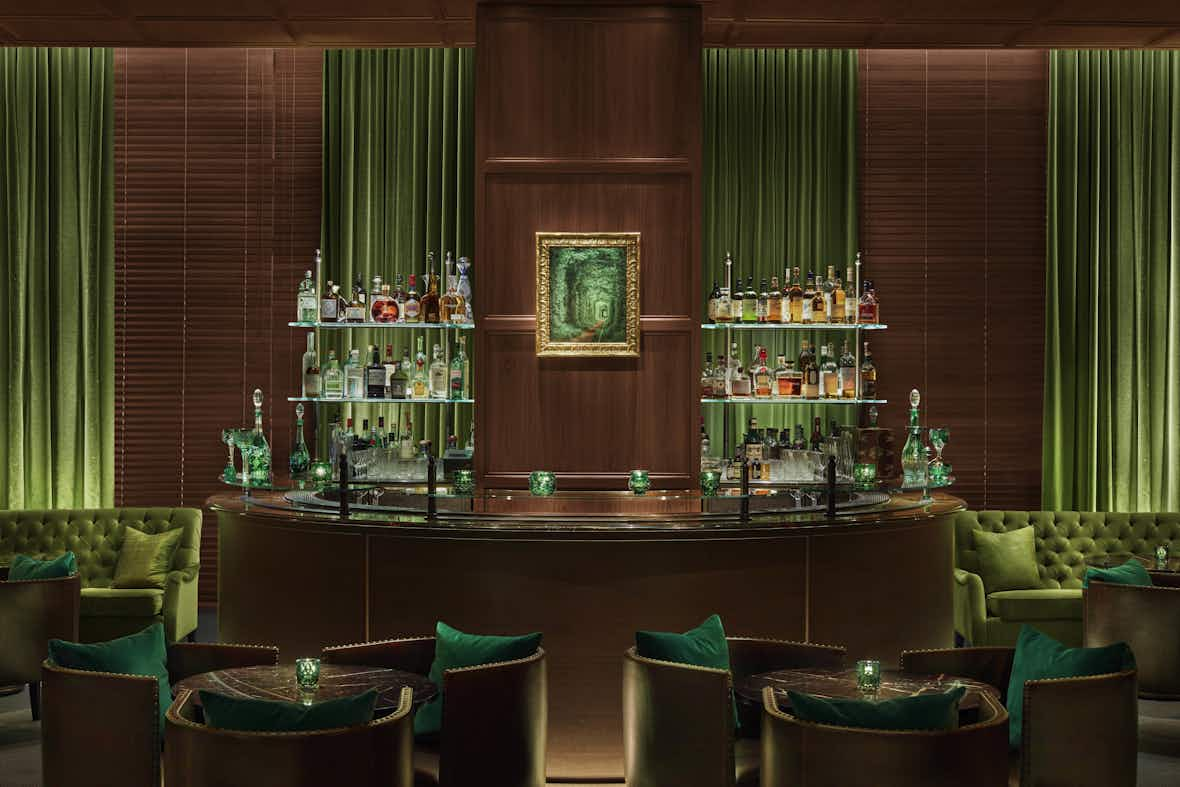 Mysteriously diffused through the property like a gentle wind, hotel fragrances – like the EDITION Hotel's Le Labo signature – are the gorgeous result of scent branding.
On any given day, Times Square in New York smells like all of the following: hot dog water; the wafting smog of a Nuts4Nuts cart; piss; a sweaty MAGA hat; Applebee's; the reek of desperation from bootleg Disney characters trying to take photos with tourists for change.
Cross the threshold of the EDITION Times Square, however, and every malodor is washed away by a scent waterfall. I know. I visited the hotel last year, and this is what happens once one passes through the heavy doors into its darkly lit, marble cavern of a lobby: after a dissociative sense of whiplash, your olfactory receptors are met with the lulling aroma of black tea sweetened with… what is that – deep inhale – bergamot? Fig? A staff member greets you. You hardly hear him over the mysterious bouquet of that scent, which, by this point, has successfully hypnotised you. This fragrance is a faint reminder that you're not wealthy but would like to be, and you can have it temporarily with just a shallow whiff. You begin to think you can afford a suite…
All of these are feelings I experienced. Then the Times Square EDITION closed permanently. It's now slated to reopen, but for a brief month or so, I was worried I would never be able to get high off that harmonious accord again. Then my dumb ass unearthed an open secret: any EDITION hotel, Ian Schrager's portfolio of luxury boutique hotels (he originated the term with his and Steve Rubell's New York hotel, The Royalton, which opened in 1988) has one thing in common – its custom fragrance. I could experience this hotel smell again just down the road, at the EDITION in Madison Square Park!
The scent hovers and puffs by like a gentle breeze through the hotel's lobbies, a fragrant whisper that has become a byword for grandeur (or overdraft, depending on your situation). Though I have never stayed overnight at an EDITION Hotel, I have caroused through its two New York lobbies, snorting in that aroma like its a writing assignment.
I would liken it to Le Labo's Thé Noir 29, but sweeter. Can I help you, sir? a WASPy bellhop asked me on my last visit. No, thank you, I replied as I ambled aimlessly, mask below my chin, nose turned to the heavens. (I was asked to leave when it was revealed I was not a hotel guest.) I did, however, acquire the candle version of its lobby smell recently, which I have generously huffed, unlit and in private, at intervals throughout the day.
Developing a smell that is used in a commercial environment is known as ​"scent branding". A privately held group called Aerome collaborated with International Flavors & Fragrances, beginning in 2001, on a new technology to disperse scent in retail stores. As early as 2003, the company was trying to market hardware to stores to deliver fragrances and encourage shopping. US retailers, however, were reportedly ​"hesitant to make a $2,000 investment in a scent delivery device for their store […] although European retailers have been more willing than their US counterparts to give the machines a try," it was reported in Chemical Week in 2003. Abercrombie & Fitch probably scoffed at the idea of a machine to do the work of a topless male model.
Once one checks into the EDITION, the Le Labo-created scent is available to shower in. Bathe – EDITION suggests – in luxury with its mini shampoo and lotion sets, which rich people purloin for a cheap thrill even though they are complimentary. Not a guest? EDITION's signature is available via candle or diffuser.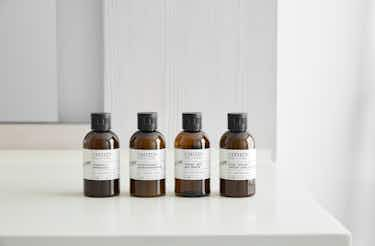 "Michelle [Gaillard], Ian's right arm, came to us to reignite our collaboration with him, started years back with the scent of the Gramercy Park Hotel," Fabrice Penot, the co-founder of Le Labo, wrote to me in an email.
Gramercy Park's signature scent is Le Labo Cade 26, a ​"close cousin of the notorious Santal 26", according to its website. They say ​"notorious" because New York's legion of SoHo basics, the ones that jump in the crosswalk for an Instagram, have been blamed for ruining Le Labo's ubiquitous Santal 33. Cade 26 was created in 2006 and reminds one of the comforts of home, if leather bound books and wedges of south Indian sandalwood were to be casually strewn around your house.
Following the successful Gramercy Park fragrance, ​"we had promised ourselves not to create anymore for anyone else and focus on Le Labo, which was demanding all our attention. But working with Ian is different – he gets it right away, no useless need to convince him of the obvious," Penot adds. ​"He also said that we were the best perfumers in the world, which flattered our ego – so we made an exception and worked with him on this scent. It turned out pretty well."
To avoid the pitfalls of antagonising guests with a nauseating eau de pee-yoo, Penot was tasked with using an ingredient that would be universal. The EDITION properties span New York, London, Miami Beach, West Hollywood, and a handful in Asia. Its latest, Tokyo's EDITION Toranomon, opens in October. That's a lot of various local cultures to cover. Penot landed on black tea: ​"what is more universal, cross cultural than tea?" he offers.
One huff inside any EDITION and your olfactory bulb will tingle with notes of black tea, cedar wood, vetiver, musks, ​"plus a special secret ​'key' to the formula that makes it a nightmare for anyone who wants to copy it," adds Penot.
I asked Luca Turin – renowned biophysicist and co-author of Perfume: The Guide – to guess at the furtive ingredient. ​"The ​'key' could be a) that staple ingredient of perfumery: triple-distilled BS [Ed. note: ​"bullshit"]; b) some captive (i.e. not on general release) molecule by arrangement with a major oil house (aromachemicals manufacturer); or c) some very unusual low-volume natural (I doubt it)."
The desperation of wanting to get away while stuck at home rivals only the moronic desire to feel at home when you're away, which these hotel smells promise. ​"Whether you're staying in Shanghai or San Francisco, the comfort of feeling, smelling, like you're in the same place when you're never home is really appealing," Melissa Sachs, a spokeswoman for International Flavors & Fragrance, told The Free Lance-Star in 2006.
There remains the mystery of how the fragrance is diffused throughout a hotel. How, exactly, does a hotel ​"smell"? ​"Easy," says Turin, who recently launched an entirely free and thrilling lecture series on YouTube called The Secret of Scent. ​"All modern buildings have a ventilation system in which the scent is cooled or heated in a central location and ducted throughout the building. Spritz the stuff at intervals into the air stream at the central location and you're done."
Most hospitality groups outsource the diffusion to companies specialised in HVAC-diffusion methods. Air Aroma, for example, looks after Brooklyn's towering William Vale. Air Esscentials – which uses a PTAC unit attachment to propagate a scent – is on exclusive with sbe, which boasts in its real estate portfolio Miami's Delano, the Mondrian Park Avenue in New York, and London's St Martins Lane.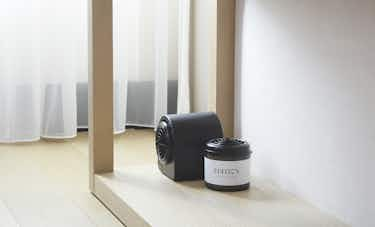 In 2006, Gramercy Park's ​"Cade 26" fragrance was among the first in a wave of signature hotel scents. Now, every hotel/​motel/​Holiday Inn seemingly has one ready for your next staycation. The Chateau Marmont in LA smells of ​"spicy night-blooming flowers with a hint of vanilla," $60, on back-order. Positano's Hotel Le Sirenuse includes bergamot, blackcurrant buds and yellow sweet clover, and retails at €105 for the eau de toilette. I'm sure they are all delightful, but none rival the EDITION's Le Labo collab.
Wherever you book your next stay, remember that your nose will be assaulted by something. ​"There's always smell in the air in hotels, more often than not some dismal floor cleaner," says Turin, ​"might as well take control and give it some thought." That's what Pernot et al. have done at the EDITION, and to great effect (the $185 diffuser is currently in my online shopping cart). And if you're poor? Well, a quick tour of any hotel lobby is gratis. Just remember to wear your mask.

More like this