How Taika Waititi brought rock'n'roll to Hollywood (and Thor)
The funniest, busiest multi-hyphenate in the biz brings a rebellious spirit to every project, including his latest addition to the MCU, Thor: Love and Thunder. How does he do it? And where are his shoes?
Taika Waititi is the film director as rock star.
How do we know? Because he has cool hair (a greying, skyscraping ice-cream swirl of the stuff), wears a vintage Beastie Boys T‑shirt for our appointment in a central London hotel and conducts our interview barefoot. Because one of the Oscar-winning actors in his latest film says so. And because that new blockbuster superhero movie is stuffed with Guns N' Roses tunes and features the director playing an intergalactic gladiator actually made of rock.
He even has a pop star girlfriend, Rita Ora.
But more importantly than all that: the 46-year-old New Zealander brings a defiant, disruptive, playful, rebellious, franchise-refreshing spirit to all his work – of which there is a lot.
It's there in Jojo Rabbit, his 2019 black comedy about Nazis (no, wait, come back!), in which Waititi starred as a knockabout Hitler and for which he won an Oscar and BAFTA for his screenplay. It's in What We Do In The Shadows (2014), his feature-length vampire sitcom that spawned a hit series. And it's in Reservation Dogs, the acclaimed American teen comedy TV series he co-created that features an entirely Indigenous writing and acting line-up.

It's there, too, in his guest spots, as an occasional director on The Inbetweeners and on The Mandalorian (in which he also played a robot bounty hunter). The Star Wars universe and suburban London Bus Wankers: talk about range.
And it was there all the way back in Flight of the Conchords (2007 – 2009), the cult HBO musical sitcom starring fellow Kiwis Jermaine Clement, Brett McKenzie and Rhys Darby which started his TV directing career.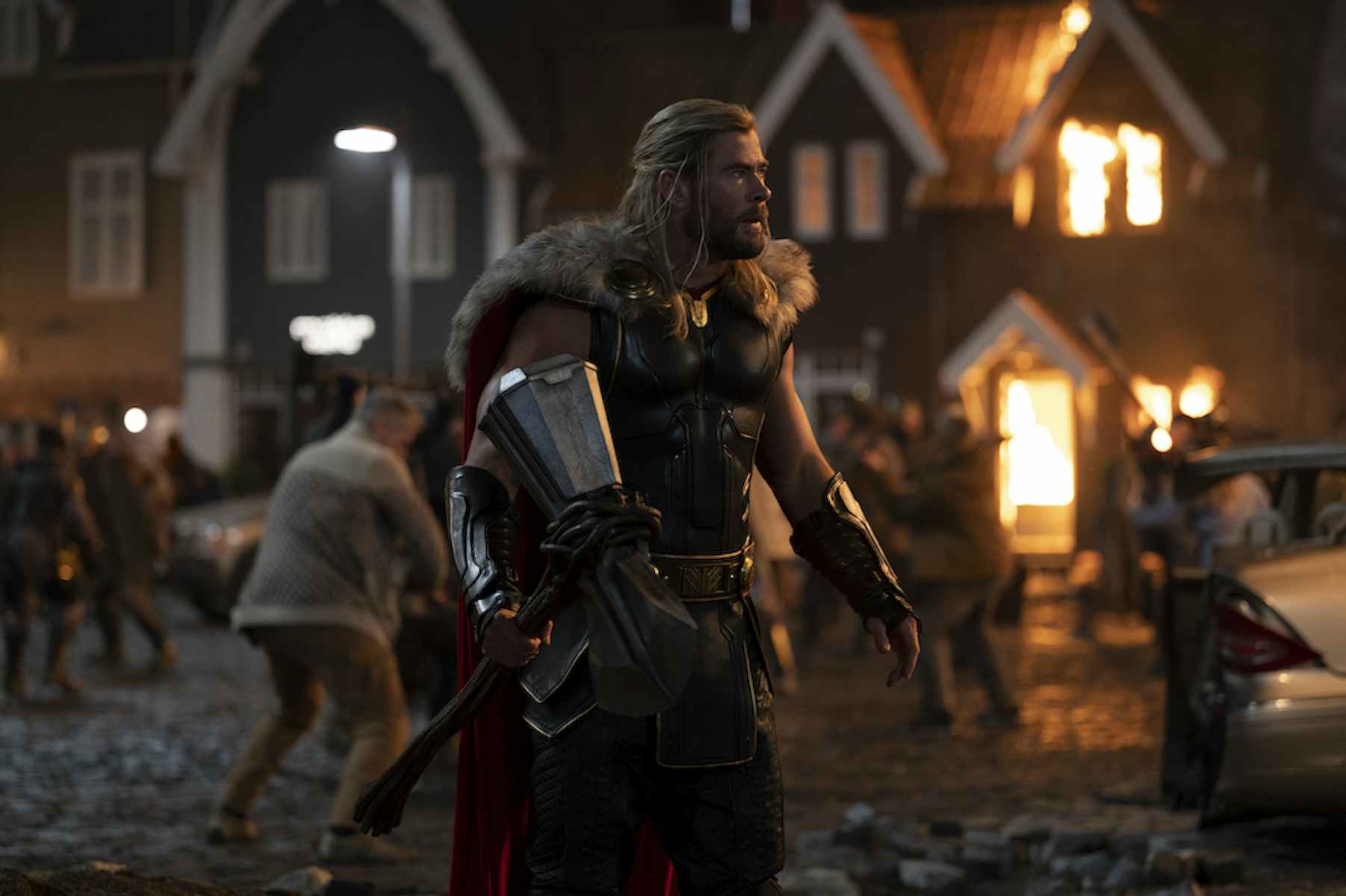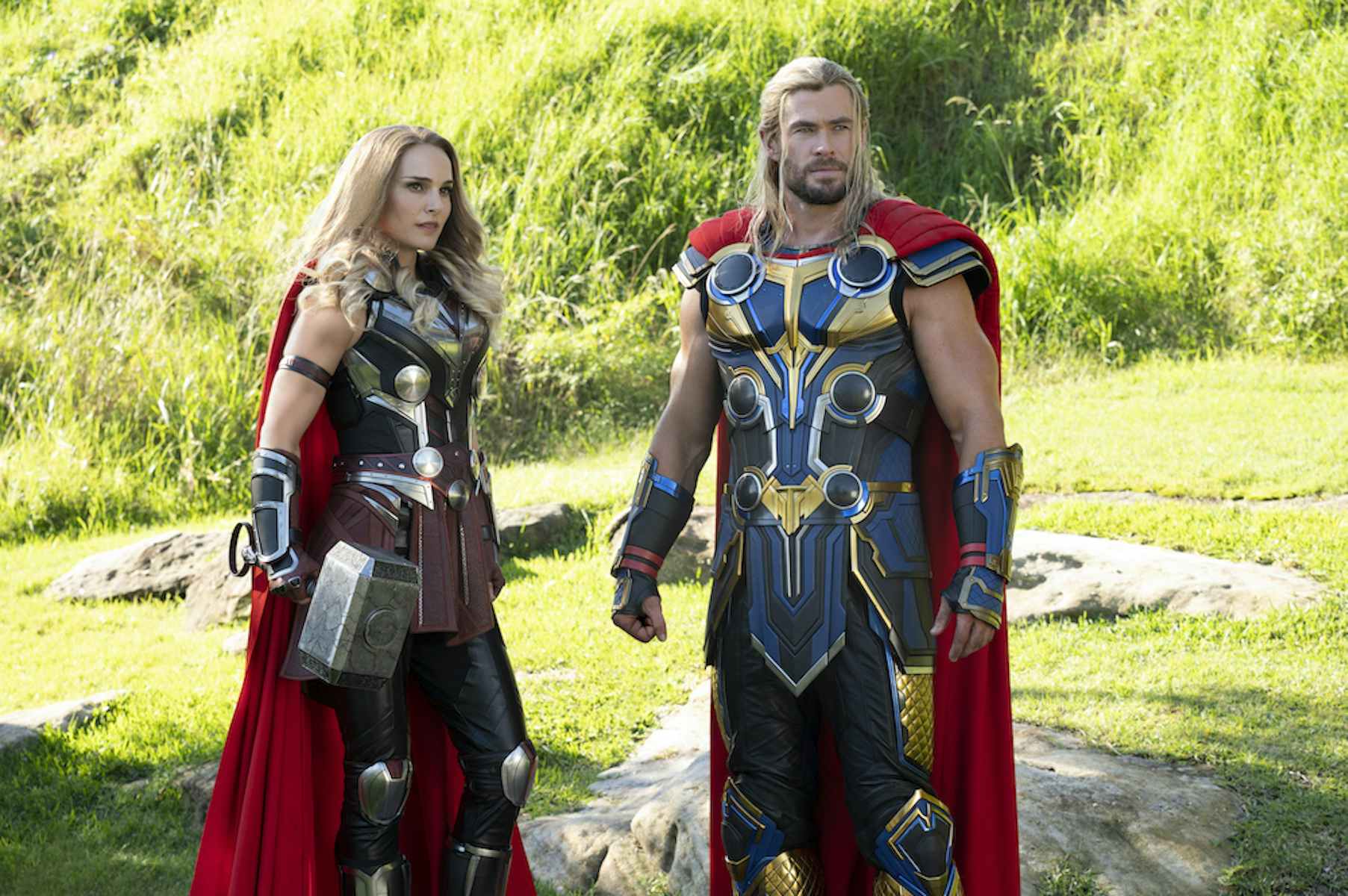 But most brilliantly of all, that rock'n'roll irreverence is there in Waititi's work in the Marvel Cinematic Universe. After directing Thor: Ragnarok (2017), he's now back for Thor: Love and Thunder, the fourth film starring the musclebound Space Viking, played by Chris Hemsworth. And this time it's satirical.
Where Ragnarok went large on the jokes, Love and Thunder – like Hemsworth himself – goes even larger. Echoing the winking, pop culture-savvy feel of Guardians of the Galaxy, this 29th film in the MCU is refreshingly irreverent, self-aware and laugh-out-loud funny. It features a female, second Thor, the superhero formerly known as scientist Jane Foster, as played by Natalie Portman. And some killer cameos. And Russell Crowe as a portly, ridiculous Zeus.
Finally, a superhero-saves-the-universe film that doesn't take the whole universe-saving thing too seriously. It all bodes well for Hollywood's hardest working and most in-demand man's next projects: a new Star Wars movie, a TV adaptation of the classic Monty Python movie Time Bandits and multiple other projects so secret he'd have to kill us if he told us.
Thank you, Taika.
You directed Ragnarok from other writers' screenplay, but this one you co-wrote. What did you want to do with Thor that hadn't been done before?
I really wanted to show the more relatable side of him and create a story that challenged him in a way that we humans have challenges. Same with Jane, with her story. With Thor it was about him getting on, a kind of midlife crisis, and trying to find his way and find his purpose. He's a bit lost. I feel like we've all been there. I definitely have. I think every couple of years I have a midlife crisis and feel like what's the point of everything?
Was Chris Hemsworth as ready to flex his comedic chops as he was his muscles?
Absolutely. He worked so hard on the muscle muscles for this film – he gained so much more mass, which was insane. I think he worked for six months before shooting. But comedy-wise, Chris has always had it. I've known him for a while now and I always knew he was funny, and he's great at improvising. But he's just never really had that chance to show it off.
On Ragnarok we got to do that, and on this one we wanted to do it even more. Apart from me, he's definitely the funniest person on set.
Ah yes, your portrayal of Korg, the Kronan gladiator and Thor's best bro, who you voice. Fair play, he is funny.
The thing about Chris that I find really amazing is that, as a filmmaker, I have to put myself in the audience's shoes all the time. What are they feeling now? Where are they going? Is this the moment that kid in the audience is gonna jump on their seat and be like, ​"yeah!"? Chris is like that too: he's always thinking about what the audience is going through, which I think is really great for an actor. Because [normally] actors only think about themselves.
Of course, always. Was your larky tale on the so-called Space Viking something that the MCU was in dire need of: a little pricking of the pomposity?
I think especially with Thor, yes. The original approach [in the first two movies] was this faux Shakespearian, very serious, sometimes dark – but not really dark enough – tone. When you look at the comic books, they're so colourful and strange, and the worlds and the characters are so over the top. And it's hard not to embrace that. So with Ragnarok, my main touchstone was Flash Gordon and [legendary comic artist] Jack Kirby's designs. With this one, it was more fantasy art, like [legendary poster artist Frank] Frazetta, and the Conan and He-Man stuff. Or The Beastmaster poster. In those ​'80s videos in the video store, there was always a guy on a rock with a sword and a woman wrapped around his leg. That kind of stuff. I was like: yeah, it just needs to have that feeling.

Are you talking Flash Gordon, the campy 1980s movie with Queen on the soundtrack?
The campy movie, yeah. Not the 1930s very racist comic book.
Who was your favourite superhero as a kid?
I collected a lot of X‑Men and New Mutants. Not so many of the Marvel ones. Batman was a big one for me.
Growing up in New Zealand, you were a keen teenage muso. What kind of muso?
I was a guitarist in a ska band during my last couple years of high school. The name of the band was Looney Tunes. It was a good band and a lot of fun. But they all shaved their heads and I was like, nah, I don't want to do that. So I left.
A quote for you: "[Taika] represents the best of the bygone era of wild rock star Hollywood types, mixed with the brilliance of a top auteur."
That sounds like something that that arsehole Sacha Baron Cohen would say.
Correct, he wrote that in a recent Time tribute to you, as part of the magazine's ​"100 most influential people of 2022" feature. Firstly, what do you have over Sacha Baron Cohen? And secondly, how correct is he?
YEAH! He's absolutely right, man! Look, if I couldn't be a musician, I [knew] I would get into Hollywood. I wanted to be like the characters in [Peter Biskind's account of 1970s Hollywood] Easy Riders, Raging Bulls. I wanted it to be rock'n'roll. I wanted to die in the Chateau [Marmont] in a bungalow. But no. I get to town and nobody drinks, everyone's boring and I'm basically the only one who wants to go out. Every filmmaker [thinks like that]: ​"God, I wish I was making American cinema in the ​'70s. This sucks." Everyone wants to be in another bygone era. I just tried to do that with my socialising.
If you can't do disruptive extracurricular behaviour, do you do disruptive behaviour in the movies and TV shows you make?
Yeah, I do that. I'm not trying to do things that are so shocking and inaccessible that it's just for the sake of being shocking. I just want to do things that feel unexpected – for other people, but mainly for me. Things that I wouldn't expect myself to do. That's why I've made a film about the worst football team in the world, called Next Goal Wins [adapted from 2014 British documentary about the American Samoan football team]. I know nothing about football and I never wanted to make a sports film, so it seemed like an unexpected move for myself. That's why I did it.
On JoJo Rabbit​'s long journey to, ultimately, Oscar-winning success for you, was there ever a moment where you thought: ​"A comedy take on Hitler? I'm not going to get away with this."
Well, it was never my intention to play Hitler. It was always written for someone else. I never thought that I would, as a Polynesian guy, ever go whiteface! To play Hitler! But six years after I'd wrote the script, we'd been asking every actor in town, ​"do you want to play Hitler?" And no one did.
When I went for the first meeting with Searchlight, who made the film with me, they said: ​"Look, we don't want anyone else to play it. We think you should do it. And we're only going to make the movie if you play it." So it was really their idea. And they forced me to do it. And I think it was a great move. Because I really enjoyed doing it. But it's just something I never really imagined that I would never do. You'd never write a script [like this], thinking: ​"Oh, here's a really good career move."

Even in the writing of it, though, were you ever concerned that you'd never land it? No studio is going to want to take a risk on a comedy Hitler.
After the first two meetings, I felt that. As soon as I would say, ​"it's a comedy, set in World War Two", people would just go: ​"Nah". So I just let the script do the talking. But for sure. I'd actually put that script aside. I finished that script in 2011, I think, and we shot it in 2018. In that time, I made What We Do In The Shadows, Hunt for the Wilderpeople and Thor: Ragnarok – three movies, not thinking I'd ever get this thing made. I thought: ​"It's just gonna be a really good script that just sits there for years. One of those unmakeable scripts you hear about." And lo and behold…
How did you build the character of IG-11 in The Mandalorian?
You need a toolkit: a spanner, a ratchet… You know, if you watch it, there's not much building: it's my voice. And also that whole series was [Jon] Favreau's baby. I came in really to learn about [LED immersive soundstage used for filming] Volume and just direct for someone else. For me, it was about taking a break from all my own stuff. Favreau's very knowledgeable, an incredibly smart guy, a great writer. I look up to that guy. So to be able to work with him and learn a few tricks was the main aim. And with IG… 11, or 88?
I thought he was 11. But you might be right. [Galactic editor's note: he's wrong.]
I've no idea, man. But whatever robot that was – oh, you can't even say ​"robot" in Star Wars. Whatever droid that was… Yeah, it's just my voice. If you look at all the characters I've played in the last five years, it's just my voice. I've never done another accent! And I've never tried!
Was your own Star Wars movie already in the pipeline when you did Mandalorian?
No. I'd had a few initial conversations with Kathy [Kennedy, Lucasfilm President]. Then I did Mando and we were still talking. It was only really about a year and a half ago that we honed in on an actual idea. Then I've just slowly been doing these other films and then coming back to that and trying to write a little bit here and there. Now I've got a bit more time I can concentrate on trying to finish the script.
What can you tell us about that idea?
I can't tell you anything, because I'm about a quarter of the way through the idea. And every time I go and start typing, I'm like, ​"no, this idea is dumb", and start deleting things.
Is it set in space though?
It's definitely set in space! Definitely on Earth! Not in Germany.


What can you tell us about your Time Bandits series for Apple TV+?
We're gonna start shooting that in about six, seven weeks, down in New Zealand. Got a great cast with that. It's going to be a 10-part series. Me, [Inbetweeners co-creator] Iain Morris and Jermaine Clement are writing it. And it's fucking awesome. It's really funny, and embraces all of the Terry Gilliam tone and everything that we loved about the film. Then obviously trying to make it our own thing as well.
Your pirate series Our Flag Means Death is an HBO Max show, which means no one in the UK has seen it. Would you mind describing for the uninitiated your portrayal of Blackbeard?
Sure. So they asked me to play Blackbeard. I said yes. I went on Wikipedia. There was nothing known about Blackbeard, other than that they think he might have been from Bristol. But there's another story that he might have been born in Jamaica. Anyway, I listened to the Bristolian accent. And I was like: ​"There's no fucking way in hell I'm gonna try that." It sounds like Stephen Merchant. Is that where he's from?
He is from there.
OK, well, I'm not gonna do that accent. It's impossible to understand what he's saying. So then I was like: if they know nothing about him, I'll just do my own accent. So I just played myself with a big long beard! My favourite thing about playing the character was that he's dressed basically like Mad Max – in Mad Max 2. And he's just an ageing pirate, like an old rocker.
And the coolest thing about the show is that basically everyone's gay. But no one talks about it. It's not even a thing. It's not even like classified as gay. It's just, like, people. Or everyone's bi. Dudes are hooking up all over the place. Instead of people being like, ​"oh my God, I can't believe two men are kissing," they're like: ​"Oh my God, I can't believe he's with him. I wanted him!"
It's just the pirate way.
It's just the pirate way! So fluid! Everything's so normalised, it's the gayest show without knowing it's gay.
We need to be seeing this now. I'm gonna call HBO Max. Another quote: ​"He's able to blend the silly and the profound, all with a distinctive visual style."
What arsehole said that?
Natalie Portman.
Ha ha ha! She's always saying that bullshit about me! Natalie's a bloody delight. You know, I just forget with some of these actors, especially Natalie and Christian Bale [who plays baddie Gorr the God Butcher in Thor: Love and Thunder], all these things they've done. Christian in Empire of the Sun – how old was he? Eleven? The first thing everyone knows Natalie was in was Leon. But you forget all these other things she was in. And on set I was like, ​"oh, I gotta go and try and figure out the story for Star Wars. Have you ever wanted to be in a Star Wars film?" That's what I said to her. She's in three of them.
That's embarrassing.
Then I was like, ​"oh man, that movie Heat – you know that movie?" She's in that too! She plays Al Pacino's stepdaughter. She's been in everything! But yeah, blending those styles, the comedy and drama, the distinct visual style – it's just really the stuff I was talking about with fantasy art. It's just stuff that I have loved since I was a kid and things that make me feel happy. When I think about a picture, I'm like: let's put as many crazy elements into it as possible. I like collage and I like pop art and I like fantasy.
Final question, and it's another quote from another arsehole. I'm paraphrasing here: ​"He says yes to everything at the expense of his social life."
I think we are talking about my social life, but never mind!
You said that.
I'm that arsehole! Why do I say yes to everything? Well, because I didn't start with this ​'til I was 30. My stepson once said to me – this is about six years ago – ​"you should take a break." I said: ​"Listen, mate, I was on a break for 35 years. Then I started making money. And I've had this window that's been open for about eight or nine years. And I'm not stopping. I want to do as much as I can, when I can. Because it's fun. And it's the perfect job."
So you say yes to everything, knowing that, 60 per cent of stuff never actually gets made. So I say yes to stuff, it gets reported, people say, ​"you're doing too many things." But I'm actually fine. I'm happy.
You look well on it.
Yeah! I look great!
Thor: Love and Thunder is in cinemas on 8th July


More like this