Industry star Myha'la Herrold's stock is on the rise
How Lena Dunham, HBO and a show that's "The Wolf of Wall Street meets Melrose Place" made a star of the 24-year-old newcomer.
"I've always been super comfortable and happy in my body. I'll whip my top off for anybody anytime," Myha'la Herrold is saying, facetiously tugging at the hem of her black knitted shirt over Zoom like things are about to get a bit Coyote Ugly.
"I'm kidding," she adds with a smile. ​"But, like, I'm excited to do that."
The motormouthed star of new HBO/​BBC series Industry, a high-powered, City of London-set banking drama, is explaining how, even though she had first-episode director and seasoned onscreen nudist Lena Dunham to intimacy coordinate her through her first nude scene, she didn't exactly require a pep talk.
Like all good HBO dramas, the nudity in Industry is more than – forgive the pun – a crass money shot. Rather, it appears like Matthew McConaughey's chest-beating hum in The Wolf of Wall Street: it just makes sense to include.
"We don't have sex for the sake of having sex," the 24-year-old Californian assures me. ​"It's not, like, we're however many hours into the show, someone has to get naked or else no one's gonna watch!"
Still, the expertise of Dunham – who describes Industry as ​"The Wolf of Wall Street meets Melrose Place" – did help to diversify the show's state of undress.
"Particularly – which I think Lena absolutely had a lot of influence in – [given that] most of the sex is women driven. Lena's really good at making people feel comfortable. That's something that's so special about her – she listens and she does what she can do to make a person feel comfortable."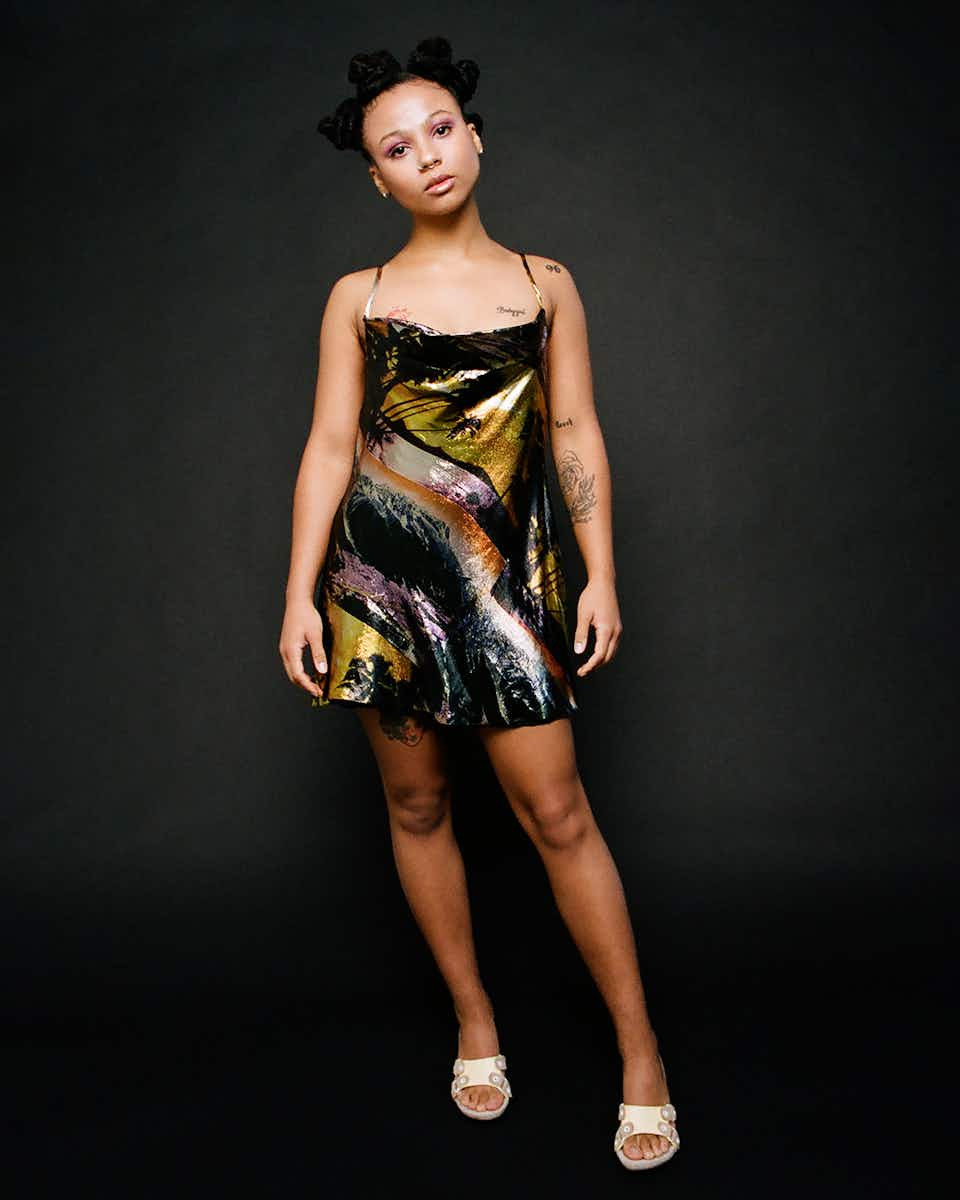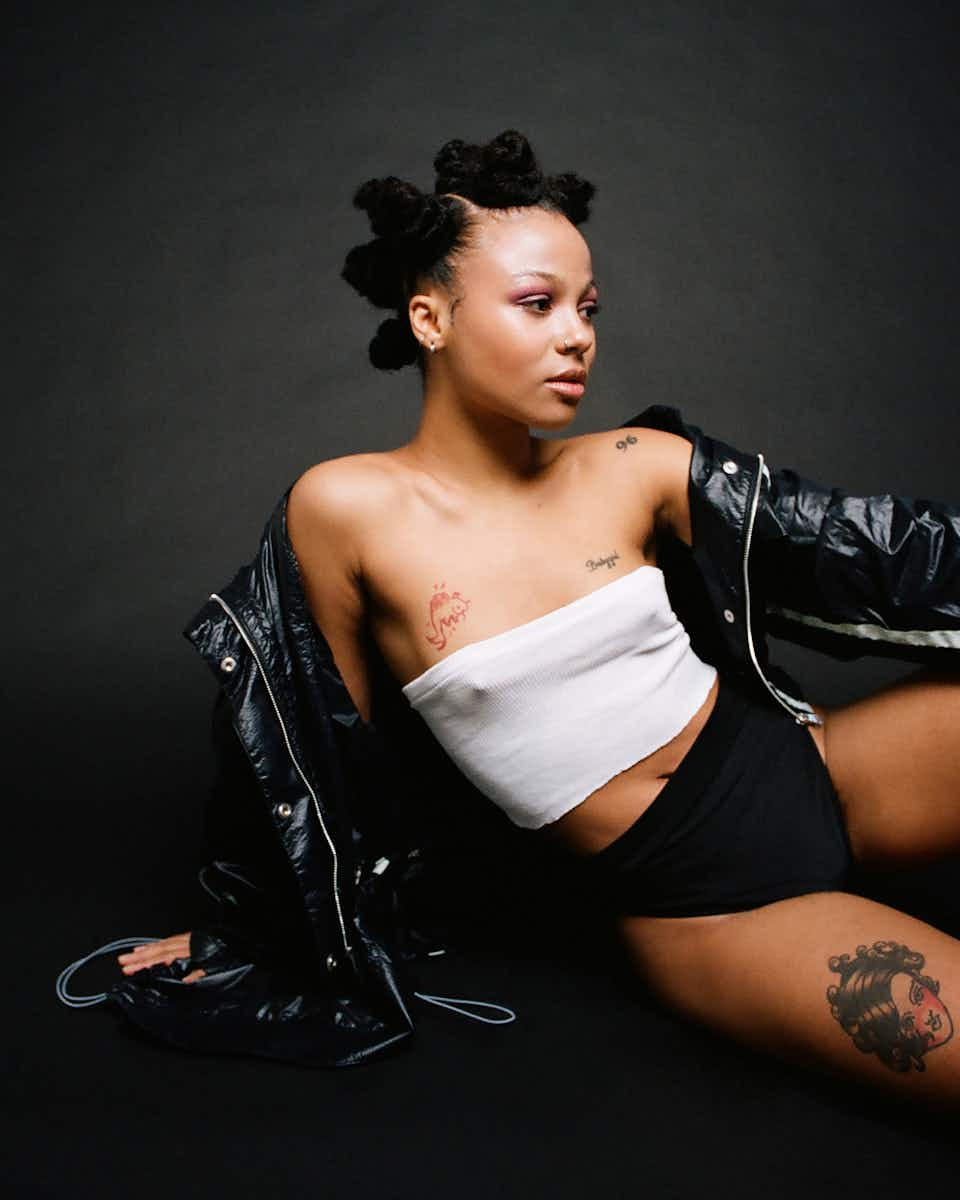 I expect the same finance bros who cannot succinctly explain what it is they get paid six figures to do will love Industry. They'll see themselves humanised, their Cole Haan chukkas pacing the floor, their Untuckit shirts unfurling from their trousers as the market closes. They will see facsimiles of themselves yelling into a receiver and checking their push notifications for updates about Elon Musk's Hyperloop.
Industry is like Succession from Cousin Greg's point of view, if he were Black, queer and 10 times more Faustian. And that's mostly due to the quietly assured presence of Herrold, who acts as the audience surrogate, tuning out the wanton privilege of her fellow amateur stock traders to rise to the top.
Herrold plays Harper, a new hire from New York at London's prestigious Pierpont & Co. (a fictitious investment firm, but a convenient allusion to J.P. Morgan's middle name). From the outset, she appears nervous, but Harper's anxiety belies a cutthroat attitude. Quickly, she catches the attention of her superiors by making gutsy trades and using a little of that Yankee chutzpah to get ahead.
"Harper's out for blood, her own and everyone else's," says Herrold. ​"Her only focus, really, is power. Even in the people that she sleeps with, it's very obvious that she's either using them to get what she needs, or she's avoiding another situation and uses sex to do it – which I love."
While it makes for great television, Herrold herself would never go the casting couch route to get a role.
"I don't think that it is morally acceptable or ethical to manipulate someone using sex for your own personal gain. That, to me, is abuse," she states matter-of-factly.
It's clear the New York-based actor mulled over her position on what it looks like to use your sexuality for calculated career gains. Morals aside, she's fascinated by that duplicity, of getting ahead with an easy shake of one's assets.
"I find it particularly exciting to see a show that is so much about power, and that it's women who are the ones using their power in that way, ultimately, to get what they want or need," she muses. ​"Whether or not it's moral is beyond the point. I like to talk about how you respond when men do the same thing. Let's talk about that. Let's talk about those in comparison to each other."
Myha'la Herrold grew up in San Jose, and thought she would act on Broadway. She studied drama, acting and music theatre at Carnegie Mellon University in Pittsburgh, and completed a national tour playing Nabulungi in The Book of Mormon in 2017. After discovering that ​"the money is amazing" in film and TV – at least compared to the criminal salaries on Broadway – Herrold landed a part on an episode of Modern Love, the Amazon Prime show based on the New York Times column.
In spite of her not-so-padded acting CV, Herrold – only two years out of college – anchors Industry.
"It didn't occur to me that there was this gravity of like, ​'major network and prestige and you're gonna be number one on the call sheet' until I got there. And I was like: ​'Oh shit. This is not a drill…' The moment where I [realised] this is fucking HBO was when they sent me these goddamn [HBO-branded] airpods. I was like: the mon-eyyy!" she exclaims.
After she met series creators Mickey Down and Konrad Kay over Zoom, her new pal Lena Dunham came over for a callback.
"They were like: ​'Cool, we want you to meet the director. It's Lena Dunham, so don't say anything stupid.'"
Dunham spread-eagled on Herrold's floor and read the script together with her. Shortly thereafter, she was flown to London to test with the other actors for a show that would ultimately shoot in TV studios in Cardiff (announcing on Instagram her own temporary relocation, Dunham called Wales ​"a dreamy place with fairytale gardens, super sweet humans, and dragon mythology"). That initial trip to the UK was the first stamp in Herrold's passport. She was told that she had the part, and two days later it was her 23rd birthday.
The actor, who has a septum piercing and a nose ring, pushes up her black-rimmed glasses. In 2018, she had shaved her head for college at Carnegie Mellon ("I didn't think I'd have good water pressure in the shower at the dorms") but it has grown back and today is slicked and tied. With no air of apology or regret, Herrold says that after she ploughed through the four jargon-heavy scripts she was sent by her agent, she wasn't entirely sure what it all meant.
"I was like: ​'What in the hell is this script? It's so amazing. I have no idea what's actually going on, but I know it's crazy.'"
The amount of secrets Harper is holding onto coupled with the desperation to make it without anyone seeing her crack was something Herrold also saw in herself.
"I was like, that's my jam!" she says. ​"That's literally me right now in New York, so I get it."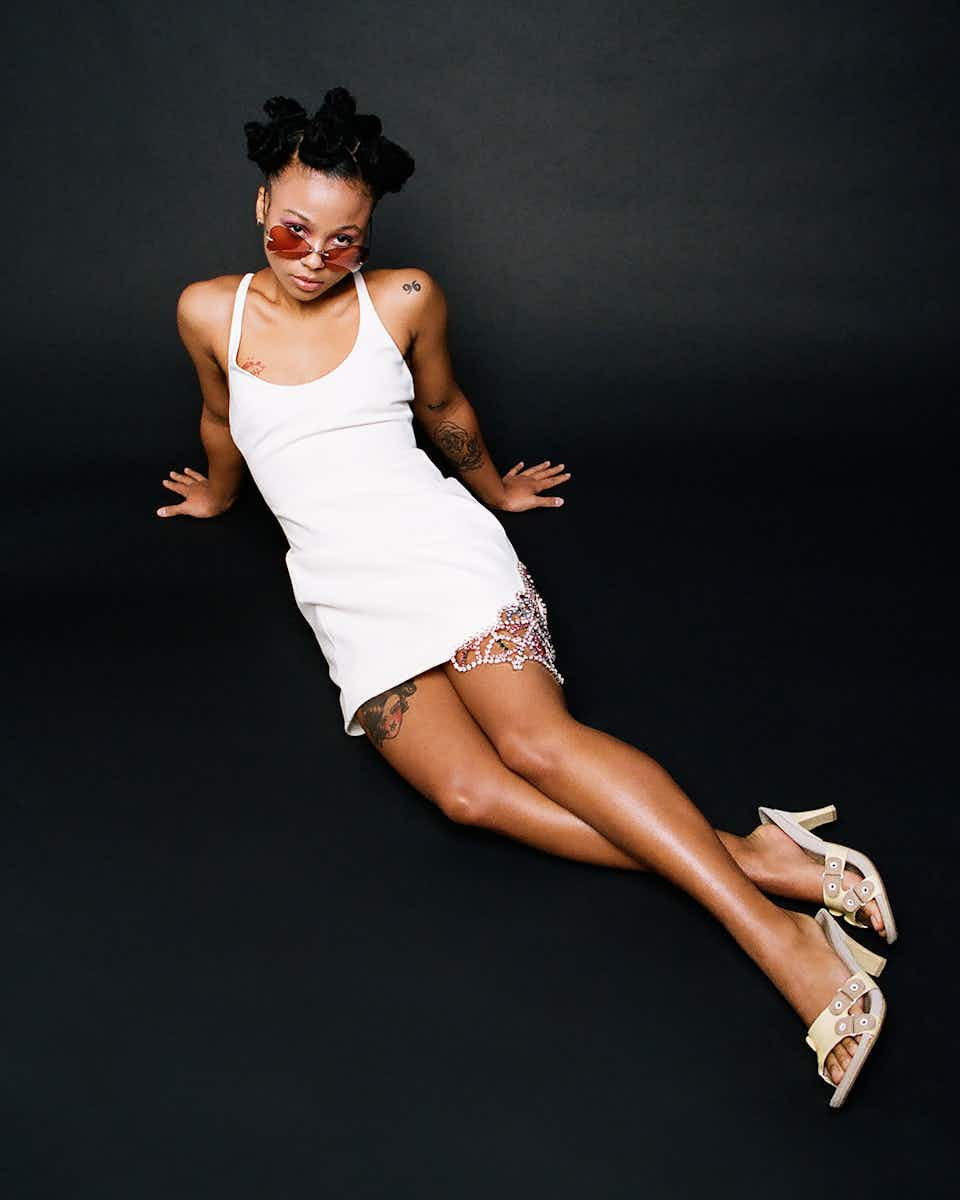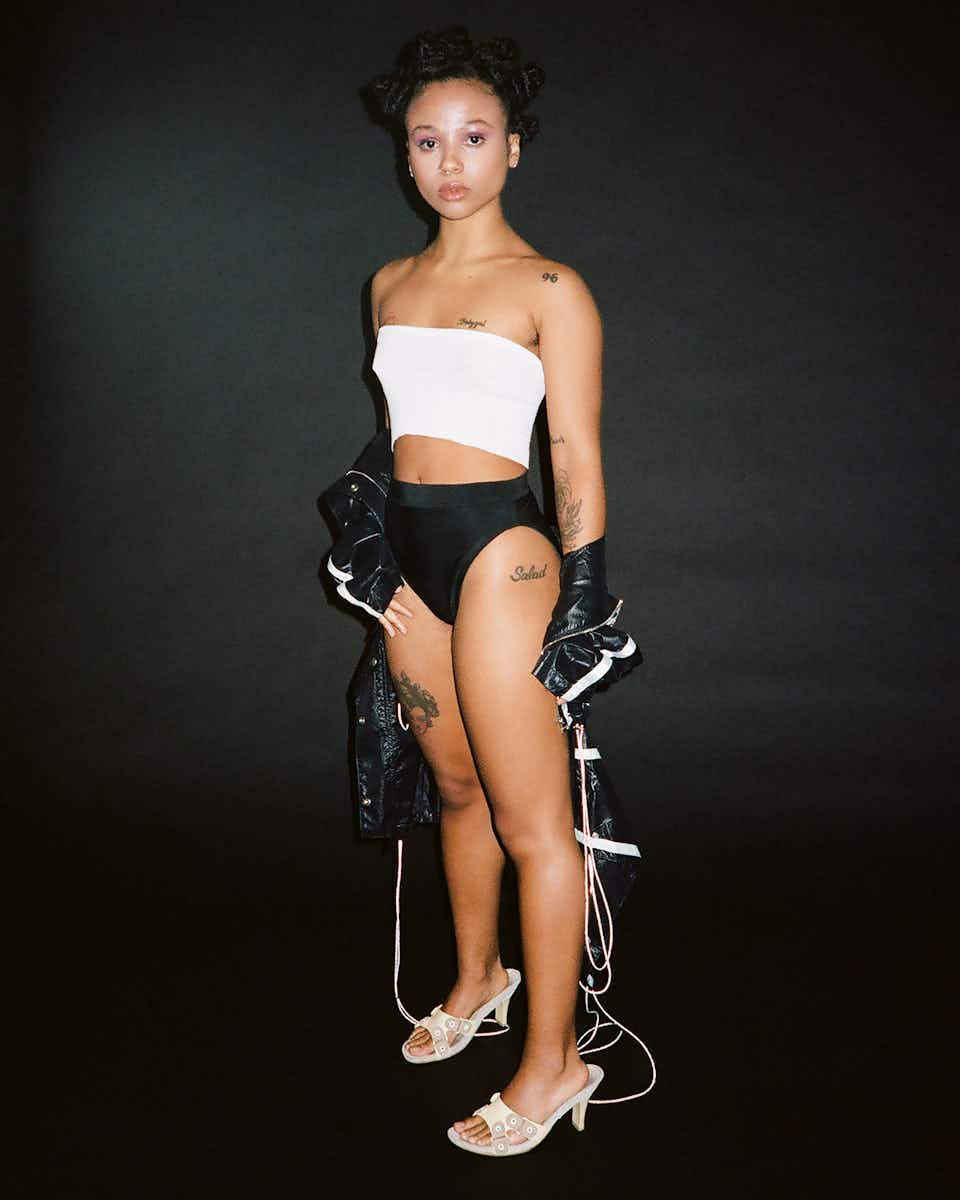 Nearly a year has passed since she wrapped as the lead in an HBO series, and Herrold has been working at choosing the right next project. She's recently returned from upstate New York where she's had the chance to tackle comedy in a bit part for a Hulu series, a character vastly different from a ​"relatively bland finance chick".
Don't misconstrue her trying to flatten down her well-rounded badass investment bitch, however. She knows what this series could mean for viewers who can relate to Harper.
"What I'm most excited about when it comes to me being a Black woman playing a character in the finance world, is for other Black people, Black women who are already doing it, getting to see themselves on screen," she says. ​"It would be naive to say that there aren't people of colour or women who are already doing it, who have been doing it. They just don't get to watch themselves on screen, represented. I feel really privileged that I get to be a part of that. I get to be like: I see you!"
Maybe what they'll see is themselves, or a synecdoche for our times, of someone who is ambitious and well-meaning but overworked and lawless. Someone who puts in the extra hours but isn't perfect.
And as we all continue to work from home and attend Zoom meetings – or maybe just flounder in our own depressive collective unemployment – maybe it can be gratuitous schadenfreude to watch someone claw their way up a capitalist ladder, learning some life lessons on the way. Myha'la Herrold, at just 24, seems like a good investment to me.
Photography assistant Tashi Bhutia, styling assistant, make-up Talia Sparrow at Forward Artists using Burberry Beauty, hair Monae Everett at Epiphany.

More like this