Rebel. Hero. Hustler. God.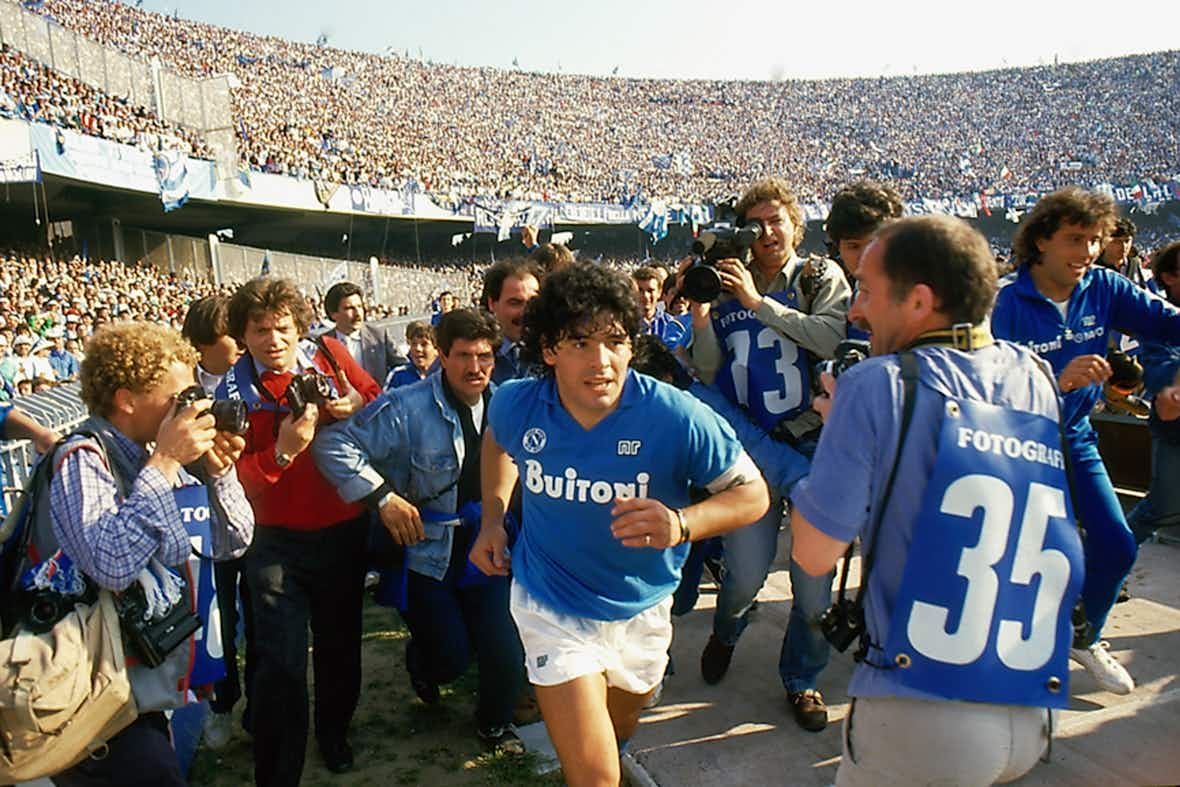 So goes the tagline to Diego Maradona, the new documentary about the legendary – and legendarily complicated – Argentine footballer directed by Asif Kapadia.
Senna, Amy, Maradona: Asif Kapadia is the documentarian with the route-one view of titles and the circuitous route to nailing his subjects.
The British filmmaker takes an exhaustive and rule-breaking approach to his docs. So, no talking-head interviews to camera, no dramatic reconstructions. Rather, Kapadia conducts exhaustive interviews with those close (and those formerly close) to the nigh-mythical talents at the heart of his films. He and his producers dig deep in the archives – public, private, media organisations – for footage, typically uncovering previously unseen gold dust. And he works with brilliant music supervisors to assemble soundtracks that are works of art in themselves.
With the BAFTA-winning Senna (2010) the 47-year-old Londoner made Brazilian Grand Prix superstar Ayron Senna a living, breathing icon, 16 years after his death, even to those who'd hesitate to call themselves motorsports fans.
With Amy, an Oscar winner in 2016, Kapadia explored the outlier artistry of Amy Winehouse. He also exposed the brutal manner in which circumstances conspired to kill her: staggering success (Back To Black, an all-time classic album made by a 22-year-old); personal demons (deep-rooted sadness, drug and alcohol addiction) and ​"professional" pressures. The latter came from a music industry that exploitatively weaponised her gifts, and from the then-exploding tabloid celebrity culture that mercilessly hounded Winehouse. It was a perfect storm of triumph and tragedy.
Now, with the thrilling, enthralling Diego Maradona, the director explores the footballing genius and flawed humanity of Argentine striker Diego Maradona. His focus is on the seven years, between 1984 and 1991, that the barrel of a man with the magic-weaving left foot spent at Italian club Napoli. It was a time of huge sporting achievement and high personal cost. When the South American's exploits on the pitch led to, first, hero status off the pitch and, later, near pariah-status after his recreational activities – and his role in Argentina's victory over Italy in the Italia ​'90 World Cup – turned all Naples against him.
Maradona is, then, a less clear-cut, and less sympathetic, figure than either of Kapadia's previous subjects. After his football-playing career ended he bounced around the world, cosying up to various dubious politicians ­– and, it seems, siring children with the same zealousness with which he had outfoxed defenders on the field. Earlier this year the 58-year-old acknowledged paternity of three children in Cuba, seemingly fathered when he was in the country between 2000 and 2005 undergoing treatment for cocaine addiction.


Mr. Kapadia: why Maradona?
Well, in the latter years [I agree] he's not particularly been the most likeable or sympathetic character. A lot of people can't stand him or think he's a bit of an idiot. Even in Argentina, when I talked to young people who were not born when he was playing, they think he's an embarrassment who keeps doing [crazy] things.
But the idea of this film is that Maradona was something else before that. We're trying to show him before… the change. He starts off as one person at the beginning of the film, when he arrives in Naples. By the time he leaves he's another person. And he continues as that person. It's almost like there's a myth, a version of Maradona that exists – and it's the darkest version. The lightness has gone.
Which brings in another narrative dynamic to your film: what happens when a sports person gets older?
Exactly. When you had this amazing gift but then lose it – what do you do with yourself? What do you do with the messiness of family and children and relationships? So I thought that made it more interesting. And [there was] the challenge of just having to deal with the real guy. And not knowing what he would be like, if he could remember anything, how tricky he would be. And [smiles] he has been quite tricky.
But he was willing to cooperate, at the start at least?
Yeah. When Amy won the Oscar, he put on his Facebook page a picture of me: ​'This guy just won an Oscar. The next film he's making is about me!' That was quite good timing because I think we were still negotiating [with Maradona's agents]. We thought: ​'That's a good sign!'
Tell us about your initial meeting with him.
That was in Dubai, in September 2016, where he was living at the time, in the giant manmade palm tree. The second frond on the left was Diego. Five days passed, and each day we got the message: ​'He's not feeling great, not today, maybe tomorrow.' But on the last day, on the way to the airport, I got five minutes with him. He said: ​'Yeah, we're gonna make a great film, bye, see you next time.'
And that was it. Five minutes. And most of the films about Diego Maradona up till now are about that: trying to get to Diego. There's a Gary Lineker one, [Emir] Kusturica did one. The whole thing becomes about the struggle to get to meet him. So I was kinda glad about that. I realised that, in a way, I'm going to have to make this very much like Senna and Amy: as if the person is not around. And just make the film. And when I've got a movie, I'll ask him specific question about events that I think are important on which I need to get his point of view. But it wasn't one of those situations where we hung out.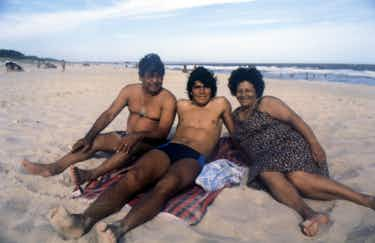 You agreed with him that you'd conduct three three-hour interviews. How did they go?
In the first interview, I thought I'd go in with the easy stuff: ​'Tell me about the mother of your children, Claudia.' He replied: ​'Don't ever mention her name again!" ​'OK… What about your first agent?' ​'I don't want to hear about him, he stole money from me!'
Then, he and his ex-wife were arguing in the courts big time, while we were making the film. [But] we still got to her, her voice is in the film, and she had a load of archive footage. So it was a whole process of getting them to forget where they are in 2017 and 2018, where they all hate each other, and go back to the Eighties when they were in love. That was hard, but we got there.
The daughters helped a lot – his children were interested in trying to get the truth out. His daughter Dalma said: ​'Often these films are made about people when they're dead. It's great that you can make this about my dad while he's alive – and maybe he'll understand his own life a bit better.'
But there's a lot of pain in these families. There's the children he didn't recognise who he now has recognised – which has pissed off the children he originally had. So they're all, sadly, at war. And I had this stupid daydream that if I made this film, I'm gonna bring them all come together and they'd all be on the red carpet together at Cannes!
Why did you decide to focus on his time at Napoli?
I made that decision two years in. A previous cut had 30 minutes after Napoli, more on his children, his time in Cuba, when he was in a bad way. It was really moving – but it was way too long. Then, at the beginning of the film it was 45 minutes before we got to Naples… But by halfway through, even if you love football, you were like: I've seen enough football, I'm a bit bored. It didn't sustain.
Death and resurrection are his story. It always goes wrong and, just when you think he's down and out, he makes a comeback. And the biggest version of that was Naples.
Did you come away from the project liking your subject?
[Pauses] He's a street guy. A really, really streetwise character that is difficult to love in a way that I loved Ayrton Senna and Amy Winehouse. That's the sadness of it. He craves love, but he also acts in a way that pushes everyone away. He's a trickier, greyer, more difficult one to pin down. And he's not as simple to love.
But I've seen the nicer side of him. I've seen the vulnerability in his eyes. He's got a beautiful smile. And when he's on it, he's got real charisma. I can only imagine what it would have been like to be in his inner circle and go out dancing with him in Naples in the Eighties!
But when he turns, and he becomes darker, you're out and you're out for life. There's a residue of people he dropped that for years have had no contact. You can see the pain they're in because they had the best time of their lives when they were hanging around with Diego Maradona. In that respect, he's very similar to Amy.
And what's he like in the flesh?
Well, in the first interview, because of the need to record him, I ended up sitting at the feet of this guy, this footballing legend, staring at his legs – they're twice the thickness of yours or mine! – and his ankles and his feet. And I've met a lot of famous people but I've never had this: I had a mad urge just to touch him! He pushed me away – he doesn't like being touched. And it was a weird thing. I don't have that feeling with people. But there was just something about him. I just had to touch Diego Maradona's left foot.

Diego Maradona is in cinemas from 14th June.

More like this