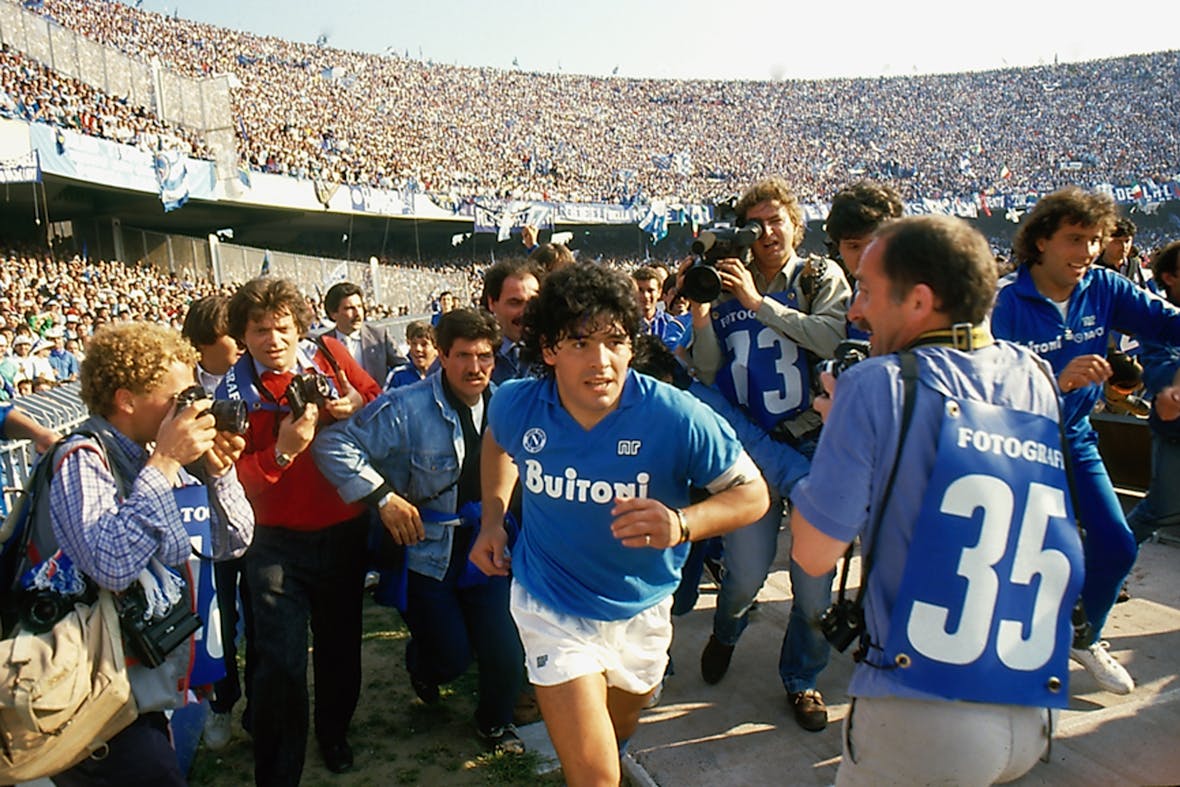 Rebel. Hero. Hus­tler. God.
Sen­na, Amy, Maradona: Asif Kapa­dia is the doc­u­men­tar­i­an with the route-one view of titles and the cir­cuitous route to nail­ing his subjects.
The British film­mak­er takes an exhaus­tive and rule-break­ing approach to his docs. So, no talk­ing-head inter­views to cam­era, no dra­mat­ic recon­struc­tions. Rather, Kapa­dia con­ducts exhaus­tive inter­views with those close (and those for­mer­ly close) to the nigh-myth­i­cal tal­ents at the heart of his films. He and his pro­duc­ers dig deep in the archives – pub­lic, pri­vate, media organ­i­sa­tions – for footage, typ­i­cal­ly uncov­er­ing pre­vi­ous­ly unseen gold dust. And he works with bril­liant music super­vi­sors to assem­ble sound­tracks that are works of art in themselves.
With the BAF­TA-win­ning Sen­na (2010) the 47-year-old Lon­don­er made Brazil­ian Grand Prix super­star Ayron Sen­na a liv­ing, breath­ing icon, 16 years after his death, even to those who'd hes­i­tate to call them­selves motor­sports fans.
With Amy, an Oscar win­ner in 2016, Kapa­dia explored the out­lier artistry of Amy Wine­house. He also exposed the bru­tal man­ner in which cir­cum­stances con­spired to kill her: stag­ger­ing suc­cess (Back To Black, an all-time clas­sic album made by a 22-year-old); per­son­al demons (deep-root­ed sad­ness, drug and alco­hol addic­tion) and ​"pro­fes­sion­al" pres­sures. The lat­ter came from a music indus­try that exploita­tive­ly weaponised her gifts, and from the then-explod­ing tabloid celebri­ty cul­ture that mer­ci­less­ly hound­ed Wine­house. It was a per­fect storm of tri­umph and tragedy.
Now, with the thrilling, enthralling Diego Maradona, the direc­tor explores the foot­balling genius and flawed human­i­ty of Argen­tine strik­er Diego Maradona. His focus is on the sev­en years, between 1984 and 1991, that the bar­rel of a man with the mag­ic-weav­ing left foot spent at Ital­ian club Napoli. It was a time of huge sport­ing achieve­ment and high per­son­al cost. When the South American's exploits on the pitch led to, first, hero sta­tus off the pitch and, lat­er, near pari­ah-sta­tus after his recre­ation­al activ­i­ties – and his role in Argentina's vic­to­ry over Italy in the Italia ​'90 World Cup – turned all Naples against him.
Maradona is, then, a less clear-cut, and less sym­pa­thet­ic, fig­ure than either of Kapadia's pre­vi­ous sub­jects. After his foot­ball-play­ing career end­ed he bounced around the world, cosy­ing up to var­i­ous dubi­ous politi­cians ­– and, it seems, sir­ing chil­dren with the same zeal­ous­ness with which he had out­foxed defend­ers on the field. Ear­li­er this year the 58-year-old acknowl­edged pater­ni­ty of three chil­dren in Cuba, seem­ing­ly fathered when he was in the coun­try between 2000 and 2005 under­go­ing treat­ment for cocaine addiction.
He's also, obvi­ous­ly, not dead. All of which begs the question…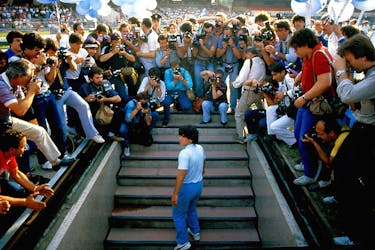 Mr. Kapa­dia: why Maradona?
Well, in the lat­ter years [I agree] he's not par­tic­u­lar­ly been the most like­able or sym­pa­thet­ic char­ac­ter. A lot of peo­ple can't stand him or think he's a bit of an idiot. Even in Argenti­na, when I talked to young peo­ple who were not born when he was play­ing, they think he's an embar­rass­ment who keeps doing [crazy] things.
But the idea of this film is that Maradona was some­thing else before that. We're try­ing to show him before… the change. He starts off as one per­son at the begin­ning of the film, when he arrives in Naples. By the time he leaves he's anoth­er per­son. And he con­tin­ues as that per­son. It's almost like there's a myth, a ver­sion of Maradona that exists – and it's the dark­est ver­sion. The light­ness has gone.
Which brings in anoth­er nar­ra­tive dynam­ic to your film: what hap­pens when a sports per­son gets older?
Exact­ly. When you had this amaz­ing gift but then lose it – what do you do with your­self? What do you do with the messi­ness of fam­i­ly and chil­dren and rela­tion­ships? So I thought that made it more inter­est­ing. And [there was] the chal­lenge of just hav­ing to deal with the real guy. And not know­ing what he would be like, if he could remem­ber any­thing, how tricky he would be. And [smiles] he has been quite tricky.
But he was will­ing to coop­er­ate, at the start at least?
Yeah. When Amy won the Oscar, he put on his Face­book page a pic­ture of me: ​'This guy just won an Oscar. The next film he's mak­ing is about me!' That was quite good tim­ing because I think we were still nego­ti­at­ing [with Maradona's agents]. We thought: ​'That's a good sign!'
Tell us about your ini­tial meet­ing with him.
That was in Dubai, in Sep­tem­ber 2016, where he was liv­ing at the time, in the giant man­made palm tree. The sec­ond frond on the left was Diego. Five days passed, and each day we got the mes­sage: ​'He's not feel­ing great, not today, maybe tomor­row.' But on the last day, on the way to the air­port, I got five min­utes with him. He said: ​'Yeah, we're gonna make a great film, bye, see you next time.'
And that was it. Five min­utes. And most of the films about Diego Maradona up till now are about that: try­ing to get to Diego. There's a Gary Linek­er one, [Emir] Kus­turi­ca did one. The whole thing becomes about the strug­gle to get to meet him. So I was kin­da glad about that. I realised that, in a way, I'm going to have to make this very much like Sen­na and Amy: as if the per­son is not around. And just make the film. And when I've got a movie, I'll ask him spe­cif­ic ques­tion about events that I think are impor­tant on which I need to get his point of view. But it wasn't one of those sit­u­a­tions where we hung out.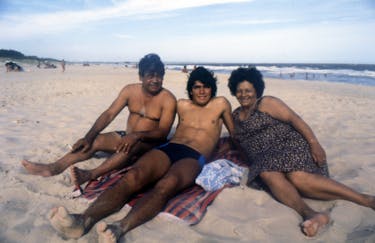 You agreed with him that you'd con­duct three three-hour inter­views. How did they go?
In the first inter­view, I thought I'd go in with the easy stuff: ​'Tell me about the moth­er of your chil­dren, Clau­dia.' He replied: ​'Don't ever men­tion her name again!" ​'OK… What about your first agent?' ​'I don't want to hear about him, he stole mon­ey from me!'
Then, he and his ex-wife were argu­ing in the courts big time, while we were mak­ing the film. [But] we still got to her, her voice is in the film, and she had a load of archive footage. So it was a whole process of get­ting them to for­get where they are in 2017 and 2018, where they all hate each oth­er, and go back to the Eight­ies when they were in love. That was hard, but we got there.
The daugh­ters helped a lot – his chil­dren were inter­est­ed in try­ing to get the truth out. His daugh­ter Dal­ma said: ​'Often these films are made about peo­ple when they're dead. It's great that you can make this about my dad while he's alive – and maybe he'll under­stand his own life a bit better.'
But there's a lot of pain in these fam­i­lies. There's the chil­dren he didn't recog­nise who he now has recog­nised – which has pissed off the chil­dren he orig­i­nal­ly had. So they're all, sad­ly, at war. And I had this stu­pid day­dream that if I made this film, I'm gonna bring them all come togeth­er and they'd all be on the red car­pet togeth­er at Cannes!
Why did you decide to focus on his time at Napoli?
I made that deci­sion two years in. A pre­vi­ous cut had 30 min­utes after Napoli, more on his chil­dren, his time in Cuba, when he was in a bad way. It was real­ly mov­ing – but it was way too long. Then, at the begin­ning of the film it was 45 min­utes before we got to Naples… But by halfway through, even if you love foot­ball, you were like: I've seen enough foot­ball, I'm a bit bored. It didn't sustain.
Death and res­ur­rec­tion are his sto­ry. It always goes wrong and, just when you think he's down and out, he makes a come­back. And the biggest ver­sion of that was Naples.
Did you come away from the project lik­ing your subject?
[Paus­es] He's a street guy. A real­ly, real­ly street­wise char­ac­ter that is dif­fi­cult to love in a way that I loved Ayr­ton Sen­na and Amy Wine­house. That's the sad­ness of it. He craves love, but he also acts in a way that push­es every­one away. He's a trick­i­er, grey­er, more dif­fi­cult one to pin down. And he's not as sim­ple to love.
But I've seen the nicer side of him. I've seen the vul­ner­a­bil­i­ty in his eyes. He's got a beau­ti­ful smile. And when he's on it, he's got real charis­ma. I can only imag­ine what it would have been like to be in his inner cir­cle and go out danc­ing with him in Naples in the Eighties!
But when he turns, and he becomes dark­er, you're out and you're out for life. There's a residue of peo­ple he dropped that for years have had no con­tact. You can see the pain they're in because they had the best time of their lives when they were hang­ing around with Diego Maradona. In that respect, he's very sim­i­lar to Amy.
And what's he like in the flesh?
Well, in the first inter­view, because of the need to record him, I end­ed up sit­ting at the feet of this guy, this foot­balling leg­end, star­ing at his legs – they're twice the thick­ness of yours or mine! – and his ankles and his feet. And I've met a lot of famous peo­ple but I've nev­er had this: I had a mad urge just to touch him! He pushed me away – he doesn't like being touched. And it was a weird thing. I don't have that feel­ing with peo­ple. But there was just some­thing about him. I just had to touch Diego Maradona's left foot.

Diego Maradona is in cin­e­mas from 14th June.
---