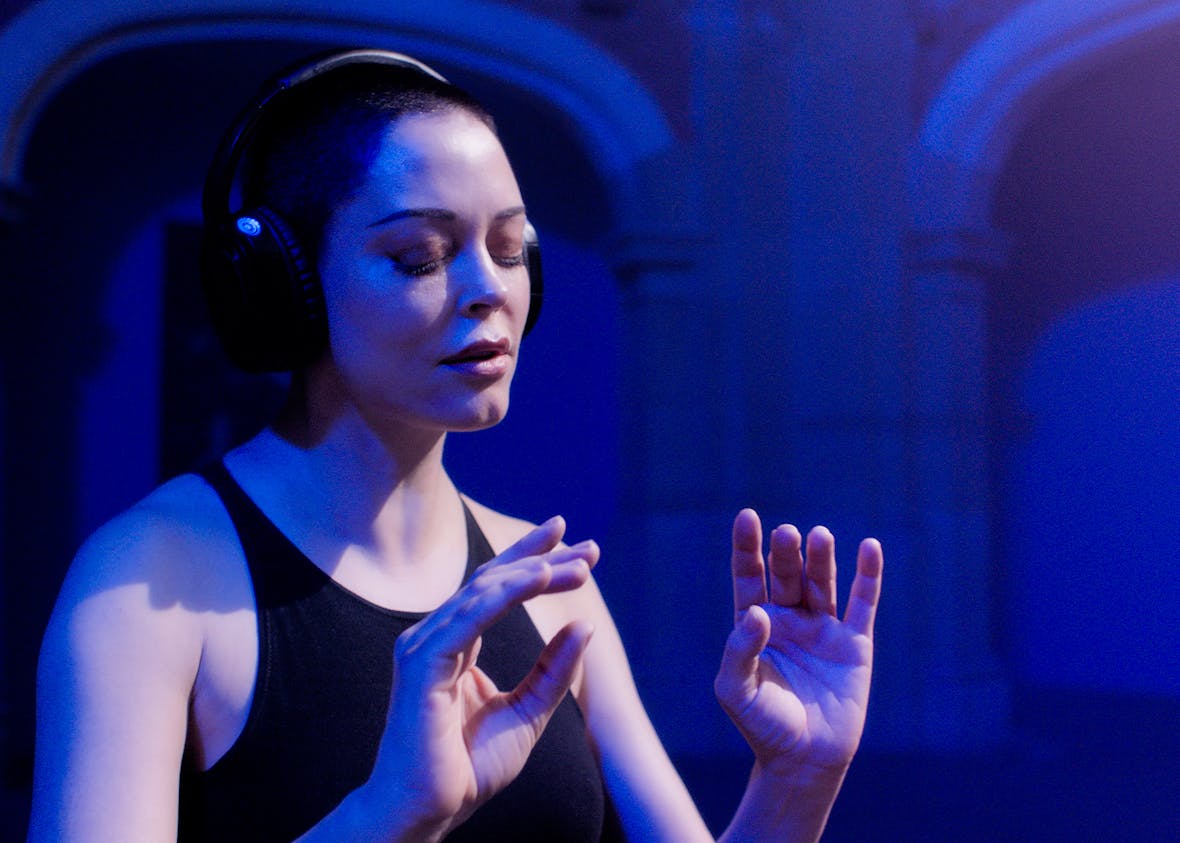 Rose McGowan: ​

"

I'm not scared of my power"
Rose McGowan's father was a fine artist, one sis­ter works at Hauser & Wirth and anoth­er runs a gallery in Den­ver, so her move from Hol­ly­wood and #MeToo activism (she's always cred­it­ed Tarana Burke for the phrase) through to the art world shouldn't come as a total shock. Her per­for­mance in Tonia Arapovic's Inde­ci­sion IV film is part of She Per­sists, an all-female show cur­rent­ly run­ning at the Palaz­zo Ben­zon (the site of 18th Cen­tu­ry salons held by Venet­ian salon­nière Mari­na Queri­ni Ben­zon who host­ed Lord Byron and Anto­nio Casano­va) to coin­cide with the 58th Venice Biennale.
Whilst three women took home the Gold­en Lion for Lithua­nia for Best Pavil­ion, Heist Gallery's founder Mashael Al-Rushaid insists that an all-female show is still inter­est­ing and nec­es­sary: ​"As a gal­lerist and a Sau­di woman, I felt a sense of respon­si­bil­i­ty to use this plat­form to spot­light a rich diver­si­ty of glob­al artists' per­spec­tives." She Per­sists includes pow­er­ful work by Guer­ril­la Girls, Judy Chica­go and Lyn­da Benglis, but Rose McGowan's involve­ment is a draw all unto itself, con­sid­er­ing how mon­u­men­tal her role in fight­ing for women's rights has been. Who bet­ter to be involved in this group show of ​"mul­ti­me­dia works explor­ing empow­ered female iden­ti­ties through acts of cel­e­bra­tion, resilience and rebel­lion" than Rose?
How did this project come about?
I'd met Mashael, the cura­tor, and she invit­ed me to an art exhib­it. I went and I was cry­ing when I came in. I said, ​"I just found out so-and-so [Har­vey Wein­stein] is indict­ed" and she invit­ed me to be part of this show. It was as sim­ple as that. Art allows me to express myself in a way that I couldn't with words, which is real­ly pow­er­ful because the body retains mem­o­ry. See­ing his [Har­vey Weinstein's] face all the time and all that is very trig­ger­ing. My body has a lot of mem­o­ries and strong reac­tive response to it, so to use my body in a way that was for me and to express what I was feel­ing was real­ly profound.
You said that you'd built up tons of ten­sion in your body from the stress of everything…
I was hunched over most of the time and because of the spasms and mus­cle swelling, phys­i­cal­ly I looked so weathered.
Where was it filmed?
In a church in Soho in Lon­don. There's some­thing about the resid­ual prayers of peo­ple in church­es. I don't go to church but when I do go, I like going in off-hours when no man is telling me I'm going to burn in hell, cos that's always bet­ter! But you can feel the col­lec­tive energy.
The film is all move­ment and the inter­ac­tion of you and the oth­er dancer. Did you train?
Yes, I did. I trained as a bal­le­ri­na when I was young and then I was a run­away. At 13 I was tak­en in by two amaz­ing trans women, they taught me how to dance even dif­fer­ent­ly and I would dance on gay night­club stages.
Amaz­ing. It's inter­est­ing that there's this pow­er strug­gle but the man is a bal­let dancer because it's quite…
…fem­i­nine in a way.
Yeah, in a way it's seen as one of the least mas­cu­line of the male roles.
Def­i­nite­ly. And our inter­ac­tion was quite poignant in a way that I thought he was a lit­tle scared of me. And that's, I think, often how men react to women in power.
Yes, in the film you seem like the dom­i­nant character.
I tend to do that [laughs]. The evil cackle!
So you're work­ing on your own film?
I've been work­ing on my upcom­ing project for the last three years and that's pre­mier­ing at the Edin­burgh Fringe Fes­ti­val in August. That's real­ly what I used to stay sane the last cou­ple of years through the hard­ships of fight­ing a glob­al media war. And it was women that real­ly came for me more than anything.
You were talk­ing ear­li­er about how a lot of misog­y­ny is not just from men, but also women who need to change this dynamic…
Def­i­nite­ly. Inter­nalised misog­y­ny is dev­as­tat­ing, tox­ic and dam­ag­ing and I see it play out with women every sin­gle day. Not only do they not realise their pow­er, they're also scared of that pow­er. ​'m not scared of my pow­er. I was for a long time, but I think I knew what I was going to do. I was work­ing towards that goal, so I had to pre­serve my pow­er. And then it came out. My girl­friend calls me fire because I shoot fire­balls when I'm upset, or mad or rag­ing at injus­tice. What was great about Inde­ci­sion IV was just that it was a qui­et power.
Tell us more about the film com­ing out at Fringe…
So peo­ple hacked into my com­put­er and released nude videos of me to slut shame me, to take my pow­er away, have peo­ple dis­par­age me and not lis­ten to me. So I took the two videos that were every­where – Porn­Hub and things like that – and I pro­ject­ed them against a wall side-by-side, one of me with a woman, and one with a man. Then I filmed it and that's what will be pre­mier­ing at Fringe. They're nude videos, but I slowed them down and there it is. I need­ed to take that pow­er back and I am not ashamed. Not in any way, shape, or form. And there's no rea­son I should be. Every­body does it. Fuck off.
How long were you in the Hol­ly­wood sys­tem and when would you say you left?
Since I was 14. And I was dis­cov­ered, so I was nev­er try­ing to be. I left about three years ago. And I kind of blew it up. I was lit­er­al­ly like [makes bomb noise]! Press that TNT button!
It's incred­i­ble just how many people's lives your sto­ry has affect­ed. It just feels so seis­mic the change that has come off the back of this.
Yes. There was a man in Ger­many who told me: ​"You're the one who lays on barbed wire so oth­ers can walk on your back." And that's what it felt like for those two years. It felt like I had barbed wires stab­bing into my back and press­ing down on my mouth. But I want­ed there to be a gate­way for oth­er peo­ple to have this con­ver­sa­tion, and to reframe their ideas about it because it had been stag­nant since I don't know…the dawn of time!?

A friend of mine was talk­ing about how they re-watched Police Acad­e­my recent­ly, a film they'd love as a kid, but how they were shocked see­ing it again now. It's racist, it's homo­pho­bic, it's sex­ist, it's appalling and it was mass enter­tain­ment that every­one gob­bled up.
When peo­ple watch film or TV, they sit there with their mind open. When you're smok­ing a cig­a­rette, you know it's bad for you. When you eat McDonald's, you know it's bad for you. When you sit down and watch enter­tain­ment, your brain is like, ​"I'm just going to switch off and be in this chain." And that's how they implant these thoughts. And it's giv­en to you by 96% of men and the Direc­tors Guild of Amer­i­ca. That sta­tis­tic hasn't changed since 1946. That's pri­mar­i­ly a white male point of view – a straight white male point of view. And that gives you a com­plete­ly skewed mir­ror to look into because it's these nerds who are basi­cal­ly get­ting back at peo­ple they despised at high school. Now they've made it big, they're just going to drag every­body into what they won­dered and thought about them or fetishise them. But we just take their fetish­es as enter­tain­ment. So we real­ly have to watch what we do, like why is every­one in a clean­ing com­mer­cial a woman? I know a lot of men that do laun­dry. Do you do laun­dry, Stuart?
Yeah, all the time. I love laun­dry! So now you've left Hol­ly­wood, do you feel like you're in a new enjoy­able phase?
I'm heal­ing and I'm learn­ing what it's like to live life for myself because when you're a per­former or when you're a very pub­lic per­son, there are things that I found quite unpleas­ant. But so many peo­ple gain plea­sure from it, so you feel like you're there in ser­vice to oth­ers and mak­ing them hap­py but not your­self. It's a new life, a new day, a new dawn, as Nina Simone would say. And it's fig­ur­ing out what I want. And that counts for something.
It must feel good to see that you can total­ly exist way beyond the Hol­ly­wood system.
Yes, it does. You know my book Brave com­pares the cult I grew up in to the cult of Hol­ly­wood and how it affects your mind in ways you're not aware. Hol­ly­wood is a cult-like struc­ture. It oper­ates in the same way as the cult I grew up in, which is male-dom­i­nat­ed, and degrad­ing to women, with skewed per­spec­tives. There's a 70% chance that if you've been in one cult, you will join anoth­er, and it took me a long time to wake up to the fact that I was in one again. It's like all these loose illu­so­ry rules and ideas of what you have to be or how you look, and by the end of my Hol­ly­wood career, I looked like a fem­me­bot. I knew there was some­thing wrong, but I thought maybe it's my shoes and maybe it's my hair, and no, it's actu­al­ly all of it. It's every­thing! And I need­ed to blow it up and tear it down. I shaved my head and I got free.
I loved that there was a huge range of women – from the US, UK, Pak­istan, Africa and the Mid­dle East – in the show and that it explored how you share so much with each oth­er beyond reli­gion or borders.
Just as you do with men. But isn't it inter­est­ing to get away from bor­ders and get away from mas­culin­i­ty and fem­i­nin­i­ty? And just to see each oth­er in your shared human­i­ty. That's what we have to work towards. Let's go to humans! Let's go there because that's where we find freedom.
Who do you see as your biggest allies?
Peo­ple on the street. Women and men, girls, boys, trans, every­body. You know, I was in McDonald's the oth­er day and a 75-year-old woman came up to me cry­ing. And a taxi dri­ver who was about 80 in New York. Same thing. The elites and media like to look down on me, but the peo­ple on the street know that I'm the real deal and that I'm there for them. And they're for me. And it's beautiful.
She Per­sists, Heist Gallery is open until 10th June at Palaz­zo Ben­zon, Venice

---