Sta­cy Mar­tin: from von Tri­er to Vox Lux
Sta­cy Mar­tin sits down in a pub in Hack­ney, east Lon­don, with two polite late-after­noon requests: a bot­tle of Coro­na and that we don't describe how she's dressed. ​"Inter­views always men­tion what actress­es are wear­ing, but nev­er actors," she says, entire­ly ami­ably and not inaccurately.
So: the Anglo-French star of Lars von Trier's Nympho­ma­ni­ac has walked the short dis­tance from her flat to dis­cuss her bold, bril­liant and just occa­sion­al­ly bonkers new film. There will be blood, pop songs by Sia, the last musi­cal will-and-tes­ta­ment of the avant-garde song­writer Scott Walk­er, a screen-melt­ing per­for­mance from Natal­ie Port­man and – with a nec­es­sar­i­ly less showy role – a qui­et­ly sen­sa­tion­al turn from Martin.
Vox Lux is the sto­ry of Celeste (Raf­fey Cas­sidy), divid­ed into three acts. As a 13-year-old in New York she sur­vives, just, a graph­i­cal­ly depict­ed mass-casu­al­ty high school shoot­ing. Actor-turned-direc­tor Brady Cor­bet calls this act ​"Pre­lude, 1999."
In ​"Act 1: Gen­e­sis 2000−2001" Celeste, with the help of big sis­ter Ellie (Mar­tin), metabolis­es her pain into a song, writ­ten as she recov­ers in her hos­pi­tal bed. After the pair per­form at a memo­r­i­al to their mur­dered class­mates and teach­ers, the song goes viral. As Willem Dafoe's typ­i­cal­ly bone-dry nar­ra­tion tells us, with­in a year it's become a nation­wide protest anthem.
A star is born.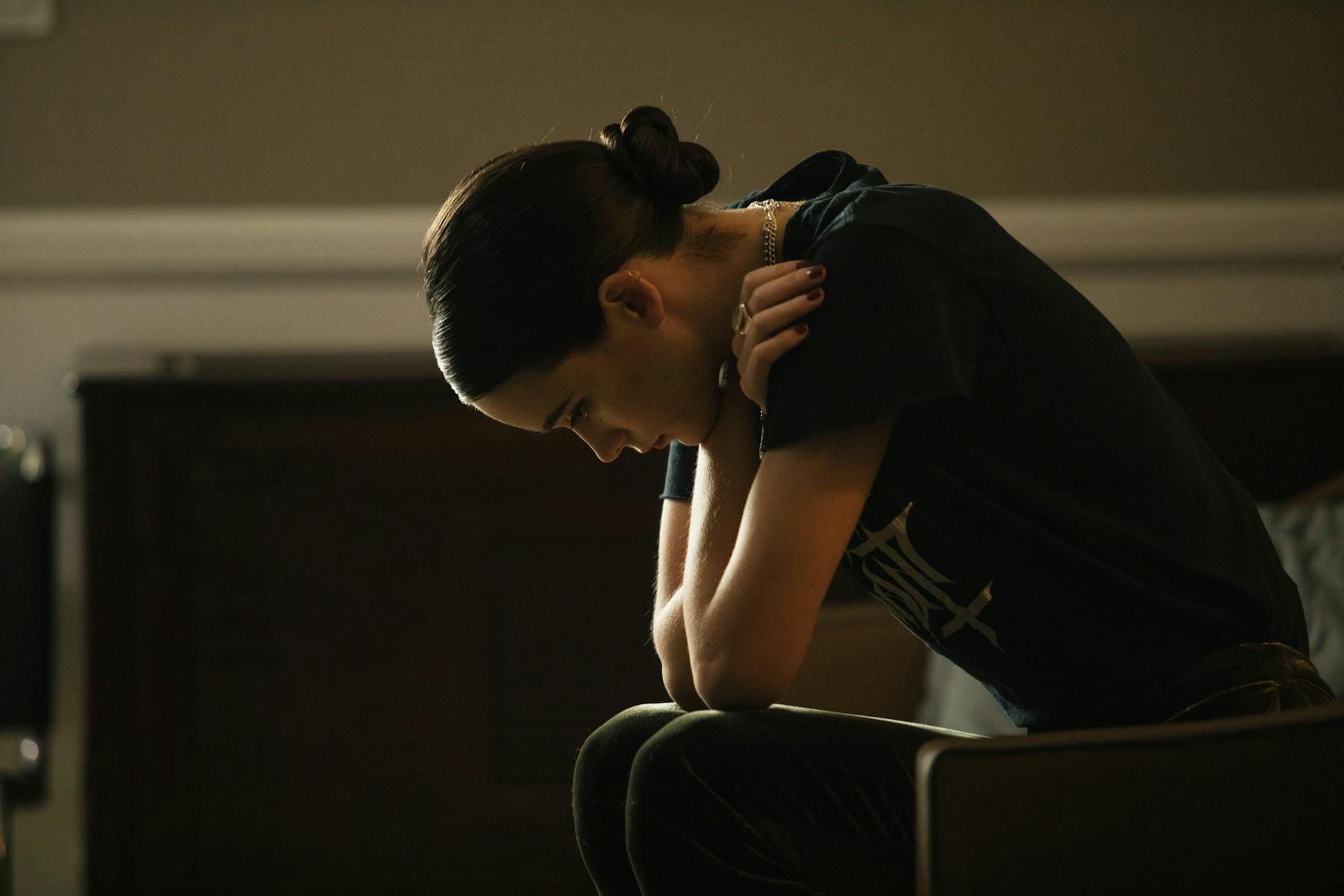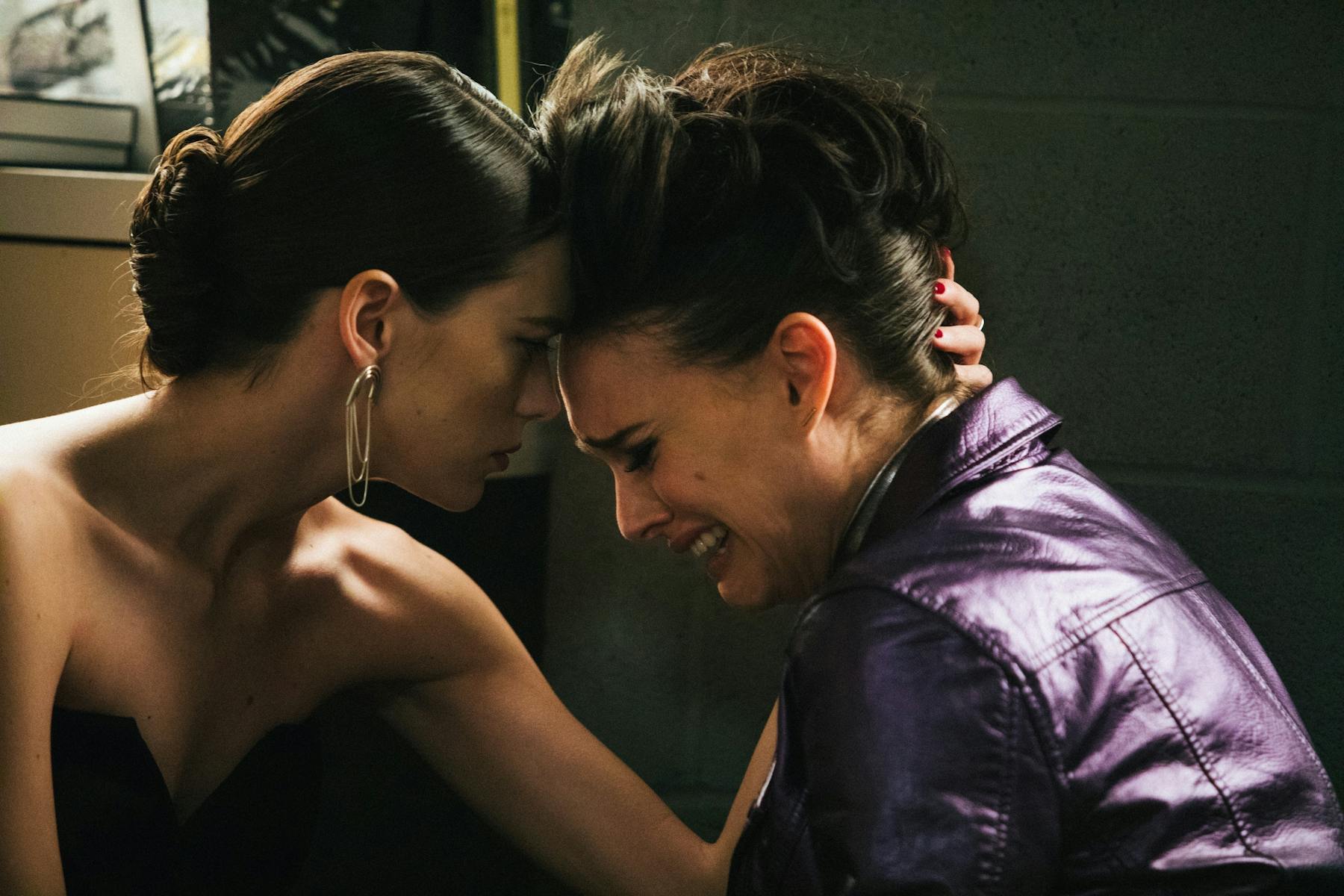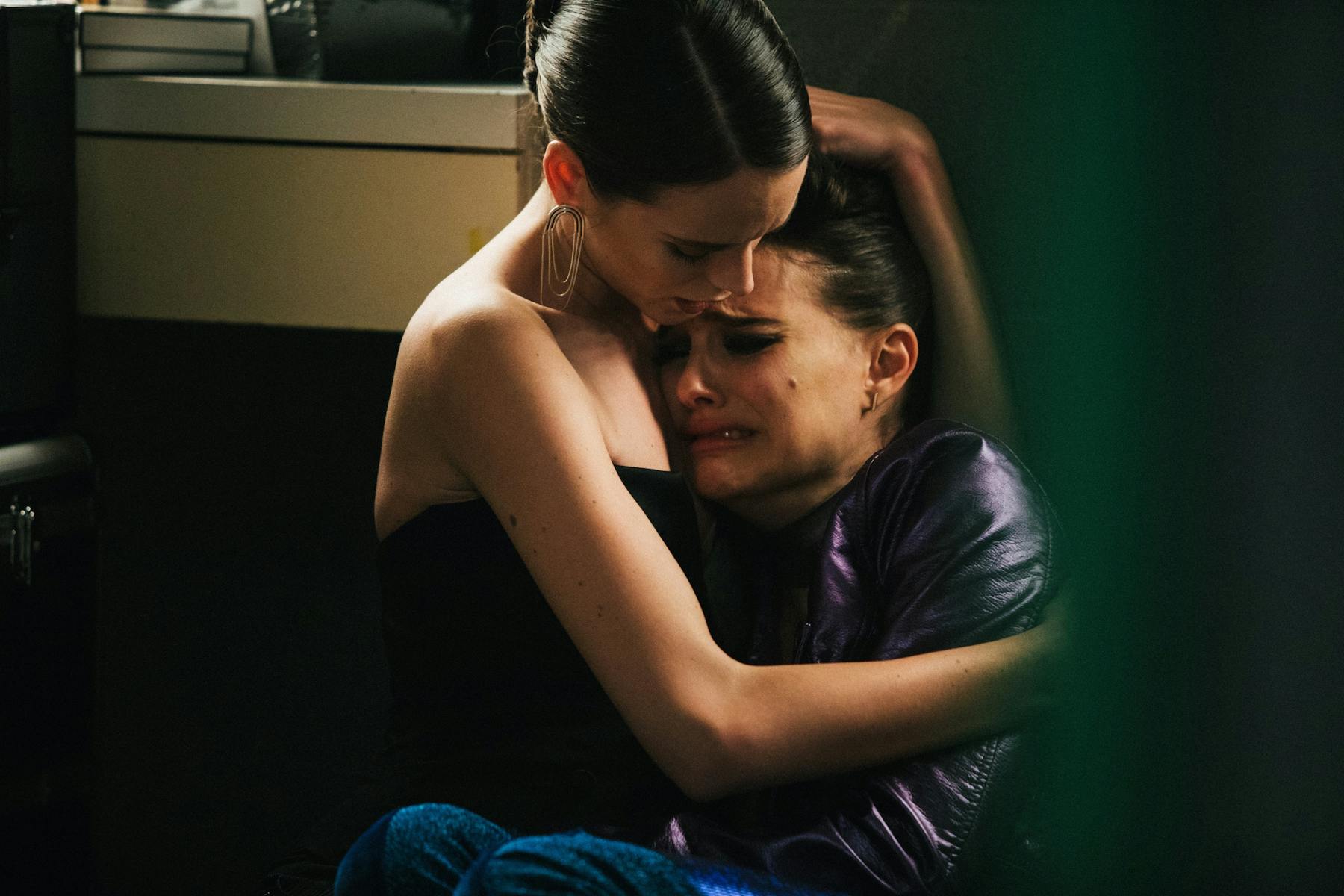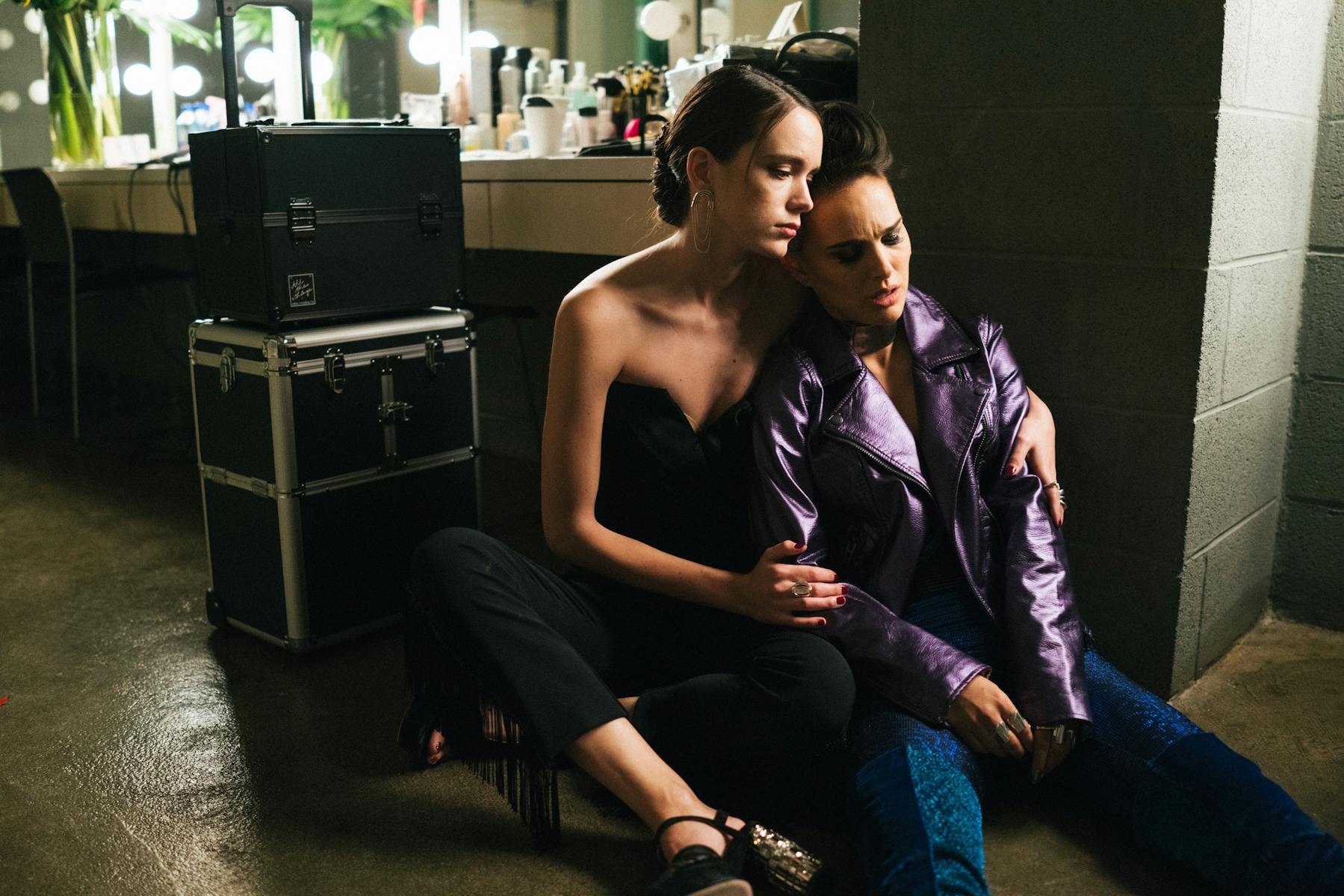 Eigh­teen years lat­er ("Rege­n­e­sis 2017") Celeste (now played by Port­man) is a Rock Star, a Lady Gaga-meets-Fred­die Mer­cury fire­ball of neu­roses, sequins and sur­vivor guilt. Vox Lux is Bohemi­an Tragedy, with extra glit­ter and Jude Law as a long-suf­fer­ing manager-slash-enabler-cum-exploiter.
In this third time­frame Mar­tin still plays Ellie, but the young actress Cas­sidy now plays Celeste's daugh­ter, Alber­tine. Sober, straight Ellie is charged with look­ing after her niece while Celeste is chug­ging back booze and drugs, tear­ing up sta­di­ums and/​or break­ing down in dress­ing rooms.
How was it for Mar­tin to play both mid-teens and ear­ly-30s… and act oppo­site the same actress play­ing first her sis­ter and then her niece… and act against Oscar-win­ning Port­man as a super­star who's per­ma­nent­ly on?
"It was a chal­lenge," admits Mar­tin (thought­ful, com­posed, but also play­ful). She and Cor­bet also worked togeth­er on his first fea­ture, The Child­hood of a Leader, and had dis­cussed the Vox Lux script while it was in draft stage. But play­ing Ellie was the last thing on her mind until Cor­bet set her straight: ​"No. You have to play her. I wrote it for you."
Clear­ly per­sua­sive, Cor­bet also secured the diverse tal­ents of Aus­tralian hit machine Sia and of the recent­ly deceased exper­i­men­tal song­writer and com­pos­er Scott Walk­er – the for­mer to write Celeste's songs, the lat­ter to cre­ate the score. As Mar­tin explains: ​"With all the shots of build­ings, Brady want­ed the music to be loud and sort of epic. And then you've got this pop bal­lad that comes in. Great con­tra­dic­tion," she enthuses.

Cor­bett is quite the indie-auteur. ​"Vox Lux" loose­ly means ​"voice of light" in Latin. In the clos­ing titles he declares his film ​"A 21st Cen­tu­ry Por­trait." What does he mean by that? ​"Oh God," she replies, eyes widen­ing. ​"Well, I think there's this ten­den­cy in today's soci­ety and cul­ture to define peo­ple as icons, and to look for icons. That's to the extent of los­ing what­ev­er made that per­son human. We have an obses­sion with iden­ti­ty, we have an obses­sion with image. And it's not built on good foundations.
"We idolise peo­ple but we don't even know who they are," she con­tin­ues, ​"because every­thing is so con­struct­ed. You look at what's going on with Michael Jack­son and the HBO doc­u­men­tary and how peo­ple are find­ing it real­ly hard to accept that he was alleged­ly a preda­tor and a child abuser. It was in front of us the whole time. But we always want to dream, we always want to idolise, and I think that's a mas­sive problem."
Mar­tin, who was born in Paris to a French father and Eng­lish moth­er, knows about peo­ple obsess­ing over iden­ti­ty, and she knows – a bit – about the music indus­try. In Nympho­ma­ni­ac, she had the title role in the first, three-hour vol­ume of von Trier's five-and-half-hour med­i­ta­tion on sex, devian­cy, obses­sion and gen­der pow­er imbal­ances. (Coin­ci­den­tal­ly, she played a woman from mid-teens to ear­ly-30s in that film, too. Char­lotte Gains­bourg played the same char­ac­ter in vol­ume two.) Giv­en the Dan­ish provocateur's com­mit­ment to screen authen­tic­i­ty, Mar­tin endured many an inter­view ask­ing about super­im­posed gen­i­tals, pros­thet­ic vagi­nas and sex dou­bles. Yes, she act­ed many of the most graph­ic scenes. No, she didn't have actu­al inter­course in front of the cameras.
And cer­tain­ly, no, she has no regrets about mak­ing the film. Nor about work­ing with von Tri­er, who was sub­se­quent­ly accused by Björk of sex­u­al­ly harass­ing her dur­ing the mak­ing of his 2000 film, Dancer In The Dark (von Tri­er denies the accu­sa­tion). ​"Lars is pater­nal to his actors," Mar­tin states firm­ly, adding: ​"The great thing about Lars is that he makes these beau­ti­ful films and yes, some say they're crazy and too extreme. But there's some­thing about them that you still watch."
As for the music indus­try: Mar­tin has some insight via her boyfriend. He's Daniel Blum­berg, the ultra-tal­ent­ed north Lon­don musi­cian who was the leader of Cajun Dance Par­ty in his teens, and has since record­ed under var­i­ous names. Brady Cor­bet has pre­vi­ous­ly writ­ten accom­pa­ny­ing text for a Blum­berg project (2017's GUO2). Has Mar­tin com­plet­ed the cre­ative tri­an­gle by singing on Blumberg's next album (already ready to go and ​"quite epic," seem­ing­ly)? ​"No, I'm ter­ri­fied of singing!" she exclaims, almost spilling her Coro­na. ​"I had to take singing lessons for Vox Lux. It's quite hard when you're with a musi­cian that not only sings real­ly well but can play any instru­ment he picks up. You just end up going: ​'Well, I can just act.' That's good enough," she smiles.
Vox Lux is in UK cin­e­mas on 3rd May
---