Stacy Martin: from von Trier to Vox Lux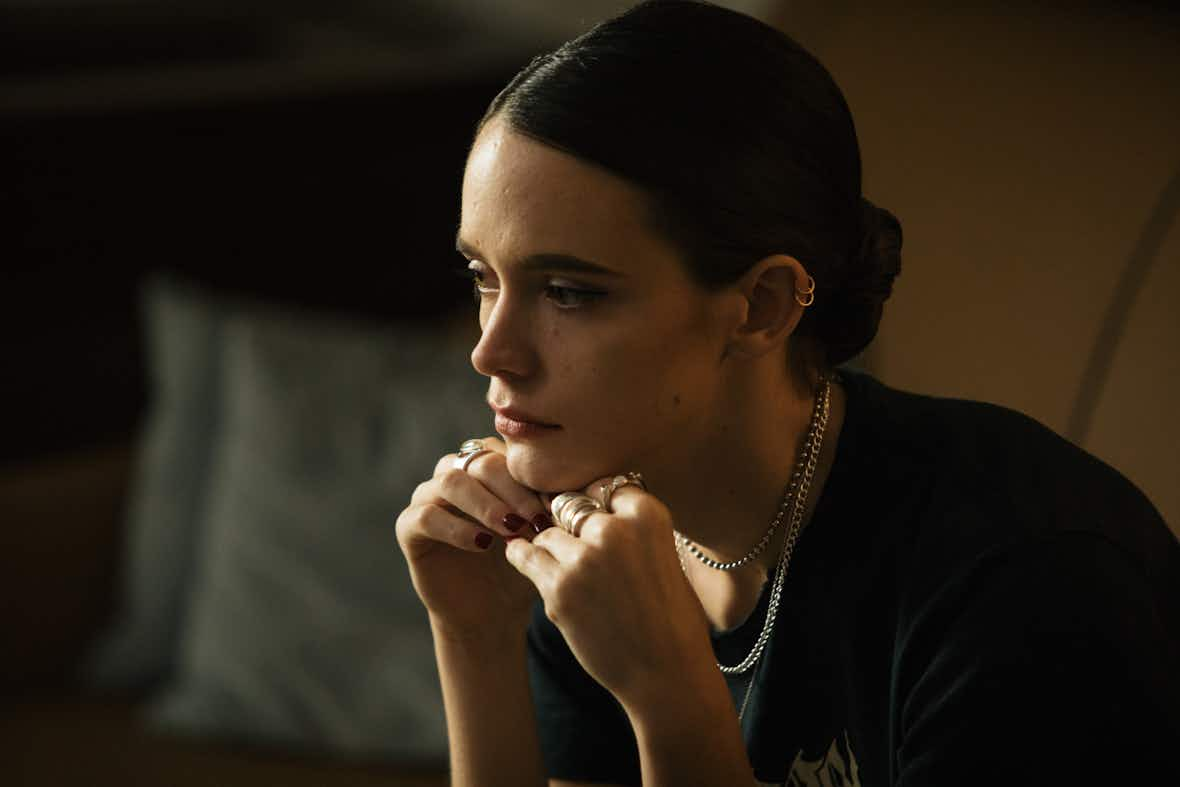 "There's this tendency to look for icons… to the extent of losing whatever made that person human."
Stacy Martin sits down in a pub in Hackney, east London, with two polite late-afternoon requests: a bottle of Corona and that we don't describe how she's dressed. ​"Interviews always mention what actresses are wearing, but never actors," she says, entirely amiably and not inaccurately.
So: the Anglo-French star of Lars von Trier's Nymphomaniac has walked the short distance from her flat to discuss her bold, brilliant and just occasionally bonkers new film. There will be blood, pop songs by Sia, the last musical will-and-testament of the avant-garde songwriter Scott Walker, a screen-melting performance from Natalie Portman and – with a necessarily less showy role – a quietly sensational turn from Martin.
Vox Lux is the story of Celeste (Raffey Cassidy), divided into three acts. As a 13-year-old in New York she survives, just, a graphically depicted mass-casualty high school shooting. Actor-turned-director Brady Corbet calls this act ​"Prelude, 1999."
In ​"Act 1: Genesis 2000 – 2001" Celeste, with the help of big sister Ellie (Martin), metabolises her pain into a song, written as she recovers in her hospital bed. After the pair perform at a memorial to their murdered classmates and teachers, the song goes viral. As Willem Dafoe's typically bone-dry narration tells us, within a year it's become a nationwide protest anthem.
A star is born.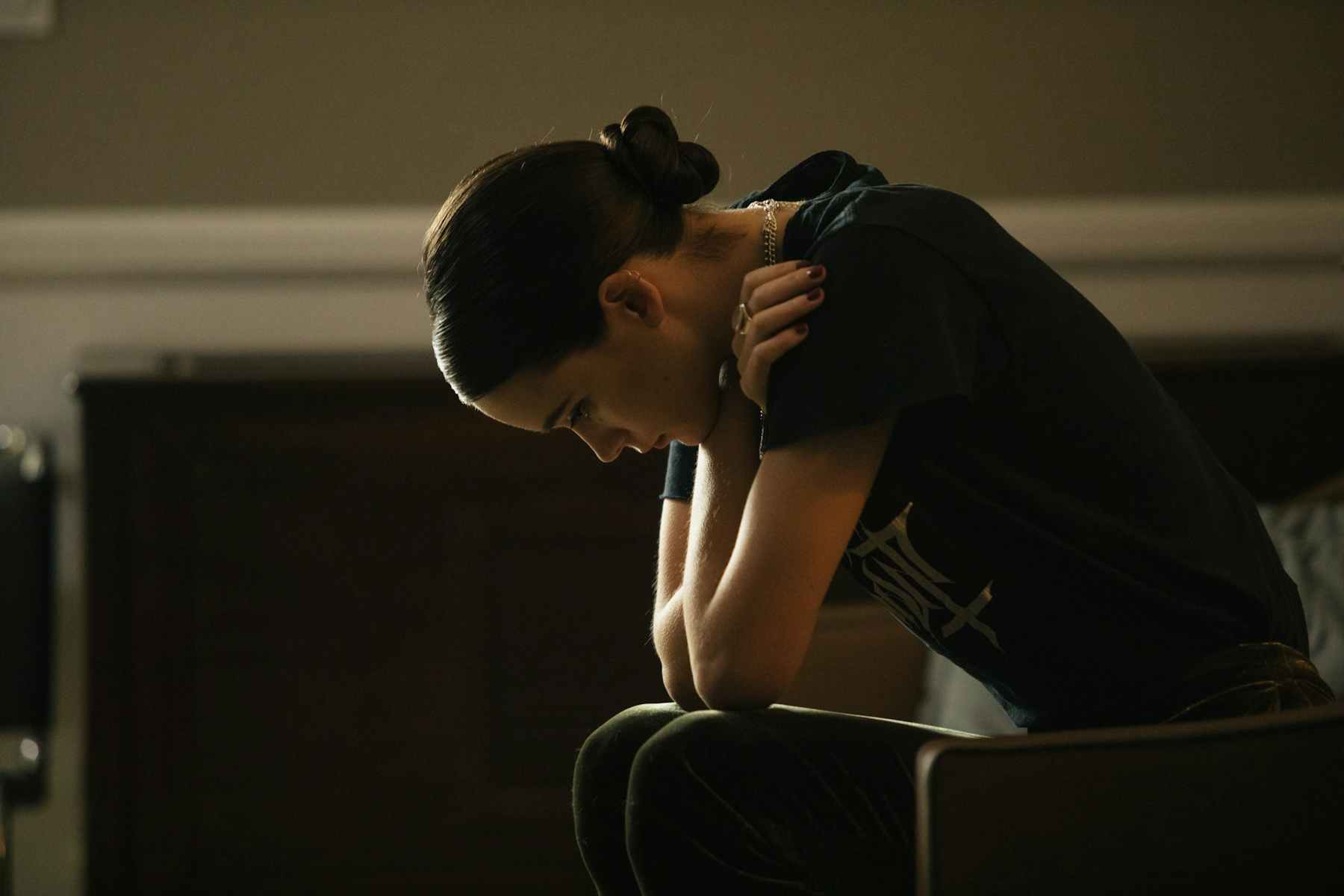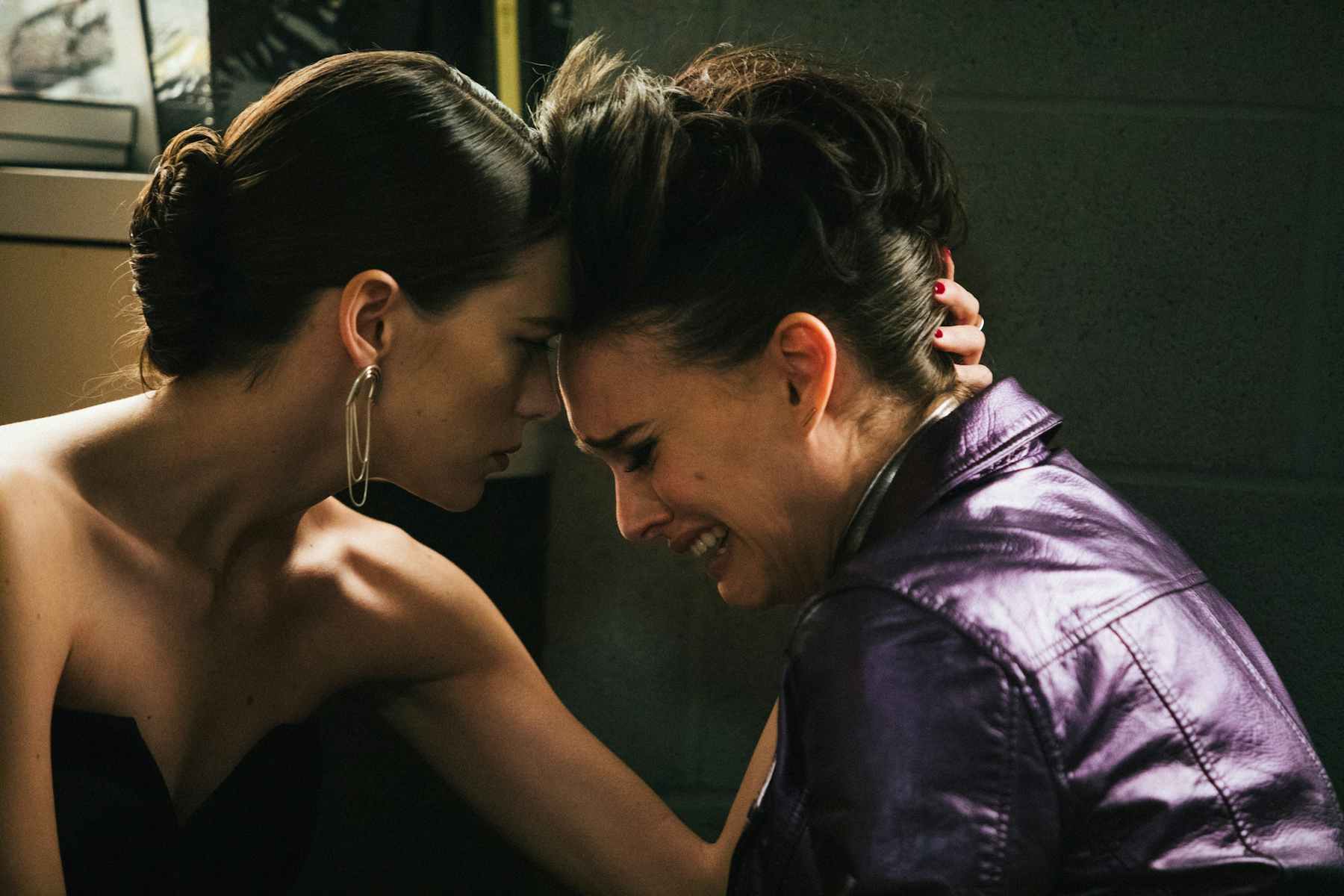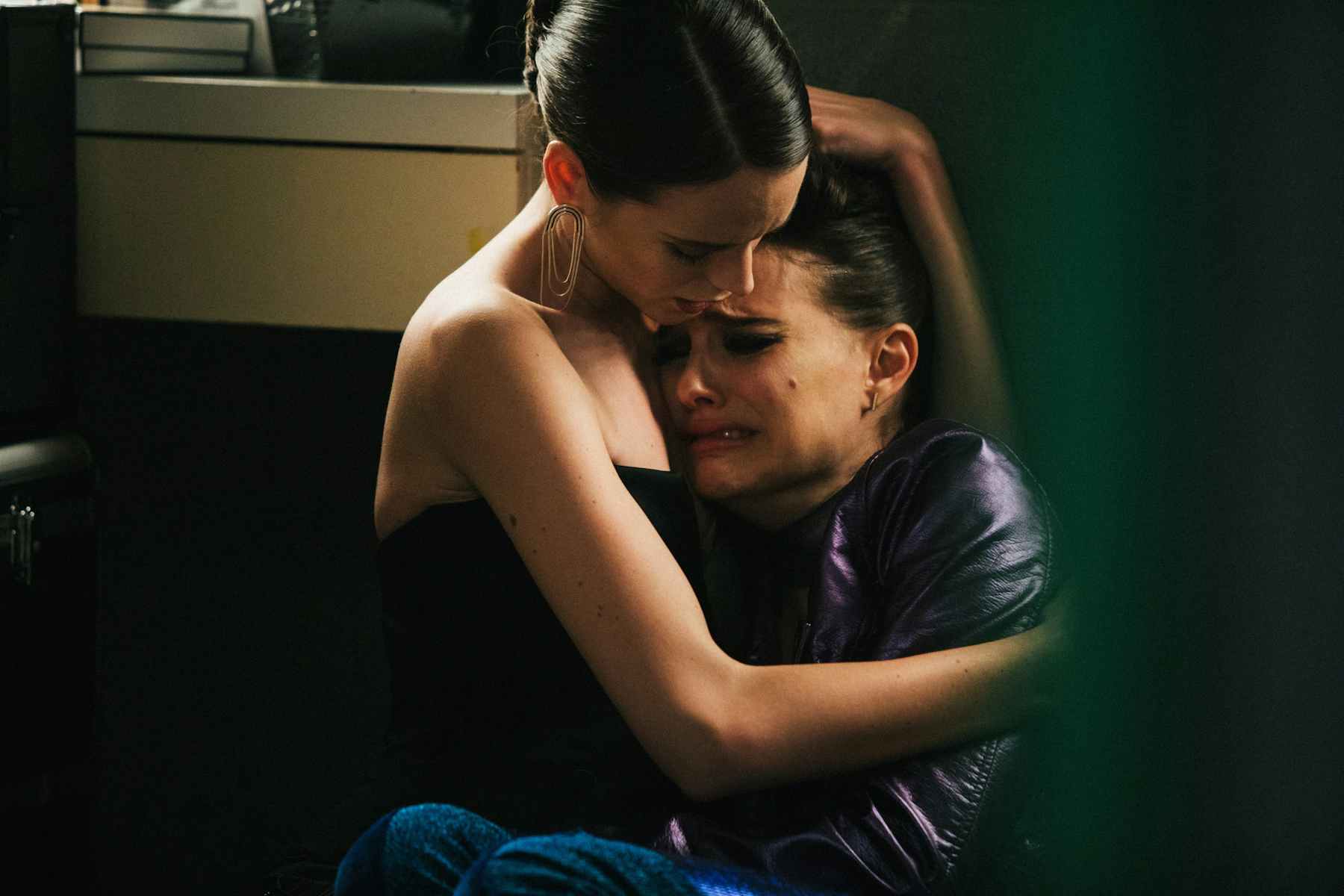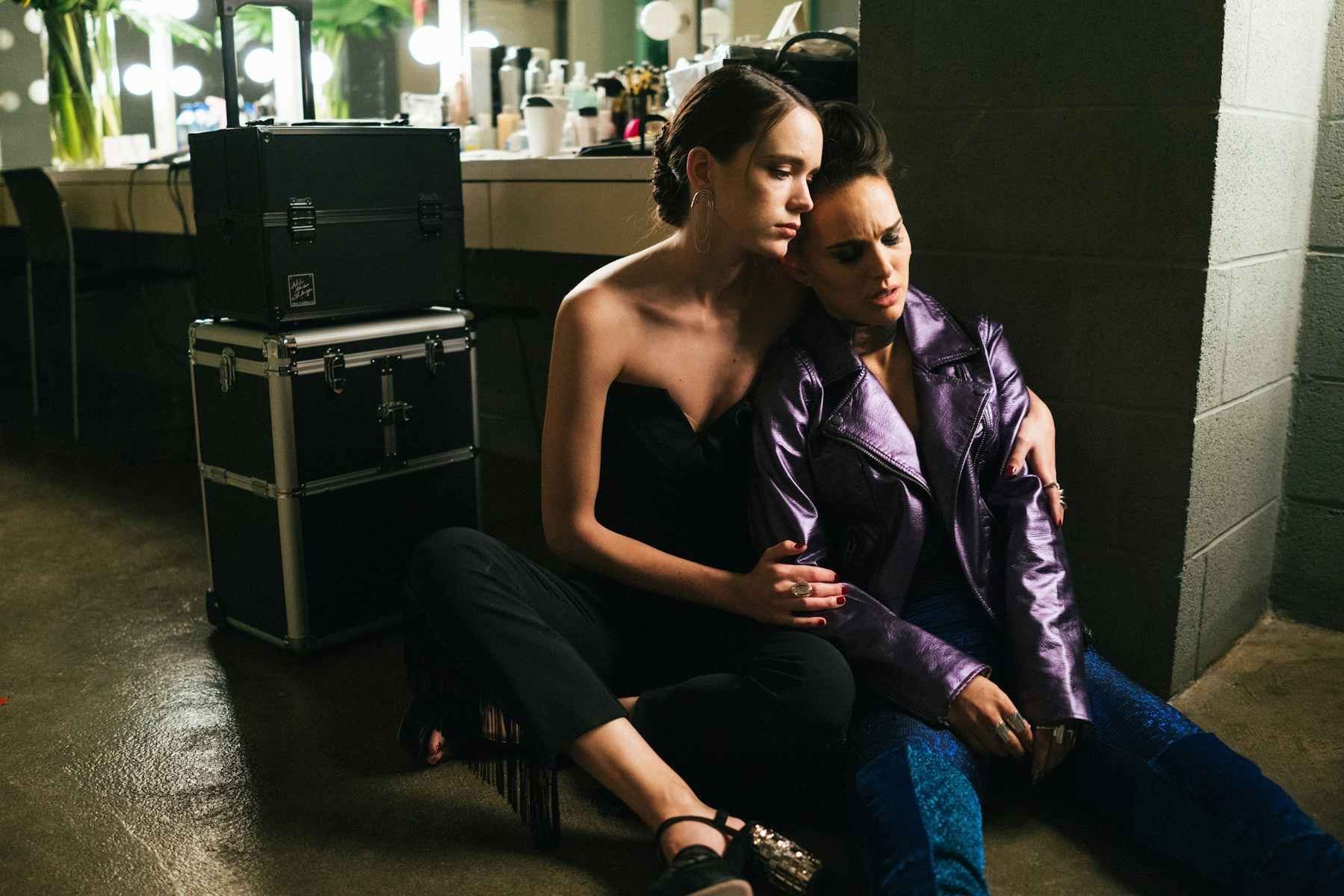 Eighteen years later ("Regenesis 2017") Celeste (now played by Portman) is a Rock Star, a Lady Gaga-meets-Freddie Mercury fireball of neuroses, sequins and survivor guilt. Vox Lux is Bohemian Tragedy, with extra glitter and Jude Law as a long-suffering manager-slash-enabler-cum-exploiter.
In this third timeframe Martin still plays Ellie, but the young actress Cassidy now plays Celeste's daughter, Albertine. Sober, straight Ellie is charged with looking after her niece while Celeste is chugging back booze and drugs, tearing up stadiums and/​or breaking down in dressing rooms.
How was it for Martin to play both mid-teens and early-30s… and act opposite the same actress playing first her sister and then her niece… and act against Oscar-winning Portman as a superstar who's permanently on?
"It was a challenge," admits Martin (thoughtful, composed, but also playful). She and Corbet also worked together on his first feature, The Childhood of a Leader, and had discussed the Vox Lux script while it was in draft stage. But playing Ellie was the last thing on her mind until Corbet set her straight: ​"No. You have to play her. I wrote it for you."
Clearly persuasive, Corbet also secured the diverse talents of Australian hit machine Sia and of the recently deceased experimental songwriter and composer Scott Walker – the former to write Celeste's songs, the latter to create the score. As Martin explains: ​"With all the shots of buildings, Brady wanted the music to be loud and sort of epic. And then you've got this pop ballad that comes in. Great contradiction," she enthuses.

Corbett is quite the indie-auteur. ​"Vox Lux" loosely means ​"voice of light" in Latin. In the closing titles he declares his film ​"A 21st Century Portrait." What does he mean by that? ​"Oh God," she replies, eyes widening. ​"Well, I think there's this tendency in today's society and culture to define people as icons, and to look for icons. That's to the extent of losing whatever made that person human. We have an obsession with identity, we have an obsession with image. And it's not built on good foundations.
"We idolise people but we don't even know who they are," she continues, ​"because everything is so constructed. You look at what's going on with Michael Jackson and the HBO documentary and how people are finding it really hard to accept that he was allegedly a predator and a child abuser. It was in front of us the whole time. But we always want to dream, we always want to idolise, and I think that's a massive problem."
Martin, who was born in Paris to a French father and English mother, knows about people obsessing over identity, and she knows – a bit – about the music industry. In Nymphomaniac, she had the title role in the first, three-hour volume of von Trier's five-and-half-hour meditation on sex, deviancy, obsession and gender power imbalances. (Coincidentally, she played a woman from mid-teens to early-30s in that film, too. Charlotte Gainsbourg played the same character in volume two.) Given the Danish provocateur's commitment to screen authenticity, Martin endured many an interview asking about superimposed genitals, prosthetic vaginas and sex doubles. Yes, she acted many of the most graphic scenes. No, she didn't have actual intercourse in front of the cameras.
And certainly, no, she has no regrets about making the film. Nor about working with von Trier, who was subsequently accused by Björk of sexually harassing her during the making of his 2000 film, Dancer In The Dark (von Trier denies the accusation). ​"Lars is paternal to his actors," Martin states firmly, adding: ​"The great thing about Lars is that he makes these beautiful films and yes, some say they're crazy and too extreme. But there's something about them that you still watch."
As for the music industry: Martin has some insight via her boyfriend. He's Daniel Blumberg, the ultra-talented north London musician who was the leader of Cajun Dance Party in his teens, and has since recorded under various names. Brady Corbet has previously written accompanying text for a Blumberg project (2017's GUO2). Has Martin completed the creative triangle by singing on Blumberg's next album (already ready to go and ​"quite epic," seemingly)? ​"No, I'm terrified of singing!" she exclaims, almost spilling her Corona. ​"I had to take singing lessons for Vox Lux. It's quite hard when you're with a musician that not only sings really well but can play any instrument he picks up. You just end up going: ​'Well, I can just act.' That's good enough," she smiles.
Vox Lux is in UK cinemas on 3rd May

More like this