Superfan: Beth Ditto as Divine
Introducing Superfan, our new series in which a contemporary icon meets the classic, like a green tea-infused four-finger Kit Kat.
Everything's ​"iconic" these days, isn't it? A decent sandwich, a trip to Los Angeles, the weather – iconic! But what really makes an icon? It's not simply something that is good, tasty, or enjoyable. It's something, or someone, that deserves the utmost respect. Something so good it's appropriated by the masses. Something which challenges the status quo. An icon is an almighty influence. A catalyst for the superfans that follow.
Cue: Superfan, our new original series in which we'll be featuring modern, actual icons from the worlds of music, fashion, sport and film. The chosen ones will tell their story of ultimate fandom. Expect an oral history of an icon as told by their – famous – number one fan. Think Stars In Their Eyes, but less camp and with better production. And sadly no Matthew Kelly.
Starring in our inaugural episode is the almighty Beth Ditto, the ever-outspoken frontwoman of Gossip. A modern punk with a middle America drawl, Beth is as well known for her serious set of pipes as she is for her on-stage antics.
Today, Beth becomes Divine, the American actor, singer and drag queen, known for his collaborations with transgressive director John Waters and for embodying punk way before punk existed. But we'll let Beth tell you all about that.
So before you want to throw ​"iconic!" around again, have a think. Is it as iconic as Divine eating dog shit in Pink Flamingos? Nah, didn't think so.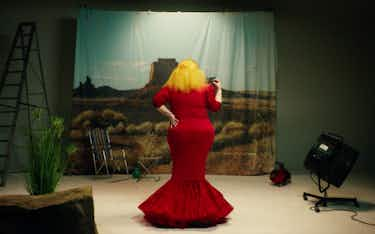 More like this