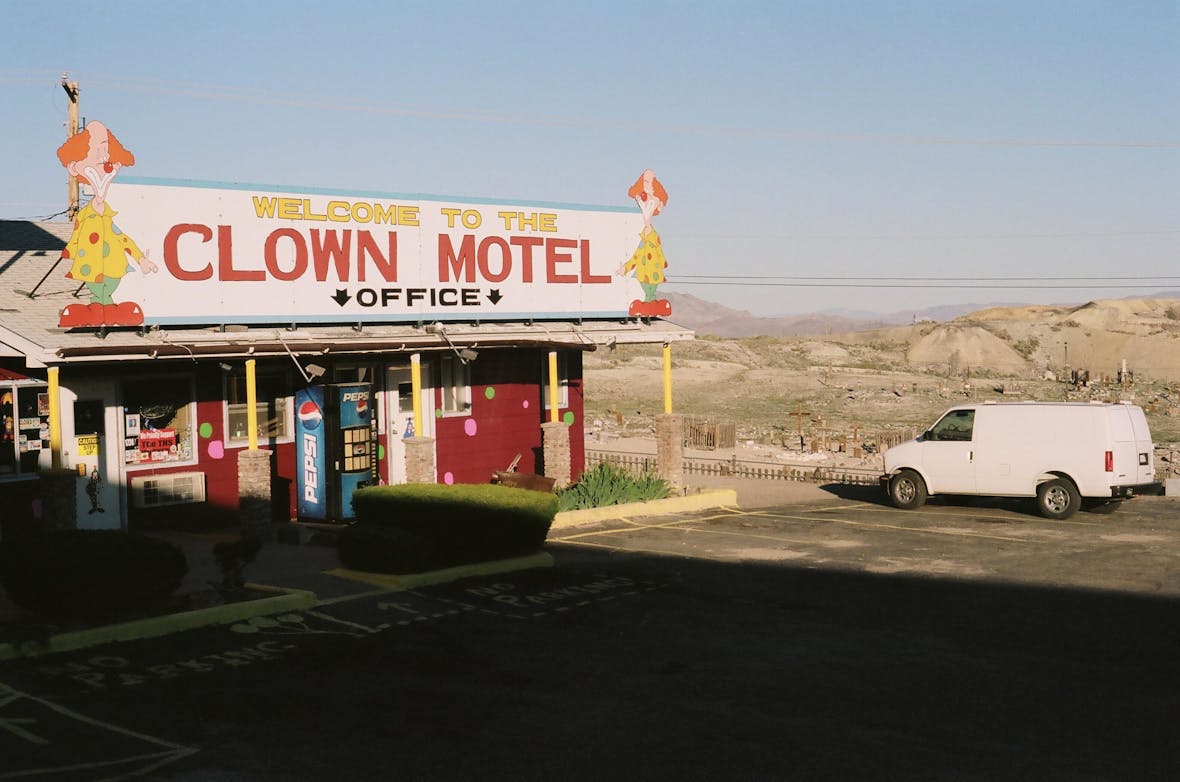 The colour­ful clien­tele who stay at ​

"

America's Scari­est Motel"
"When I dri­ve down the street, my pick­up truck turns into the Clown Motel whether I want it to or not," says Bob Perchet­ti, the mild-man­nered and benev­o­lent 81-year-old own­er of the Clown Motel. He is the hos­pitable face of one of Nevada's creepi­est attrac­tions: ​"America's Scari­est Motel."
The lob­by hous­es 700 clowns of every sort – porce­lain fig­ures, stuffed dolls, over­sized Ronald McDon­alds and glass col­lectibles. Perchet­ti has work­shopped the Clown Motel into a des­ti­na­tion for adven­ture-seek­ers and clown-curi­ous tourists. They get the oppor­tu­ni­ty to overnight in the brown-car­pet­ed rooms, lie in beds with poly­ester flo­ral sheets, and admire the clown por­traits which hang above the beds as a creepy reminder that this is, indeed, the Clown Motel.
You, too, can rev­el in all its majesty for the bar­gain price of $35 a night.

Just off a long stretch of High­way 95 in cen­tral Neva­da, the town of Tonopah (pop. 2,478 as of 2010) creeps up on you before you're real­ly ready to meet it. Con­crete-grey moun­tains and wide, flat expans­es dot­ted with shrub­bery, it's a blink-and-you'll-miss-it high­way town. More than once I was direct­ed by locals to one of Tonopah's glit­ter­ing attrac­tions: the his­toric min­ing park and the museum.
But I was in Tonopah on a mis­sion – to brave what the legions of masochis­tic coul­ro­pho­bics (a fear of evil clowns) and thrill-seek­ing trav­el­ers before me all had: a vis­it to the Clown Motel, a respite with a haunt­ed past and a creepy present, and to find out who, why, and what kind of guests would will­ing­ly fork over their earn­ings to stay in a motel bed sur­round­ed by clowns.








Perchetti's own clown sto­ry began in 1994, when he pur­chased the motel from its orig­i­nal own­ers, LeRoy and Leona David. The Davids found­ed the motel in hon­or of their late father, and brought his col­lec­tion of about 150 clowns to the place, as a way to ​"put them to work". Perchet­ti saw the poten­tial to devel­op the Clown Motel into a buck­et list des­ti­na­tion for peo­ple from all over the world.
Born and raised in Tonopah, Perchet­ti is affec­tion­ate­ly known as the ​"Tonopah Kid." The local sher­iff knew him by name, there's a ​"Perchet­ti Room" named after him up the street at the near­by Tonopah Sta­tion Casi­no, and work­ers at the Miz­pah (Nevada's first lux­u­ry hotel) all sang his prais­es. Although lit­tle has changed at the Clown Motel ​"since day one," Perchetti's unwa­ver­ing ded­i­ca­tion to its lega­cy grew the estab­lish­ment into what it is today – fea­tured on Trav­el Channel's Ghost Adven­tures, cov­ered by count­less news arti­cles, and sought out by the glob­al clown community.
But it's not all laughs. Sit­u­at­ed next to the Old Tonopah Ceme­tery, many guests and employ­ees have report­ed para­nor­mal activ­i­ty at the motel. Tonopah, which became famous in the 1900s as a min­ing town, brought work­ers in droves who want­ed to strike it rich and cash in on the boom­ing ore mines. But a mys­te­ri­ous plague in 1902 and a mine fire in 1911 that killed 14 min­ers filled the ceme­tery next door.
"I tell peo­ple the ceme­tery is haunt­ed," Perchet­ti says. ​"If you take a flash­light and go out there at mid­night, you might hear or see some­thing. It's an asset for the Clown Motel to have the ceme­tery next to us."

A turn­ing point came this year for the Clown Motel when Perchet­ti final­ly decid­ed to sell the prop­er­ty – with one stip­u­la­tion. ​"Who­ev­er bought it had to keep it as the Clown Motel. That was real­ly impor­tant for me," he said. Hav­ing spent 23 years build­ing it up, Perchet­ti knew the motel's poten­tial as a tourist des­ti­na­tion. ​"Peo­ple fly into Vegas, rent a car, and dri­ve to Tonopah just to take a pic­ture with the clowns and then head back."
Perchet­ti just need­ed to find the right per­son who shared the same vision. The new own­er, who wish­es to remain anony­mous, start­ed out as a sous chef at the Doha Sher­a­ton in his native Qatar. An oppor­tu­ni­ty for work led him to Cana­da and he even­tu­al­ly end­ed up in Vegas, where he stayed at a seedy motel near Vegas' Fre­mont Street that he would lat­er own.
Plans were made by the new own­er to change the name and erase the lega­cy, but some­thing didn't feel right. He asked him­self, ​"Why are we buy­ing this motel then? There are so many motels on the market."
"We didn't want to let go of the his­to­ry," the new own­er, who I met in the motel lob­by, said. Remod­el­ing of all of the rooms and repaint­ing of the exte­ri­or is cur­rent­ly under­way. Future plans include a clown muse­um, com­plete with a sou­venir shop and themed cof­fee shop, where vis­i­tors can get a caf­feine fix – essen­tial for the lack of sleep they may have encoun­tered due to super­nat­ur­al activ­i­ty dur­ing their stay. Com­mer­cial­ly, it's a win-win.
Although Perchetti's dreams to put in a clown-themed restau­rant and minia­ture golf course nev­er mate­ri­al­ized, the new own­er is tak­ing up the man­tle. They're inter­est­ed in ​"car­ry­ing the lega­cy up to a dif­fer­ent scale. We're not here to make money."
As for Perchetti's take? ​"Peo­ple from all walks of life come through the door. All it can do is get big­ger and better."


Alex, 35, and Alexandra, 32
How long have you been stay­ing at Clown Motel?
Alex: Two days. I'm from Tonopah. We came down for a date week­end to spend some time by ourselves.
Alexan­dra: We heard about how creepy every­body said it was and haunt­ed. I was like, ​"Let's check it out!"
Alex: When I was lit­tle, my mom used to work here. I know Bob [the own­er] pret­ty well.

So is this a good date spot?
Alex: It's not that it's roman­tic… We can get away from every­body. We need to do this once in a while.
Where do you live now?
Alex: We came [to Tonopah] last year to vis­it my moth­er in July and haven't left. We got stuck. We're just build­ing our lives back up again. I brought [Alexan­dra] here in high school and 14 years lat­er, I brought her back. I've loved her ever since.
How long have you been together?
Both: This time two years.
Alex: We were high school sweet­hearts. I was her first love. Four­teen years lat­er, we both had our fam­i­lies and came back togeth­er. We picked up right where we left off when we were teenagers. The whole world could fall down around us, but as long as we have each oth­er, we're happy.


Blaire Hamilton aka Blyre Cpanx, 29
My stage name is Blyre Cpanx. I am orig­i­nal­ly from St. Louis, Mis­souri, but have been liv­ing full time on the road for about a year now. I do clown­ing, sideshow, bur­lesque, hoop, bel­ly­danc­ing – a lit­tle bit of every­thing, but I'm a trav­el­ing clown per­for­mance artist.

How did you get your start as a pro­fes­sion­al clown?
When I did bur­lesque or aeri­als or hoop, I always did a fun­ny, clowny type of com­e­dy con­cept. Some­one told me, ​"You always per­form as a clown," and I was con­fused because I nev­er wore ​"white­face," but they were like, ​"no, it's a give and take, it's a way of com­mu­ni­cat­ing with the audi­ence." It was only when I real­ized I was a clown all along that I took on the face.

What are your per­for­mances like?

I per­form all over the Unit­ed States and beyond. As far as sideshow, I do Lego-walk­ing, glass-walk­ing, bed of nails… I do real­ly sil­ly clown striptease with bur­lesque. Always some sort of fun or sil­ly aspect with it.

What sets you apart from oth­er clowns?
While I do more tra­di­tion­al clown work, what sets me apart are my more sexy or sub­ver­sive acts. There are a lot of peo­ple who are afraid of clowns, but there are a lot of peo­ple who have clown fetish­es.

What does that entail?
It's amus­ing, it can also be an oppor­tu­ni­ty. I don't know if this is appro­pri­ate to say or not, but I'm also a dom­i­na­trix and one of my char­ac­ters is actu­al­ly a clown dom­i­na­trix. I def­i­nite­ly have clients that have clown fetish­es or fascinations.
If I was a client seek­ing some of your clown dom­i­na­trix ser­vices, what are some of the things I could expect to do?
The last ses­sion I did, we cov­ered his liv­ing room in a tarp. He bought prob­a­bly 30 cans of whipped cream and a bunch of pie crust and fruit-filled pie. I made him get into his clown make­up while I filled up some of the pies with cream and laid them around in a big cir­cle. He gave me per­mis­sion to play what­ev­er music I want­ed, so I played some real­ly sil­ly stuff like Ginuwine's Pony and I rode him like a pony. I smacked him around, pied him in the butt, pied him in the dick, and just gave him real­ly sil­ly clown insults while putting squeak­ers in his face and mak­ing him wear a clown nose. When I'm a dom­i­na­trix, I like to take on these dif­fer­ent char­ac­ters because it's a lit­tle more inter­est­ing and per­son­al. It's amaz­ing how many peo­ple are real­ly into the clown persona.
"I rode him like a pony. I smacked him around, pied him in the butt, pied him in the dick, and just gave him real­ly sil­ly clown insults while putting squeak­ers in his face and mak­ing him wear a clown nose." – Blaire Hamil­ton aka Blyre Cpanx

How did you hear about the Clown Motel?
A lot of clowns and per­form­ers in the com­mu­ni­ty have heard about the Clown Motel, even if they don't know where it's locat­ed. It's been shared to my social media pages so many times.



Rachel Forrest, 32, and Jen Jones, 31
What brought you to the Clown Motel?

We met up in Seat­tle and we're dri­ving to Ari­zona. We were watch­ing Ghost Adven­tures and they did an episode here and we were like, ​"We have to stop." I can see what I pick up – I'm a psy­chic medium.
Have you picked up any para­nor­mal activ­i­ty on your trip so far?
This is our first stop, so I'll have din­ner and then if I want to open up, I can and see what I get.
How did you real­ize you were a medium?
It's been since I was a kid and then I had a pret­ty accept­ing and cool mom who intro­duced me to a Native Amer­i­can elder that helped me to hone my craft as I grew up.


How did you choose to stay at Clown Motel?
I just stopped off the road. All the oth­er motels were full up with month­ly and week­ly guests. This was the next place I stopped.
What were you doing in this neck of the woods?
I went to meet my son in Wells, Neva­da. It's a two-tum­ble­weed town. It's a truck stop. I've been liv­ing in Fair­field, Ida­ho. I'm dri­ving to South­ern Cal­i­for­nia, San Diego. I'm orig­i­nal­ly from Boston. My father is from Mon­tre­al, he's French-Cana­di­an, and my mother's British. They met in Flori­da at a hotel where they both worked.
Are you hap­py? And are you married?
I've been mar­ried… I'm hap­py. I'm 75 years old, I don't need to be mar­ried. I need to be free.
You have nice eyes.
Thank you. It's impor­tant because I ski. I've been ski­ing since I was four years old. I work as a ski instruc­tor in Sun Val­ley, Idaho.

Sarah Childers, 29, and Kaya Savas, 31
What brings you to the Clown Motel?
Sarah: It's my birth­day week­end. I want­ed to do some­thing unusu­al and this has always been on my buck­et list. I love to do strange and unusu­al things. The fact that it's next to an old min­ing ceme­tery is great. The rooms are very 1975. We just checked in. I'm glad I'm only stay­ing for one night.

How did you find out about the Clown Motel?
Sarah: I go on YouTube and watch strange videos and this popped up. I was like that looks cool, and since we live the next state over we could make the trip.
Do you find it creepy?
Sarah: I don't real­ly find it creepy – clowns don't real­ly do it for me. Peo­ple who are afraid of clowns would lose their minds here.
Kaya: I think it's creepy when you strip away the clowns. If you were to dri­ve by this hotel with­out the clowns, it'd still be creepy. The lob­by is pret­ty cool – they have a huge col­lec­tion there. Each room has a clown on the door, but there are no clowns in the room. I already chal­lenged all the ghosts to come haunt [Sarah]. She's the believ­er, I'm the skeptic.

Have you ever had a ghost experience?
Sarah: My most vivid one – I was home alone and I was wash­ing my car. You know when a window's real­ly clean, you can see your reflec­tion? There was a woman behind me. I turned around and there was no one there. I'm not kid­ding. I go inside, and I was home alone at the time and some­thing touched my thigh. It was very bizarre.
Kaya: You're always alone! Nev­er with any­one else [laughs].


How long have you worked at the Clown Motel?
Thir­teen years.
Have you ever expe­ri­enced any para­nor­mal activ­i­ty here?
I had one wash­ing machine that I put all the stained things in and there was a pil­low­case lay­ing on top with two bright red stains and it didn't bleed in the rest of the laun­dry. I put a lot of bleach in there too. It was a real­ly busy day for us. I said [to the ghosts], ​"Get back to the grave­yard, leave us alone!" Say it with author­i­ty and they'll leave you alone.

I did have a house­keep­er that had things hap­pen to her all the time. The TV on and off, show­er cur­tain back and forth. She's from the Domini­can Repub­lic and they're very super­sti­tious. She comes into the office and said, ​"Marie, come bless the room!" [The spir­its] like to play. They're funny.
I don't go walk­ing in the grave­yard. Hal­loween time is bad for us, because peo­ple go tram­pling all over and things start hap­pen­ing, because [the spir­its] don't like it. They don't like peo­ple hang­ing around over there.
Do you find the clowns creepy?
The one that sits in the cor­ner chair – I always say, if I come in the morn­ing and he's not sit­ting in that chair, I'm walk­ing out of that front door and I'm nev­er com­ing back!
How long have you been in Tonopah?
Thir­teen years. My hus­band was look­ing for work so we moved out here and been here ever since. I hate Cal­i­for­nia [where I'm from]. Too many sig­nal lights. Once you get used to a small town, you nev­er go back. I love it.
---