A post-lockdown guide to Athens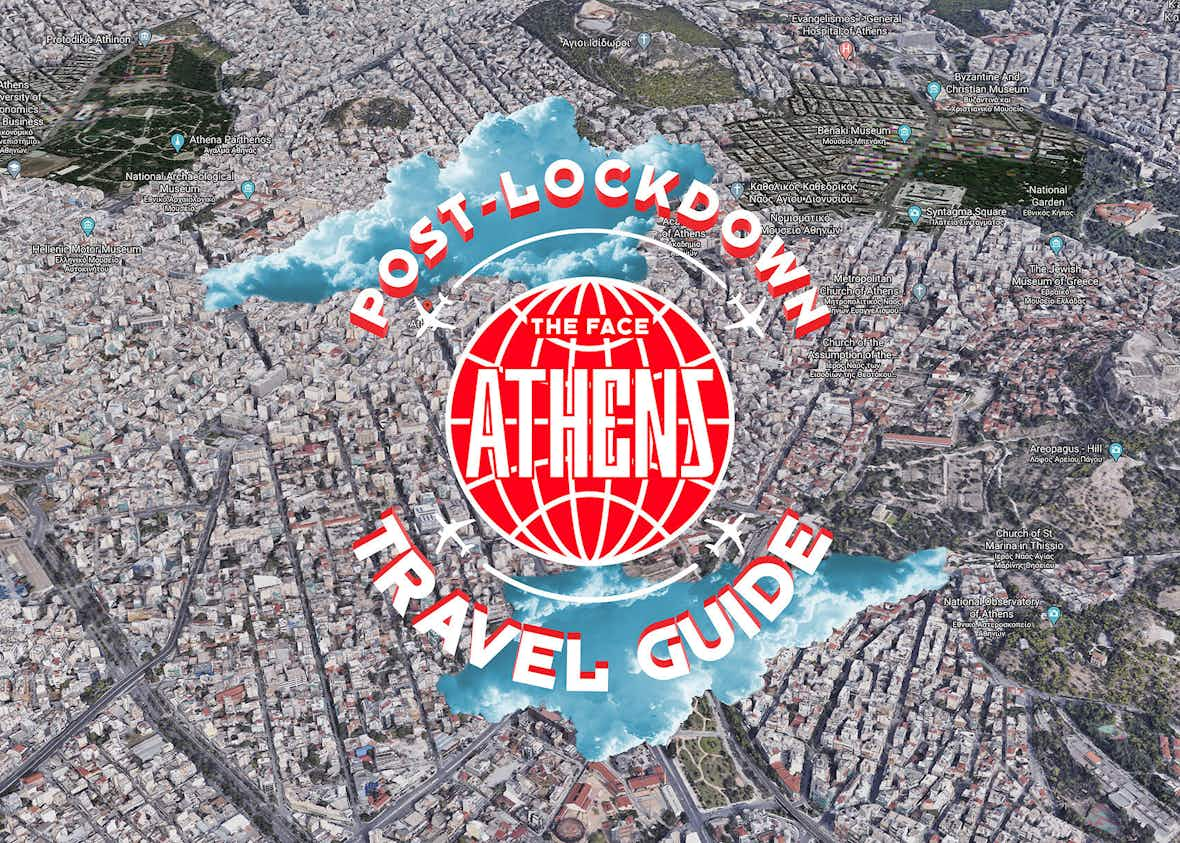 As countries open their borders for quarantine-free travel, including Greece. We asked writer and model Nassia Matsa to curate a coronavirus-friendly itinerary for your next trip.
Last week, the British government announced a series of air corridors between the UK and 59 other countries, including France, Spain, Vietnam, Japan and Australia. The decision, effective from today, means that us Brits can go on holiday without having to quarantine for 14 days upon return. Get in.
After three months of stay-at-home sanctions coupled with the closure of clubs, festivals and live music for the foreseeable future, many people are leaping at the chance to jet away on a summer vacay.
However, we must not forget that we are still in the midst of a pandemic, and although the number of cases has dropped substantially across Europe, the threat of a second wave looms large.
Whether we like it or not, Covid-19 has created a new – rather strange – normal, and countless new rules and restrictions now apply.
So to help navigate any confusion, we've tapped up some friends from our community to list the places you can eat and drink at post-Covid, and the things you should do with that newfound sense of freedom.
Next up: Athens, as curated by Greek writer and model Nassia Matsa.
Topline stats: Greece went into lockdown on 13th March, beginning a gradual reopening from 18th May starting with archaeological sites, shopping centres, beauty parlours and high schools. Nowadays, things are pretty much back up and running – yes, nightclubs included (keep dreaming, Brits).
Finally, do not travel if you're displaying any Covid-19 symptoms, wash your hands and wear a mask. Simple.
Nassia Matsa, writer and model
What phase of lockdown are you currently in and what does it look like?
We are in Phase 3 at the moment. Greece is open to tourists with international flights allowed into all airports in Greece (apart from the US due to their high numbers of confirmed Covid-19 cases). Visitors are subject to random tests upon arrival.
Things feel back to normal with people taking precautions and, in general, the Athenian vibes are positive and chilled.
What safety precautions are being put in place?
We are quite lucky as we can enjoy the outdoor restaurants, summer theatres and bars in terraces during summer. All staff are wearing masks, latex gloves and whenever you visit, you will be ​"welcomed" by a stand with antiseptic.
What's your public transport system like at the moment?
It's mandatory to wear a mask when using transport as well as when using a taxi or travelling by boat. On buses and trains, seats are spaced out.

List your favourite restaurants open for a bite to eat.
Seychelles for Grecian tastes (try the vegan mushroom risotto).
Where are the best outdoor spots for walks and boozy picnics?
You will definitely have to walk the peripheral pedestrian street of Dionysios Aeropagitou to go through bars, summer theatres, the Acropolis Museum, Herodus ancient theatre while taking in the view of the Parthenon.
The Athenian suburbs are great to explore, too. Head to north (Parnitha, Anavryta) for hiking in forests but, should you want a swim, head south to the Athenian Riviera for boozy swims.

More like this