Spaces of Black joy: five London-based designers share their visions
Following the toppling of racist statues around the world, five Black London-based designers share their visions for systemic, abstract and physical spaces of Black joy exclusively for The Face.
Black joy has had considerably less airtime than Black pain in the past few months. But acting as a balm to this heartache is a renewed interest in works that explore how Black pain and Black joy sit together.
In Arthur Jaffa's video-montage, Love is the Message, The Message is Death (2016), the cycles of joy and terror we suffer as Black people is a central theme. In writer Nathalie Etoke's Melancholia Africana (2010), Black joy is in the victory of finding ​"a way to be human in a dehumanising white supremacist world… Victory is in the struggle itself." The book Pleasure Activism (2019) by Adrienne Maree Brown, meanwhile, speaks of the freedom and power inherent in being delighted, and that delight is all over Instagram with Black people sharing instances of bliss as a form of resistance.
Some of the most thrilling images of joy have come from the toppling of racist statues and the subsequent IRL and virtual celebrations that have served as moments of collective triumph for the community. When Edward Colston was torn down in Bristol, we rejoiced. When Christopher Columbus and Confederate leaders were defaced across America, we cheered. When the slave trader Robert Milligan was removed from London Dockland, it was a triumph. In this refusal to tolerate monuments to men whose achievements were built on suffering, there is a statement that we will no longer tolerate the invisible systems of racism. The message is that we have survived centuries of attacks and are still standing and yet these statues are not.
The disappearance of these memorials has also served as a reminder of the powerful role public spaces play in reflecting the values of our society. There is a history of architecture being used to control and dehumanise Black lives. This can be seen in the considered construction of slave ships to accommodate slave riots. It is evident in Robert Moses, New York's so-called ​"master builder", purposefully creating overpasses which segregated beaches from low-income Black residents. And it exists now in the marginalisation of Black voices in decision making regarding our lived environment.
Questioning the role Black people can play in urban design and architecture is an essential part of both the Black Lives movement and the pursuit of Black joy. If we take away the racist statues, what can we replace them with to provide strength and relief for Black people? If we tear down the systemic structures that block Black people out of decision-making on urban structures, what do we have instead?
The answer is Black joy.
Lecturer in Architecture at Westminster Uni and co-founder of design studio McCloy + Muchemwa.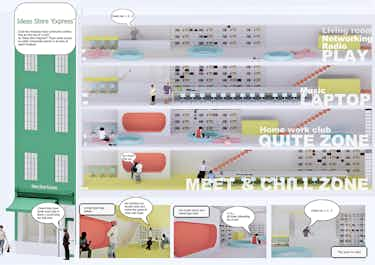 Describe your space of Black joy:
I have a model of a space in my mind that is a bit like the top floor of the Ideas Store in Whitechapel and a bit like a lounge. A network of spaces, not just one, but a reproducible model. It could have a recording studio or even a pirate radio. Other adaptable spaces could be for hanging out or for a homework club run by the community such as the Pan-African Saturday schools that rapper, author, poet Akala went to when he was a kid. I went to a homework club when I was young too, through an organisation called Ujima. It's not a library weighed down by dusty bookshelves, instead you can learn coding, foreign languages, dance or even go for a date there. The environment is cool.
What was the inspiration for it?
For a while I have been thinking about how the government has been defunding local libraries, community centres and other social services and about what could replace them. If we can't build libraries as new buildings, what are the alternatives? A project that comes to mind is the Granby Four Streets in Liverpool, by Assemble, where a community hub was built by adjoining two depilated terraced houses to create a community-owned space which can be used for workshops, events and as social spaces.
In my Zimbabwean culture the concept of Ubuntu instils in us that we cannot be human alone. The model I've described could be a catalyst to revitalise the high-street and provide spaces for supplementary education programs in neglected areas of the city.
Co-founder of RESOLVE, an interdisciplinary design collective that aims to address social challenges by combining architecture, art, technology and engineering.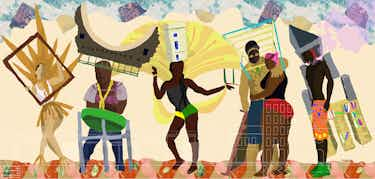 Describe your space of Black joy:
My space of Black joy is not so much a space; it is a collective moment and expression. This is because Black joy, as I understand and feel it, is not articulated through the purported permanence of a unitary, measurable space. It is, instead, the resultant feeling of space in motion: the appropriation, care, resistance, and love of it. In this way, the spatial moment of Black joy, and its architectonics, stretch to and beyond multiple spaces.
At any one time, in a photograph perhaps, this spatial moment might look like somewhere you already know well and that's because you do. In reality, you can't go in and out of it, fix or destroy it, buy or sell it.
What's been the most challenging aspect of being a Black professional in architecture?
There are obvious challenges that I think mirror, in lots of ways, society's broader racial inequities. If I were to pick one challenge about architecture specifically it would be the discipline's entrenched need to build. For me, everyday Black spatial practices position architecture as a critical tool of inquiry. This is easily lost or tokenised when the premise for our involvement in space, as Black spatial practitioners, is wedded uncritically to building or a building.
What is the role for Black architects specifically in the Black Lives movement?
The role of practitioners in the Black Lives movement is just the same as it is and has been in any movement – to turn our energies towards looking critically at oppressive practices propagated or supported by the discipline of architecture and to organise to abolish them.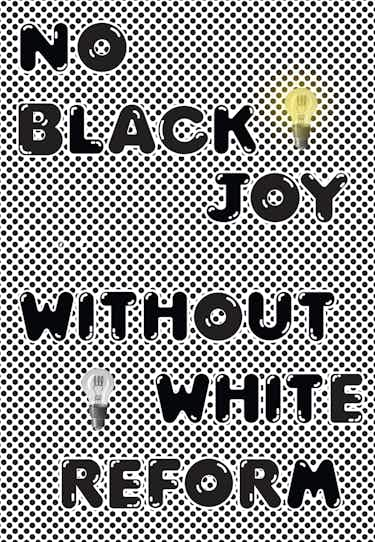 Why did you want to work in architecture and what was your route into the industry?
Growing up as the daughter of two immigrants on a Peabody Trust housing estate, I had little exposure to creative arts other than organised school trips to museums and galleries. My entry into the design world was not easy or straightforward; I went from an Art and Design Foundation at Newham College, which has since closed, to completing an architecture MA at the Royal College of Art.
What was the inspiration for your space of Black joy?
I love the UK but we cannot continue to ignore the social injustice present in the very architecture of our society. Black people are not allowed to be visible in white society without suspicion so they often remain invisible, removed from architects CGI renders of new fancy developments. Most disturbingly, Black pain and suffering is made invisible and willfully ignored. I do not know what a ​"space of Black joy" looks like in the public realm, but I know it cannot and should not be a hole.
Why is your space necessary and what do you think the effect would be on the Black community?
Diversity enhances creativity. It encourages the search for new information and perspectives, leading to better decision-making and problem solving. If we know and understand human history, we can see humanity's greatest achievements were not single handedly invented by white men. We know that Black, brown, non-white, and non-European people invented algebra, astronomy, made advancements in architecture and countless other improvements.
A space of Black joy is a space of joy for everyone! Just like the Black Lives Matter movement does not mean only Black lives matter. A space of Black joy speaks to the fact that white lives and white spaces of joy have always seemed to matter more.
Senior Project Officer at the Greater London Authority and co-founder of Sound Advice, a platform that explores inequalities in the built environment.
Describe your space of Black joy:
My space of Black joy is abstract. I want to refocus our lens of architecture from the purely physical into valuing a wider concept of what constitutes spatial practice. Therefore, it is critical that we consider the process of how the city is designed and how decisions are made.
My idea is about how we stop the systematic exclusion of Black people from positions of power and influence within the built environment. My proposal is that we redesign the institutions that act as the custodians of the city to ensure they have systems in place to provide equity to Black voices, experiences and ideas.
What is the inspiration for it?
Myself, Jayden Ali and Priya Khanchandani put forward A House for Britain as a proposal for the British Pavilion at Venice Biennale. ​"The Hall" would have been transformed through an immersive and interactive installation designed alongside digital artists Tim & Barry. Screens of Palladian proportions were to convey a contemporary portrait of Britain's high streets and classical columns of light would allow the visitor to be superimposed within the streetscape. The idea was to put new perspectives and identities at the centre of architectural discourse.
What's been the most challenging aspect of being a Black professional in architecture?
There is a pervasive culture of undermining the experiences and successes of Black people in the industry. So there's a lot of: ​"Well they needed a token Black person, which is why you were chosen," as if our successes aren't deserved. But then the same people will also say: ​"Why do you keep talking about race, I don't see race – everyone should be equal." Having to debate this foolishness means that we can't just be architects; we also have to become activists. We don't have the privilege to just perfect our craft as we also need to fight for our craft to be respected.
What was your route into the industry?
Neil Pinder, my A‑Level Design teacher. Not only did he encourage his students to apply to study architecture, but he also invited architects into the school to dispel myths about studying the subject. Previously, I thought you needed to study maths, art and physics – not true – or that you had to be ​"intelligent" – not true either. I spent a year working at Uniqlo and at Open City [a charity that works with architecture to make built environments more inclusive] pretty much just helping out around the office doing small tasks. It immersed me in the culture of architecture and gave me confidence and resilience.
Co-founder of Urban Symbiotics and Elected RIBA London Councillor.
Why did you want to work in architecture and what was your route into the industry?
I didn't. My initial interest was in art. I did an Art Foundation at Central St Martins which united my love for art towards something more spatial, where I fell in love with the notion of creating atmospheres and environments. I then went on to study architecture at the Architectural Association where I honed my passion for designing with, and for, grassroots communities.
Describe your space of Black joy:
The heritage of Black people can be seen as one stemmed in community, of direct learning, of histories narrated orally, of villages raising children, of power sought through change.
My place of joy reflects this, celebrates this and propagates this. This (and my) place of joy is active and varied, it provides choice for the active participant or passive onlooker and it's where spaces are inclusive and expressive: a place of freedom, a place of release, a place of full self-expression. It's a place of learning. It's a place of dialogue. It's a place where all voices can be valued and heard. It's a place that nourishes.
It should be everywhere, it should be our doorsteps, our streets, our open spaces, the courtyards and the central and peripheral private and public buildings, the digital, the phygital. This space should be a mechanism to blur the boundaries between the public and private and towards what may have been perceived exclusive, into something that's welcoming and inviting. All spaces have the ability to be transformed into a place that can be individually and collectively shaped.
How do you imagine people existing in the space?
The place should encourage live storytelling and history building and reflect the needs and aspirations of the people within it. The history and presence of the space will provide inspiration to the individual and communal voice. I see the walls as speaking, outward facing and inwardly embracing with flexible and adaptable facades and tools that facilitate communication like inbuilt speakers and microphones. There are more openings than walls, providing windows to internal activities and use.
A range of events would be able to occur by providing discreet electricity points, lighting and mechanisms for projection. The interiors speak to the people and context with a variety of spaces: orientated for the introvert and extrovert, for the spectator and speaker. The space generates and retains content, whether that's literature, economics, film, music or art.
What was the inspiration for your space of Black joy?
The Black Cultural Archives. We have been commissioned to re-imagine this great home of Black British history and proposed that it should be a multi-disciplinary evolving platform and an ongoing project shaped by its community. It is a building, a place and an essential home of Black British history and was initiated through people and activism. As architects and designers, we believe that it's our job to enable and facilitate a sense of belonging and agency for everyone. We can do that by providing spaces without limits.

More like this