Why base­ball does and doesn't matter
One thing that always gets lost in the roman­ti­cism of trav­el writ­ing is the time spent won­der­ing what the hell you should do in the place you have spent so much mon­ey to get to. At some point, unfail­ing­ly, you will end up sat on a stool in a dive bar at 4pm, watch­ing a wrin­kled bar­man with grey pig­tails and long fin­ger­nails pour beer and won­der to your­self: what do I do now?
This is the exact sit­u­a­tion I find myself in dur­ing the ear­ly evening of Mon­day, 10 June, in Chica­go. I neu­rot­i­cal­ly flit between Google Maps, FourSquare, and Thril­list arti­cles, when I over­hear the only oth­er guy in the bar say to the bar­man: ​"There's a White Sox Game tonight."
"What are White Sox?" I ask.
"Base­ball," he says.
That's it. I'm going to the White Sox game tonight.

If you Google ​"base­ball tick­ets Chica­go" you'll be direct­ed to the Cubs. The city is plas­tered with their majes­tic red C, the prowl­ing bear of their logo nev­er far from my eye line. They won the World Series in 2016 (baseball's high­est hon­our), allow tours of their tro­phy cab­i­net, and play at Wrigley Field – an Amer­i­can Dreamy sound­ing place that hon­ours William Wrigley Jr, who arrived in Chica­go with $32 and built a chew­ing gum empire.
The White Sox, on the oth­er hand, lurk on page three of Google. Their sta­di­um is called Guar­an­teed Rate Field, which is less roman­tic than cement, and their big claim to fame was a match-fix­ing scan­dal in 1919 when they inten­tion­al­ly lost the World Series. They won it 14 years ago, but last sea­son they lost 100 games (which is bad.) Their logo, up until 2010, was a small white sock. All of this makes me instant­ly fall in love with them.
I find a tick­et on Stub­Hub for $10 (stag­ger­ing­ly cheap, wor­ry­ing­ly cheap), and set off. On the train plat­form, a top­less man per­forms Jesus-themed rap on a low qual­i­ty PA system.


At the Guar­an­teed Rate Field food con­course you can find all kinds of food: burg­ers, sand­wich­es, wedge fries, loaded fries, twice-loaded fries, loaded nachos, twice-loaded nachos. The BBQ is squeal­ing and the hot dogs are rolling and bend­ing in that flex­i­ble, unnerv­ing way that hot dogs do – like they might for a moment be con­scious. There are acres of hot dog stands, so I choose the one that looks like a father-son dou­ble act.
The con­struc­tion of a Chica­go hot dog is a mes­meris­ing dance. Son opens the bun, pries it wider with the tongs, and sprays mus­tard up one side. Lids start com­ing off tins like per­cus­sion, releas­ing clouds of meaty metal­lic gas. Father flops the dog in, fol­lowed by chopped onions, a bright green rel­ish that drips, two huge slip­pery dill pick­les, toma­to wedges and sport pep­pers – small but pun­gent lit­tle bas­tards I learn. Father hands it to me but imme­di­ate­ly draws back. He for­got cel­ery salt, and looks ashamed. Sprin­kle, sprin­kle. I look down at this… this python in my hand. With meals like these, who needs murderers.
"It's my first Chica­go hot dog," I goof like a twat, after much delib­er­a­tion about whether to say any­thing at all.
"Don't put any ketchup on it," he warns in the broad and hilar­i­ous vow­els of Chica­go, then turns to the next cus­tomer and asks a silent ques­tion with his face.
"Foot­long," replies the customer.
The show continues.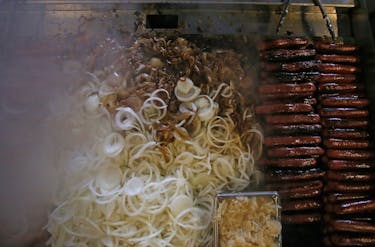 Now I'm writ­ing this from my allo­cat­ed place in Low­er Cor­ner 154, Row 5, Seat 2. The sta­di­um has 40,000 seats but half are emp­ty and will remain that way all night. A man is jog­ging the cir­cum­fer­ence via the emp­ty upper stands. Ven­dors wan­der past me, ​"CORO­NA! MOD­E­LO! BEER! BEER MAN! Beer?"
There's no cool way to eat a hot dog alone, so I begin the only way pos­si­ble: by slow­ly forc­ing it into my face. A young man and woman appear on the big screen and start singing ​"The Star Span­gled Ban­ner". Every­one stands up, hands on chests. Even those in the food con­course are struck dead in their places. I con­tin­ue to sit and eat but realise I'm get­ting stares from those around me. Do they know I don't do base­ball? I'm half-Iran­ian and wear­ing all black, so I decide to get up in case they think I'm in ISIS or some­thing. A foot­long in my right hand and a beer in my left, I place the hot dog over my heart.
"For the land of the free and the home of the brave!"

I see the sta­di­um as one huge liv­ing organ­ism, capa­ble of an orches­tra of curi­ous nois­es and actions, like a krak­en-sized Bop It! An anorex­ic green hon­ey mon­ster appears on the grass in front of me and starts gyrat­ing and wav­ing a flag. The game is about to begin.
The field­ers are out, spread and still, like dropped rice. A bat­ter struts on to a trum­pety sal­sa song (they choose their own walk-on music). It's at this point I realise I know absolute­ly noth­ing about base­ball. As I would back in Eng­land when watch­ing foot­ball, rug­by or ten­nis, I move to the edge of my seat and focus.
The pitch­er throws; bat­ter ignores; ball hits mitt (snap). The pitch­er throws; same again. The pitch­er throws; bat­ter hits (thwack); excit­ing! No, it's gone behind, foul. The pitch­er throws; bat­ter hits (THWACK!); it sails across the sky like a dis­tant speed­boat; hands cov­er brows; the ball gets momen­tar­i­ly lost in the sun, then loops down into the mitt (snap) of a non­cha­lant field­er. The bat­ter is out; we go to a three-minute break.
I don't know what I expect­ed from base­ball (I do: men in stripes relent­less­ly blast­ing balls to Nep­tune), but this is the sto­ry of the first 45 min­utes. The ball is thrown, most­ly missed, and the play­ers rearrange them­selves while we take a break for com­mer­cials and sideshows. A news anchor-look­ing woman appears on the screen, coax­ing fans into play­ing prize-win­ning games that seem far too com­pli­cat­ed for the small slot they are afford­ed. Just as it is begin­ning to make sense she is cut and play resumes.
I google ​"how long is a base­ball game" and, beneath an arti­cle argu­ing that they could tech­ni­cal­ly go on for­ev­er, is an answer of ​"aver­age time: three hours". I type ​"how long is base­ball actu­al­ly in play" – answer: ​"18 min­utes". The screen is swelling with sta­tis­tics. It looks like the stock market.
Two old men sit in front of me eat­ing peanuts. They look to have been there for cen­turies. They talked a great game before it began – slow and sen­su­al Base­ball­ish about ​"mid­dle reliev­ers", ​"bunts" and ​"bullpens" – but now it's under­way, they seem fair­ly dis­in­ter­est­ed. They are dis­cussing cars. A mole­hill of nut shells ris­es between them.

A White Sox field­er sprints after an errant ball, slides on his chest, and his hat falls off. Despite this embar­rass­ing com­mit­ment, he fails to catch it. That must have been impor­tant, I think. I check the old men's reac­tion for guid­ance. One of them is hold­ing his iPhone in front of his face and talk­ing to Siri. ​"Emer­gency flash­ers for 2008 Ford Tau­rus," he says, then frowns at the results.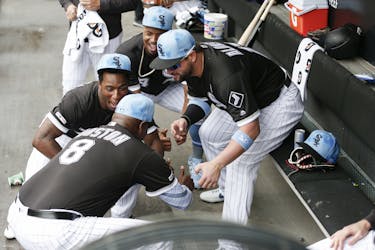 It's the fifth inning and the White Sox are los­ing 3 – 0. The play­ers are rear­rang­ing them­selves again, so a war hero is brought out: a navy offi­cer in full whites – mid fifties, served in Afghanistan. Every­one stands and claps. He gives a salute and gets a big fat kiss on the cheek. A rov­ing cam­era finds anoth­er war hero in the audi­ence. ​"Who me?" she seems to ges­ture, despite hav­ing come to the game in full mil­i­tary gear.
Nobody seems to be focused on the game as intent­ly as I am. Am I doing base­ball wrong? The man behind me has sandy blonde hair, green eyes and looks to be in his for­ties. I decide to start a con­ver­sa­tion with him because the thought of doing so scares me and I'm up for a lit­tle fright.
He came alone, bought a five dol­lar tick­et in the heav­ens and wan­dered down here until he found an emp­ty seat clos­er to earth. That's what most peo­ple do, he tells me.
"Is this a good game?" I ask.
"It could be," he says.
It could be. We're 90 min­utes in and it could be. How has base­ball sur­vived? It's slow, long and com­pli­cat­ed – I have nev­er known a form of enter­tain­ment that sells itself less. How is base­ball a mul­ti-bil­lion dol­lar busi­ness in a world of Insta­gram, Net­flix and Porn­Hub, a world of instant grat­i­fi­ca­tion and ultra con­ve­nience? This strange game, which exists in direct con­tra­dic­tion to the trends of humanity.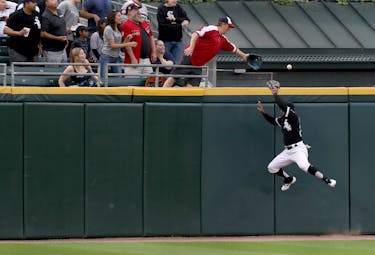 White Sox are los­ing ter­ri­bly, but it doesn't seem to mat­ter. Every­one is hav­ing fun, a calm easy­go­ing fun, with­out the angry, red, cry­ing men I'm used to at Eng­lish foot­ball match­es. I ask the blonde man why the crowd is so relaxed. He explains that one team will play over 162 games in a sea­son, so you can't get crazy about every sin­gle match.
A group of women gig­gle as they swig sci-fi green alco­hol from long twist­ed nov­el­ty cups. Groups of teenagers lounge around emp­ty rows, chat­ting, flirt­ing and mess­ing around. I guess this is a rel­a­tive­ly cheap place to hang around for a few hours, their bed­time cur­fews kind­ly extend­ed by the nev­er end­ing nature of base­ball itself.

The sun has dipped, the cool air smells like fresh­ly cut grass, and organ music plays on the breeze. Not from a cheesy DJ chan­nel­ing old timey base­ball like I thought, but from a live organ­ist called Lori who looks down on us from a glass cham­ber as she tick­les the keys. I shall remem­ber this moment; the still­ness and the dusk. I won­der how much of America's endur­ing love for base­ball is actu­al­ly a love for this: smells, sounds, colours and closeness.
When the Amer­i­can soci­ol­o­gist Ray Old­en­burg wrote about the the­o­ry of ​"great good places" in 1989, he stud­ied inde­pen­dent­ly owned cafes, bars, and com­mu­ni­ty cen­tres. He saw them as ​"third places", a set­ting beyond home and work where peo­ple can relax and be around each oth­er. Bea­cons of social cohesion.
But as these spaces have become even rar­er in the neolib­er­al West, and indi­vid­u­als grow fur­ther away from one anoth­er, I find it inter­est­ing and iron­ic that half-emp­ty 40,000 seater base­ball sta­di­ums could, on a qui­et Mon­day night, feel like sur­ro­gate com­mu­ni­ty cen­tres – a great place where you can eat nuts, talk cars and think: ​"It's OK to be here."

I sud­den­ly feel struck by a sort of melan­choly that I don't have any­where like this back home to just be, two or three times a week. There was a White Sox game yes­ter­day and there shall be one tomor­row. 162 a season.


"Get up!" says the sandy blonde man with the green eyes. He's mak­ing star shapes with his arms and angling his neck. Every­one is. ​"It's the sev­enth inning stretch."
"What?"
"It's when you loosen up, stretch your legs, take a walk – we've all been sit­ting around a long time."
Kids are danc­ing. There are male cheer­lead­ers on the field wav­ing their arms and toss­ing free T-shirts. The organ­ist is play­ing a com­fort­ing song – like a mother's heart­beat – and every­one is singing along.
"Take me out to the ball game / Take me out with the crowd / Buy me some peanuts and Crack­er Jack / I don't care if I nev­er get back."
I start wav­ing my arms too. ​"They play this at every base­ball sta­di­um around the coun­try," says the sandy blonde, grin­ning like a cat, ​"and it always takes you back to your very first time."
I try to imag­ine his very first time at the ball game. It's corny, prob­a­bly some­thing I saw in a movie once, but it's beau­ti­ful. I lean into the warm feel­ing that I now too have my first base­ball expe­ri­ence, the one I'll sing about at the sev­enth inning stretch next time. I have been to the ball game. I know what it is like to go.
And in the future when I look back on this, I won't remem­ber the turgid nature of the game itself, the relent­less com­mer­cial breaks or the over­priced $12 beers. I'll remem­ber the sweet organ melodies, the ter­ra­cot­ta gleam of the dirt, the sharp tang of mus­tard in that first hot dog bite – which all do exist, but not in iso­la­tion and not to the exag­ger­at­ed degree that I'll recall them. Because though this expe­ri­ence will be sent to my Mem­o­ry Bank ini­tial­ly, it will soon be passed on to the Nos­tal­gia Depart­ment, where it will be filed and stored by the elder­ly staff who work there, each of them a rose-tint­ed fantasist.

---