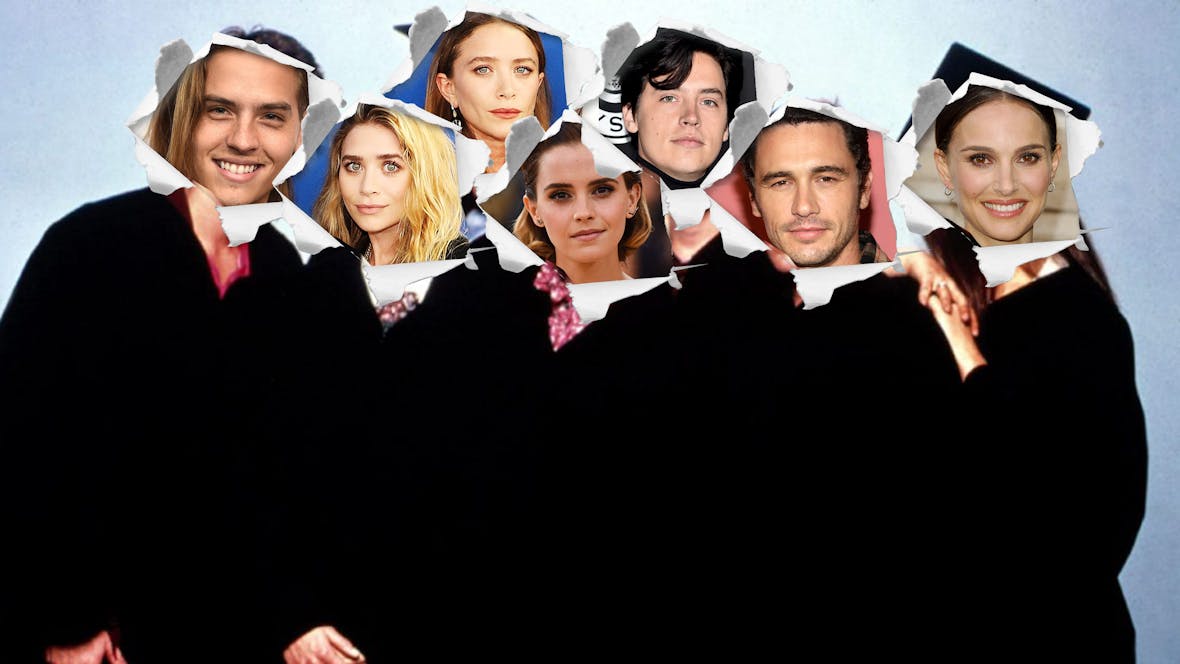 Why do famous peo­ple go to university?
In the annals of celebri­ty uni­ver­si­ty appli­ca­tion essays, the one Ash­ley Olsen wrote to apply to New York Uni­ver­si­ty is peerless.
Ash­ley, the old­er twin by two min­utes, threw her ​"chaot­ic" life into stark relief by com­par­ing it to her favourite paint­ing: Jack­son Pollock's ​"Num­ber 1." It was paint­ed in 1948. The drip feed gos­sip cul­ture that buoyed Olsen and her sis­ter to a com­bined net worth of $300 mil­lion is, at a glance and a squint, scarce­ly com­pa­ra­ble to the drip paint­ings of Mr. Pol­lock. Yet here she was, draw­ing com­par­isons between her ear­ly life as a Hol­i­day in the Sun lunch­box effi­gy to an abstract painting.
"Some peo­ple look at ["Num­ber 1"] as com­plete may­hem, or just paint splat­tered on a can­vas, and yet there's so much emo­tion behind it," Ash­ley explained to Peo­ple in 2004. ​"Some peo­ple will nev­er, ever get that. No one knows what it's been like for us, and we don't expect any­one to know, good, bad or amaz­ing. But we do expect peo­ple to respect the deci­sions we make."
What­ev­er the rea­son­ing behind her hilar­i­ous com­par­i­son, it got her in. She gave up a lucra­tive career in the lime­light to study at NYU's Gal­latin School of Indi­vid­u­al­ized Study, choos­ing Ital­ian class­es and psy­chol­o­gy. Nei­ther twin grad­u­at­ed. Ash­ley left after three years to pur­sue fash­ion design. Mary-Kate dropped out after one and a half.
Leav­ing Hol­ly­wood behind for the uni­ver­si­ty class­room is a rite of pas­sage for most stars. Let's take a roll call of those who trad­ed film sets for lec­ture halls: Emma Wat­son, who grad­u­at­ed from Brown Uni­ver­si­ty in 2014 with a bachelor's degree in Eng­lish lit­er­a­ture; Natal­ie Port­man, who got a BA in psy­chol­o­gy at Har­vard; the Sprouse twins – Cole and Dylan – NYU hon­ors grad­u­ates in archae­ol­o­gy and video game design, respec­tive­ly; Julia Stiles (Eng­lish Lit, Colum­bia), Dako­ta Fan­ning (Gal­latin), Haley Joel Osment (Exper­i­men­tal The­atre, NYU), James Fran­co (Err, every­thing)… All big names that gave up an even big­ger pay­check to matriculate.
Most recent­ly, Til­da Swinton's daugh­ter, the 21-year-old ingénue Hon­or Swin­ton Byrne, has made a movie with direc­tor Joan­na Hogg called The Sou­venir and skipped on doing the press rounds to study psy­chol­o­gy and neu­ro­science. But to essen­tial­ly renounce your fame at its peak to enrol in ​"Race, Reli­gion, and Gen­der in 20th Cen­tu­ry France" is tan­ta­mount to a career Final Des­ti­na­tion. For most of us, going to uni­ver­si­ty is sim­ply a nec­es­sary evil on the path to a less bust­ed LinkedIn pro­file. For a famous per­son who seem­ing­ly has it all, what's the big appeal?
"I don't care if [col­lege] ruins my career, I'd rather be smart than a movie star," Port­man said of her deci­sion to reg­is­ter at Har­vard in 2002. Her jour­ney to expand the mind, how­ev­er, wasn't pain­less. ​"I gained my fresh­man 15 or 20 and had super-depressed moments," Port­man told Vogue. ​"That Cam­bridge win­ter is tough. It was impor­tant to know how to go through that and how to get myself out of it."
Dylan Sprouse, the Hold­en Caulfield of the Dis­ney Chan­nel set best known for play­ing a trou­ble­mak­er in The Suite Life of Zack & Cody and now for his thriv­ing mead­ery, wrote an admis­sions essay to get into Gal­latin in 2011, doesn't recall the sub­ject mat­ter, but ​"it was like­ly con­trived and over­done with a bit of sar­don­ic humor and if I ever found it I would most like­ly delete it from exis­tence entire­ly," he tells me in an email. ​"I chose [to live in] the dorms because I was astute­ly aware it would be the ​'full col­lege expe­ri­ence.' I was sort of anti­so­cial and the Big Apple seemed so alien. It was an effort to breach that. Many of the friends I made and the social deci­sions still per­sist with me today."
While a stu­dent, Sprouse took his class­es ​"extreme­ly seri­ous­ly" and only missed a hand­ful due to ill­ness. ​"I gen­uine­ly loved my cur­ricu­lum," he says. ​"My favorites were the fine art class­es with Meleko Mok­gosi. I took numer­ous class­es from him and all were very enlight­en­ing – and very abstract. I cher­ished what I learned there."
It should prob­a­bly go with­out say­ing, but liv­ing in the dorms to get a true taste of the Amer­i­can Pie led to some mem­o­rable times for Sprouse. He was, after all, brew­ing beer in his room when his RA wasn't look­ing. ​"We used to throw huge par­ties on the ​'no drink­ing, no smok­ing' floor of Third North. It was the per­fect dis­guise, a sort of hid­ing in plain sight. We had upwards of 300 peo­ple at some points and even charged admis­sion for booze, some of which I brewed for us all," he admits.
"To pre­sume an actor can learn all they need from their own indus­try is a major mis­un­der­stand­ing. When an actor/​actress is on TV or film or stage it is painful­ly obvi­ous if they're green to life. Their per­for­mances reek of it" – Dylan Sprouse
Say you've only known a movie set. Grow­ing up you hur­ried through your home­work with a tutor between takes. Your friends, like 12-year-old Drew Bar­ry­more, were boozy adults; your play­ground a producer's Bev­er­ly Hills man­sions or Stu­dio 54. Your child­hood was at best idio­syn­crat­ic and warped by celebri­ty. At worst, it was trou­bled and destruc­tive. Uni­ver­si­ty, then, offers more than just a means to a degree. It's the promise of a sim­u­lat­ed and expe­dit­ed child­hood with a price tag of $40,000 a year.
Emma Wat­son, who attend­ed Brown Uni­ver­si­ty from 2009 to 2014, embed­ded her­self in extracur­ric­u­lars. She starred in The Three Sis­ters, a Chekhov play, while a stu­dent. Accord­ing to reports, Wat­son was also per­suad­ed by a male mem­ber of the school's row­ing team to become a coxswain of the eight-per­son crew. She was forced to abdi­cate once ​"the uni­ver­si­ty dis­cov­ered their insur­ance did not cov­er hav­ing on board some­one who is con­ser­v­a­tive­ly said to be worth £30 mil­lion." Wat­son had an armed guard escort her to her grad­u­a­tion. She chalked up her whole expe­ri­ence to being ​"just awful […] I felt as if I'd walked into an Amer­i­can teen movie."
The Olsens alleged­ly refused to hang out with ​"nor­mal" stu­dents. ​"There were some cours­es every­one had to take, like ​'Writ­ing the Essay,'" recalls Kris­ten, 31, a stu­dent who attend­ed NYU dur­ing the Olsen years. ​"The sto­ry goes that Mary-Kate intro­duced her­self by say­ing, ​'I'm MK from LA and I don't do books.'" Haley Joel Osment, an NYU alum, lived in Wein­stein, the hip­ster dorm, and fre­quent­ed the din­ing hall on Sun­days with his ​"harem" of girls. He appar­ent­ly got kicked out of his dorm for sell­ing weed. ​"I saw HJO all the time and nev­er once saw Mary-Kate or Ash­ley," Kris­ten adds. For Sprouse, he guessed that being hound­ed for self­ies ​"would hap­pen slow­ly at first but ramp up more and more as new fresh­man rolled in. That turned out to be cor­rect and towards the lat­er years some local haunts were inaccessible."
Apart from the keg-fuelled ragers and week­end foot­ball games, the real rea­son to give up the movie star lifestyle, rather obvi­ous­ly, is to learn some­thing you sim­ply can­not in front of the cam­era. ​"To pre­sume an actor can learn all they need from their own indus­try is a major mis­un­der­stand­ing," says Sprouse. ​"When an actor/​actress is on TV or film or stage it is painful­ly obvi­ous if they're green to life. Their per­for­mances reek of it. I believe it a duty of those who admire the craft to try, what­ev­er that may mean."
Portman's time away, at least accord­ing to her for­mer pro­fes­sor Alan M. Der­showitz, actu­al­ly informed her lat­er roles. ​"Her psy­chol­o­gy back­ground helped her in for­mu­lat­ing the role for [Black Swan]," Der­showitz told The Har­vard Crim­son. ​"She's an actor who uses her aca­d­e­m­ic background."
Uni­ver­si­ty, as the old adage goes, can change you. The Olsens now run a fash­ion empire and com­pete in horse races on the side. Home Improve­ment heart­throb Jonathan Tay­lor Thomas took a hard out when he decid­ed to head to Har­vard and St. Andrews for phi­los­o­phy and his­to­ry. ​"I nev­er took the fame too seri­ous­ly. It was a great peri­od in my life, but it doesn't define me. When I think back on the time, I look at it with a wink. I focus on the good moments I had, not that I was on a lot of mag­a­zine cov­ers," he told Peo­ple in 2013.
Wat­son and Sprouse have since re-entered the fame game, tak­ing up roles in films and prov­ing that it's not career sui­cide to be an actor with a degree. ​"The deci­sion to return to act­ing for me was a real­iza­tion that I inher­ent­ly love com­mu­ni­ca­tion and empathiz­ing with dif­fer­ent walks of life and when I can do that suc­cess­ful­ly, it brings me joy. I realised I missed it," says Sprouse.
"I loved col­lege, and I would say that I loved most that it expand­ed my def­i­n­i­tion of myself," Sprouse says, before adding, ​"I only hate that NYU still asks me to donate to them."
---