Why do famous people go to university?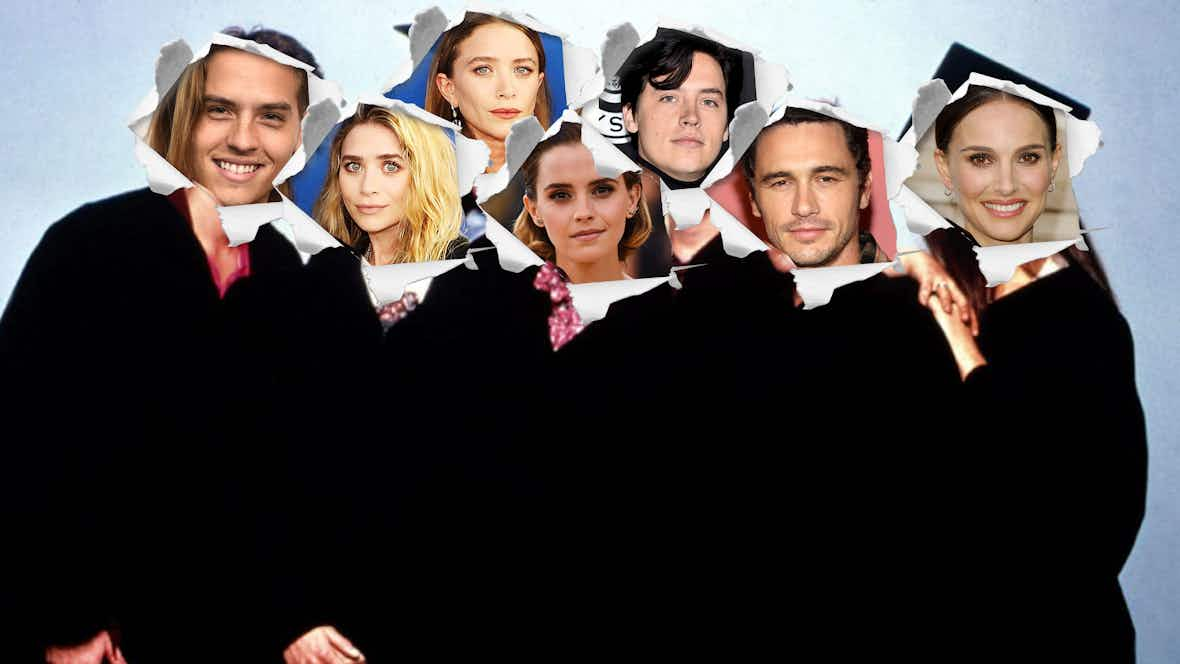 Many celebrities – Emma Watson, Julia Stiles, Dylan Sprouse – have skipped out on Hollywood to shack up in a college dorm. Why?
In the annals of celebrity university application essays, the one Ashley Olsen wrote to apply to New York University is peerless.
Ashley, the older twin by two minutes, threw her ​"chaotic" life into stark relief by comparing it to her favourite painting: Jackson Pollock's ​"Number 1." It was painted in 1948. The drip feed gossip culture that buoyed Olsen and her sister to a combined net worth of $300 million is, at a glance and a squint, scarcely comparable to the drip paintings of Mr. Pollock. Yet here she was, drawing comparisons between her early life as a Holiday in the Sun lunchbox effigy to an abstract painting.
"Some people look at ["Number 1"] as complete mayhem, or just paint splattered on a canvas, and yet there's so much emotion behind it," Ashley explained to People in 2004. ​"Some people will never, ever get that. No one knows what it's been like for us, and we don't expect anyone to know, good, bad or amazing. But we do expect people to respect the decisions we make."
Whatever the reasoning behind her hilarious comparison, it got her in. She gave up a lucrative career in the limelight to study at NYU's Gallatin School of Individualized Study, choosing Italian classes and psychology. Neither twin graduated. Ashley left after three years to pursue fashion design. Mary-Kate dropped out after one and a half.
Leaving Hollywood behind for the university classroom is a rite of passage for most stars. Let's take a roll call of those who traded film sets for lecture halls: Emma Watson, who graduated from Brown University in 2014 with a bachelor's degree in English literature; Natalie Portman, who got a BA in psychology at Harvard; the Sprouse twins – Cole and Dylan – NYU honors graduates in archaeology and video game design, respectively; Julia Stiles (English Lit, Columbia), Dakota Fanning (Gallatin), Haley Joel Osment (Experimental Theatre, NYU), James Franco (Err, everything)… All big names that gave up an even bigger paycheck to matriculate.
Most recently, Tilda Swinton's daughter, the 21-year-old ingénue Honor Swinton Byrne, has made a movie with director Joanna Hogg called The Souvenir and skipped on doing the press rounds to study psychology and neuroscience. But to essentially renounce your fame at its peak to enrol in ​"Race, Religion, and Gender in 20th Century France" is tantamount to a career Final Destination. For most of us, going to university is simply a necessary evil on the path to a less busted LinkedIn profile. For a famous person who seemingly has it all, what's the big appeal?
"I don't care if [college] ruins my career, I'd rather be smart than a movie star," Portman said of her decision to register at Harvard in 2002. Her journey to expand the mind, however, wasn't painless. ​"I gained my freshman 15 or 20 and had super-depressed moments," Portman told Vogue. ​"That Cambridge winter is tough. It was important to know how to go through that and how to get myself out of it."
Dylan Sprouse, the Holden Caulfield of the Disney Channel set best known for playing a troublemaker in The Suite Life of Zack & Cody and now for his thriving meadery, wrote an admissions essay to get into Gallatin in 2011, doesn't recall the subject matter, but ​"it was likely contrived and overdone with a bit of sardonic humor and if I ever found it I would most likely delete it from existence entirely," he tells me in an email. ​"I chose [to live in] the dorms because I was astutely aware it would be the ​'full college experience.' I was sort of antisocial and the Big Apple seemed so alien. It was an effort to breach that. Many of the friends I made and the social decisions still persist with me today."
While a student, Sprouse took his classes ​"extremely seriously" and only missed a handful due to illness. ​"I genuinely loved my curriculum," he says. ​"My favorites were the fine art classes with Meleko Mokgosi. I took numerous classes from him and all were very enlightening – and very abstract. I cherished what I learned there."
It should probably go without saying, but living in the dorms to get a true taste of the American Pie led to some memorable times for Sprouse. He was, after all, brewing beer in his room when his RA wasn't looking. ​"We used to throw huge parties on the ​'no drinking, no smoking' floor of Third North. It was the perfect disguise, a sort of hiding in plain sight. We had upwards of 300 people at some points and even charged admission for booze, some of which I brewed for us all," he admits.
Say you've only known a movie set. Growing up you hurried through your homework with a tutor between takes. Your friends, like 12-year-old Drew Barrymore, were boozy adults; your playground a producer's Beverly Hills mansions or Studio 54. Your childhood was at best idiosyncratic and warped by celebrity. At worst, it was troubled and destructive. University, then, offers more than just a means to a degree. It's the promise of a simulated and expedited childhood with a price tag of $40,000 a year.
Emma Watson, who attended Brown University from 2009 to 2014, embedded herself in extracurriculars. She starred in The Three Sisters, a Chekhov play, while a student. According to reports, Watson was also persuaded by a male member of the school's rowing team to become a coxswain of the eight-person crew. She was forced to abdicate once ​"the university discovered their insurance did not cover having on board someone who is conservatively said to be worth £30 million." Watson had an armed guard escort her to her graduation. She chalked up her whole experience to being ​"just awful […] I felt as if I'd walked into an American teen movie."
The Olsens allegedly refused to hang out with ​"normal" students. ​"There were some courses everyone had to take, like ​'Writing the Essay,'" recalls Kristen, 31, a student who attended NYU during the Olsen years. ​"The story goes that Mary-Kate introduced herself by saying, ​'I'm MK from LA and I don't do books.'" Haley Joel Osment, an NYU alum, lived in Weinstein, the hipster dorm, and frequented the dining hall on Sundays with his ​"harem" of girls. He apparently got kicked out of his dorm for selling weed. ​"I saw HJO all the time and never once saw Mary-Kate or Ashley," Kristen adds. For Sprouse, he guessed that being hounded for selfies ​"would happen slowly at first but ramp up more and more as new freshman rolled in. That turned out to be correct and towards the later years some local haunts were inaccessible."
Apart from the keg-fuelled ragers and weekend football games, the real reason to give up the movie star lifestyle, rather obviously, is to learn something you simply cannot in front of the camera. ​"To presume an actor can learn all they need from their own industry is a major misunderstanding," says Sprouse. ​"When an actor/​actress is on TV or film or stage it is painfully obvious if they're green to life. Their performances reek of it. I believe it a duty of those who admire the craft to try, whatever that may mean."
Portman's time away, at least according to her former professor Alan M. Dershowitz, actually informed her later roles. ​"Her psychology background helped her in formulating the role for [Black Swan]," Dershowitz told The Harvard Crimson. ​"She's an actor who uses her academic background."
University, as the old adage goes, can change you. The Olsens now run a fashion empire and compete in horse races on the side. Home Improvement heartthrob Jonathan Taylor Thomas took a hard out when he decided to head to Harvard and St. Andrews for philosophy and history. ​"I never took the fame too seriously. It was a great period in my life, but it doesn't define me. When I think back on the time, I look at it with a wink. I focus on the good moments I had, not that I was on a lot of magazine covers," he told People in 2013.
Watson and Sprouse have since re-entered the fame game, taking up roles in films and proving that it's not career suicide to be an actor with a degree. ​"The decision to return to acting for me was a realization that I inherently love communication and empathizing with different walks of life and when I can do that successfully, it brings me joy. I realised I missed it," says Sprouse.
"I loved college, and I would say that I loved most that it expanded my definition of myself," Sprouse says, before adding, ​"I only hate that NYU still asks me to donate to them."

More like this