The best icebreakers for any and all situations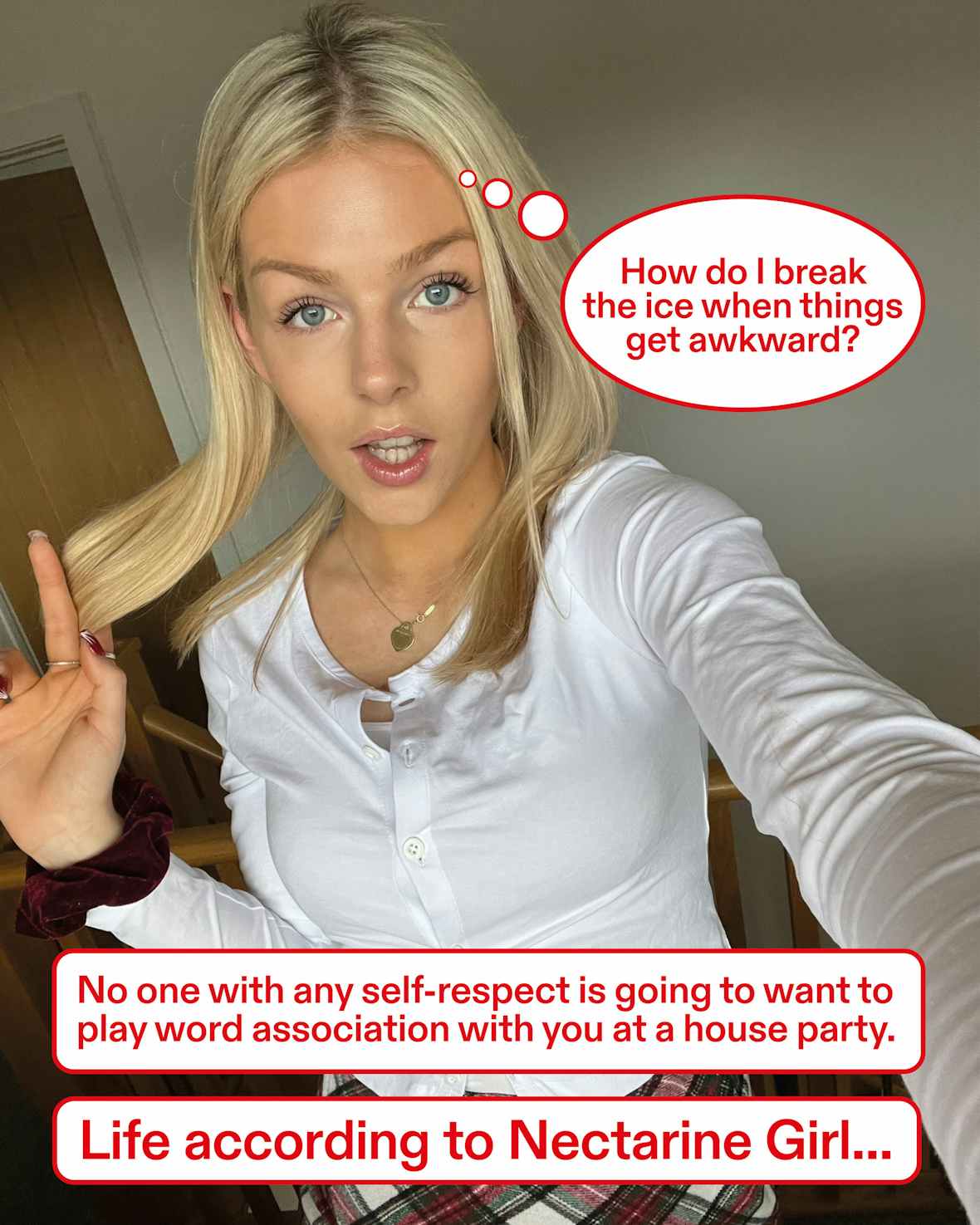 Ways to thrive on dating apps, in team meetings, at parties – or just any time you don't know how to start a conversation.

Welcome to a weekly life and relationships column by Iris Owen, aka Nectarine Girl– the reigning queen of Depop, fame-hungry wordsmith, and author of the wackiest newsletter in London, Nectarine News.

Icebreakers, in theory, are designed to make you and the people around you feel relaxed, comfortable and at ease, no matter what activity you're taking part in. Often, though, they just end up being awkward.
I'm here to help with that, given that I've participated in a record amount of situations that require said icebreakers: book club, cadets, drama classes. You name it, I thrive in it. Let's explore some of the best, eh?

The best icebreakers for team meetings...
I recently began working in an office, which means I'm still learning the corporate ropes. The idea of a team meeting always receives groans but, personally, I find them thrilling. More often than not, I'll be the one responsible for lightening the situation at hand. I reckon a work environment is a great place to ask ​"would you rather…?" questions, and I'm excellent at conjuring up the hardest, darkest of ultimatums.
For example: would you rather get the word ​"salmonella" tattooed on your forehead (removal isn't an option) or be doomed to listen to Maroon 5 until your dying day?
These are the types of questions that can really open up a room, and get even your quietest colleagues jabbering away.
The best icebreakers for dating apps...
It's always tough thinking of a million dollar opening line, isn't it? You don't want to be too formal or appear dull. But, equally, you don't want to frighten them off by being a bit weird. Sometimes it's best to be direct. A friend's Hinge matched recently dove in headfirst, asking her if she'd like to go and see Puss in Boots: The Last Wish. It was a great date, so I've heard.

The best icebreakers for small groups...
As I mentioned before, I once attended a book club. For several years, actually. I wasn't planning to brag, but I was also chairperson of said book club. That's a pretty big deal when you're 14. Icebreaking activities were the best way to begin our meetings, as the club's members were so inconsistent. Lots of newbies, no long-timers, that kind of thing. Maybe I wasn't the best chairperson.

Anyway, frequent introductions, especially in a small group, don't always get people going. A great way to do that could be asking everyone to write down something they enjoy about the gathering, or the activity they're getting together to discuss. Saying that, I once did that for book club, and a boy named Thomas wrote: ​"My mum made me do this." Hit and miss.

The best icebreakers for parties...
Last week, I went to a party where I only knew one person. One. It was one of those ​"deep breath, you'll be fine" kind of moments. Short of following around my only friend, I decided to take matters into my own hands. A party is different to other group settings because you actually want to appear cool. No one with any self-respect is going to want to play word-association with you at a house party.
In these situations, my friends and I used to play a self-invented game called Sabo. It follows a similar structure to the BBC's hit winter reality show The Traitors, which makes me suspicious about how original their idea was. It basically entails texting someone the word ​"Sabo". They then become the saboteur and follow instructions to carry out various dares or pranks.
This is definitely a worthy icebreaker to use at a party. All you need is one friend to make it work.


More like this