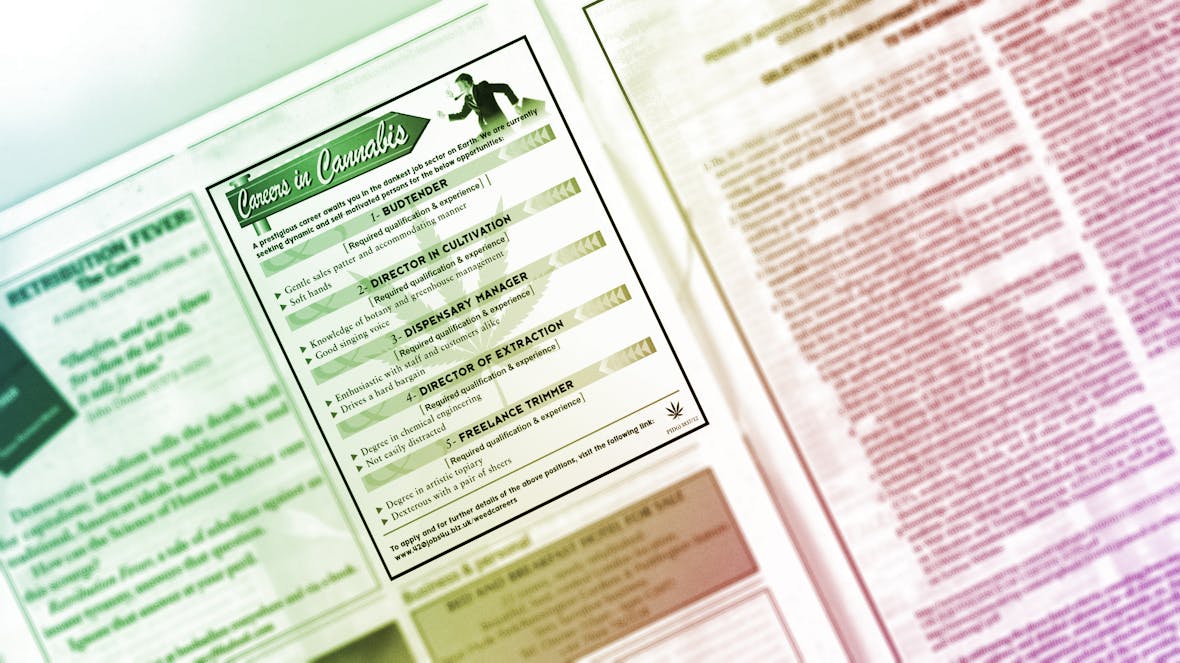 Careers in cannabis
Celebri­ties from Whoopi Gold­berg and Susan Saran­don to Snoop Dogg and Seth Rogen are all ear­ly adopters and it's clear why: the US legal cannabis trade is a $10.4 bil­lion indus­try accord­ing to mar­ket­ing firm New Fron­tier Data. If appetite for the lit­tle green herb con­tin­ues to grow, a recent report pre­dict­ed the glob­al mar­ket will soar to a whop­ping $146.4 bil­lion by 2025. And any fast-grow­ing econ­o­my needs work­ers. So what sorts of roles are there out there in the weed world? We speak to the entre­pre­neurs with answers: four cannabis pio­neers who have seen (and seized) an oppor­tu­ni­ty and are now mak­ing waves in the midst of the green rush.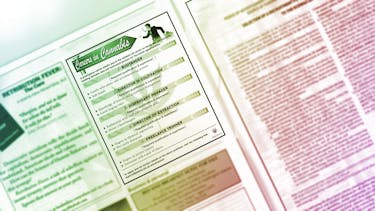 Cannabis Matchmaker: Molly Peckler, Founder of Highly Devoted
"Cannabis is a heart-open­er; it brings down your walls and allows you to be present in the moment. It is a phe­nom­e­nal tool – a pow­er­ful aphro­disi­ac that can be an amaz­ing addi­tion to your sex life. It real­ly gets you in the mood. You can use it before and after sex, and dur­ing, through mas­sage oils and per­son­al lubri­cants. Con­sumed togeth­er you can relax and enhance intimacy.
After sev­er­al years work­ing at a high-end pro­fes­sion­al match­mak­ing com­pa­ny in Chica­go I left to start up a love coach­ing busi­ness, which devel­oped into a cannabis match­mak­ing ser­vice. I had talked to many peo­ple who had faced judg­ment in dat­ing for using cannabis. They were try­ing to find peo­ple who they could share it with or who could accept that cannabis was a part of their lives. I saw an opportunity.
Today, we work with between 10 to 12 clients at a time, rang­ing from mil­len­ni­als to baby boomers. Fees start at around $2,500 and go up depend­ing on the num­ber of intro­duc­tions and the nature of a par­tic­u­lar search. They aren't stereo­typ­i­cal ston­ers; they are smart and suc­cess­ful, well-respect­ed and moti­vat­ed, and cannabis just hap­pens to be their sub­stance of choice.

I work one-on-one, putting my clients through a pret­ty inten­sive inter­view and engage­ment process. One of the ques­tions I pose is: ​'How do you want cannabis to be reflect­ed in your ide­al roman­tic rela­tion­ship?' Some peo­ple are every­day con­sumers and want the same from a part­ner, where­as oth­ers do it occa­sion­al­ly but look at it as a way of see­ing if some­one is open-mind­ed. Some clients don't ever con­sume THC but are real­ly into CBD. It's typ­i­cal­ly not my clients' top pri­or­i­ty, but cannabis is a part of their iden­ti­ty and lifestyle.
I then find some­one who is aligned with what they're search­ing for. I look through my data­base and also recruit out­side of it on my client's behalf, email­ing, post­ing on social media, going to events and con­nect­ing with cannabis influ­encers in dif­fer­ent markets.
The strangest requests I've had are when peo­ple are look­ing for a spe­cif­ic look (such as some­one like Hagrid from Har­ry Pot­ter), or those want­i­ng to share ran­dom pas­sions such as obscure for­eign lan­guages. I always try to sat­is­fy my clients' wish­es but they can get to the point where they're being too picky and miss­ing out on great oppor­tu­ni­ties. That's when I sit them down and say: ​'Hey, there's only so much I can do! I can't cre­ate the per­fect per­son from scratch.'"
Cannabis lawyer: Katy Young, Founding Partner of Ad Astra Law Group
"I'm a lit­i­ga­tor who han­dles cannabis cas­es in the USA. The law on cannabis in the Unit­ed States is clear as mud. I can make rec­om­men­da­tions to my client based on what I believe is going to be the best good faith inter­pre­ta­tion of the law, but a lot of things that I lit­i­gate are nov­el issues that have nev­er been decid­ed before. Nobody knows what's going to hap­pen and I find that absolute­ly exhilarating.
I work on part­ner­ship dis­putes, dis­putes between own­ers of cannabis busi­ness­es, secu­ri­ties issues involv­ing dis­grun­tled cannabis investors, real estate issues and intel­lec­tu­al prop­er­ty disputes.
Cannabis has pro­vid­ed my firm with tremen­dous busi­ness oppor­tu­ni­ty. There are a cou­ple of ways to get involved because the indus­try needs all kinds of lawyers: envi­ron­men­tal lawyers, prod­uct lia­bil­i­ty attor­neys, secu­ri­ties lawyers, intel­lec­tu­al prop­er­ty, trans­ac­tion­al peo­ple, lit­i­ga­tors of all kinds. The best way to get your foot in the door is to devel­op skills in a more tra­di­tion­al mar­ket and trans­fer those skills to cannabis.
Start learn­ing the land­scape, and what­ev­er your spe­cial­ty was before, fig­ure out how that applies. Start show­ing up: go to con­fer­ences, meet peo­ple, invite some­one out to din­ner. It's a fair­ly risky busi­ness for law firms, not just because the legal out­come is so uncer­tain but because big­ger insti­tu­tion­al clients could be anti-cannabis and it's pos­si­ble that if they found out what you were doing for oth­er clients they would take their busi­ness away. That hasn't hap­pened to me – in fact my non-cannabis clients always want to talk about my cannabis work because they find it fascinating."

"Cannabis is very impor­tant to me: I think of it as med­i­cine and it's bet­ter for you than alco­hol. There's the prob­lem with the racial under­tones of why cannabis has been pro­hib­it­ed and I want that addressed: the only rea­son we are hav­ing this dis­cus­sion is because count­less cannabis users, grow­ers, and advo­cates faced crim­i­nal charges for activ­i­ty that is now legal. Too many black and brown broth­ers and sis­ters are still in jail while the for­mer speak­er of the House, John Boehn­er, sits on the advi­so­ry board of a cannabis busi­ness, and the busi­ness com­mu­ni­ty is cel­e­brat­ing the com­mer­cial opportunity.
The War on Drugs in the Unit­ed States has been an abysmal fail­ure that most­ly and unfair­ly tar­get­ed non-white pop­u­la­tions. It is patent­ly unfair that the War on Drugs affect­ed com­mu­ni­ties of colour and now those peo­ple who helped us get to this point are not yet absolved of their pri­or crimes, still bear­ing the stig­ma of a crim­i­nal conviction.
The busi­ness case for legal­is­ing cannabis in the Unit­ed States is also com­pelling, giv­en the prob­lems states have with not hav­ing enough tax mon­ey to go round. In a con­fer­ence sev­er­al years ago, I sat next to a may­or of a small town in South­ern Cal­i­for­nia who said he'd nev­er tried cannabis but allows com­mer­cial cannabis activ­i­ty to take place in his town through a med­ical dis­pen­sary. In two years, they had acquired enough mon­ey through tax­es to build a new school. ​'I can't keep this from my con­stituents,' he said. ​'It's the best thing for my town.' Pres­i­dent Trump, for all his foibles, is a busi­ness guy – he might just be the crazy-enough per­son to push it through."

Cannabis Brand CEO: Rob Hickman, Co-founder of Tyson Ranch
"Cannabis helped save my life in many ways. I don't drink alco­hol – noth­ing good ever came to me from drink­ing alco­hol. How­ev­er cannabis has ben­e­fit­ted my men­tal well­be­ing in lots of ways and I've used many parts of the flower for var­i­ous pur­pos­es – such as THC and CBD when I was expe­ri­enc­ing pain.
I'm the CEO of Tyson Ranch, the cannabis com­pa­ny found­ed by myself and for­mer heavy­weight box­ing cham­pi­on, Mike Tyson. Our busi­ness mod­el is dif­fer­ent to most cannabis-based busi­ness­es. We're not inter­est­ed in acquir­ing licens­es to grow or sell cannabis. We focus on brand build­ing. Basi­cal­ly, we want to be like the brand Trop­i­cana, not the farm­ers that Trop­i­cana pur­chas­es their oranges from. The cannabis mar­ket is miss­ing a big name brand that you trust will con­sis­tent­ly cre­ate top-shelf prod­ucts with a con­sis­tent brand identity.
I've known for a while that Mike was an advo­cate for cannabis con­sump­tion; he'd spo­ken freely to me about how cannabis had ben­e­fit­ed his life in sim­i­lar ways to mine. Our pas­sion for the plant led to a seri­ous con­ver­sa­tion about how we could help oth­ers and cre­ate a busi­ness that fuelled our pas­sion. Once we decid­ed to do it, we fol­lowed the same sim­ple for­mu­la that Mike used to win the heavy­weight cham­pi­onship: hard work and dis­ci­pline, build­ing the best team and work­ing hard­er than every­one else.
Mike isn't just a part­ner in name. He does the work. He comes into the office every day, rolls up a joint, and his sleeves, and helps us make a dif­fer­ence. He is a force; an amaz­ing resource when it comes to dri­ving the mes­sage and liv­ing the story.

We employ about 50 peo­ple in Cal­i­for­nia and when The Ranch con­struc­tion is fin­ished, we esti­mate we'll employ anoth­er thou­sand peo­ple in the Desert Hot Springs and Palm Springs area. We're cur­rent­ly hir­ing sev­er­al hun­dred in the Nashville and Las Vegas area as well – chem­i­cal engi­neers, bio­chemists and man­u­fac­tur­ing pro­duc­tion and logis­tics spe­cial­ists, as our hemp extrac­tion labs ramp up.

My day starts at 4am. I take a long walk down to get my exer­cise and cen­tre myself. Then I head off to work in LA. On the way in, I field an hour of phone calls to see what has changed overnight and by 8.30am, I'm meet­ing with the Exec­u­tive Staff for updates and redi­rect­ing things as need­ed. At 9.30am Mike and the mad­ness arrive.
My day is a blur of meet­ings, pitch­es and work­ing on our pod­cast – Hot­box­in' with Mike Tyson. Mike and I con­sume cannabis dai­ly, joints most­ly, and I will smoke any­where between two to 10 times per day. We even have a CRO (Chief Rolling Offi­cer) and some­times now smoke in a glass water pipe.
At 5.30pm the office starts to slow down and emp­ty, and by 7.30pm, I'm the last one there. My advice to any­one want­i­ng to join the cannabis indus­try is, if you're doing it for the mon­ey, don't. If you love the plant and the move­ment, make your mark and be a part of his­to­ry. The bot­tom line is, when it becomes a legal crop (fed­er­al­ly), the risk will be removed and it will enter the fab­ric of the econ­o­my. Most farm­ers already do it for lit­tle mar­gin. As more groups enter the mar­ket, these mar­gins will con­tin­ue to con­tract, and it will become no cheap­er or eas­i­er. It is work. Cannabis, wel­come to the real world."

Cannabis Edibles Chef: Jeff Danzer aka JeffThe420Chef
"It all start­ed about sev­en years ago. A fam­i­ly mem­ber and a close friend were both diag­nosed with ter­mi­nal can­cer and were told that cannabis could help. Cannabis was med­ical­ly legal in Cal­i­for­nia and they asked me if I could make them some cannabis-infused cook­ies. I wasn't even a chef at the time, I was just a cook that made real­ly great cook­ies. What I gave them helped, but they couldn't deal with the cannabis taste. So I set out to remove it.
I start­ed invent­ing dif­fer­ent solu­tions and culi­nary process­es to put the cannabis through. To get it right took a year and a half. The process now takes three days and has many stages, but the result tastes pret­ty much like noth­ing. From our ​'taste­less' cannabis, we went on to cre­ate odour­less cannabis – smok­able cannabis which has no smell. I cur­rent­ly have a patent pend­ing – ​'Free­Leaf' – for the process.
Word quick­ly spread that I was doing taste­less edi­bles and now I cater din­ner par­ties and events in Cal­i­for­nia and through­out the coun­try where cannabis is legal med­ical­ly and recre­ation­al­ly. My clients range from celebri­ties to brands, to pri­vate indi­vid­u­als who just want to enjoy the infused experience.

We're very respon­si­ble with how we do our din­ner par­ties. We will nev­er serve any­one more than 15mg THC. Our offi­cial max­i­mum is 10mg, but some­times we'll increase it up to 15mg for more expe­ri­enced users. At a celebri­ty din­ner in the Hills once, one guy came into the kitchen and said: ​'Yo dude, I heard you're only going to give us 10mg – that's way too lit­tle for me. I need, like, at least 100mg, I'm a 300mg Koro­va guy,' which means he's typ­i­cal­ly used to eat­ing Koro­va can­dy, which used to sell can­dy bars of over 100mg. 10mg will usu­al­ly make a per­son feel they've had two or three glass­es of wine on an emp­ty stom­ach. If we serve Hazy Thai Wings, each wing will have 1mg, so if you only wan­na ingest 5mg, you can have five wings.
Most days I spend in the kitchen: improv­ing my recipes and get­ting ready to open up the first Cannabis Edi­bles Lounge in West Hol­ly­wood. I have a group of five testers who taste my dish­es but I also do a lot of test­ing myself. Now is the time to get into cannabis. If you're real­ly good at some­thing – maybe you're the best bak­er or the best choco­lati­er – then fig­ure out how to incor­po­rate cannabis into that. It doesn't have to be THC. CBD is a big thing now and if you can incor­po­rate CBD into what you're famous for, or what you're good at, you can do very, very well for yourself.
Cannabis has always been a big part of my life and I con­sume it mul­ti­ple times a day. I have ADHD and cannabis puts me in a real­ly clear and great head­space. I'm not a ston­er, I would say that I'm more of a ​'cannabis enthu­si­ast'; it just enhances my life tremen­dous­ly. My fer­vent hope is that the US Con­gress will fed­er­al­ly legalise cannabis. There's no rea­son for it to be treat­ed like hero­in and cocaine, it's not a processed chem­i­cal sub­stance. It's actu­al­ly just an incred­i­ble herb with high­ly med­i­c­i­nal properties."

---