What is CRO, the altcoin grabbing the crypto world's attention?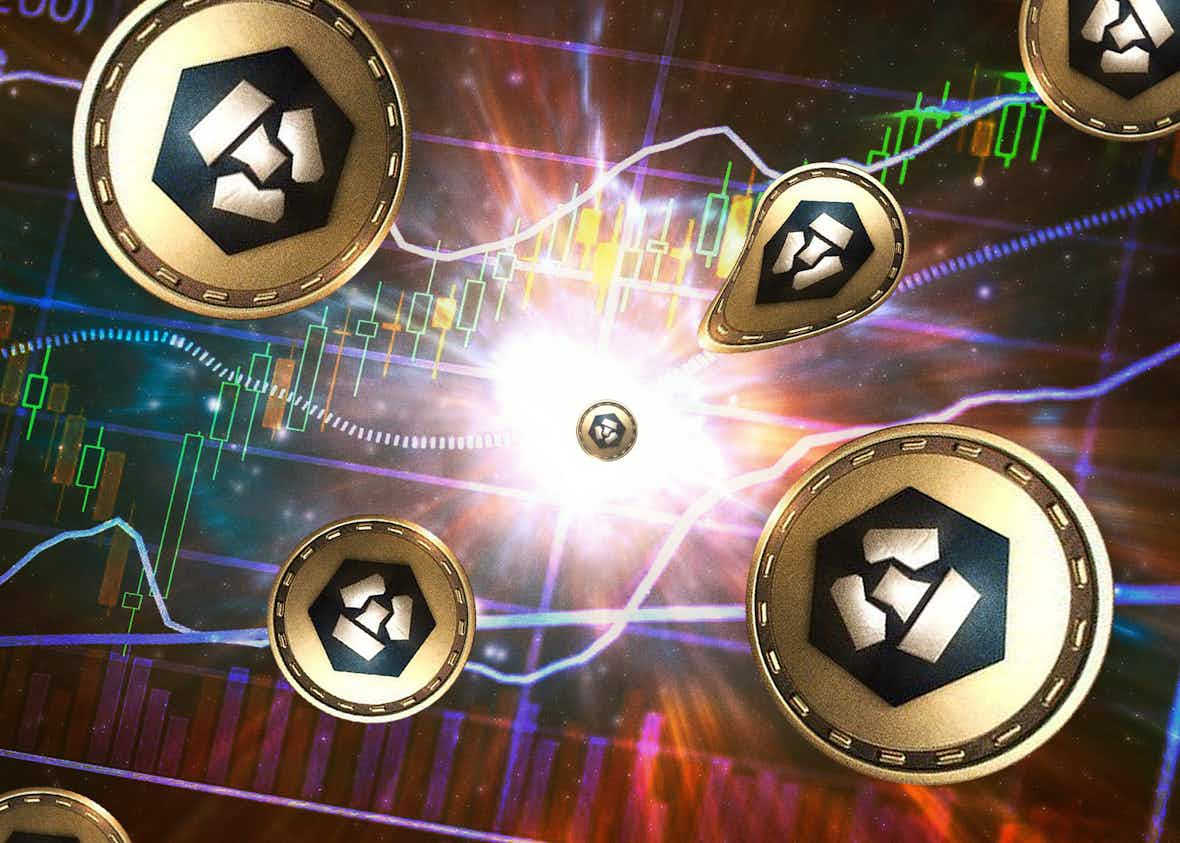 CRO and Crypto.com have been popping off recently. Here's a little information about what exactly they are, and why people are excited.
We've covered how to make money from bitcoin, explained the difference between a token and a coin, and given you the lowdown on all the new crypto coins that are worth keeping an eye on, like Solana and the eco-friendly Nano coin.
But, as you'll know, the crypto world moves fast and now (take a quick breath) crypto heads are sharing giddy posts about how the Crypto​.com (CRO) asset is the ​"next big thing 🚀🚀".
If you're a bit involved – e.g. knees-deep in subreddits like r/​CryptoCurrency or browsing coinbase – you'll have seen CRO posting serious gains over the last month.

CRO is the native cryptocurrency (technically a crypto token) of ​"Crypto​.com Chain", a blockchain developed by Crypto​.com. The main use of the token is to allow you to pay for real-life things with your crypto by converting your crypto into fiat currency (like pounds sterling and US Dollars) in real time.
Crypto​.com also partners with companies to make sure as many places as possible can take the payments – most notably, Visa. Originally it was built using Ethereum​'s blockchain and it was called MCO, while Crypto​.com was called Monaco. But they re-branded and converted the token into CRO, as it's known today.
Loads of things. It's a Hong Kong-based company that employs over 1,000 people. Its services include staking (and not just CRO, you can stake Bitcoin, Ethereum and more), a crypto exchange with more assets than Coinbase, crypto Visa debit cards, an NFT marketplace, crypto loans and more.
It's becoming a bit of a DeFi (decentralised finance) empire. The mission was (and is) to make crypto more accessible, and more ​"adoptable" for the general public. Eventually, they want your mum and dad to use crypto for their weekly big shop, via their services, of course.

Did you just say crypto debit cards?
Oh yes. You top the card up with a crypto of your choice and then it pretty much functions like a normal debit card. But what's actually happening is the company is selling some of your crypto on Crypto​.com, and then converting the money into fiat currency and transferring that from your card, for the shop's convenience.

But what's the point in a crypto debit card?
Lots of perks! Crypto​.com offers a few different cards. In this sense they seem more like a credit card, but they aren't. The top-tier card offers you eight per cent cashback on purchases, free Spotify, free Netflix, free Amazon Prime, 10 per cent back on Expedia, private airport lounge access and Crypto​.com Private (exclusive to top-end card-holders), which you can use to read about recent crypto developments and get advice on your crypto.
The catch? You need to have about £300,000 staked into CRO.
There is a free option, which will give you one per cent cashback, which is still more than most debit cards. But there's also the hassle of topping the card up with crypto each time, and not being able to reverse the transaction unless you withdraw it all from an ATM – once it's on the card, you have to spend it.
Other retailers are available, but scams exist in this area, as with the rest of crypto, so it's good to be with a company you trust. Nobody wants to set up a debit card only to realise you've actually just sent an anonymous person money.

If you're trading, crypto debit cards can become useful. Say you have £100 worth of a cryptocoin, and the next day it's at £110, that's a free tenner you can spend. If you wake up and the £100 has been reduced to £90, you can see that as a good time to top-up the card, but it'd make the meal deal 10 per cent more expensive compared to yesterday.

You also don't need a bank account for these, you can just sell some of the currency on your app, which makes it accessible to many people.

Why are crypto people buzzing about CRO?
Along with the multiple features and services it provides, part of the value boom is due to Crypto.com's announcement of a 20-year contract for the naming rights of Los Angeles' Staples Center, the sports stadium which is home to the LA Lakers, LA Sparks, LA Clippers and LA Kings. It's costing the crypto firm around $700 million, while the attendant marketing campaign cost about a billion dollars. It also has a $100 million partnership with Formula 1 and a sponsorship with the National Hockey League's Montreal Canadiens.
It appears to be a real power move, as these deals will link the brand with some of the biggest franchises in sport. While those in the know will be more aware of Crypto​.com as a business doing many things, the masses are at least going to see the word ​"Crypto​.com" in huge letters on their team's (or opponent's) stadium and beyond.
This will make it a port of call for people looking to eventually get into using crypto in some form. If a crypto coin visibly exists and works with a big business, there's usually a big increase in value.
Holiday tip: the official name change of the Staples Center happens on Christmas Day, so it'll be interesting to check the value while having the post-Christmas dinner power nap.

Is the value of CRO likely to go up?
According to Coinbase​.com, the coin went down by five per cent in the last 24 hours (at the time of writing). But in the last week it sits at up 29 per cent, and across the last month, up 307 per cent. On the whole, that's all pretty good. The coin has also risen to becoming the 14th most popular crypto out there, according to coin​mar​ket​cap​.com. So people are visualising a rainfall of crypto dollar bills and the demise of government-controlled currencies as we know it.
It's hard to say if the value is likely to go up and up and up. But the coin clearly has a lot of uses and is making a point of being a mainstream sponsor across sports, so more people will hear about it, which could lead to an increase in value. But: there could be a glitch in their system, the government could try and crack down on taxes (because people can very easily avoid them with crypo) or Elon Musk could tweet something – who knows!
In short, anything is possible when it comes to emerging cryptocurrencies. But, again, we can't give financial advice, so always err on the side of caution when it comes to investing your money.

So there's a little primer on CRO and Crypto​.com – a token native to a blockchain and a company that are basically doing a whole load of things within the crypto universe. See you next week!

Speak to a Financial Conduct Authority-registered financial adviser before taking financial advice, and think carefully before making any decision

More like this