What's the best way to save money?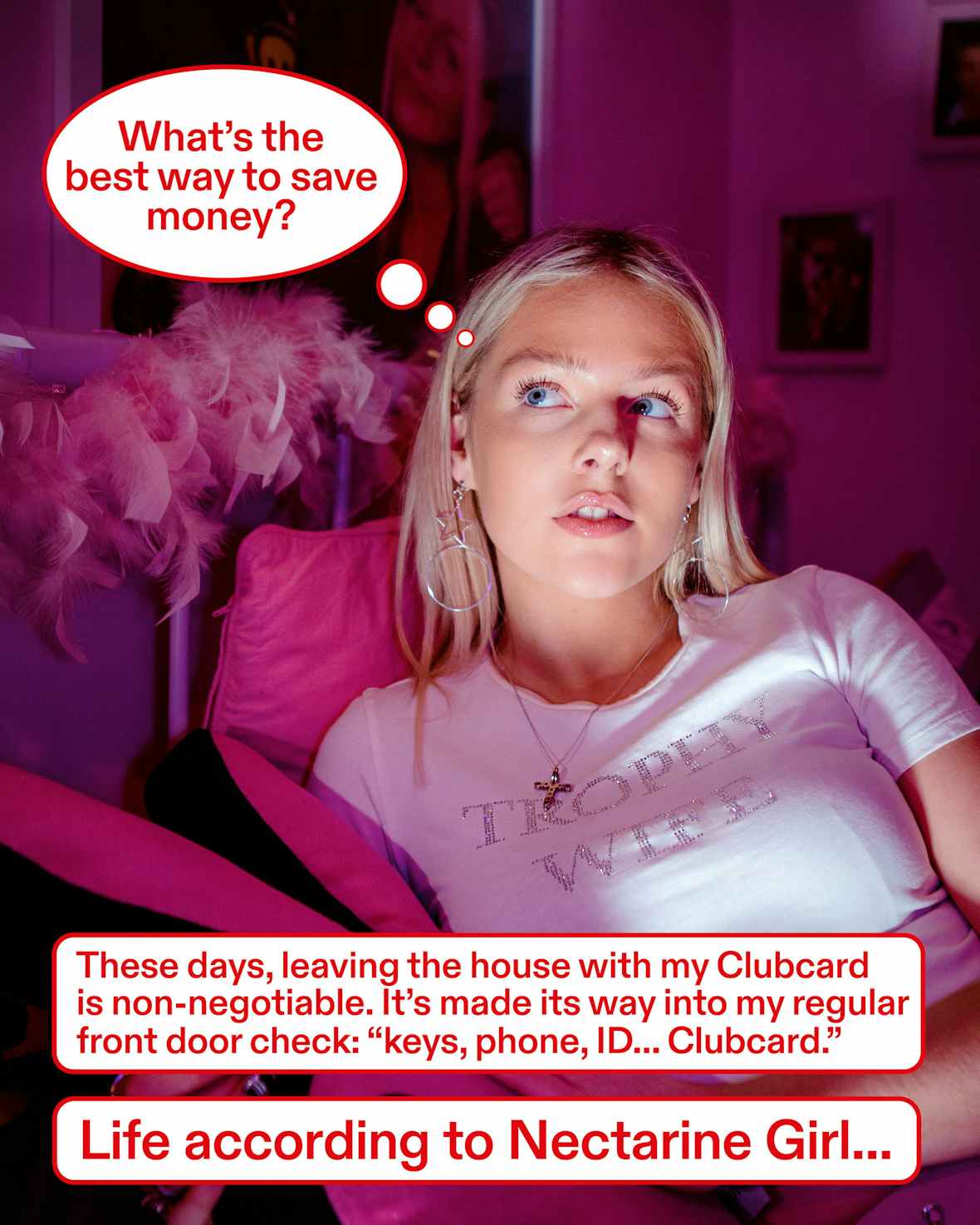 With the cozzie livs in full swing, in this week's column, Nectarine Girl shares her best penny-pinching tips.

Welcome to a weekly life and relationships column by Iris Owen, aka Nectarine Girl – the reigning queen of Depop, fame-hungry wordsmith, and author of the wackiest newsletter in London, Nectarine News.

I'll start this week's column off by saying this: I am no money-saving expert. In fact, I am so deep in my overdraft, Martin Lewis would need to take up potholing to get me out. I only have said overdraft because when all my friends set off for university, I got jealous of their loans and asked Lloyds if I could have one, too. They obliged and, well, here we are.
Now, I'm a fully-fledged young professional who's trying to eliminate her debt and start saving the big bucks. If you're terrible with cash but nonetheless desperate to start putting some away, here are a few nifty bits of advice to follow – when it comes to stashing some pennies away, I'm right there with you.
They say ​"the best things in life are free", but what about Louis Vuitton bags? I once purchased a wildly overpriced LV lipstick case and then proceeded to only carry Nivea lip-balm in it. Whether that makes me frugal or frivolous, I'm still trying to figure out (while paying off that bloody case).
I've always had a conflicted relationship with money. It's like in the movies, when the main character has an imaginary devil and angel on each shoulder, whispering in their ear and telling them what to do. Only for me, they're both screaming the same thing: ​"BUY THE JUICY TRACKSUIT!"
This way of thinking doesn't match up so well with how I approach other things in life. For instance, I'll open a jar of pesto on a Tuesday and it'll be all I can think about for the next week. The thought will consume me. That £1.20 jar of Tesco pesto will dictate my social life and I will decline evening plans in order to finish every last morsel before it goes out of date. That's right: pesto doesn't keep as well as you'd think. I'll do this but then drop £100 on a rare Girls Aloud poster I just ​"had to have". Every little helps, though, right?

There are definitely small ways we can change our spending habits for the better. My grandad's coupon game is so strong that his local supermarket ended up paying him for his groceries. And for crying out loud, get yourself a Clubcard – the savings you'll make are astronomical. These days, leaving the house with my Clubcard is non-negotiable. It's made its way into my regular front door check: ​"Keys, phone, ID… Clubcard."
Another savvy saving technique is convincing your friends to work for companies you really like, so you can treat yourself to nice things on a budget. My pal Hannah recently became a team leader at The Body Shop. One Halloween, I became so obsessed with its seasonal vanilla pumpkin range that I became a well-known name throughout their London branches. I was greeted at the door by name, Hannah's 50 per cent off staff discount in hand.
I'm also totally into packed lunches these days. I can't cook to save my life, but I can cook to save my money. Never forget: risotto is just Uncle Ben's with parmesan chucked in. No need to be fancy, just get yourself some tupperware and take the plunge.
I've tried opening up a savings account, getting an ISA, fixed rate bonds, all that crap. It's just not for me. I also tried the old-fashioned approach of putting pennies away into a piggy bank, but I was simply too enticed by the concept of breaking into it with a hammer. Needless to say that technique didn't last long. Anyway, Lent is around the corner and I am giving up being bad at saving.
I'll love you and leave you with these priceless tips for now. I hope this column has taught you something – even if it's not to be like me.


More like this