Hometown glory: what Wythenshawe thinks of local hero Marcus Rashford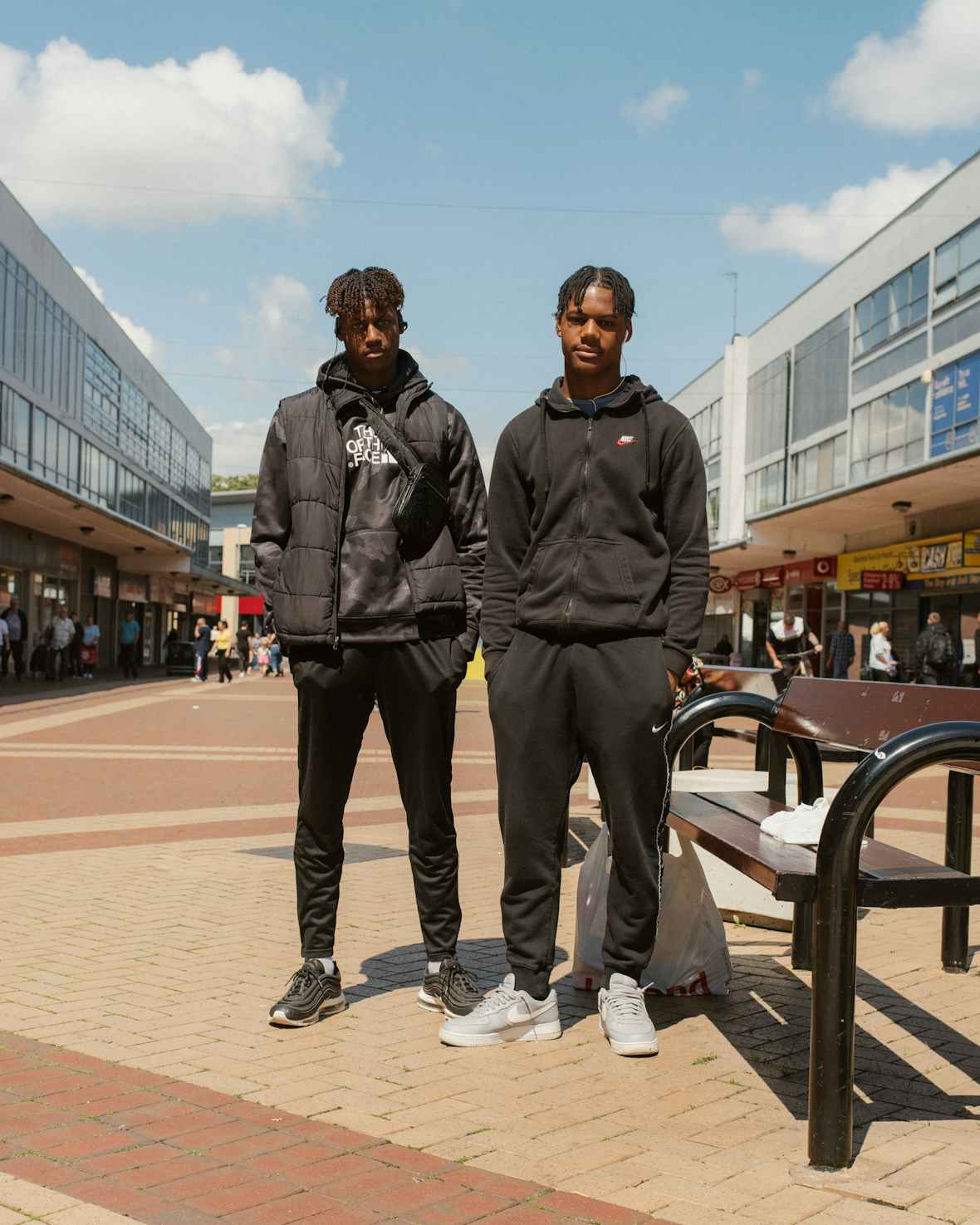 The Face took to the town centre to hear what people think of the Manchester United footballer following his success in convincing the government to provide a summer food fund for low-income families.
Wythenshawe's past residents include boxer Tyson Fury and The Smiths guitarist Johnny Marr. But today, the south Manchester neighbourhood has one undisputed local hero: Manchester United footballer, Marcus Rashford.
Last week, the 22-year-old striker celebrated a win off the pitch, as he convinced the government to U‑turn and agree to a £120m Covid-19 summer food fund to help feed 1.3 million children in the UK during the holidays. The food voucher scheme (for children who normally receive free school meals) was originally going to be stopped over the summer, putting a strain on poor families.
Born and raised in the Northern Moor area of Wythenshawe, Rashford has played for United since he was seven years old and now earns over £10m a year. But for the young football star, food poverty is a personal issue. In an emotional open letter to MPs shared with his 2.9 million followers on Twitter last Tuesday, the young Mancunian recalled visits to food-banks and breakfast clubs, relying on free school meals as one of five children in a single-parent household.
"As a black man from a low income family in Wythenshawe," he wrote "…I would be doing myself, my family and my community an injustice if I didn't stand here today with my voice and my platform to ask you for help."
After 24 hours of public pressure (and even endorsement from rival football clubs Liverpool and Manchester City), on Wednesday, Rashford finished training to find out Boris Johnson had made the U‑turn.
People up and down the country celebrated the decision. But in Rashford's hometown, it hit differently. A group of lads quickly erected a banner under the ​"Welcome to Wythenshawe" sign, reading: ​"Rashford 1, Boris 0'."
The Face took to Wythenshawe town centre to hear what people think about this great success from their local hero.
Chloe (15)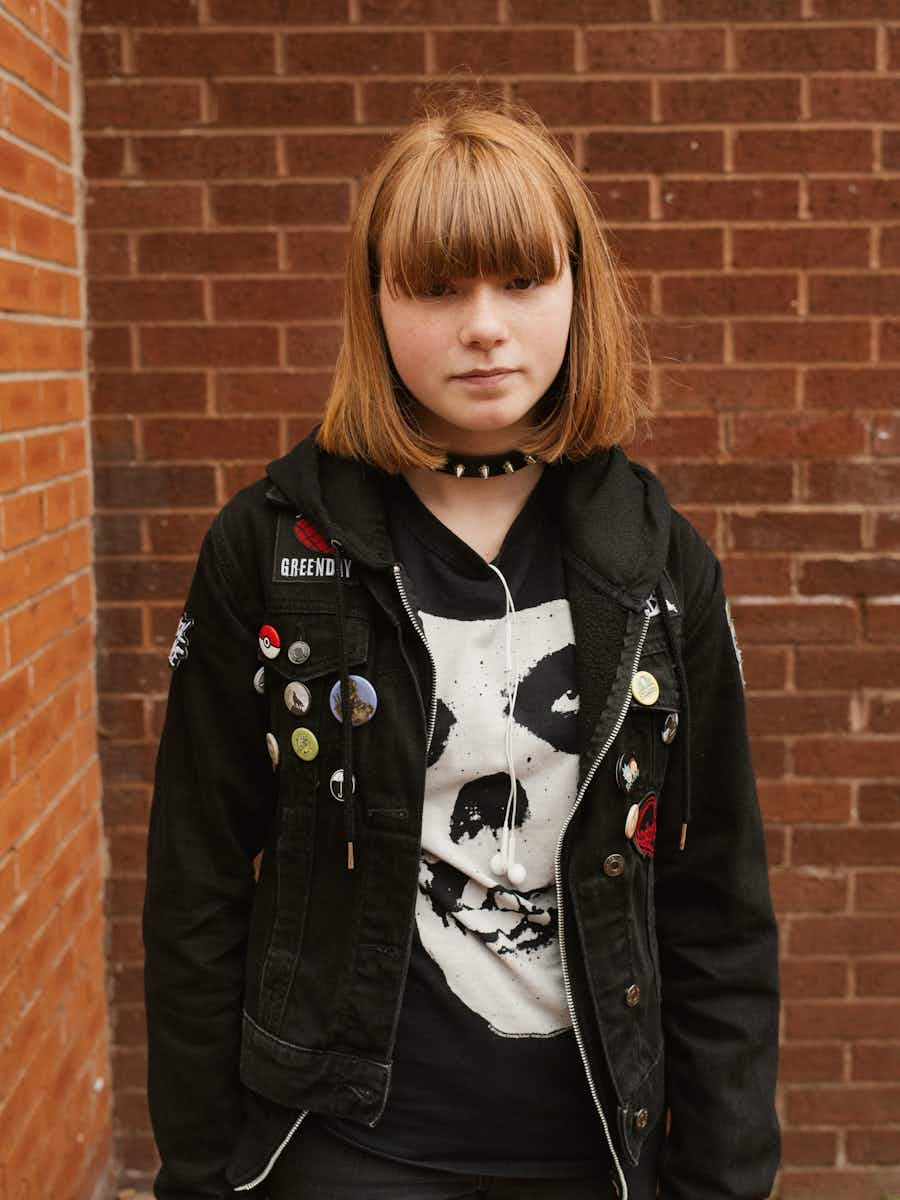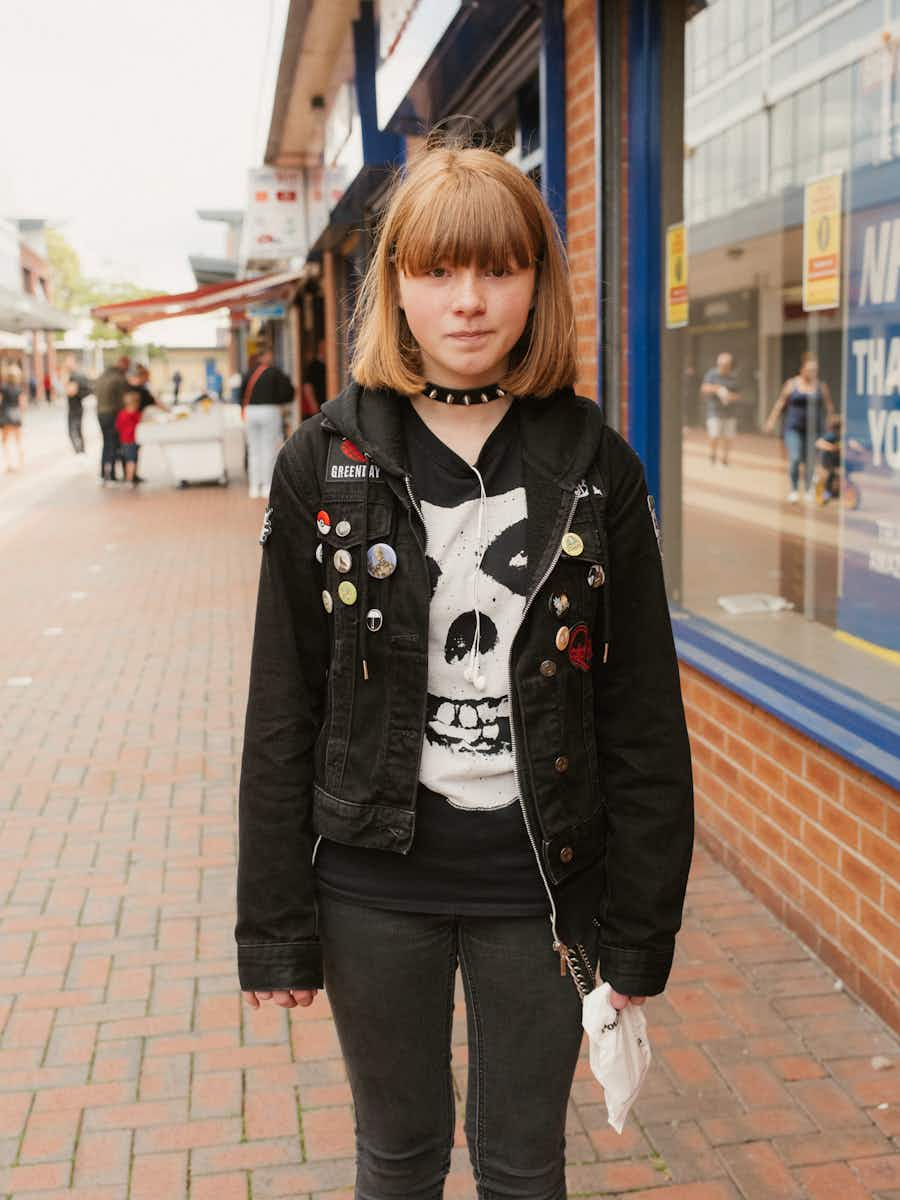 What do you think of Marcus Rashford?
I like him. We should get free school meals. What he's done is great – getting the meals over the summer. It should have been happening anyway!
How do you think this will help people in this community?
We got to the point where my mum couldn't afford meals for me and we struggled. So it will really help people round here for sure.
Do you like football?
No not at all! I just heard about it on the news. I don't like football, but I think Rashford is cool.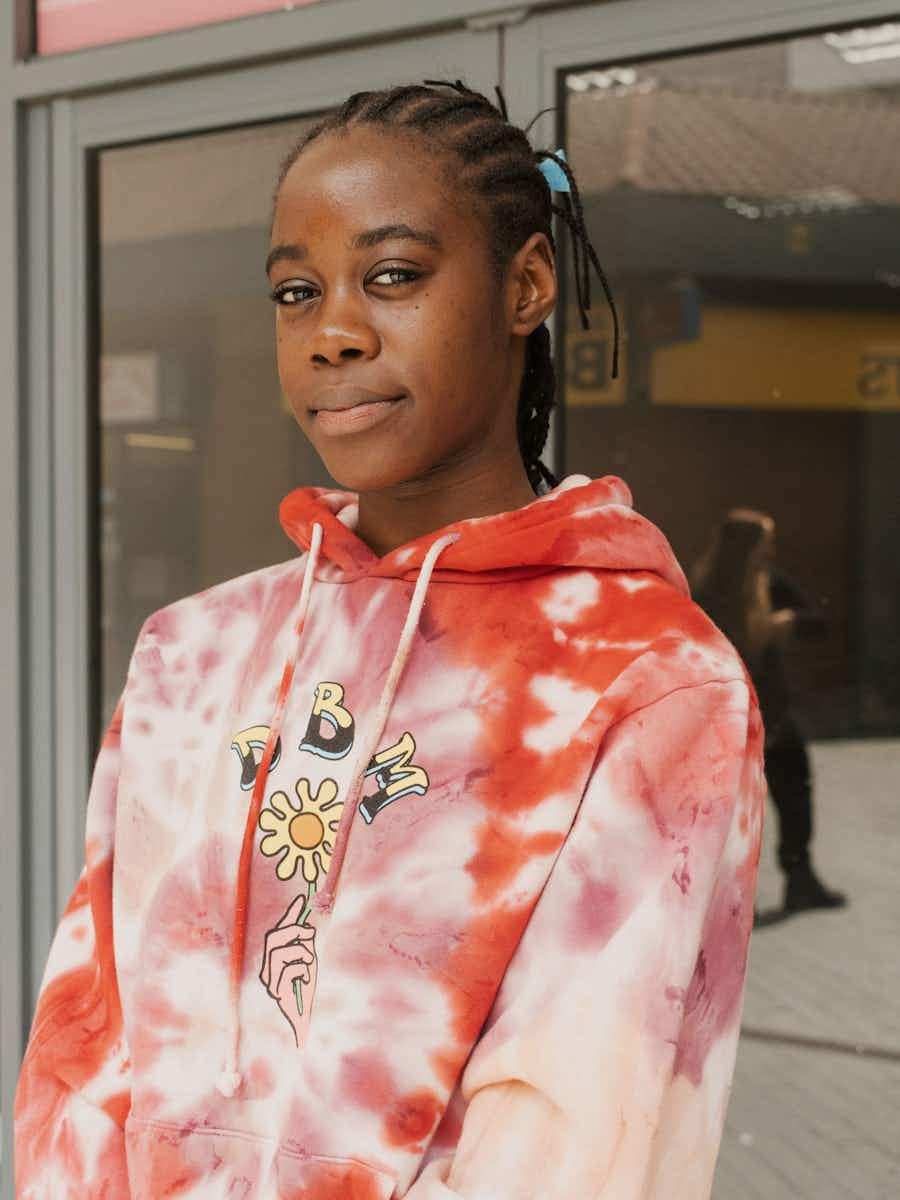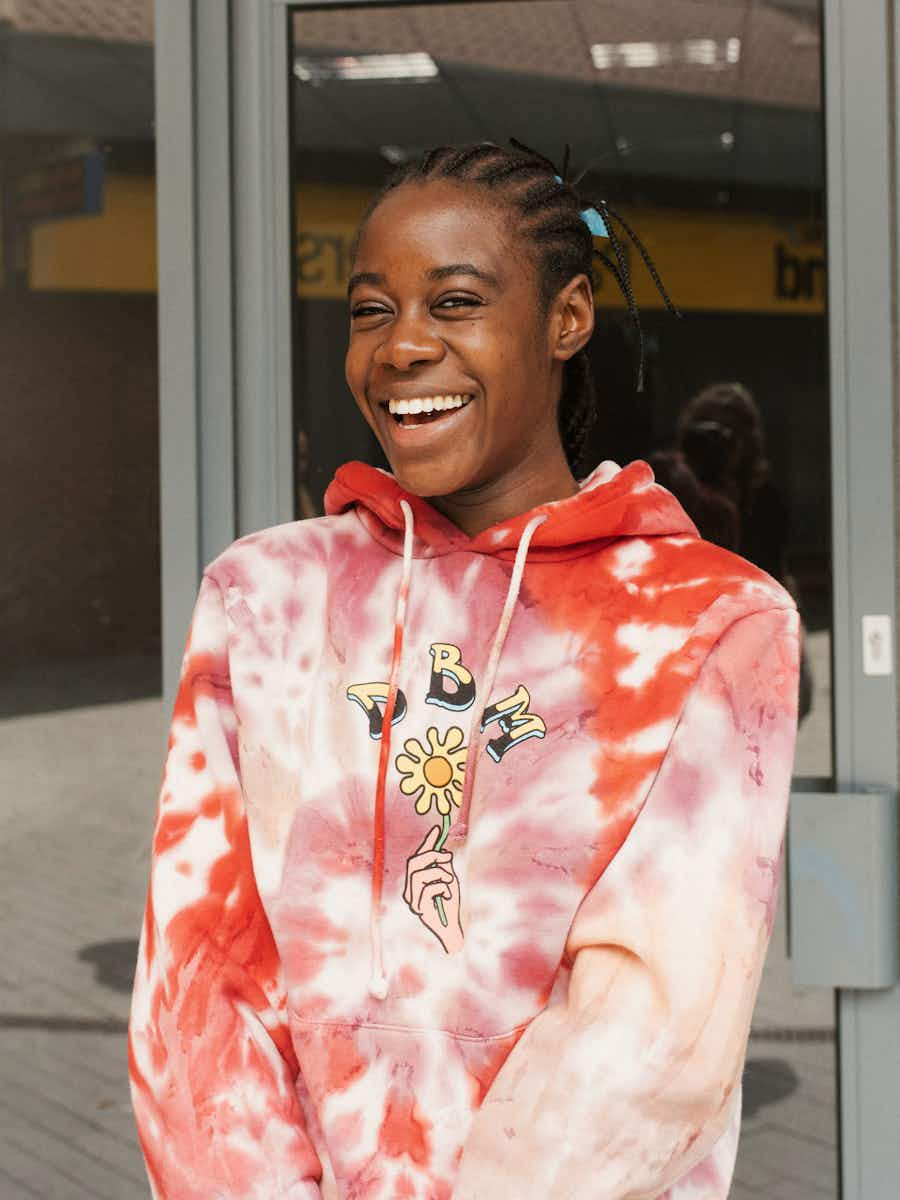 What do you think about Marcus Rashford's U‑turn campaign for food vouchers for children over the summer?

I heard about it. It's a good gesture. Honestly, people who are in higher positions and still care about people who are less fortunate, I think it's always a good thing. They could easily just say to themselves, ​"well I've got what I need now" and then turn their back on everyone. But he still cares and I think that's really generous of him to do that. It's really amazing, I think it's honourable.
Can you see it helping people in this community?
Definitely. Giving back is so important and he's done that. It's nice when people who are successful aren't just out to take or make money and they do things to help people. Especially during this time.
Do you like football?
I like the ambience. To be honest, it's funny to see the rivalry between teams and all that. But I don't pay much attention to it.
Suzanne (28) Megan (6) and Mason (7)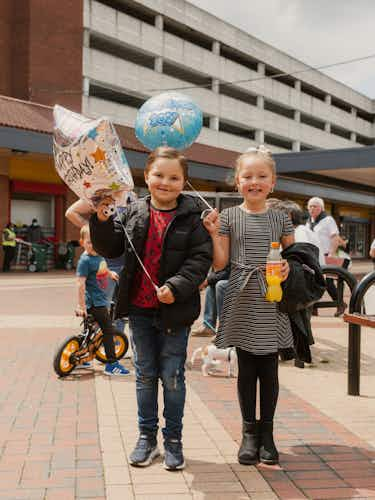 What's the occasion?
Megan: It's grandad's birthday!
What do you think of Marcus Rashford?
Suzanne: I didn't know who he was at first. I'd heard of him but this brought him more to my attention. Even though I don't like football, I heard about this. It's going to help so many people.
Have people been talking about it a lot?
Suzanne: You know what, they have. It's been quite a topic of conversation in my work actually. People are definitely talking about it a lot.
Have you lived in Wythenshawe all your life?
Suzanne: Yes
Would you say he's a local hero?
Suzanne: Yes, obviously! What he did was mint.
Anthony (18) and Teon (18)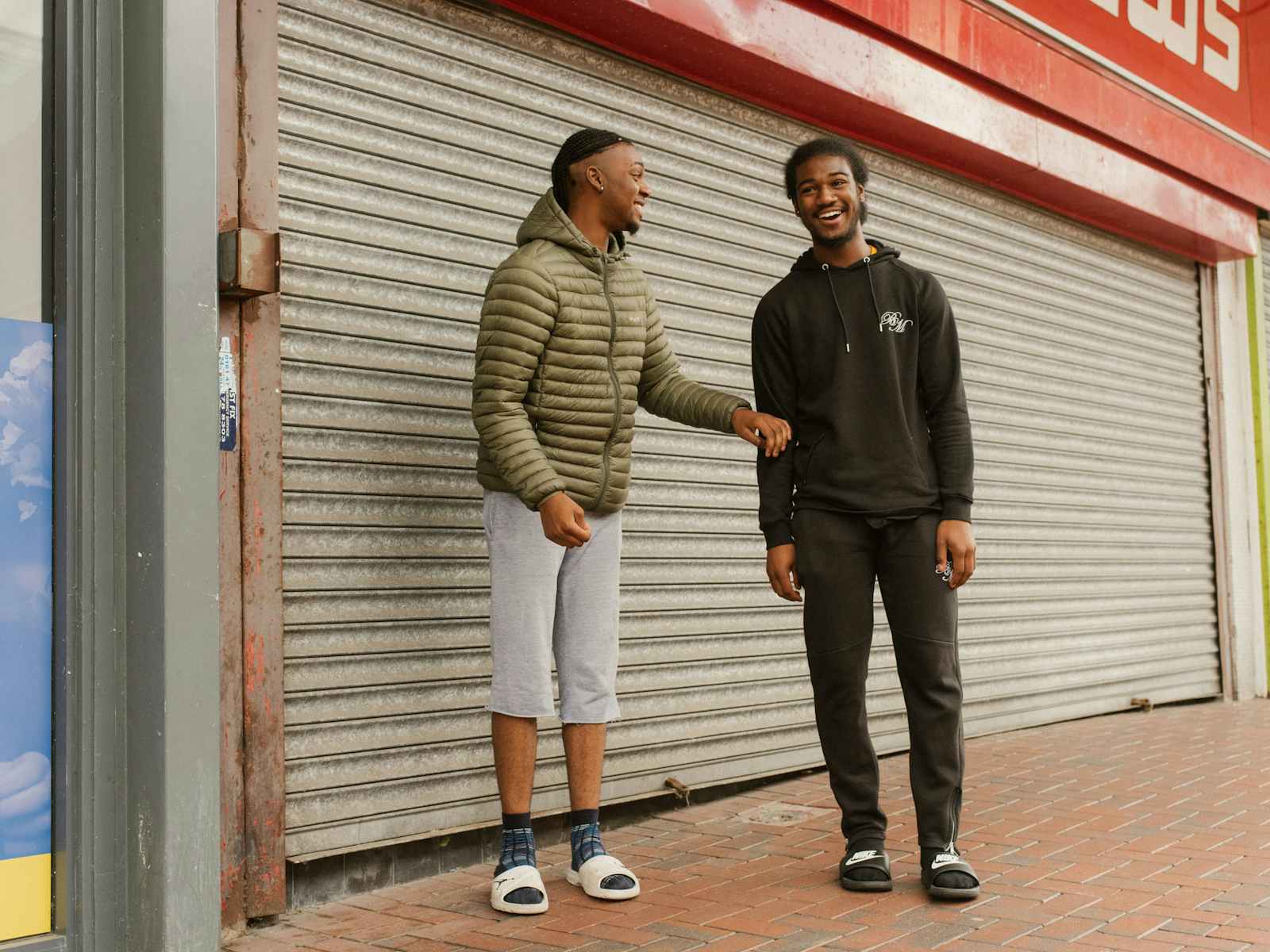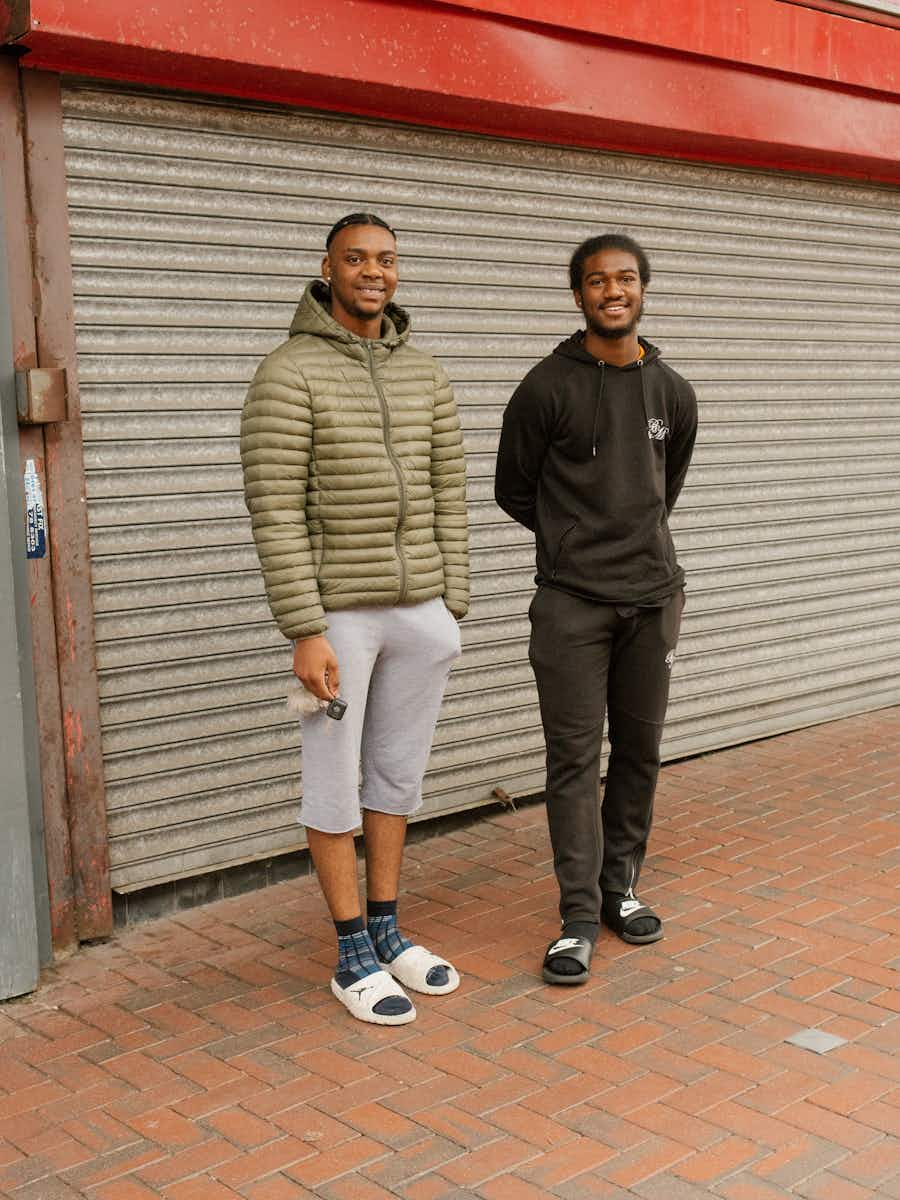 Do you guys like football?
Anthony: I don't play it but I do enjoy watching it.
Teon: Yeah me too.
Who do you support?
Anthony: United, of course. I sometimes support whoever wins. But no, I support United because of my family.
What do you think about Marcus Rashford's campaign for free school meal vouchers for kids over the summer?
Anthony: It's good because if the government isn't going to look out for people, someone needs to do it. Obviously there's a lot of people around whose mums aren't able to afford to pay for their meals and stuff. Rashford has done a good thing in speaking up for those people.
Do you live in Wythenshawe?
Teon: Yeah I live just around the corner. We are having a BBQ today. It's my birthday!
Anthony: He's my cousin but we are really close in age, so more like brothers.
Joyce (83) and Sid (84)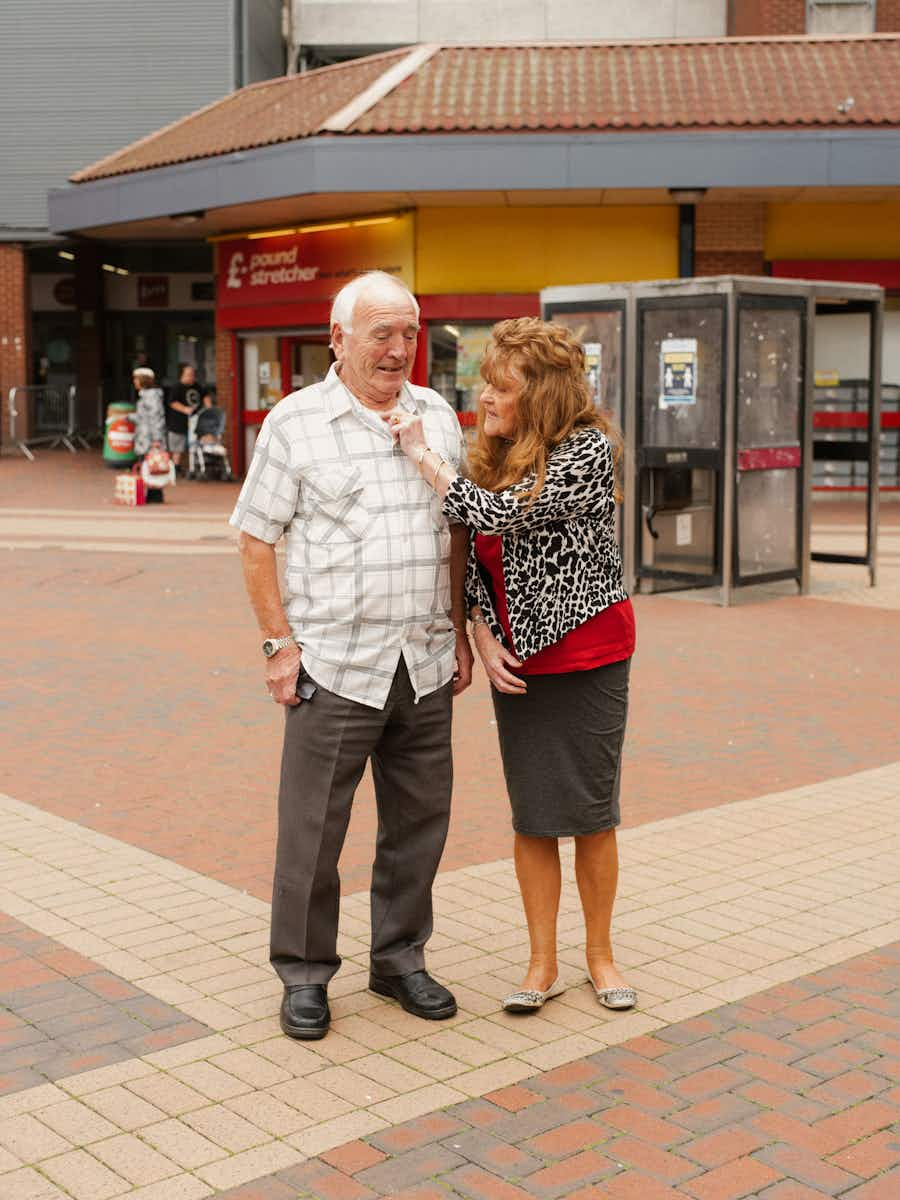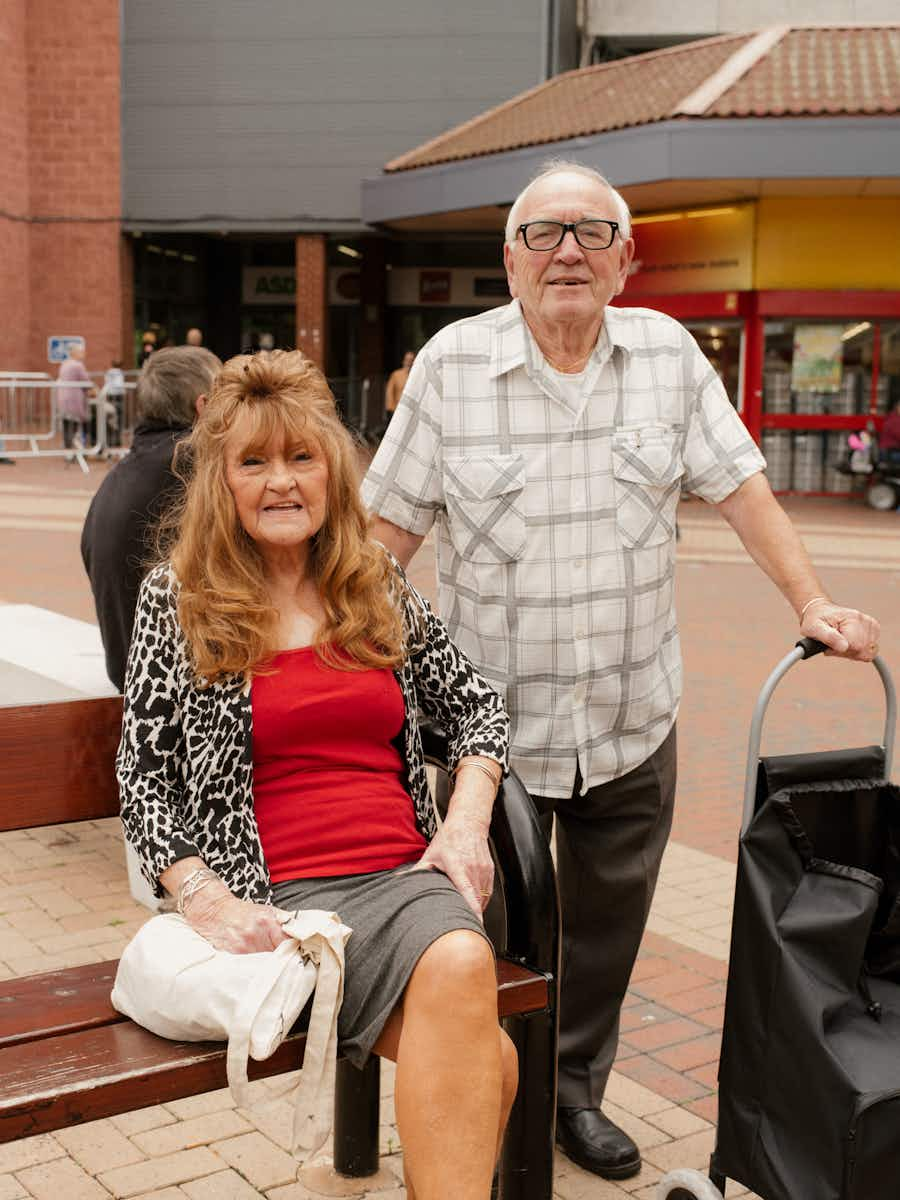 Have you always lived nearby?
Sid: Yeah I'm a Mancunian through and through. I lived in Openshaw before here.
What do you think of Marcus Rashford and the campaign he did last week?
Joyce: One word, ace!
Sid: People need the help, especially at the moment.
How did you hear about it?
Joyce: The news, newspapers, everyone's been talking about it!
Sid: It's absolutely brilliant. And I'm a United supporter. I've got the necklace on, a red devil.
What did you think of the United v Tottenham match on Friday?
Sid: They picked up in the second half but there's no atmosphere there without the crowd.
Joyce: You'd have thought they'd have put some sound on, some cheering or something for the players.
Are you happy the shops are open and you can be in the town centre again?
Sid: I'm just happy the football's back on! Joyce is happy for the shops. We've been married 62 years – 63 in December.
Darnel (19) and Dillon (16)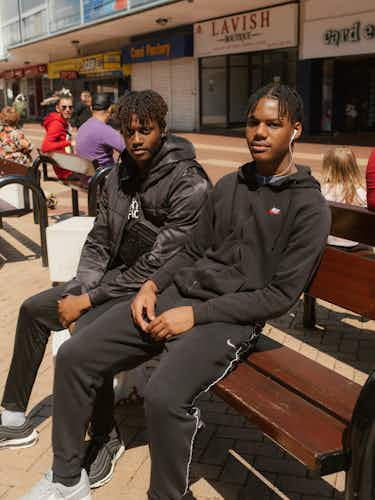 What do you think about Marcus Rashford getting the government to U‑turn on school meals over the summer?
Dillon: It's obviously good if it's giving back to the area. People will benefit from it round here. It's good that he's giving back.
Do you like football? Who do you support?
Darnel: United.
Dillon: City. I still like Rashford though.
Do you think a lot of City supporters like Rashford even though he's United?
Dillon: Yeah I think everyone does because of what he's done for people and for the area.
And you two are brothers, how is it supporting different teams under one roof?
Darnel: It's alright, we make it work, it's a civil disagreement.
Carol (60), Keeley, (55) and Hallie-May (6)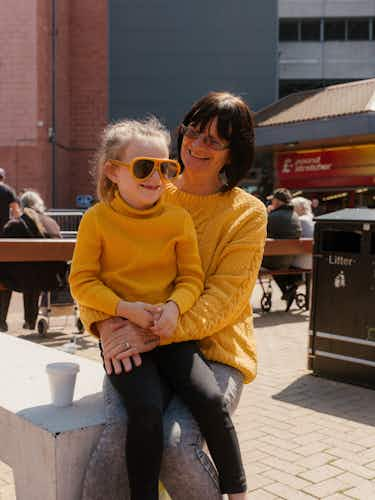 What do you think about Marcus Rashford's campaign for free school meals?
Carol: It's amazing. And he's only 22 as well.
Keeley: I think it's absolutely brilliant.
Carol: And a Wythenshawe lad as well. He lived in Northern Moor. For someone so young to do something like that. To get the government to U‑turn.
Keeley: I'd be proud to have a son like that.
Has it been a big conversation topic around here?
Keeley: It's the only topic really! There's a lot of struggling families round here that haven't got anything.
Carol: And here are a lot of people that have got a load of money like [Rashford] that don't give back.
Keeley: He should get a statue of him.
In Wythenshawe?
Keeley: It doesn't matter where. It'd be nice ​'cause he's from Wythenshawe but wherever it is. If he gets one, it will be a nice big thank you to him. He is someone for the kids to look up to.
And who do you support?
Keeley: I don't do football.
Carol: I don't care if he's a red or a blue or a Liverpool or whatever, it's what he's done that counts.
Keeley: He's doing better than Boris Johnson!
Carol: And he's got a better hairdo.




More like this