The pandemic's devastating impact on women and girls in developing countries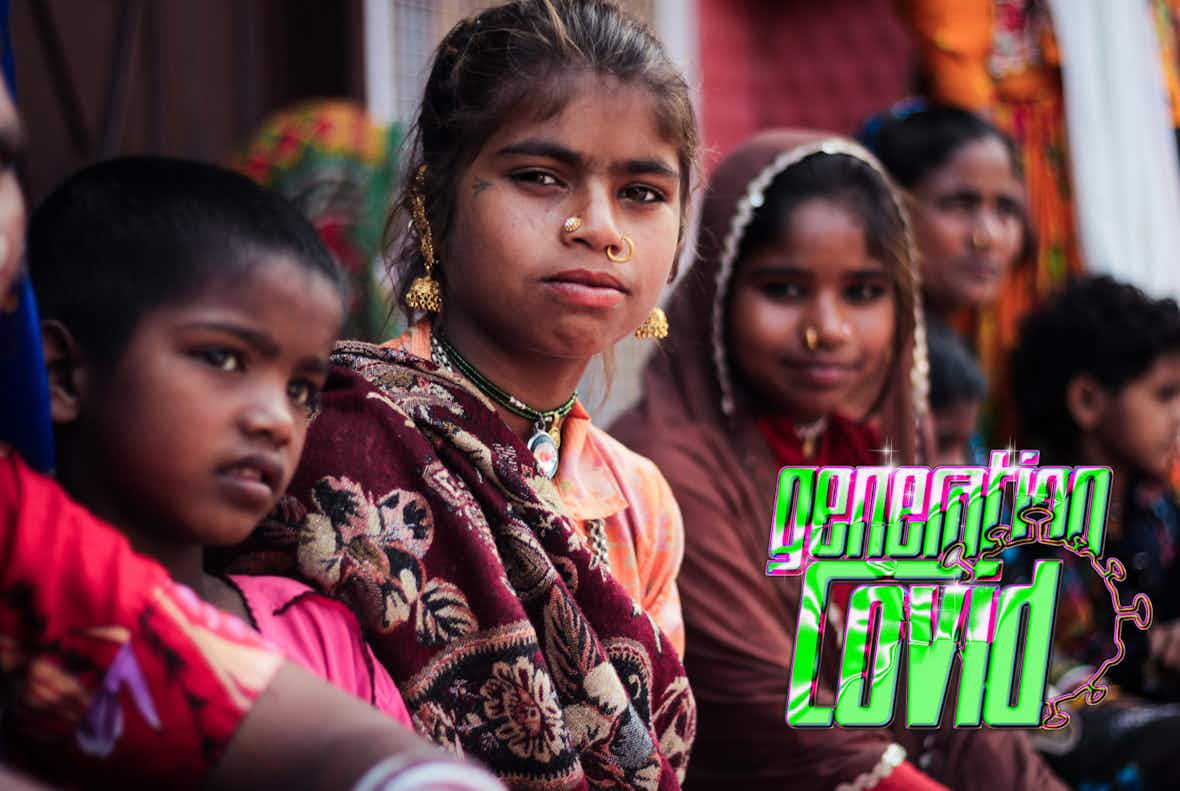 Generation Covid: Many girls may never return to school post-pandemic, while globally women lost $800 billion in income in 2020. Natasha Mudhar, founder of social impact enterprise The World We Want, reveals a gender-focused meaning to the title of our series.
We've all heard of Generation X and Z, the millennials and the baby boomers. But as Covid-19 continues to play out, albeit against the backdrop of mass vaccination, we're now unearthing a new demographic cohort: Generation Covid.

We're coming to terms with learning to live with the virus, a stark contrast to the reality of exactly 24 months ago, when we entered our first lockdowns and watched on in fear of the unknown.

In the West, the combination of mass vaccination rollouts and herd immunity has eased the strain of lockdowns, isolations and hospitalisation rates. With this fact – not to mention the crisis in Ukraine – you'd be forgiven for forgetting about Covid for the first time in two years, as pockets of the world turn their main agendas elsewhere.

But what about those who face up to a future hampered by Covid fallout across education, job access, health and threats of violence? For women and girls in cultures around the world, evidence suggests that ​"learning to live with Covid" simply doesn't exactly make for a prosperous reality – and in fact, the impact is only just starting to be felt.

Right now, governments around the world are removing Covid restrictions, signifying a desire to move on from the pandemic. However, we in the humanitarian sector recognise that the sustained impact for women and girls is far too large to overlook.
At The World We Want, we frequently measure the impact of global moments such as a pandemic on the United Nations' 17 Sustainable Development Goals (SDGs). These are a set of crucial global targets outlined by world leaders at the 2015 UN General Assembly, to be achieved by the year 2030. The goals consist of key humanitarian issues, such as poverty, food security and climate change, as well as societal issues such as gender equality and reduced inequalities.
Last year, the Deputy Secretary-General of the United Nations Amina Mohammed stated that the pandemic had a ​"deeply negative impact" on the SDGs, with ​"a particularly damaging effect on women and girls". This means it's impossible for us to pick up where our work left off at the beginning of 2020, without the younger generation paying the price in the following areas.
SDG 3: Good health and well-being
During the pandemic, overwhelmed and inaccessible health care systems – coupled with extreme vaccine inequality – meant that children in developing countries were not given an equitable amount of attention. While the dominant narrative in high-income countries (HICs) has been that children do not face an equal risk of Covid, young people under 20 represented a higher portion of Covid cases in lower-middle (LMICs) and low-income countries (LICs) than in HICs.
But the damage extends past the physical toll of Covid. School closures and forced isolation negatively impacted the mental health of young people as well.
According to the Organisation for Economic Co-operation and Development, young people living in OECD member countries between the ages of 15 and 24 reported an increase in symptoms of depression or anxiety during the pandemic. In the United Kingdom, a survey of 13 – 25-year-olds found that 24 per cent had been unable to receive mental health support due to barriers or a lack of access to resources.
The result: the pandemic has rewritten the childhoods of young people around the world and introduced threats to their health.

The forced closures of schools around the world have also reversed progress towards ensuring all children can access quality education. Remote opportunities in HICs may have kept students engaged in a learning atmosphere, but only if they are able to access consistent and quality resources. In the United States, students without sufficient resources and/​or with learning disabilities fell behind when attending school remotely during the pandemic.
In rural regions or developing countries that lack the digital infrastructure to support remote learning, students are facing an even tougher return to the classroom. In India, 60 per cent of school-age children cannot access online learning opportunities due to an absence of tablets, reliable wifi and mobile data. While this digital divide prevented students from accessing helpful resources before the pandemic, it is now exacerbating inequality for the 168 million children whose schools were closed in 2020.
And children who stopped attending school in developing countries during Covid may never return. Faced with the reality of the pandemic, many young people have joined the workforce to ease the pandemic's financial burden on their families. This in turn could mean they'll remain trapped in a cycle of poverty. According to the International Labour Organisation, the number of children engaged in child labour worldwide rose to 160 million during the pandemic.
The threat of a lost education is especially serious for girls, who faced barriers to learning because of their gender long before Covid. The global effort to increase access to education for girls specifically has been thwarted by the pandemic as they returned to unpaid care work at home. Others may have been pushed into early marriage by their families for economic purposes. UNESCO reports that eleven million girls might not return to school, turning back decades of progress toward gender equality.
While all youth require urgent support due to the effects of Covid, girls face incredible barriers to receiving the same access and treatment as their male counterparts. For this reason, we believe world leaders must focus more time and resources on gender equality.
Women and girls have absorbed the brunt of the crisis, with the pandemic's economic impact serving as just one example. Across South Asia, Sub-Saharan Africa and Latin America, a majority of women work in the informal economy (jobs that are not taxed, monitored or protected by governments), which was the first to be affected by layoffs and pay cuts.
During the first year of the pandemic alone, women globally lost $800 billion due to low wages, job loss and unpaid care work. Working mothers who left their jobs to tend to out-of-school children are now also facing the prospect of never returning to work.
The health of women and girls, which has always been an afterthought in times of crisis, has also taken a blow these past two years.
According to the United Nations Population Fund (UNFPA), 45 per cent of women and girls are unable to make their own decisions on sexual and reproductive health and rights. The cuts to the UK's foreign aid budget – which primarily assists countries in Africa and Asia – will further stunt the progress of women in this area.
But as we accept the reality of how a deadly pandemic impacted our world, we must not lose hope. Just look at what we accomplished with the Covid vaccines through global collaboration and solidarity.

Yet as we continue initiatives to support peace and raise the bar for climate action, young people are facing the consequences of Covid now and need our targeted support. We have the opportunity to forgo business as usual and give young people the attention they deserve to build The World We Want. To free them from the burdens of inequality, let's amplify our progress towards these three Sustainable Development Goals together.
To learn more about how you can partner, collaborate and work with The World We Want, visit theworldwewant.global


More like this