These creatives possess a wealth of knowledge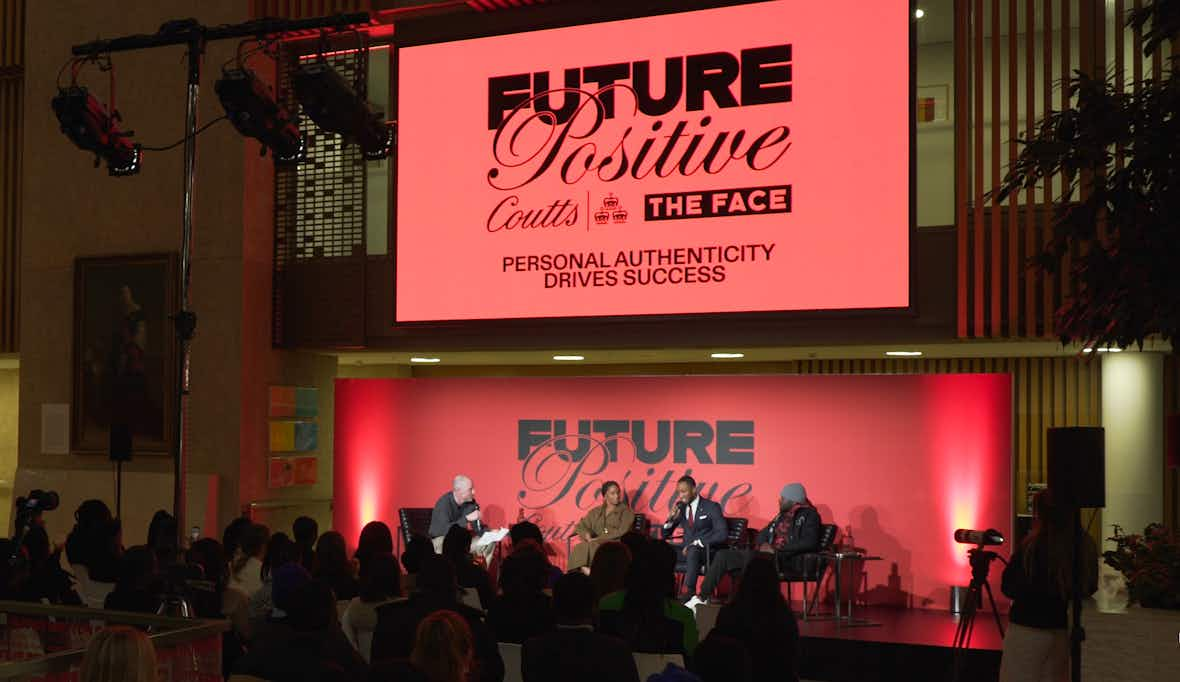 New era entrepreneurs including broadcaster Julie Adenuga, P45 & ULTRA HAZE founder Alhan Gençay and NQ boss Adex share their wisdom in Coutts' The Future Positive series of panel discussions.

The rulebook for making money hasn't just been rewritten: it's been ripped up, shredded and chucked in the waste paper bin. Thanks to technology, new chances have arisen to make opportunities, contacts and money. While there are obviously still giant obstacles, groundbreaking entrepreneurs are entering new territories by escaping the status quo while still keeping it real.
To celebrate this optimistic outlook for entrepreneurial creatives, private bank Coutts and THE FACE partnered for The Future Positive series. Bringing together a group of go-getters who have dreamed big from the get-go, we hosted three panel talks in the atrium of Coutts' HQ championing authenticity and the currency of disrupting conventional attitudes towards business.

Hosted by editor and author Justin Quirk and taking place over the last few weeks, Coutts invited 60 pioneers to network with like-minded creatives and learn from those who have made it over a first-class array of drinks and canapés. Scroll down and absorb a handpicked selection of key quotes from each talk.

Disruption and The New Economy
P45 & ULTRA HAZE founder Alhan Gençay, NQ boss Adex and COO of Roblox studio Talewind Georgina Felce joined Coutts' Interactive Entertainment Lead Paul Franks to discuss Disruption and The New Economy. Fuelled by new ways of working and the monetisation of digital content, the panel discussed the rise of gaming as business rather than just pleasure, four day weeks, going viral during lockdown and sharing knowledge.

Alhan on pitching: ​"I used to skive off school and get the train to the VICE offices.…walk in and pitch my ideas. Even when they got security I'd still turn up and the guy eventually let me in every time. You can learn someone's email format: like name-dot-surname or first-letter-dot-surname with the company they work for."
Adex on seeing Manchester's potential: ​"I've always been very understanding of opportunities. I've always looked at where things will lead…seeing other people's journeys and how they get there. Coming from Manchester, there were a lot of acts doing well…looking at the economic growth from a longer term vision it was a no brainer to stay here."

Georgina on faking it until you make it: ​"I was looking at jobs in the industry and was like ​'OK, what transferable skills do I have currently?' It was really competitive and I will admit mine was a fluke: we were buying an Apple TV from a guy on Gumtree and he happened to work at Rovio. I applied for Office Manager and got it and worked my ass off, got made redundant three months later which was fun like a baptism of fire…everyone is blagging it, no one really knows what they're doing…but there are a lot of talented people in this industry and everyone's willing to lift people up."

Paul on taking gaming seriously: ​"When we started the gaming team in 2015 (people were like): ​'You're working for Coutts and talking about gaming? Isn't that just teenagers in their bedroom eating pizzas and not really doing anything else?' But then you start to explain the size of the sector…3 billion people in the world play. It's not rocket science."

Alhan on staying humble: ​"Don't ever think you're too big to reply or to make time for the people that support you. They're your core fan group and the ones that follow you now will follow you for years to come…stick with them and reply and interact with them."
Personal Authenticity Drives Success
For the talk titled Personal Authenticity Drives Success, we assembled two music industry mavericks who are as genuine as they are genius – acclaimed broadcaster Julie Adenuga and 0207 Def Jam Co-President Alex Boateng – joined in discussion by Franklin Asante, a Private Banker working at Coutts. Connected by a strong sense of self and an ability to plunge into the unknown by harnessing their support network, Boateng and Adenuga shared stories of growing up as Black creatives in London, betting on their own success and continuing their journeys of self-growth.

Alex on his key moments: ​"The first time I got paid to DJ someone gave me £20. I couldn't believe someone was paying me to play music. Whenever UK artists do something internationally and I'm there I feel a sense of pride…but I'll definitely never forget that £20."

Franklin on financial education: ​"When you think about money we're all very different people in this room tonight. But guess what? One thing we have in common is we've all got a bank account and rely on money to some capacity; whether we have a lot or a little there is still an element of it that runs through all our lives. So why is it that only certain parts of society understand it better than others when quite frankly it affects us all equally?"

Julie on betting on herself: ​"I sat down with Franklin and said I was going to leave Apple Music and he said OK and took out his notepad, wrote my salary down and said: ​'How are you going to replace this income?' It was the first time I realised that what I was actually saying was I wanted to bet on myself.…I have to decide what I'm doing for this number to exist…that was really empowering."

Julie on drive: ​"I really like people who want to be the best. I love that. It doesn't matter what they look like, what happened that day, they're here and want to be the best and take pride in what they do…I think they're the people that change the world because they care when no-one is watching."
With great spending power, though, comes great responsibility. For the creatives of Future Positive, making money isn't just a means to an end, but a way to invest in the future, give back to the community, create a legacy and help the planet. As a B Corp, Coutts doesn't just support green-fingered entrepreneurs but also sets an example of ethical business for its members, creating joint accountability. For our second panel, then, we looked at Creating Value with Annabel Thomas, CEO of organic whisky distillery Nc'Nean and Tom Tapper, founder of creative agency Nice and Serious, joined in conversation by Coutts Wealth Manager Alison Robb.
Tom on purpose-led marketing: ​"I was incredibly passionate about these big global world issues but I was equally devastated by the quality of creativity and messaging. For example, if you wanted to sell a pair of shoes or lipstick you'd get access to this amazing creative talent in London; but for a charity or promoting a cause, the quality of creativity wasn't there."

Alison on helping B‑Corps: ​"We're seeing an increasing amount of people really caring about (sustainability) and looking at how we can help them. It's the right thing to do – it's not a tick-box – we think it's important and we want to make an impact. It's amazing when we hear about our clients who have become B‑Corps and we've helped quite a few on that journey which has been great."

Tom on selecting clients: ​"I'd argue the biggest impact of the creative industries isn't an office or the energy we use but who we're working for and what ideas we're amplifying…most B Corps go above and beyond trying to change their industry and disrupt these slightly stodgy sectors with new ideas."

Annabel on B‑Corps being magnets for talent: ​"The fact that we're set up with a purpose to make the Scotch industry more sustainable is a massive positive for attracting people: qualifying as a B Corp is a massive thing for attracting talent."

Tom on democratising decisions: ​"The biggest kick we get is when we're working on a campaign with a big NGO like Greenpeace or WWF, campaigning for legislative change. You get a sense of the creativity having a real world impact. But in terms of legacy, I think the one thing I feel put our stake in the ground was an app we built called The Moral Compass…for every single brief we get as an agency it's anonymously and democratically voted on by the whole team and generates a percentage alignment score [which means] we either reject or accept the brief."

In partnership with Coutts. Coutts works with private clients over 18 who borrow or invest more than £1m: fees may apply.